Dani Age 2-9
1993-2000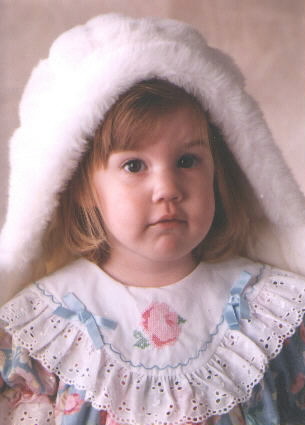 Danielle's Christmas photo, 1992.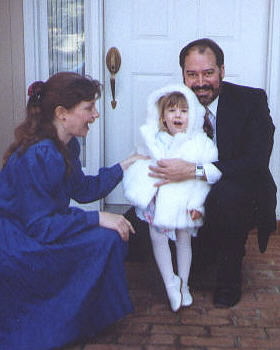 Danielle's Baptism in Williamsburg, 1993.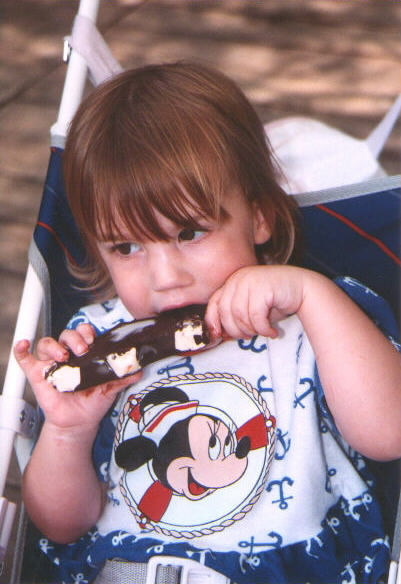 SeaWorld, 1993. Danielle's first ice cream bar bath.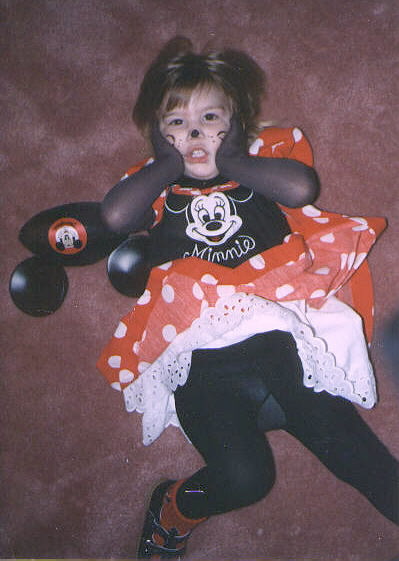 Mouse regalia, Halloween, 1993.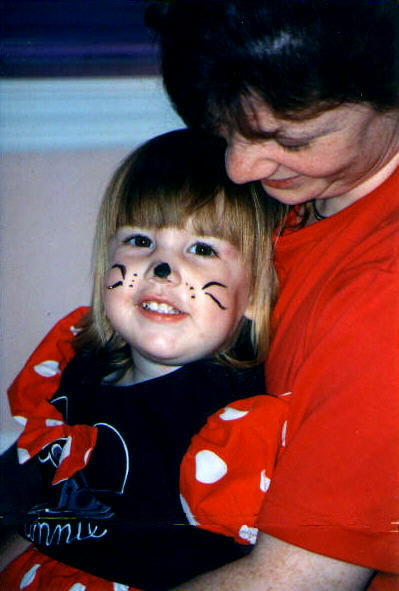 Halloween, 1993.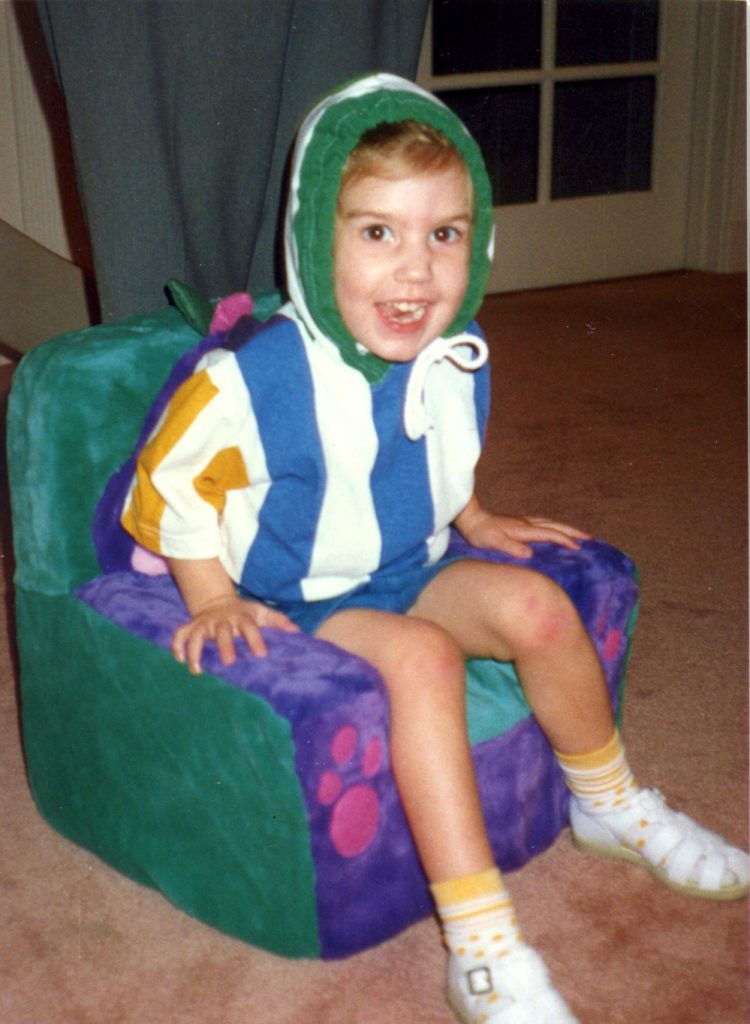 Dino chair (photo by Ginny)

Reading (photo by Ginny)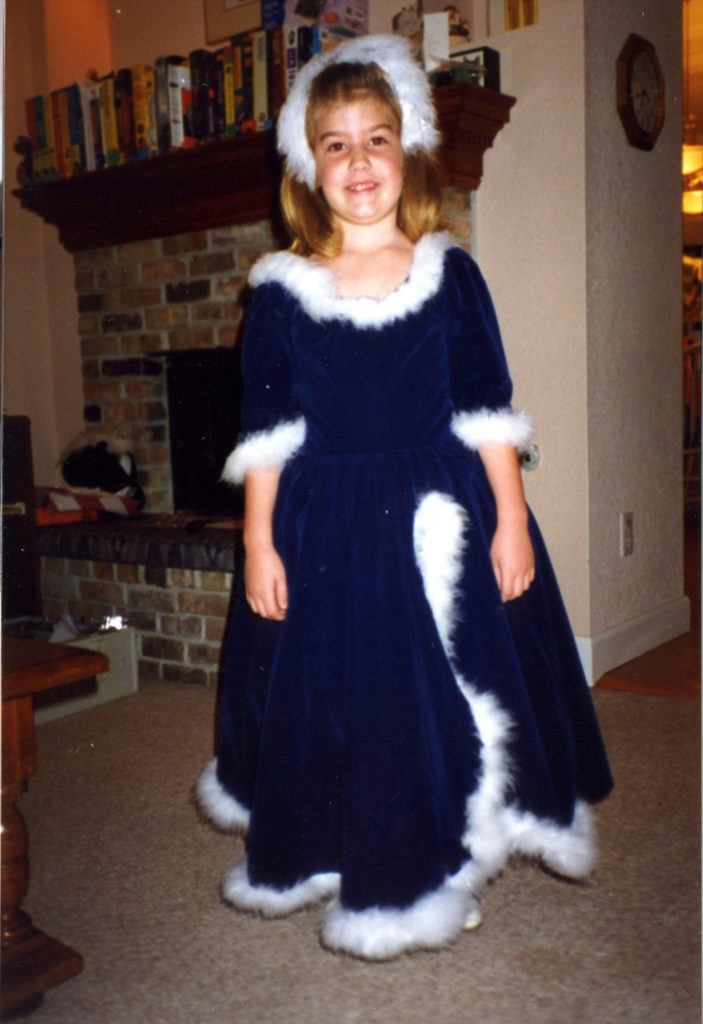 Fuzzy Dress (photo by Ginny)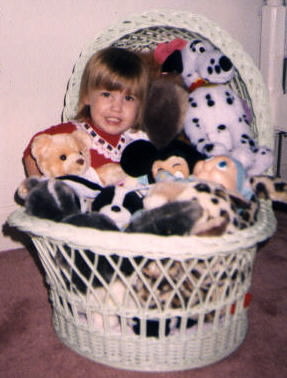 In her bassinet, long since outgrown. This was the same bassinet Linda had as a baby. Linda didn't outgrow it quite so fast.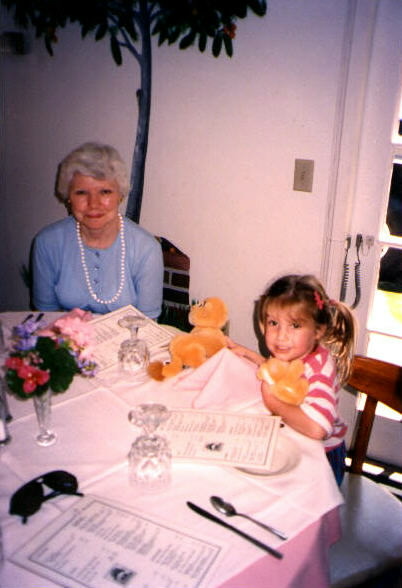 With Grandma Marjorie, 1994. Immediately prior to "The Ice Bucket Incident". I leave it to your imagination.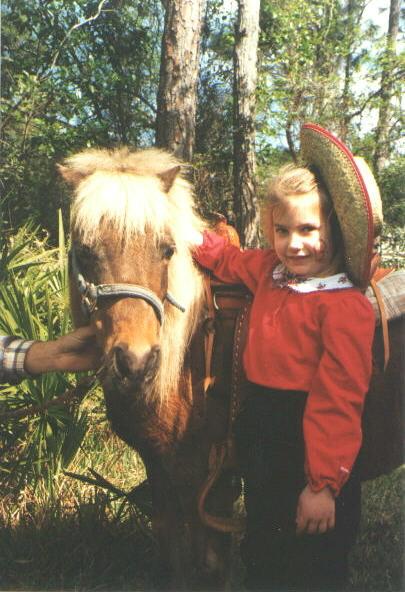 With Little Bit, Birthday 1995.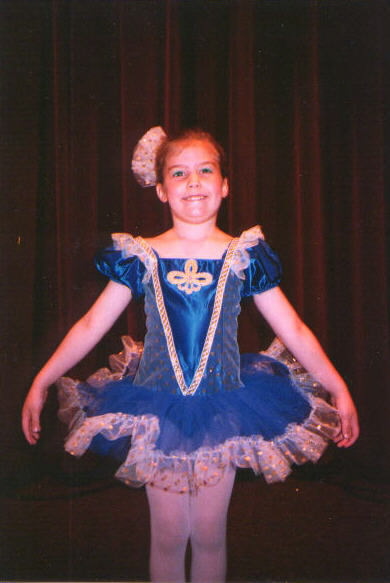 The ballet performance at First Baptist's Child Enrichment Center, capping her pre-school career, 1995.

Mindy's Birthday Party at Discovery Zone, 1995. Danielle "discovers" the mat.

Halloween, 1995. Pizza Hut.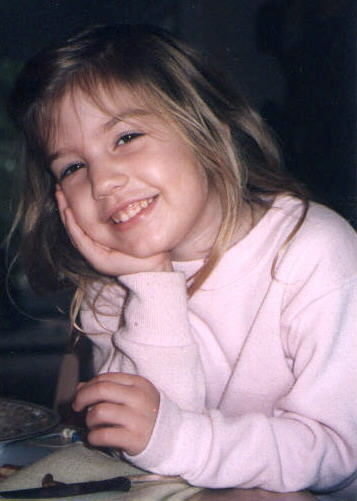 Danielle in Pink. At Yosemite in 1995.

Amazing Christmas, 1995.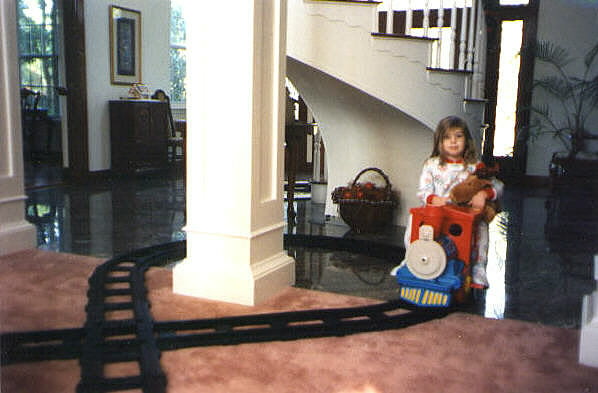 There was a lot of track.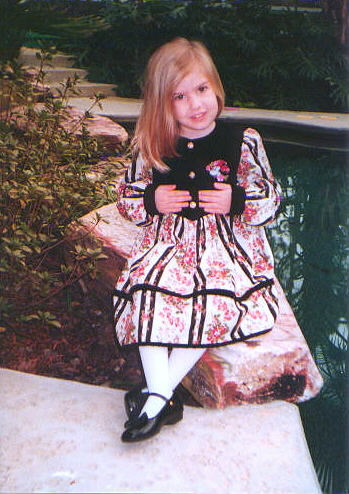 Danielle's Christmas photo. Hold the snow.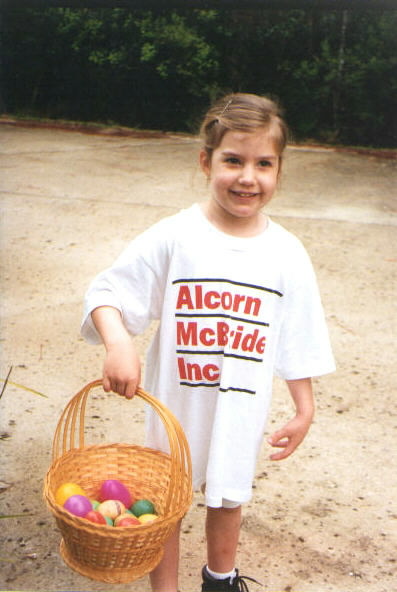 Easter, 1996. Immediately prior to the "Egg Fling into the Camera Lens" event.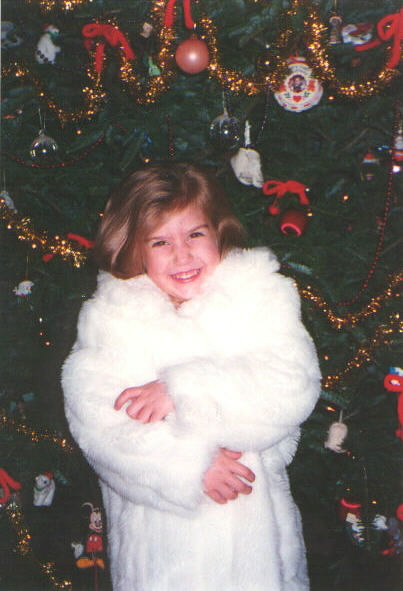 Danielle's Christmas 1996 photo.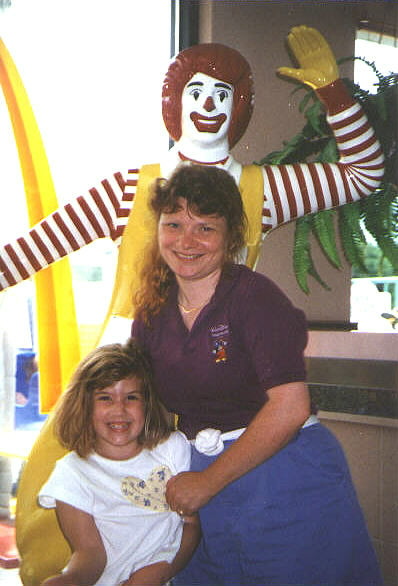 Danielle's favorite fine dining restaurant. This one was in Fort Myers.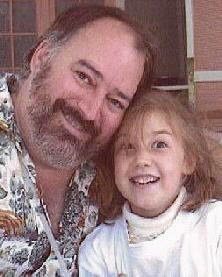 Steve and Danielle in Key West, 1996.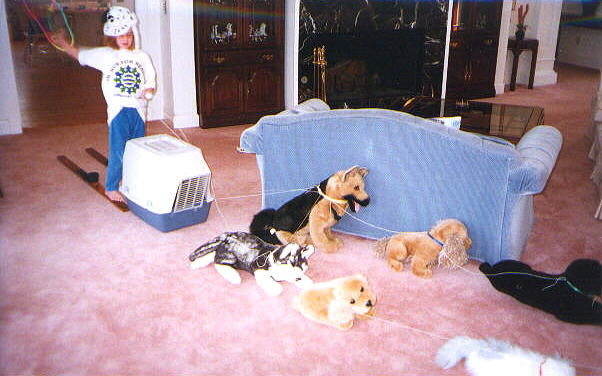 Dog Sledding in the living room, 1997.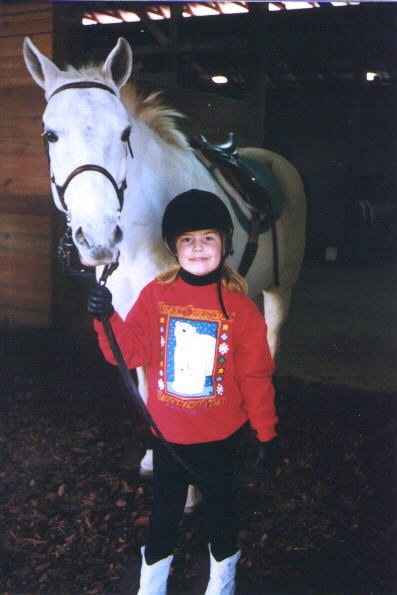 Riding lesson, 1997. With Irish.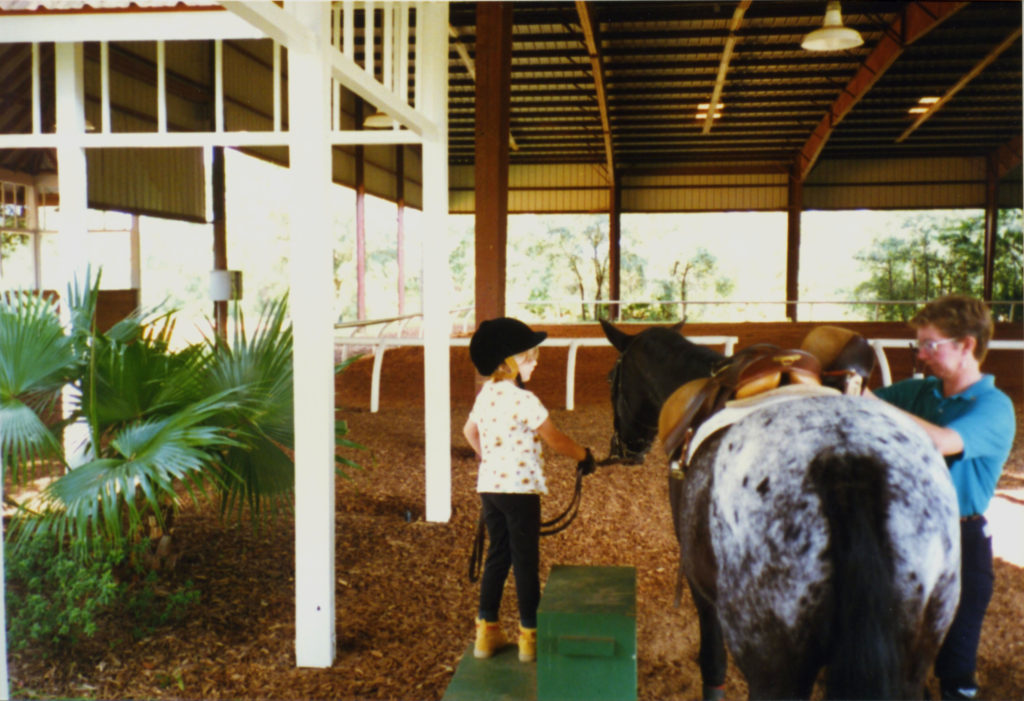 Mounting Princess with Miss Kathleen's help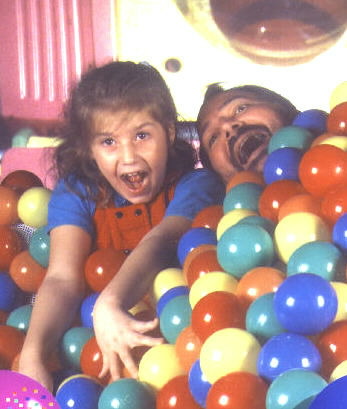 IAAPA 1997.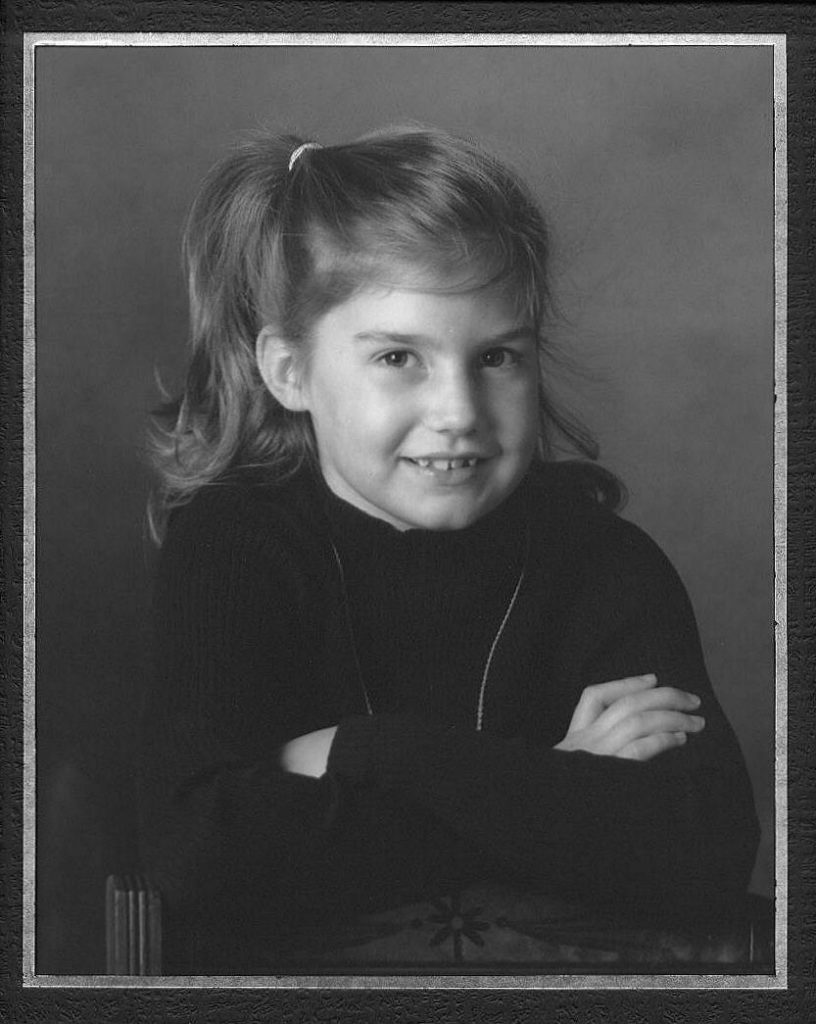 December 1997.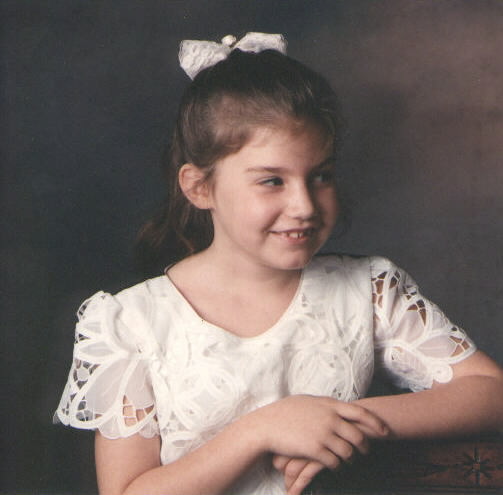 December 1997.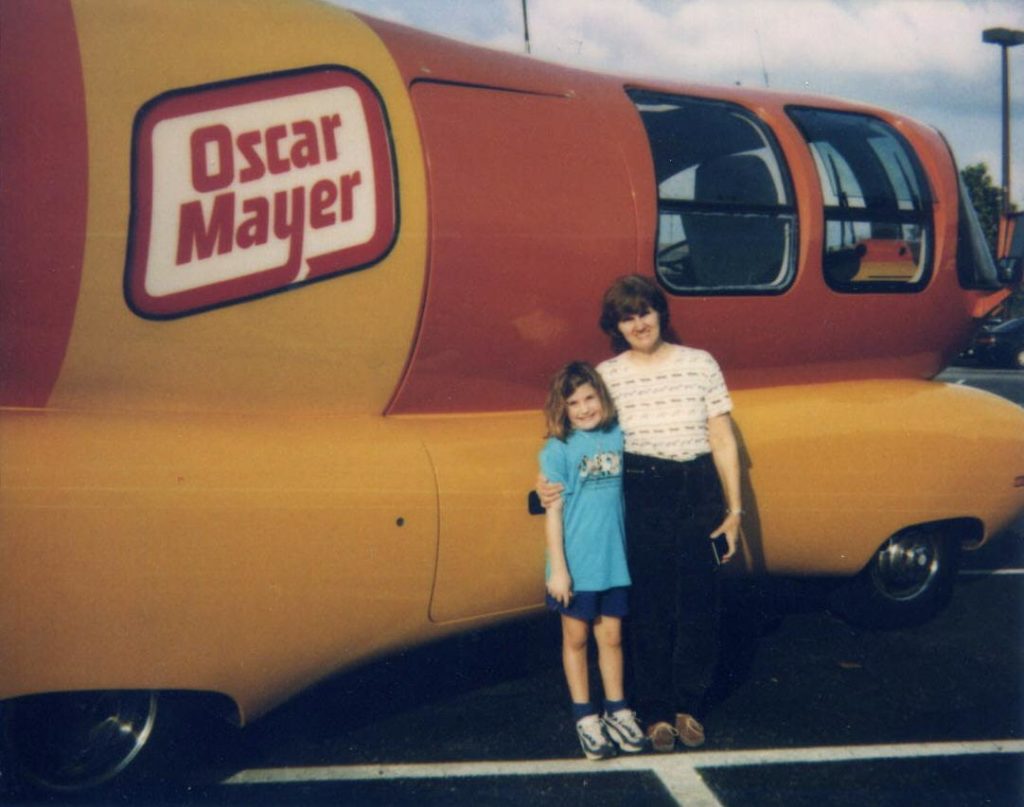 Oh I wish I were an Oscar Meyer Weinermobile…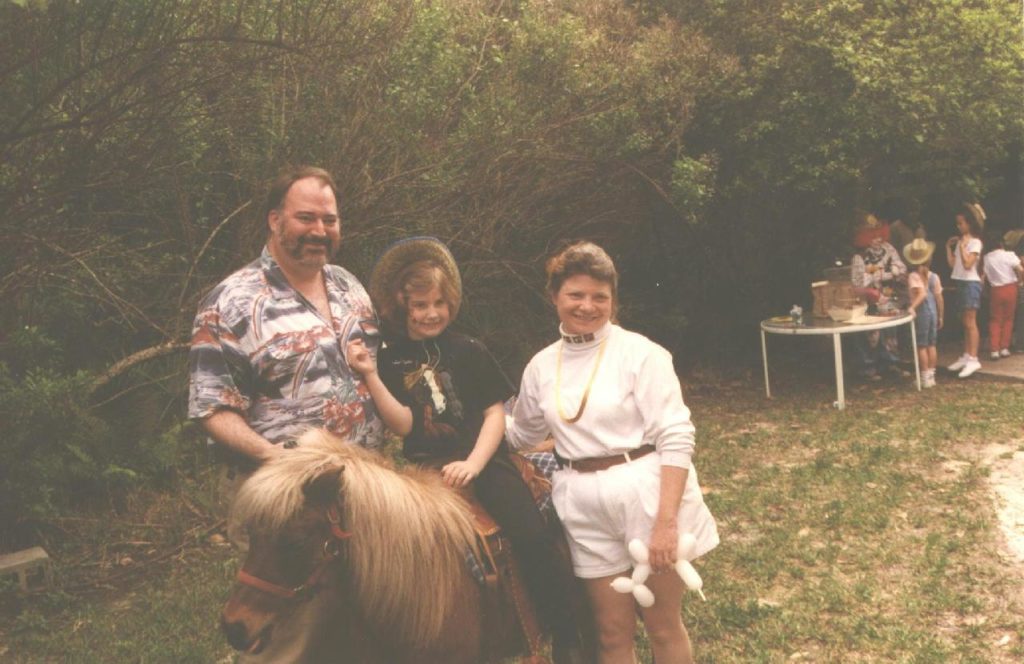 Danielle's birthday party with Little Bit, March, 1998.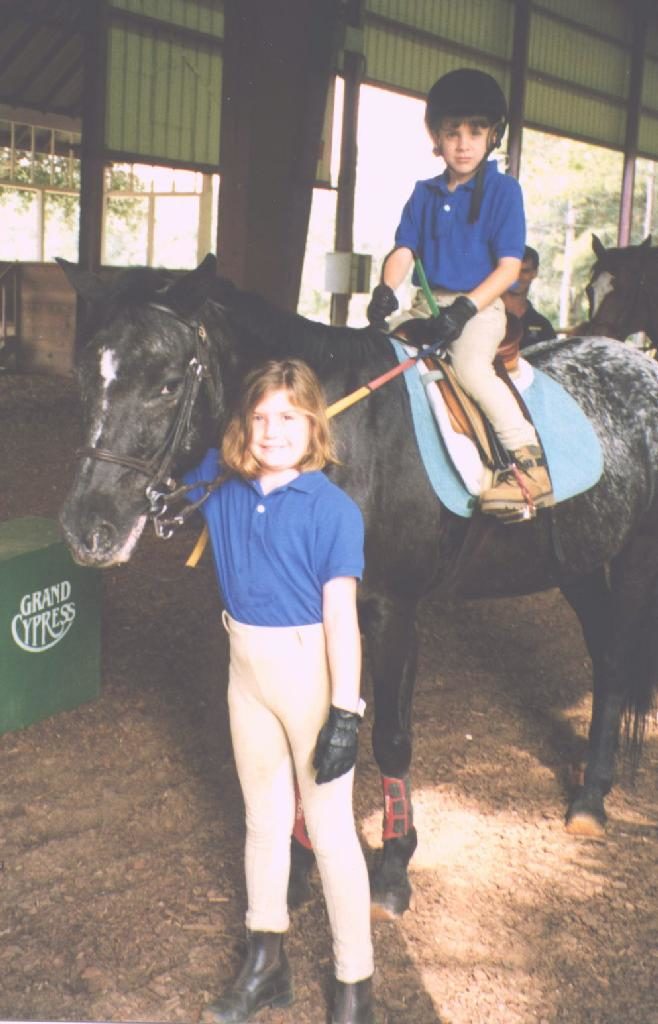 Danielle, Zachary and Princess at the Grand Cypress Equestrian Center, October 1998.

Danielle at the defunct Imagination Ride, Epcot, October 1998.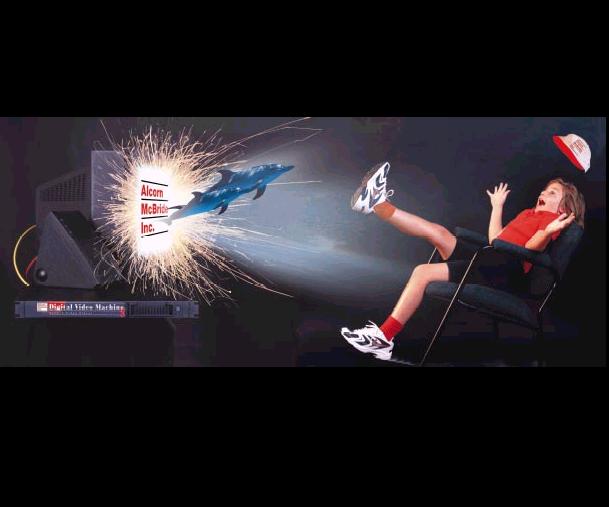 Publicity shot for the Alcorn McBride trade show booth and Digital Video Machine cutsheet, July 1998.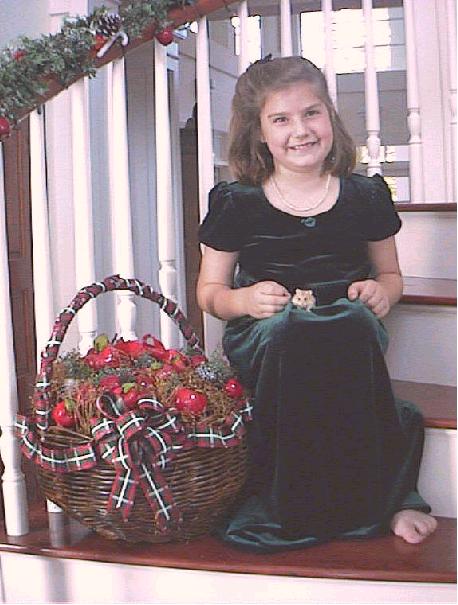 Christmas 1998 photo with her hamster.
Saddling Up My Horse
A Poem by Danielle Alcorn
1997, Age 7
Saddling up my horse.
Packing up my bags.
Setting off on a journey of faith.
I'm on my way.
There's no turning back.
You never know what I may encounter.
Perhaps a fallen log or two.
Or a cross country jump.
Riding through the woods on my horse.
I may encounter a dragon breathing fire.
Or maybe a lioness sleeping in the sun.
I'm on my way.
There's no turning back.
No, there's no turning back.
There's only one road I have to follow
And that's not to lose faith in you.
All parents think their children are brilliant in every way. It's our job. But I'm particularly fond of these examples of Danielle's Artwork:

Steve. April 1998. Age 7. Dining at Howie-in-the-Hills.
Mother's Day. May 1996. Age 5. The swan outside La Coquina at the Hyatt Regency Grand Cypress.

Titanic. May 1997. Age 6. Danielle's first grade science project was "Would Higher Bulkheads Have Saved the Titanic?" And it was done before the film and all the hype.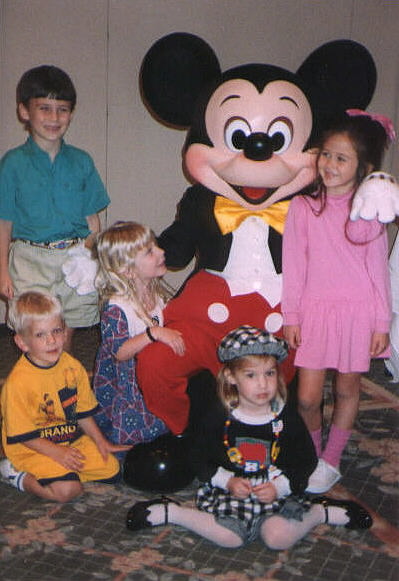 Danielle's third birthday party at The Grand Floridian, 1994.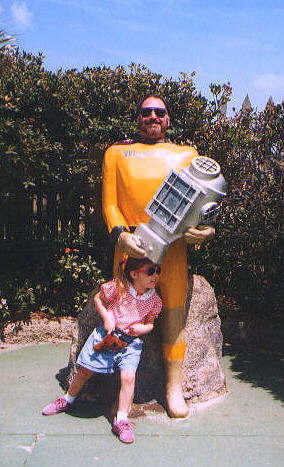 Marineland, 1995.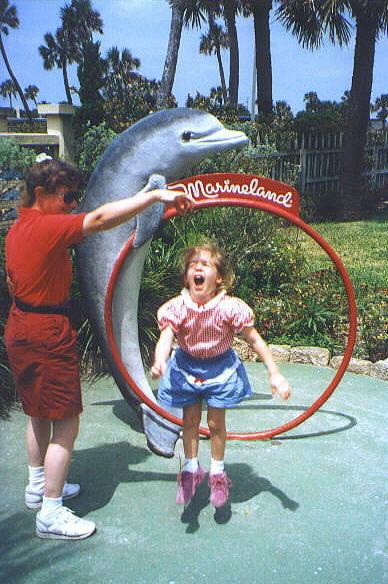 Marineland, 1995. Jumping for fish.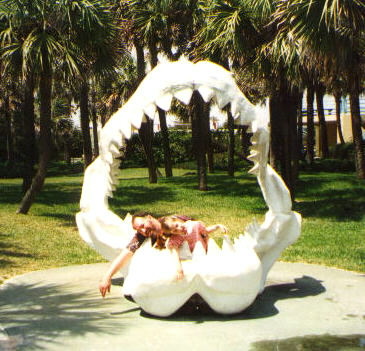 Marineland, 1995. Jaws.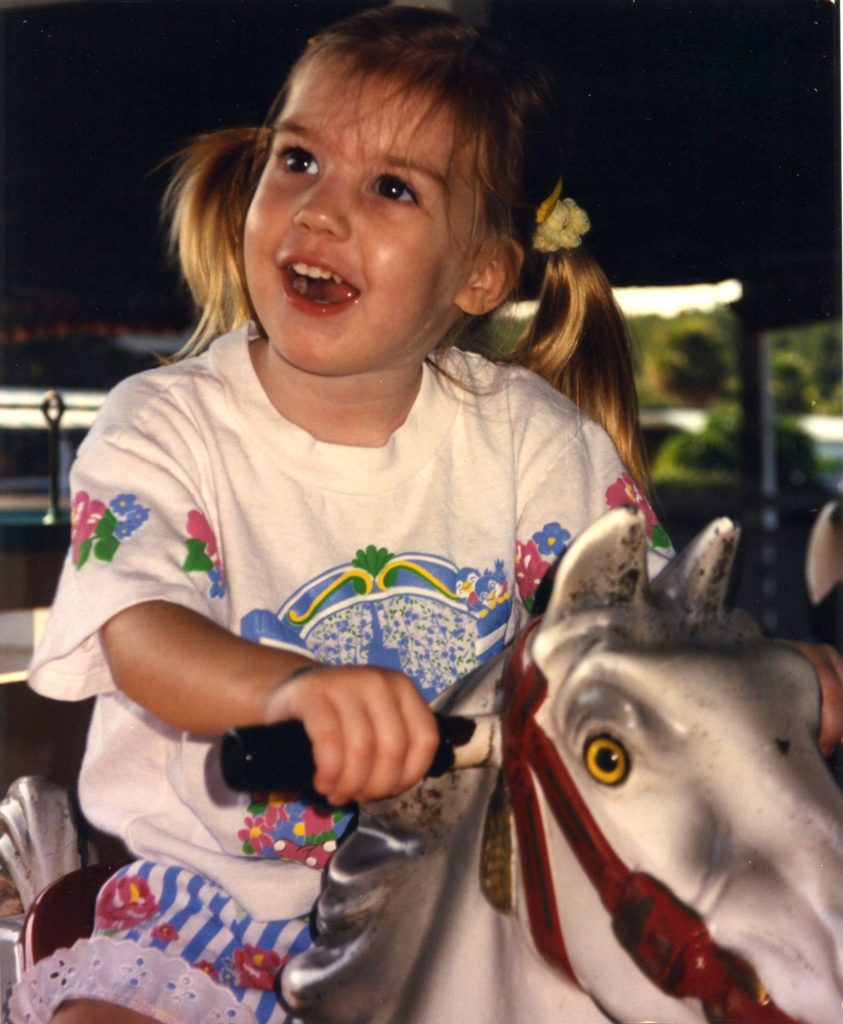 Gatorland, 1995

Ride the Wild Turtle, Gatorland, 1995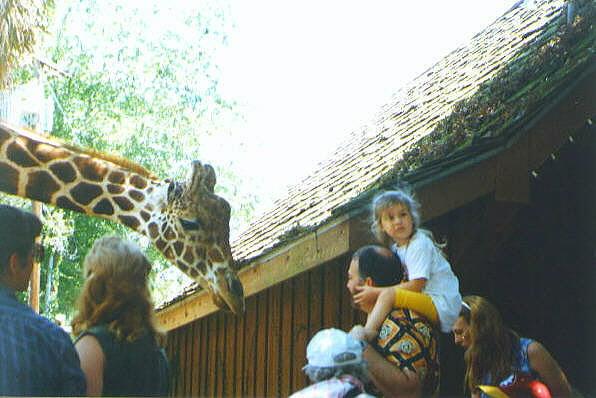 Weeki Wachi, 1995.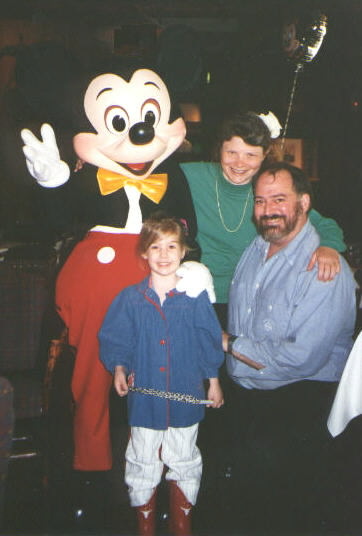 Danielle's fifth birthday party at Ft. Wilderness, 1996.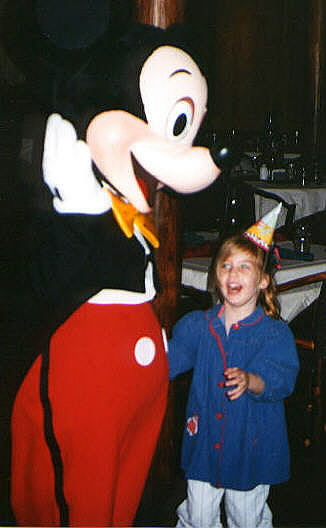 Ditto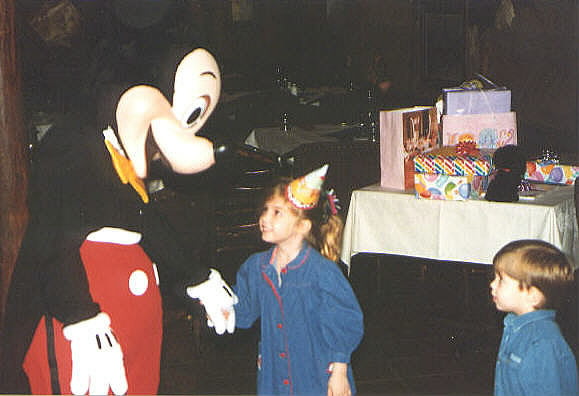 Same, with friend Zachary.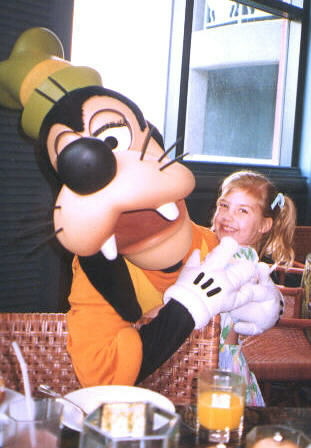 The Swan hotel Sunday brunch, 1996.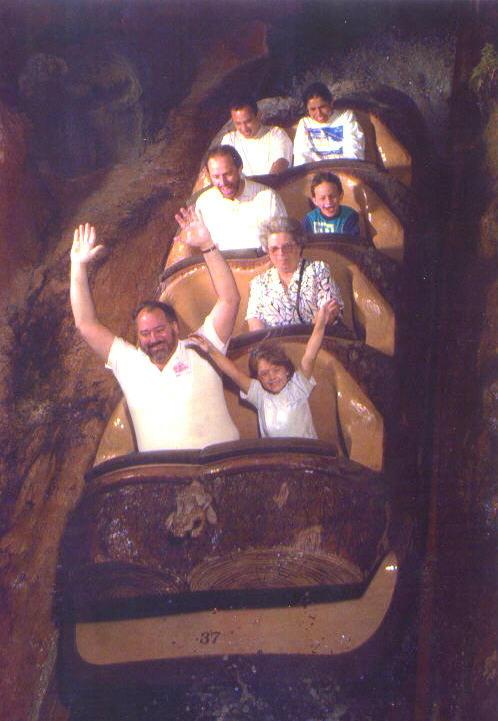 Splash mountain, 1996, with Kay's cousin Mary.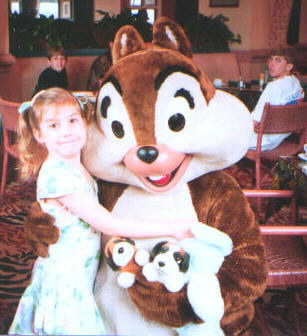 Dale, 1996. I bet you thought it was Chip.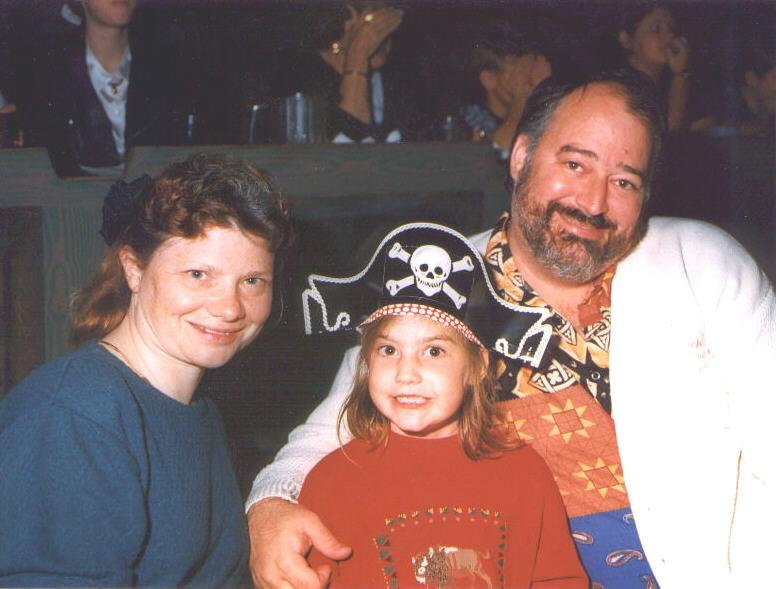 Pirate Dinner Theater, 1996. Not half as bad as it sounds.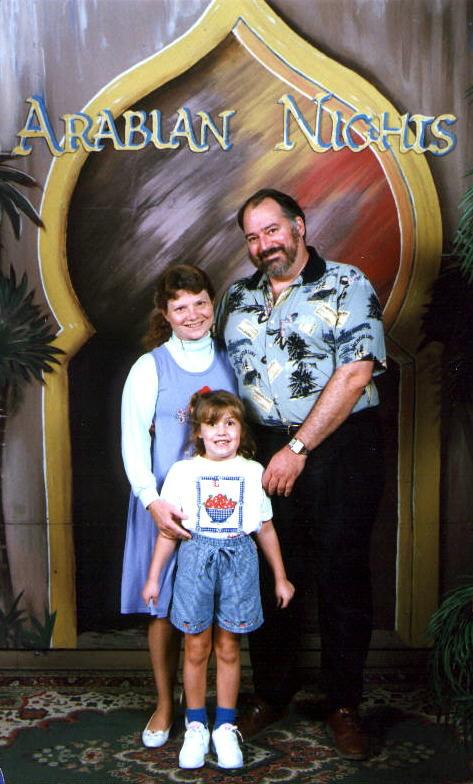 Arabian Nights Dinner Theater, 1996.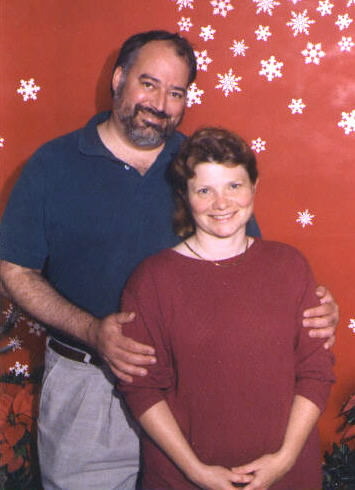 Disney Christmas Part at MGM Studios, 1996.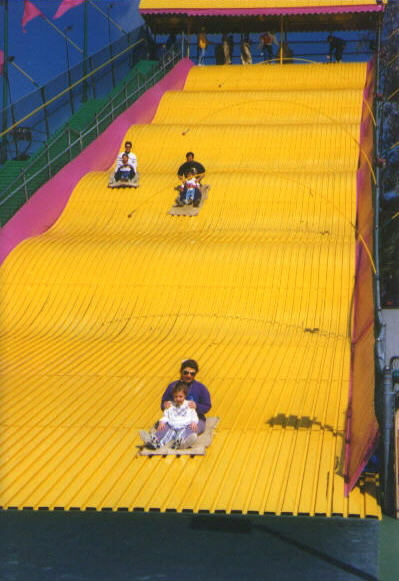 Every year I help judge over 700 wines, mostly from California, at the Florida State Fair. While I judge, Linda and Danielle make themselves sick on the rides and Fair food.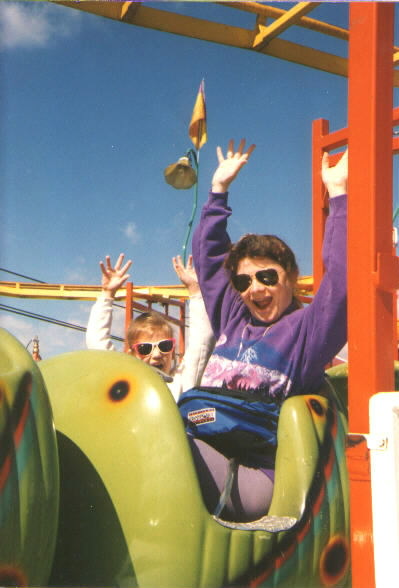 See?

Wrestling Gators at Gatorland, 1997.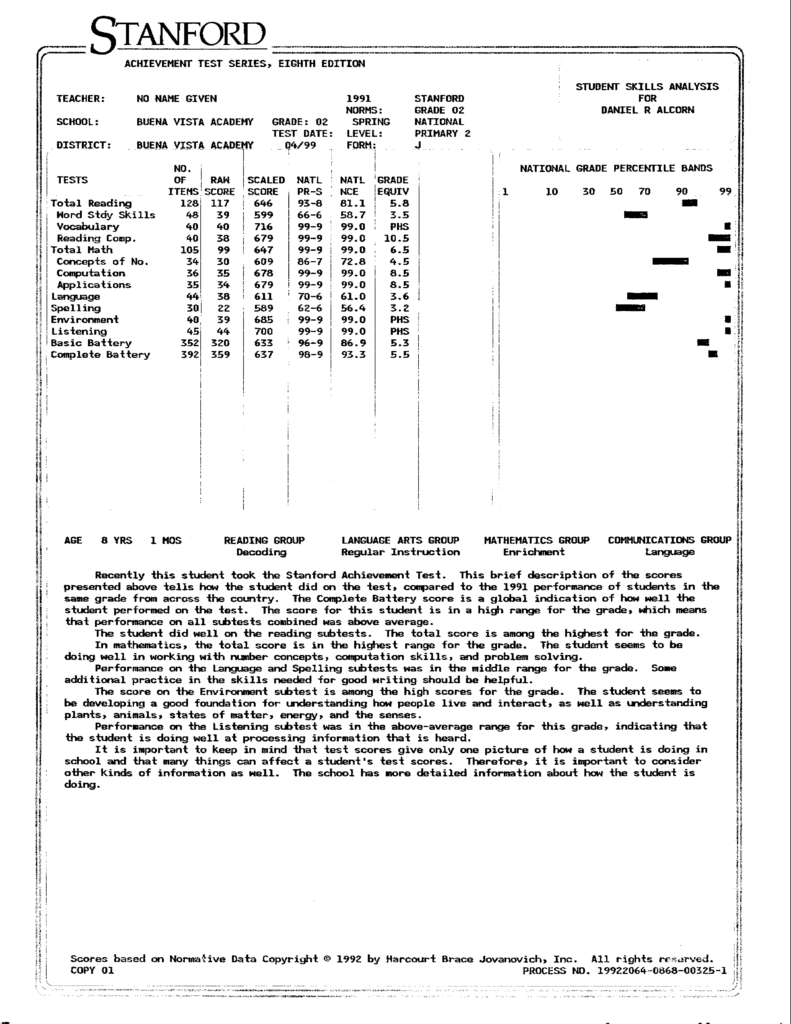 SAT, 2nd grade, age 8. Scoring at Post High School in several things.

Ninth birthday sleepover at SeaWorld, 2000. Megan, Mindy, Danielle, Zachary, Victoria, Hannah, Mallory, Tommy.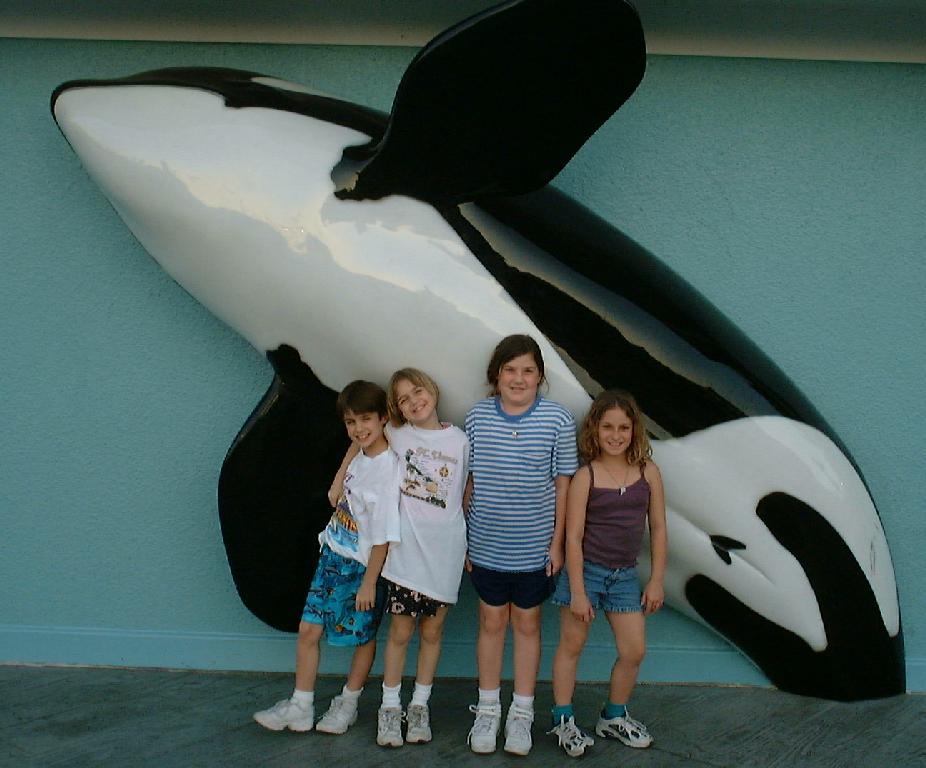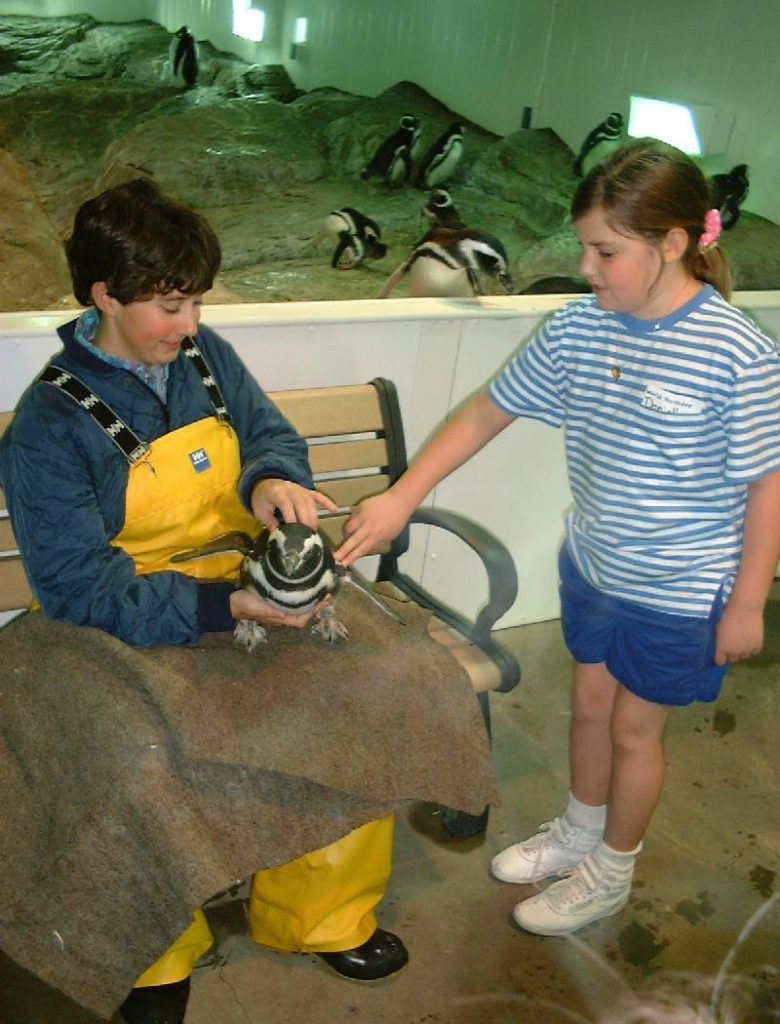 The full range of facial expressions, from delight to terror, anticipation to resignation, all can be found in this picture of Danielle, Zachary, Megan, Victoria, Mindy, Jim, Linda and Steve coming down the chute at Journey to Atlantis.

The Charter Class of Windermere Preparatory School, September 5, 2000. Opening ceremonies. Danielle's new school, Windermere Preparatory, was announced about two years earlier. It was quite near our house, in what was still open country. It's a private school that offers Pre-K through 12th grade, although they started with Pre-K through 9th grade. They designed a beautiful campus, and scheduled the opening for September 5th, 2000. Then reality set in. What with permitting and other governmental issues, they were forced to change their plans so that they would use temporary buildings (read that "trailers") for the first year, while they were building the final campus. That wasn't really a problem, since even the public schools around here are mostly glorified trailers. Of more concern was the fact that as of August 1st, 2000, the site was still untouched. Although we were impressed by the staff they'd hired, and by the fact that every student from the 4th grade up gets their own laptop – all of which are tied together through a wireless network – we were getting pretty nervous.
But we took the leap of faith… and darned if they didn't manage to get 30 trailer halves fastened together, sidewalks poured, a little sod thrown, retention ponds dug and a parking lot paved and lighted by the beginning of September. That's more than her old school had.
But what they didn't have was furniture and books. Oh, they had them in trucks. But not in the classrooms. So Monday, September 4th, turned into a real "labor" day, as teachers, administrators and volunteers unloaded, decorated, distributed supplies, and completely outfitted a school in one very long day.
Amazingly, Tuesday morning, right on schedule, it was a school, complete with welcome signs, balloons, a dedication ceremony, and a somewhat chagrined local press (they'd been predicting disaster).
Linda and I volunteered to work at the information table in Danielle's classroom. This new school is already more organized than her last one. On the first day they had reams of orientation paperwork, signup forms and so on. I spent the afternoon buying parts for and assembling storage "cubbies" for her classroom – one of the few things they hadn't ordered.
Following the first day of school, the construction workers descended again, throwing more sod, buttoning up thermostat wiring, and working on the water system (using a portable restroom trailer and a tanker truck for water until they get the well on line). It was a great start for just four weeks of work… perhaps due to two years of planning.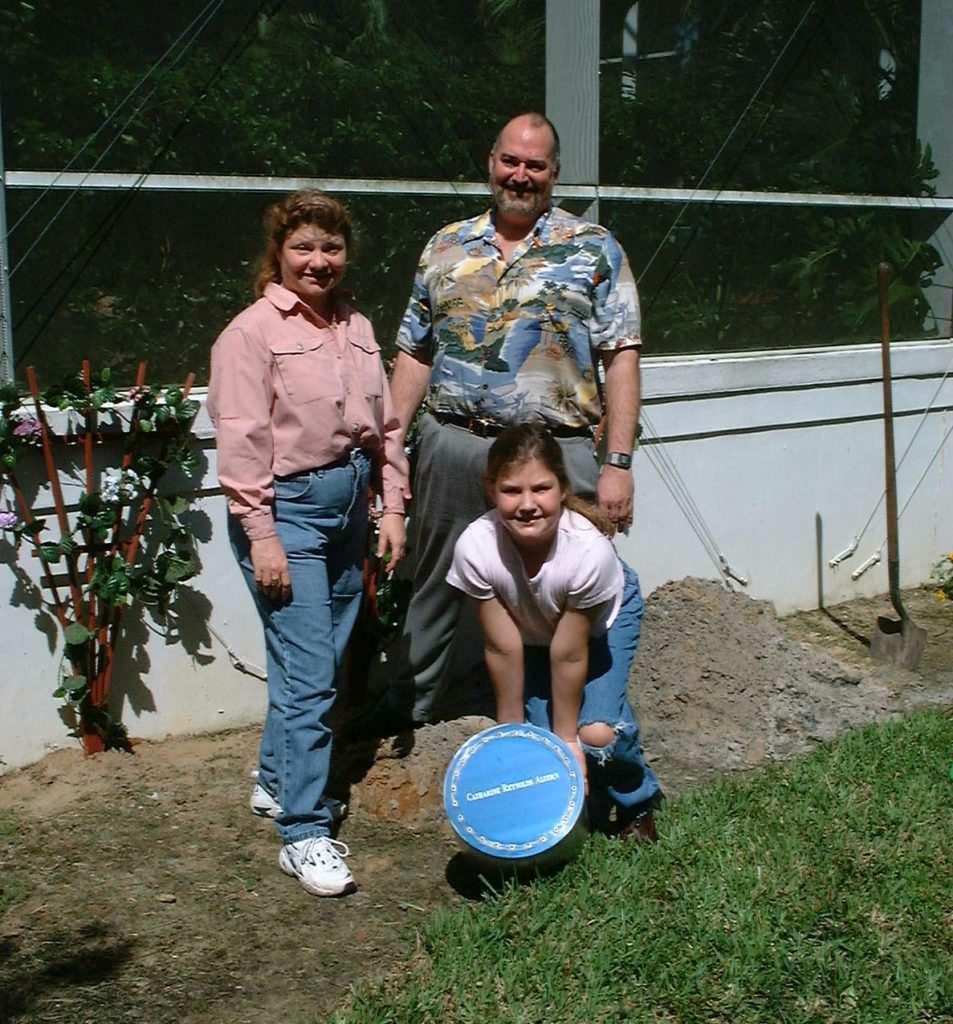 On Saturday, October 7, 2000 Linda, Danielle and I gathered with a few of my mother's friends and buried a time capsule in her memory. Linda got the capsule, an 18-inch-diameter aluminum cylinder, from a company that promoted them as Millennium time capsules. We buried it three feet down, near the foundation of our screen room, on the presumption that whoever demolishes our house someday may find it. If not, archaeologists a few thousand years from now will certainly have their work cut out for them puzzling out its contents, which included the following inventory:
Catharine (Kay) Akley Reynolds Alcorn Time Capsule
This time capsule has been assembled by the family and friends of Kay Alcorn to commemorate her life. It was buried adjacent to her son Steve's home on October 7, 2000. The items included are:
Biography
written by her son Steve.
Genealogy
researched by Steve's wife Linda's parents, Marjorie & Dean McBride of Los Angeles, California.
Republican National Committee card
Kay was a member of the Republican political party; she enjoyed attending speeches. Her signature is on the back.
Her favorite cat cup
she always drank coffee from this cup when dining here.
Her favorite cat figurine
she loved anything to do with cats and had an extensive collection of cat artwork.
A cat plate
she also had a very large collection of cat plates.
Jewelry
she also had a very large collection of jewelry. She often wore 10 bracelets at a time!
EPCOT commemorative
she visited Disney's EPCOT theme park during its first year while Linda & Steve were working on it. Her favorite attraction was American Adventure which Steve had helped design.
Photographs
one of these pictures was taken in her friend Helen's home in Celebration Florida when the town was new. The other picture was taken at the Artist's Point restaurant in Disney's Wilderness Lodge hotel with Danielle, age 3.
Cranberry mold kit
Kay without fail always brought her cranberry mold to any holiday dinner.
Video tape
Kay loved anything to do with television and for years brought her granddaughter Danielle video tapes when she came to visit every week. This tape is designed to be played on a VHS video tape player.
AARP card
although she thought of herself as young, she did belong to American Association of Retired Persons.
There are also drawings and notes from Danielle and some of Kay's friends.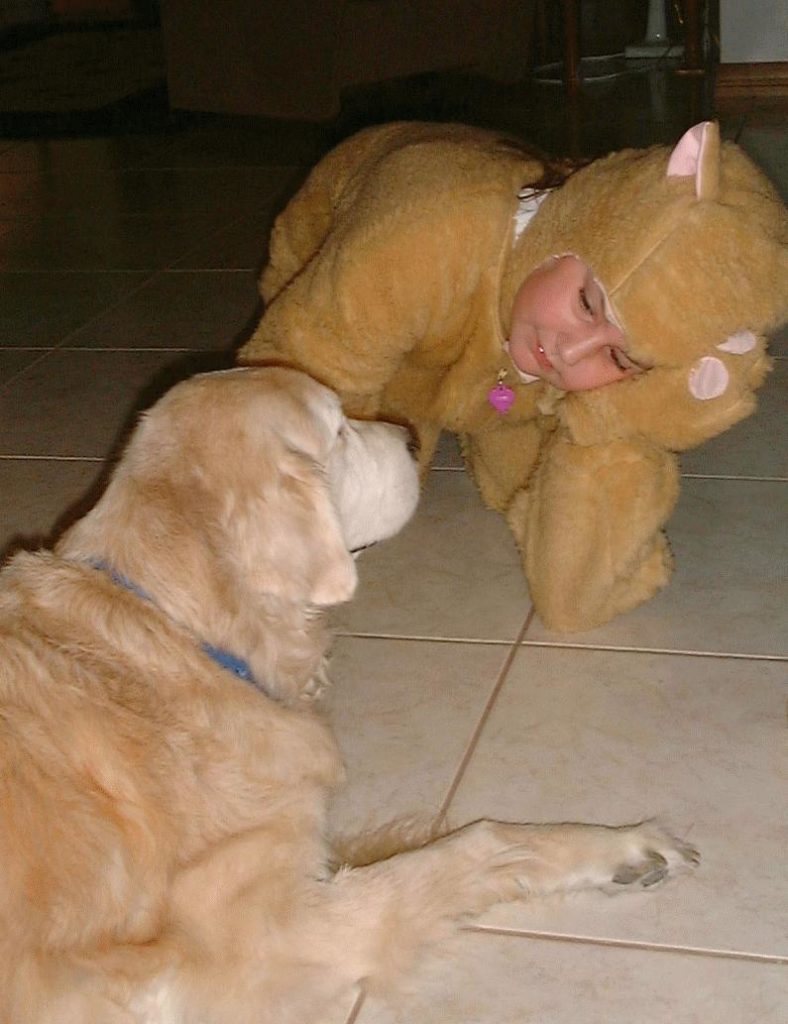 Halloween, 2000
A story written by Danielle in 2000.
(The bold words were spelling words that had to be included.)
Halloween
(with apologies to Mickey Spillane.)
It all started in my room on Halloween night. I was getting into my costume as usual when I knocked down my soldiers. I picked them up. I went down stairs to the kitchen, ate dinner and headed out for a night full of fun. We live in arural area. I used to think that was boring.
Little did I know what a spot of horror I was in for — more than a spot, an entire gallon.
I stumbled on the sidewalk and fell at an old woman's feet. She was wearing black linen robes — filthy. She helped me up and asked me to sample one of her chocolates. I told her I would. I ate one. I tasted pretty good.
I fell. Where was I? What were those weapons doing dancing around me? I struggled to get up. I was frightened. I thought to myself, I must be going mental.
Suddenly a panel opened up above my head, which was pretty weird, since I was out doors. It was a black, square opening. A bundle of clothes dropped out. I unwrapped it. That was an error.
A litter of kittens came out. They seemed to be having aquarrel.
I would have tried to do something about the kittens, but I was too busy watching the pioneers and settlers dance around the frontiers of my brain. They were a real bunch ofadventurers, and seemed determined to make me pass out. I did.
I was sucked into a channel of unknowingness and wondered if somebody was about to cancel my ticket. But I woke up, sprawled on the sidewalk. All my gear was gone. The old lady must have taken it. Or something.
The moral is, don't take candies from old ladies. And what am I gonna do with all these kittens?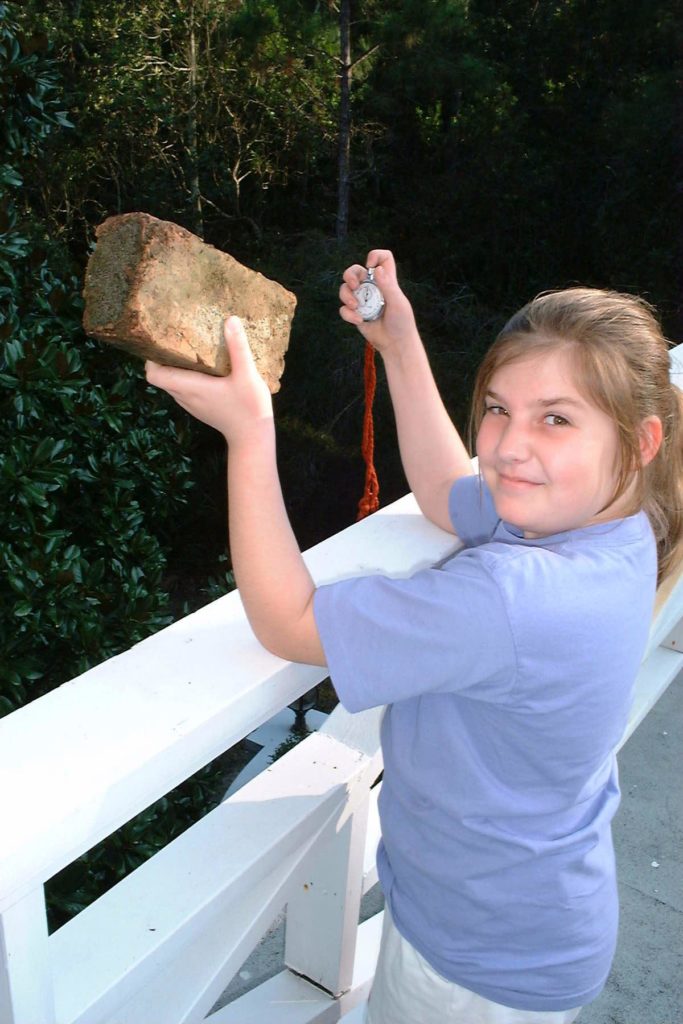 Physics Experiments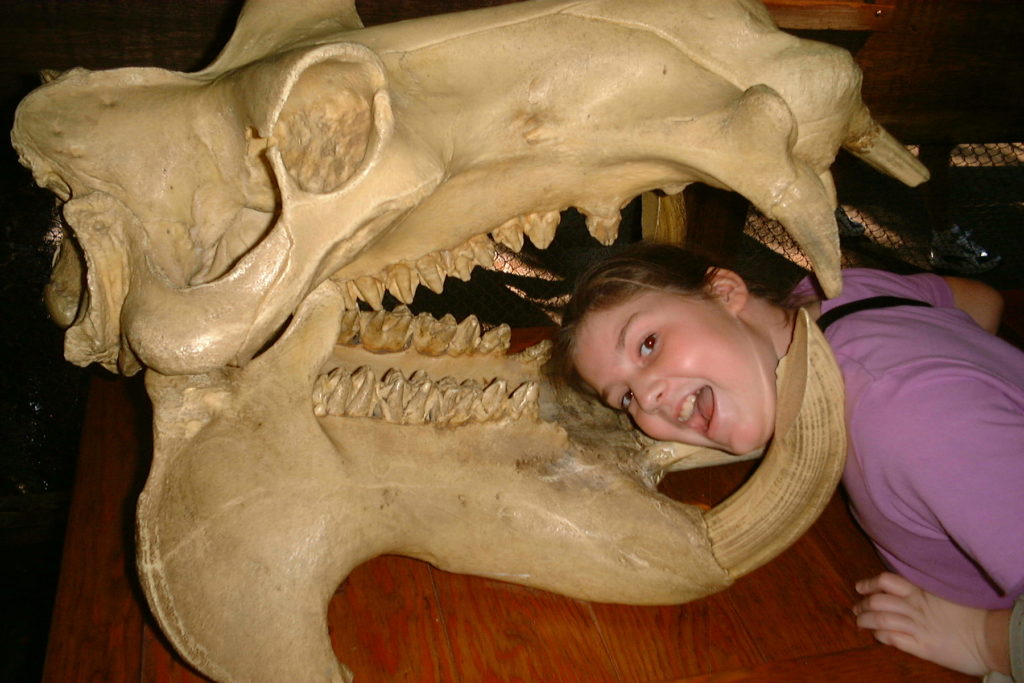 Animal Kingdom, 2000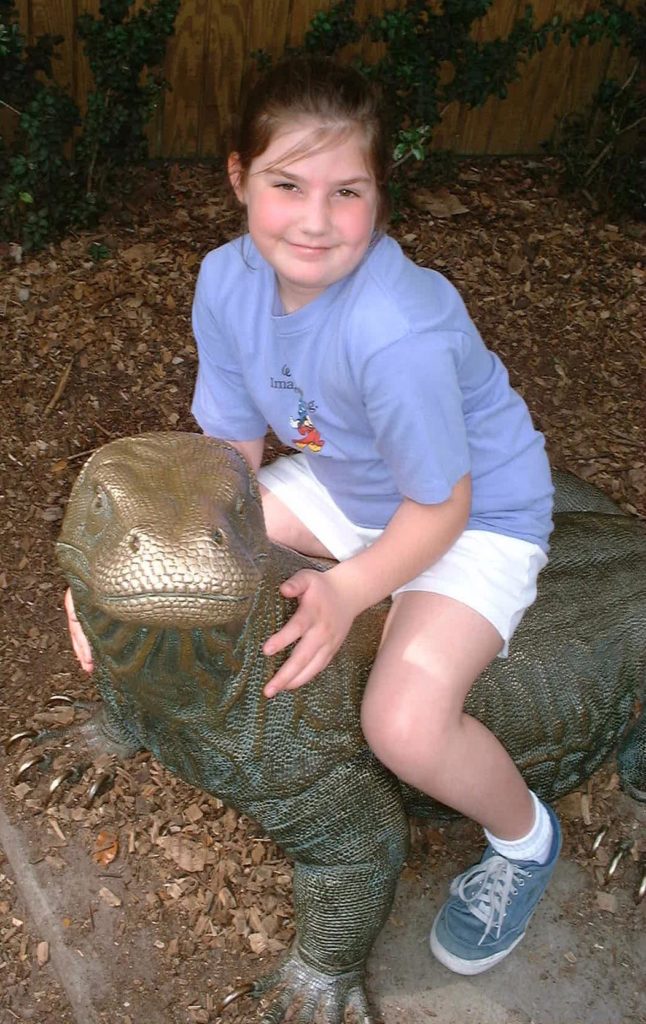 Lowry Park Zoo, 2000