Dani Age 10-12
2000-2002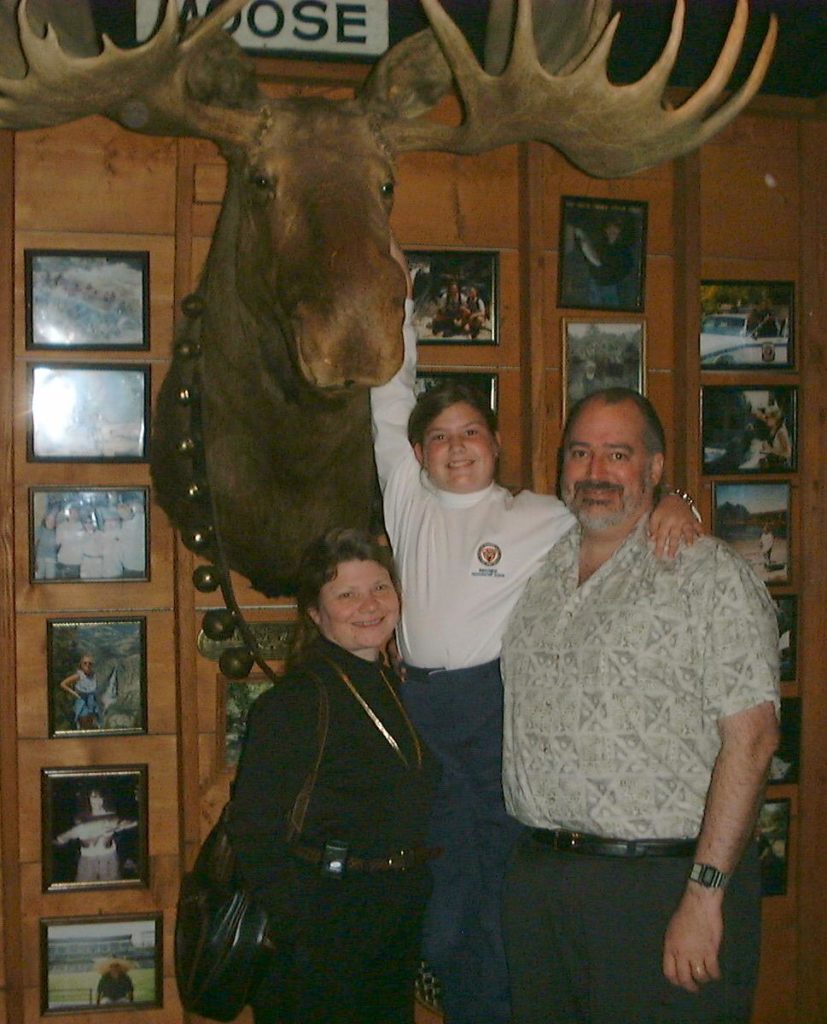 We celebrated Danielle's 10th birthday at the Colorado Fondue Company, where she posed for the traditional moose shot. On her 8th and 9th birthdays she couldn't reach the moose. Here she's on a chair, but even without it, she could reach easily this year.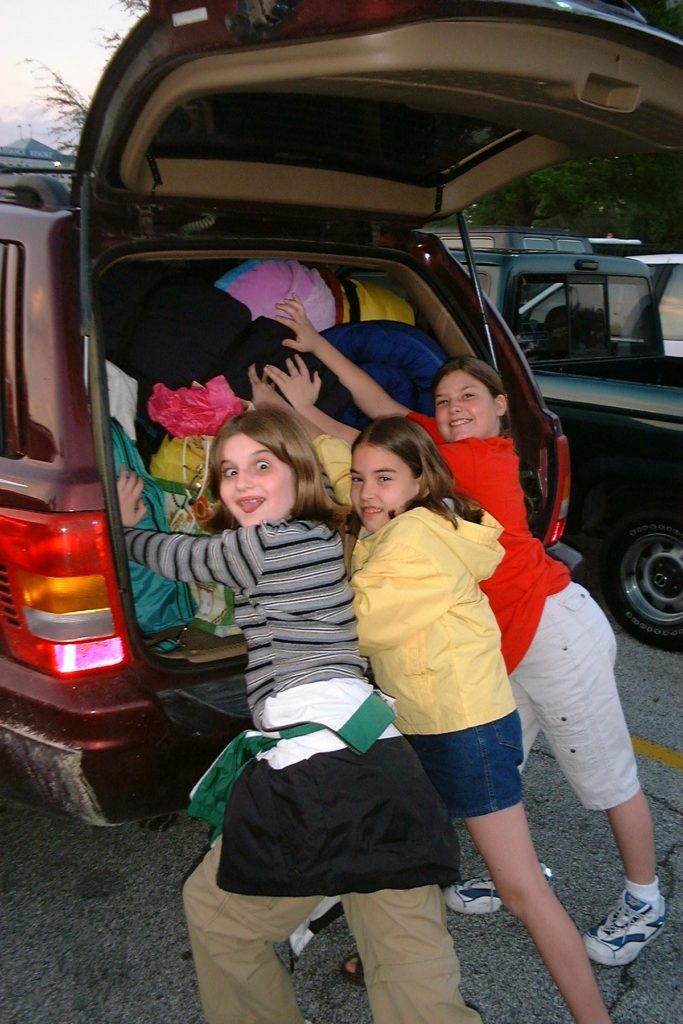 Loading the car. On March 10th, 2001 we took 20 kids(!) to SeaWorld for a sleepover in the dolphin exhibit. The evening began at 6:45pm, and the festivities carried on until late, late, late (did we mention late) into the night. Then, after a generous three hours of sleep, we were up and at it again at 6am. The party combined girls from Dani's first half of the year 4th grade class, and her current fifth grade class, plus other friends from our street and the office.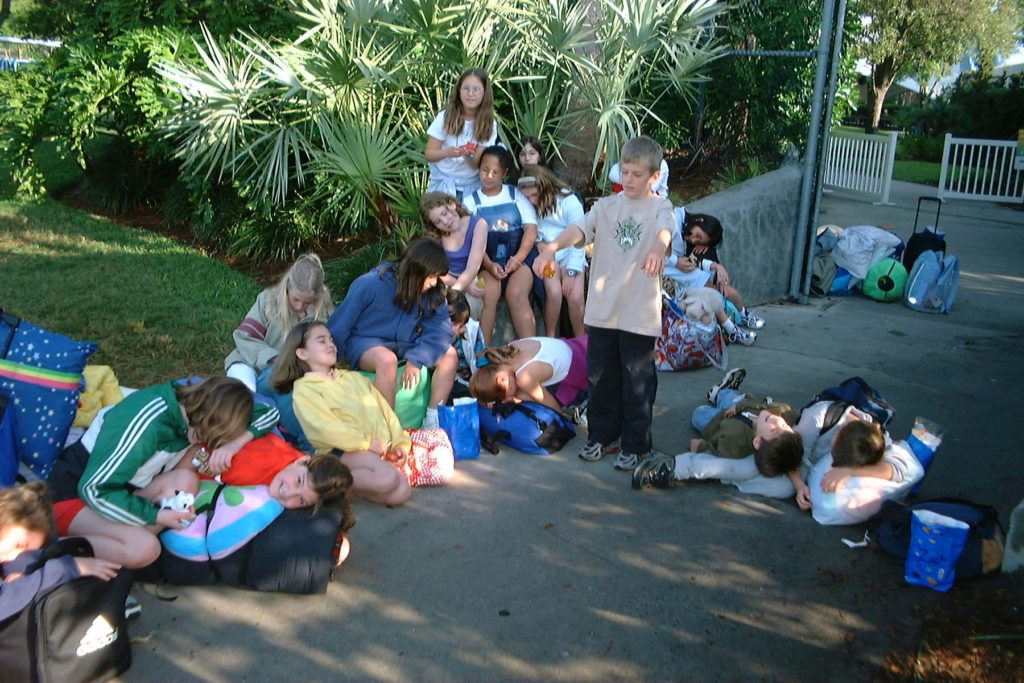 10th birthday sleepover aftermath at SeaWorld.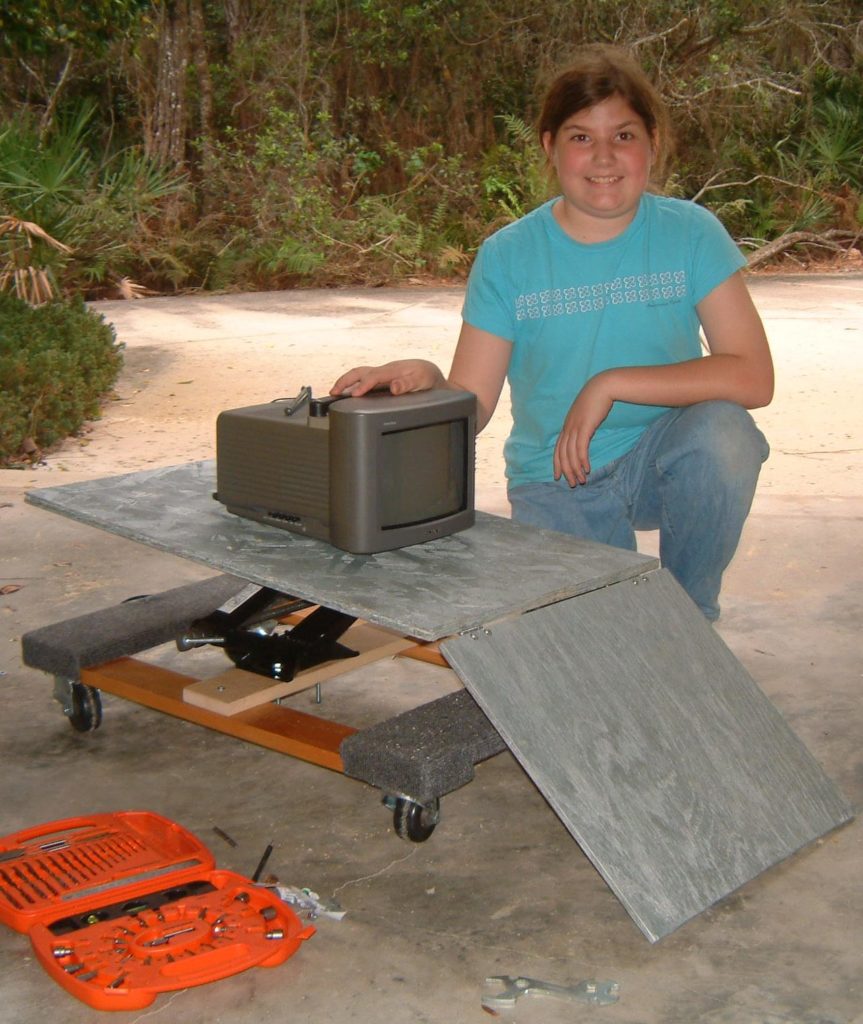 Inventing the Eli-Mover, March, 2002.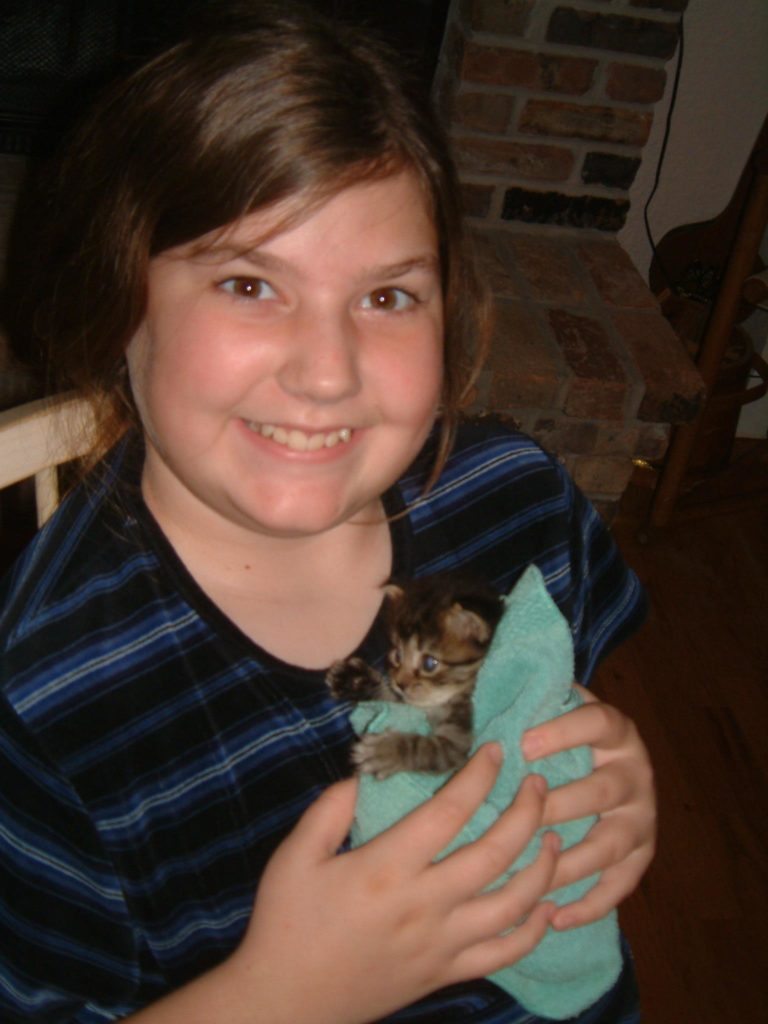 Tucker, Jan, 2002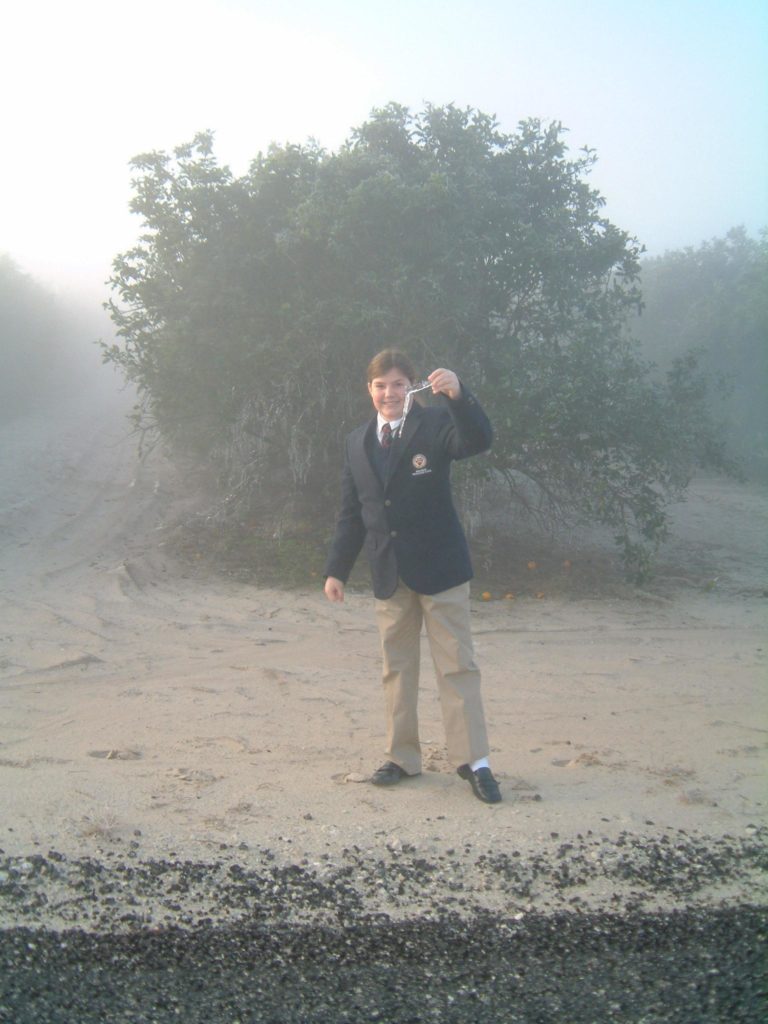 Ice in the Orange Groves, January 9th, 2002. It was 29 degrees F.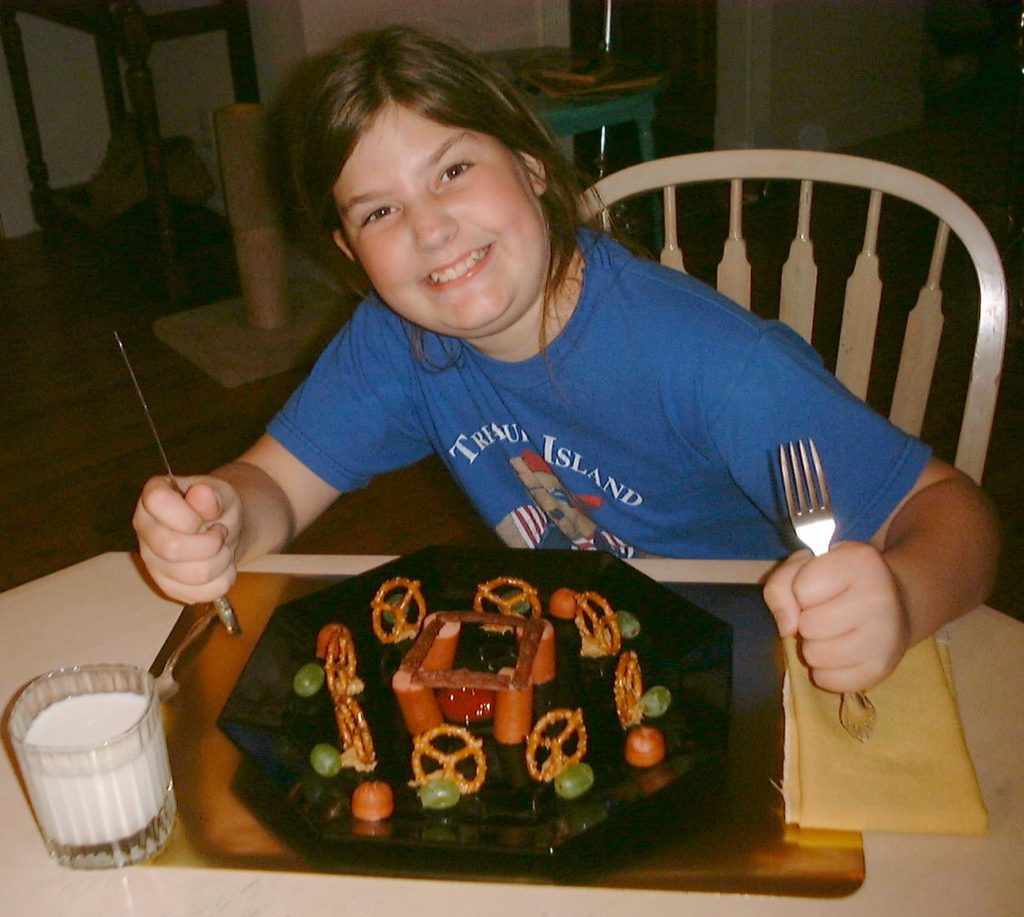 One of the "wacky dinners" I sometimes fixed. I called this one "Weinerhenge".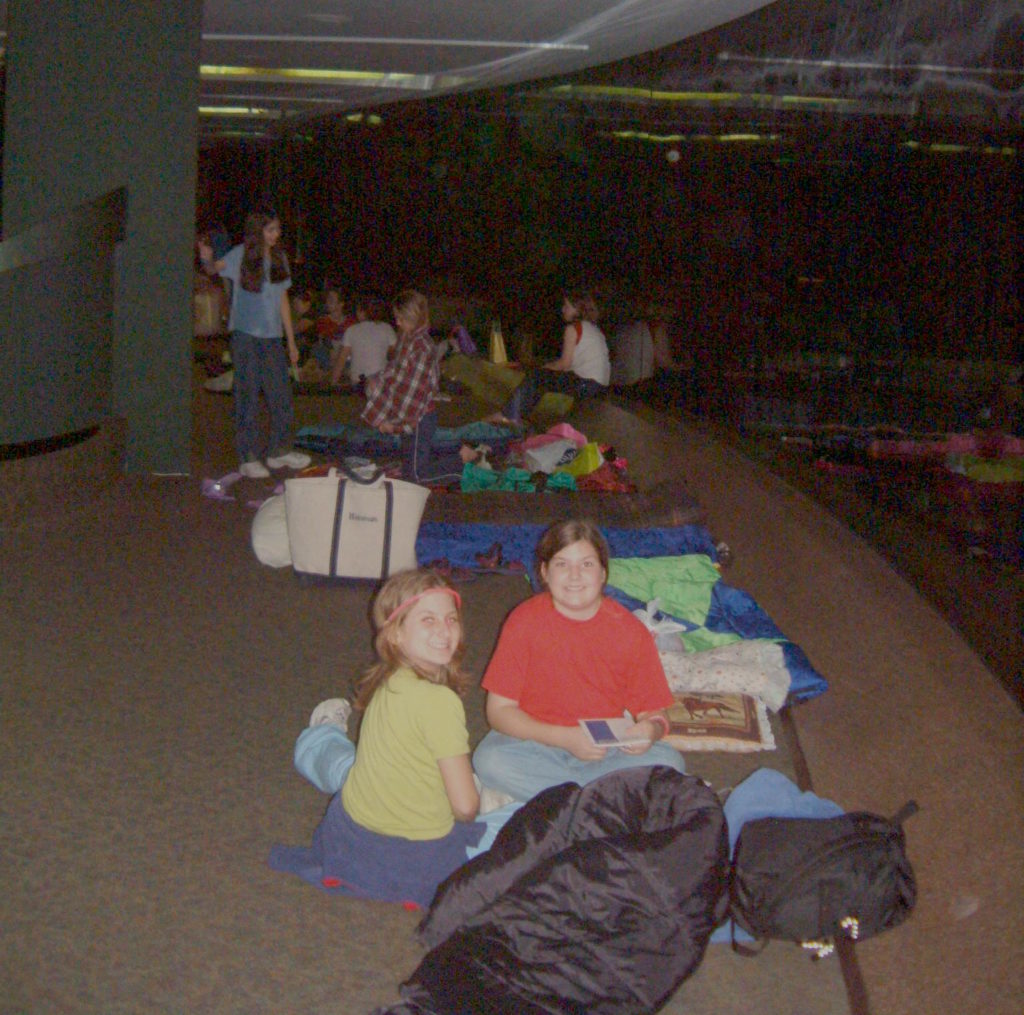 Dani's 11th was another three-day fete, which began on Friday with dinner at The Colorado Fondue Company. On Saturday she took 18 guests to SeaWorld for a Manatee Sleepover, which ended at 8am Sunday morning.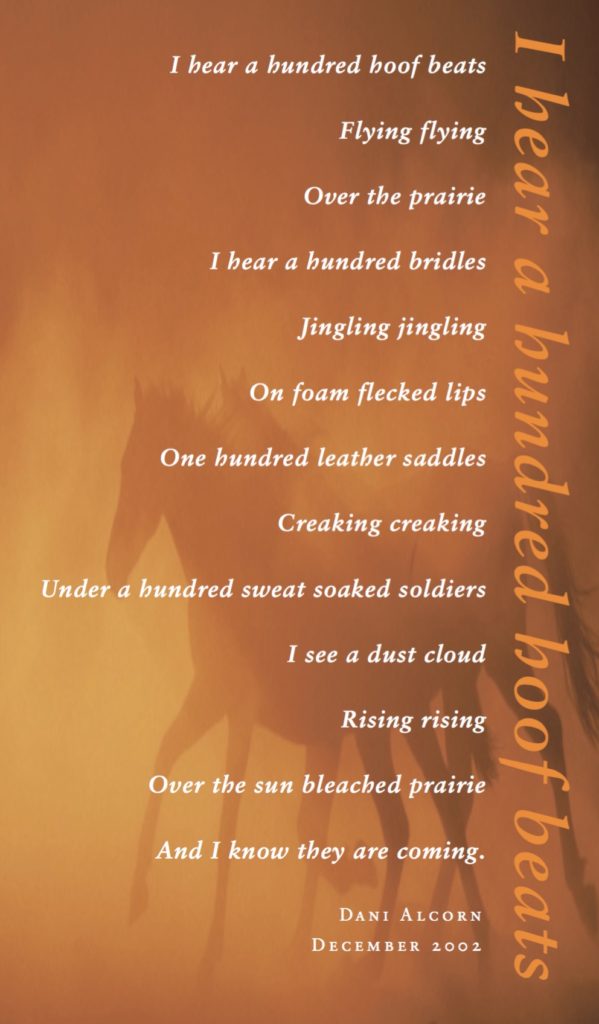 A graphic of one of Dani's poems by my pen pal Steve Pisano.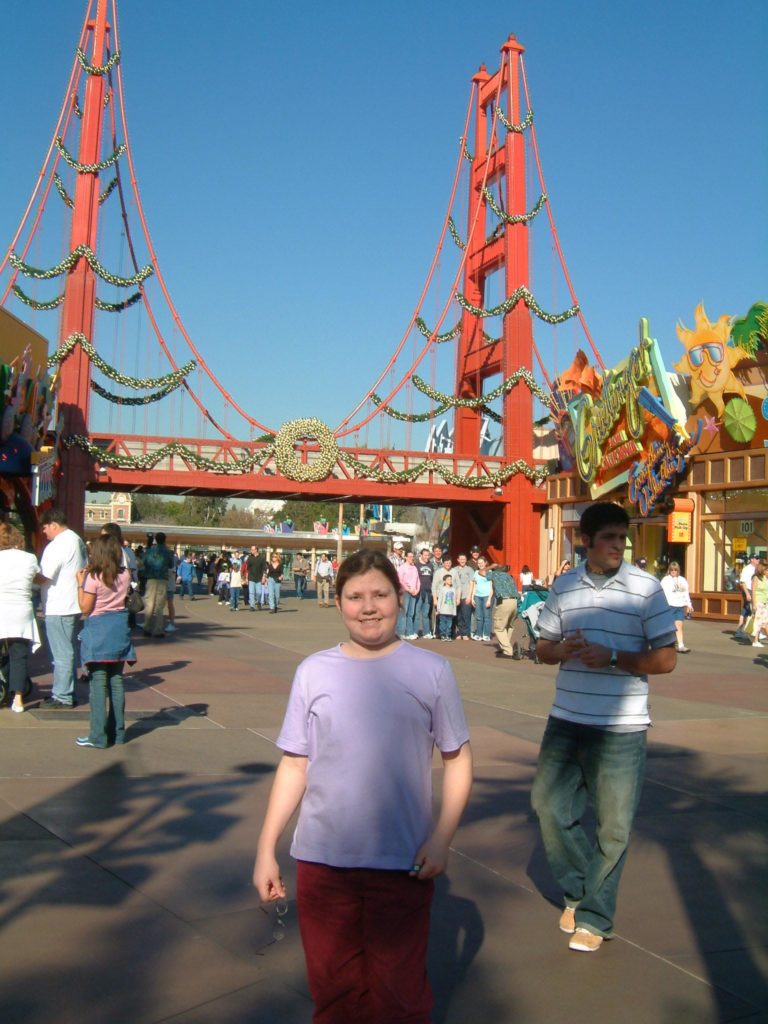 Disney's California Adventure.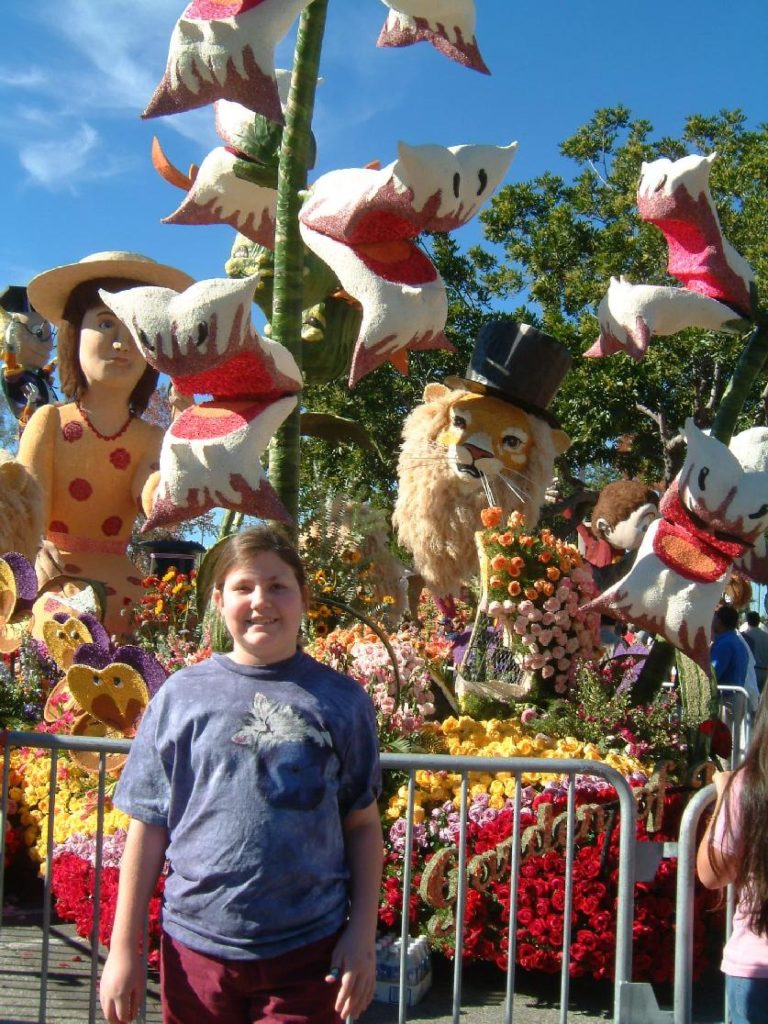 Rose Parade 2003.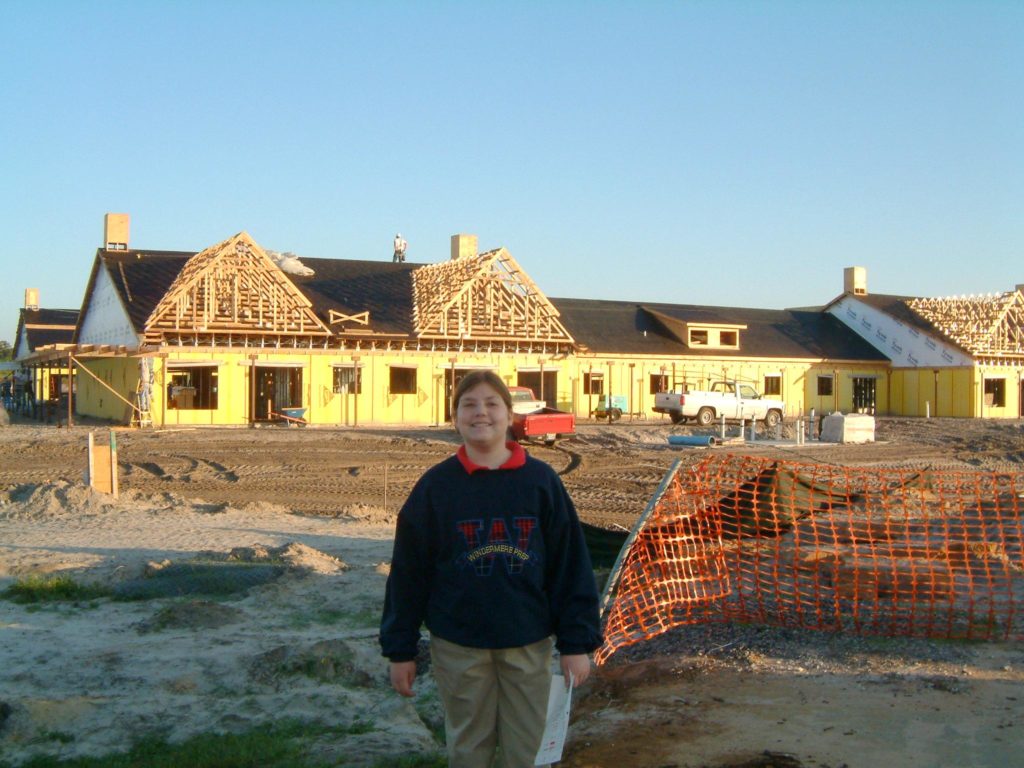 Windermere Preparatory Construction, October 2002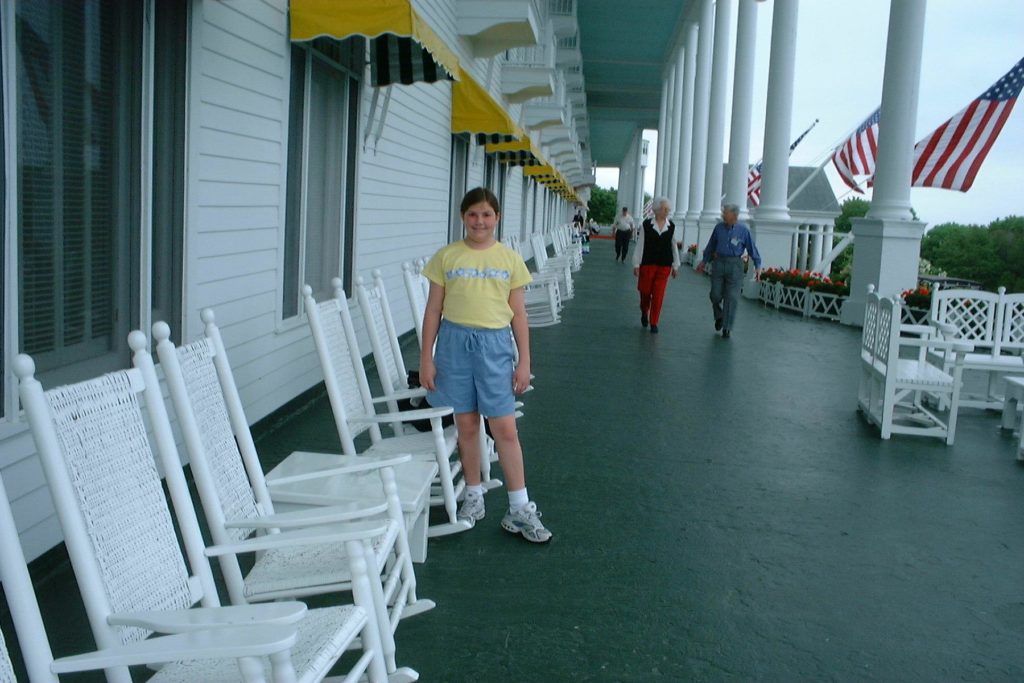 Standing on the porch of the Grand Hotel, Mackinac Island.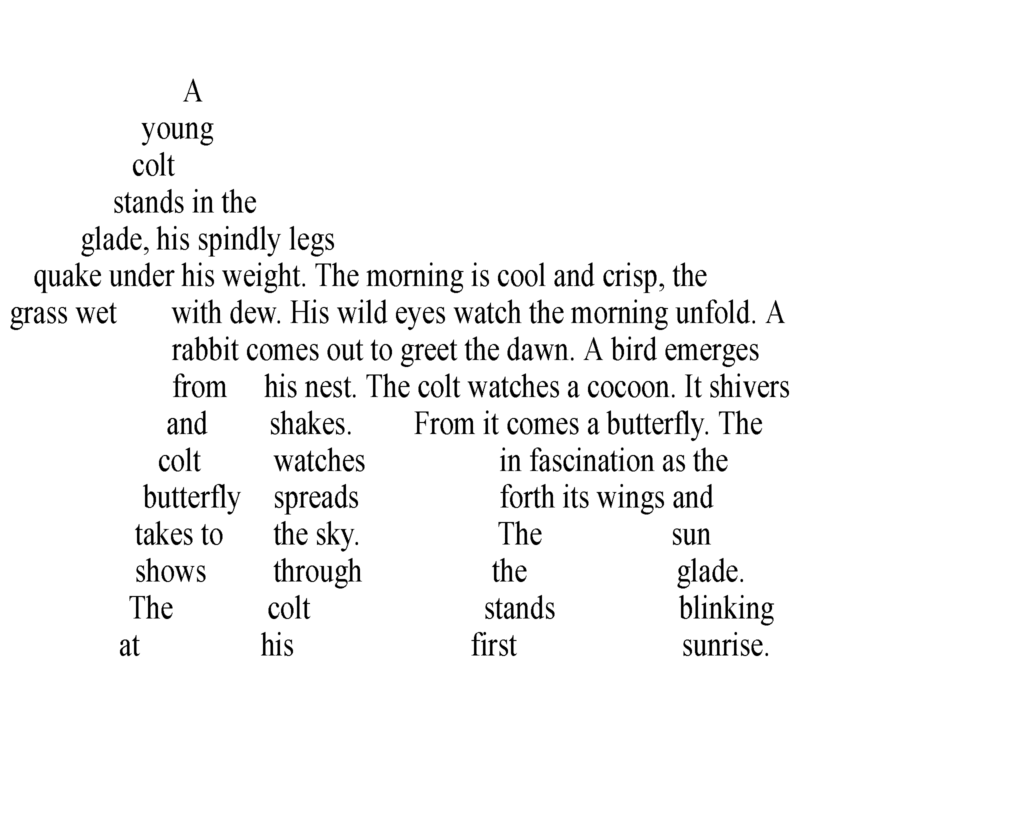 Colt Poem, May 2002.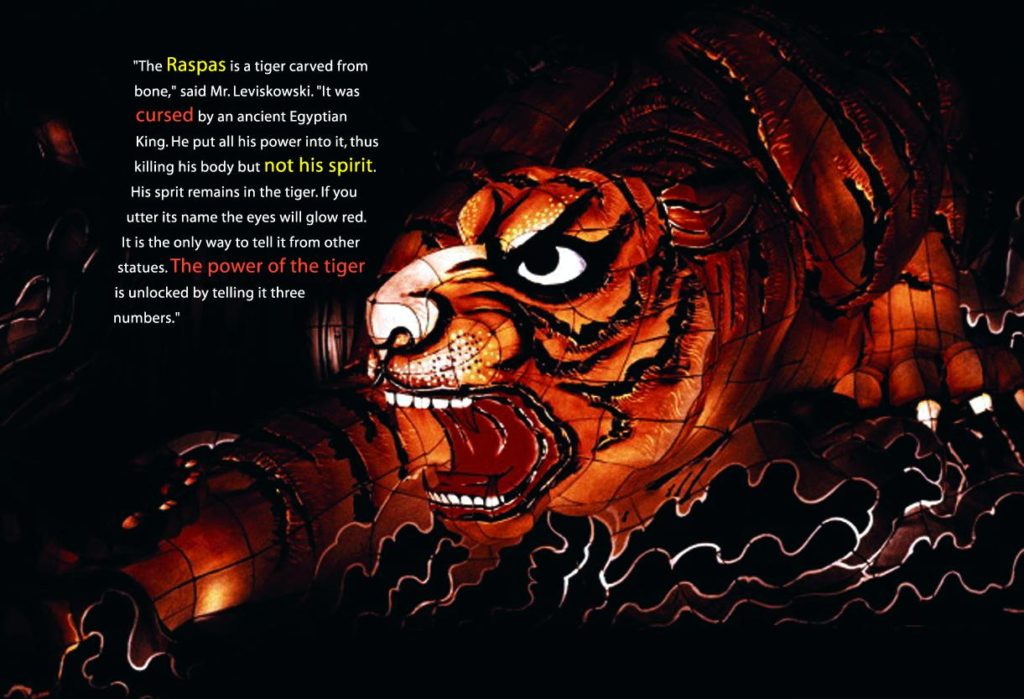 The Raspas
by Dani Alcorn
May 2002, Age 11
Artwork by Steve Pisano
My archeology degree from Dartmouth doesn't provide me with a living. I make ends meet with the income from my small antique shop, The Dusty Attic. Four weeks ago I received a call at 2:47am. The caller never identified himself. He spoke of a strange artifact, called the Raspas. He told me it was valuable. He also told me it was magical. I do not believe in magic. When I asked him how I could find it, he said, "Find Leviskowski." And when I said, "Where?" he replied, "In Egypt." Then the line went dead.
My sister, Megan, and I traveled to Egypt. It took us three weeks to find Mr. Leviskowski. He proved to be a nice old man who owned an antique shop just outside of Cairo. When we asked him about the Raspas, at first he denied all knowledge of it. But finally he reluctantly told us where we could find it. He also told us what it was.
"The Raspas is a tiger carved from bone," said Mr. Leviskowski. "It was cursed by an ancient Egyptian King. He put all his power into it, thus killing his body but not his spirit. His sprit remains in the tiger. If you utter its name the eyes will glow red. It is the only way to tell it from other statues. The power of the tiger is unlocked by telling it three numbers."
"What numbers?" we asked, but he would not answer. After a week of searching we found and purchased the tiger with the glowing red eyes. We went back to Mr. Leviskowski's shop. He was asleep. On the table next to him was a tablet. Three numbers were written on it: 2, 4, 7. I thought it was odd that it was the time I received the call about the Raspas. As I read them aloud the Raspas began writhing in my hand and getting hotter and hotter and Megan shouted "Kivrin!" but all I heard was a cruel laughing in my head and then suddenly my head was clear but I was not Kivrin any more, I was the Egyptian King come back to life, with the urge to do awful things. My brain was wrestling with the Egyptian King trying to be me, but he was too strong.
I heard Mr. Leviskowski tell Megan that the only way to stop the King from doing evil through me was if someone good and kind put their soul in the tiger. Megan was crying. She said, "I will."
I tried to scream "No!" but it was too late. She had already picked up the tiger and said, "I will possess you until the end of eternity!" There was a searing pain and darkness with only a single small light getting smaller and smaller. The blackness threatened to drown me. I struggled to get to the light, but the harder I struggled the faster I fell. Things swirled around my head. I had to get to Megan. The light went out.
I woke up on the hard floor. My dead sister lay beside me, the tiger still in her hands.
"Megan," I whispered.
The tiger's eyes glowed red.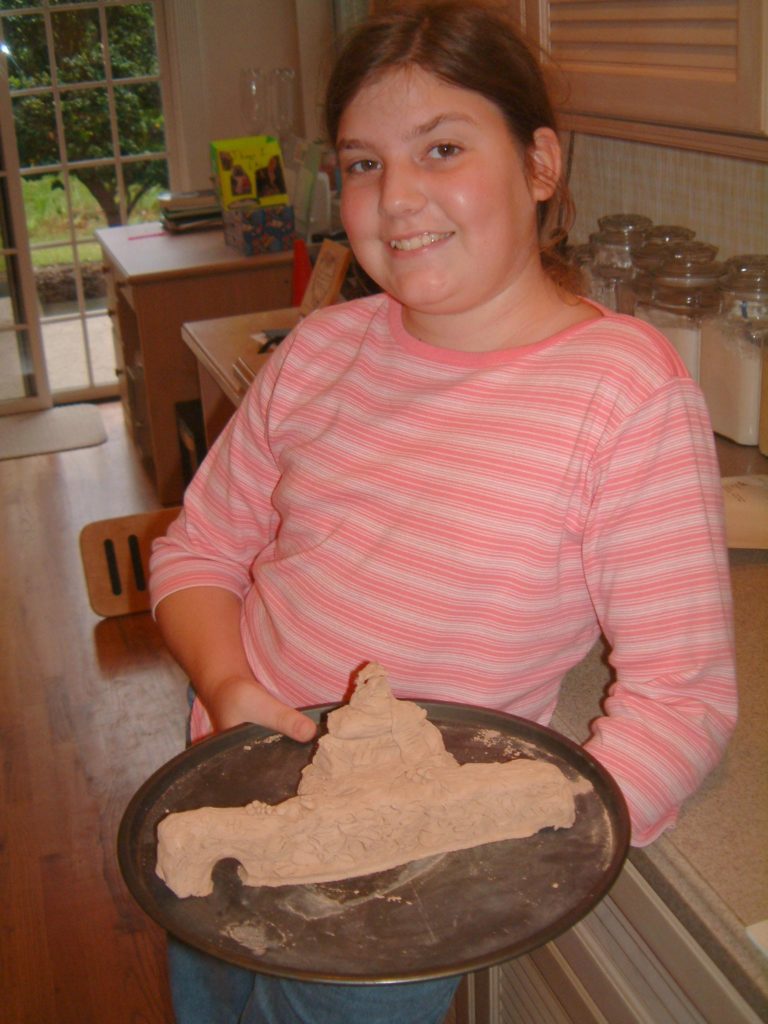 Great Wall of China, May, 2002.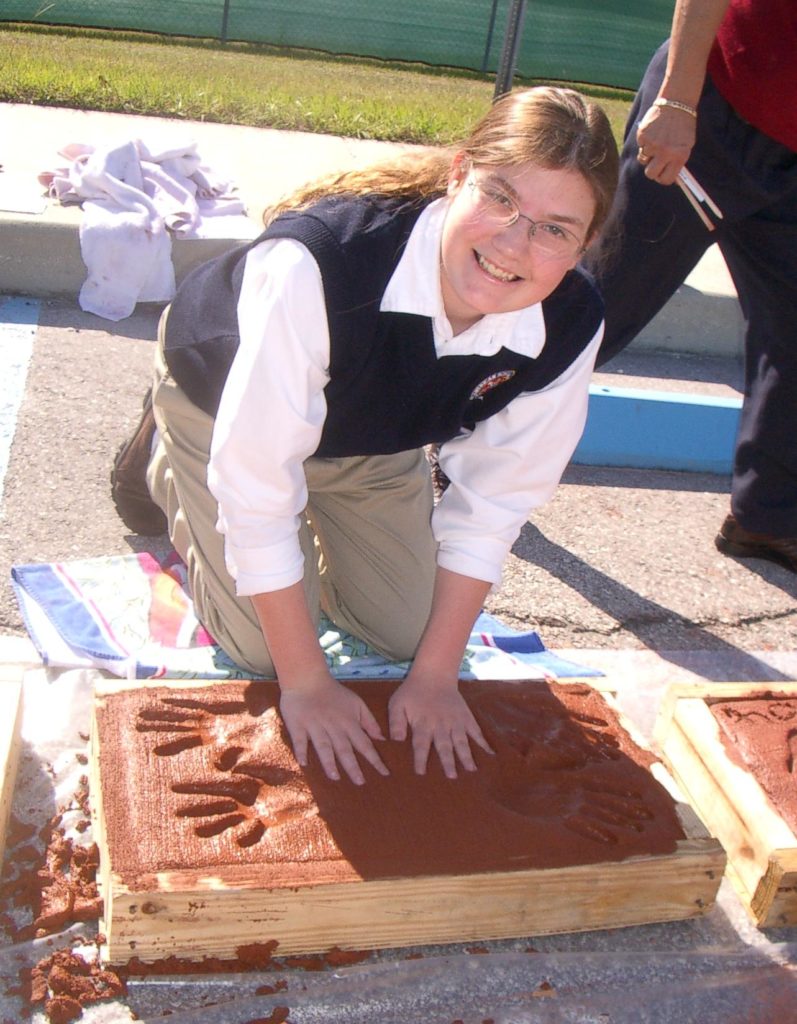 Handprints at WPS.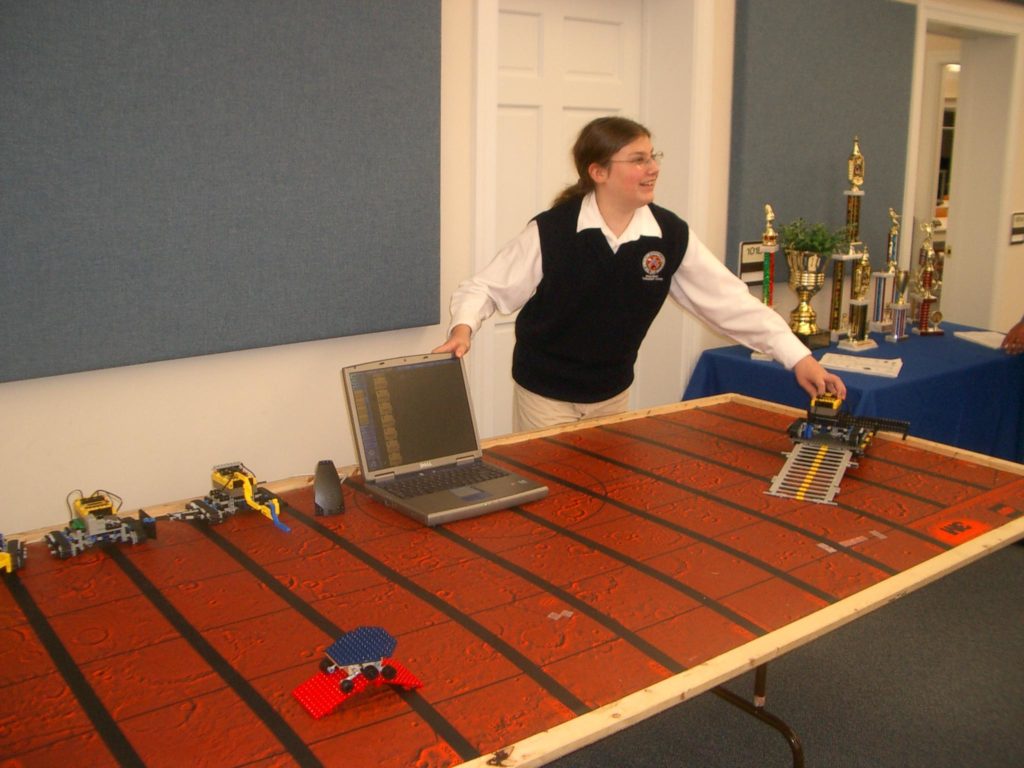 Explaining Lego League to parents of prospective WPS students.


As Trill Jadzeera Dax from Star Trek Deep Space 9, Halloween 2003. Linda and I missed that Halloween, as we were in Williamsburg for Ginnie's memorial service.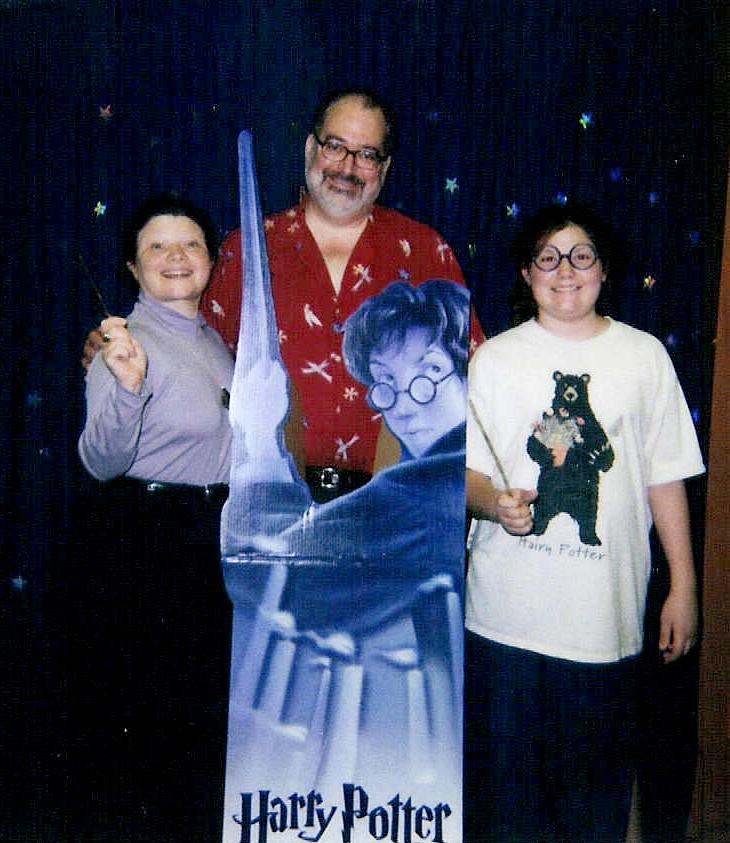 At midnight on June 20, 2003 we were at Barnes Noble for the release of Harry Potter and the Order of the Phoenix. It was amazing to see hundreds of thousands of normally TV-addicted Americans turn out for the release of this long-awaited book. The advance printing was 8 Million copies in the US alone! Dani stayed up most of the night reading the 900-page tome. (Note her Hairy Potter T-Shirt.)