In late 2003 and 2004 Dani and Steve took a bronze casting class where we learned to make bronze sculptures using the lost wax method. You start with a block of wax warmed in a pot of hot water. After a few weeks shaping your model you coat it with a special shell mixture that hardens and can be fired. The wax melts out and is lost.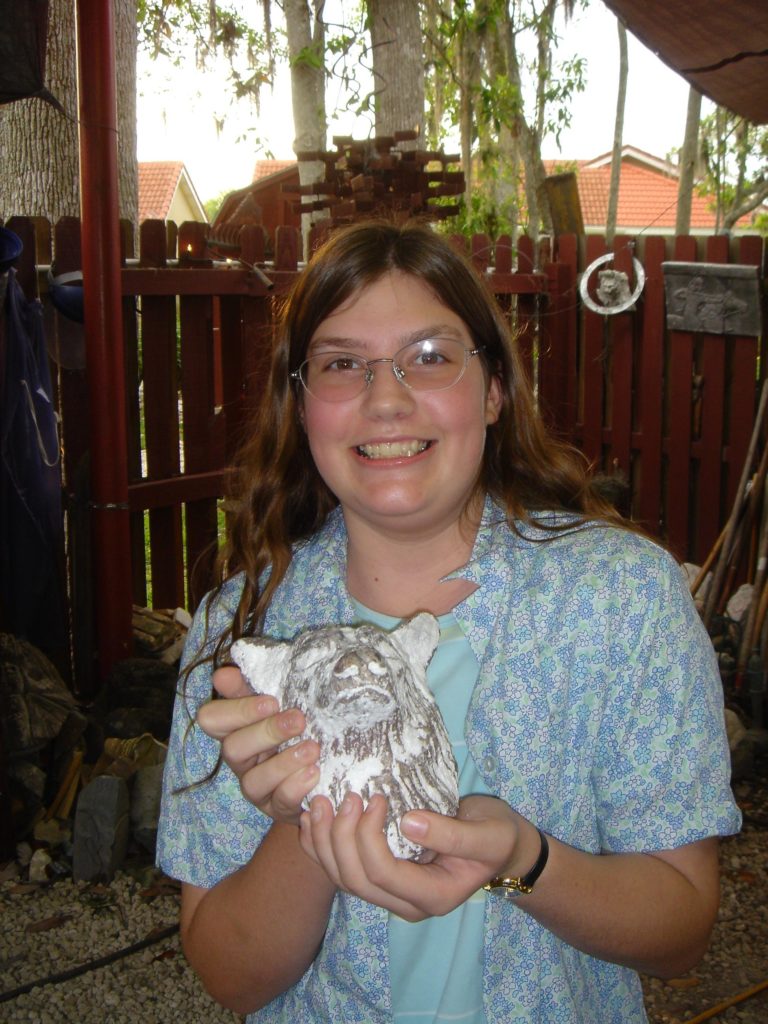 Fresh from the mold, still encrusted with shell, and weighing 18 pounds!
For Dani's 13th birthday (early) on February 12-15 we took Dani and her friends Christina and Caitlin on the Disney Wonder to Nassau and Castaway Cay.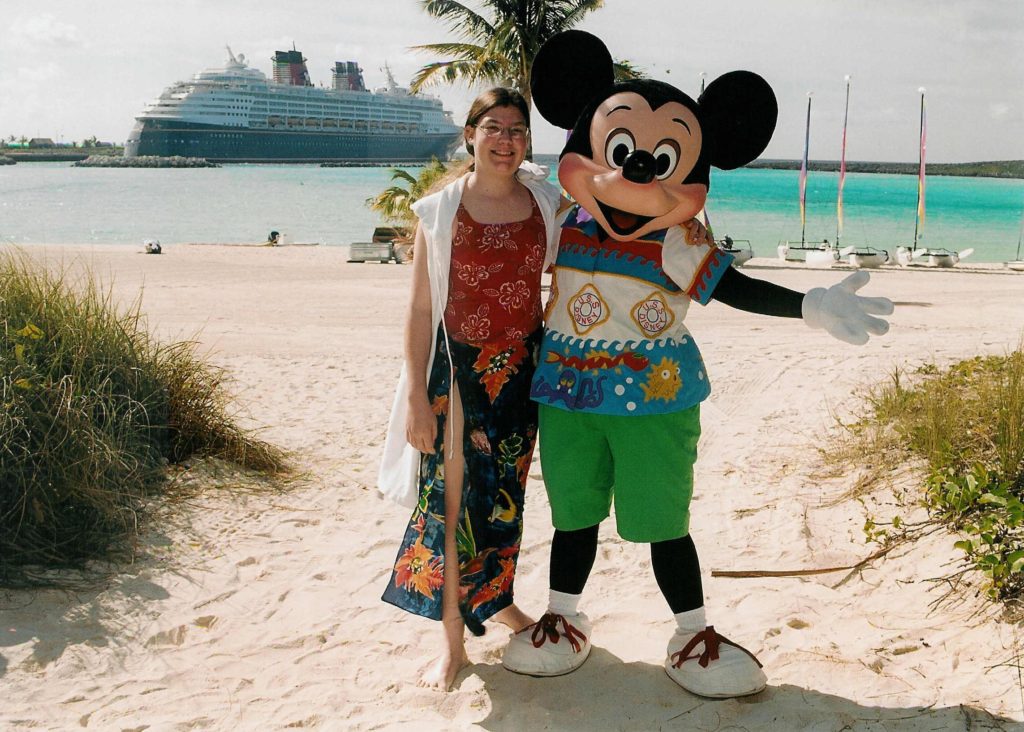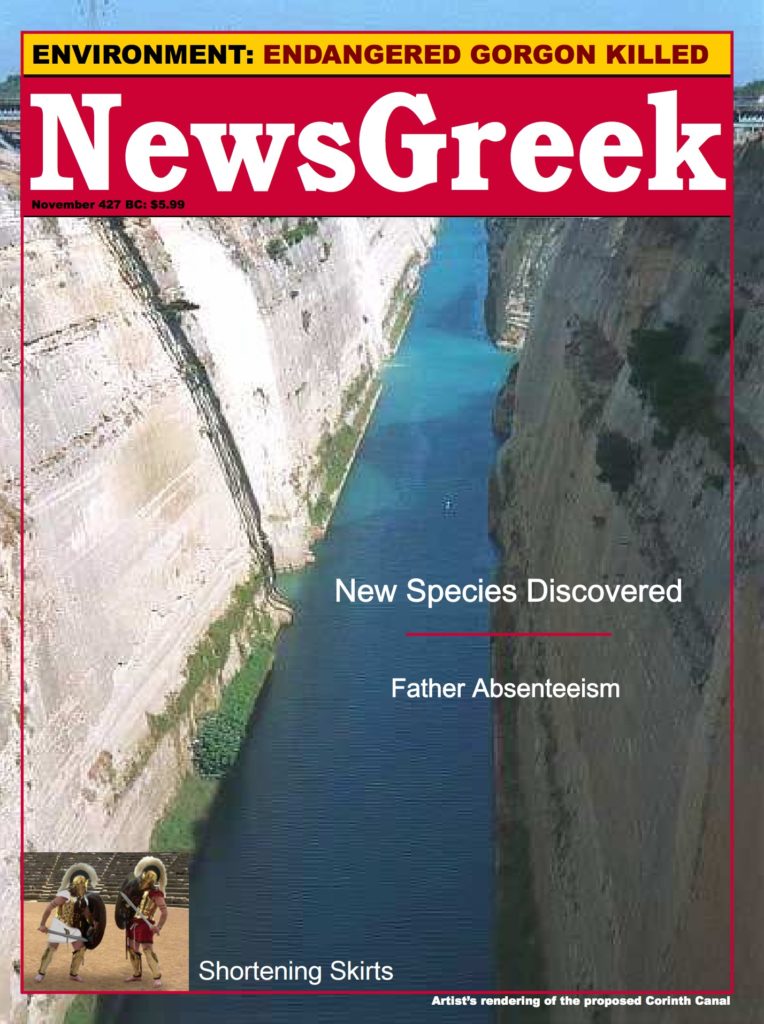 Dani made this hysterical satire on NewsWeek as a class project. Read it here: NewsGreek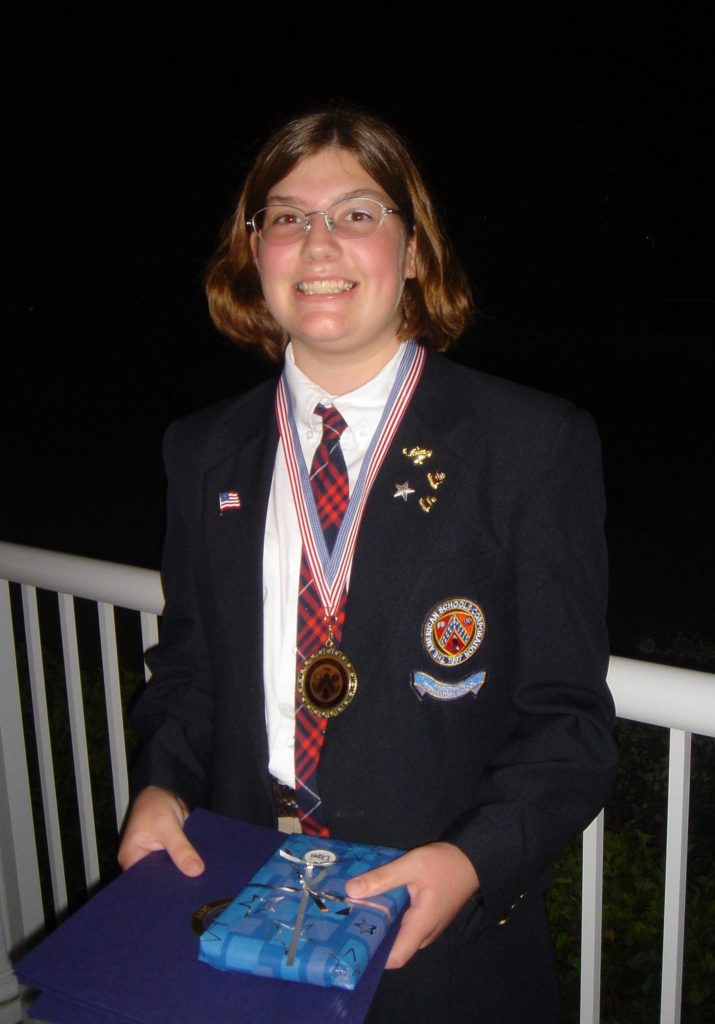 Dani finished her four years at WPS on an incredible high note, winning the Veritas award, which recognizes that student that pursues "truth" in all subjects, seeking the details, and the reasons behind the facts. She also won recognition in the subject area of Logic, and for being an Outstanding Scholar (3.75 or higher GPA all year).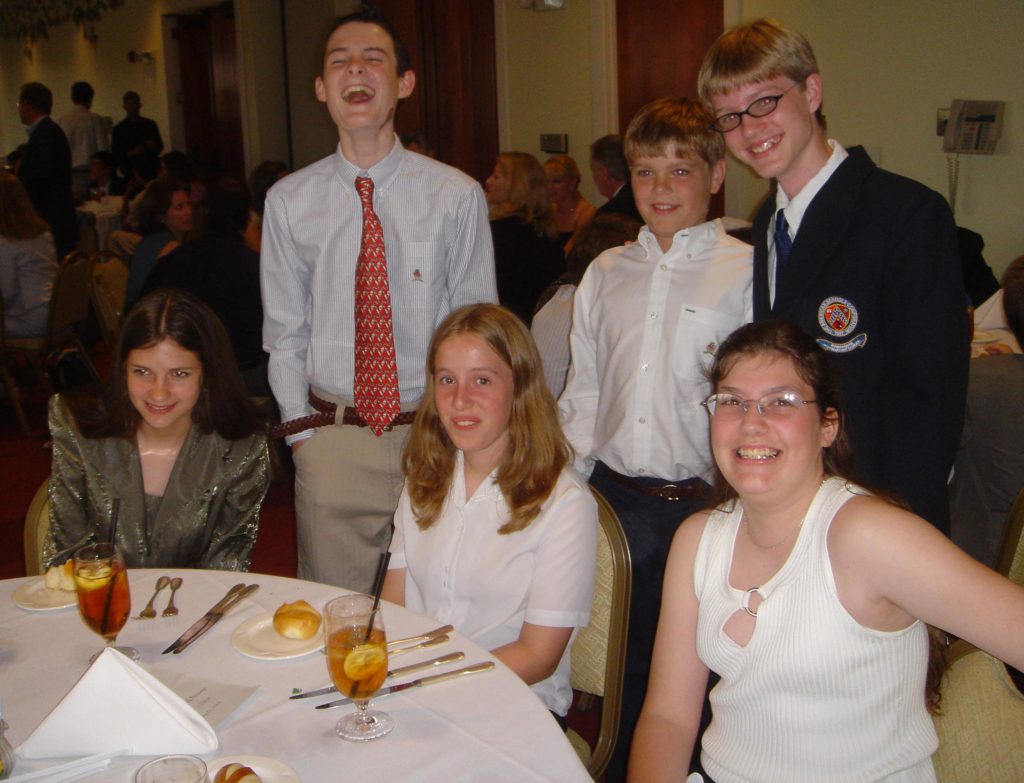 Caitlin, Cameron, Christina, Lucas, Cory, Dani.
The eighth grade "Turning a Page" graduation dinner was held at the Keene's Point Golden Bear Club. The teachers introduced each student with a speech, keeping their identity a secret until the end. It was very touching, and in some cases they choked up and had to pass their notes to others. At the conclusion we showed the 18 minute film I made, and distributed DVDs to all the students. Here is what her Latin and Speech teacher, Kris Hartley, said about her:
"Live long and prosper." These immortal words were uttered on the famous show, Star Trek. For those of you unfamiliar with Star Trek – and I shamefully count myself in that number – it is a continuing television and movie project in which the ongoing saga of good versus evil is played out on a cosmic stage. But it is the drama of this student's own extraterrestrial saga that far outweighs anything Gene Roddenberry could produce. For you see, this student is fast at work on her own novel, with not quite 33 chapters complete, but enough ideas and imagination to fill a Chinese Wal-Mart. But like the Star Trek character Data encountering his own twin nemesis in episode 41242.4, this student has her own rival author in study hall, and she knows who she is. This student's creativity does not stop at the keyboard, however, as her incisive political questions in Public Speaking have sparked many a heated debate. Always game for intellectual discourse, her contributions in Latin have also been appreciated, and her insights bring a fresh perspective to Ecce Romani's tired old story. What's more, this student is on the yearbook staff, yet makes time to sing in the school's musical productions. She pursues outside activities such as bronze casting, and will this summer be visiting the immortal land of Italy, where I am sure she will be retracing the footsteps of the Cornelius family in Ecce Romani. Broad interests will most certainly guide her studies throughout high school. This student will find many doors open to her as she moves on, and she will most certainly travel to exotic and faraway lands. Perhaps…even…planet XR7-G! Ladies and gentleman, I present to you…Dani Alcorn.
Dani's farewell notes to her teachers:
Ms. Zurich,
I want to thank you for the year of math, the year of fun, and the year of challenges you have given me. I think about leaving WPS with sadness, loss and one small, sad smile. I smile because I have left a footprint in the sands of WPS which I hope will grow into an avenue for each new 8th grade class. You challenged me to think, I only hope I did you proud.
Dani Alcorn
————————————————-
Ms. Anderson,
I have always liked science until these last two years; now I love it. What I loved most about your class is you let me ask questions, explore their answers and helped me find my own way of doing things. I hope to keep learning. And I hope you will remember, in some small way, the name Dani Alcorn, because I will always remember the name Ms. Anderson.
Dani Alcorn
————————————————-
Mr. Hartley,
"Live long, and prosper". I will admit it isn't exactly the way I had hoped to go down in WPS history, but looking back, I wouldn't have had it any other way. You taught me Latin; you taught me about life. I will always remember that, and I thank you for this year. Now this isn't a joke, this is from the heart: "Live long, and prosper."
Dani Alcorn
————————————————-
Mr. Kurlancheek,
History was my best and worst subject until this year. It was my best because I was good at it, the worst because I dreaded it. This year I thought was going to be another stuffy boring class in things I already knew. How wrong I was. I found your class captivating. Most importantly it kept me asking, "Why?" the most important question in the world. I grumbled with the class about outlines, but secretly I loved every minute of it, turning every page to a new story. Thank you, for such a wonderful year. I will never forget.
Dani Alcorn
————————————————-
Mrs. Davies,
I want to thank you especially, not for any one thing, but for believing in me and encouraging me to test my limits Most of the time I found the only limit I had was the sky. Looking back upon this year I would almost rip the page in half to keep from turning it. This year is like a good book: you have to keep reading to find out what happens, but that you want to stop because there is only one first time.
There is a Joni Mitchell song I've always liked, but I've never really understood it until today. One line goes, "you'll drag your feet just to slow the circle down." "Why would you want to slow down?" I asked my father one day "You'll see.." he said. Well, I finally understand the song but I wish I didn't.
So with a heavy heart and slow hands I turn a page in the book of life. But I have one small comfort: that I have left a footprint in the sands of WPS.
Dani Alcorn
---
The 2004 school year began with a new school–Trinity Prep–and three hurricanes!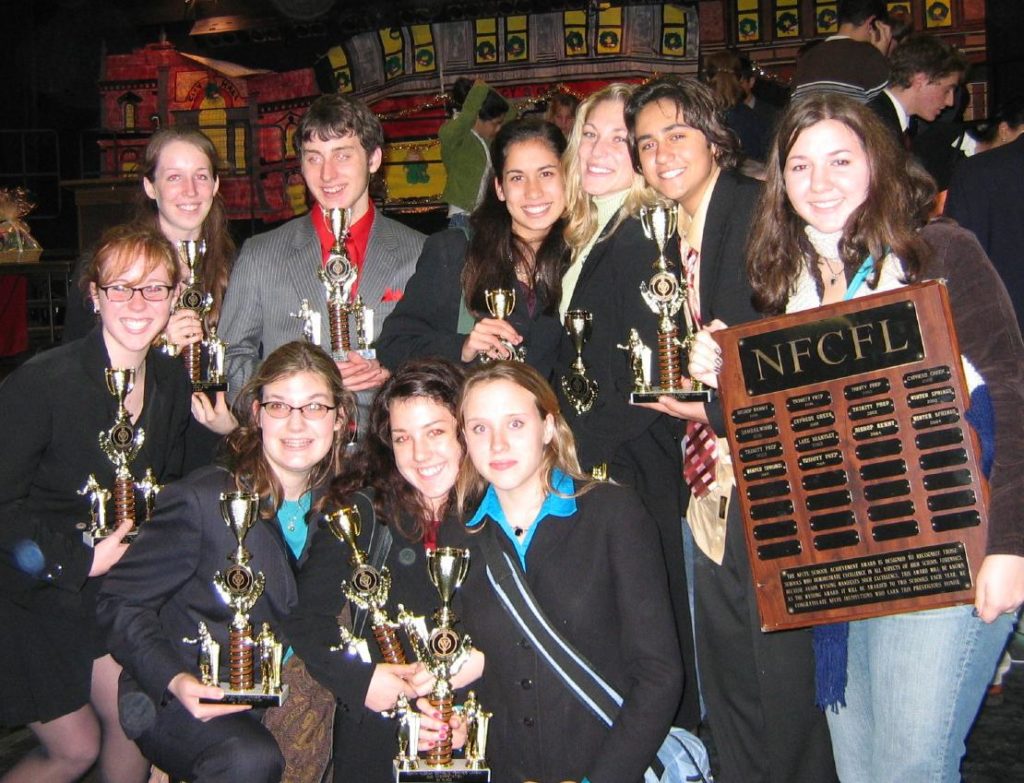 First place in Oratorical Interpretation at the December 2005 CFL tournament at Lake Highland.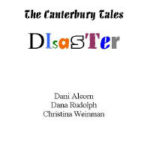 Dani was assigned, along with two friends, to write something similar to The Canterbury Tales, with an outer story such as Chaucer's group of travelers and a collection of inner stories such as the tales they told each other. After considerable arguing they found they couldn't agree on the subject. So they decided to make the outer story be about their argument, and the inner stories the different ideas each of them had. Here is the result, all in iambic pentameter, of course. CanterburyTales
As a going away present for their friend, Caitlin, Dani wrote and Christina illustrated this story. Read it here: ShellSoup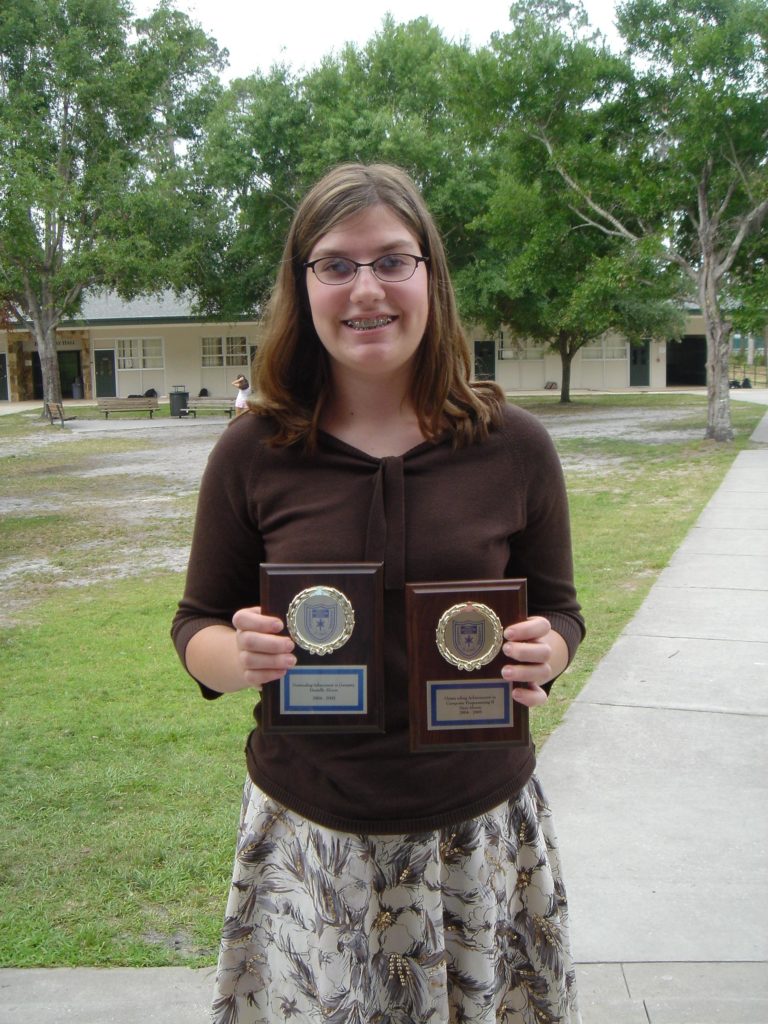 At the end of the 2005 school year Trinity Prep recognized the ninth grade students at an awards ceremony. Linda and I were tipped off that Dani was a winner, but we weren't told what award she was to receive. At the awards ceremony we were very proud when she won two of the six academic awards. One was for Computer Programming, and the other for Geometry. Way to go!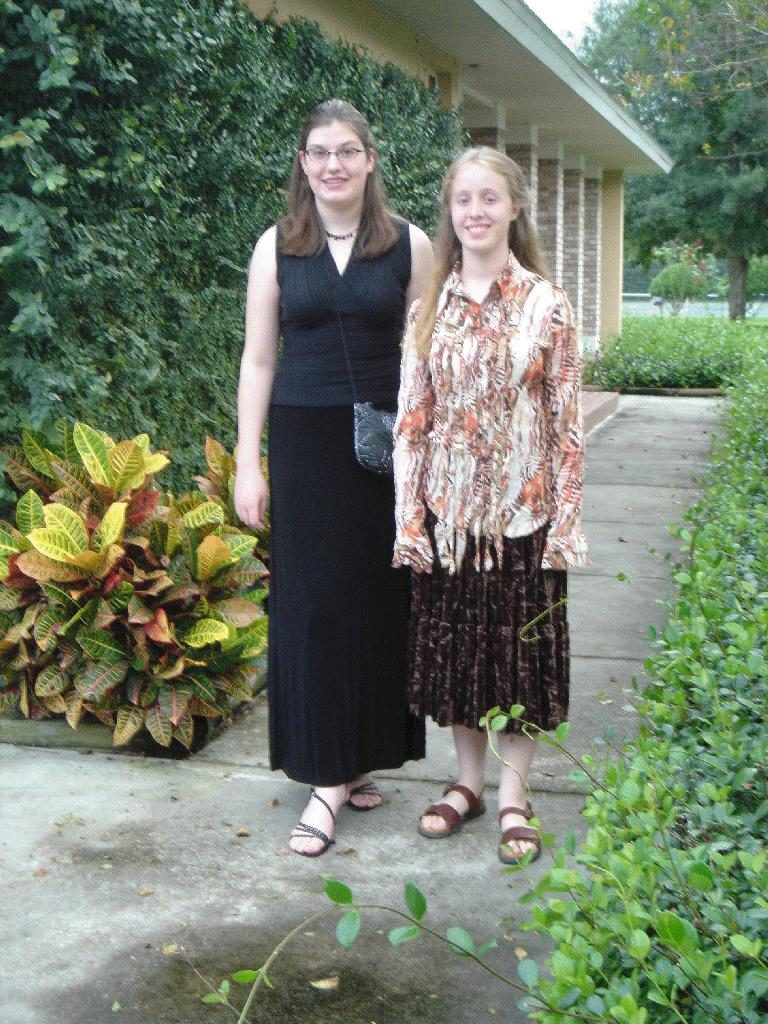 Dani and Christina ready for their first homecoming dance.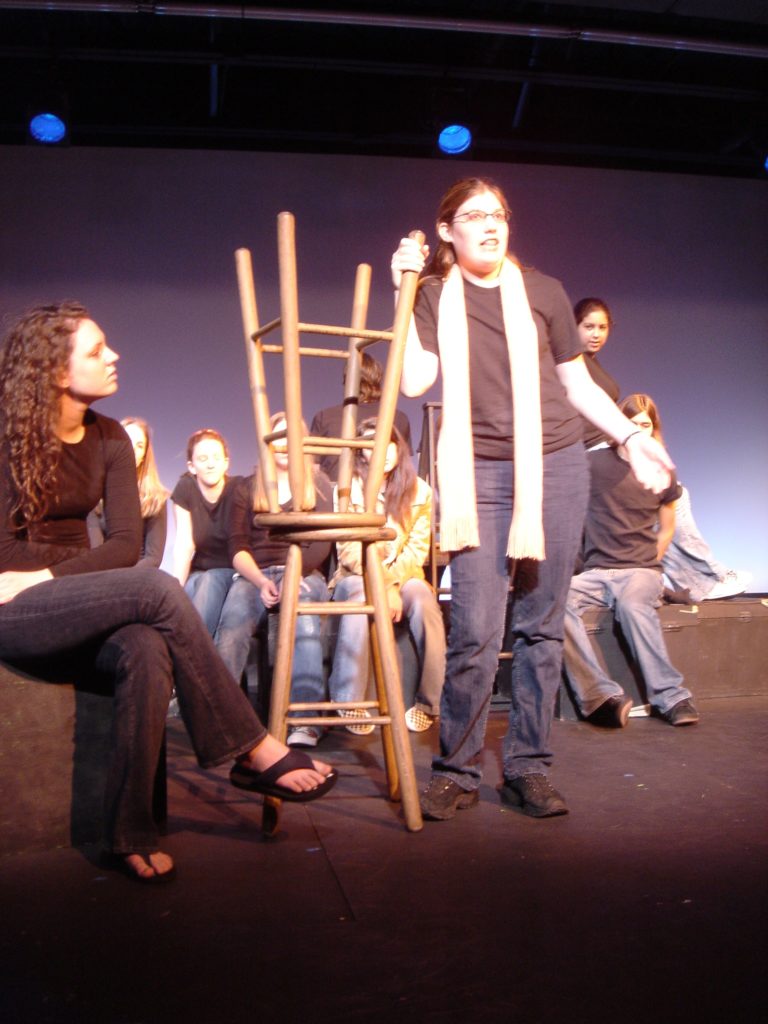 Acting in "The Verbatims" at The Orlando Shakespeare Festival, February, 2006.

10th Grade: Dani won the 2006 Performance I Award at the year-end awards assembly.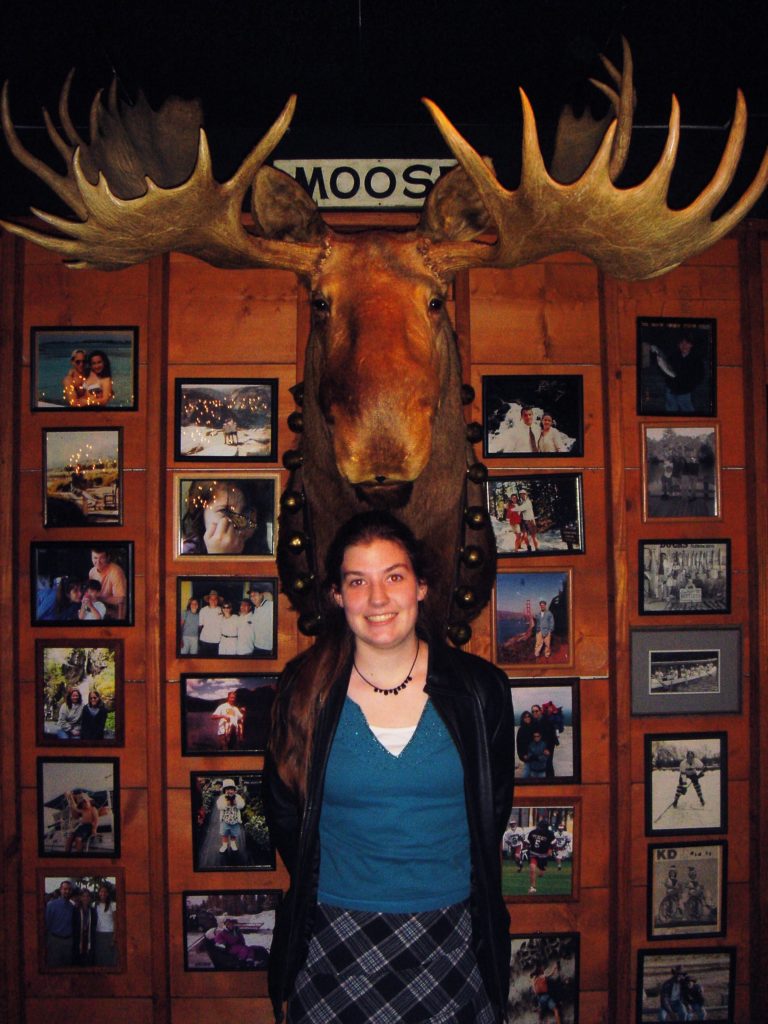 Dani on her 16th birthday at the Colorado Fondue Company. That moose keeps getting lower.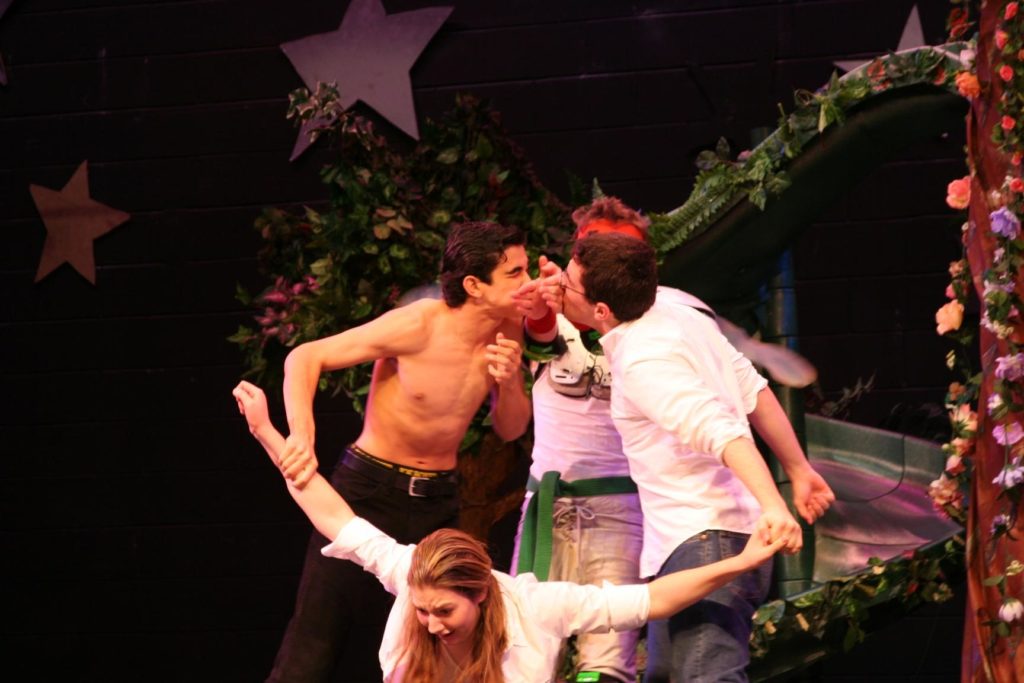 A Midsummer Night's Dream. At the annual Trinity Awards ceremony, Dani won the Summer Theater Award for her performance in A Midsummer Night's Dream, presented to her by drama instructor Richard Width.
Lady Macbeth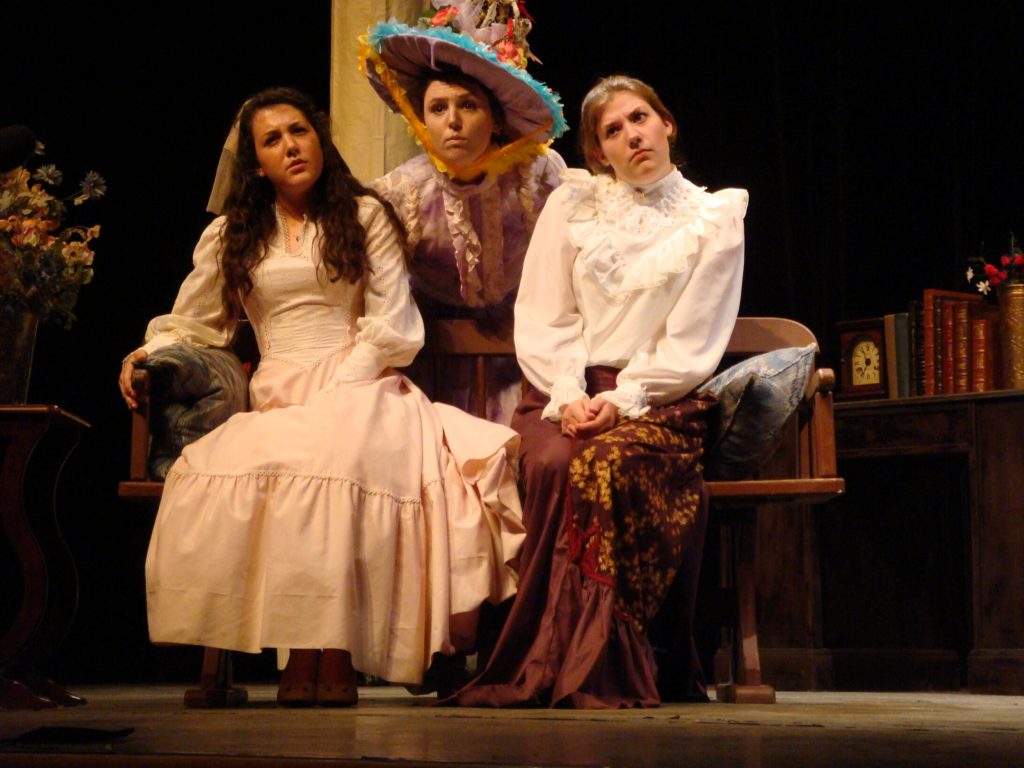 The Importance of Being Earnest. Dani stepped into this role just 8 days before the show, when the girl playing Gwendolen had to cancel.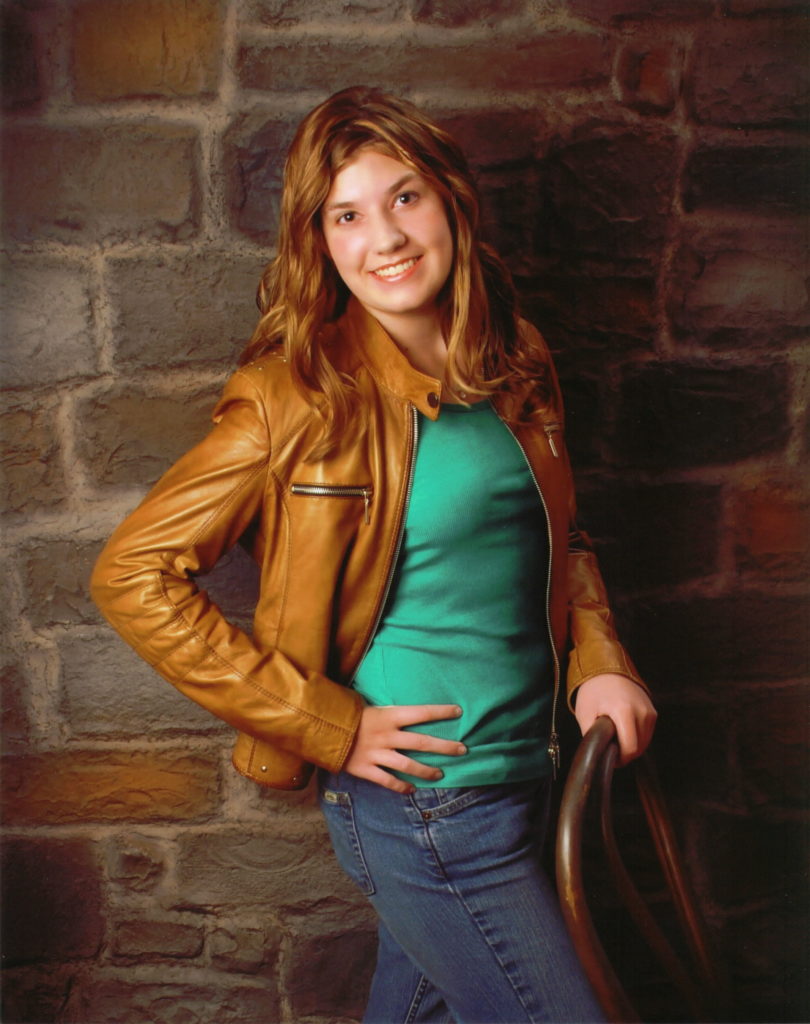 Senior photos – taken so early she's still 16!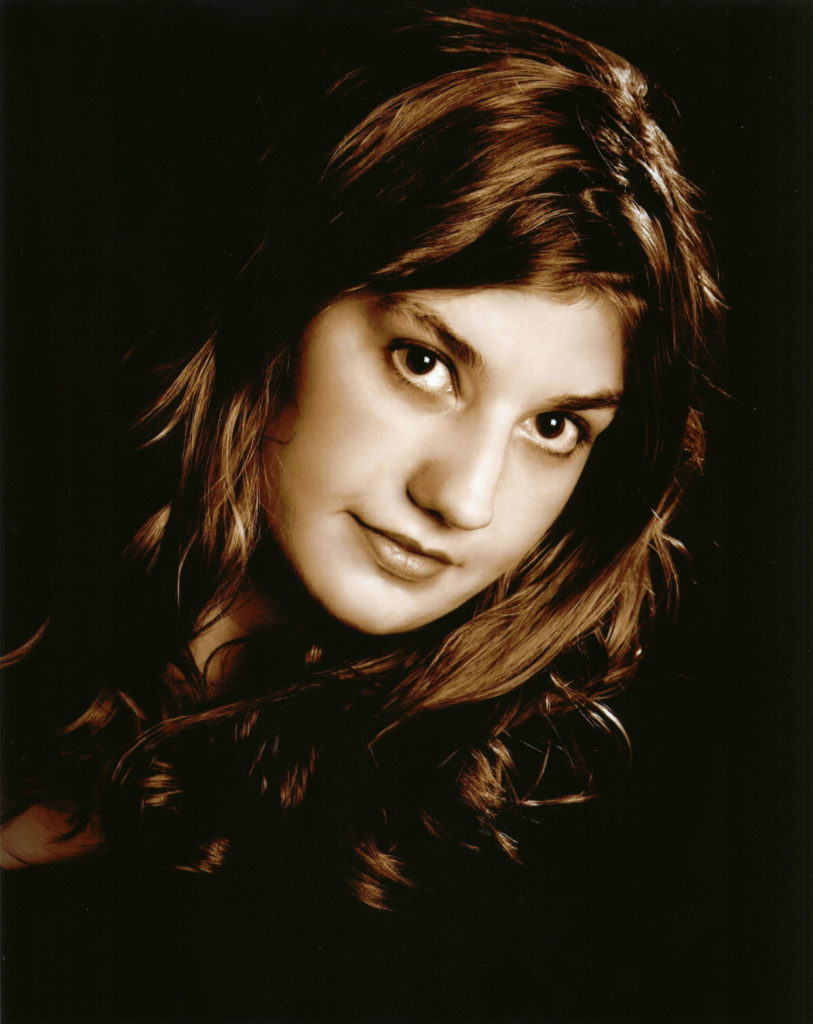 Dani's college essay about Star Trek: College Essay – Star Trek
Dani's college essay about Mr. Width: College Essay – Mr Width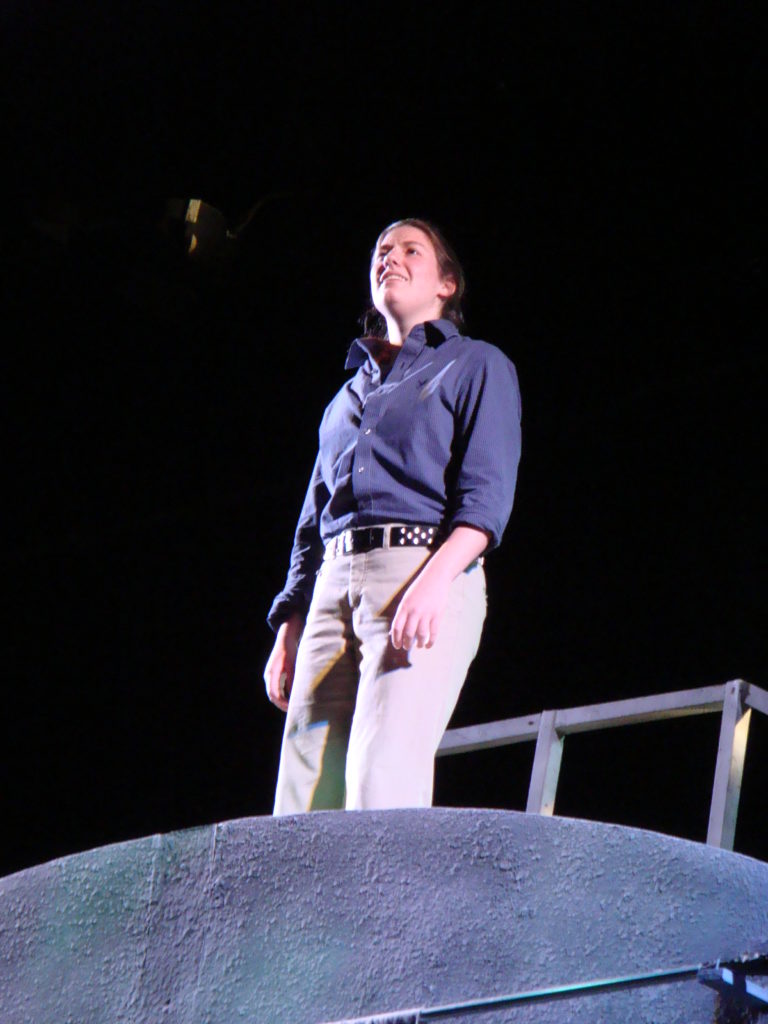 How Dani spent her 17th birthday: Rosencrantz & Guildenstern are Dead

Dani made it a clean sweep, receiving awards at the annual year-end ceremony at Trinity Prep for four years in a row. This year she won the National Honor Society, President's Award for Academic Excellence, and the award for "Master Class I," in recognition of her cartwheel in Mollier's School for Wives?!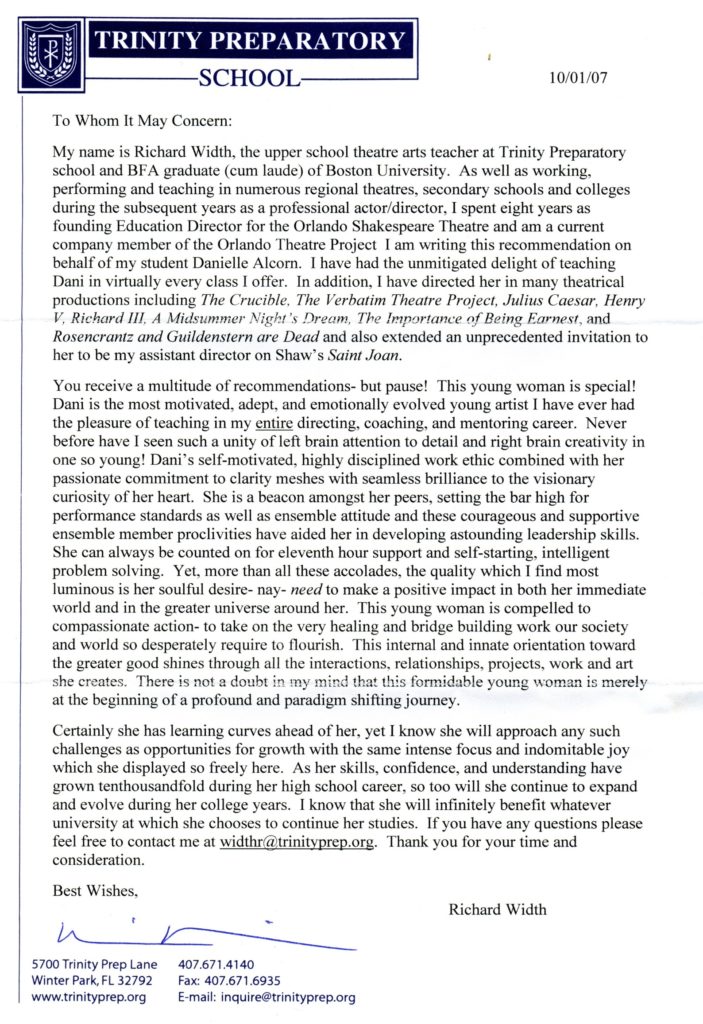 Dani's letter of recommendation from Mr. Width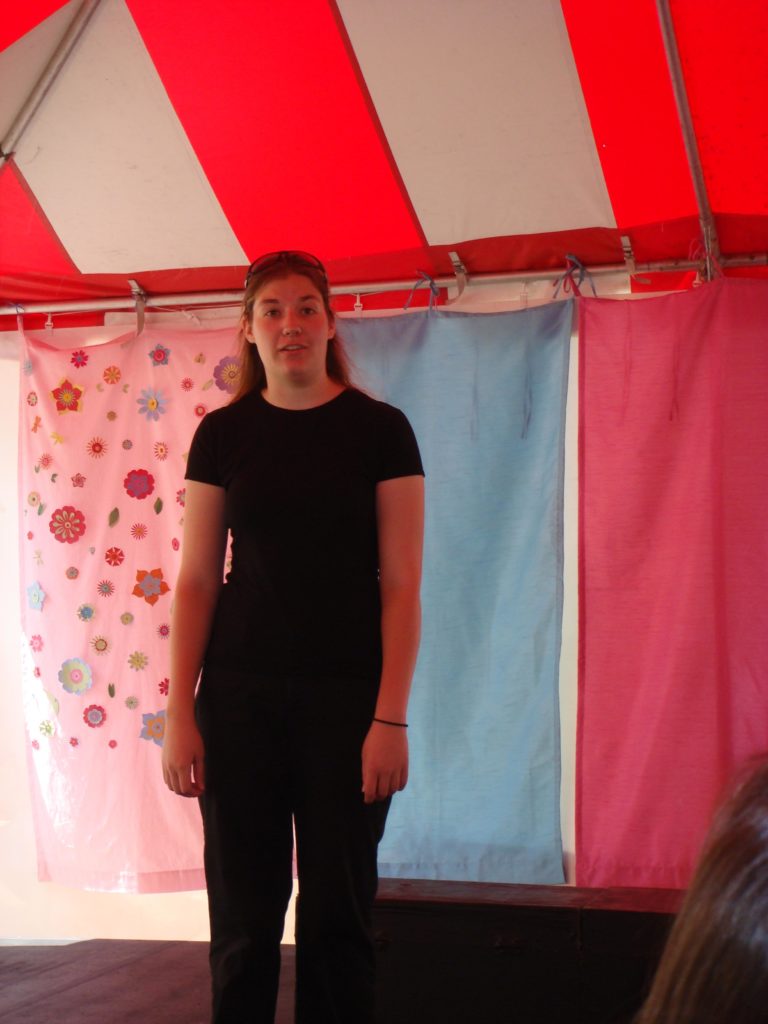 Dani directed an original musical by Alex Ferguson, Alice in Wonderland, for the 2008 Orlando Fringe Festival. Her first paying directorial gig!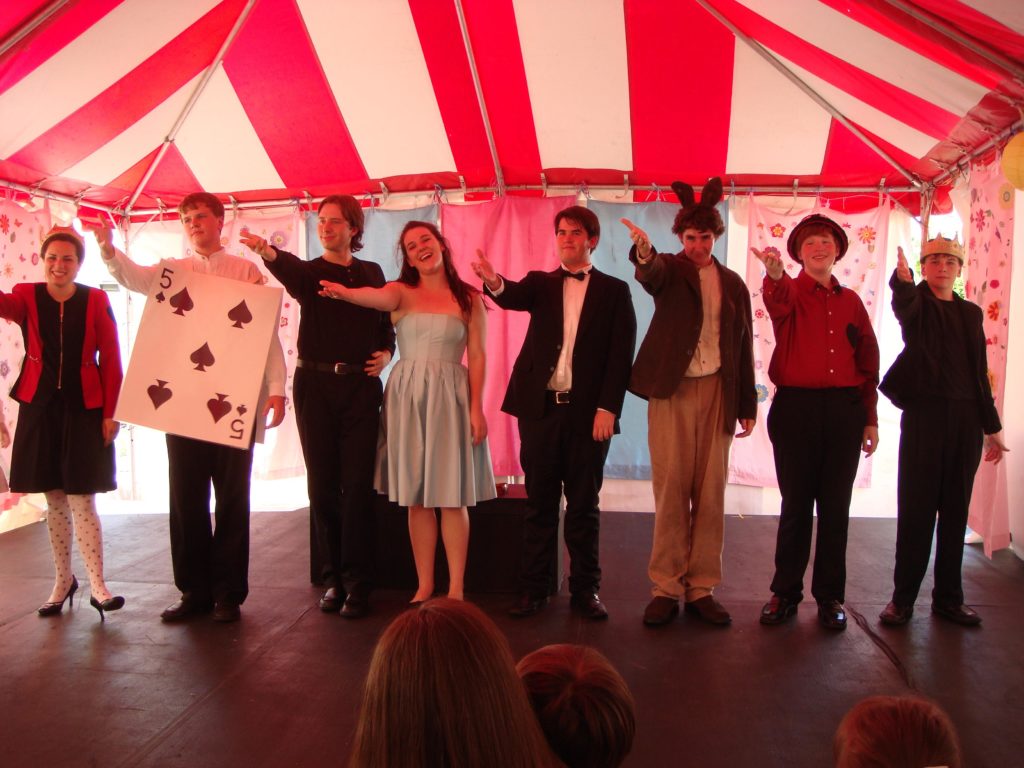 Reviews from the Orlando Sentinel:
Alice in Wonderland
Daack-Evanicki Production
By Matthew J. Palm
SENTINEL STAFF WRITER
This musical adaptation of Lewis Carroll's children's story can't help but evoke happy memories of the beloved book or maybe the classic animated Disney adaptation.
Alexander Thomas Ferguson, 16, has adapted the story and written several songs for the characters to sing. Wisely, Ferguson has retained all of the story's key moments and moves briskly from one to the next. He also knows how to effectively use Carroll's masterful prose and highlight the signature lines that are so well-known ("Move down!" "Off with her head!").
The songs have a slightly off-kilter feel, which suits the madcap world of Wonderland.
And the young cast finds the giddy essence of their characters: Jamie Pittle has the perfect enigmatic smile as a Cheshire Cat, Brooke Feldman is imperious to the nth degree as the Queen of Hearts, Daniel Burns is full of loopy languor as the Caterpillar and Riley Suter delights as an emotional Mock Turtle.
Alice has to carry the show, of course, and Christine Pappas shines with a sweet singing voice and a wide-eyed curiosity.
Get well, Alex Ferguson!
Here's bad news from Tim Evanicki, one of the producers of the hit show Alice in Wonderland:
Alexander Thomas Ferguson, the gifted teenager who wrote and stars in the show, became severely dehydrated and had to be taken to the hospital Thursday night. He's better but still quite ill.
Coincidentally, Alex is the same boy who was hurt in a diving accident just before the infamous high-school production of La Cage aux Folles last fall and had to step out of the role of Albin for a couple of the performances of the show.
James Everett, one of his schoolmates at Trinity Prep, will take on the role of the Mad Hatter in Alice in Wonderland for the rest of the weekend. Tim hopes that Alex will be well enough by Monday to do the Patrons' Pick show.
He performed all but the last two scenes of the show tonight, when Dani Alcorn, a senior at Trinity Prep school and the director of the show, filled in for him.
Patron's Picks
Fringe head honcho Beth Marshall has announced the first of the Patrons' Pick awards, which go to the show that sells the most tickets in each venue. Each winner gets to do one additional show on Monday (which is Memorial Day, for those of you who are not keeping up).
In the red venue, the winner is Alice in Wonderland, the show written and performed by some very hard-working high-school kids.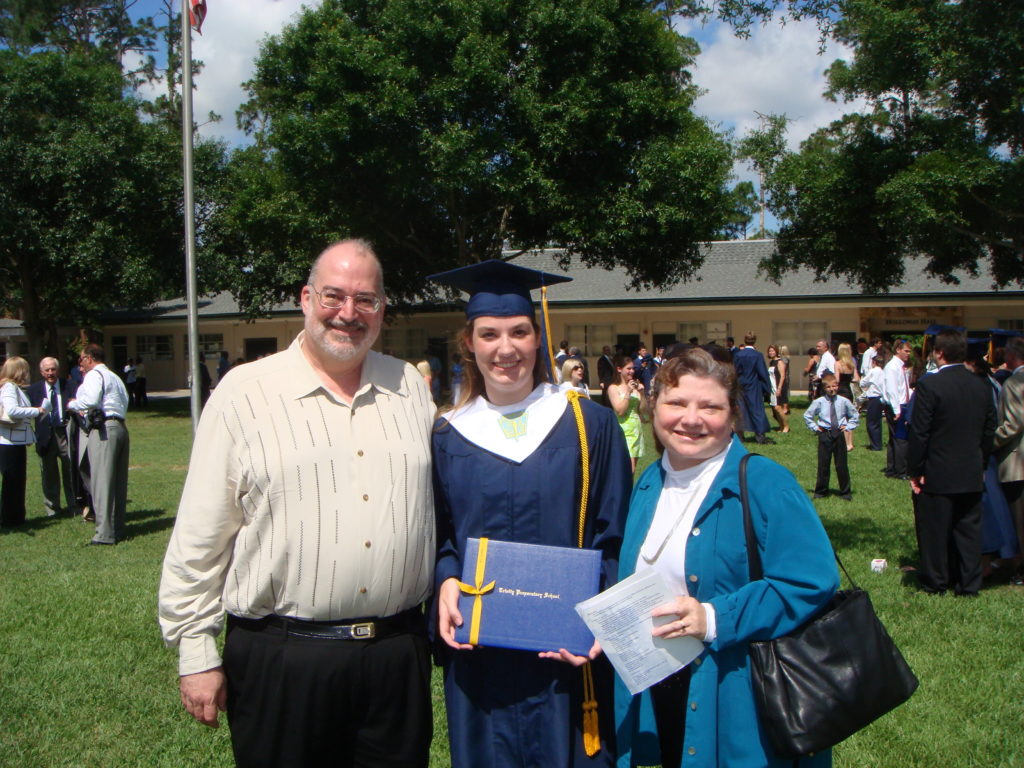 May 31, 2008 Graduation from Trinity Prep.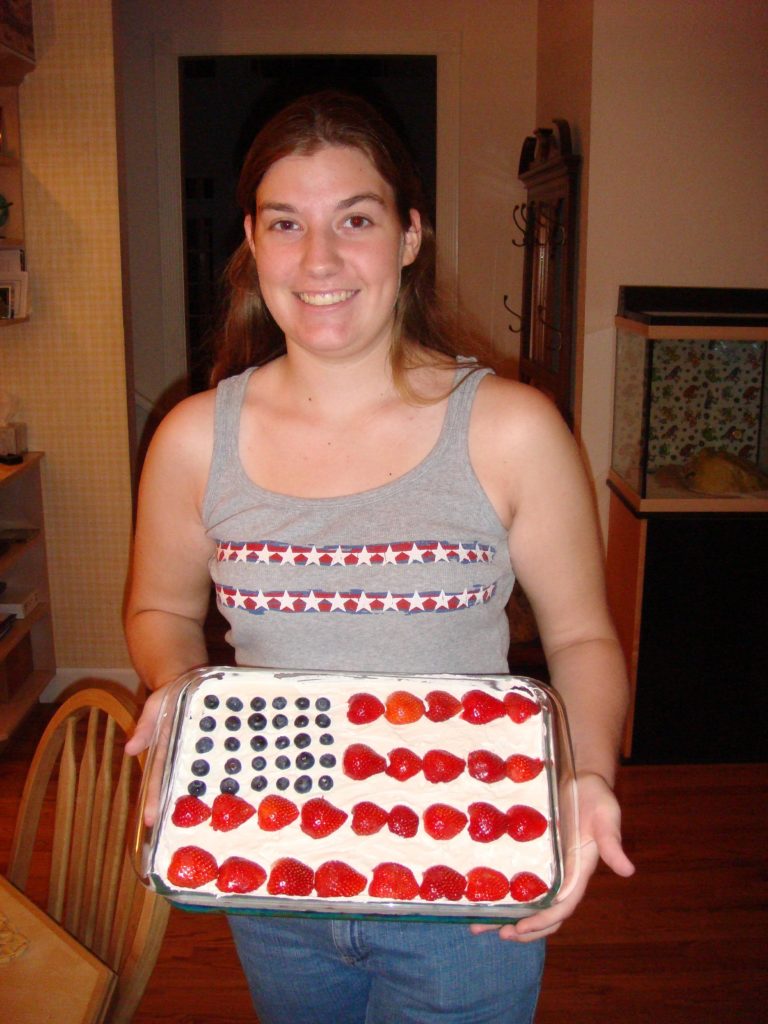 Fourth of July Cake, the start of an annual tradition.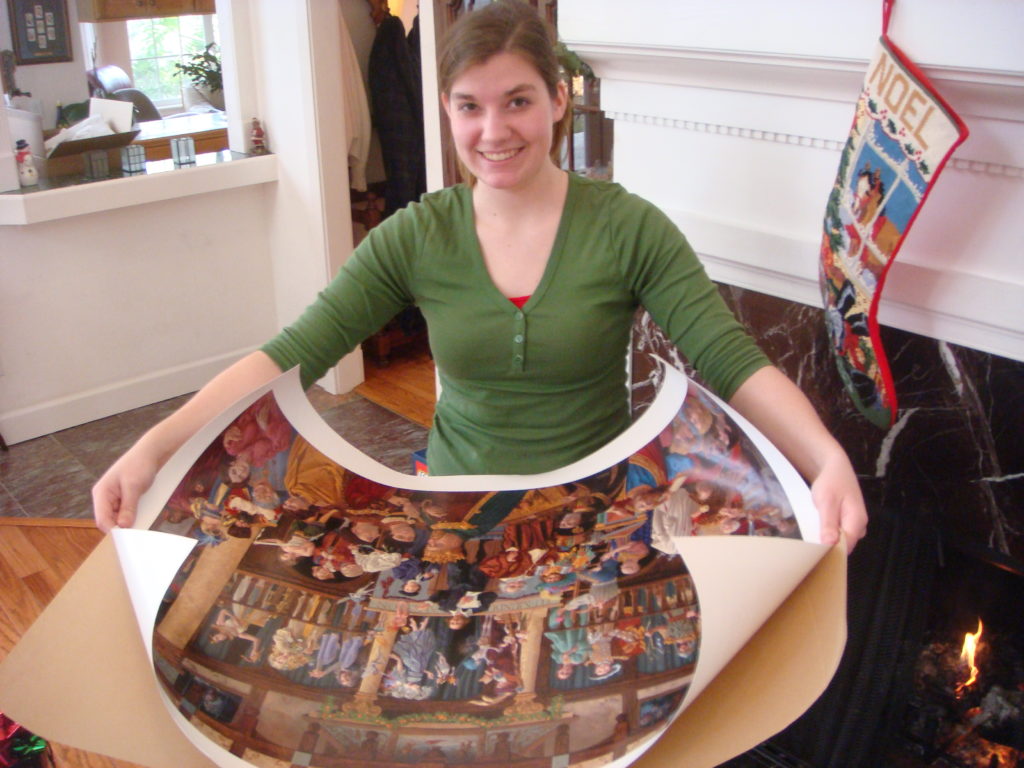 Christmas 2008
I read to Dani almost every night from the time she was a baby until she left for college. Our reading material slowly evolved from pictured books to Newbery winners to Booker prize winners. Here's a list of the ones I can remember, probably less than half the total of ten million words or so.
10 Million Words
The Shy Little Horse and hundreds of other stories
But Not the Hippopotamus and hundreds of other picture books
Pony Pals (many)
RL Stein books (Many)
The Cat in the Hat
The 500 Hats of Bartholomew Cubbins (many times)
To Think That I Saw it on Mulberry Street
Yertle the Turtle
Horton Hears a Who
Horton Hatches the Egg
How the Grinch Stole Christmas
The Lorax
Madeleine (and its sequels)
Bunnicula
Howliday Inn
Redwall
Mossflower
Mattimeo
Alice in Wonderland
Tom Sawyer (twice)
Huckleberry Finn
The Hobbit
The Lord of the Rings
The Silent Storm
Walk Two Moons
The Cave
The Princess Bride
The Dragon In the Cliff
A Bone From a Dry Sea
Letters From Felix
The Princess and the Goblin
Where the Wild Things Are
The Wind In the Willows
The Willows In Winter
Peter Pan
Peter Pan in Scarlet
The Lion's Paw
The Phantom Toll Booth
SOS Titanic
Night Tree
The Life and  Adventures of Santa Claus (about ten times)
Wolf Story (many times)
The Lion, the Witch and the Wardrobe
Prince Caspian
The Voyage of the Dawn Treader
The Silver Chair
The Horse and His Boy
The Magician's Nephew
The Last Battle
The Indian In the Cupboard
The Return of the Indian
The Secret of the Indian
The Mystery of the Cupboard
The Key to the Indian
The Westing Game
Chasing Redbird
Sarah Plain and Tall
Dealing with Dragons (and its sequels)
Rascal
From the Mixed-Up Files of Mrs. Basil E. Frankweiler
Island of the Blue Dolphins
A Cricket In Times Square (and its sequels)
The Wheel on the School
Mary Poppins (the original novel)
1010 Dalmatians (the original novel)
Chitty Chitty Bang Bang (the original novel)
Misty of Chincoteague (and its sequels)
Hank, The Cowdog (and many sequels)
A Night to Remember
Back to Titanic
Back to Lincoln
Back to Paul Revere
Goodnight Moon
The Very Hungry Caterpillar
The Wizard of Oz
Green Eggs and Ham
Stellaluna
The Polar Express
If You Give a Mouse a Cookie
If You Give a Moose a Muffin
The Napping House
The Little Engine That Could
Curious George
Arthur series (many books)
Berenstein Bears series (many books)
Clifford series (many books)
Linnea in Monet's Garden
The Boxcar Children series (many books)
Charlotte's Web
A Wrinkle In Time
The Secret Garden
Island of the Blue Dolphins
Mrs. Frisby and the Rats of Nimh (and its sequels)
The Trumpet of the Swan
Mr. Popper's Penguins
Stewart Little
The Borrowers series (many books)
The Pearl
Walker of Time
Tag Against Time
Walker's Journey Home
She Flew No Flags
Watership Down
The Call of the Wild
White Fang
The Shipping News
The Crystal Cave
The Hollow Hills
The Old Man and the Sea
To Have and Have Not
Myst: The Book of Atrus
Myst: The Book of  Ti'Ana
Myst: The Book of  D'ni
On a Pale Horse
Bearing an Hourglass
With a Tangled Skein
Wielding a Red Sword
Being a Green Mother
For Love of Evil
And Eternity
Perry Mason (several)
Shutter Island
Void Moon
Chasing the Dime
Harry Bosch novels (four or so)
The Doomsday Book
To Say Nothing of the Dog
Lincoln's Dream
Three Men in a Boat
Three Men on the Bummel
A Confederacy of Dunces
The Mirror of her Dreams
A Man Rides Through
The Lincoln Hunters
Harry Potter And the Sorcerer's Stone
Harry Potter and the Chamber of Secrets
Harry Potter and the Goblet of Fire
The Black Dahlia
The Clan of the Cave Bear
The Valley of Horses
The Mammoth Hunters
The Plains of Passage
The Shelters of Stone
Empire Falls
Straight Man
Nobody's Fool
Bridge of Sighs
The Seventh Scroll
The Time Traveler's Wife
Ring of Diamonds
A Matter of Justice
Everything In Its Path
Cider House Rules
The World According to Garp
Snow Falling on Cedars
East of the Mountains
The Blind Assassin
Oryx and Crake
And Many, Many More