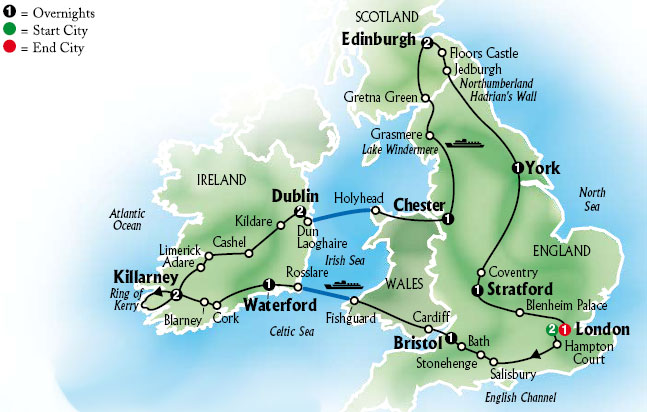 We scheduled this extended trip to the UK to coincide with Dani and her friends from Trinity Prep performing at the Edinburgh Fringe Festival. Dani departed ahead of us, on Tuesday, July 29th, with her school group. They spent a couple of days in London and then took the train to Edinburgh to prepare for their run in A Funny Thing Happened on the Way to the Forum. It's one of over 2000(!) shows running in this year's Fringe Festival. Here's what they did before Linda and I left Orlando:
Wednesday, July 30th Arrival, Half day panoramic tour of London, Check in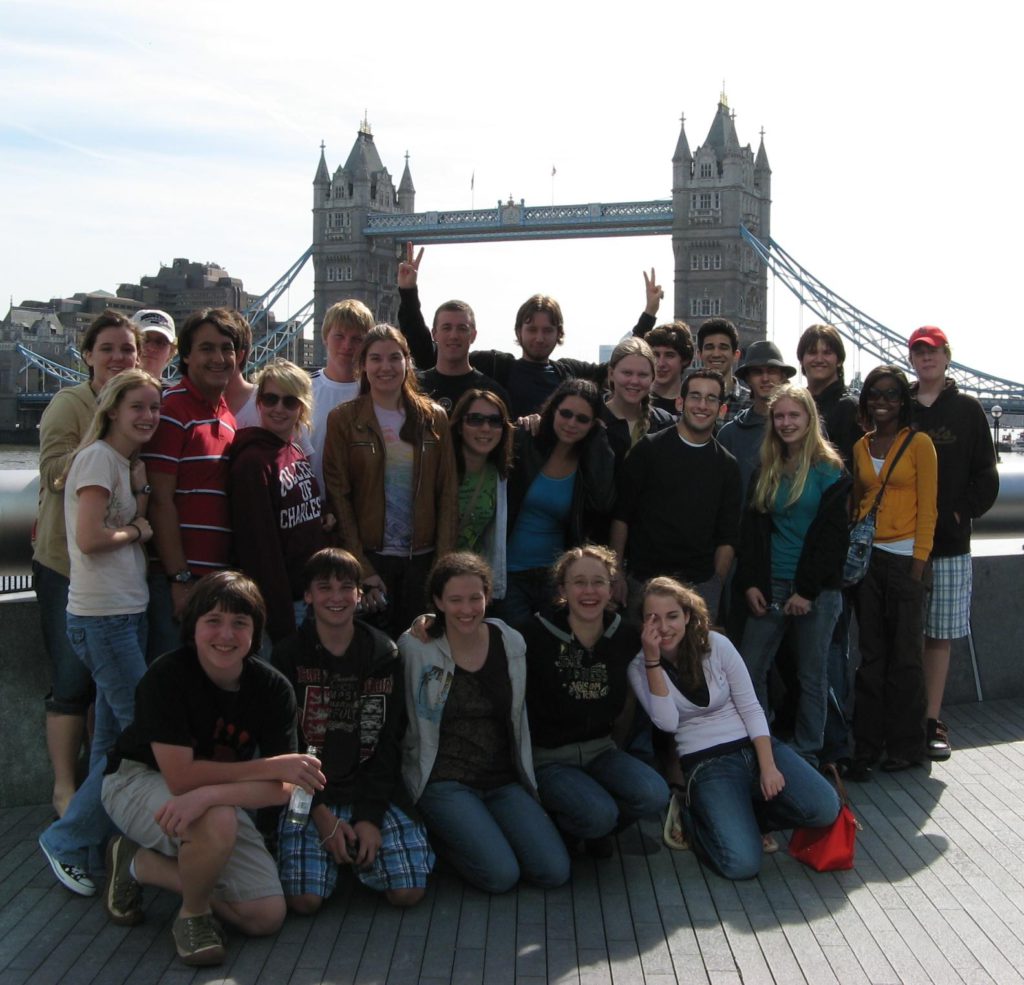 Thursday, July 31st Workshop at Shakespeare's Globe and attend "Billy Elliot"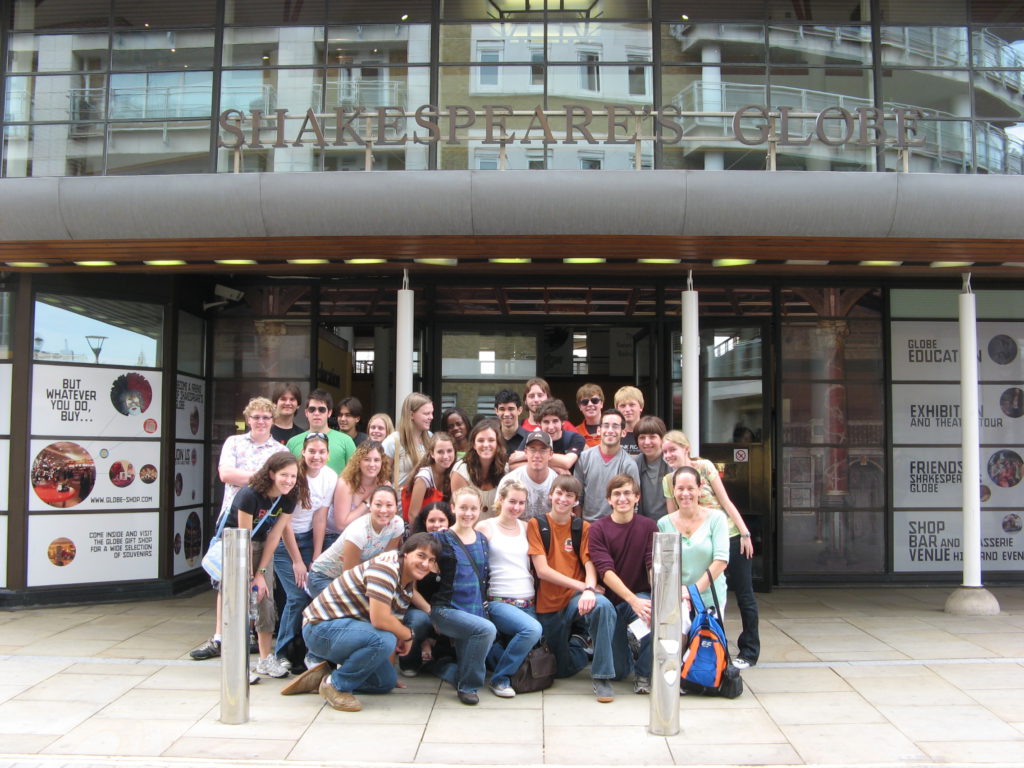 Friday, August 1st Early train to Edinburgh, sightseeing
Saturday, August 2, 2008
Orlando to London
Linda and I departed on Delta through Atlanta. Dani was already in Edinburgh with the 30+ person group from Trinity Prep, getting ready to perform A Funny Thing Happened on the Way to the Forum. We'll join them in Edinburgh in a few days, although we're doing our own thing.
Meanwhile, in Edinburgh, Dani and her troup had a Technical Rehearsal.
Sunday, August 3, 2008
London
Upon arrival we took the Gattwick Express Victoria Station, and walked about four blocks to the Goring Hotel. It's a very nice hotel located very conveniently to Buckingham Palace, The victoria Place Theatre and Victoria Station. I wasn't feeling well, so we took it easy the rest of the day, and had a late night dinner in the basement bar: roast beef and horseradish sandwiches, and smoked salmon, both delicious.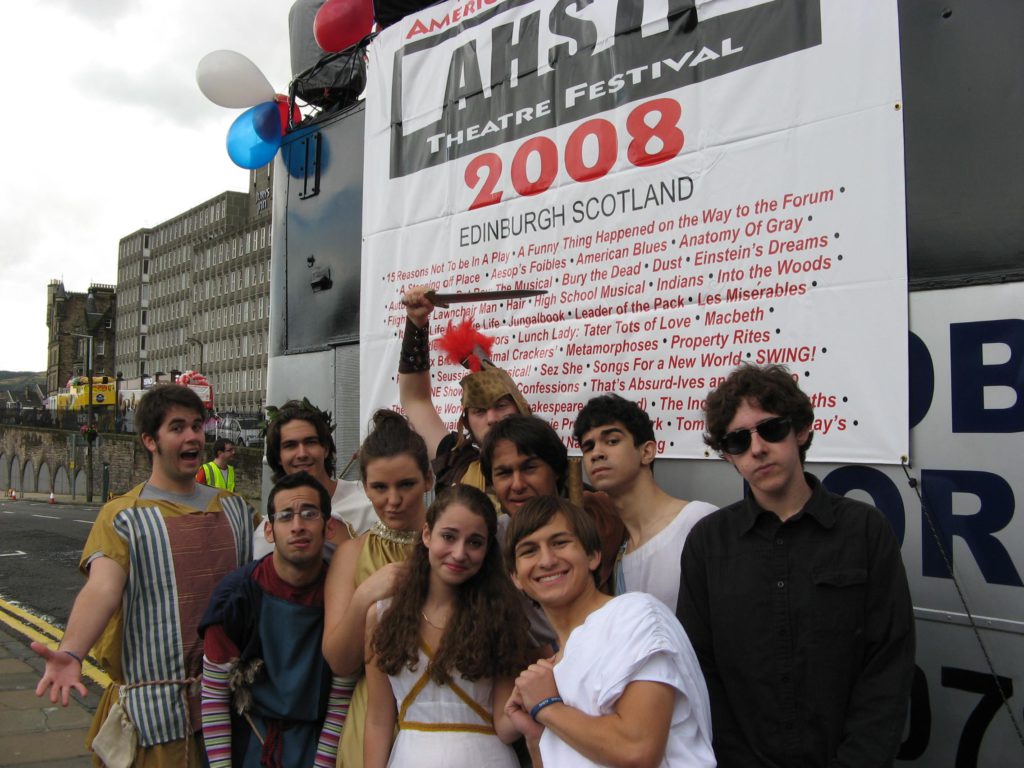 From Janine Papin, Director of A Funny Thing Happened on the Way to the Forum:
A wonderful day. Our group was one of two that got to ride on the top of the open bus and sing as the Cavalcade paraded down the main streets of Edinburgh. They had a great sound system on the bus plus microphones and we had a few tracks that Peter (our sound guy) had recorded after the last rehearsal at Trinity. The crowd clapped along while they sang Comedy Tonight while some of our ensemble gave out post cards advertising our show.
It was a HUGE parade and the streets of Edinburgh were packed! After that we performed on the the Royal Mile, our group sang a few songs and successfully attracted a nice crowd to perform to.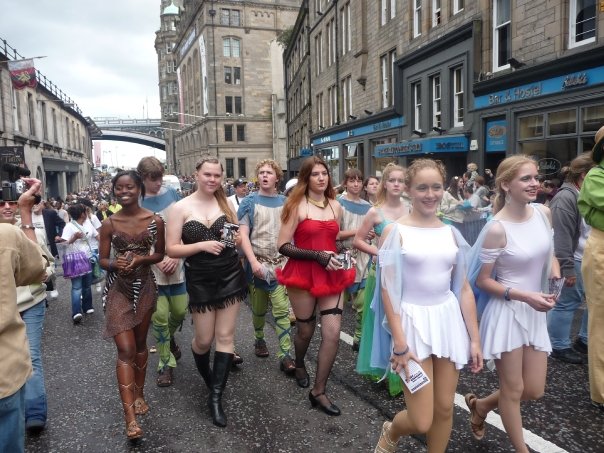 Last night was a big dance (pronounced Kaley, even though it is not at all spelled like that). The kids were taught traditional Scottish dances and had a blast! Our kids were among the last to leave and overall participated more than the other kids in the other schools. I am so proud of all my boys that wanted to learn and were such enthusiastic participants! The kids are excited and nervous but I am sure that it will be wonderful.
Monday, August 4, 2008
London
We met Henry at Le Gavroche for lunch. It was totally forgettable, like a different restaurant from our last two visits, hardly what you'd expect of a Michelin two star. Because of the week dollar, everything in London is very expensive — about double the US price. So it was kind of Henry to pick up the cost of this meal, and we'll treat him to the show and dinner.
In the evening we walked the two blocks from our hotel to the Victoria Palace Theatre to meet Henry and saw Billy Elliot. We had the front row of the dress circle, which is the first balcony, and it was really neat to be able to see the stage. At previous shows we'd had close seats in the orchestra, but the stage floor was above eye level, which is weird for a dancing show. This Billy was older and slightly darker than the others we've seen. His voice wasn't as high or good, but his dancing was better.
Afterwards we had a delicious pizza at Bella, a tourist restaurant next to the theatre. It was better than lunch!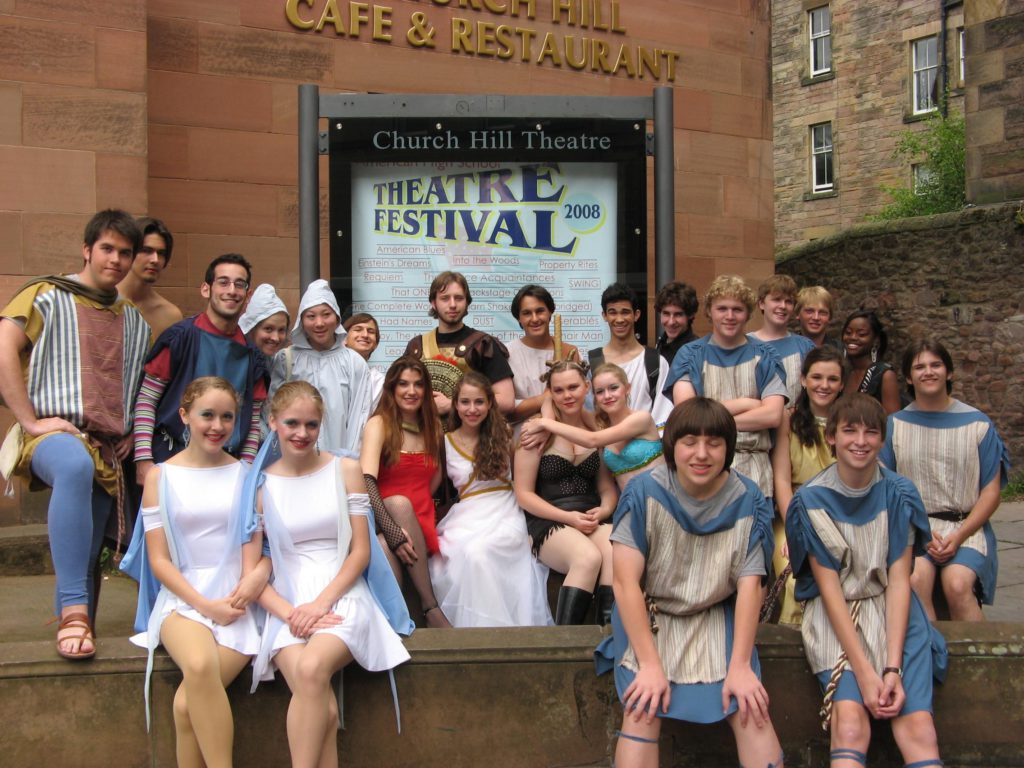 In Edinburgh, Forum opened and the cast attended another show, too.
Tuesday, August 5, 2008
Edinburgh
We took a cab to Train Station, our first good experience with a London cab driver. The train ride to Edinburgh is 4-1/2 hours, with just a few stops. The track is smooth, the seats spacious, and you have a table to work on, free wireless internet and even electrical outlets. If only air travel were like this!
The scenery was lovely: rolling pastures, farmhouses, cattle, and for a while we skirted the coast. In Edinburgh the Balmoral is adjacent to Edinburgh Station, but if you have suitcases you have to go out and around, up a really steep hill to get to the front door. There were people everywhere, here for the Fringe Festival.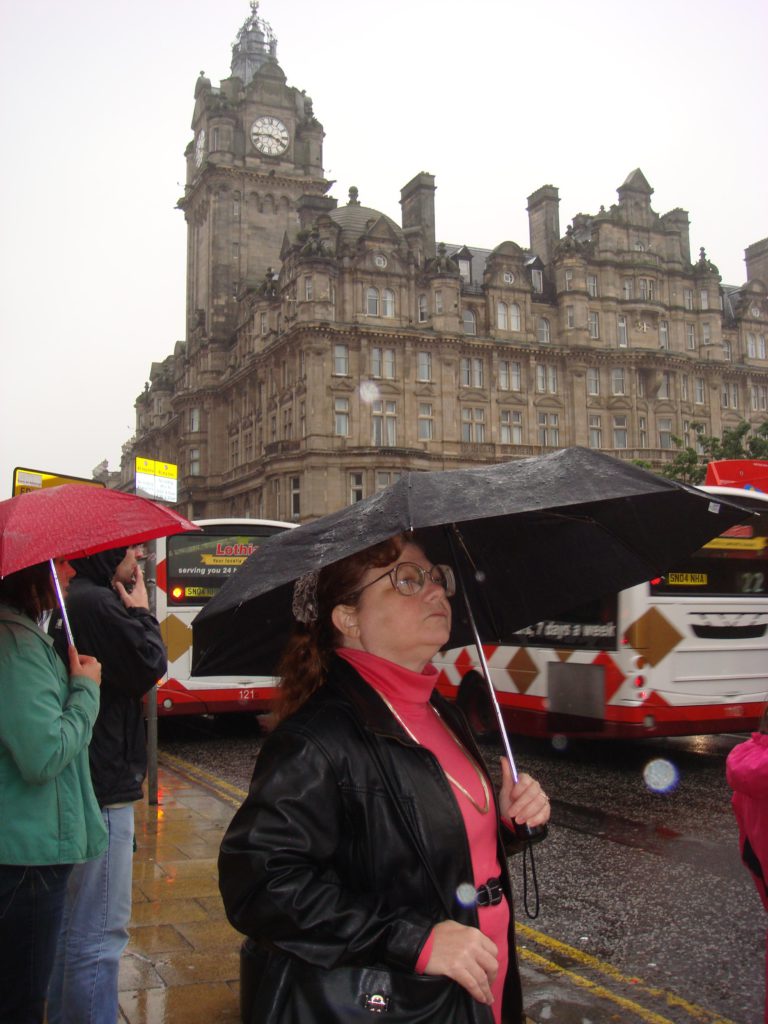 The Balmoral is an exceptional hotel. The staff are extraordinarily helpful, and our room is spacious, and has a great view of Edinburgh castle. It's really expensive, thought, so after four days we'll move to The Knight Residence, where we can also do the laundry for the second half of the trip.
In the evening we had dinner at the Balmoral's Michelin one star, restaurant Number One. It was the equal of any dinner we've had. The Chef's seven course tasting menu was creative and superb, light enough not to be overwhelming, and at fifty pounds it was a bargain. The wines with each course were the most perfect food pairings we've ever experienced.
From Janine Papin: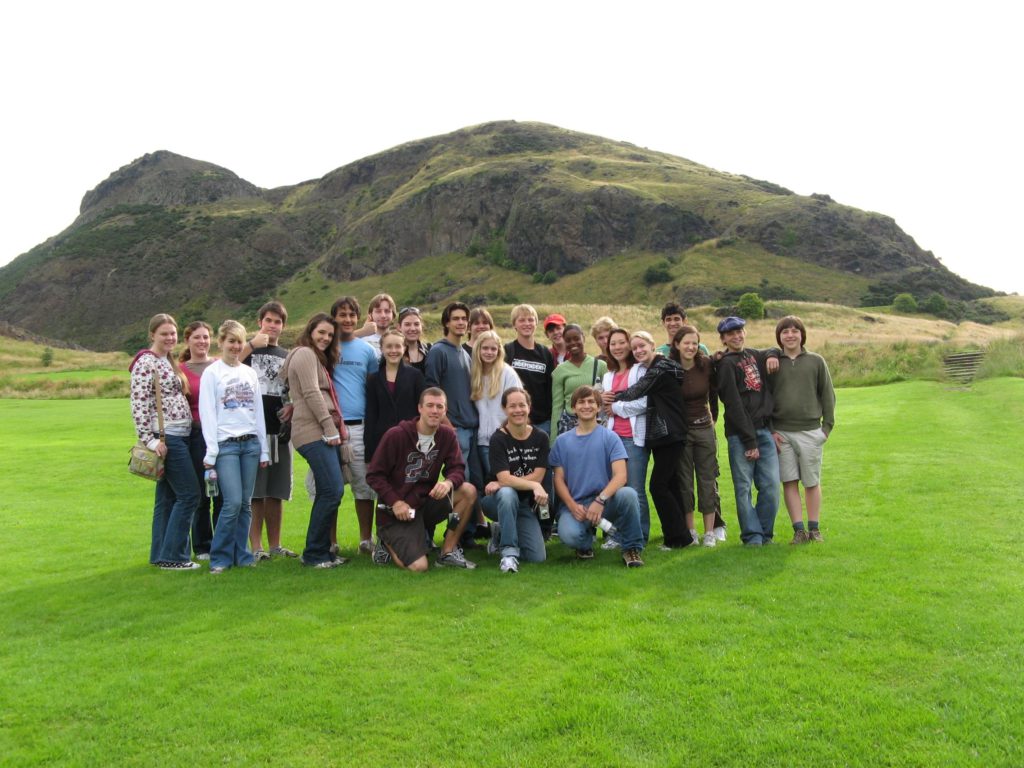 The days are so busy and wonderful! We opened Forum successfully and the the kids did beautifully! We climbed Arthur's seat (a inactive volcano) and saw the Military Tattoo at Edinburgh Castle. We have seen more shows, shopped, had afternoon tea, and have spent time laughing and talking.
Wednesday, August 6, 2008
Edinburgh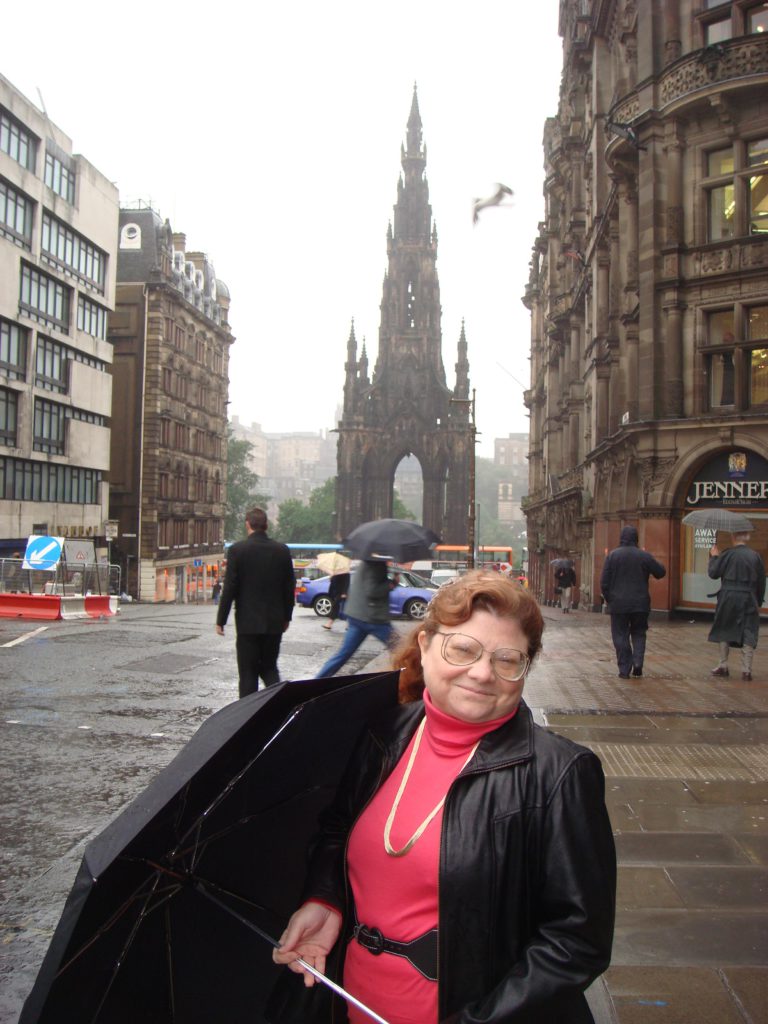 Dani called this morning (well, she woke us up at about 11:30!) and we got caught up. It sounds like they're having a great time.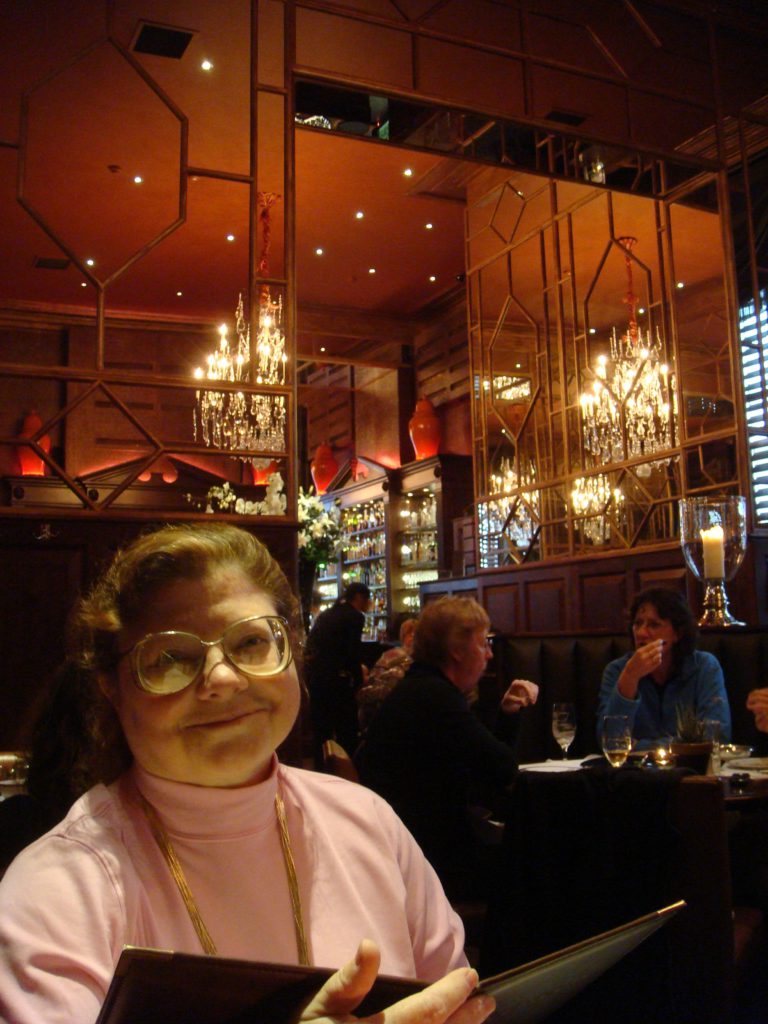 The day was drizzly. We walked a few block to a restaurant out concierge recommended called The Dome. It's actually a converted home, if you classify the Parthenon as a home. There are two restaurants there. The Grill Room is fancier and has a glass dome. We ate in the cozier Club Room, where we had that traditional Scottish dish, Nachos. They were excellent and huge, so we didn't order anything else. We ended up in a long conversation with a delightful English couple whose daughter lives in Edinburgh. They were very well traveled, and we spent an out or so swapping stories.
On the way back, Linda did a bit of shoe shopping at the decrepit Princes Mall next to the hotel. About 60% of the storefront are vacant, and the rest are closeout places. Weird, in such a central and upscale part of town.
For dinner we went to Martin Wishard, the eponymous restaurant of Scotland's number one celebrity chef. It's also a Michelin one star, so we were expecting a lot, but it failed to deliver. Although there were a couple of notable dishes, the chef's tasting menu paled in comparison to last night's dinner at Number One, and the wine matching can only be described as oafish. Not only were the wines odd, the wine service was bizarre, with the wines poured in the kitchen and then described by someone with a thick German accent. Not recommended.
Our cab driver for our return trip was a lot of fun. He was really the first person we've encountered with a Scottish accent thick enough that we couldn't completely understand him. Most of the service industry people we've encountered have actually been Eastern European, a reflection of the service level skilled labor shortage in the UK.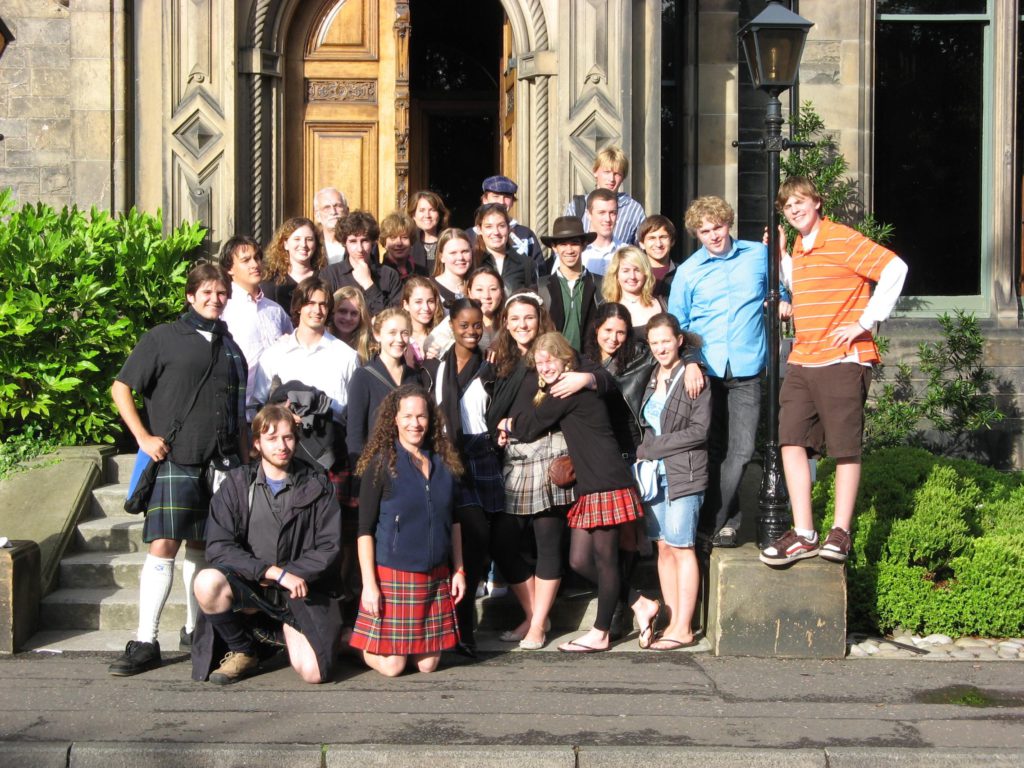 Meanwhile, Trinity performed Forum at 6pm to rave reviews:
A review of Forum: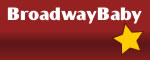 Roman Farce Unleashed with Youthful Zeal
4 Stars
A Funny Thing Happened On the Way to the Forum
(2008) American High School Theatre Festival Church Hill Theatre. 4th-8th August. Various Times (1h30)
A strong old Broadway warhorse,"A Funny Thing Happened on the Way to the Forum" originally opened with Zero Mostel in the lead followed by Frankie Howerd in the UK. A mixed bag of plot lines from Plautus are woven into a finely honed hit – it ran for years.

This production from the American High School Theatre Festival deserves to run just as long. It's a bubbling, vibrant production played with consumate skills by actors still in their teens. Every farcical device is employed – cheating on wives, transgressed taboos, desire – and what could easily turn into a confused mess is neatly and cleanly played out.

The performance bubbled with energy, the direction was tight and inventive and the choreography caught the spirit of the piece. James Everett as Pseudolus directed the traffic of the piece with fine comic timing and Alex Ferguson as Lycus was outstanding.

Ian Billings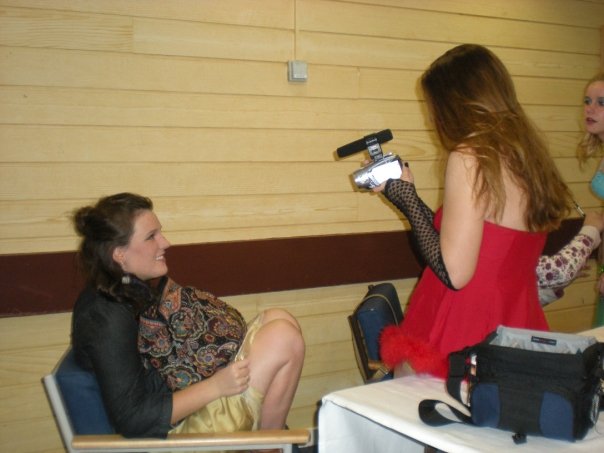 An audience member writes in review:
Look at the way it is today, things are getting out of hand – there's no decorum in the forum 07 Aug 2008

Frankie Howard would have loved this. The vaudeville elements were performed stunningly. The best scene? Everybody Ought To Have A Maid – it was fantastically impressive. I've never seen the play before but now that i have the film and the CD pales into insignificance. James Everett as Pseudolus held the story together masterfully. Alex Ferguson as Marcus Lycus was brilliant – move over Phil Silvers. And Gabe Gonzales as Hysterium – well, he was just amazing. A comic actor of the highest order. Other special mentions go to Christine Pappas as Domina and Kyra Bloom as Philia. Great actors and wonderful singers. All in all a great show. It was certainly worth getting soaked to the skin in the Edinburgh rain to watch this.

reviewer: Yahadriel, Cornwall (yeah i know we haven't got independence yet but it's a matter of time)

The review from The Scotsmen, Scotland's number one paper:
Musicals & Opera: A Funny Thing Happened on the Way to the Forum
4-Star Rated
CHURCH HILL THEATRE (VENUE 137)

I DON'T know about the forum, but plenty of funny things happened on stage, courtesy of Florida's Trinity Preparatory School. These are schoolkids? Never mind the voice, you have to be pretty bright to get the best out of a Stephen Sondheim score. And many a professional actor has fallen flat on their face tackling farce.

But not these teens – they stride on to the stage with huge self-confidence and make the 2,000-year-old tales of Plautus live. Songs aren't so much delivered as presented with flowers and chocolate. It helps that the script, by Burt Shevelove and Larry (M*A*S*H) Gelbart, has zingy one-liners by the score.

James Everett as Pseudolus the slave is terribly funny as he drives the action. Matthew Prast is dashing and Kyra Bloom sweet as young lovers Hero and Phylia. But stealing a show in which there's no weak link is Gabe Gonzalez as Hysterium, the loyal house servant and reluctant cross-dresser.

A presentation of the American High School Theatre Festival, this is a tad away from the centre of the Fringe, but if you like musicals even a bit, make the effort. The cast, band and crew will make your day.

Until today, 6:15pm

Martin Gray
Thursday, August 7, 2008
Edinburgh
We rose early — well, early in the afternoon, anyway — and decided to return to The Club Room at The Dome, as it's one of the few nice places that serve lunch at 3:00 in the afternoon. It was still drizzly, so on the way back we spent an hour at the Royal Scottish Academy, which is almost next to our hotel. They have a special exhibit of impressionist paintings, and it was almost overwhelming to see so many paintings by all of the master impressionists. I was actually most impressed by a painter new to me, Sir John Lavery, an Irish Impressionist.
We had a casual late dinner at the hotel's Hadrian's Brasserie. Nothing special.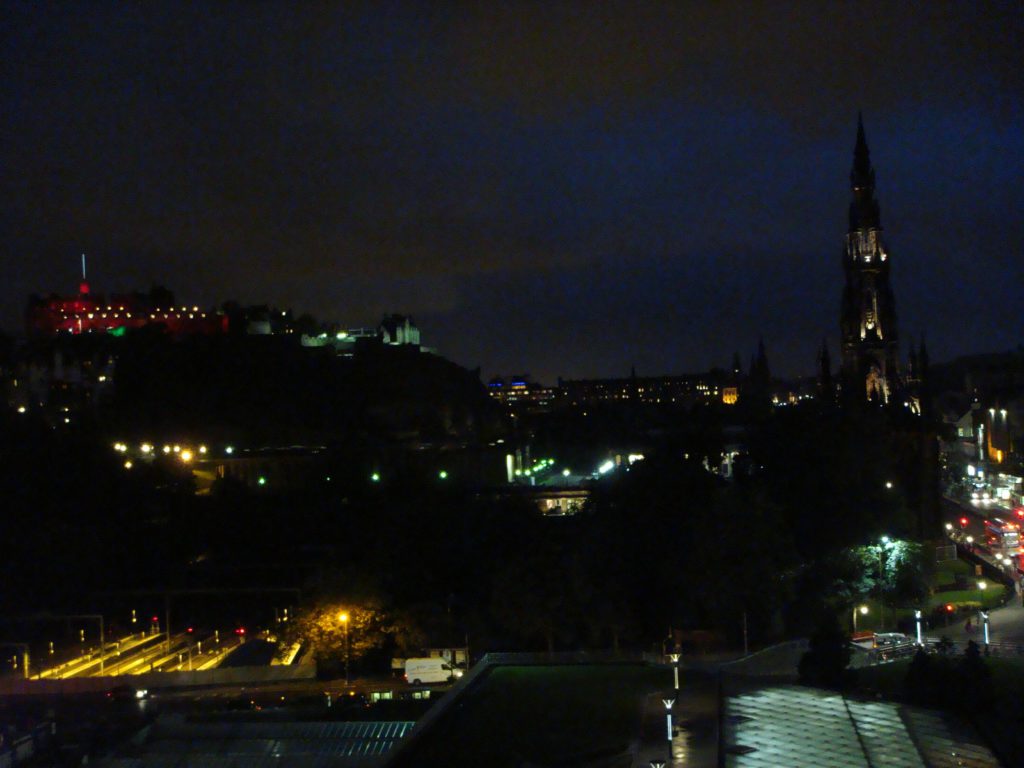 Friday, August 8, 2008
Edinburgh
I hadn't quite drifted off to sleep last night when the fire alarm summoned everyone to the lobby for an amusing pajama party. After about fifteen minutes it was determined to be a false alarm. The hotel sent out a note of apology in the morning.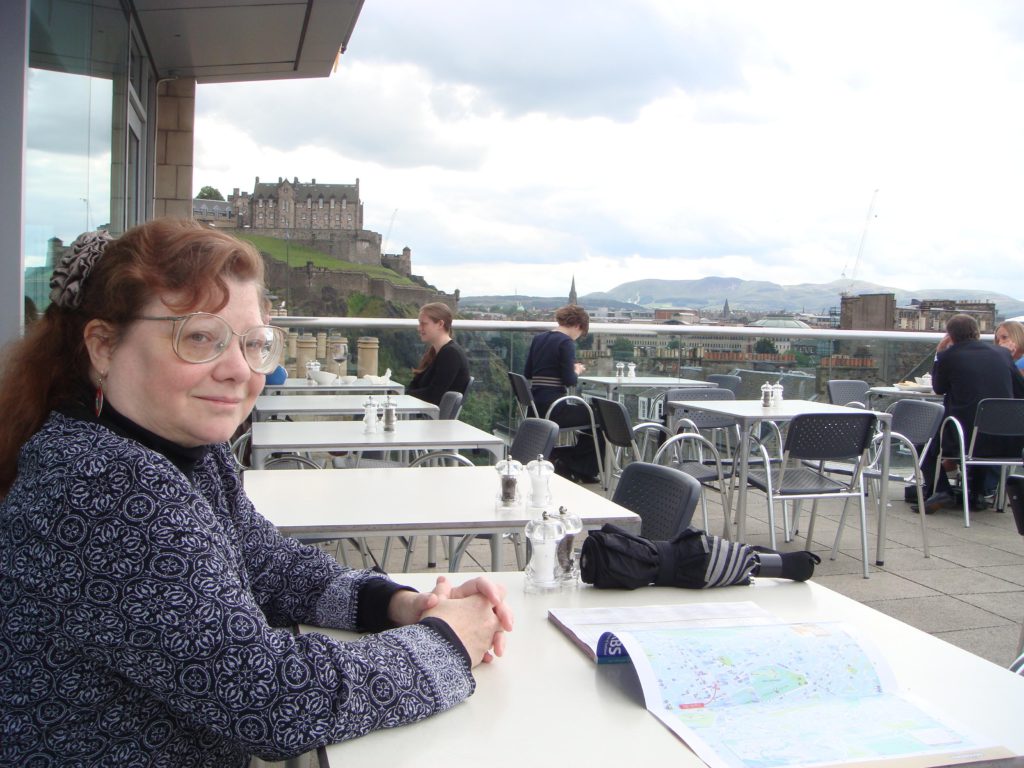 We picked up our tickets for tonight's final performance of Forum and then walked to Oloroso, a restaurant on top of an office building in New Town. I'd made a reservation for inside, but since the rain had cleared off we ate on the terrace, which had a more casual menu that was fine but nothing special. But the weather was great, with occasional sun, and temperatures in the high 60s. The terrace has a wonderful view in almost every direction including Edinburgh Castle.
In the evening we took a cab a few miles to the Church Hill Theatre for the closing night performance of A Funny Thing Happened On The Way To The Forum. Because of the good reviews, word of mouth, and the patronage of other American High School Theatre groups, there was a good crowd of about 150 people. The theatre was perfect for the show, with a real orchestra pit and excellent acoustics.
Both the show and audience were high energy, feeding off of each other, and it was easily the best of the run, with thunderous applause and cheering after many of the numbers. Outside the kids received more cheering as they emerged from backstage to board their bus. I'm sure there were many bittersweet moments as they realized they'll never perform together again, as much of the cast disperses to different colleges across the country in a few weeks. But what a great way to go out!
Saturday, August 9, 2008
Edinburgh
We checked out of The Balmoral and took a cab from New Town to Old Town, where we checked into The Knight Residence. What a fabulous place for an extended stay! It's too bad we'll only be here until Monday.
The building is brand new, with 19 lovely flats. Ours is a spacious one bedroom. It's beautifully decorated and comes with CDs, DVDs, breakfast foods, a fully outfitted kitchen, teeny washer/dryer (our reason for staying here) and more. The charming Christopher runs the front desk. I had previously corresponded with him by email, and he was every bit as gracious in person. At about one third the price of the Balmoral it's a real find.
The Knight Residence is in an interesting area. It's just a couple of blocks from the Royal Mile, the concatenation of four streets that run from Edinburgh castle to The Palace of Holyroodhouse. In the same block as the hotel are six antique books stores and three strip clubs (yes, there's lap dancing in Scotland).
Indeed, it's very close to Edinburgh Castle. We strolled through the Grass Market, where they were having a rummage sale, and climbed the hill to the castle. The road is lined with old stone buildings that are now tourist shops. The street was filled with Fringe performers and visitors. Near the entrance to the castle is The Witchery, a fine dining restaurant where we had a cordial but not particularly noteworthy lunch. The couple next to us happened to also be American parents whose daughter is in another of the high school productions. Small world.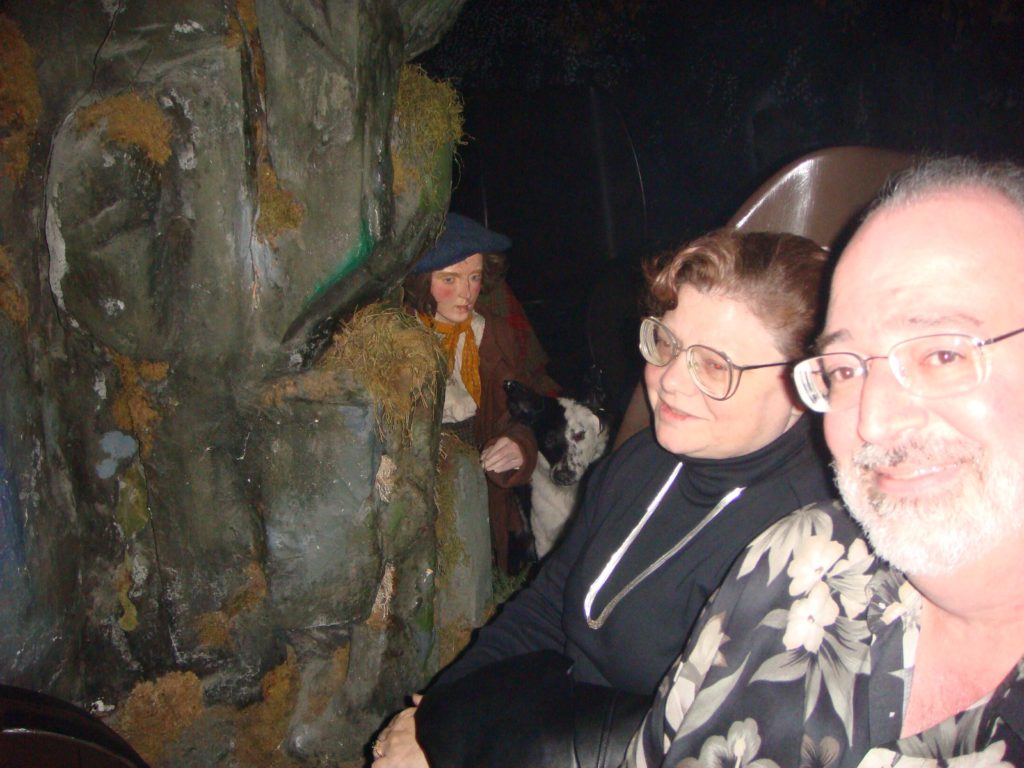 Next to the Witchery is the Whisky Heritage Centre, where we went on a dark ride called The Scotch Whisky Experience. The story was well conveyed, with good on-board audio and well done lighting and set decoration. The vehicles were wire guided, and moved only about 6 inches per second. It was surprising that many of the set pieces — including some quite delicate objects — where within inches as we passed, yet everything seemed to be unmolested. Afterwards we were served a dram of Tormore 12 year old Speyside Single Malt, which was excellent: caramel and fruit nose, very smooth. Even Linda liked it.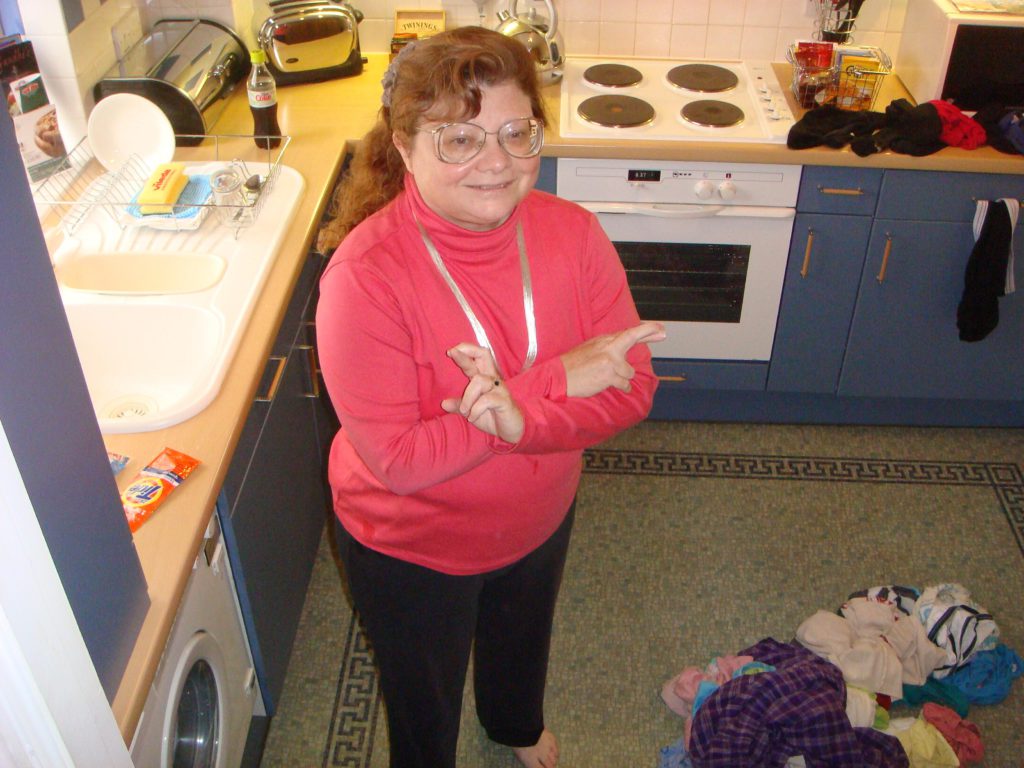 After a quiet afternoon experimenting with the washer/dryer (we found French and German manuals online — it's very complicated) we strolled through the rain to the Grass Market, where we had a pleasant Italian meal. Things were still hopping well past midnight.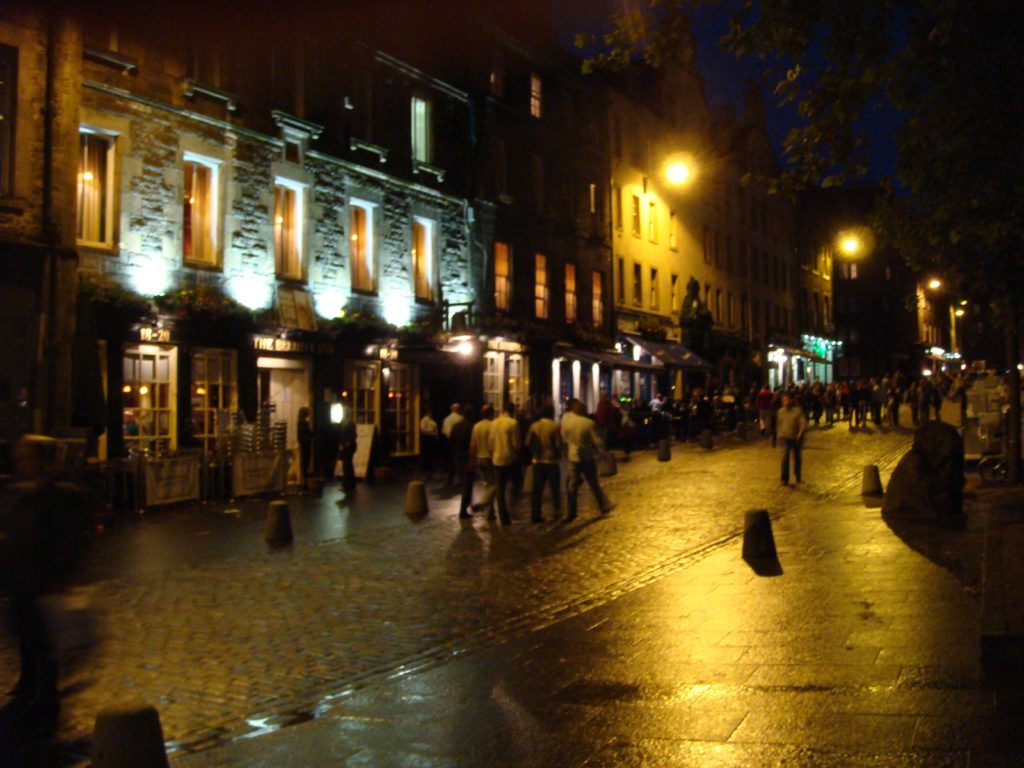 Dani Spent the day with her group, sightseeing outside the city.
Sunday, August 10, 2008
Orlando
In the morning we took a cab over to Pollock Halls and picked up Dani's luggage. We had lunch at a baguette shop and Linda spent the afternoon doing one teeny tiny load of laundry after another.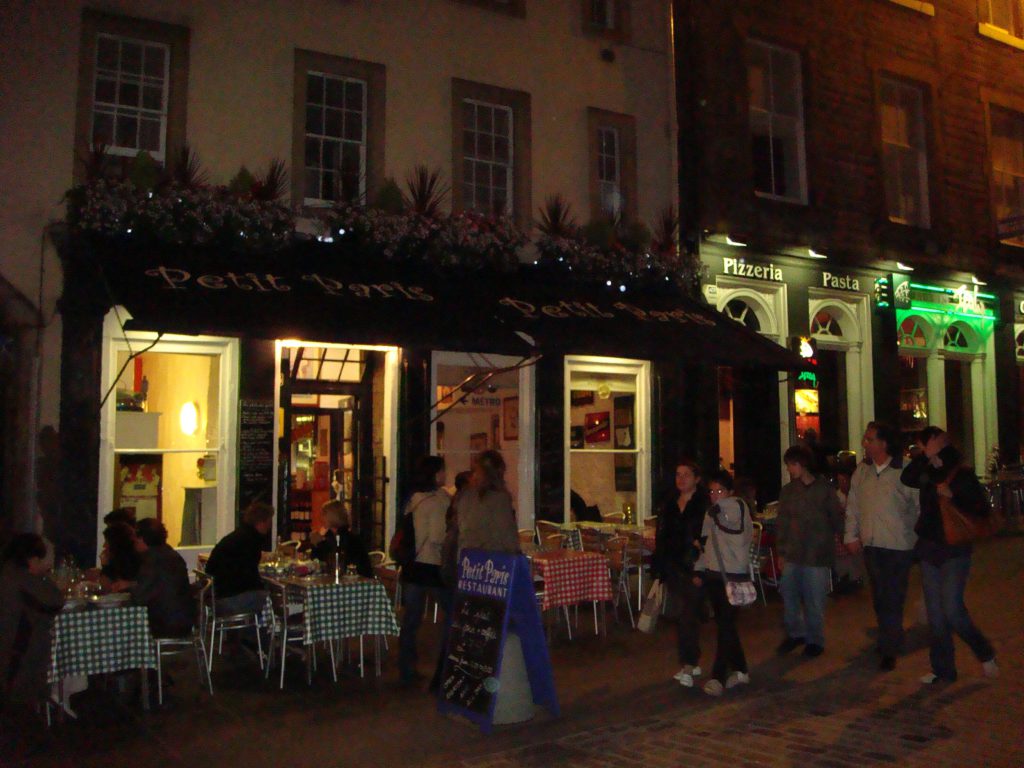 We enjoyed an authentic French dinner at Petit Paris, a small bistro at the Grass Market.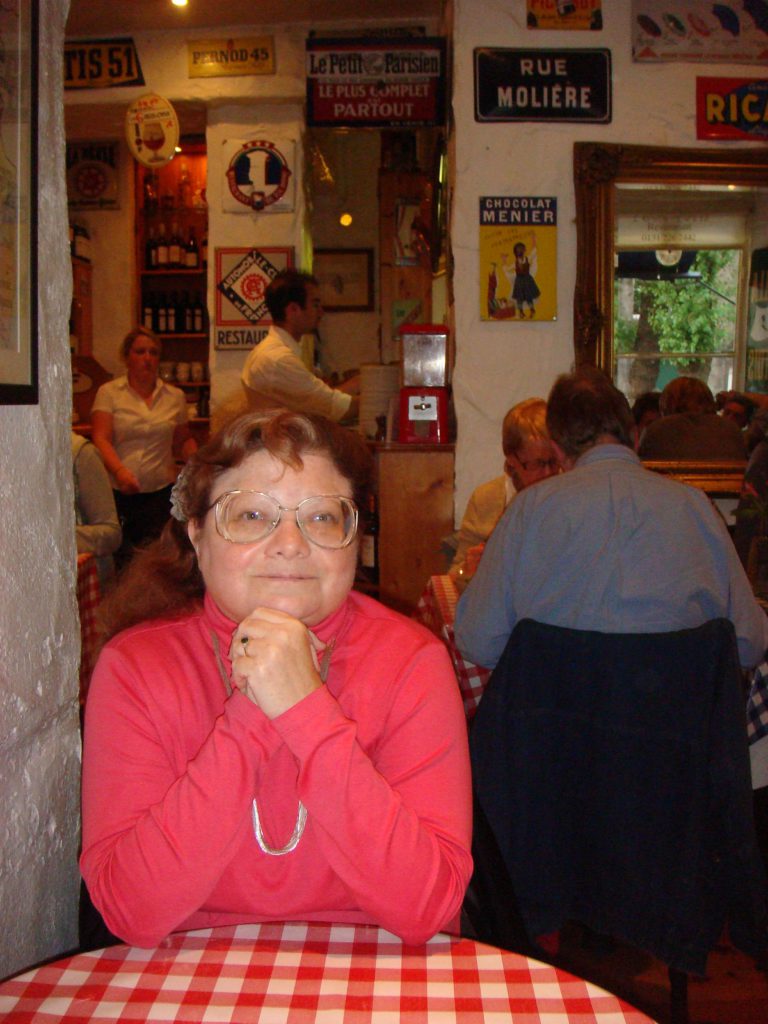 Dani attended the closing ceremony for the high school groups, where she was selected to deliver a speech to all of the various schools participating, and then went to Fringe Sunday at the Meadows and had dinner with her friends before we picked her up near midnight.
Monday, August 11, 2008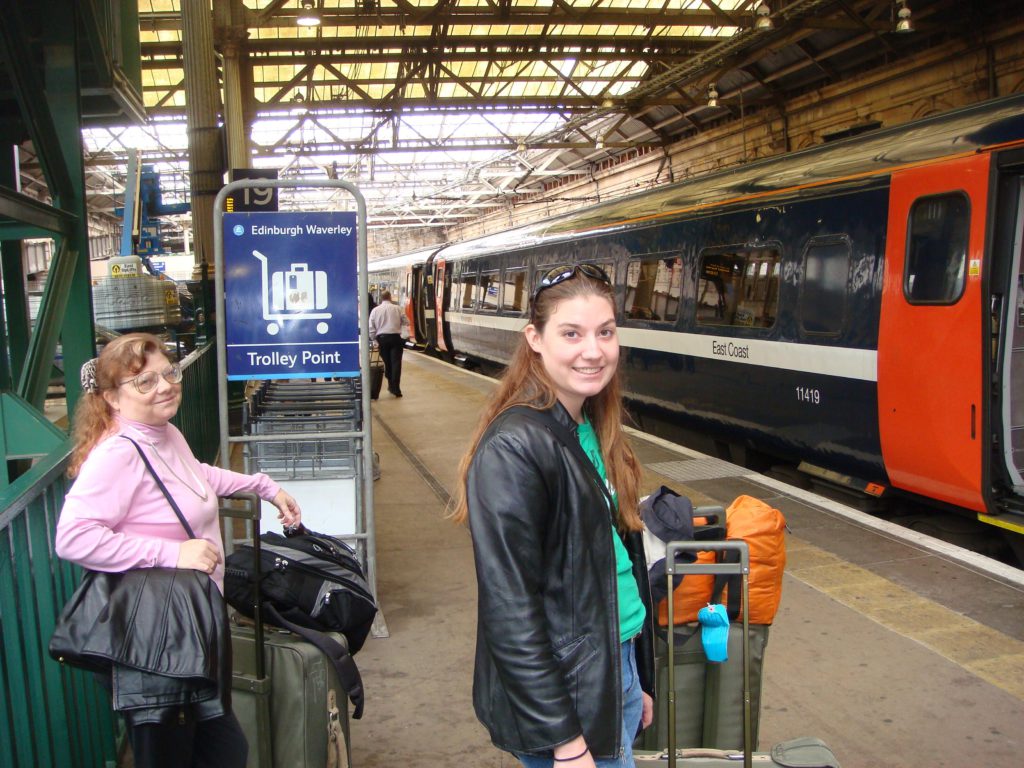 Edinburgh to London
We sort of slept in, although this being Monday, the construction site across the street was gearing back up. We checked out at noon and took a taxi to Waverly Station for our return trip to London. Once again I was able to get a lot done on the train. We arrived at King's Cross Station at 6:30pm — a good time, because the cross town cab ride took only about 20 minutes to get us to Hammersmith, and the Novotel London West. It's an enormous and fairly nice hotel in a great district for restaurants.
We walked about a mile down King Street to Indian Zing, a place I found online, and it didn't disappoint. The weather was temperate and it was a great evening for a stroll.
Tuesday, August 12, 2008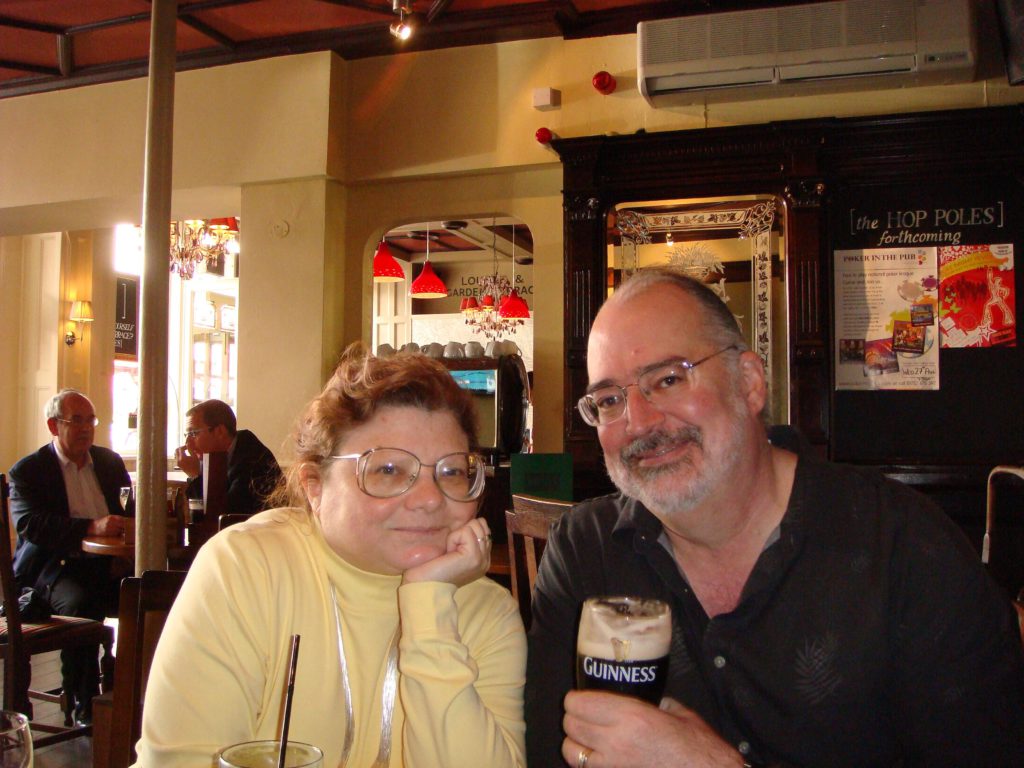 London
Dani has a bit of a cold, so we spent a lazy day in Hammersmith. Linda and I walked a couple of blocks to a pub for lunch, and then in the evening we all took the tube to see They're Playing Our Song at the The Menier Chocolate Factory, a converted factory building in the interesting district just south of London Bridge. Linda and I saw this show with the original Broadway cast, Kevin Klein and Lucy Arnaz, when we were first married, thirty years ago, and it's always been one of my favorites. Although it's never been revived, we all knew the music and were anxious to see it.
The Chocolate Factory is an interesting place. You enter through a restaurant, and then negotiate a random assortment of steps, up and down, to access the theatre, an intimate space with padded bleachers that seat about 150. Despite a tepid review, the show was sold out. Most of the audience were in their sixties, and seemed to have seen the show in its original London run almost thirty years ago.
The show was performed as a period piece. I felt the material held up well, although the two leads lacked the comedic timing to make it funny. However their singing was superb, and the staging, which used the floor as a giant revolving LP, was inventive and fun. It was definitely worth the reasonable 25 pound admission price.
Back at the hotel, Linda and I had a late supper in the bar while Dani went off to bed.
Wednesday, August 13, 2008
London
We decided to skip the city tour of London and relax today so that Dani can get over her cold. It's not like we haven't seen St. Pauls, the changing of the guard and so on. In an effort to avoid pub food, Linda and I walked to a Thai restaurant for lunch.
On the spur of the moment, we decided to see if we could get tickets tot he new musical Zorro. Somehow we ended up in the fifth row, even though the show was sold out. It was lavishly staged, with great talent and excellent songs. Somehow it didn't quite work for us, but it seemed fixable. And since it received four stars from virtually all of the press, and it's sold out on a Wednesday night, it may do well. It just needs more story and a bit less Flamenco stomping, but the talent is certainly there.
Thursday, August 14, 2008
Bath, Bristol
Today we met our Globus tour group and our guide, Liz, and set out on our tour. It's easy to see whose currencies are up and whose are down: the tour is more than half Australians and New Zealanders.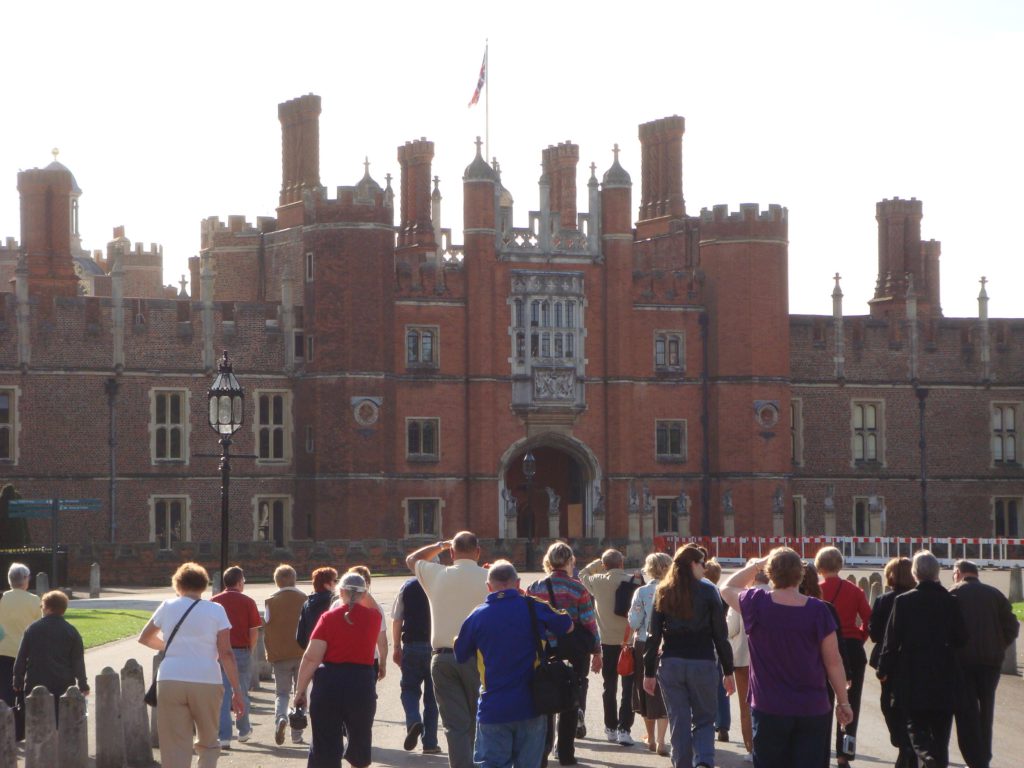 The first stop was Henry the Eighth's old house, Hampton Court, where we walked through the gardens.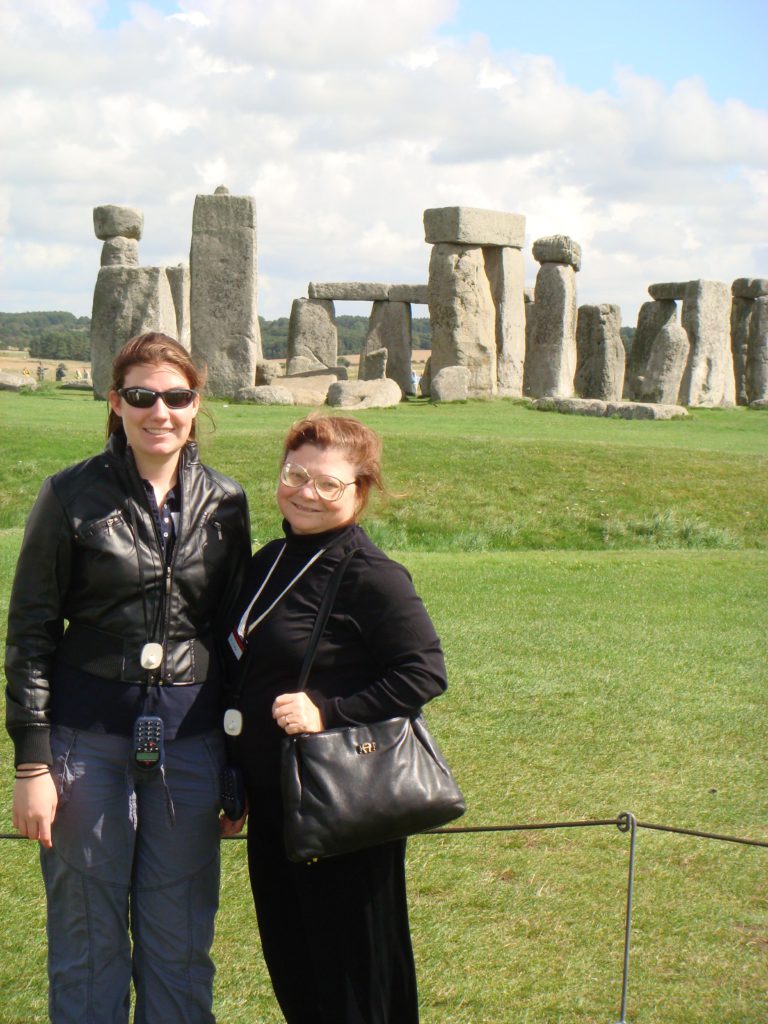 Then it was on to Stonehenge, which Linda hadn't seen before. None of the stones had moved since our last visit.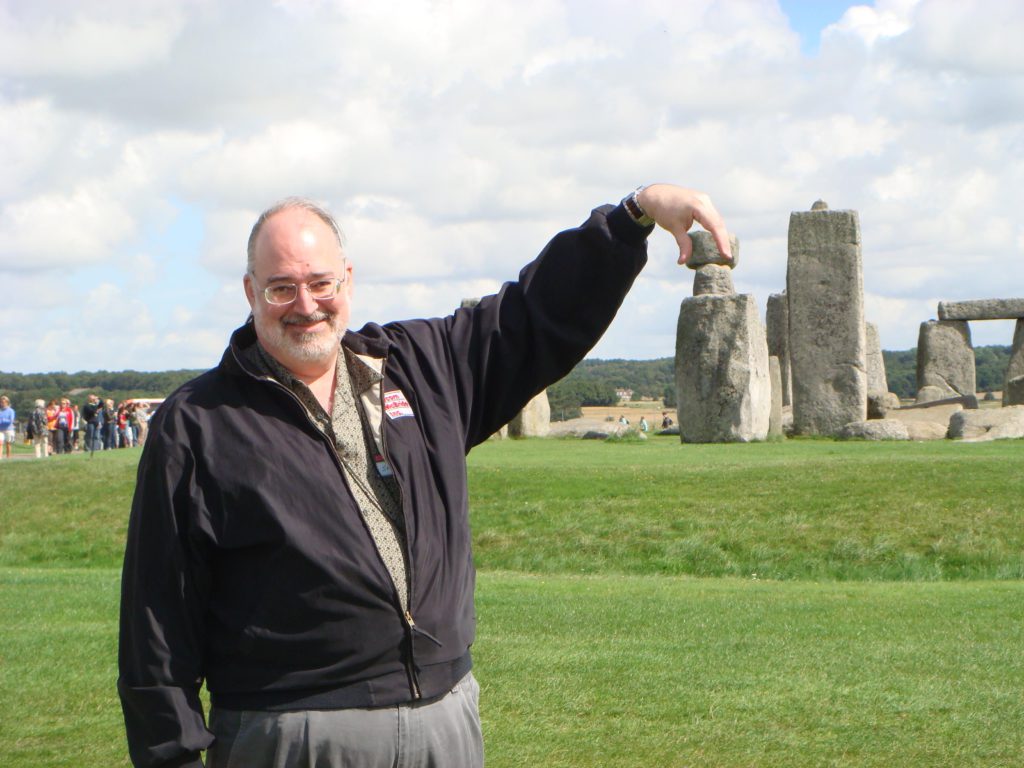 We retraced our steps to Salisbury for a mediocre pub lunch. It would have been better to simply press on the Bath, which was our next stop anyway. The Roman baths are really interesting, and we spent almost two hours on the self guided tour, leaving just enough time for some scenic portraits overlooking the Avon.
It was a short drive to Bristol, where we had a lovely room at the Jury's hotel overlooking the water. There was a welcome dinner for the group (let's just say it was food as only the English can prepare it), and then we called an end to a long day.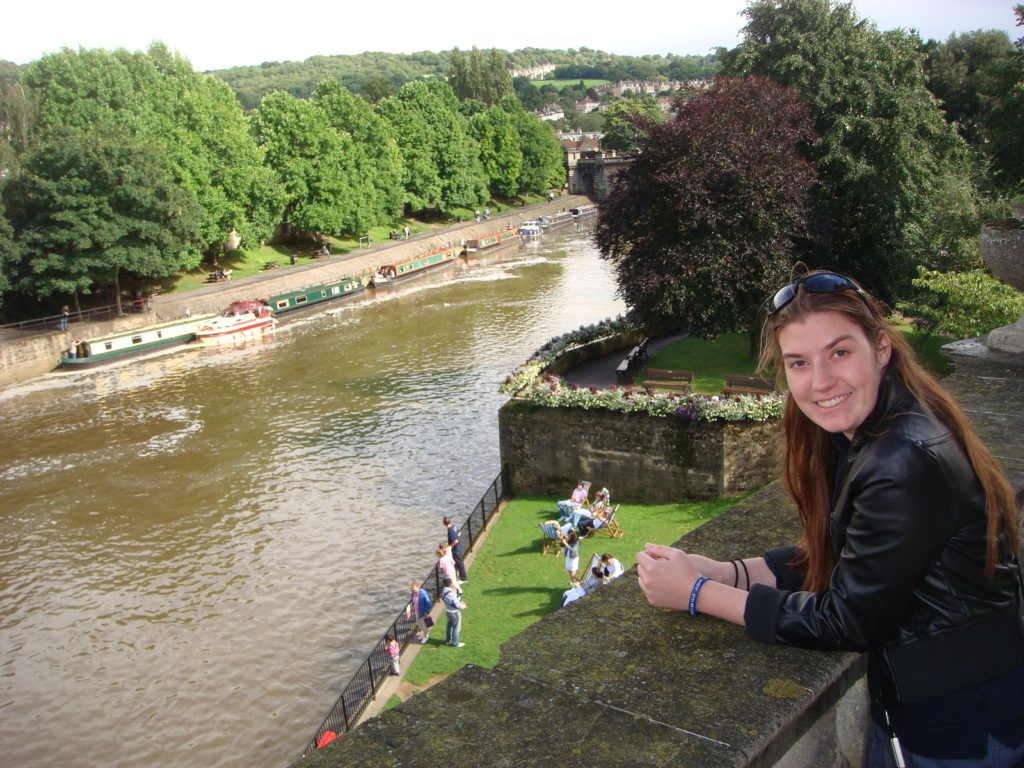 Friday, August 15, 2008
Waterford, Ireland
This morning I had lots of catching up on my online classes, and a high speed Internet line, so I skipped breakfast. We left the hotel at 8am for the drive to Cardiff and a fairly pointless stop outside the castle, plus a stroll through the mall, just like 500,000 other malls. Then we crossed into Wales. Southern Wales is a country of rolling green hills, scattered farms and villages, and many cows.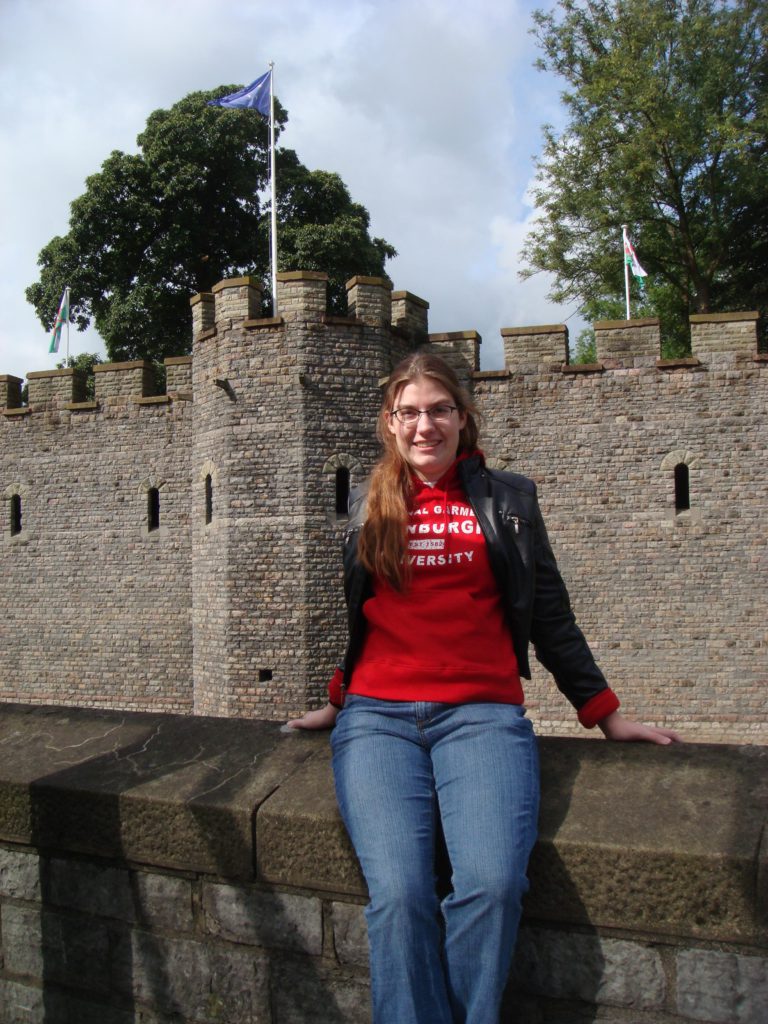 Gaelic is the official second language of Wales. Although we didn't hear it spoken, the government certainly is promoting it, with mandatory education. It's also a second language on all the highway signs. Its absence from all commercial signs and billboards is telling, though.
After a long drive and a snack at a rest stop we finally arrived on the western coast town of Fishguard where the entire tour bus drove onto the ferry. The crossing was calm, and we spent the time in the sports bar ignoring the Summer Olympics. Dani has started work on a second novel, now that she's finished The Last Telepath. In just a few hours she's almost finished structuring it, defining characters and writing her outline.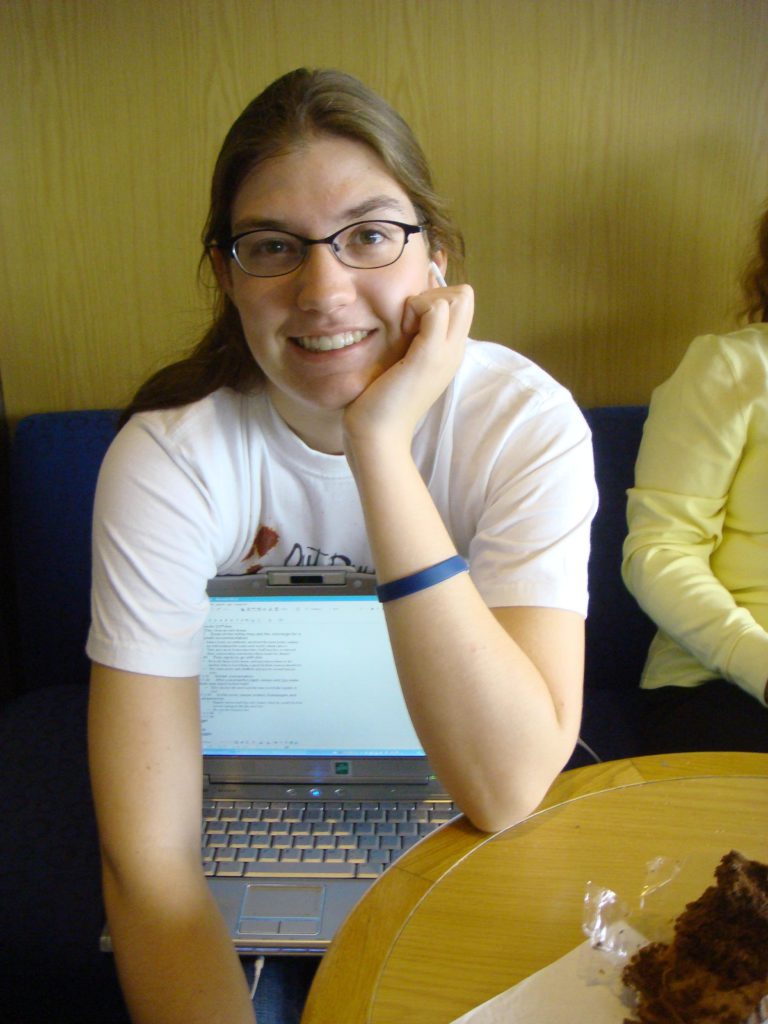 Three and a half hours later we drove off the ferry in Rosslare on the southeast coast of Ireland. Ireland is a country of rolling green hills, scattered farms and villages, and many cows.
An hour's drive brought us to the city of Waterford, Ireland's fourth largest. Our hotel is the somewhat seedy Tower, although our room is spacious by European standards and overlooks the river Suir (pronounced 'shus,' not 'sever') and the historic Tower for which the hotel is named. (Gaelic is also prevalent in Ireland. ) Dinner was decent, and we made it an early night after a long day of driving and many cows.
Saturday, August 16, 2008
Waterford Factory and Blarney
We set out on a rainy morning for the nearby Waterford Crystal Factory. Having visited artisan glass works in Oslo and Venice, I was expecting more artists and less factory, but Waterford is indeed a factory. Although there are artists there who do custom engraving, most of the 700 workers are dedicated to churning out the stuff you see in department stores, which looks clunky and dated compared to the fine art of, say, Murano glass.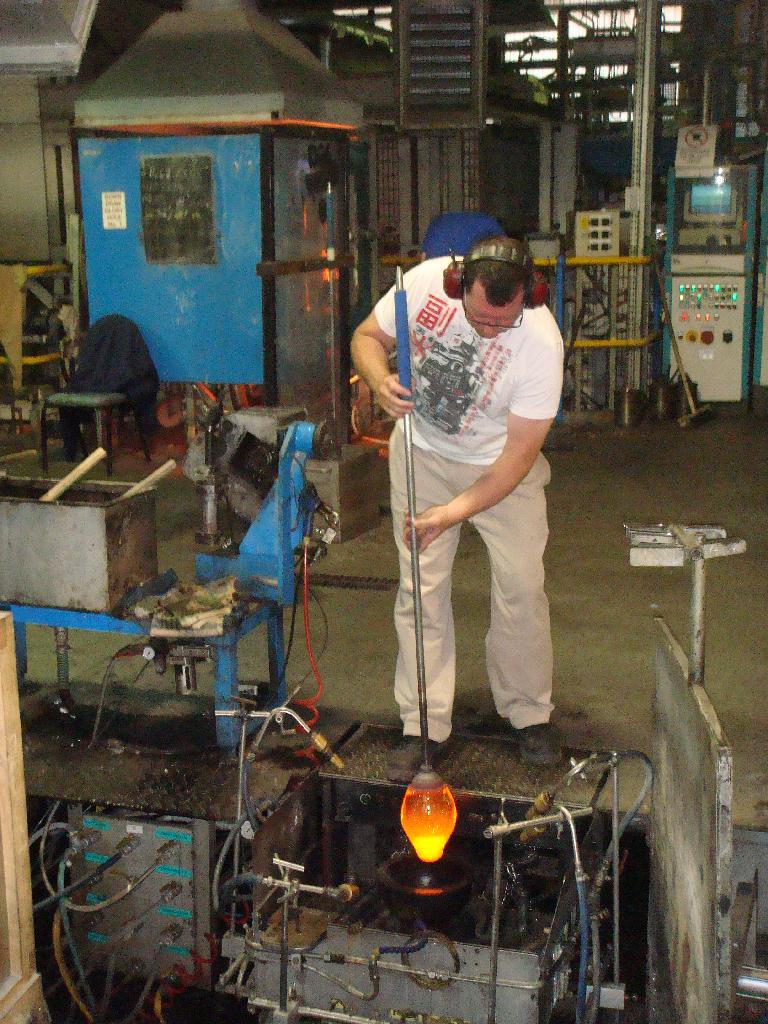 We then had a long drive through a country of rolling green hills, scattered farms and villages, and many wet cows. Reaching the west coast, we passed through Cork, Ireland's second largest city, and on to Blarney Castle.
We were lucky, and the rain abated for our exploration of Blarney castle, where Dani enjoyed exploring the twisty stone stairways, cramped tunnels and caves. At the top of the six story climb she leaned out over the parapet backwards and kissed the Blarney stone, which is supposed to impart the gift of eloquence.
Afterwards we had lunch in the nearby pub and then drove on to Killarney in County Kerry, and an afternoon check in at the Scotts Hotel. There are many, many towns in Ireland that start with 'kill' because the Gaelic word for church is 'cil. '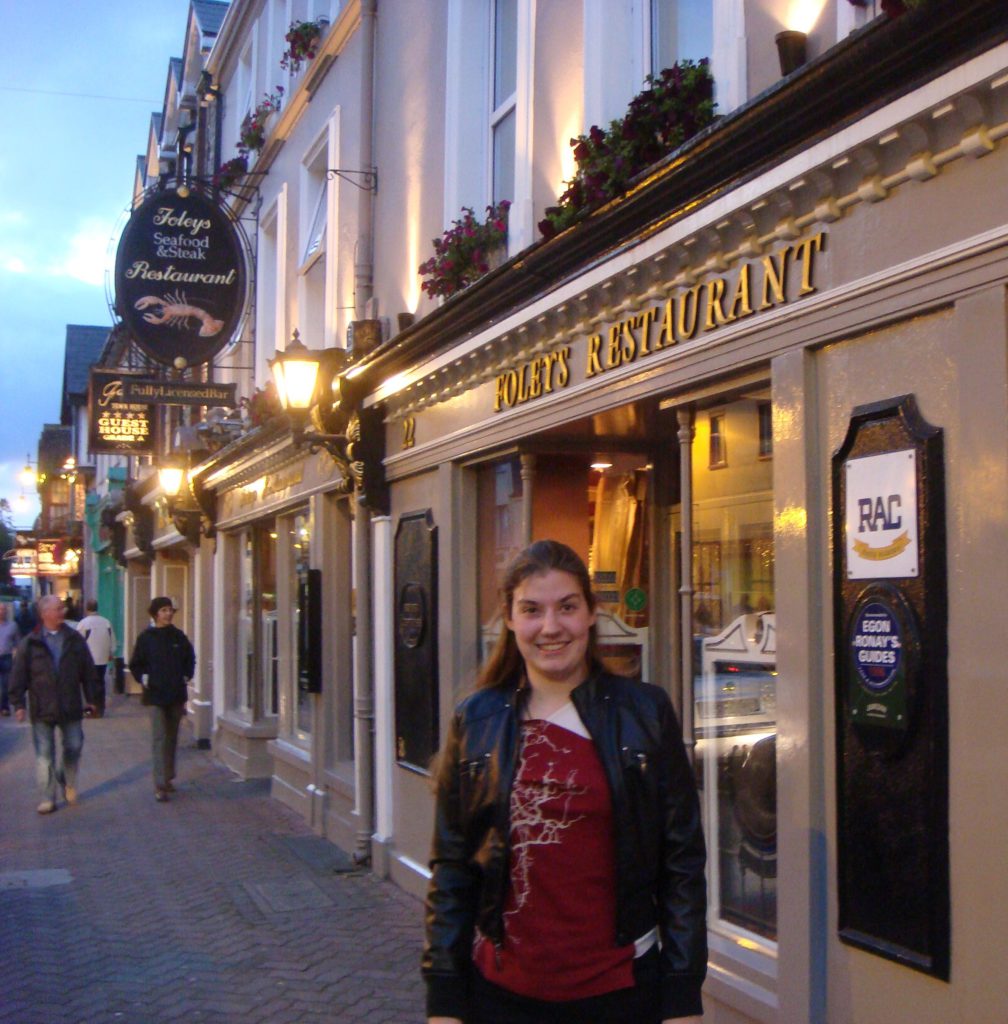 Much of our tour group went to an evening folklore event, but we've learned over the years that we're allergic to contrived revelry, so we walked to Foley's, a nice fish restaurant a few blocks away. In fact, we're skipping all the optional excursions on this trip except for a tour of the royal yacht in Edinburgh.
Sunday, August 17, 2008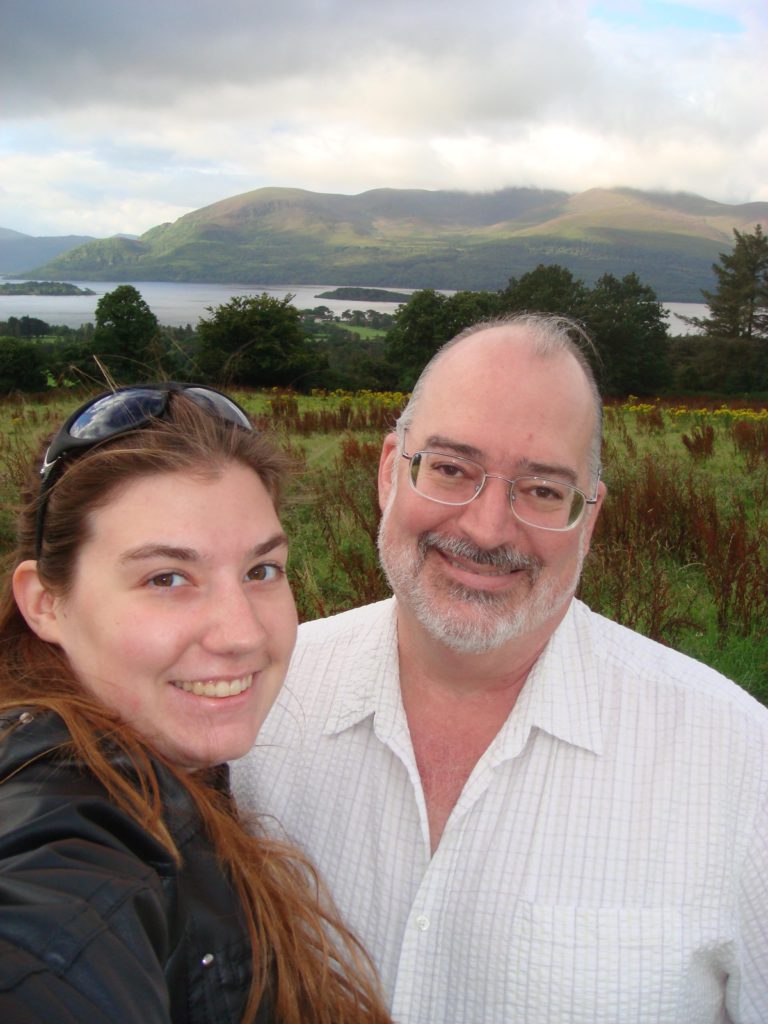 Killarney
Linda has Dani's cold, so she opted to rest today. Our group set out on an approximately 100 mile loop called the Ring of Kerry, which circles County Kerry. The weather cooperated at first, and we got some nice vistas of lakes, mountains and rivers. But by 11am rain and mist had settled in.
The sheep didn't mind. We passed thousands of them. Most looked a bit odd, because they've been spray pained with red or green markings to indicate ownership and parentage. We also passed several bogs, and saw peat that had been cut and stacked to dry.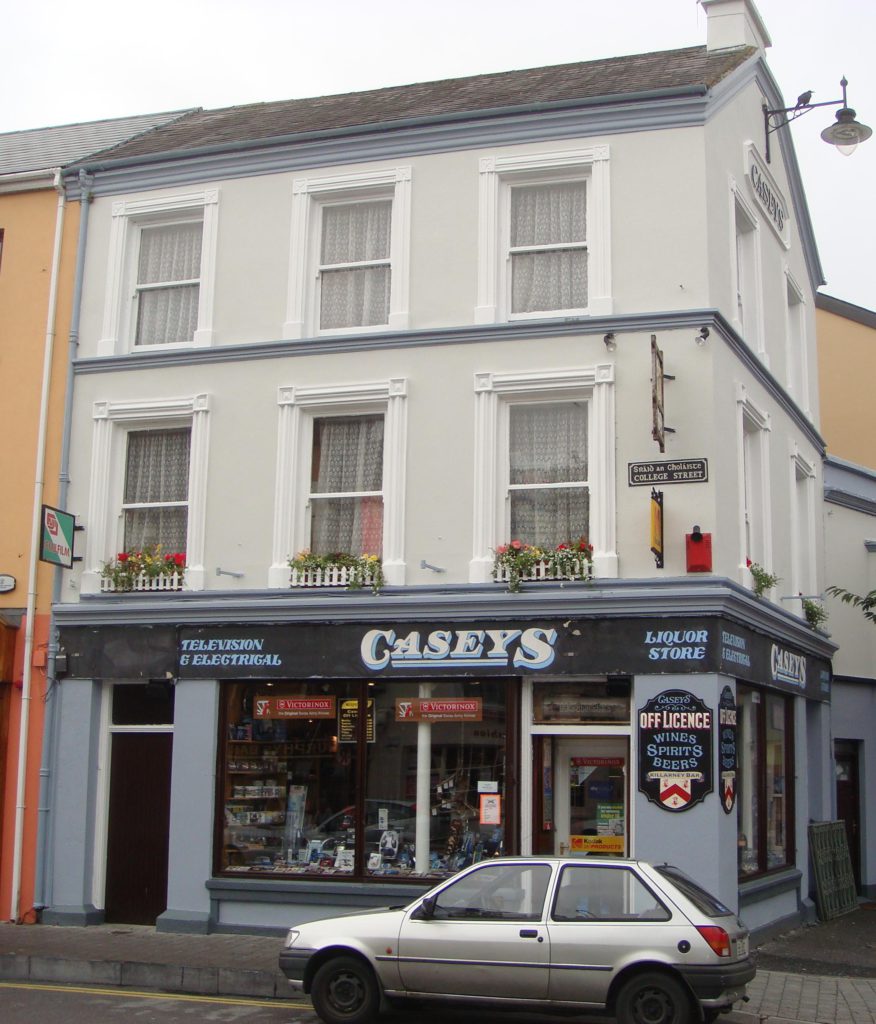 After an ill-conceived lunch stop at a village with no open restaurants, we continued on to "the best view in Ireland," which today consisted of a post shrouded in fog. Allegedly there was sea, peninsulas and islands somewhere out there. The drive back to Killarney was through much rockier terrain, as the road twisted down the mountains (at 3000 feet, the tallest in Ireland) and through the national park, where there were many scenic views of rivers, fairly large pines and oaks, and three large lakes.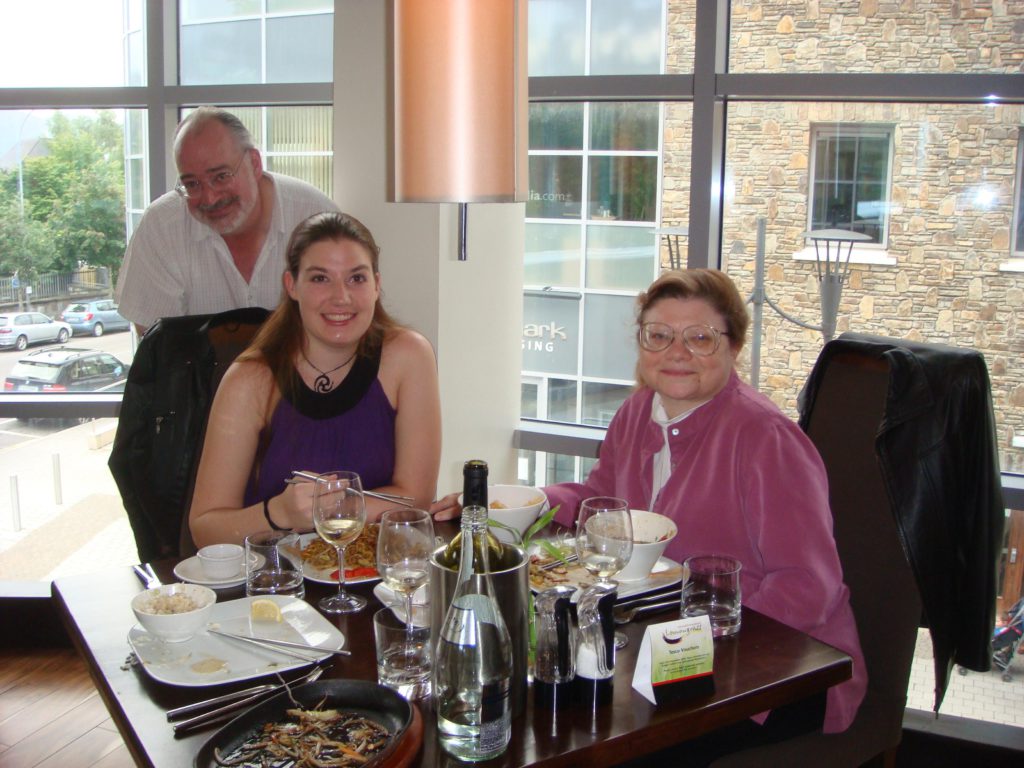 We had a delicious dinner at a restaurant upstairs next to the hotel. It was called Lemon Grass, and offered a fusion of different Asian cuisines. My sushi appetizer was some of the best sushi I've ever had.
Monday, August 18, 2008
Limerick, Tiperary and Dublin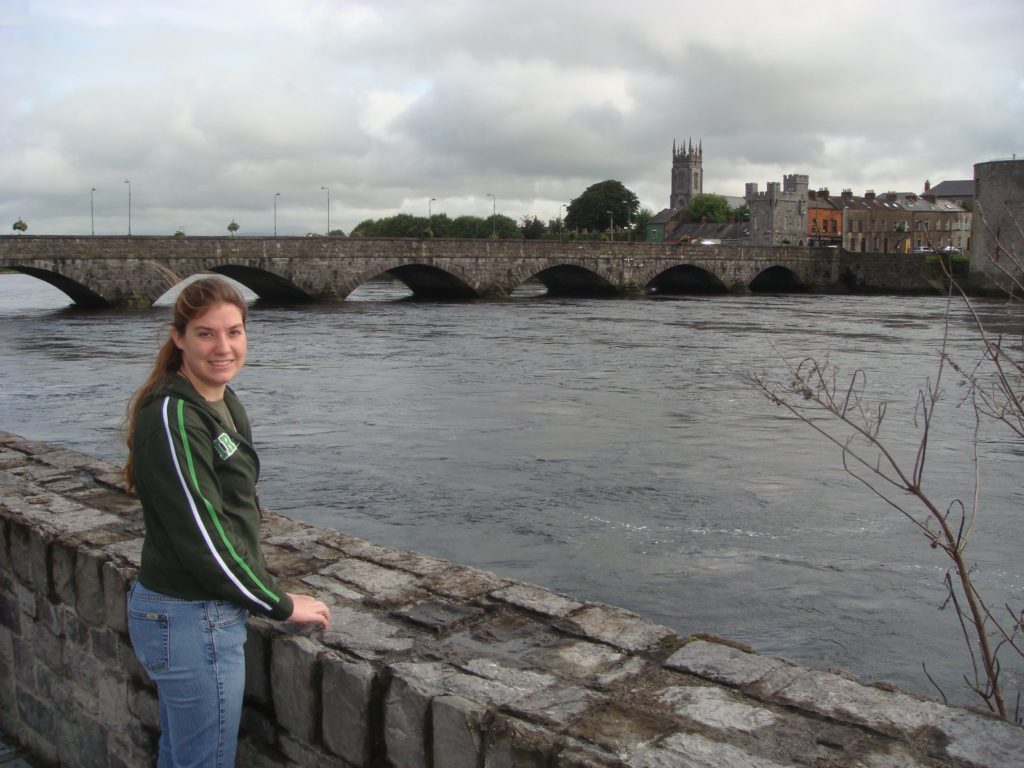 Today we drove across Ireland, from Killarney to Dublin, in just a few hours. It was another wet day. This is the wettest summer in Ireland, perhaps ever, and there were signs of flooding in several spots, and many swollen rivers. Last Saturday alone they got a whole month's rainfall in a couple of hours.
We drove through Tiperary and Limerick (yes, there really are such places), and watched the names on the businesses alternate between all the cliche Irish names you've ever hear.
After another annoying lunch stop in a town with no open restaurants we drove on to the Irish National Stud, where we learned about thoroughbred racecourses and the economics of breeding them. A few of the random things I learned: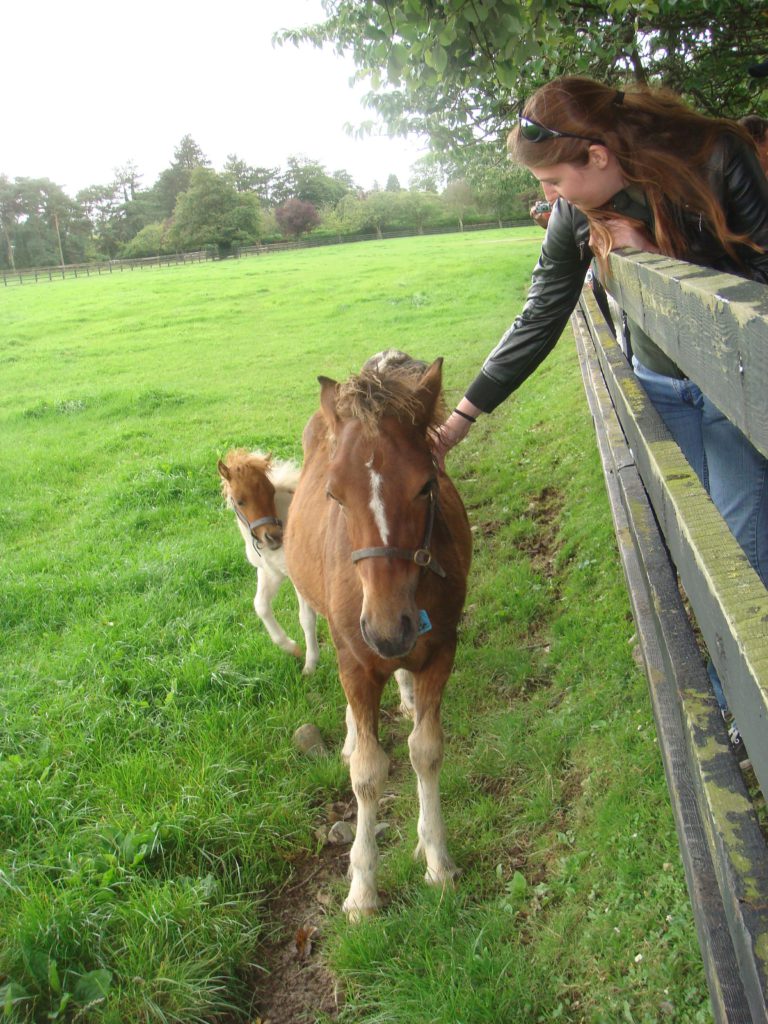 All horses change age on January 1st, so if you're racing, say, two year olds, the could b anywhere from 731 to 1094 days old. So it's a big advantage for your horse to be born right after the first of the year. As a result, they breed the horses in the first quarter, they foal in January, and then immediately are impregnated again.
Artificial insemination is not allowed. A stud will impregnate up to 190 different mares during the three month season.
One of the studs we saw has sired so many winners that his stud fee is $75,000. This is payable if the mare is pregnant on October 1. That particular stud was worth $60 Million, because he has about 15 years of service left.
As we drove on into Dublin we reached the first road that could be called a highway, with three lanes in each direction. Almost the entire rest of the country has been narrow two lane roads.
Ireland is definitely not the backward country it once was. In fact, it has been enjoying a real economic boom the past decade. This really started with the move into technology in the 1970s. In fact, after centuries of emigration, Irelands population is now growing through immigration, and is about 10% recent Polish arrivals!
The Hilton Dublin Kilmainham is a nice, modern hotel, with much better furnishings than most Hiltons. It's across the street from the prison where the Irish rebels were executed in 1916, but it's far from city centre.
It was really raining hard in the evening, so we had dinner at the hotel's Cinnamon restaurant, which was surprisingly good.
Tuesday, August 19, 2008
Dublin
This morning we drove around the centre of Dublin. We had a different driver, as Bob was required by European driving laws to take the day off. Our replacement driver didn't really have any experience with a manual transmission coach, so it was an interesting ride. The weather continues to be intermittently drizzly.
Dublin is a modification of Gaelic words that mean 'black pool'. Dublin seems to be the only real 'city' in Ireland, as it looks typically European, and everywhere else we've been has been more along the lines of a village.
We visited a number of areas including statue-lined O'Connell Street, a couple of Georgian squares, St. Patrick's Cathedral and Trinity College, where we saw the 1,200-year-old Book of Kells and the Old Library. We then walked into the Grafton Street shopping district and found a tiny basement wine bar and French restaurant called called La Cave, where we had a nice traditional French lunch.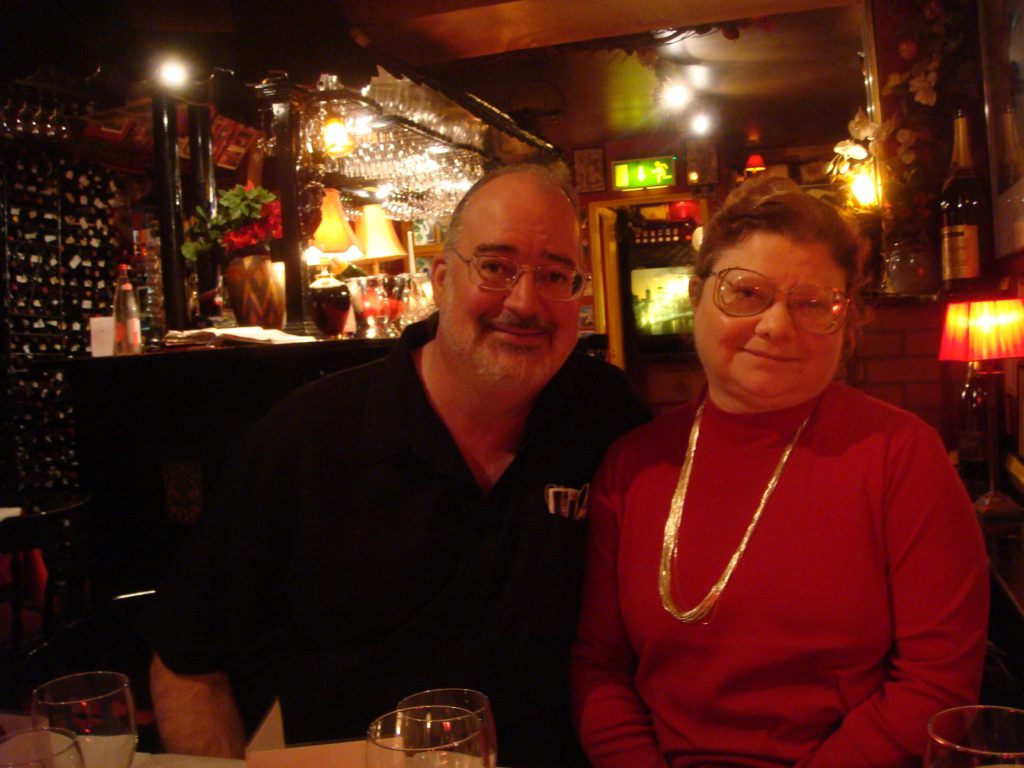 We returned to the hotel for the afternoon and relaxed, then walked to a nearby Italian restaurant, La Dolce Vita, for dinner.
Wednesday, August 20, 2008
Chester, England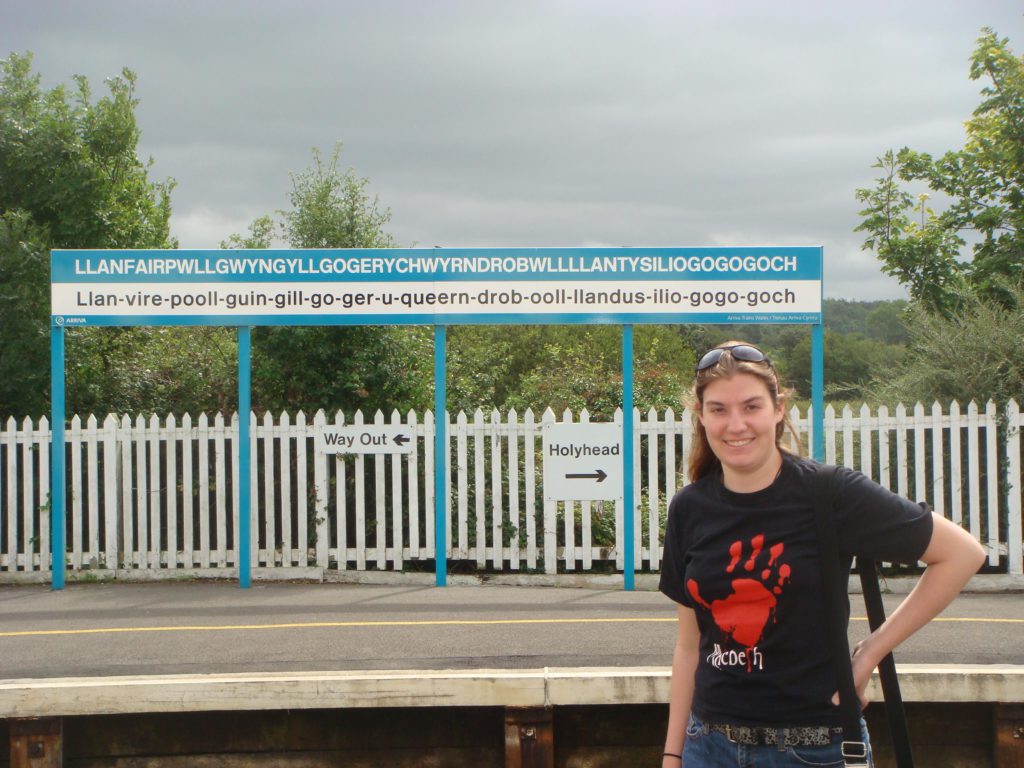 We took a high speed ferry back across the Irish Sea from Dun Laoghaire to Holyhead on the Welsh Isle of Anglesey. This ship was a catamaran design, and made the crossing at a top speed of 40 knots, taking only two hours. Our first stop was at Llanfair(. . . ), a town that is a tourist attraction simply because its name contains 58 characters!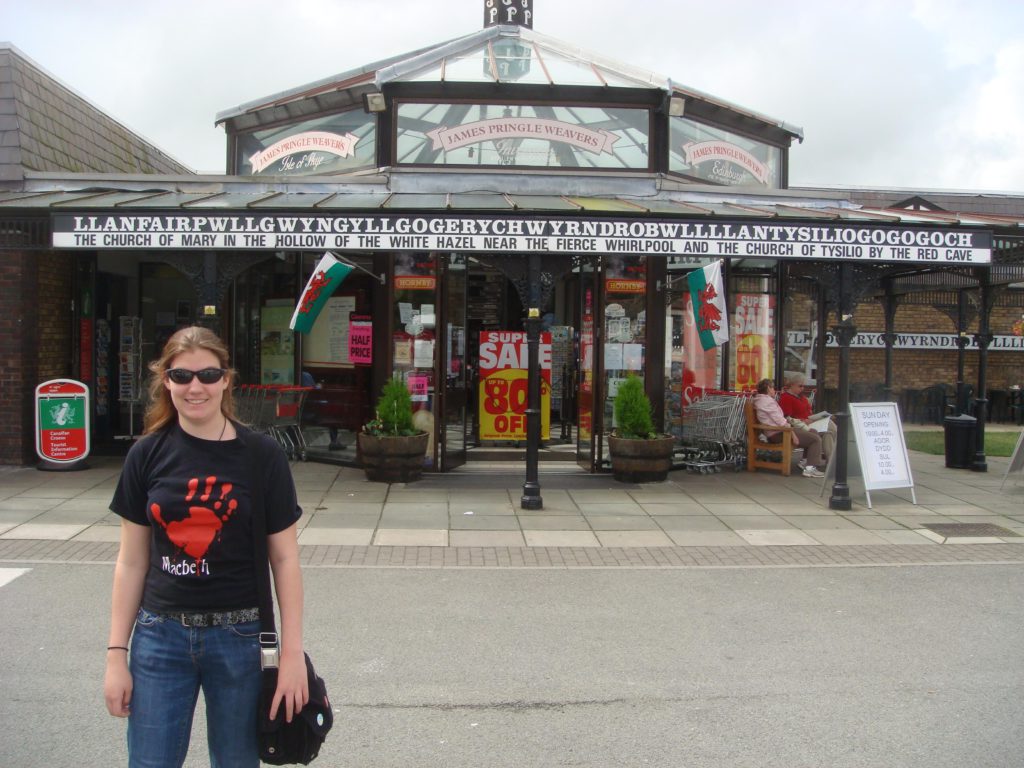 We drove along the scenic North Wales coast past abandoned shale mine, and rocky beaches. Its much more rugged than Southern Wales. Just across the boarder in England the Welsh disappeared from the highway signs. We stopped for a walk around Chester, a charming medieval walled city with some Roman remains, and many black and white halftimbered buildings. An unusual feature of the main street is the two-tiered arcades called the "Rows. "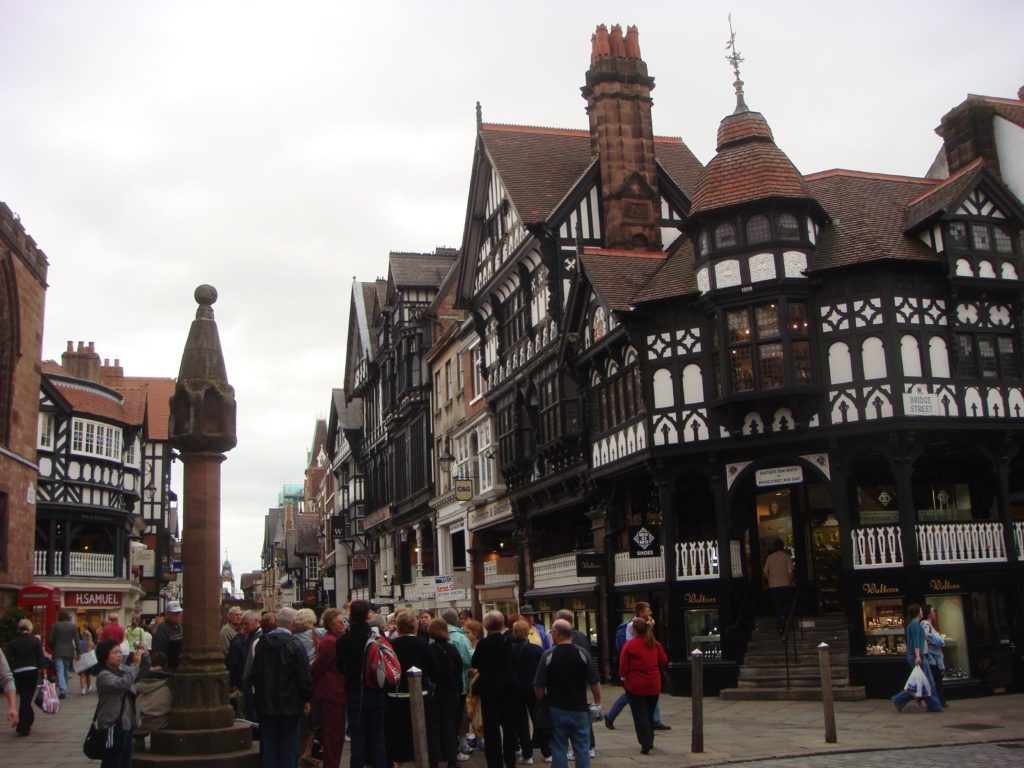 We spent the night back in Wales at St. David's Park, a nice hotel. The power to the whole area went out for a couple of hours just after we checked in, but the hotel rose to the occasion and catered sandwiches in the bar on the spur of the moment and it was really a fun evening.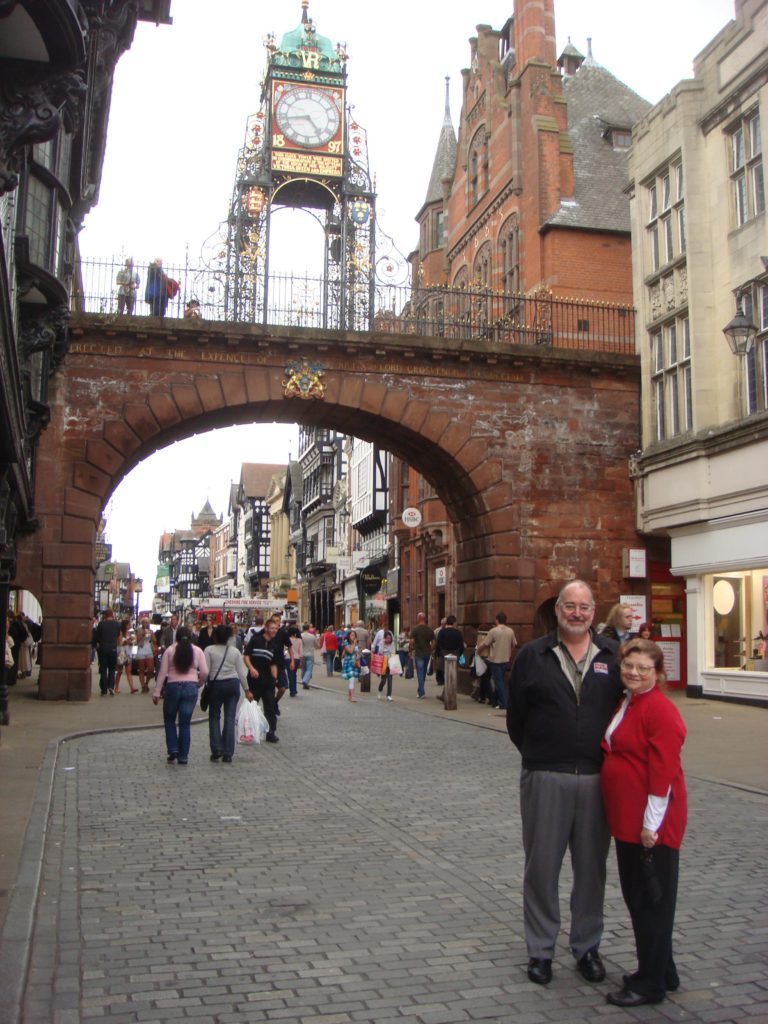 Linda is recovering from her cold, but I have it now, hopefully not for long.
Thursday, August 21, 2008
Lake District, Edinburgh
We took a beautiful drive through the Lake District, where we cruised for a half hour on Lake Windermere, namesake of our hometown. The town and surrounding hills are much more scenic than our own, with forested slopes and quaint stone buildings. In Grasmere we dodged rain and had a quick lunch, then returned to the motorway for the drive into Scotland. Just across the border we stopped at Gretna Green, where the blacksmith used to wed runaway couples. The scenery became progressively more beautiful as we made our way through the Lowland Hills to Edinburgh.
The Edinburgh Thistle is conveniently right across the street from the Balmoral, so it was easy to walk across for our dinner at Number One, which was superb, and virtually identical to our previous visit. They treated us like old friends.
Friday, August 22, 2008
Edinburgh
Dani and I skipped the morning city tour but Linda went with the local guide on a visit to Edinburgh Castle and Holyrood Palace, both of which she enjoyed.
Dani and I had a walk down pedestrian Rose Street, and lunch at a Thai place.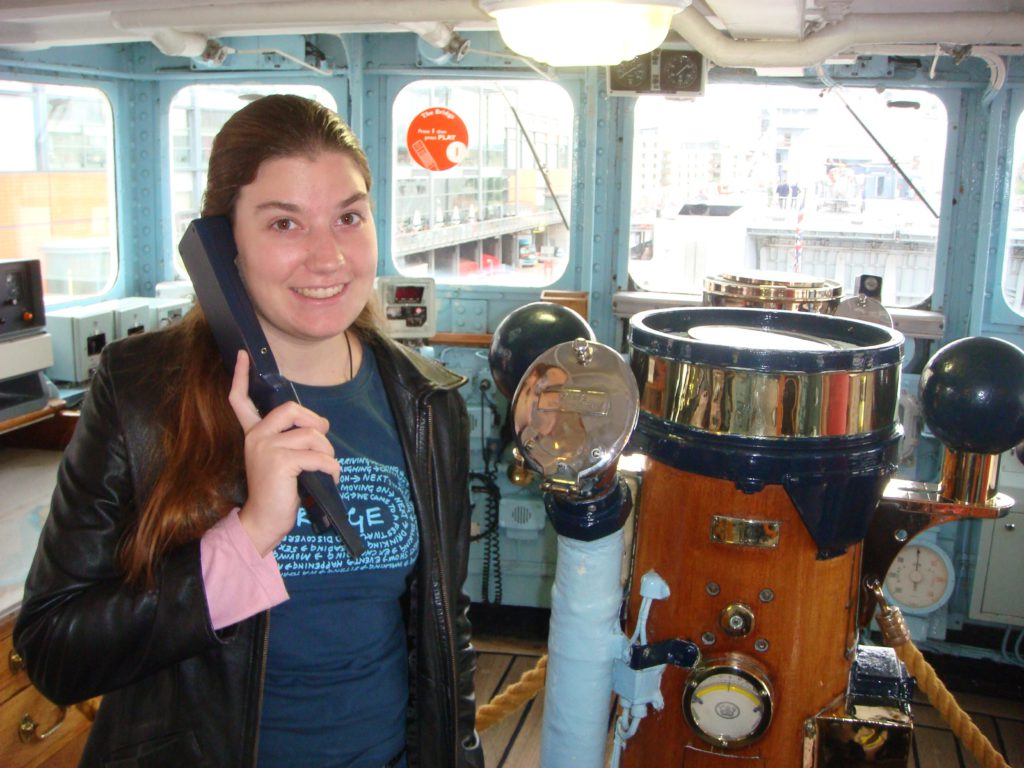 Then we caught our only optional tour of the trip, a visit to the retired royal yacht Britannia, which was very well done. It was followed by a group dinner at a hotel on the Grass Market and a climb up the steps to the castle to see the 'Tattoo,' a marching band and bagpipe show that was much better than I was expecting. We were only briefly rained on during the show, and we were squeezed in so tightly there was no place for the water to go.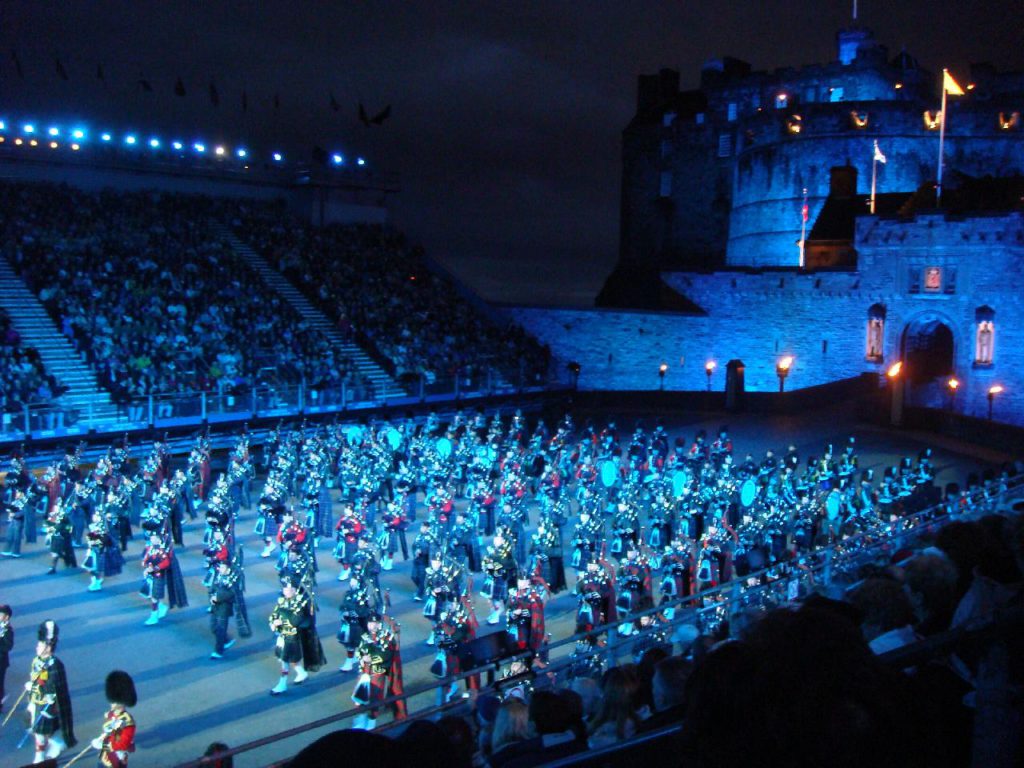 It was dry for the walk back to the hotel.
Saturday, August 23, 2008
York
For the first time in a month IT DIDN'T RAIN TODAY! This has been the wettest August in UK history.
Our drive southward began with a stop at Floors Castle, an enormous house that is still lived in seasonally by the family of the Duke and Duchess of Roxburghe. It's how the other 0. 000001% live. Their backyard is about 65,000 acres.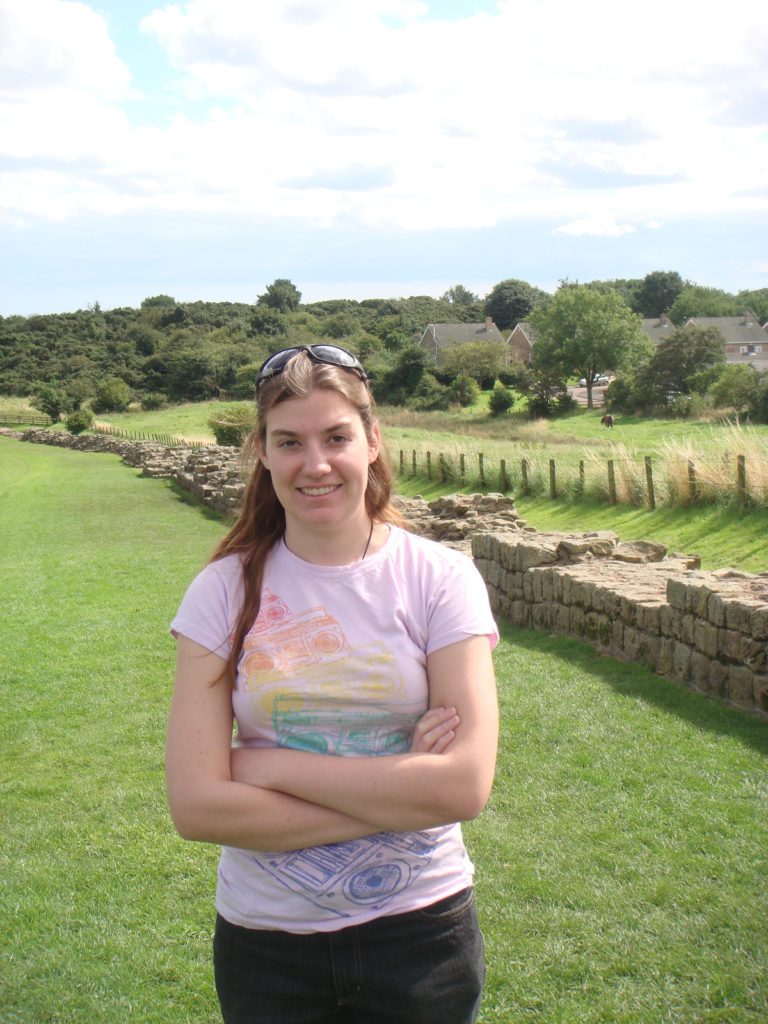 W drove past the abbey ruins at Jedburgh and the house of Mary, Queen of Scots, and stopped near a section of Hadrian's Wall, the Roman coast-to-coast defense against marauding northern tribes. It used to be 75 miles long and 15 feet high, but this fragment wouldn't keep a sheep out.
Lunch was another ill-planned affair at a rest stop.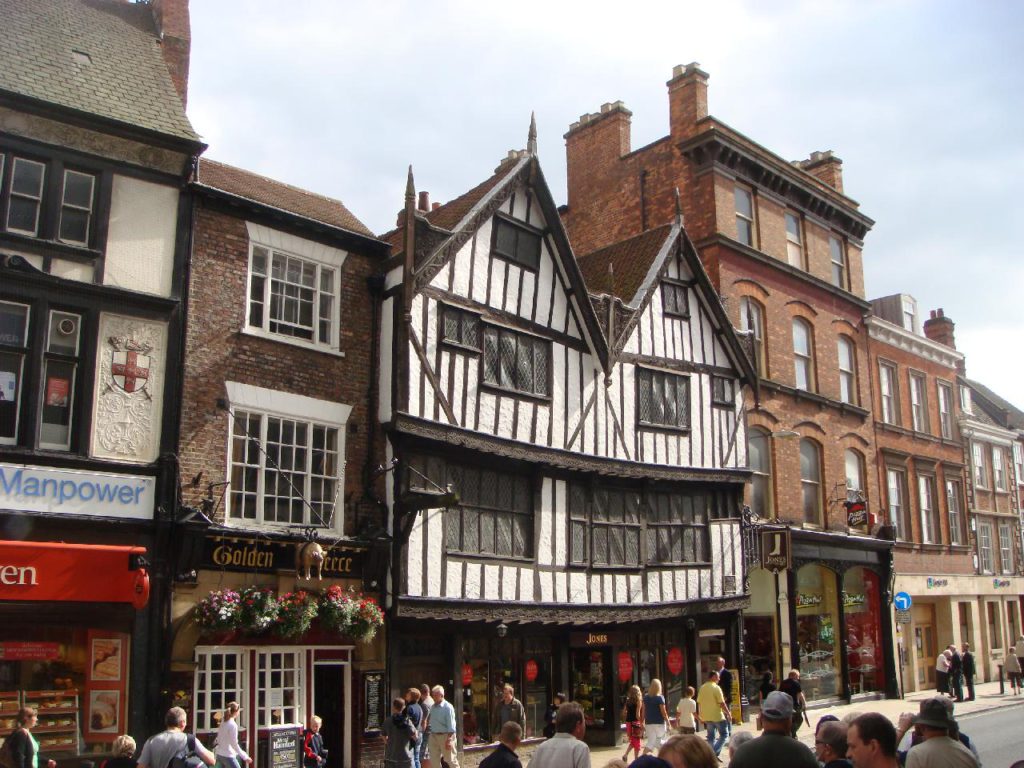 York is England's most complete medieval city. It's surrounded by its original wall, and it's crammed higgledy-piggledy with oddly constructed buildings of all types, leaning and packed together at crazy angles. The main street used to be lined with butcher shops, and you can see the gutters designed for the blood to run down. Of course, now every building is a Starbucks, but the ambience is neat.
We stayed at the York Ramada, which is fairly nice, and had a decent group dinner.
Sunday, August 24, 2008
Stratford-upon-Avon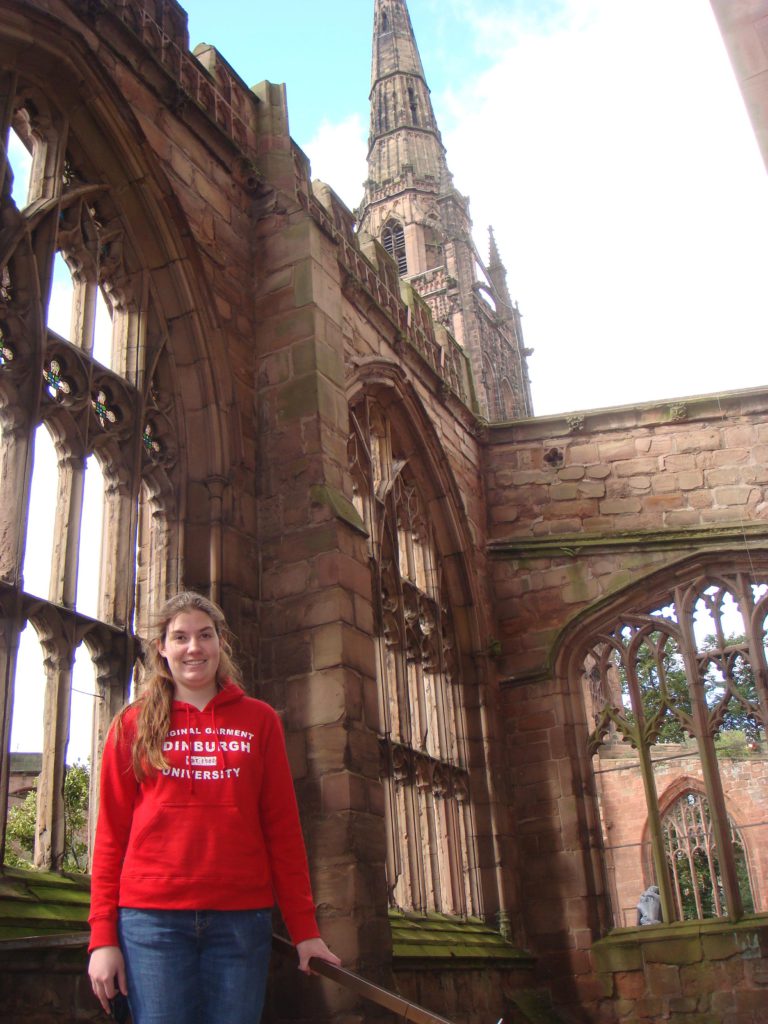 Another almost rain-free day. We drove past Robin Hood's Sherwood Forest on the way to Coventry, where the ruins of the original cathedral were of some interest to Dani and me, because they feature in one of our favorite books, To Say Nothing Of The Dog by Connie Willis. The city was bombed in World War II and the cathedral burned. Iron girders, installed in the late 19th century melted in the heat and pulled down the upper part of the structure. Most of the stone walls, and even some of the stained glass survives. The ruin was left in place, and a new cathedral built next to it. An ironic aspect to the story is that the British had broken the German code, and knew the city was to be bombed, but could do nothing about it without giving away their secret.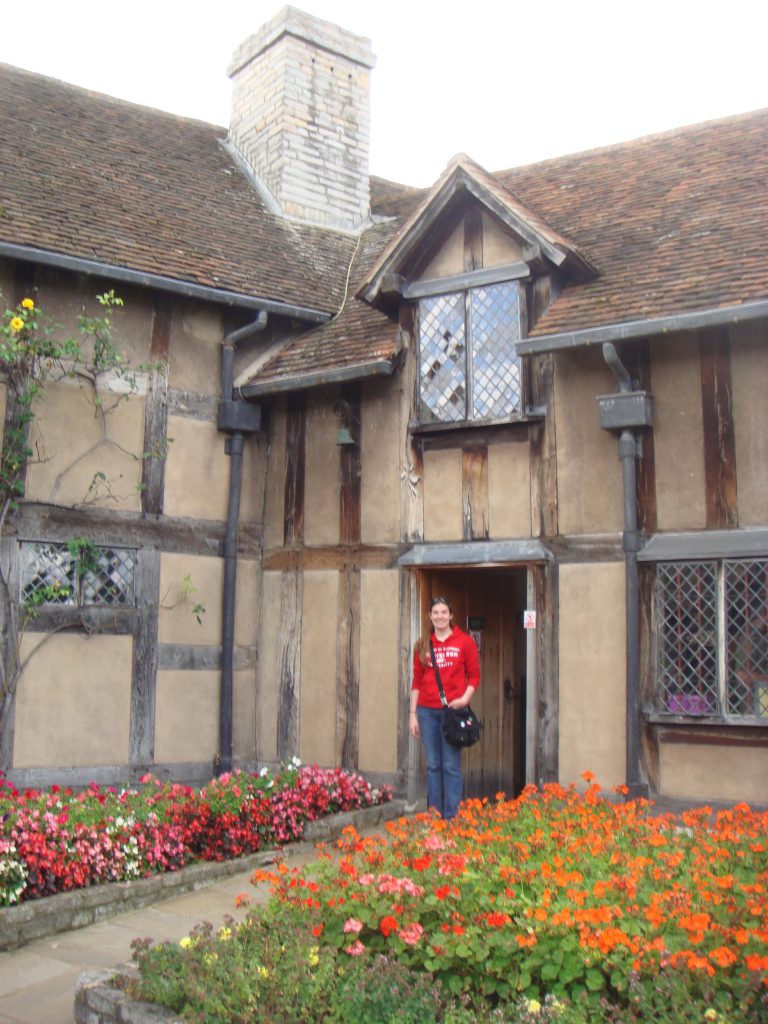 We stopped briefly for a photo in front of the thatched roof cottage where Shakespeare's wife, Ann Hathaway, lived, then drove on to Stratford-upon- Avon, where Dani was fascinated by a tour of Shakespeare's birthplace.
We spent the night at the very conveniently located Holiday Inn, which is right next to the Royal Shakespeare Theatre. Had we known, we should have booked tickets.
Monday, August 25, 2008
London
It's less than a three hour drive from Stratford to London. Along the way we stopped at spectacular Blenheim Palace, home of the 11th Duke of Marlborough and birthplace of Sir Winston Churchill. It was built by John Churchill, the first Duke of Marlborough, a man with an ego even bigger than the palace. It's filled with tapestries he had mad commemorating his victory over the French in the War of the Spanish Succession. That's why Queen Anne gave him the property, although she refused to give him the 60,000 pounds of cost overruns on his palace.
It was saved from ruin in the late 19th century by the 9th Duke's loveless marriage to American railroad heiress and renowned beauty Consuelo Vanderbilt.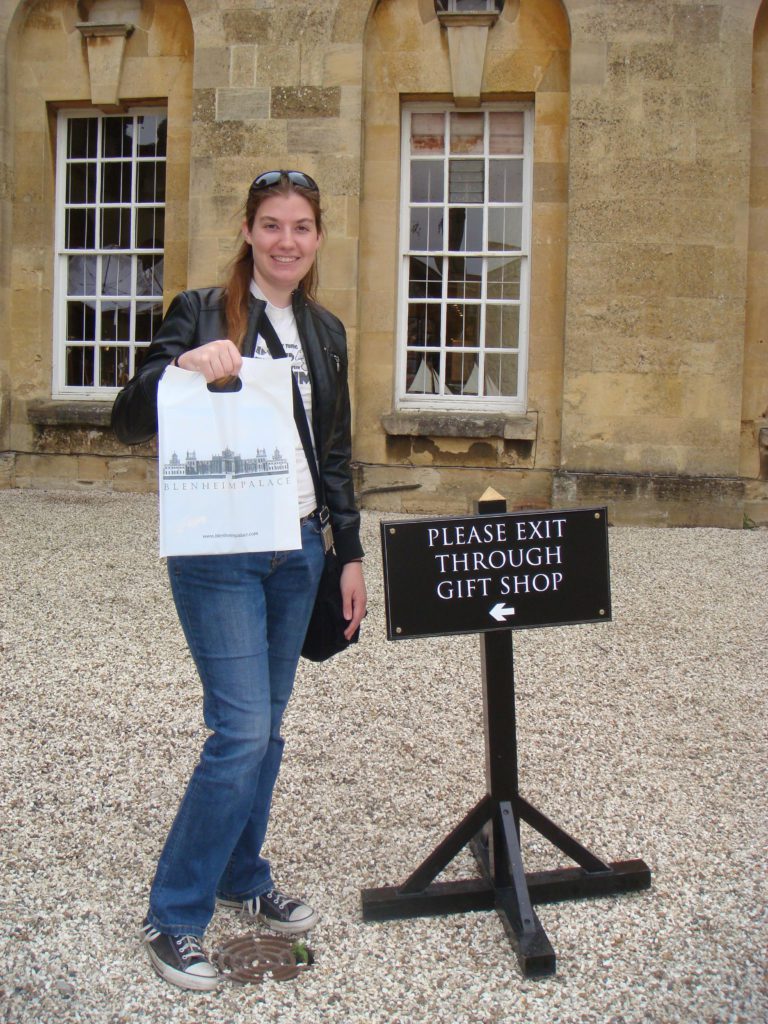 We arrived at the Hilton London Metropole at 2pm. It's a comfortable and well located hotel where we've stayed several times before.
For dinner, Linda picked a fantastic restaurant, Zaika, on Kensington High Street. We had a nine-course tasting menu with an Indian slant, and some interesting matching wines.
Tuesday, August 26, 2008
London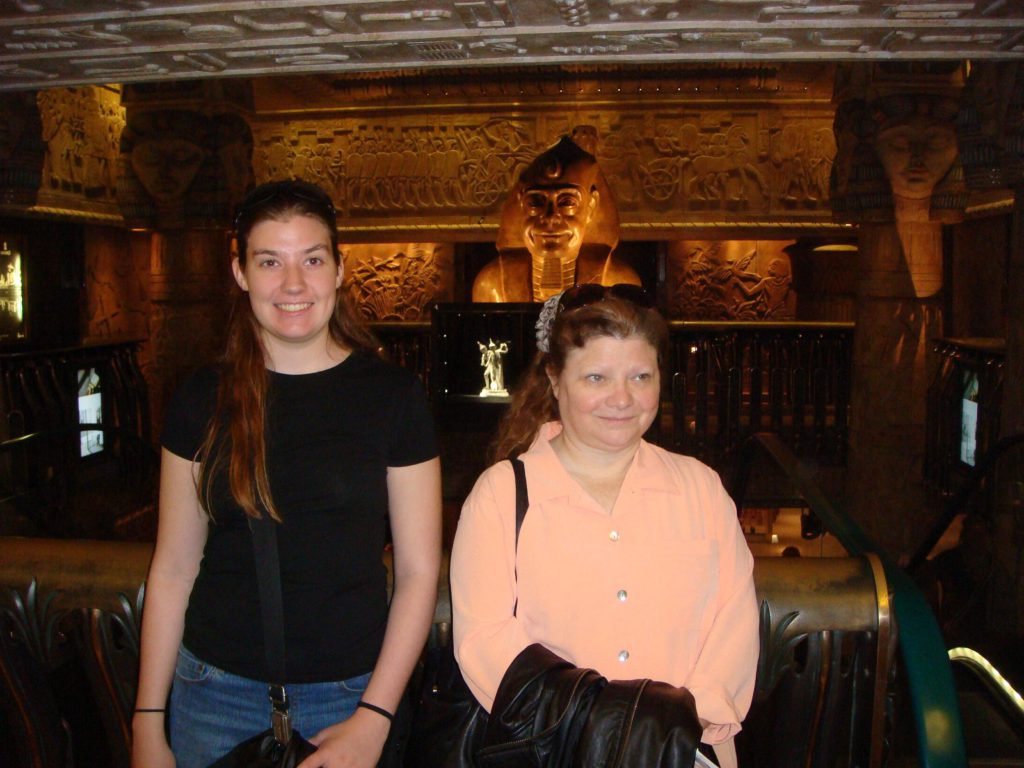 We took advantage of our first chance to sleep in for two weeks. Then we spent the afternoon at Harrods. where we had a very overpriced sushi lunch and a late afternoon tea at LaDuree, which was good, but not as good as the Paris original.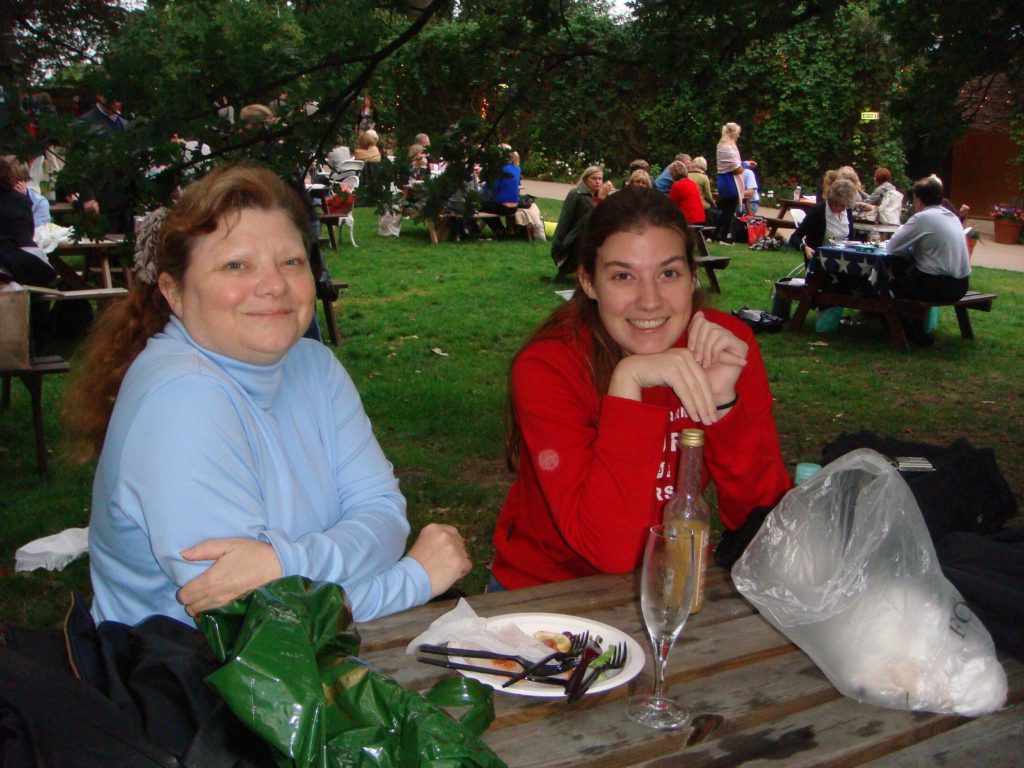 After a convoluted tube ride back to the hotel due to a rush hour closure, we made our way to the Open Air Theatre in Regents Park for its wonderful ambience and a fabulous production of Gigi, starring Topol and the lead we saw last year in Mary Poppins. It was terrific, and we were in the front row, almost close enough to touch the actors.
Then it was back to the hotel for packing and a short sleep.
Wednesday, August 27, 2008
London to Orlando
It takes a long time to get to Gatwick from London, so er were up at 5:30 for an 11:100 flight, and a five hour layover in Atlanta (a good thing, since it took an hour to get the bags) meant we didn't arrive until 10pm. It was nice of Chastity to pick our remains up at the airport and rive us home for a long rest.
Thoughts About The Trip
I have mixed feelings about this trip. It was impacted by rain almost every day, but on the other hand, we were lucky, and were rarely out in it. On the third hand, it limited what we chose to do and see, especially in Ireland.
I was disappointed in Ireland. It's a beautiful, green country that is much less developed than the rest of Europe, and it is enjoying an economic boom. But there were few 'show stoppers' in the week we spent there. Blarney Castle near Killarney was neat, and Dublin seems a nice city — the only city, really.
On the other hand, I loved Edinburgh. Even without the Fringe, it would be a great place to visit. It's a great mix of new and old, and Scotland is geographically more diverse than the rest of the UK.
York might be a good stop for a couple of nights. It's historical buildings are neat, but it's basically a giant tourist mall.
Wales was just a place to drive through.
London, as always, was a mixed bag. It's a great city to get around in via the tube. And with over 300 shows running every night, it's a theatre lovers dream.
Food-wise, the UK is very odd. The vast majority of food is simply awful. And yet there are some amazing culinary treats, if you take the time to search them out, and are willing to pay for them.
And paying for them is a big part of the problem. All the prices looked reasonable — if only that pound sign were a dollar sign! But at worse than a two to one exchange rate, doing anything in the UK is very, very expensive. So while the tour, with its many included meals, was a good deal, nothing else was.
Finally, as we've noted in past years, this trip was a bit too long, especially for Dani, who was away for more than a month. The solution might be to bite the bullet on airfare using direct flights from Orlando, which make it easier to go more often for shorter periods.
The bottom line is that for those looking to explore the British Isles I think I'd look at a cruise, or just a Killarney/Edinburgh/London trip.
Handy Travel Packing List
Books Camera, interface cable, charger Clothes, short and long sleeved Dress Clothes, Sport coat & Tie Ear Plugs Electrical adapters, Extension cord Euros Folding Tote bag Guidebooks, Pocket Maps Hat Laptop, Ethernet cable, Broadband modem Mini London Map Microphone New shoes Passports, Travel Docs, Theatre Tickets Phone/iPod & charger Purell Robe Shoulder bag Sunglasses Sunscreen Toiletries Umbrella Vitamins, Medicine, Coldeez, Advil Warm Jacket Ziploc bags