We had a jam packed week of fine dining in Las Vegas. Here are some brief thoughts about the various restaurants.
Verandah at The Four Seasons
This is the coffee shop at the Four Season. The weekend brunch, included in the tour, was pretty spectacular, and I've been to some elaborate brunches at the Hyatt Regency Grand Cypress and the Ritz Carlton. I was trying to be good though, so I just nibbled this and that Saturday morning, and skipped it altogether Sunday.
Sunday we walked a lot of the casinos on the Strip, starting at the Palazzo, which is part of the Venetian. This canal-side Mexican restaurant used to be a favorite of Linda's but it seems to have gone downscale. The chips are no longer served with a tower of various salsas, and the food was unremarkable. After lunch we hit the Mirage to see the tigers, and then Caesar's and the Bellagio.
Before our farewell dinner with our tour group on Friday we had killed a half hour in this bar at the entrance to the steakhouse, and we liked it so much we went back the next night for dinner. Their small plates are a steal for Vegas. For example the four cheese plate with accompaniments was $8, and two Kobe sliders were $10. Compare that to $17 for a Caesar side salad in the restaurant. The ambiance is great, and we had the place almost to ourselves, even though the restaurant was packed.
We selected this place for lunch before Linda arrived in town because we knew she wouldn't like it. As it turned out, we didn't, either. Slimy noodles and lots of dim sum. Very forgettable. Also very crowded with Chinese speakers, so it must be authentic. It was so bad we went to the chocolate place at Bellagio afterward to recover.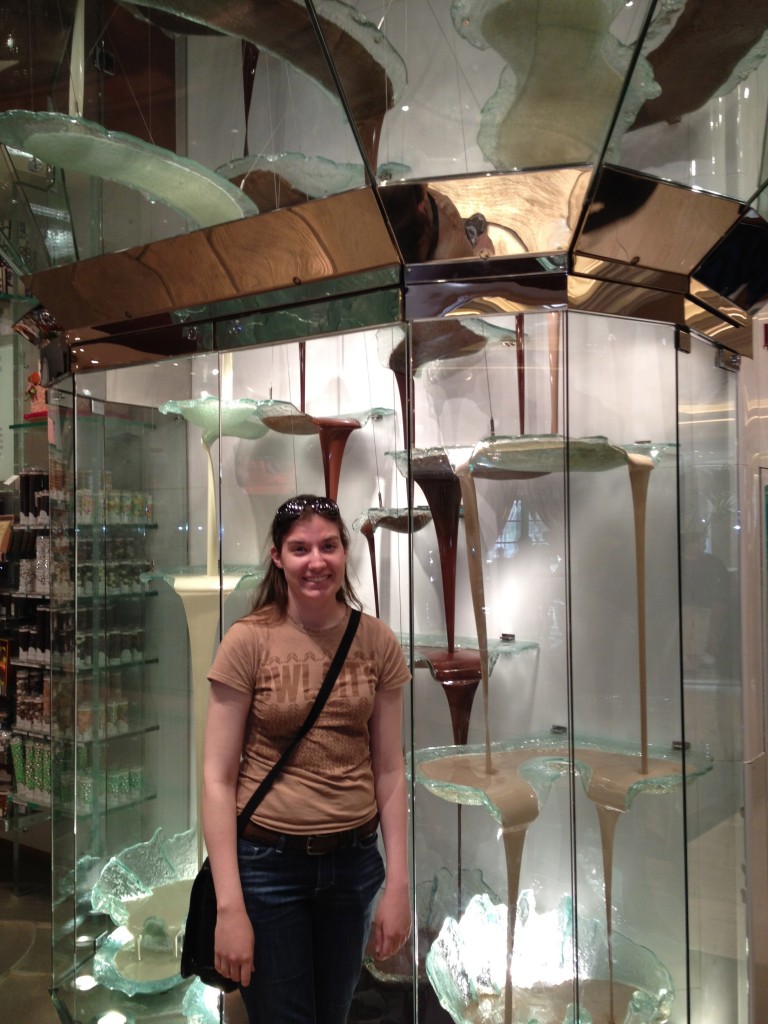 We relaxed at a bar in the Paris to wait for Linda's flight and our room at the Vdara to be ready.

Linda requested up-scale sushi for her first night in Vegas, and this place came through. It's trendy and a bit louder than I'd have liked, but conversation was possible. We had the seven-course Omakase, where you put yourself in the chef's hands, and he didn't fail us. Standouts were the tuna pizza with truffle oil and the teriyaki kobe beef shortribs, which were really tasty without being too rich.
I'd been to this restaurant before and wasn't that impressed with the food, but this time it was a home run. Linda and I had the Menu Degustation, while Dani had the Prix Fixe. Her snapper, in particular was deliciously seasoned and perfectly cooked. The highlight of the five-course degustation was probably the foie gras, although it was all excellent.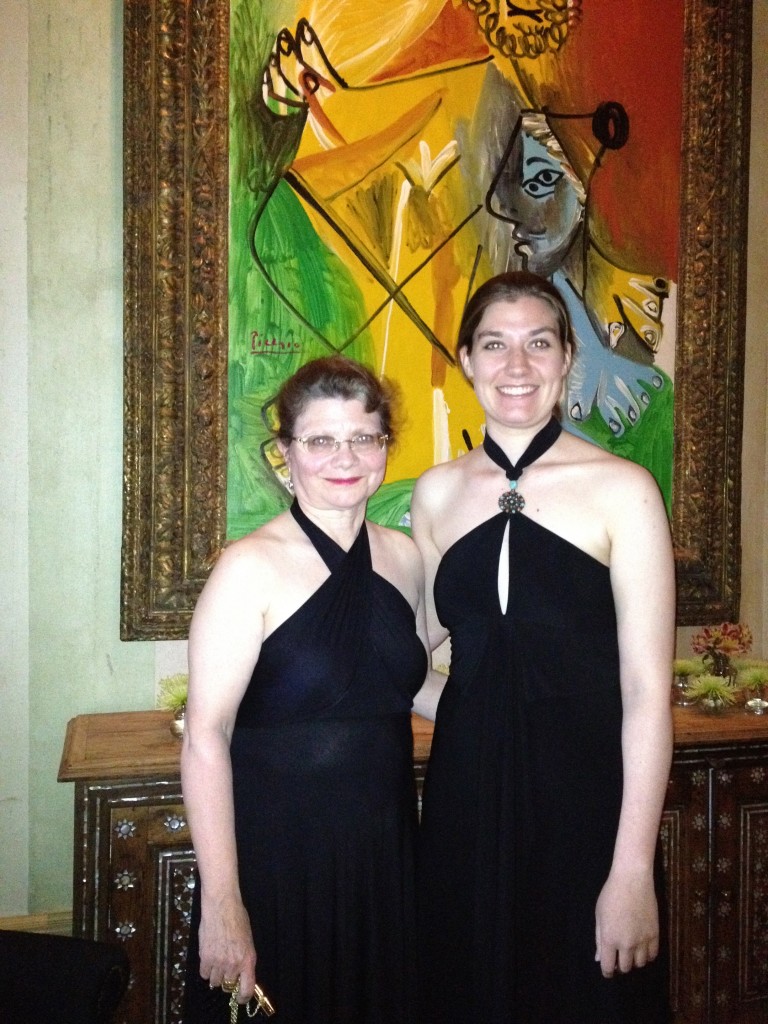 It's neat being surrounded by a dozen or more Picasso originals that you could reach out and touch (although Dani and I agreed we much preferred the Monets at the museum in the Bellagio that we saw the day before).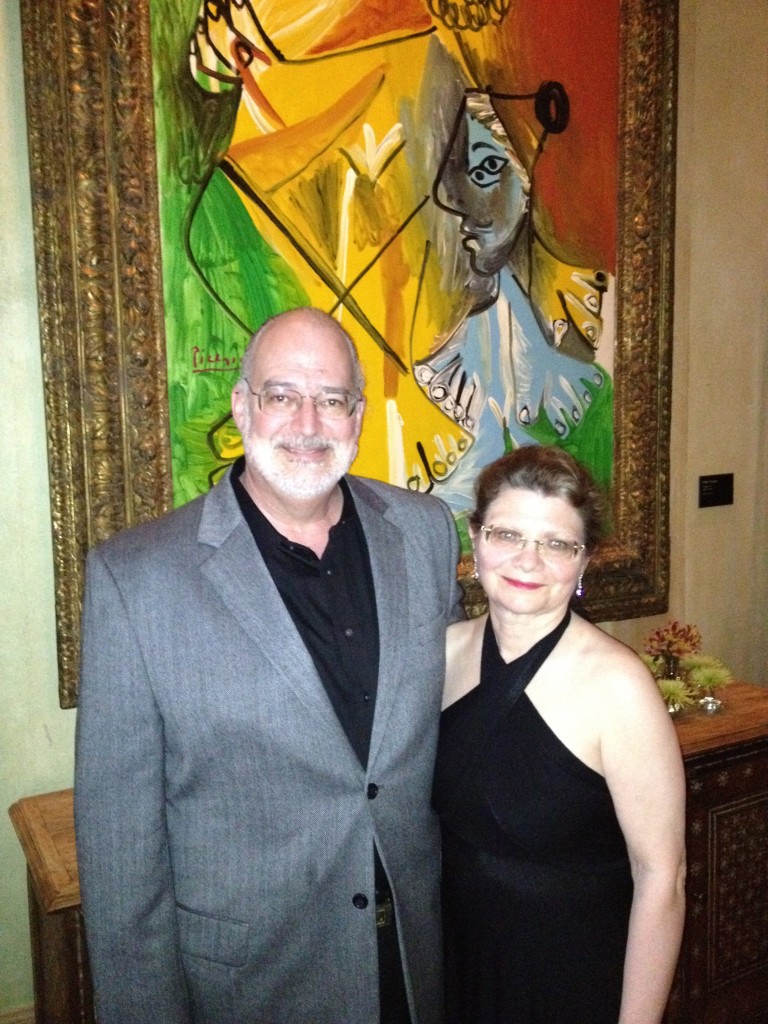 This is the greatest wine list in Las Vegas, and the best Thai restaurant I've ever been to by a wide margin. Located in a dumpy strip mall off of Sahara Boulevard, it serve astonishingly good Thai food; in fact, the chef won the James Beard award last year! Best of all is an award winning wine list where many of the wines are priced below retail. We met Linda's high school friend Suzanne, and her friend Diane, here for lunch. We put ourselves in the waiter's hands, and he delivered eight or ten terrific appetizers and shared entrees, each better than the last. I took the opportunity to pillage the wine list, and although some of my selections couldn't be found, we ended up with some stunners. Where else can you find an affordable Clos de Tart from a great year? That bottle alone was over $1000 on the list at Picasso, a fifth that here.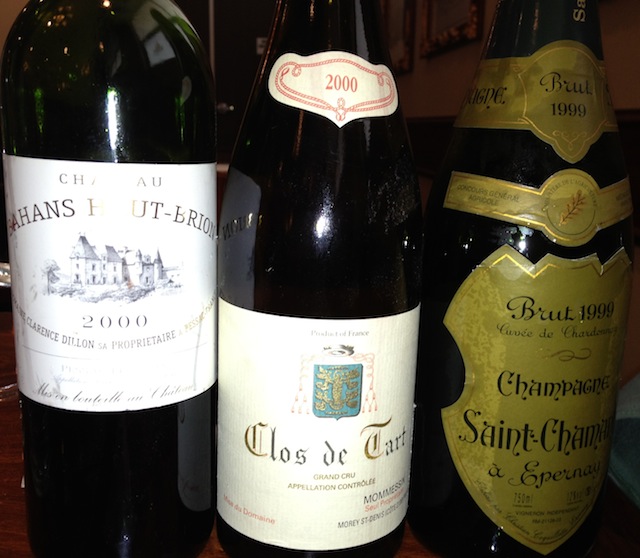 While Linda had dinner at Pinot Brasserie in the Venetian with her friends, Dani and I walked up to Caesars and the Michel Richard Bistro. Well, it isn't really a bistro, but more of a burger and salad joint right off the lobby. Delicious Chinese chicken salad, forgettable chicken burger, forgettable tuna burger.
Tom Collicchio of Top Chef fame has a chain of Craft steakhouses. This is his fast food sandwich place, hence the clever name. Excellent chicken salad and roast turkey sandwiches, which we shared.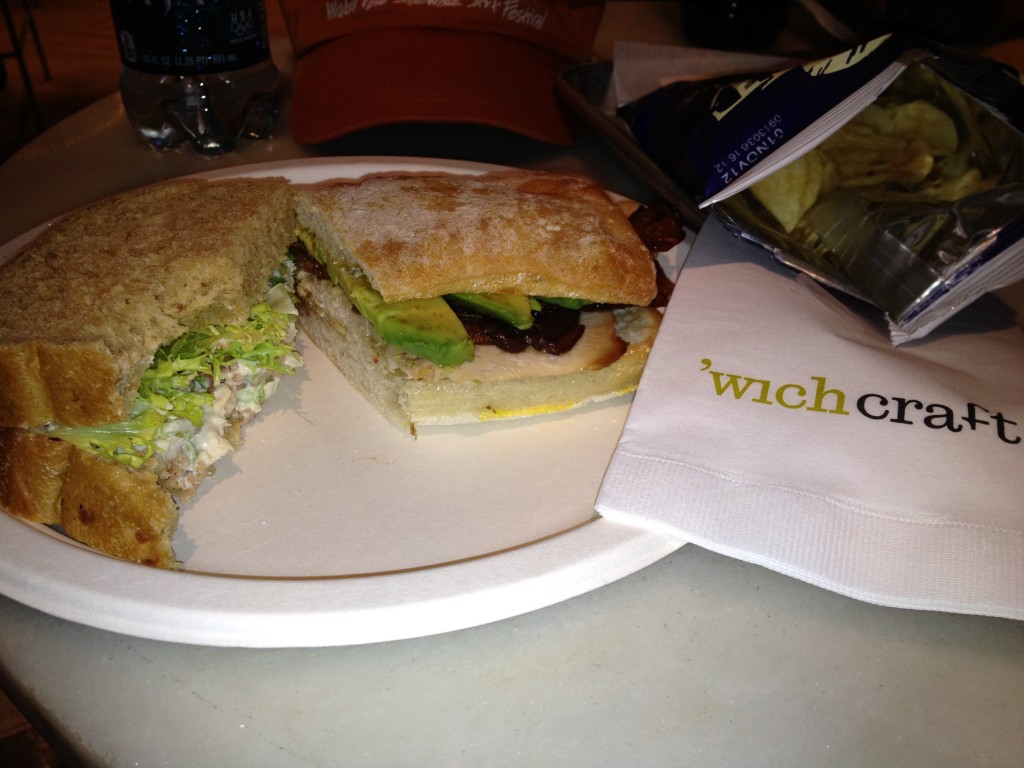 Jean Georges is a favorite restaurant in New York, but I was dubious about yet another top name chef doing a Vegas steakhouse. But everything was great, and as it turned out no one (Linda, Dani, Suzanne, Diane and I) had steak. The highlight was the teriyaki short ribs, which were like candy on the outside. The wine list is expensive, but there are a few hidden gems. We started with a Duval-Leroy Champagne, then a 2005 Corton-Rognet by Dupont-Tisserandot, and ended with a 2010 Mollydooker The Boxer Shiraz.
Sushi Roku at Caesar's Forum Shops
We had a great meal here last year, so when Linda needed her sushi fix we returned. The trick here is to order appetizers, such as the tuna sashimi with crispy garlic chips, or yellowtail and spicy tuna on crispy rice, not conventional sushi and rolls, which are just so-so. This is a chain, and we found out the hard way that not all locations are equal, as the one is Santa Monica was awful.
We've been to l'Atelier in New York, London and Las Vegas, and it's one of our favorite restaurants. Designed a bit like a sushi bar, the best tables place you at a counter facing into the kitchen, where a half dozen chef's efficiently and quietly prepare your meal as you watch. Across the counter from you, your dedicate server acts as a friendly and knowledgeable host. Linda and I had the tasting menu, ten or so small plates with a half dozen matching wines. Dani had a few small plates ala carte. Everything was superb, but the knockouts for me were: all the breads, the little pizza-like thing with a quail egg and bacon on it, and the partially smoked salmon. Linda loved the foie gras parfait amuse bouche. We've also been to the more formal Joel Robuchon next door, but it is stuffy and the food seems less interesting than at l'Atelier.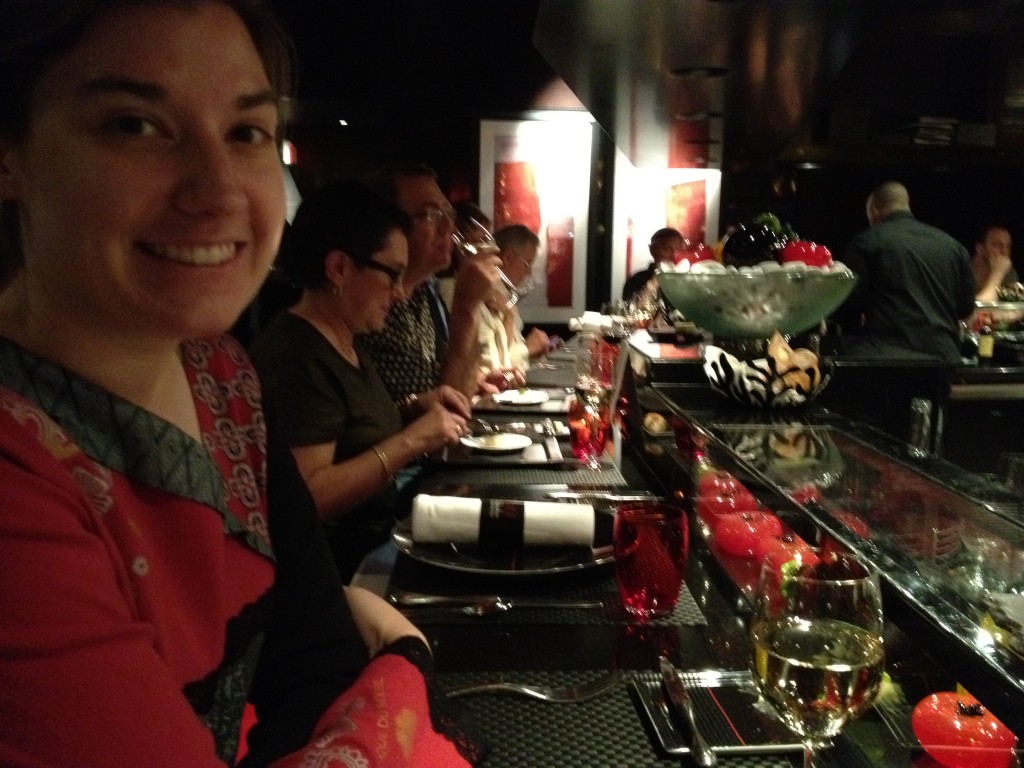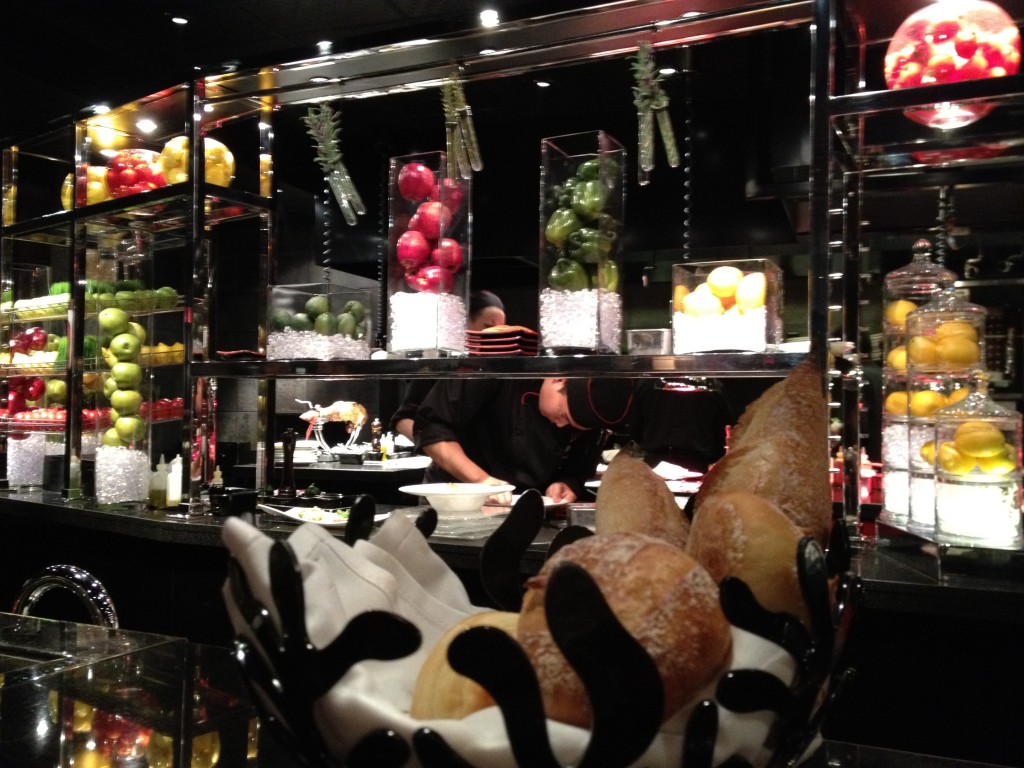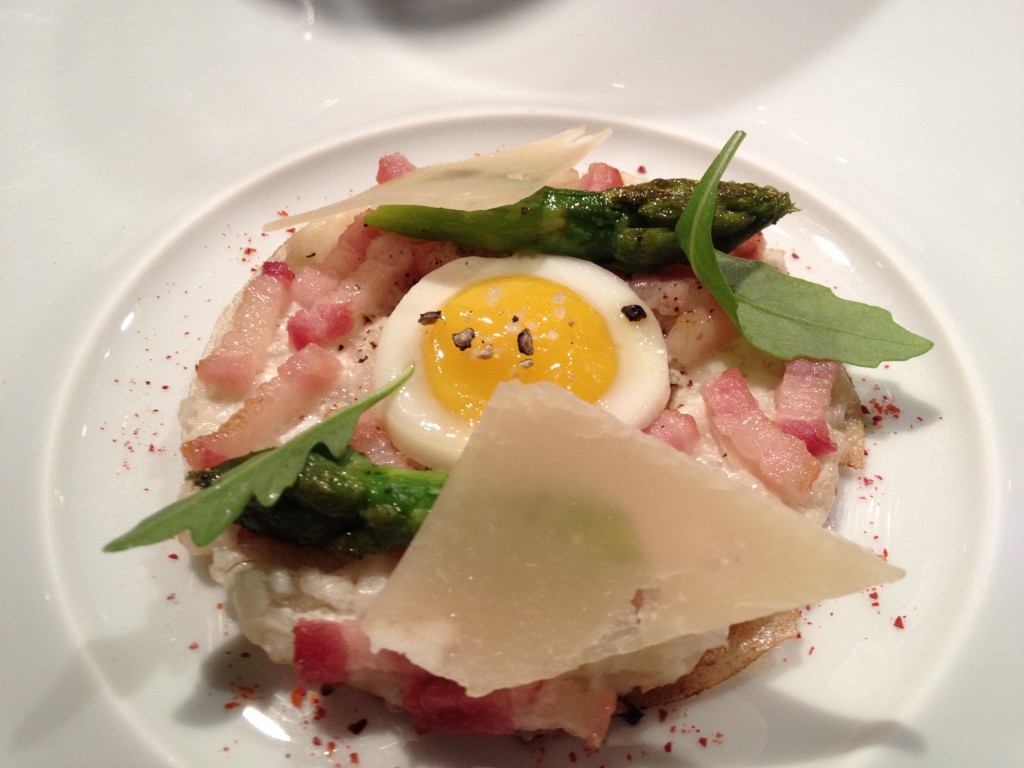 After a backstage tour of the Mob Museum, a couple of blocks north of Fremont Street in the somewhat seedy downtown area of Vegas, we walked to the nearby Triple George Grill. It's a popular lunch stop, and was quite busy. The interior is old school, but the place was built in 2005. The food was fairly typical bar and grill fair, nothing special.
This three star Michelin chef's restaurant cemented my opinion of Michelin ratings: that they're a good indicator of price, but not quality. This meal cost more than double the comparable meal at the best restaurant in the US, 11 Madison Park. It also cost almost as much as three years of Linda's lunches at Taco Bell. Quality: variable. The first three courses (of 13) were solid 9's, but after that they all, categorically, devolved into less than 5 on a scale of 10. It's not really worth reporting them here, because they change frequently. But why would you ruin a piece of nice salmon by freezing it on dry ice? The wine paring was top notch, though. This would be a distant last of all the fine dining experiences during this week in Vegas.