Dani's Los Angeles Journal
August 1, 2005
We were supposed to leave Saturday night but Delta called to tell us our flight was cancelled, so we ended up leaving REALLY early in the morning on Sunday. We connected in Salt Lake and arrived in LA in the early afternoon. After a stop at Grandma Marjorie's house we all went to my parents' favorite Mexican place for dinner, El Cholo. I don't like Mexican food much but it was pretty good. They have cheese chips that are to die for. By five o'clock we had to call it quits and head to the hotel.
We are staying at the Ritz-Carlton Huntington Hotel in Pasadena (about half an hour away from Grandma) and it's really nice. Our room is large and has a beautiful view. Dad and I went for a swim, then came back to the room and vegged for a while. By 8:30 we were ready for bed.
On Monday, feeling a little more human, we ordered a HUGE room service breakfast. Even Mom had something (she never eats breakfast). It was really good. I have some history homework I'm doing (really long boring homework) so I did that for most of the morning.
At lunch Mom and Dad took me to an old haunt of theirs, Tommy's Hamburger Stand. They do nothing in moderation there. A burger has a patty, two handfuls (big handfuls) of onion, ten or fifteen pickles, and a giant scoop of orange goo they call chili. All in all it was a, unique experience. Did I mention that the goo turns your fingers orange permanently?
After we had consumed as much as we dared we went over to Grandma's. Her next-door neighbor Denny came home from work early and talked with us for a while. I went next door and met his dog, Johanne Sebastian Bark (they just call him "Sebastian"). He is a white German Shepherd and he is BIG! Standing on his back feet he can look me in the eye. He weighs about 120 pounds and his shoulders come to my waist. He is really sweet though. He has an old bucket he thinks is a toy. He holds it over his head and prances around, then puts it down and rolls it across the yard with his paw. At 7:00 we went to dinner with relatives at Shanghai Red's at the marina.
Wednesday we went to Farmers' Market. My parents remember this place from when they were kids. It's a bunch of open stalls outside where they sell everything from greasy pizza and French crepes to tacky tourist junk. We had lunch there, Mom and I decided to partake of the greasy pizza, dad had a ham and cheese crepe and Grandma had Chinese food.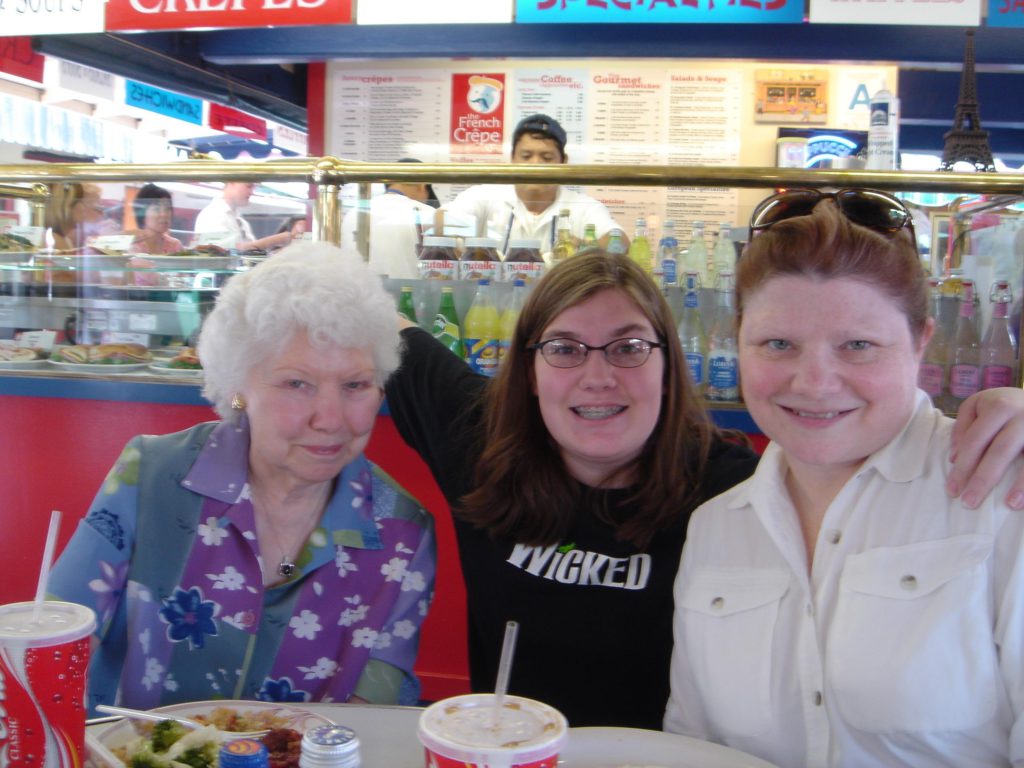 Have you ever eaten coke bottle candies? They are the best invention under the sun! It's made of what gummy bears are but it's clear. There is coke injected into the bottom of them. They're great! I have a small bag of them that I bought maybe we can share when I get back. Oh, and guess what they have in every supermarket and convenience store in California, Squirt! They have Squirt! I have been getting it every chance I get. Anyway, it was a lovely afternoon.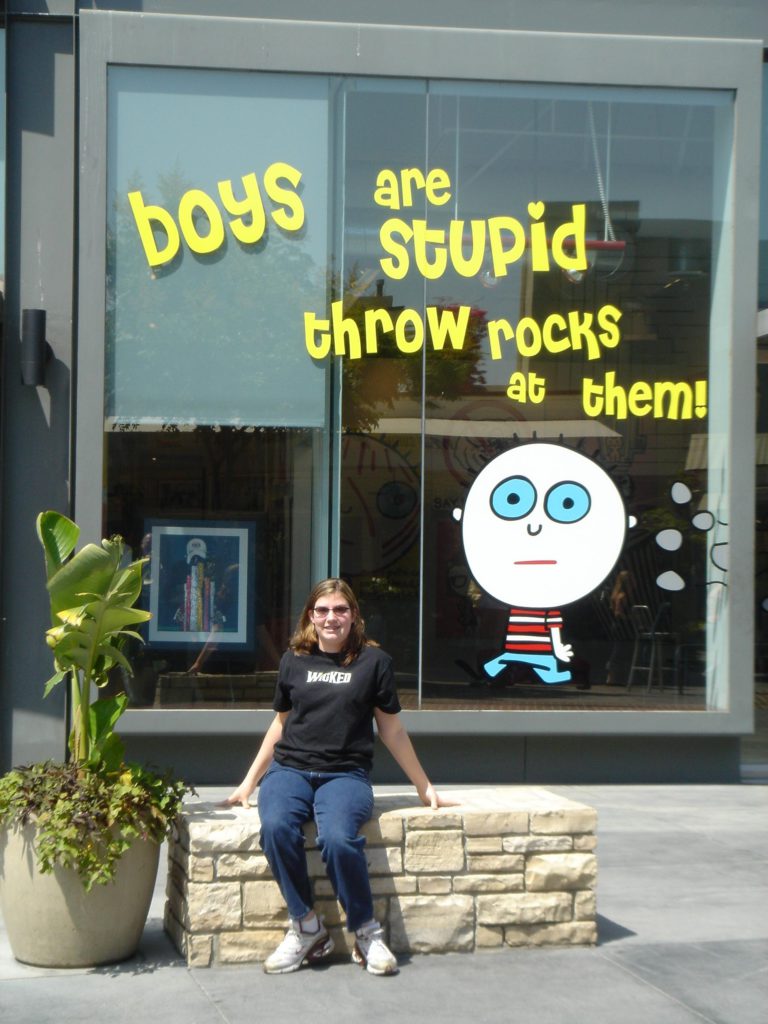 They've built a shopping area called the "Grove" next to Farmer's Market. We wandered around there for a while. They have a huge, three-story Barnes and Noble. I bought the book version of Wicked, my favorite play on Broadway.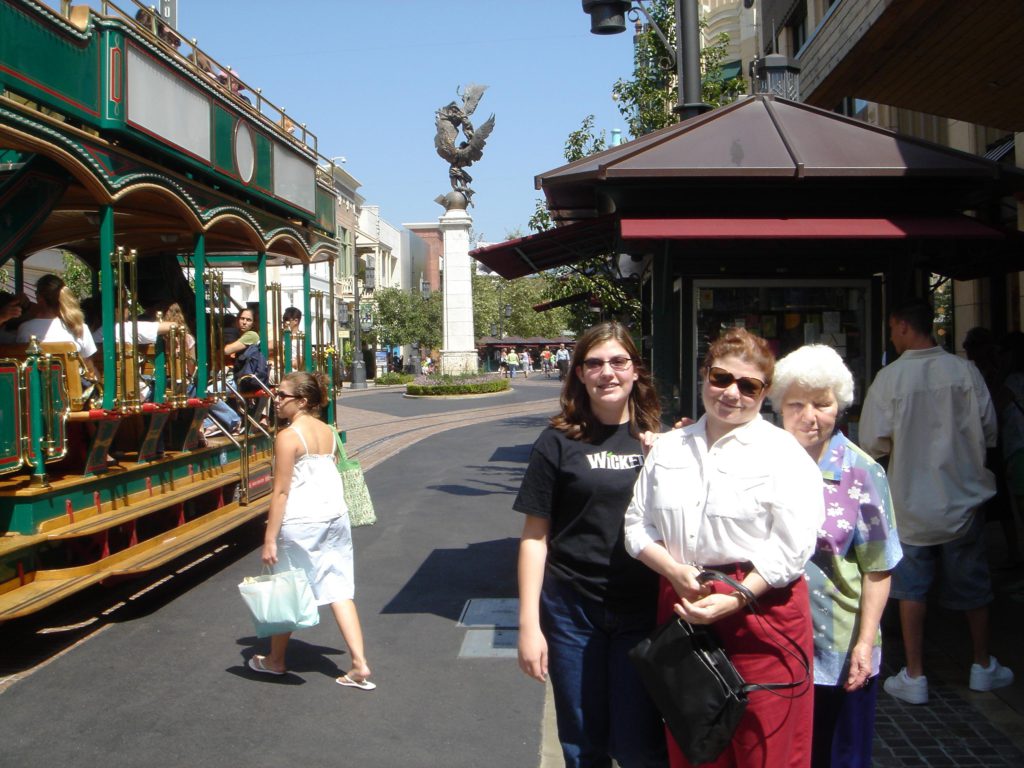 For dinner we went to the Smokehouse. They have has the best garlic cheese bread anywhere.
Dad bought some tickets to see the King Tut exhibit on Wednesday. There were lots of neat treasures on loan from Egypt. They not only had lots of gold treasures but also lots of really well-preserved wooden things. There was one footstool that was made of wood but it was carved and inlaid to look like an animal hide. A guided tour on tape interpreted it all.
For dinner we went up to an old building called the Saddle Peak Lodge, up in the mountains. We sat outside and watched the sun set. The Saddle Peak Lodge has been many things in its time including a hunting lodge, a speakeasy, a brothel and a fine dining restaurant. They specialize in game, so I had buffalo and dad had elk. Mom had ravioli, and man, are those things hard to shoot.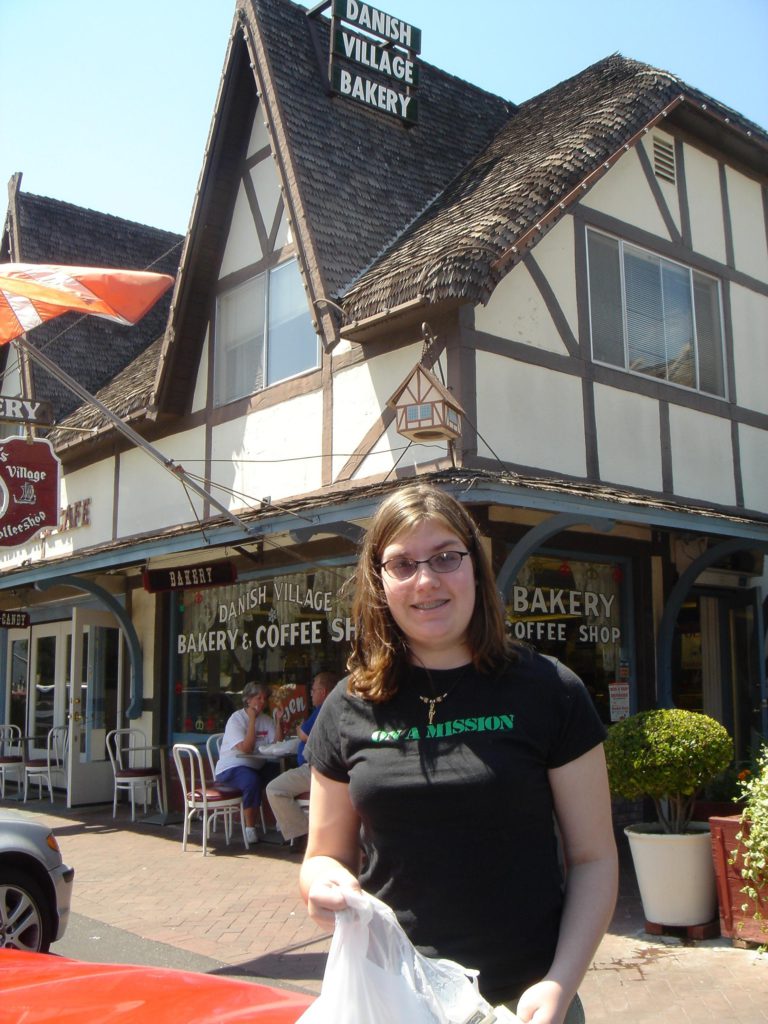 Thursday Mom and Dad and I took a two and a half hour drive north to the central coast wine country. It was good. The views were lovely, and there was a nice breeze, so it wasn't too hot. We stopped in Solvang, a touristy Danish village, for some butter cookies. The movie Sideways was filmed in and around the town of Los Olivos; it was neat to keep running into places where they filmed. Mom and Dad did some wine tasting, and we had dinner in a nice little restaurant imaginatively called "The Los Olivos Café".
We spent most of Friday at Grandma's, and went to a new restaurant in the historic Wiltern Hotel for dinner.
Saturday Mom and Dad went to Fry's, a giant electronics store, and selected a new computer for Grandma (her old one had a really weird software problem).
On Sunday Dad finished setting up Grandma's computer and we went to Trader Vic's in Beverly Hills for dinner. Trader Vic's is where the Mai Tai was invented, and they served that and all sorts of other wacky tropical drinks, along with some excellent spare rib appetizers.
Steve's Las Vegas Journal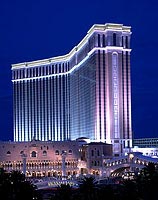 Monday we packed and checked out of the Ritz Carlton Huntington Hotel in Pasadena — after a week it had begun to feel like home. We took the 210 freeway to San Bernardino and then 15 over the pass to the high desert. The drive to Vegas took about six hours, and carried us through mostly rocky, barren terrain on a surprisingly busy four-lane road. A long, skinny ribbon of thunderstorm hung like a curtain across one valley, and provided ten minutes of torrential rain in a landscape that was otherwise parched and dusty.
We're staying at the Venetian Hotel, our favorite in Vegas. Every room is a suite, and there are 17 restaurants in the building!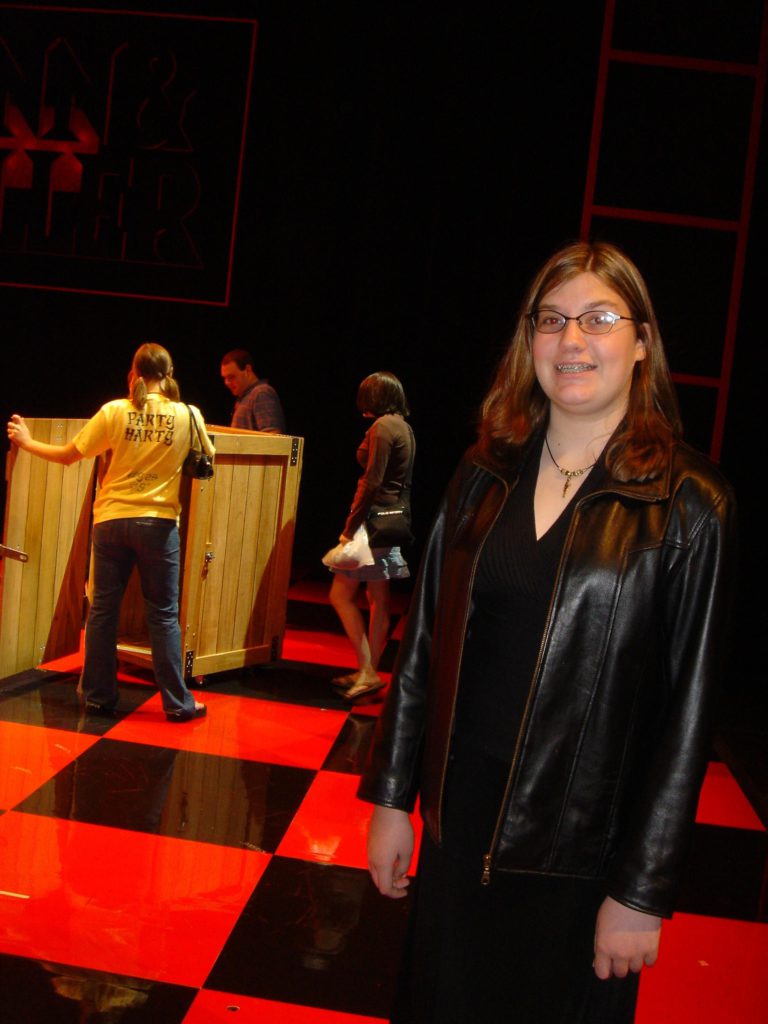 Monday evening we had tickets to see Penn & Teller at the Rio, so we had dinner at a Japanese restaurant in Masquerade Village there. While waiting for dinner Dani was able to watch the Mardi Gras parade that I worked on a few years ago. It's a fairly complicated control system for a dozen or so overhead floats on which the performers ride.
Penn & Teller were amusing, but it wasn't a great magic show. Before the show Mike Jones, a terrific jazz pianist, performed with a stand up bass player who turned out to be Penn himself. During this preshow the audience was invited onstage to inspect a box and sign an envelope, both later used in the show.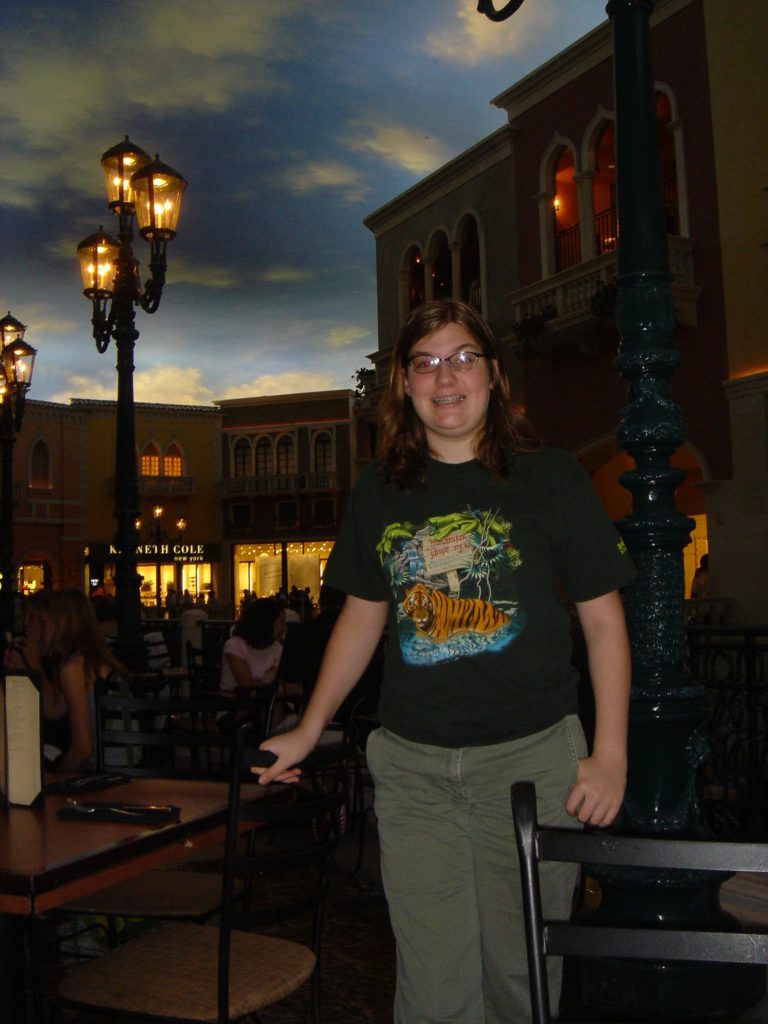 Tuesday we had lunch at Taqueria Cononita by the Grand Canal in the Venetian. Dani bought a magic trick at one of the shops and spent the afternoon practicing. After some power napping we changed and drove to the MGM Grand to see the new Circe de Soleil production, Ka.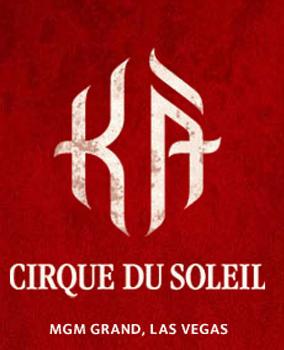 I find myself at a loss to adequately describe Ka. Days later we were still trying to absorb everything we witnessed. Here's how the Las Vegas Review-Journal described it:
Cirque Tops Itself: 'Ka,' the most expensive live show in modern history, takes a new direction by telling a story
Seen from directly overhead, two opposing groups of armor-suited warriors charge to meet in the middle. A fierce battle ensues, the warriors using staffs, swords and kung fu. Some have an almost-supernatural power to leap over their enemy.
That's how the scene unfolds in Cirque du Soleil's new "Ka. " But the audience doesn't see the overhead perspective on film, or reflected in mirrors. They see it because the warriors are suspended in the air, their feet rappelling onto a near-vertical wall, upon which the image of the battlefield is projected.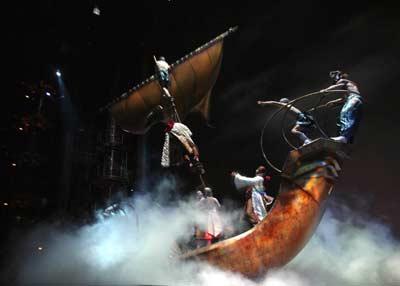 Along with performing their stunt combat, the performers are squeezing control units, hidden in their fists, to move the wires that suspend them from a grid 90 feet above the stage.
In part, it's the answer to the question everyone had: How could Cirque top itself and deliver a distinct new product in its fourth show on the Strip?
The $165 million "Ka" marks not only a watershed for Las Vegas entertainment, but perhaps the creation of an all-new entertainment medium: the live movie; theater that uses the language of cinema.
"In movies you will see a battlefield from different angles… We've had the opportunity to give people a live experience about battle that is completely different than what you would get in any other theater," says Lyn Heward, who oversees Cirque's creative content division.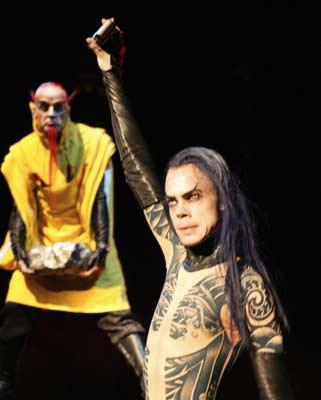 "Ka" has the rich, textured atmosphere of grand opera, except that nothing is stagebound, not even the two stages themselves.
Scenes flow from one to another, changing perspective. When the nanny of the young protagonist falls overboard during a turbulent storm at sea, you first see the older caretaker swept off the side of the boat that spins and bobs like a cork on the water.
Then the stage transforms to an underwater point of view, to show the nanny sinking to the bottom — again by using aerial wires and film projection — and the young heroine plunging in to rescue her.
"It does focus the way a spectator can watch an activity. When I go see `O,' I have difficulty choosing what to look at," Heward says. "But this is a little bit different. We are giving you a point of view to look at this from. "
Moreover, the signature Cirque music, acrobatics and overall aesthetic have been focused into actual storytelling for the first time.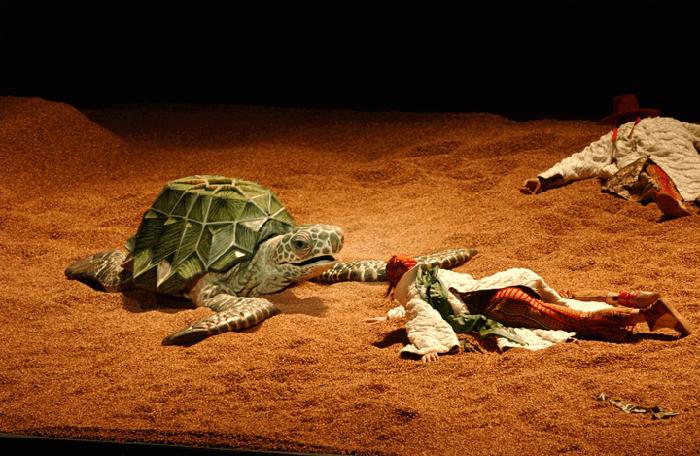 In lieu of a fixed playing area, the stage design resembles a black void, where the two main stages move in and out of position. One is the "Tommy deck," a platform that slides in and out much like a drawer. The other — the one hosting the vertical battle — is the "cliff deck," an 80,000-pound rectangle lifted in and out of place by a 230,000-pound gantry arm.
The cinematic feel of the show also introduces a new, home-theaterlike dimension to the theater: Every seat has its own personal set of speakers.
"It is not as if sound always comes out of the seat. It is just another pair of speakers," says sound designer Jonathan Deans. In fact, there are 180 outputs of sound, compared to 60 for "EFX. "
"We take a sound and shred it into multiple sections," Deans explains. "It will go out and fly around the auditorium shredded, then come back into that (original) sound. Will the audience know that is happening? No. But they will feel something different is happening. "
Much of the music is recorded, but all sound effects are live. "If a fireball comes up through the stage," Deans explains, "we draw little squares on the camera image (that monitors the stage action). So when the fireball crosses through the squares, it actually triggers different sounds, and places the sounds to different speakers. "
René Dupéré, who composed the soundtrack to "Mystere" and most of the Cirque shows before it, returned to the fold at Laliberté's request after a 10-year break.
"It has to be a score, like a movie score," Dupéré says. "The music has to tell what's going on, because there's nobody talking. "
The most distinctive aspect of the score is a 42-voice choir, which sings "invented lyrics" by Dupéré's wife, Elise Velle, who was principal singer for the first year of "Mystere. "
The choir and orchestral sounds are blended in with the live performance of a seven-piece band, which the audience doesn't see.
But, Dupéré says, in places "I had to soften (the music) a bit. It was so dramatic, I couldn't see the action. The music was too big. "
It's a larger lesson the creators of the most expensive live show in modern history are trying not to forget. One key special effect is created by nothing more than the shadow of a candle.
"Human beings make the effects, and not machines," Heward says. "The technology is simply a support to the human performance. "
Click here for a technical article from
Dinner at Nob Hill was as unremarkable as Ka was remarkable. Overpriced, uninteresting, and with an amazingly extensive selection of incredibly unappealing wines at absurd prices, this is the number one clip joint to avoid in Vegas.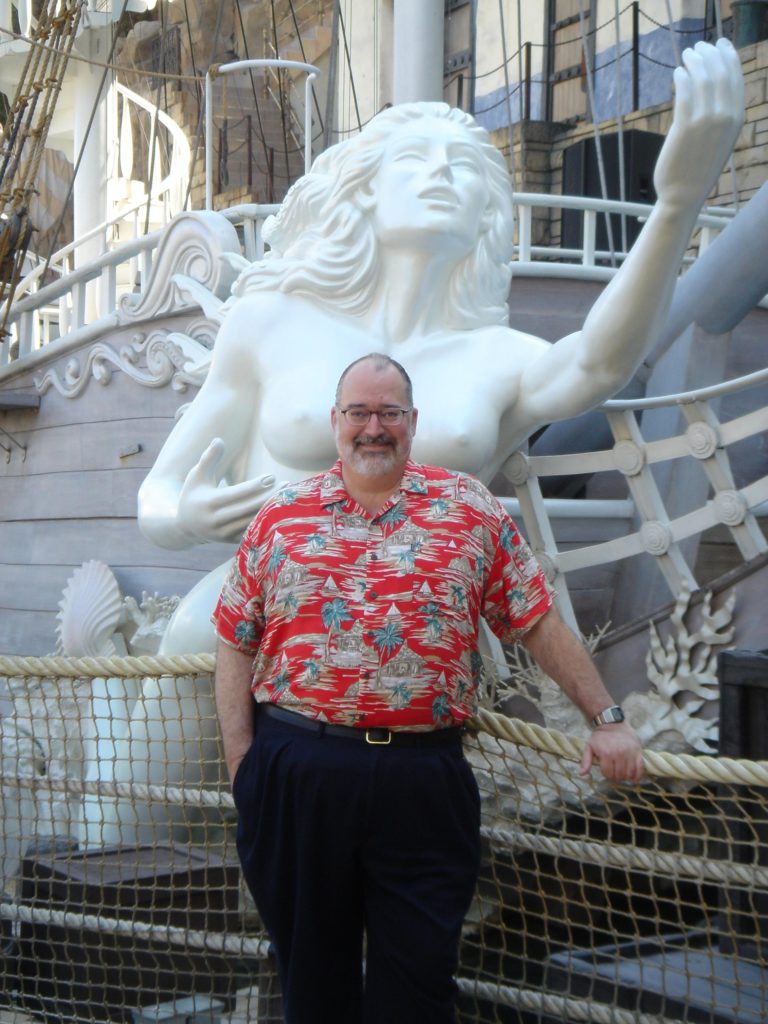 Wednesday began with a delicious room service breakfast. The servers are exceptional at the Venetian, setting the table in your room as if you were in a fine dining restaurant.
Then we walked across the street to the Treasure Island, which has been destroyed by MGM Mirage, the new owners. The name has been changed to the "ti," and the skull and crossbones sign, the most distinctive in Vegas, has been removed. The exterior pirate ship theming has also been modified to make it "sexy," and the redemption gaming center that Dani and Linda were looking for is gone.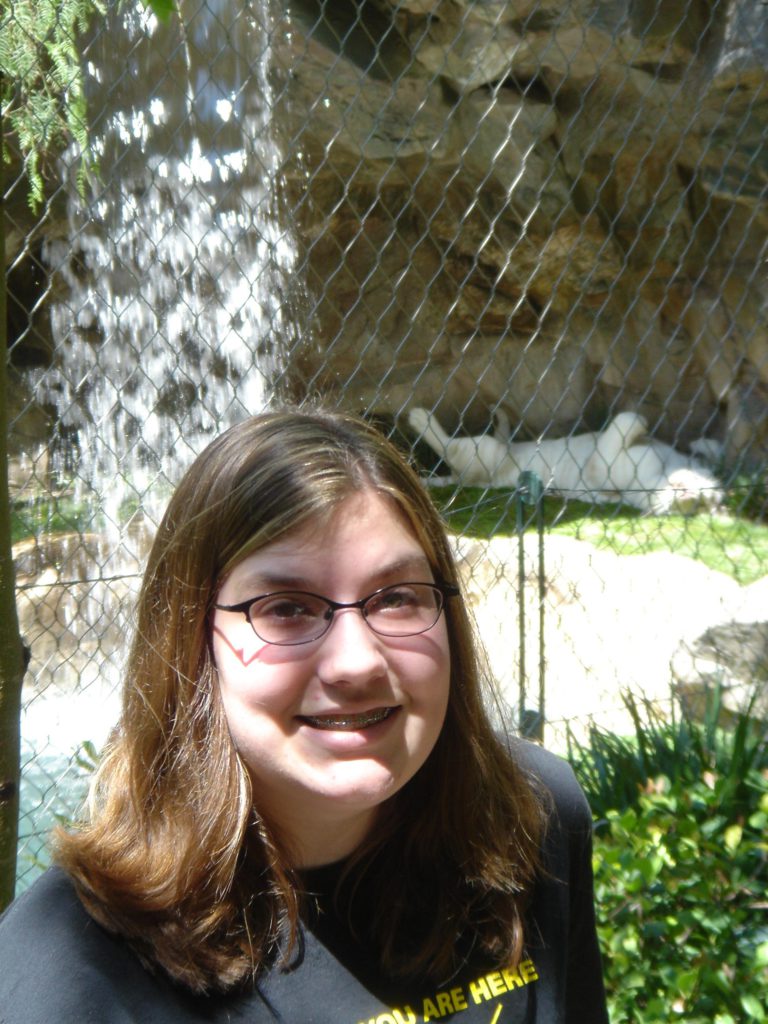 We took the tram over to the Mirage and purchased an admission to the Secret Garden of Siegfried and Roy and spent a pleasant hour watching lions and tigers sleep.
After riding the tram back to the ti we crossed the street to the new Wynn. Steve Wynn's latest upscale creation is even uglier than the Bellagio. The outside looks like an office building behind a dyke, and the inside is filled with the same garish mess as Bellagio. The only focal point, a "water feature" that is a simply a wall with water running down it, is so poorly placed that only a few dozen patrons can see it at one time.
Back at the Venetian we allowed our body temperature to return to normal while waiting about an hour for an afternoon snack in the Grand Luxe Cafe.
In the evening we drove over to the Hilton to pick up our wrist bands for the Star Trek convention, which begins tomorrow.
Dinner was at Bouchon, an authentic Parisian Brasserie in the new Venezia tower. It was indeed authentic, right down to putting the bread directly on the table. It was also delicious. The fois gras terrine appetizer turned out to be an entire 5 oz jar of pate de fois gras, pricey at $41, but enough for three, and worth every penny.

After a delicious breakfast at Bouchon — best baked goods outside of Paris! — we headed for the Las Vegas Hilton.
The Star Trek convention attracted an interesting cross section of people, to say the least. On Thursdayand Friday there was a high ratio of Trekkers in Federation costumes. These are the fans Shatner was was addressing in his Saturday Night Live sketch, "Get a Life. " These people still live in their parents' basements. It's probably a good thing.
By the weekend, though, when attendance peaked at over 3000, the audience was a cross-section of all ages, with women perhaps slightly outnumbering men. If there was any demographic missing it was young teenagers, particularly girls. Kids came with parents, older teenagers rived on their own, and a lot of the audience must have seen the original series when it first aired. But Dani was fairly unique, and as a resulted attracted a certain amount of attention form the celebrities.
The format of the convention is: stage presentation by celebrity, stand in line for celebrity's autograph, go to dealer room and buy crap.
I found the presentations almost uniformly entertaining. The stars enjoyed talking about current projects, and most were genuinely pleased by the loving reception they received from the fans. Two open mics at the sides of the stage allowed fans to ask questions, and the stars answered them with candor, and often with great wit.
The standing in line was a bit tedious, but nearly every celebrity made an effort to make eye contact or say a few words to each fan, even if they were signing 600 autographs. These autographs are the currency of the convention, as they — either directly or indirectly — cost $20 to $80 each. This comprises the celebrities' compensation for attending, and also provides most of the convention organizer's profit.
The dealer room was actually pretty interesting, because in addition to many booths selling Star Trek collectibles and photos there was also a large section devoted to minor celebrities. Here was an opportunity to have photos personalized, buy CDs, or just chat with a couple dozen minor stars. And some of these people weren't that minor: James Darren hung out for several days, as did a large number of other characters from the five series.
Although there was more of an emphasis on autographs than I'd have liked, I tip my hat to the organizers, who kept the event running like clockwork for four days. No presentation ever started more than a few minutes late, and the mics and video worked well.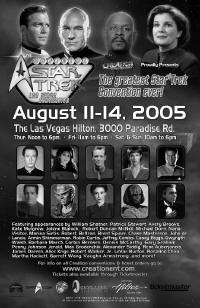 Here's what we saw during the four days:
The show opened Thursday with a mediocre improv of TOS (The Original Star Trek) by some guys from Texas. Aside from an amusing double take when the security guy realizes he's wearing a red shirt — and is therefore certain to be killed — it wasn't that great.
It was followed by a presentation by Denis Russell, who worked on the original opticals for TOS. Denis seems like a nice guy, but is the world's worst speaker, and I'm still not sure he knows what an optical is.
Throughout the convention there were some interesting lunches at Benihana, but although we had gold passes that included almost everything, lunches weren't part of it, so I won't describe them.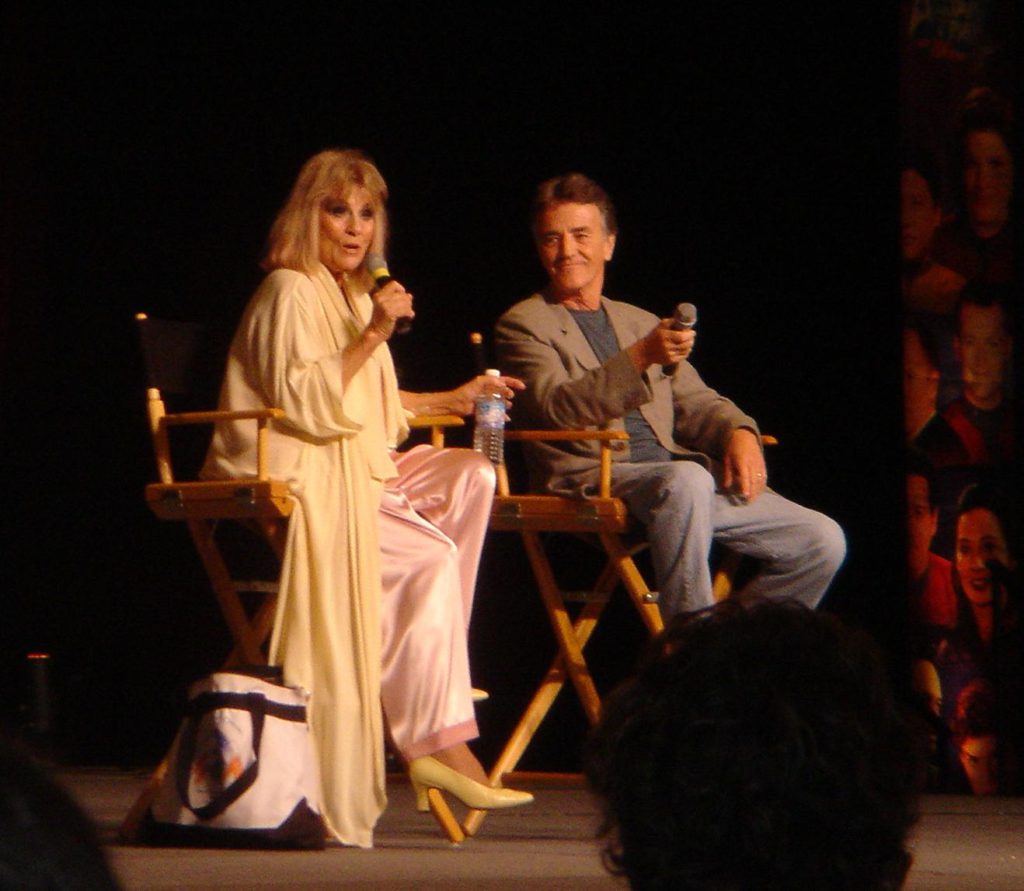 After lunch things picked up with an amusing presentation by Grace Lee Whitney (Yeoman Rand on TOS) and Robert Walker, guest star of the Charlie X episode. Raised by aliens, Charlie has some trouble adapting to human ways. In one famous scene he swats Rand on the butt as he passes her in the corridor. Whitney has had a rough life, which she's only recently gotten back on track, and Walker talked about his (apparently famous) parents. They had a good rapport.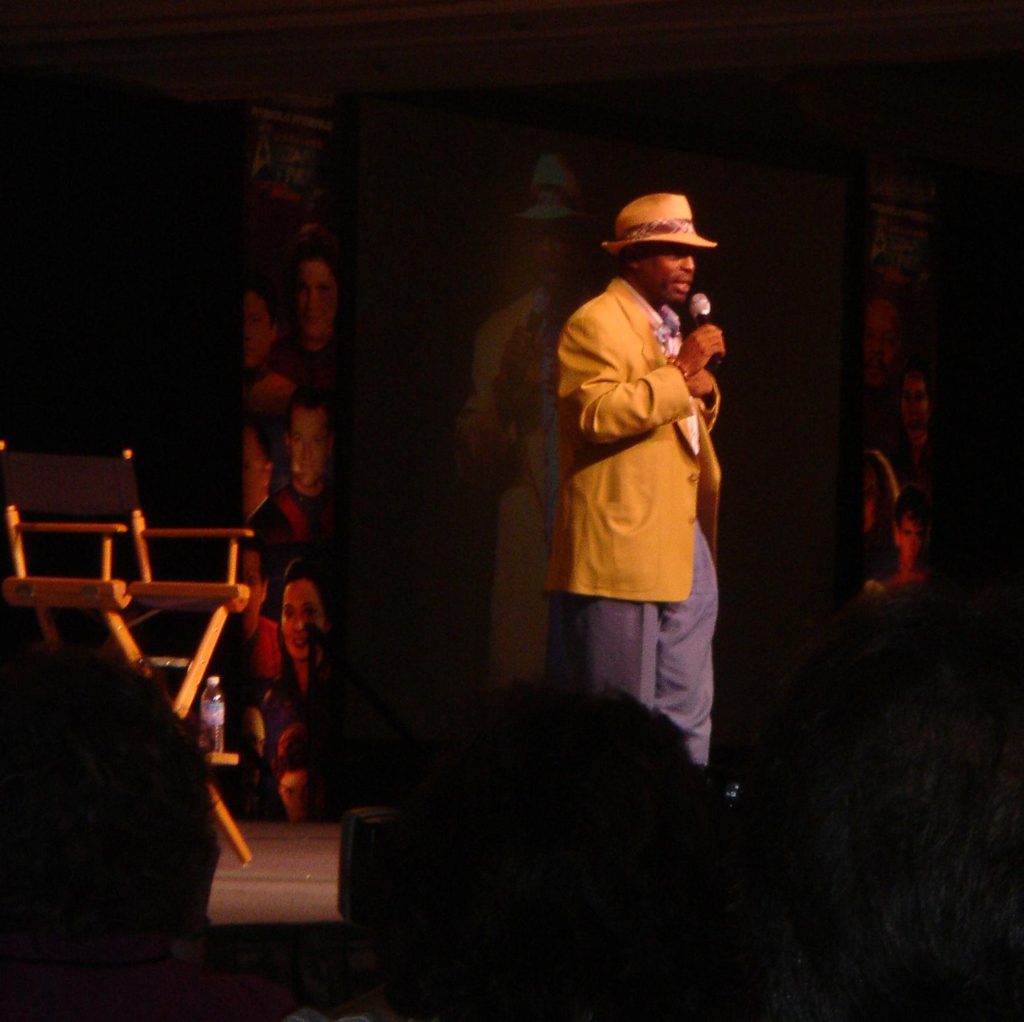 Next up was LeVar Burton. He's an incredibly intelligent and well-spoken man, who talked about the impact of Roots, and his rather extensive directing experience. He just starting a new movie with Stan Lee. An amazing number of people thanked him for his 28 years of work on PBS' Reading Rainbow.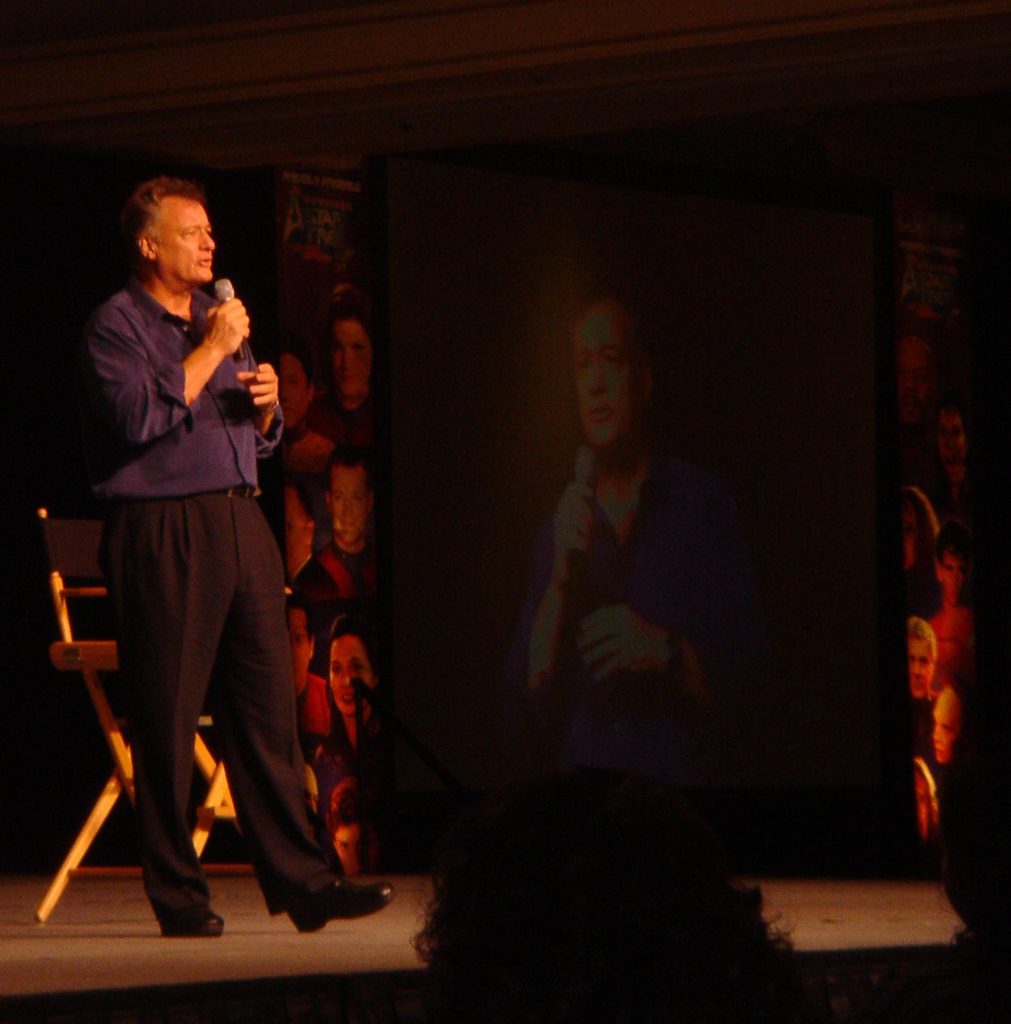 John de Lancie played Q on TNG (Star Trek the Next Generation), DS9 (Deep Space 9), and Voyager. (I don't know if he was on Enterprise, as I haven't seen most of that yet. ) He is very involved in producing classical music concerts and legitimate theater, and is a long-time friend of Kate Mulgrew.
Robin Curtis was a Vulcan in the movie The Seach for Spock. We skipped her presentation.
Corbin Bernsen played Q2 on TNG. We skipped this.
I couldn't figure out who Dean Haglund is until someone told me he was one of the computer guys on the X-Files, a show I've never seen. So why is he at a Star Trek convention? Apparently he makes a career of touring the various conventions (more than one a month) doing improv. His show was hysterical! He began by explaining that the plot of all X-Files episodes is the same: some weird creature is discovered and then the government spend the rest of the hour denying it. So he invited the audience to suggest the creature (I think we ended up with a stoat-moose-rabbit) and then selected audience members to help him perform three sketches:
Audience member attempts to make verbal sound effects as Dean describes the action — and comments on their sound effects.
Audience member provides Dean's arms as Dean acts out a scene — including taking questions from the audience: "Yes, you sir… no, not the one I'm pointing at, the one I'm looking at. "
Audience member attempts to move Dean's body as Dean — spastically — describes the climax.
Very funny stuff.
Thursday night was a private party for the gold ticket holders — at least 500 of us — at the Star Trek Experience attraction. Buffet food was served in Quark's Bar, which looks a lot like the one on DS9, and seats the same dozen people. Entertainment was mostly by Chase Masterson, who played Lita, one of Quark's Dabo girls, and is a pretty good nightclub singer, and Vaughn Armstrong (Admiral Forrest on Enterprise), who has a country band. The Star Trek Experience attraction was also open, with its astonishing transporter effect, which makes it seem as if you are "beamed" aboard the Enterprise. Also open was the new Borg Encounter, which is an excellent show incorporating live actors, 3D Hidef video and effects. Both are top notch shows.
Friday began before lunch, but we skipped the presentation by Gwynyth Walsh. We did get her autograph later, and she looks much better than this in person.
Garrett Wang (Ensign Harry Kim on Voyager) was a delightful speaker and did some very funny impersonations of Kate Mulgrew. He hung out with the attendees later, and seems like a really nice guy.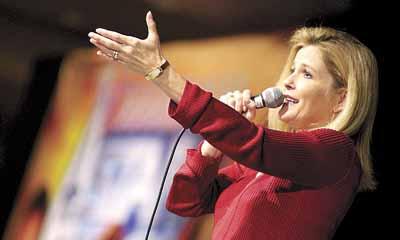 After lunch we met the first of four captains appearing at the convention, Kate Mulgrew (Captain Janeway of Voyager). Kate is just back from two months in Ireland with one of her twenty-something sons, where they were writing poetry and stories. She's in Tea at Five, the popular one-woman show about Catherine Hepburn, and is enjoying being 50 and slowing down a bit.
Max Grodenchik and Chase Masterson played Quark's slow brother Rom and Quark's Dabo girl Lita on DS9. They took the stage together, and couldn't be more dissimilar (well, maybe in makeup they could). Max is incredibly shy, and Lita incredibly outgoing. We met them in person later in the dealer room, where we bought photos and CDs. They were both very generous with their time.
Gary Graham plays Vulcan Ambassador Soval on Enterprise. We skipped this presentation.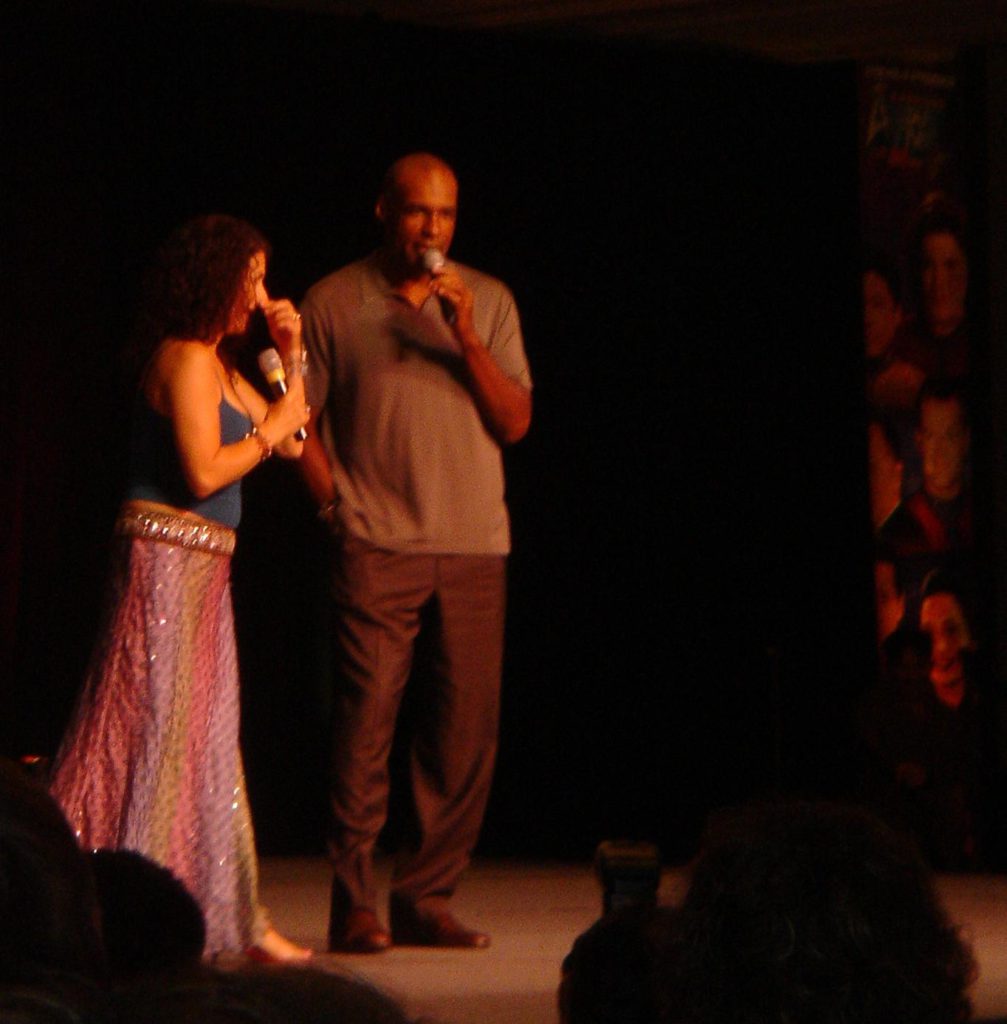 Marina Sirtis and Micahel Dorn played Counselor Troi and Klingon Warf on TNG. Michael was busy finishing a photo op (pose with the star of your choice, sort of like Madame Tussaud's) so Marina came out first and told us all the ways to tease Michael when he came out. They are obviously great friends, and were very entertaining.
After the show we headed back to the hotel to change, and went to Valentino's for dinner. This was a bit disappointing, as the Wine Spectator names it one of America's top ten, but they must be referring to the one in Los Angeles. The wine list, though extensive, had no older wines, and the Italian food was challenging and not particularly great.
Saturday we arrived in time to see Penny Johnson Jerald, who plays Cassidy, Captain Sisko's girlfriend on DS9. Cassidy is one of our least favorite characters, because the two of them appear to have absolutely no chemistry. Oddly, Penny's presentation consisted mostly of telling us how great their chemistry was.
Connor Trineer ("Trip" from Enterprise) wasn't scheduled to appear, but at the last minute Jolene Blalock (T'Pol from Enterprise) cancelled. Jolene seemed to be persona non grata with the organizers, but Connor was a great sport and showed up with less than 24 hours notice.
Robbie McNeill (Tom Paris from Voyager) has been busy directing, including many episodes of Desperate Housewives.
Rosalind Chao played Keiko, O'Brien's wife, on TNG and DS9. We missed most of this presentation.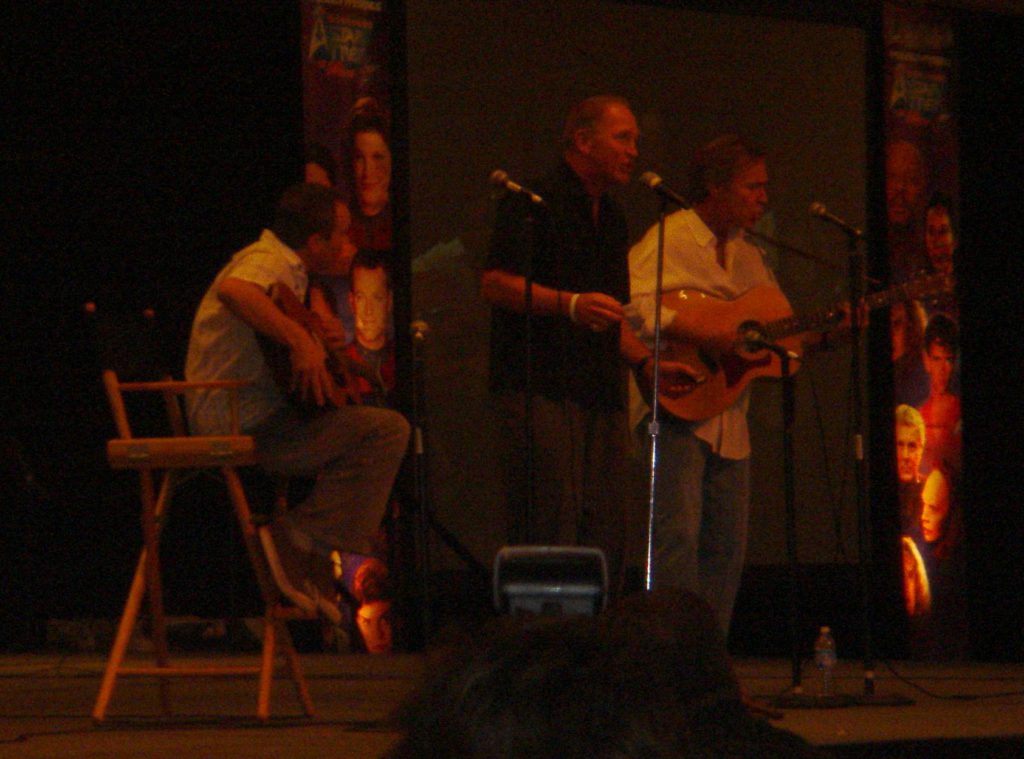 Jeffrey Combs has played several roles on DS9 and Enterprise, including Brunt and Weyun. He joined Vaughn Armstrong (Admiral Forrest from Enterprise) and Casey Biggs (Damar on DS9) for a live musical performance. Armstrong is a good bluegrass musician, and Biggs has a wonderful voice. Combs was truly awful. Nice guy, though.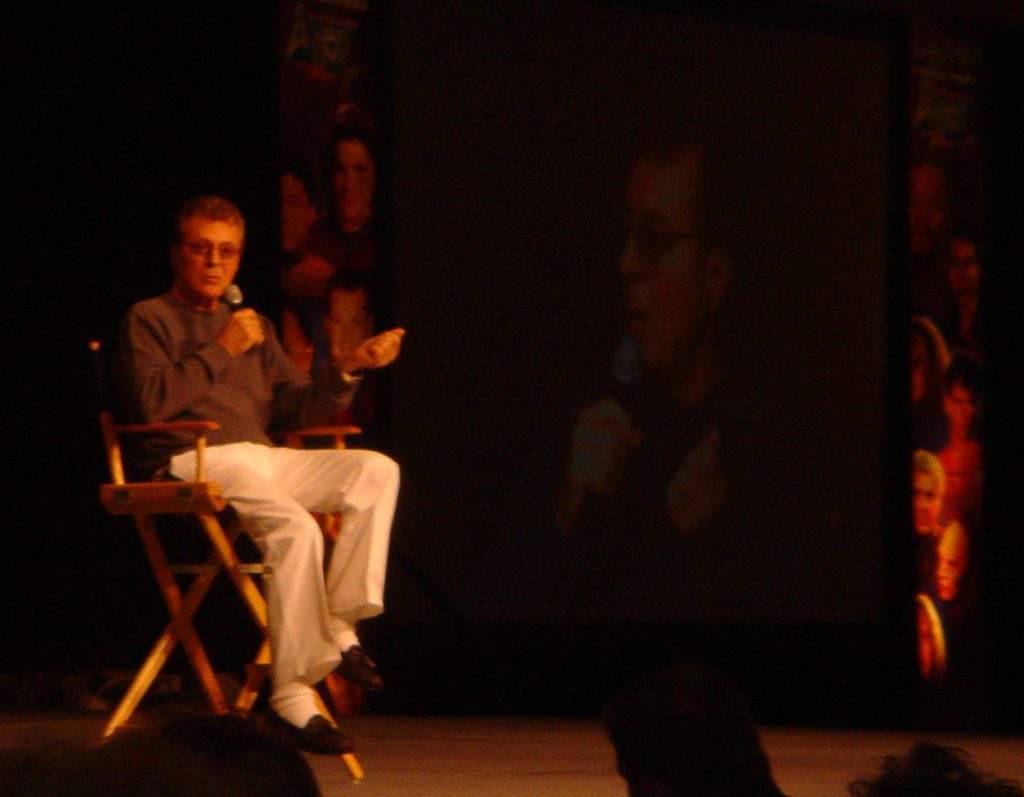 Speaking of singing, James Darren, Linda's heartthrob from the 60's was up next. This guy was playing Moondoggie in Gidget movies in the 1950s, and he looks younger than me. On DS9 he play holographic nightclub singer Vic Fontaine, and introduced a new generation to the classic Vegas songs of the 50's.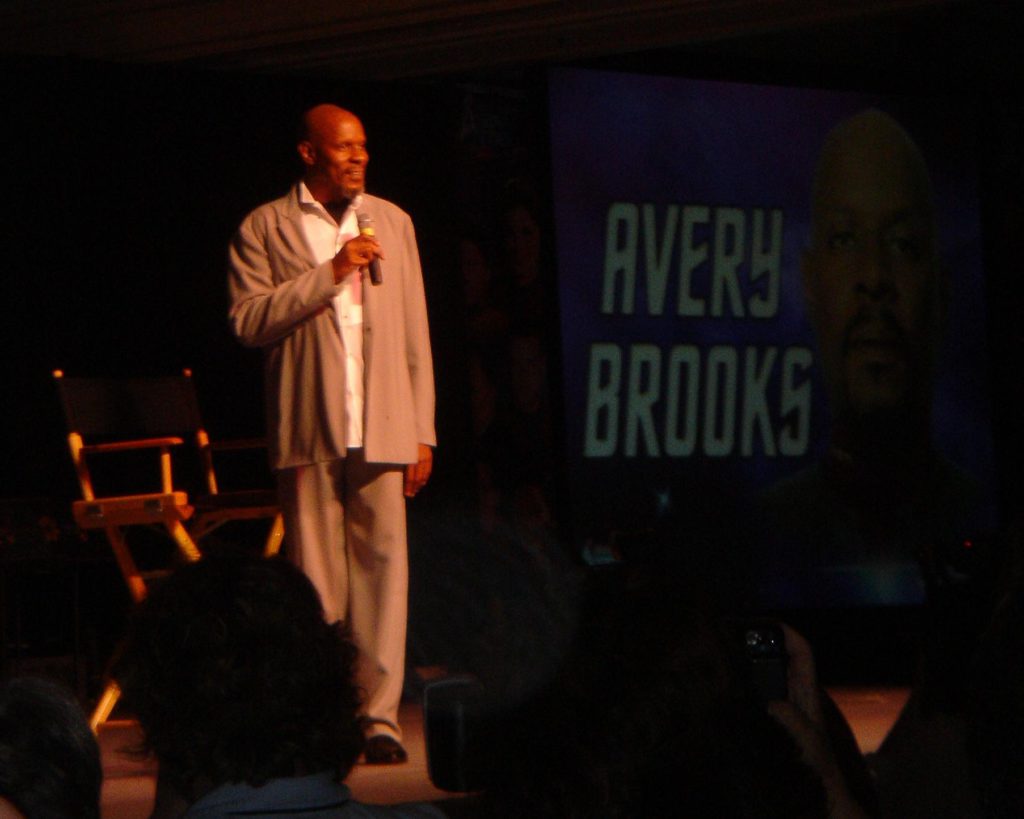 Avery Brooks played Captain Sisko on DS9. He was the first black to receive an MFA in both acting and directing, which he did simultaneously. He has been a professor at Rutgers sin 1972, and tenured since the 80's. He also directed my favorite DS9 episode, Far Beyond the Stars, in which he plays a 1950s sci-fi pulp writer who is the victim of discrimination. Needless to say, Avery is an a amazing speaker. Afterwards he signed autographs with Penny Johnson Jerald, and their chemistry seemed OK. Avery stopped Dani in the autograph line to shake her hand and talk with her for a minute, and it's the only time I've seen her nearly speechless.
After a quick bite at the Mexican restaurant down the hall (it's the only decent restaurant in the Hilton, so we've eaten there three times in three days) we returned for the world premier of Star Trek: The Concert. 34 members of The Las Vegas Philharmonic Orchestra, conducted by Richard McGee, played all of the great Star Trek themes in chronological order. McGee was obviously also a fan, and his comments between pieces were quite enlightening. The orchestra was quite good except for a couple of horn players who should be taken for a ride in the desert. Composer Dennis McCarthy came onstage to conduct his themes from DS9 and the movie Generations.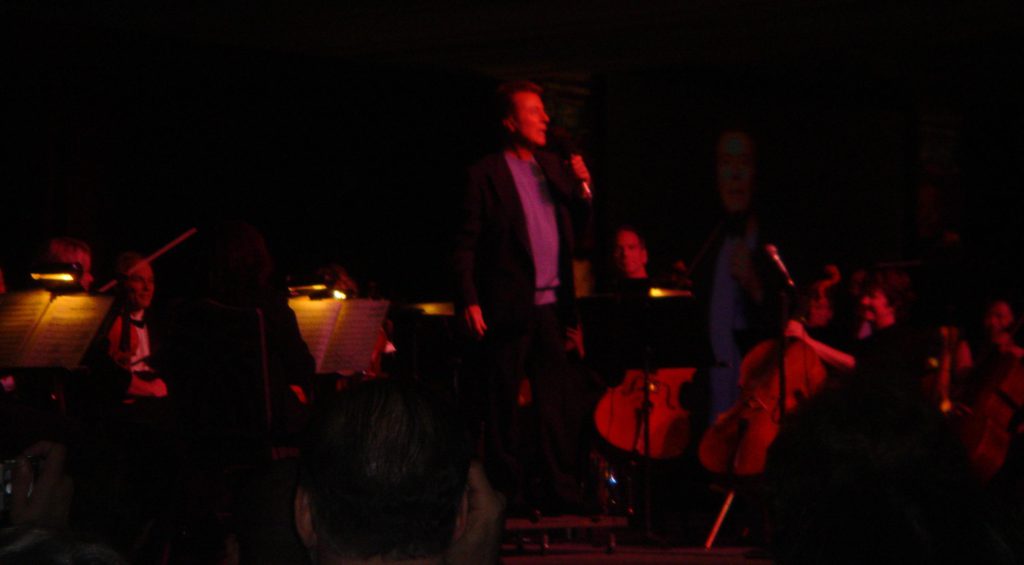 The concert included an interlude for a vocal performance by Nana Visitor (Kira from DS9) but although she was at the convention she cancelled this performance for some reason. The already overworked James Darren gamely took her place, although I'm sure he felt ridiculous standing in the middle of an orchestra and singing to a prerecorded track.
The concert was followed by a Dessert Party with a live band and more entertainment by James Darren and others, but it was crowded and not very intimate in the huge convention space, so we left after only a few minutes.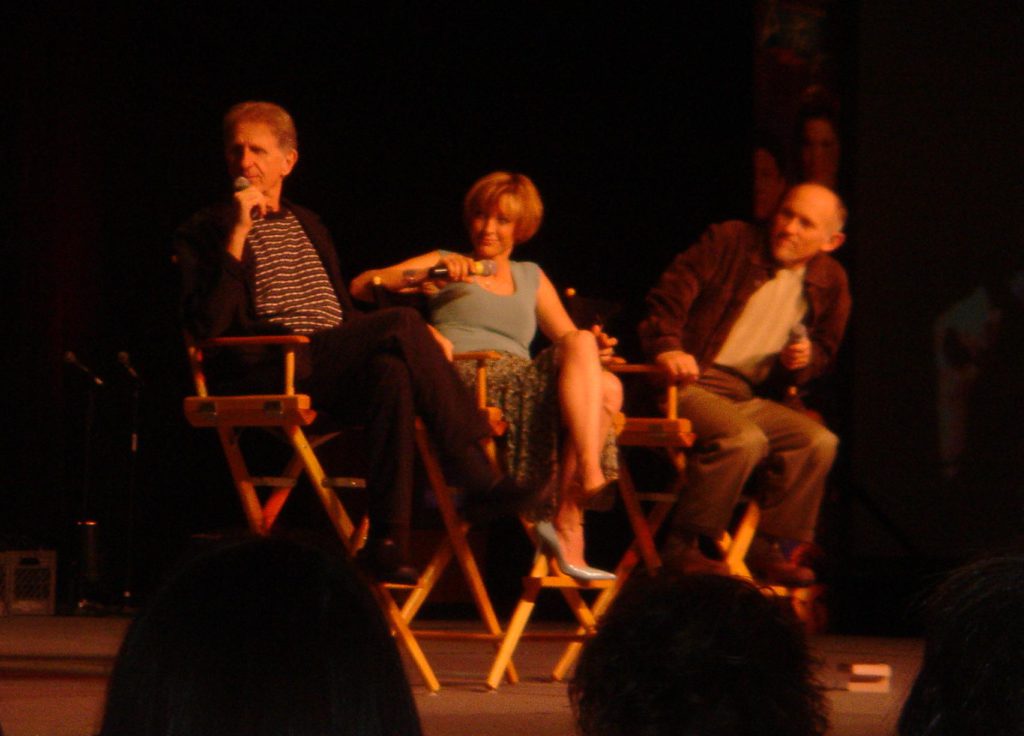 Sunday began with a DS9 reunion featuring Nana Visitor (Kira), Rene Auberjonois (Odo) and Armin Shimerman (Quark). There was great chemistry between the three of them, and it was lots of fun. To raise money for charity, in the autograph line Rene was doing individual sketches for $10. He drew a picture of Odo's bucket with a word balloon saying, "Dani. "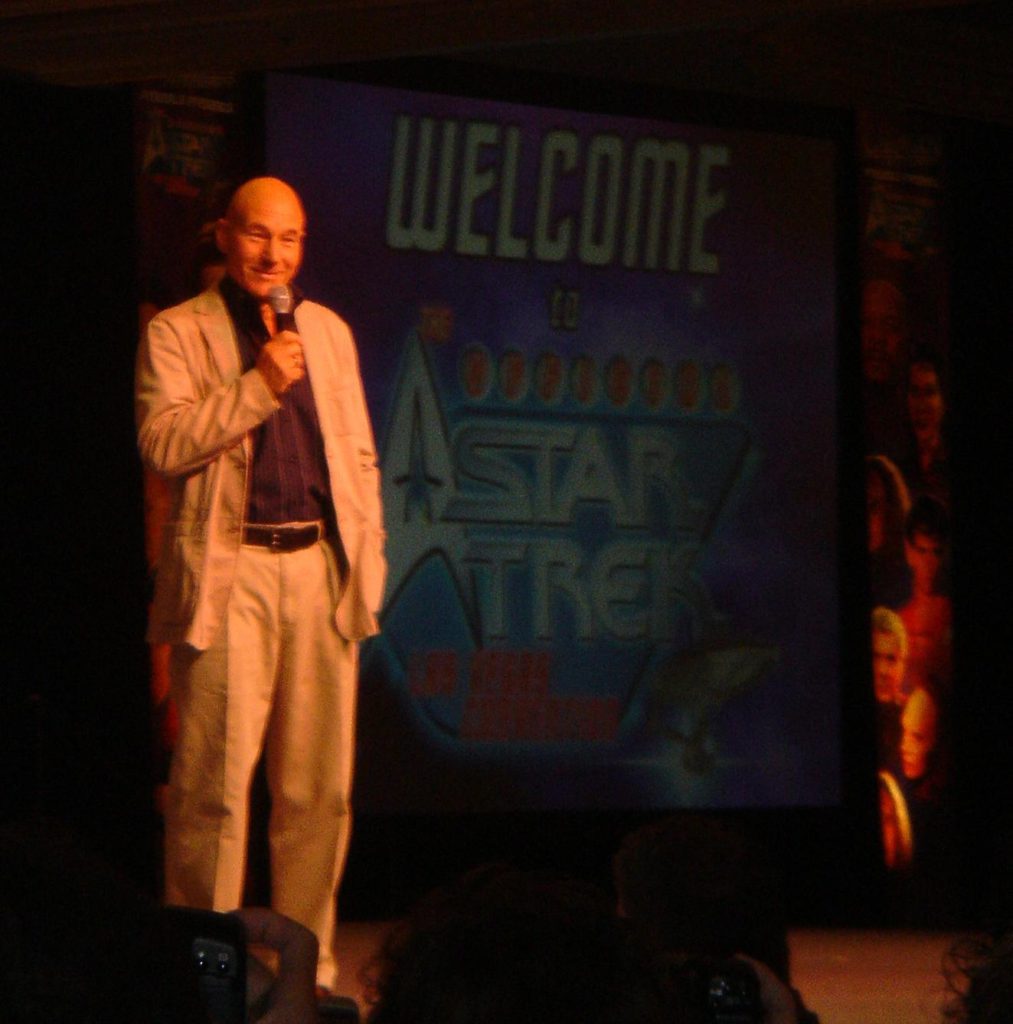 At noon Patrick Stewart arrived from Vancouver (where he has been filming X3) for a rare convention appearance. Patrick is living in London, and has rejoined the Royal Shakespeare Company. He will appear in several plays throughout 2006, and at one time or another next summer, all 37 will be produced. Patrick is clearly an ACTOR, but he takes his Star Trek notoriety with good grace.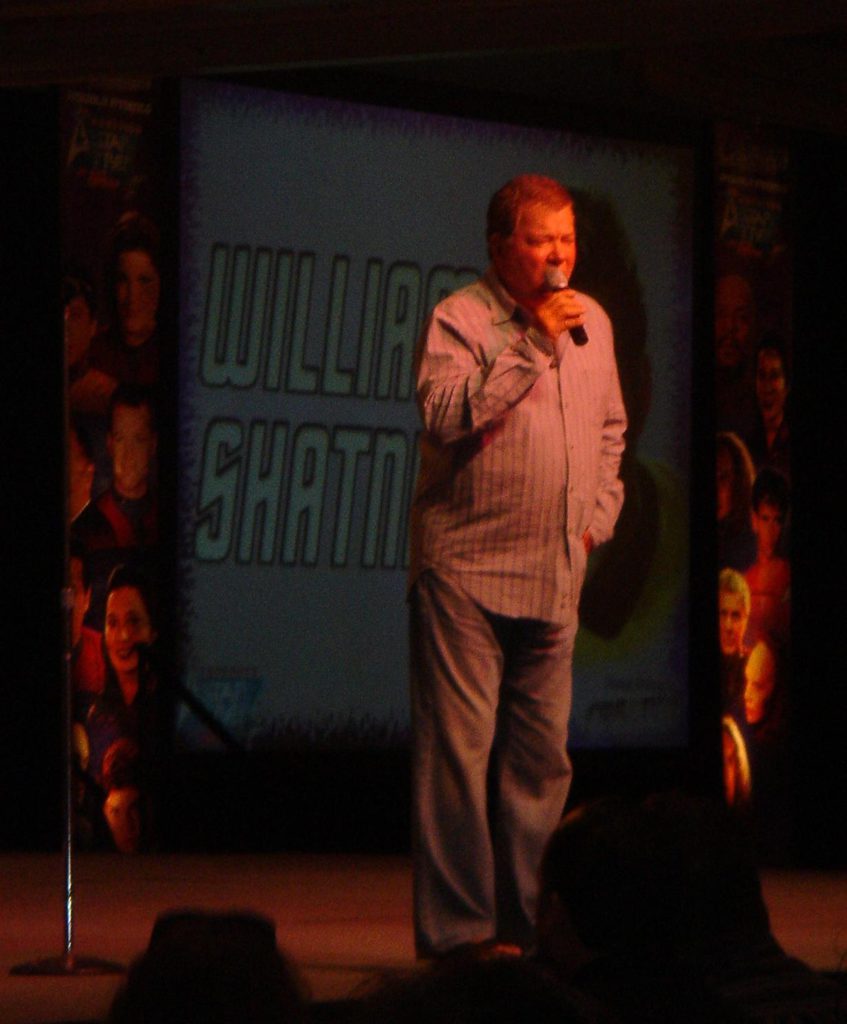 Shatner is just so damn funny! An aspiring actor asked for advise and Shatner said, "So you want to know what you can do to be famous, rich, have the yacht, the babes, everything? Nothing. It's all luck. "Actor, author, horse trainer, musician; this guy is busy. During his presentation he auctioned off a number of items for charity. Most interesting was your chance to be in his next Star Trek book. Two people paid $5000 each. Patrick Stewart joined him on stage momentarily before departing.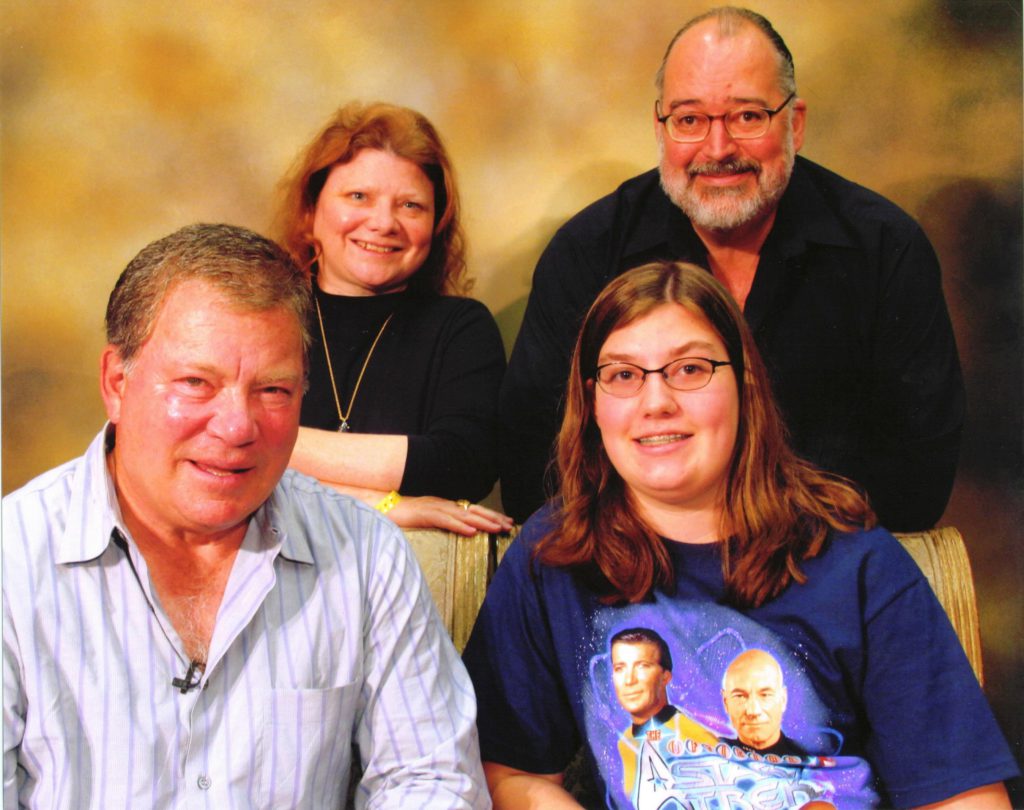 After Shatner's stage appearance we hurried over to the dealer's room to pose for a picture with him, a father's day gift from Dani. We got to exchange a few words and I left him a copy of one of my books.
Following the photo op we caught most of Brent Spiner's (Data on TNG) presentation. Brent is a really funny guy, and has an absolutely dead-on Patrick Stewart impression. (Patrick was earlier asked if he had a Brent imitation and he said, "You know why all those guys imitate me? It's because they want to BE me. ")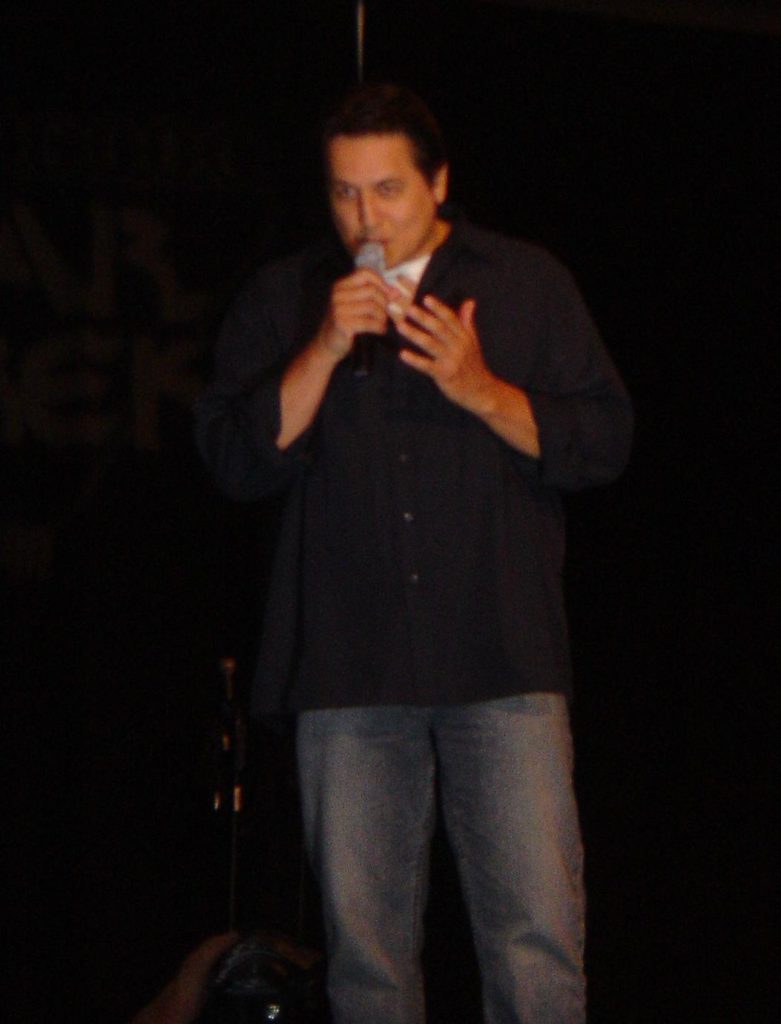 The convention wound up with Robert Beltran, Chakotay on Voyager. Of all the celebrities there, Beltran was the only one who seemed to have an "attitude," and he might not have been the best choice to wrap things up.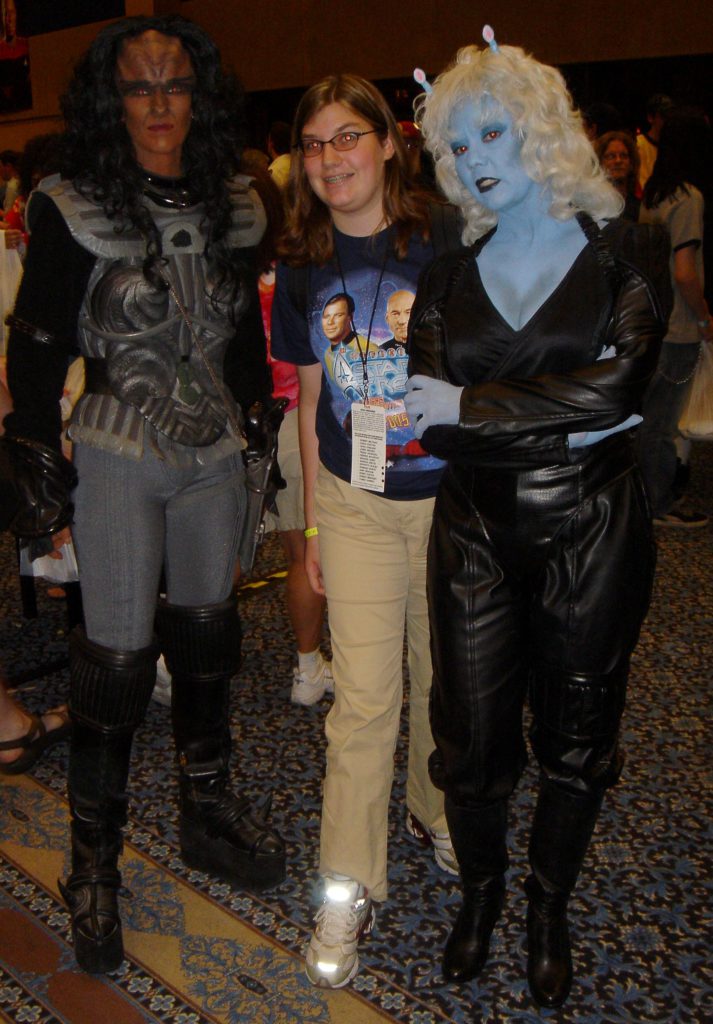 Here's Dani posing with a couple of passers-by in the dealer's room. I'm not sure if the Klingon and Andorian were from the Star Trek Experience, or were show attendees.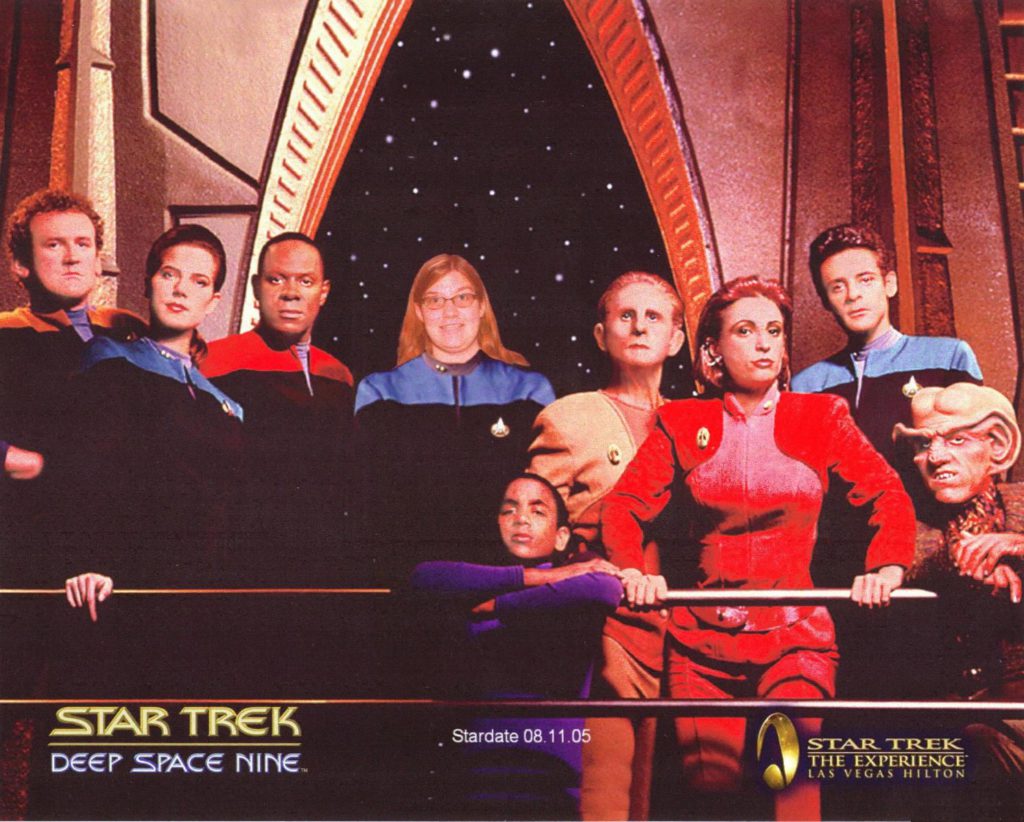 A parting shot of Dani who, through the magic of digital imagery, appears with the DS9 cast. Wrap Up: Since a big focus of the show is autographs, which we now have coming out of our (Ferengi) ears, I don't think I'd buy a gold ticket to another convention. But it was a lot of fun, and I'd certainly consider a day pass to future conventions.