10-12-2005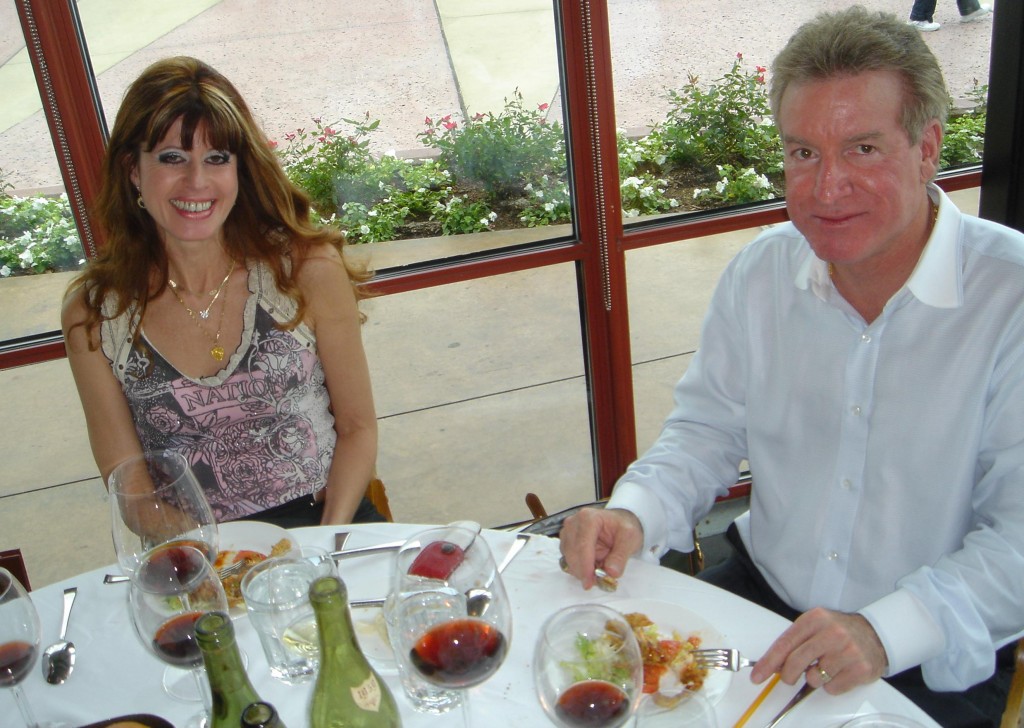 On the spur of the moment Ron and Bev invited me to lunch at Emeril's, where I joined several sommeliers form around town. Present were: JP from Emeril's, John from Brio, David from Le Coq au Vin, and Rhett from B-21.
We spent five hours(!) at table, but the time seemed to fly. The food was excellent, consisting of six courses: soft shell crab, calamari, andouille sausage, halibut, veal and pork.
I took a 47 Chambertin, a 61 Volnay-Champans, 84 Longoria Pinot Noir and a 2003 Henry's Drive Reserve Shiraz. Most held up pretty well under the assault of Ron's 100-point wines.
The wines:
1981 Ch. Laville Haut Brion
Great bright light straw color. Candle wax, citrus, butter, chalk, charred barrel
94 pts

1994 Beringer Sbraga Chardonnay
Dark amber. Oxidized, over the hill.
no rating

1959 Ruchottes-Chambertin, Domaine Thomas
Muddy but fairly dark. Menthol nose. Varietal but thin. Clean.
80 pts

1964 Grands-Echezeaux, Leroy
Strong mint, cedar, cherry, balanced, clean, slow to evolve, sweet finish. A great burgundy.
94 pts

1961 Volnay-Champans, Antoine Clavalier
Closed nose, a bit peppery. Not much fruit left.
84 pts

1947 Chambertin, Caves du Maxim's
Inky, huge, Bordeaux-like, very big. Chocolate, bacon, cherry, long balanced, tar and coffee finish.
96 pts

1984 Longoria Pinot Noir
Rick Longoria was the original winemaker at Gainey, and for three years made his own wines, too. When Gainey felt it was a conflict of interest he abandoned his own label for a decade. Now Longoria wines are some of the best that are produced in the Santa Ynez Valley. When I originally tasted this wine in the mid 80s I felt it was the only truly Burgundian Pinot Noir I'd ever had from California, and I'd saved this last bottle all these years, waiting for a chance to match it with great Burgundies. It exceeded my expectations, and now drinks like great, old Burgundy. Earthy, dried roses, coffee, leather, fading a bit in the finish. A remarkable effort.
97 pts

1982 Ch. Pichon Longueville, Comtesse de Lalande
Classic Puillac, lead pencil, big but still tight, somewhat sweet, extremely chewy. Reputed winner of most 82 taste-offs. A great wine.
98 pts

1982 Ch. Cheval Blanc

My usual favorite 82. Fruity, complex herbaceous mint, tar and coffee. Chewy. Aside from Haut Brion probably the best 82 right now.
99 pts

2002 Sine Qua Non "Just For the Love of It"
The only wine I've ever had that misspelled its own name on the label ("Sine Quinine"). Huge blueberries, chocolate. Long and woody.
93 pts

2003 Henry's Drive Reserve Shiraz
Intense mint chocolate. (Did I say Intense?!) Like a box of Andes mints. But lots of other underlying complexity, too. Woody, balanced, great fruit. $45?!!
99 pts

1982 Grange
Only the second Grange I've every encountered that was ready to drink. There's something about the way the fruit ages that bugs me about Grange. It seems like the window of enjoyment is narrow. Woody, balanced, huge Aussie style, but fruit fading a bit.
95 pts

1995 Cuvee Madame Monbalsillac
This smelled like a great Yquem. Unfortunately the acid is pretty low. Botrytis, apples, caramel, but unidimensional in the mouth. Not worth $125 a tenth I think, probably better to either go cheap or get the real thing.
92 pts

It was a really lovely afternoon, and very generous of Ron and Bev to include me in their plans.