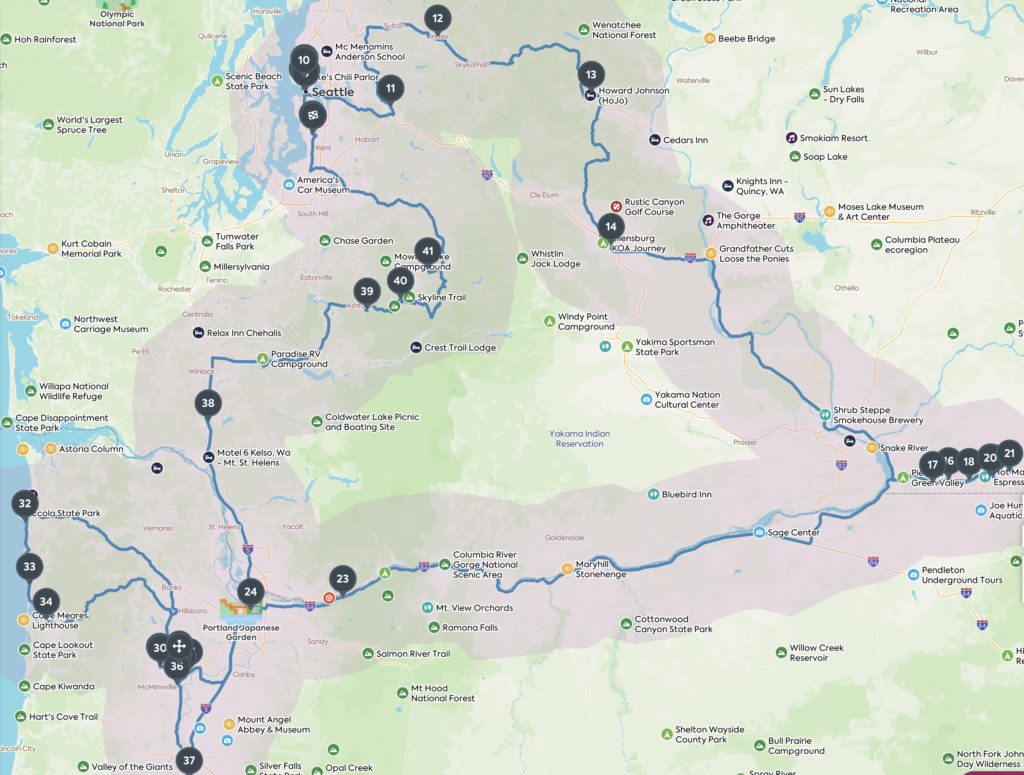 This was a delightful 12-day trip around Washington State and part of Oregon. Dani and I initially planned it, but I was able to talk Linda into going, too. It was so much fun to have the whole family traveling together!
I've embedded the best travel photos, but for photos of the meals and wineries, click on the links to my Yelp reviews.
Monday, August 2, 2021 — Seattle
Linda and I flew in to Seattle from Orlando, and Dani flew in from Chicago. First class makes the 6-hour non-stop trip on Delta much more pleasant. Covid meant the fares were cheaper, but it also meant that first class service consisted of a box of junk food!
We picked up our SUV from Alamo at SEATAC. Since we wanted to bring back wine, we had a couple of wine case pieces of luggage, so we needed a pretty good sized vehicle. When they offered us an upgrade I took it, but we were a bit startled at the massive size when we saw it. One thing's for sure, we never had any trouble fitting in our luggage!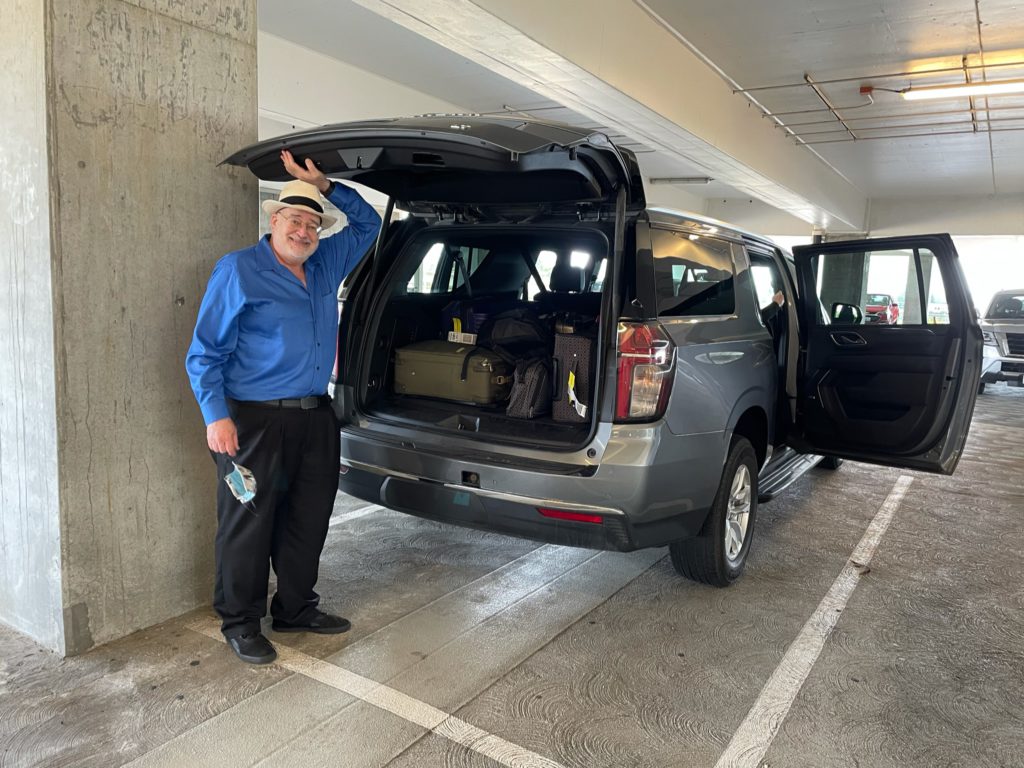 Since it was just past noon we had some time to kill before check-in, so we drove north of downtown to Sisi Kay Thai Eatery & Bar, where we had a delightful lunch, dining all by ourselves. A few blocks away was our first tourist stop, the bizarreness that is Archie McPhee!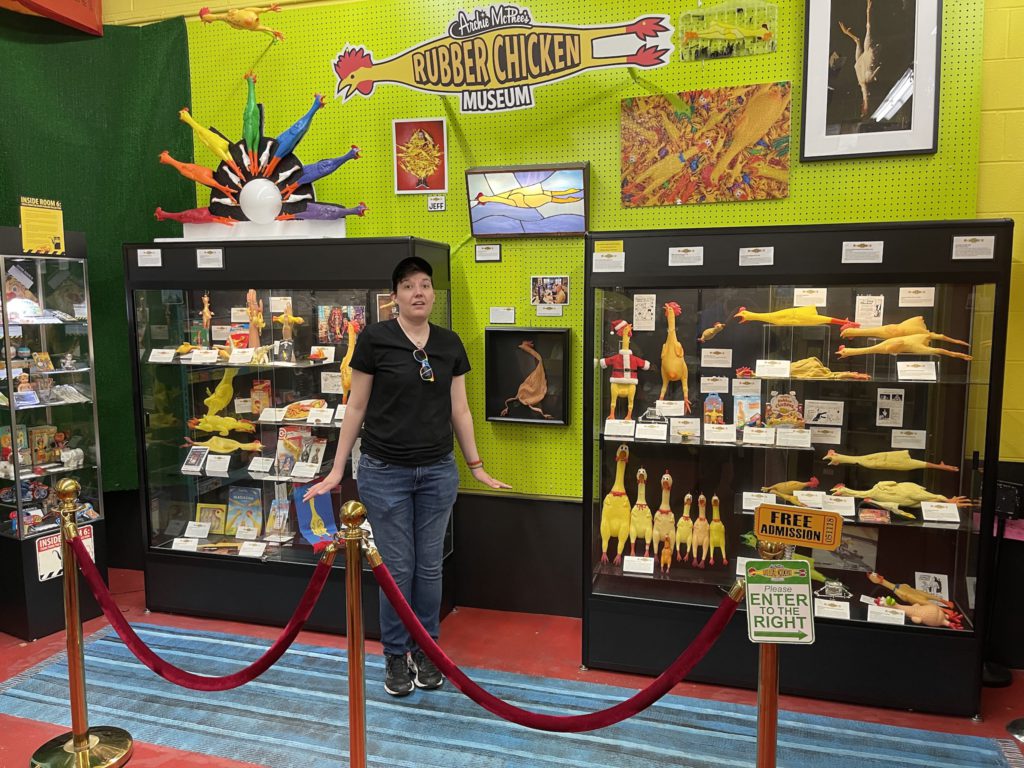 Because our itinerary happened to take us to the major cities of this trip (Seattle and Portland) on Mondays and Tuesdays when lots of places are closed, it was a little tricky getting into some of the restaurants I was most interested in. The pandemic has also created some irregular operating times and staffing challenges for them.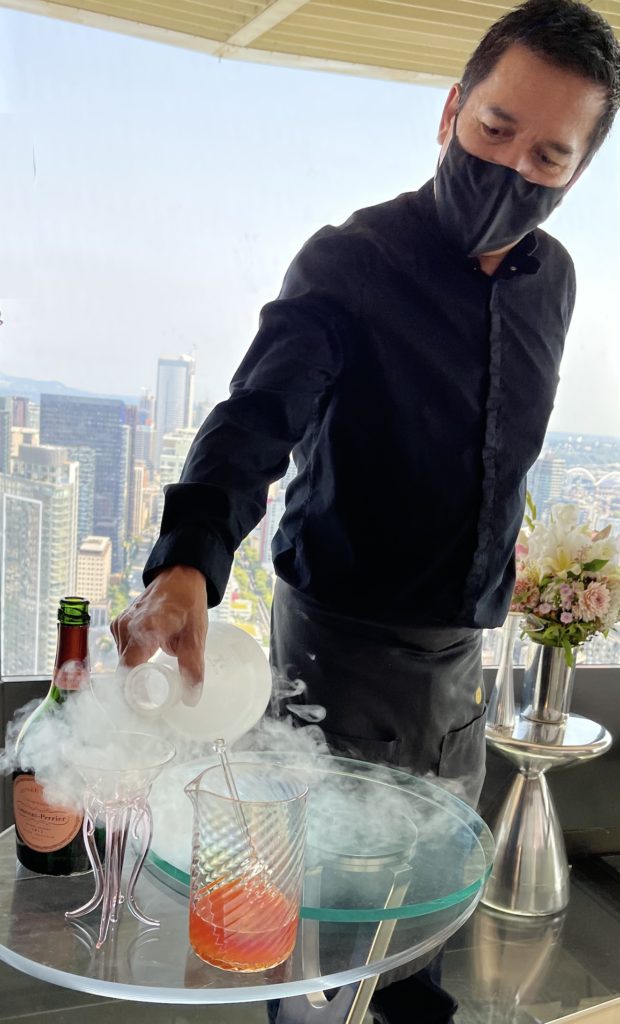 But we were lucky and the new Loupe Lounge at Seattle's Space Needle was open, and I'd managed to book a table. This was a fantastic experience involving lots of liquid nitrogen cocktail making, a whiskey flight, and endless pours of Taittanger Comte Rose Champagne, along with plentiful bites of gourmet foods to accompany everything. For me, this was one of the highlights of the trip.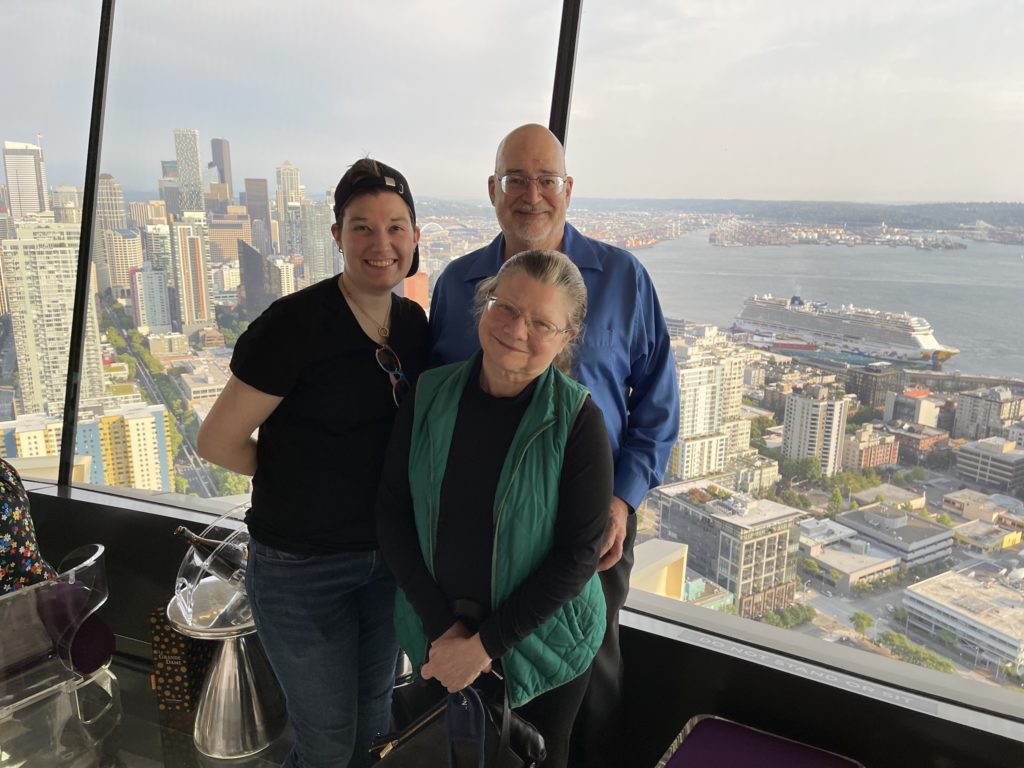 Next stop was our condo on the waterfront just north of downtown Seattle. This was our first of four Airbnb stays on this trip, and all were lovely in their own ways. This one was a two bedroom condo on the 16th floor with a view of the bay and Puget Sound.
Tuesday, August 3, 2021
We walked back to the area around the Space Needle (which is on the World's Fair grounds from 1962), stopping at the Artisan Cafe for excellent Bahn Mi sandwiches, which we ate on park benches. Then we visited the Museum of Pop Culture. This used to be The Experience Music Project and Science Fiction Museum and Hall of Fame started by Microsoft's Paul Allen, but its theme has been broadened. I was a bit disappointed that there was more pop culture in the gift shop than in the somewhat limited exhibit spaces, although there was a good LGBT history exhibit, and a few interesting bios in the Science Fiction Hall of Fame.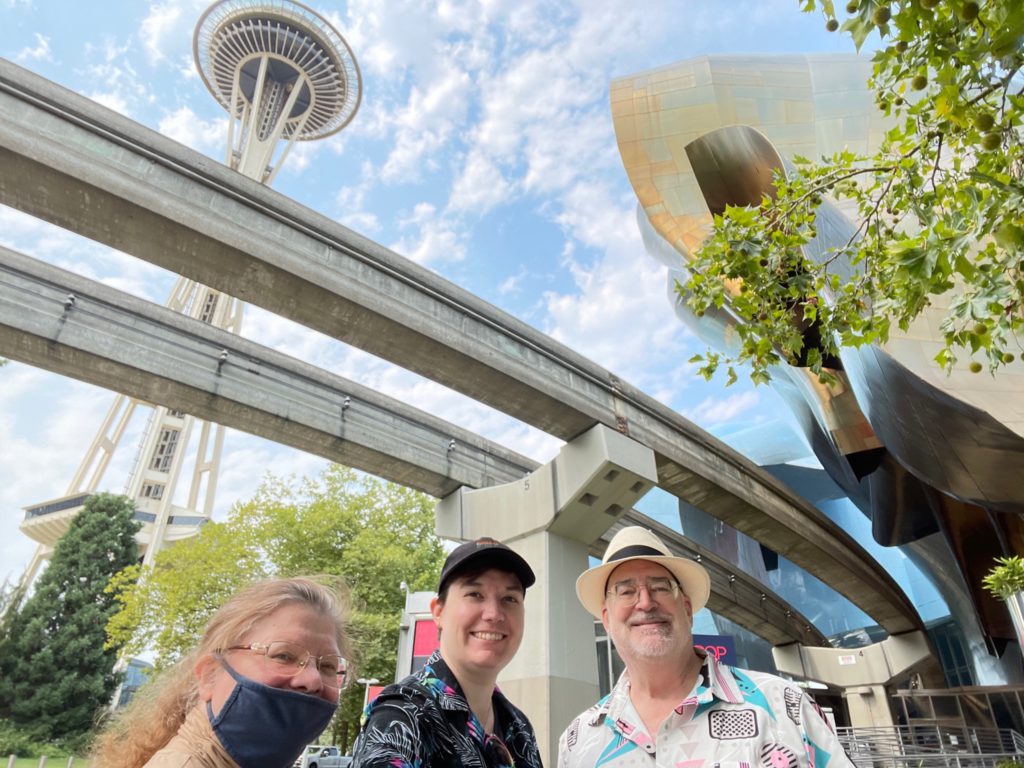 We took the monorail back to downtown (a two minute ride!) and sampled some just okay tacos off the Solamente Pastor taco truck. Later, for dinner, we walked to Wann Japanese Izakaya, probably Linda's favorite meal of the trip.
Wednesday, August 4, 2021
Dani and I got biscuits for breakfast overlooking the waterfront at Honest Biscuits. My shoes were falling apart, so we walked to Nordstom's Rack and I got some new loafers. Then we rode motorized scooters back! Great fun, but we should have ridden them UP the hills to Nordstrom's, too!
For lunch we walked downtown for sandwiches at Cherry Street Coffee House, then went next door and down Beneath the Streets for a tour and history of Seattle's past. I highly recommend this, as you can see how the city was built up and elevated a full story after being destroyed by fire.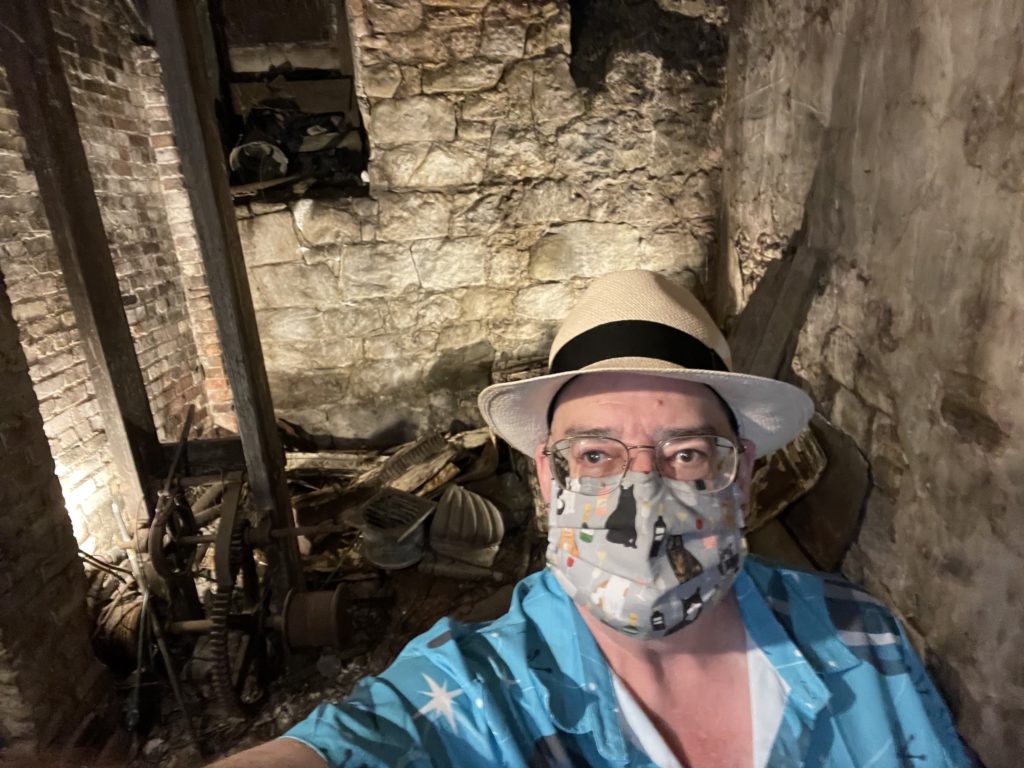 I really wanted to see the spectacular new tiki bar Inside Passage, and this was our only time slot when it was open. You enter through a hidden door from the adjacent bar, Rumba (I think this space was previously a speakeasy theme). This was the only place on our trip where we were asked to show proof of vaccination. Bravo!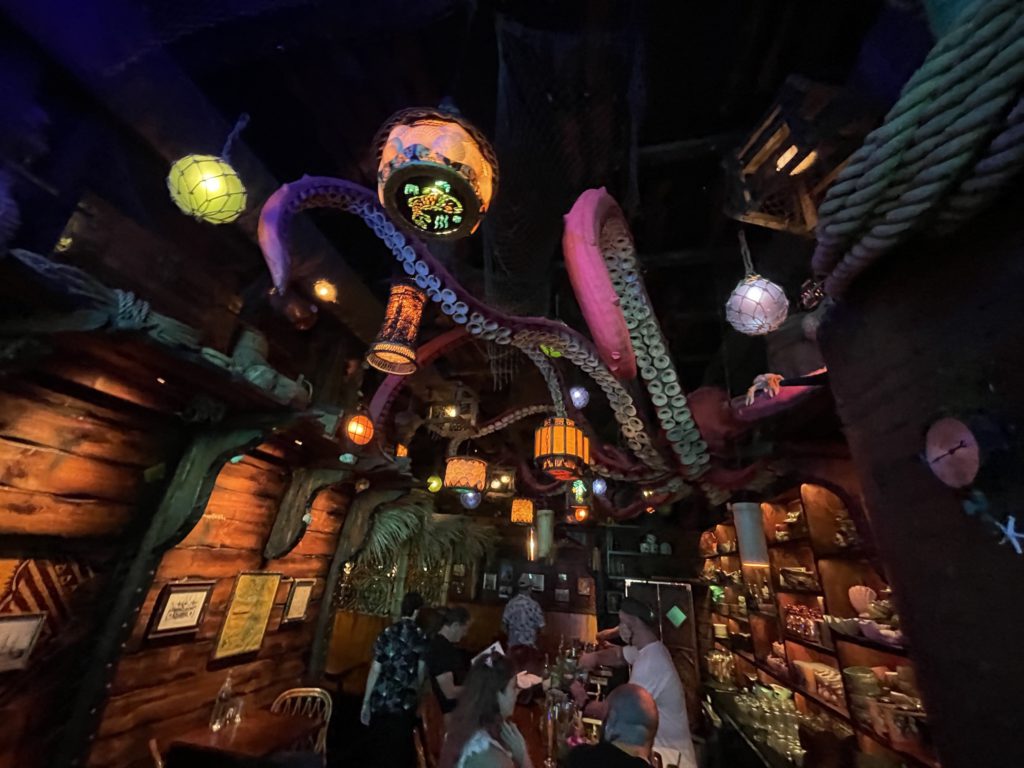 Inside Passage did not disappoint! I wish we'd had more time to spend there. Had I known how much food they offered I would not have made a dinner reservation elsewhere. The space is absolutely spectacular, with wonderful nautical decor, a beautiful bar, and cozy booths. But the most spectacular aspect is the giant octopus that looms overhead!
Dinner was a tasting menu at Art of the Table. It was very good, but we were still talking about Inside Passage.
Thursday, August 5, 2021
We checked out and headed for wine country. Dani wisely suggested we take a detour over the mountains, which was a great plan, since much of the road to Walla Walla is pretty desolate. A scenic drive took us to Snoqualamie Falls and then Leavenworth, Washington, a Bavarian themed tourist town that reminded us of Salvang, California.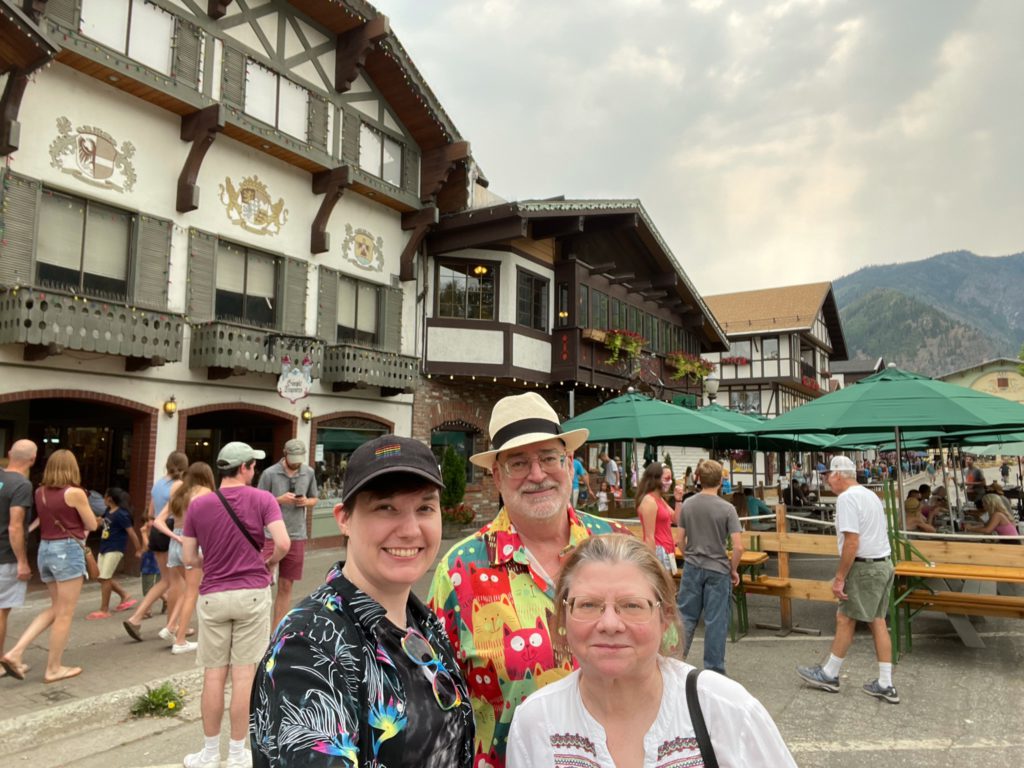 We had German food at Colchuck's and then continued south to Gard Vintners Wine Tasting Room in Ellensburg. I was familiar with Gard from wines I'd purchased on Casemates, so I wanted to try their other offerings. This was the first of many wine clubs I joined along our route!
We arrived in Walla Walla after 8pm, so dining options were limited. We had okay Mexican food at the incredibly brightly lit El Sombrero. Then we checked into our Airbnb, a cute two bedroom home built in the 1920s, and right across the street from Pioneer Park, with its lovely lawns and big trees.
Friday, August 6, 2021 — Walla Walla
Our Walla Wala Airbnb had chickens in the back yard, so Dani and I had fresh eggs every morning!
Friday was our big day for Walla Walla wine tasting. We followed recommendations from the wine club director we met the previous day at Gard Vintners. Our first stop was at L'Ecole No. 41, housed in a gorgeous historic schoolhouse. The wines were good, but not something we wanted more of, so we actually bought a bottle of something we hadn't tasted.
At some wineries there is a tasting fee, so if we don't like the wine we don't feel obligated to buy. Other times the fee is waived for a certain purchase, or if you join their club. But if there is no fee, we always buy a bottle of something as a thank you.
Our next stop was Woodward Canyon, a nice facility, where we had a relaxing outdoor tasting. The wines were good if not spectacular.
Our best discovery was Reininger, where we tasted their wines under a big shade tree on their lawn. We loved the way they served the wines all at once, in essentially shot glasses, along with big wine glasses, making it easy to share and to compare. We joined their club, which gives us the flexibility of picking our wines each quarter.
Back in downtown Walla Walla, Kontos had a spacious tasting room but few customers, and the wines were not inspiring. We had a wonderful French lunch at Brasserie Four. It was so good we considered going back for dinner!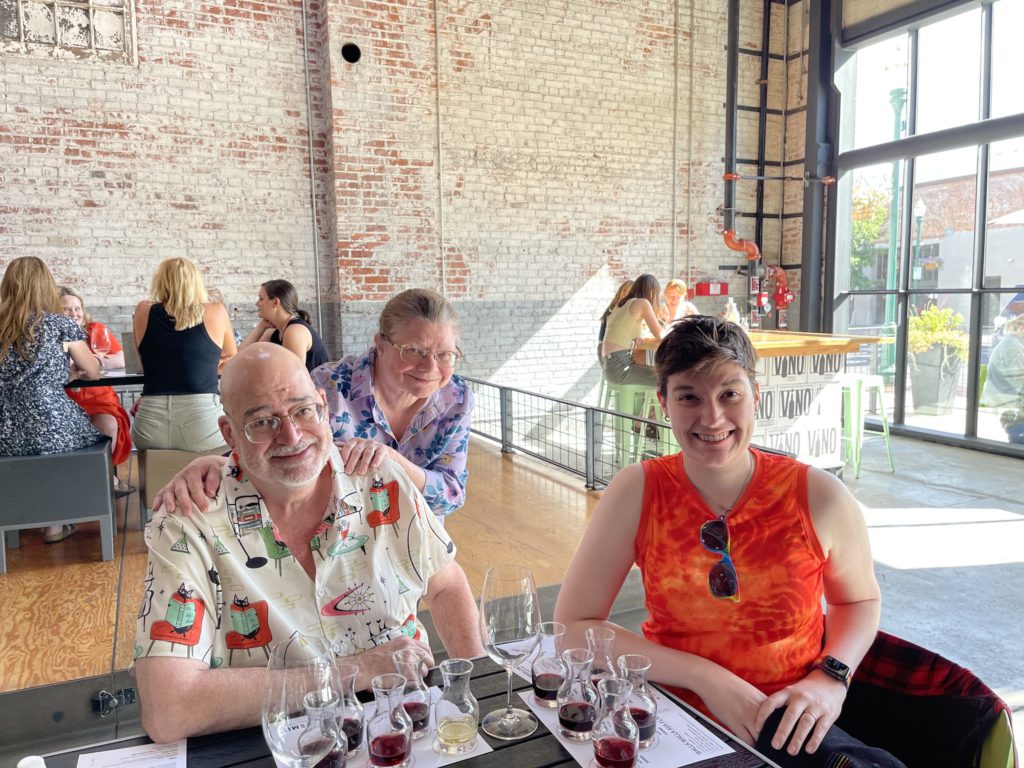 Our final tasting stop for the day was at The House of Smith, a barn-like facility in downtown Walla Walla where you can try all of crazy man Charles Smith's wines, including our favorite offerings from K Vintners. Again, the wines were served in flights. We joined this club, too.
Dinner was at The Kitchen at Abeja. This restaurant, located in the tasting facility of Abeja Winery, had only been open three weeks, but they served an ambitious tasting menu under the direction of a young chef who interned at two Michelin-starred restaurants in France. Her food definitely shows promise, and it will be interesting to see how this restaurant evolves.
Saturday, August 7, 2021
Saturday we went for a walk in the park across the street. They have a very large aviary with many birds, especially various types of pheasant. It's a great town-supported feature.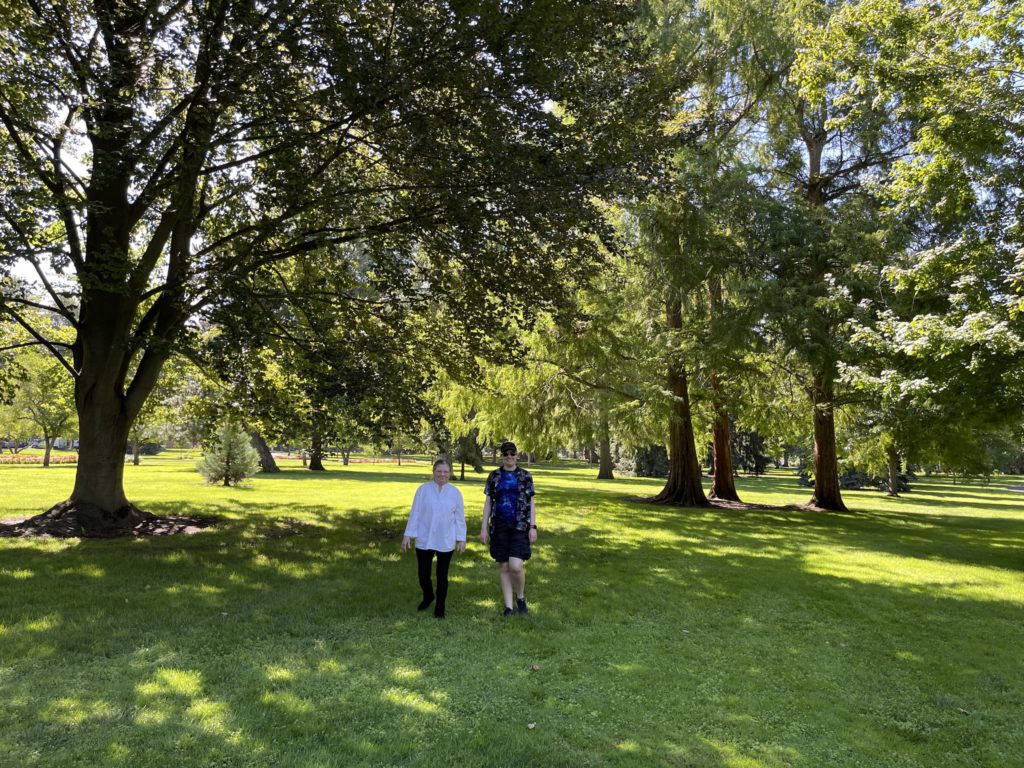 Our final Walla Walla wine tasting stop was at Alton Wines. It's a gorgeous new facility with a stunningly modern tasting room. I'd guess it is a rich entrepreneurs passion project. It was a bit odd, because they were out of most of their wines, and their club is on a waiting list because they have only limited wines. The only wine we really liked was a Sangiovese which—you guessed it—they were out of. They were only planning on being open one more weekend this season, and I can see why!
We went to lunch at the historic Ice-Burg Drive-In, which was very slow, and more historic than good.
Dinner was far more successful. We ate upstairs in the loft a TMACS in downtown Walla Walla. Our waiter, Caleb, was one of the best we have ever had, and this was one of the best meals of the trip. The restaurant was dimly lit (upstairs, anyway) and quiet enough for good conversation—an oasis from the lively bar directly below.
We were surprised, in retrospect, by Walla Walla wines. My expectation was that the Syrahs would be the best, since I'm most familiar with Charles Smith's fruit bombs such as BOOM BOOM Syrah, and Troublemaker. But he has sold those brands off, and his focus (and that of all the other wineries we visited) is on a much wider range of varietals. Overall, I think it was the Bordeaux blends that most impressed us.
Walla Walla is actually split by the Washington/Oregon border, and there are different micro climes in different areas. It's also worth noting that many of the best wines we had from Walla Walla wineries were actually made with grapes from the Columbia Valley.
Sunday, August 8, 2021
The drive along the Columbia River is not particularly scenic until you get close to Portland. Multnomah Falls is really the first photo op. I reminded us of Bridal Veil Falls in Yosemite, but that might be because of the drought the whole Pacific Northwest has been experiencing. We were lucky that none of the resulting fires affected our trip much, although we often smelled smoke.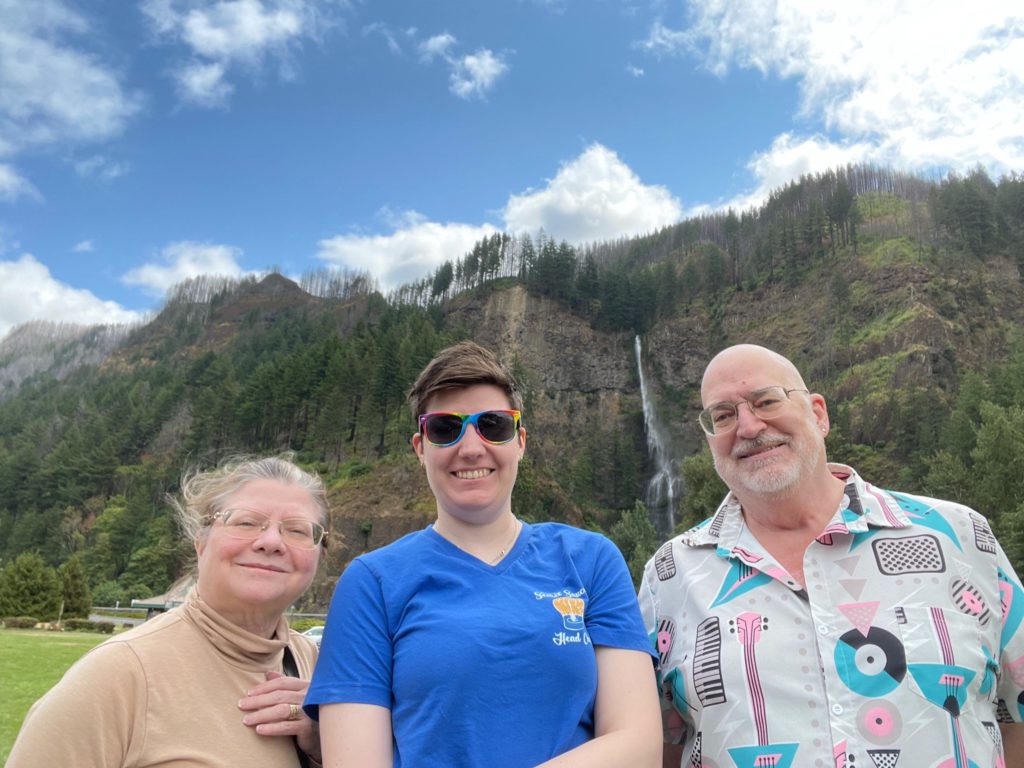 We picnicked along the river, watching the hundreds of kiteboarders taking advantage of the constant, strong winds that blow up the valley.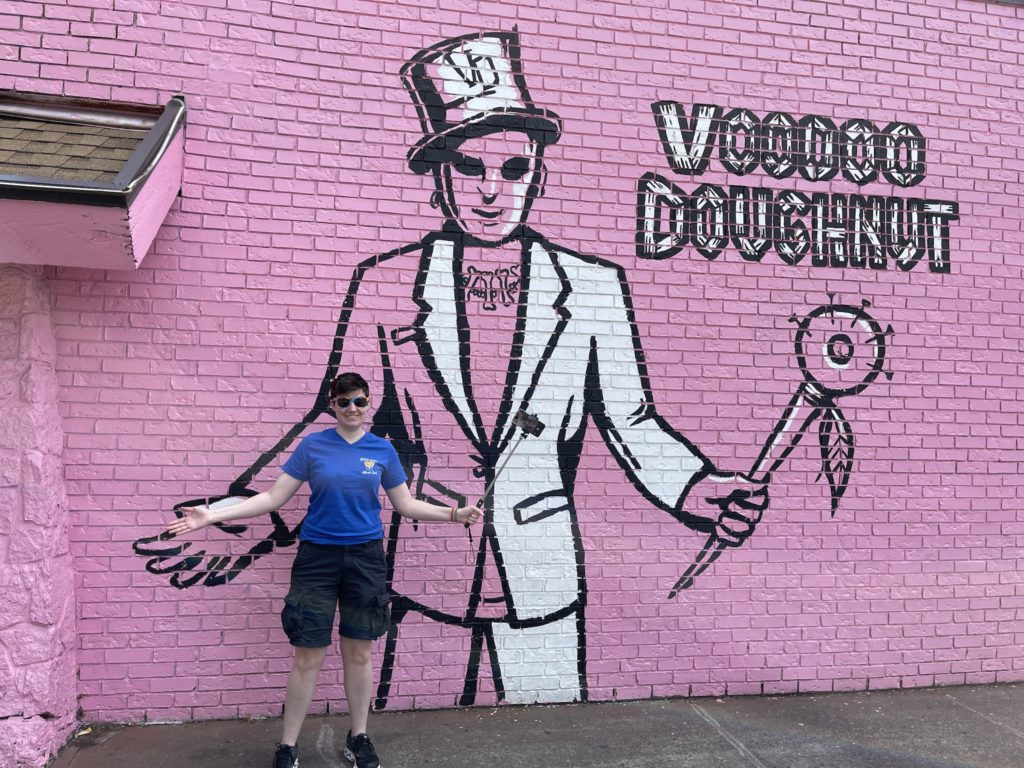 The one thing Portland is known for that was a must for Dani: a stop at Voodoo Doughnuts! They were as good as they look, although I must say that Chicago has become quite a donut town, and I think you could find their equal there, with a little work.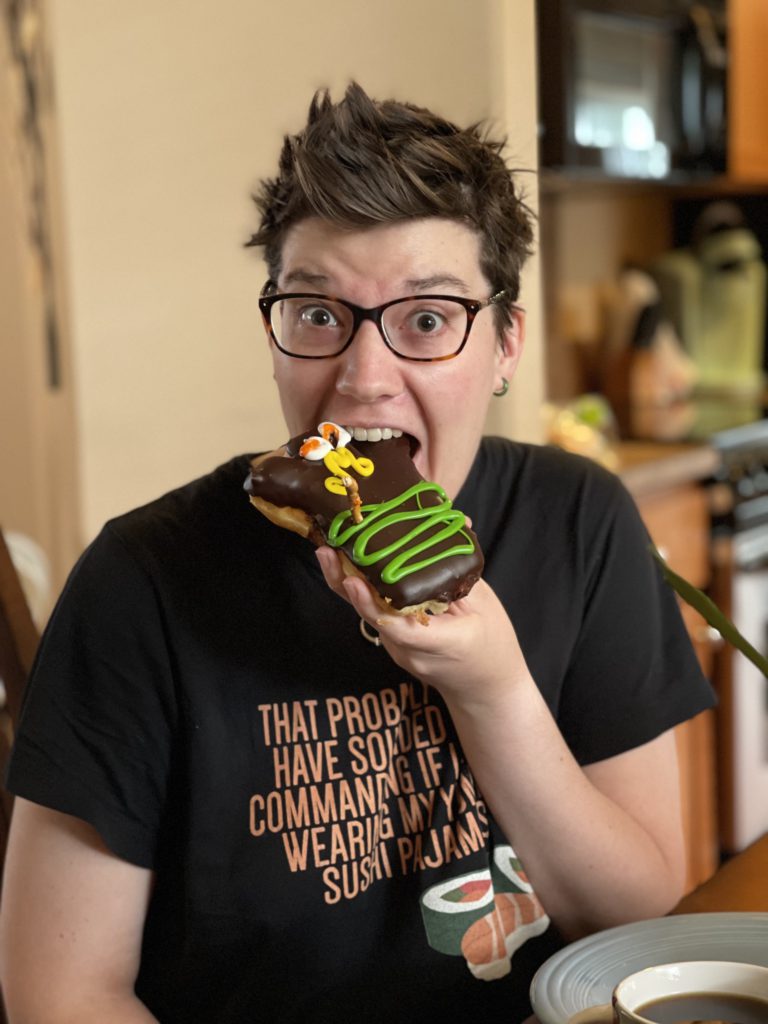 Since we were early, we drove on past our accommodations and visited Carlton Winemaker's Studio. This is a neat concept that offers tastings of the wines of fifteen different wineries. We had a lovely afternoon sitting on the patio tasting wines and munching on charcuterie from their charcuterie vending machine(!)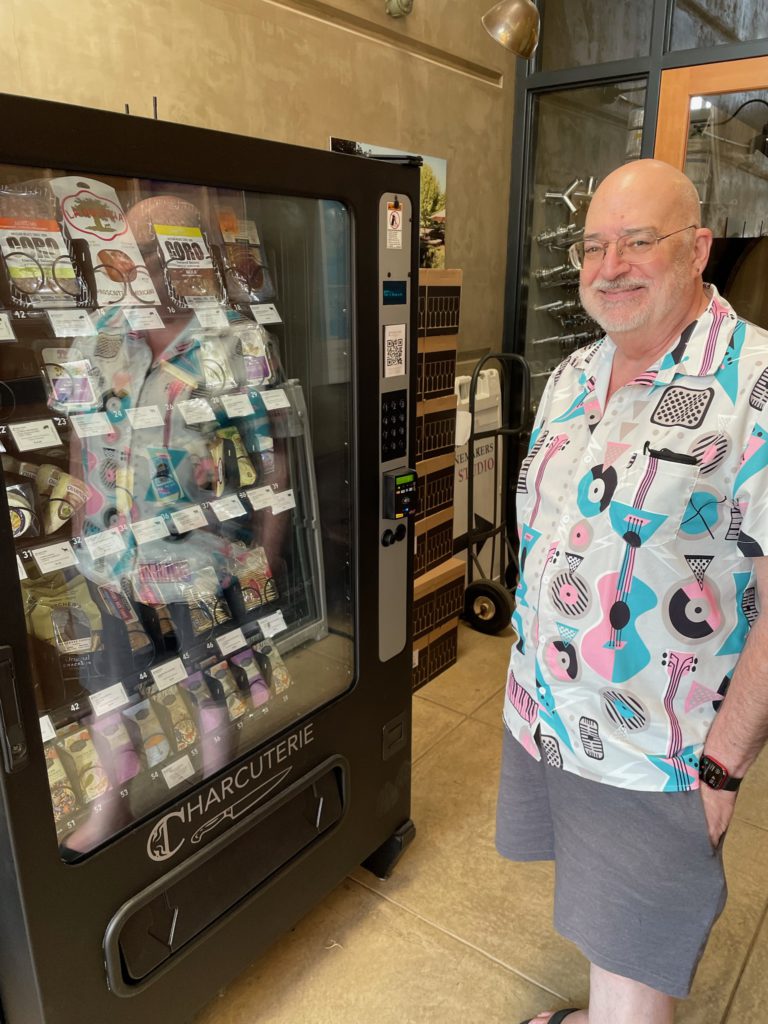 In the evening we checked into our beautiful Airbnb in Dundee, about 20 miles west of Portland, and in the middle of Willamette Valley wine country. This home was gorgeous, two stories, with three bedrooms and a professional decor. Dinner was just down the hill at Tina's, a charming restaurant where Linda ordered the winning dishes.
Monday, August 9, 2021 — Willamette Valley
Our winery day in the Willamette Valley was somewhat limited by it being a Monday, and we had to plan ahead because nearly all the wineries here require 24 hour advance reservations. But we made good choices. We started at Archery Summit, with a tasting on the patio overlooking the vineyards. While a few different wines are produced in this area, pretty much everything that impressed us was Pinot Noir. That ws the case here, and we joined their club, which allows you to custom select your wines.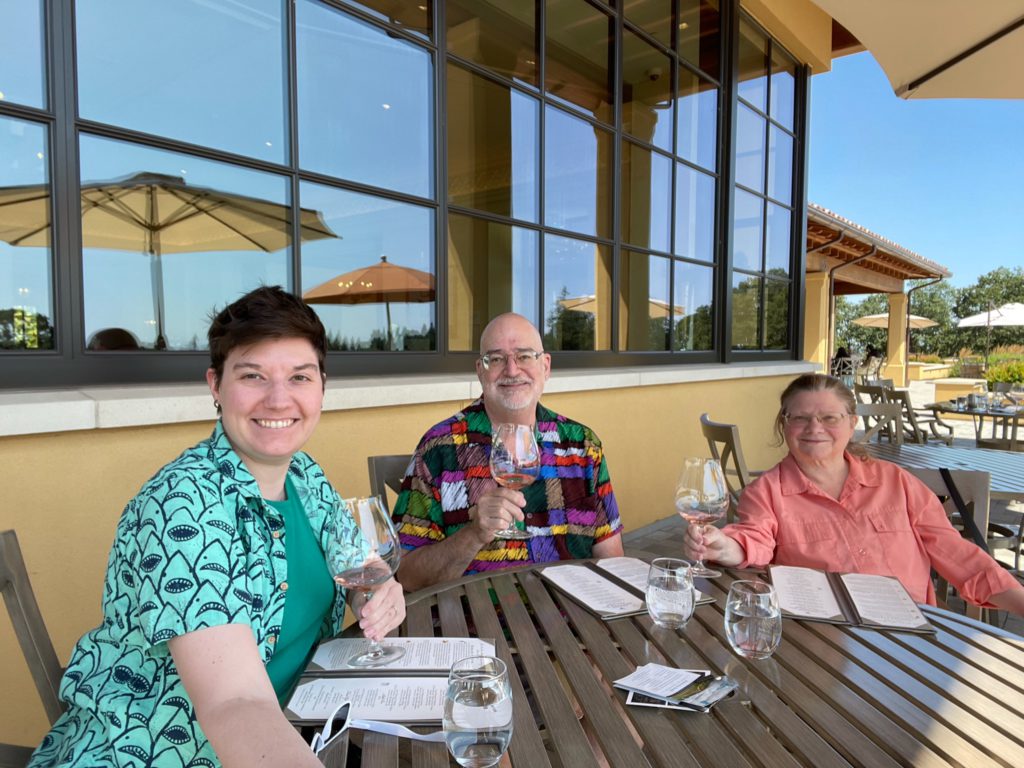 Our next stop was Domaine Serene, easily the most beautiful winery I've ever visited. Looking more like a Four Seasons Hotel, it's perched high above the Willamette Valley, with expansive views in all directions. In addition to Oregon wines, they also own two properties in Burgundy, so they offer both an Oregon and a Burgundy club. We ended up joining both! They also serve food, so we enjoyed a leisurely afternoon of wine, charcuterie, cheese, and bread. I'd never heard of this winery, but it was clearly the highlight of our wine tour.
Linda had hit the wall, so we dropped her off at our Airbnb and then Dani and I continued on to Ken Wright Cellars in Carlton. They produce a myriad of pinot noirs, but they seemed clumsy after the wines at Domaine Serene, and they weren't particularly cheap. Linda made the right call.
On the way back to the Airbnb, Dani and I detoured to Honey Pie to pick up pizzas. They were good, and also provided useful leftovers for later picnics.
I've never thought Oregon pinot noirs lived up to the hype from the 80s and 90s. As a Burgundy fan, they have always struck me as lacking the New World fruit of California pinot, yet rarely developing the earthy complexity of true Burgundy. But perhaps the problem has been that I've been unwilling to pay enough for them. At Domaine Serene, where we tasted $90 Oregon pinots against $90 Burgundies, they were quite comparable. Of course, these are wines made under the same management. Still, it will be interesting to see what Oregon pinots show up this year from the clubs we joined. Perhaps a reassessment is in order.
Tuesday, August 10, 2021 — Oregon Coast
You can't go to Oregon without experiencing the dramatic Oregon coast, so we headed out on a big circle, taking us from the vineyards through the forests to the rocky coast, and then back again.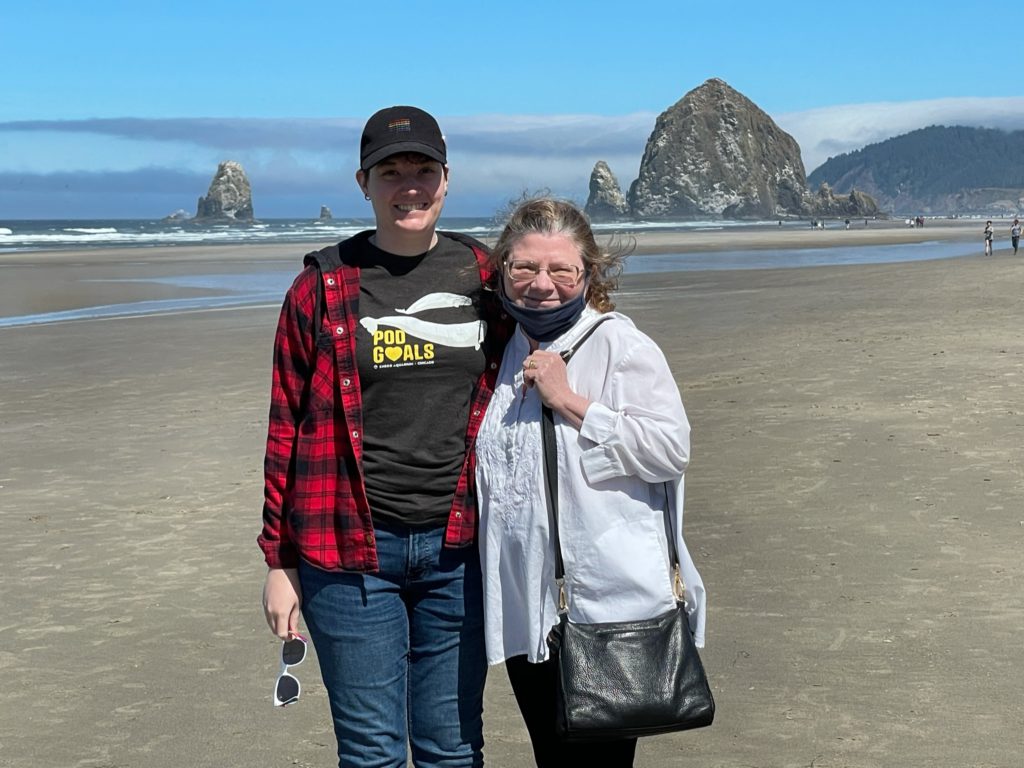 The aptly named Haystack Rock was our first scenic stop, and Dani got a chance to dip her foot into this side of the Pacific Ocean (she'd already done the other side in Australia). The we stopped at Cannon Beach Hardware and Public House (also known as the Screw and Brew) for fish and chips. Yes, it really is a hardware store.
We'd intended to stop at the Tillamook Creamery, but the acres of parking lot were packed and there was a Disney-like line to get in.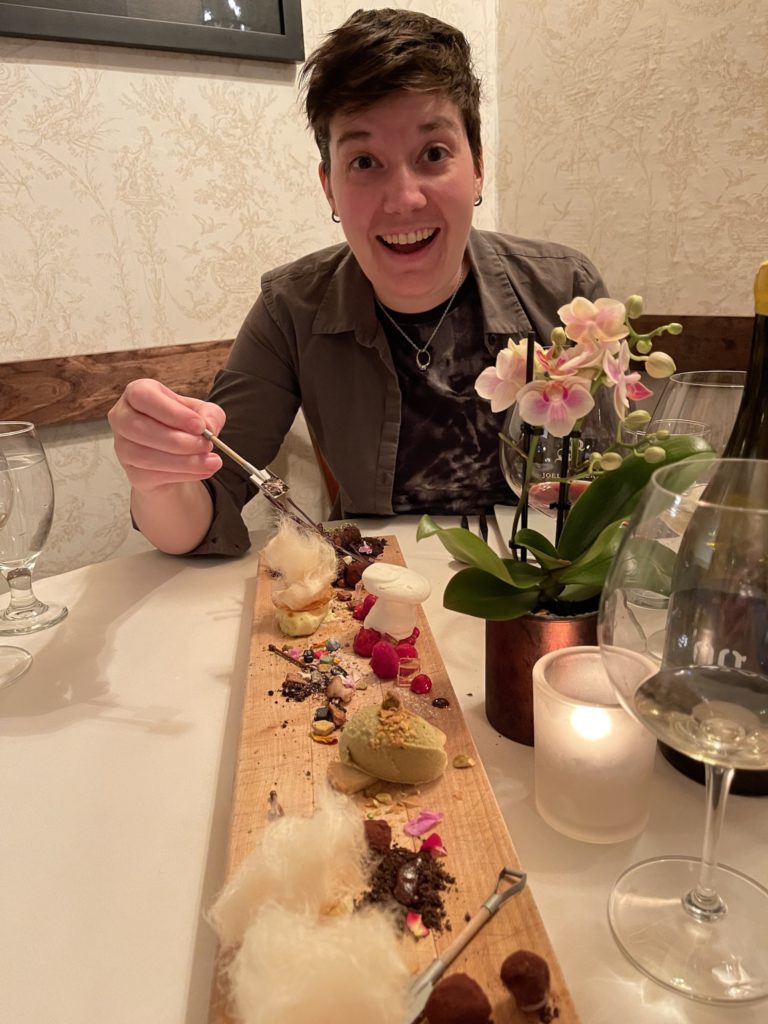 Dinner was an elaborate, 20 course affair at Joel Palmer House in Dayton, Oregon. They have the world's largest cellar of Oregon Pinot Noir, with 800 selections. The food emphasizes mushrooms in most courses, so it perfectly matched a well-aged 2004 pinot from Beaux Freres.
Wednesday, August 11, 2021 — Enchanted Forest
Justin told me I'd like Enchanted Forest, and he was right! It's a mom and pop theme park located about 50 miles south of Portland. I loved the charming walk-throughs, and the way it engages childrens' imaginations. This is my favorite kind of theme park. We went early, saw most everything, and were on the road north by lunch time.
Lunch was a quick stop at Republica in Portland. This is an interesting take on Mexican food, with a menu that changes daily. It's probably more interesting at night, when they have a tasting menu. But with counter service and only two tables inside, it's a bit hard to imagine how that works.
The drive to Mount Rainier National Park was quite scenic, and we arrived at our Airbnb lodging right on time. It's called Knot-a-Care-Cabin, and it's as cute as the name implies, with every little detail decorated in bears and other rustic motif.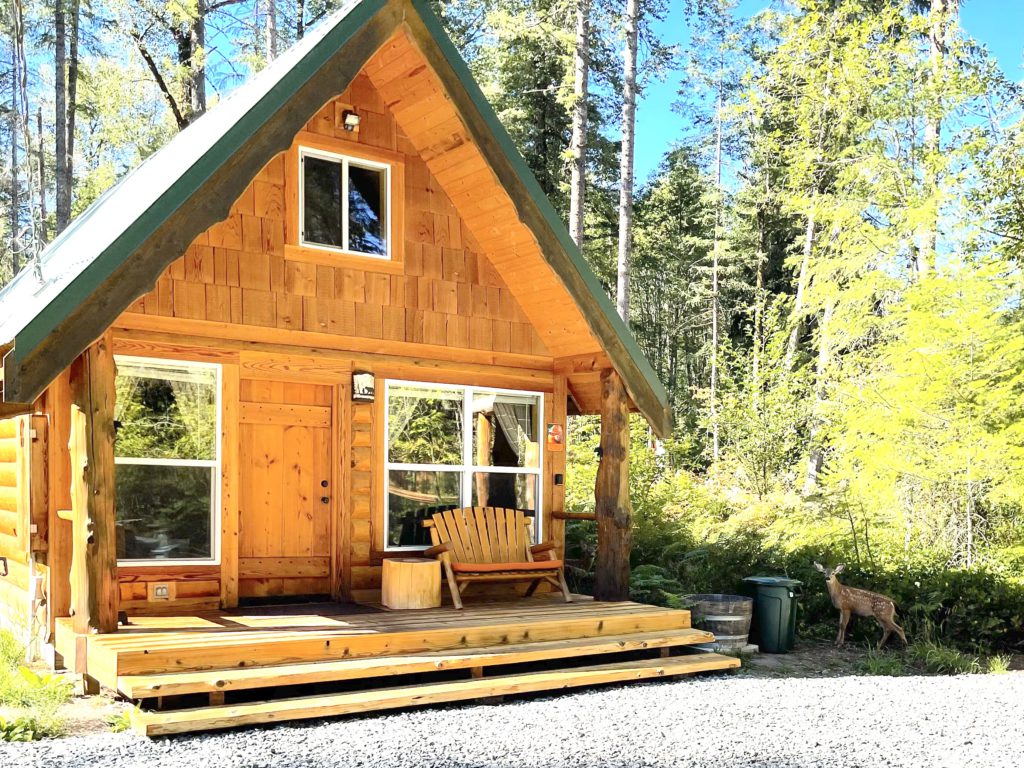 A deer welcomed our arrival. The bedroom is a loft, high in the peak of the roof, accessed by a ladder—but Linda and I managed it without incident!
Dinner was the oddest, and in many ways one of the best, of the trip. We ate at one of the only places around, Wildberry Restaurant in Ashford. It is owned by a Himalayan sherpa who holds the record for fastest ascent of Mount Everest, and who has scaled that mountain ten times. The servers are also Himalayan, and our waiter was quite frenetic. He spoke in a high-pitched, almost hysterical voice. But the service was very efficient, even though their tent-covered patio was completely full. It turns out Himalayan food is very similar to Indian food, and it was very tasty.
Thursday, August 12, 2021 — Mount Rainier
Our day of sightseeing in Mount Rainier National Park made us realize how lucky we had been during the rest of our trip, as the smoke from the California, Oregon, and Washington wildfires really settled in. We were glad we had our masks. Still, we hiked a couple of scenic trails, saw some dramatic waterfalls, and circled all the way around Mount Rainier on our way back to Seattle.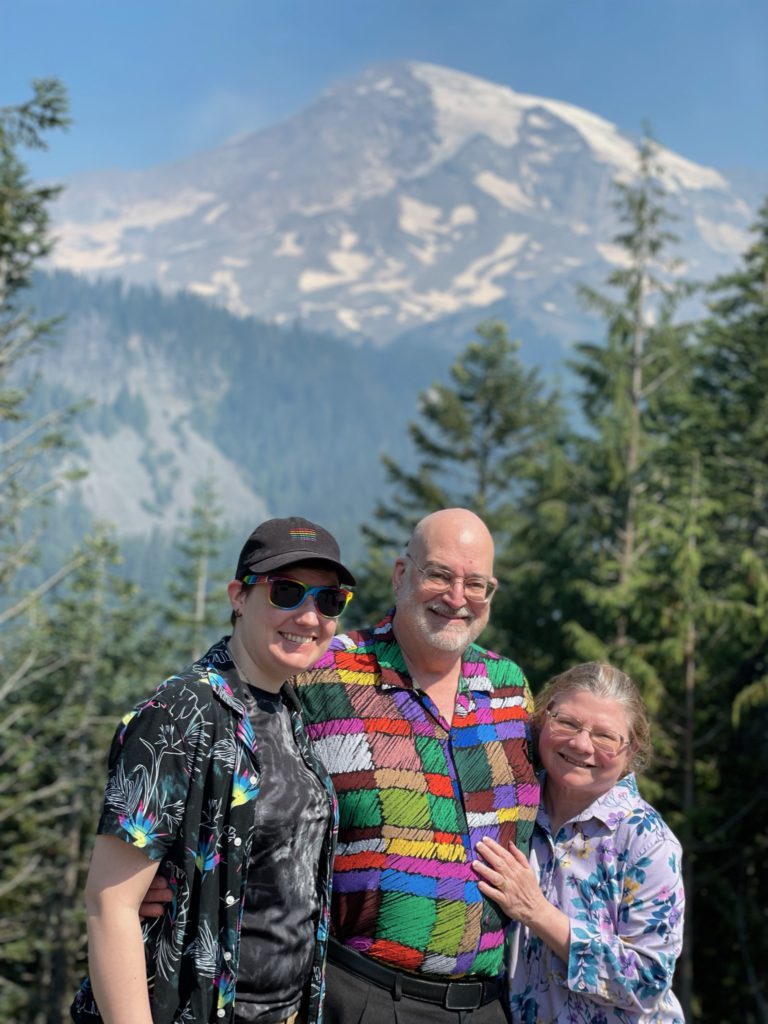 We spent the night at the gorgeous Cedarbrook Lodge right next to SEATAC airport. It's hard to believe you are near the airport in this bucolic setting. Before dinner we had a drink at the bar and the unique bartender introduced us to Amaro Amorino Riserva, made by a local distiller, which we liked very much. Dinner was at their Copperleaf Restaurant. The food and server were very good. And our server owns a timeshare in Orlando, which sort of brought the trip full circle! Then it was time for our early morning wakeup and our Friday the 13th trip back home.
It was a great family trip, and I'm so glad all three of us could do it together. Perhaps next time Trish will be able to join us, too!