Every year Ron hosts a dock party at Hillstone's. It's a great venue if the weather cooperates. Last year we froze our tushes off, but this year it was perfect: mid 80s with a constant breeze off the lake.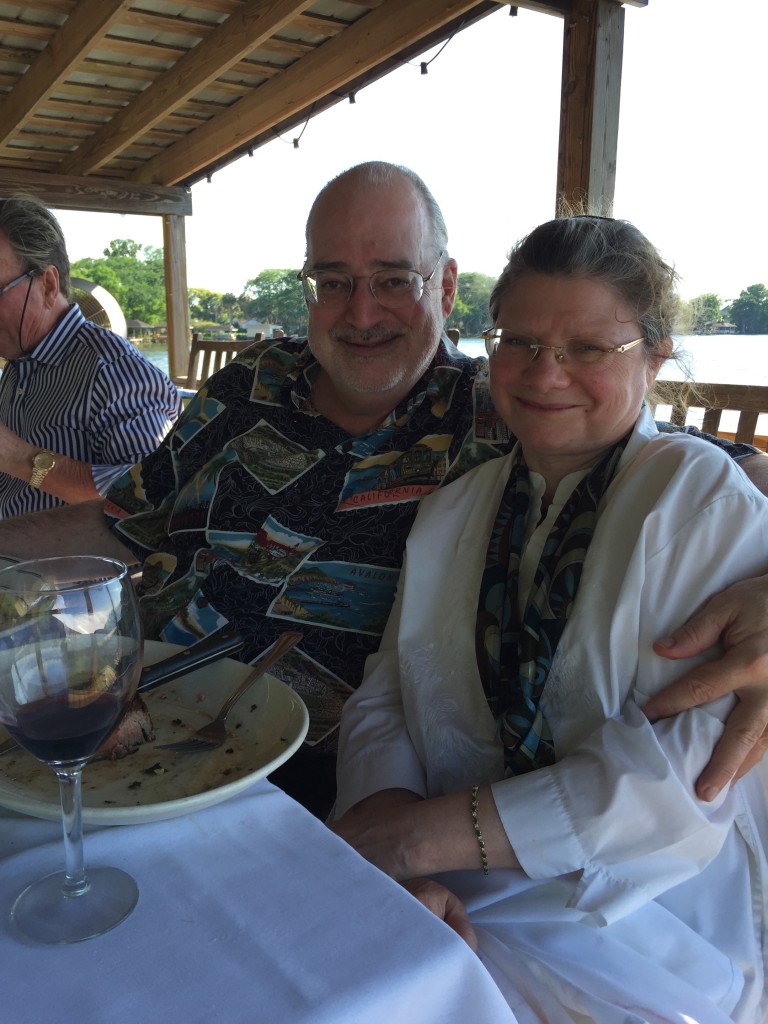 In attendance were Ron, Bev, Keith, Parlo, Linda, Andres, Paula, Carsten and Jill, the sommelier from the new Four Seasons resort.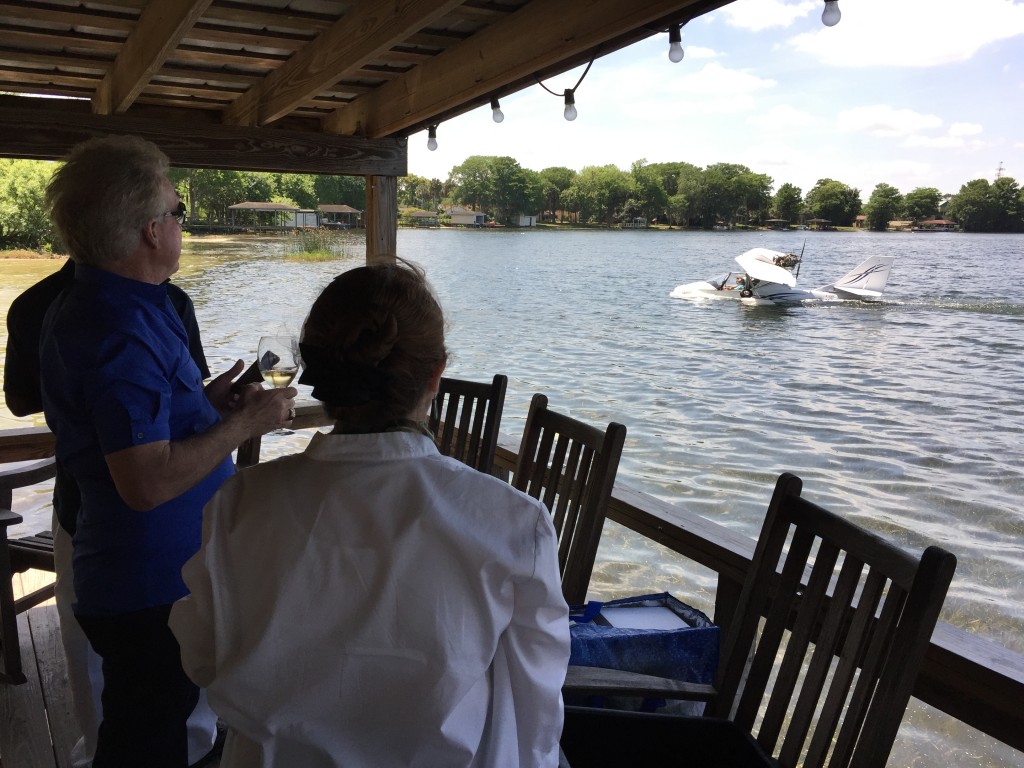 Hillstone's has gone to a bizarre policy of only serving appetizers on the dock, even to private parties, even though they are serving the full menu to people 50 feet away from the dock. Fortunately the manager who came up with this asinine idea was fired yesterday, so maybe next year's event will be a bit more flexible.
As always, the smoked salmon was a highlight. I'd never had the grilled artichoke before, which was also good. And at the end of the evening we talked them out of some steaks. I loved the Hawaiian Rib Eye. The accompanying Kale salad was the best I've had anywhere, with a subtle vinaigrette mixed in, and a few bits of peanut.

Everyone brought some great wines. My wine of the night was Ron's 1959 Clos Vougeot, as evidenced by the number and breadth of my notes.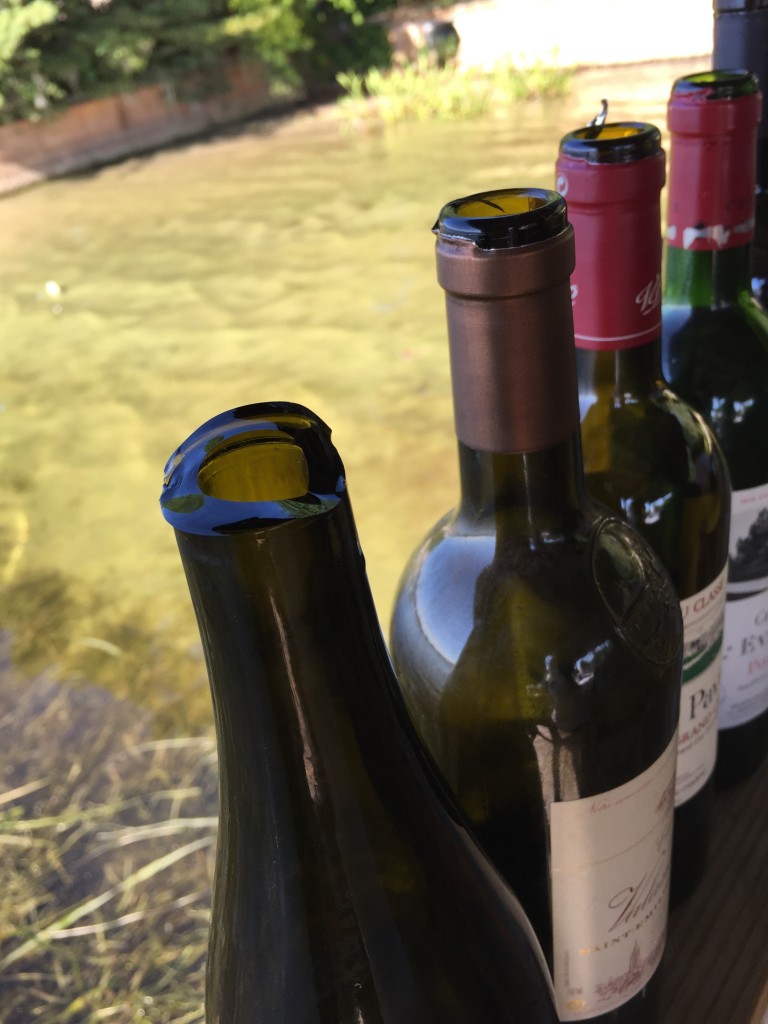 Most of the wines were served blind, and Ron identified my 1993 CDP right down to the producer. Impressive!
My notes: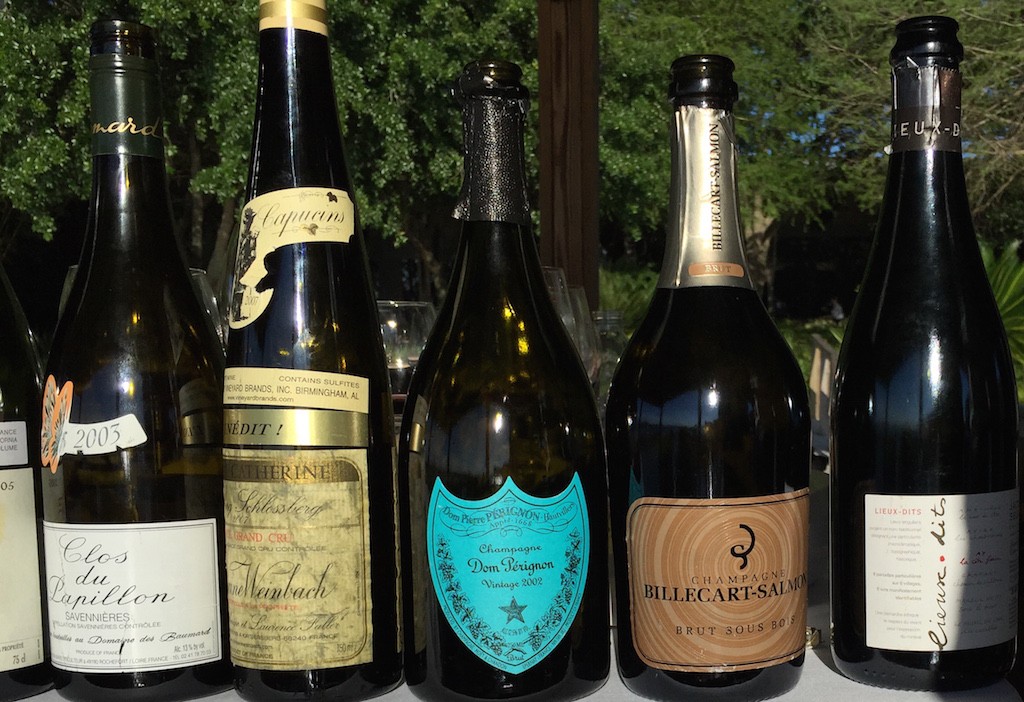 Jacques Selosse la cote Faron – Ron
Toast honey citrus light oxidation 94
Billecarte Salmon Sous Bois – Andres
Citrus 90
2002 Dom Perignon – Keith
Lemon vanilla 90
2005 Roulot Meursault Les Meix Cheval – Ron
Mineral slate butter lemon smoke 97
2003 Clos du Pappilon Baumard – Andres
Minerality outboard motor exhaust 93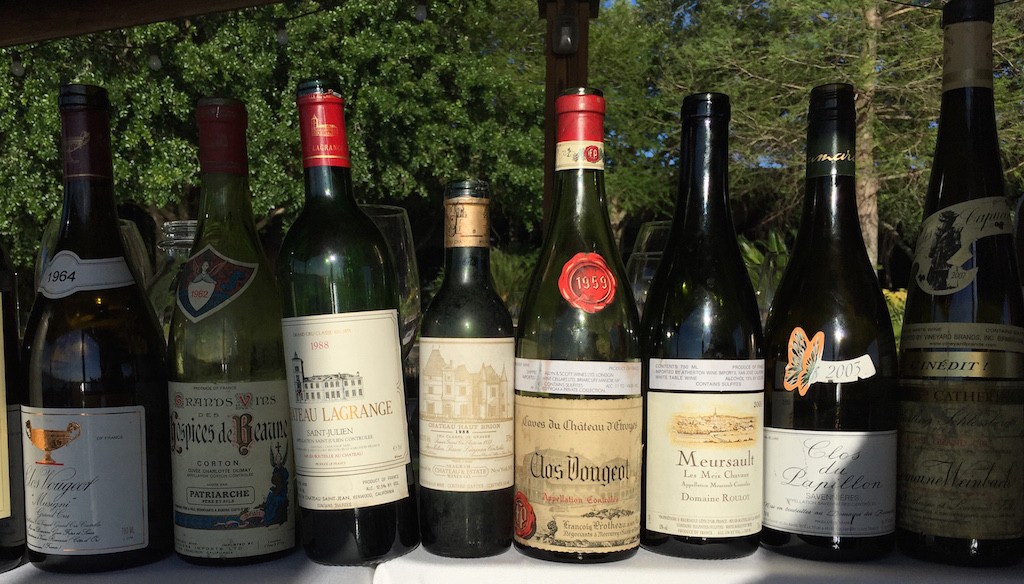 1988 Ch Haut Brion 375ml – Steve
Slate, drinking older 93
1988 Ch la Grange – Steve
Herbaceous, chewy, red fruit, youthful, coffee, chocolate 95
2006 Araujo Eisele – Keith
Vanilla, big fruit, baking spices, 99
1959 Clos Vougeot Etroius – Ron
Metal, spice, lichen, brine, dirty martini, cigar, dark cherry, tannins, olive, caramel, bacon 99
1961 Corton Hospices de Beaune – Steve
Brown sugar, leather, bit o honey candy 95
1964 Clos Vougeot Gros Freres & Souer- Steve
Spicy, barbecue pork, 94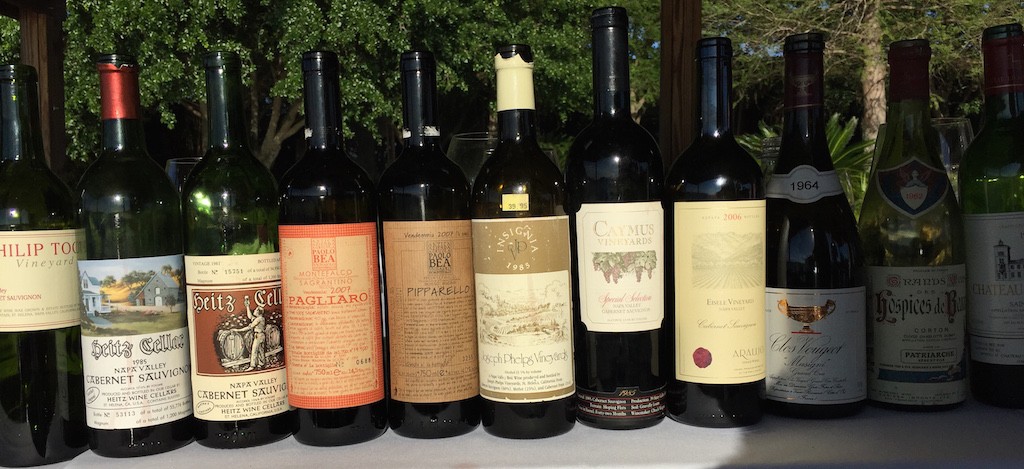 1985 Phelps insignia – Ron
Pepper, Burgundian, 94
1985 Caymus special selection – Ron
Caramel, pine needles 92
1985 Heitz Martha's – Ron
Good fruit, mint, Girl Scout cookies 93
2007 Pagliaro – Keith
Big tannins, 90
81 Heitz Martha's – Keith
Odd, green 90
2007 Pipparello – Keith
Young vanilla 93
08 Pontet Canert – Andres
Green, raspberries, 91
08 Ducru Beaucaillou – Andres
Vanilla, 92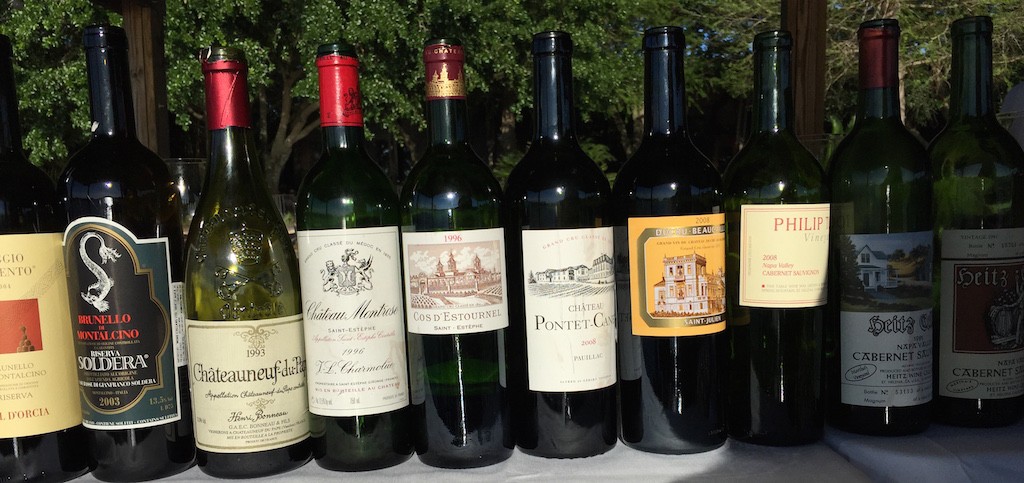 08 Philip Togni Cabernet Sauvignon – Andres
Tight tannic, dehydrated strawberries, 90
96 Montrose – Gary
Tight, green, very young, 93
96 Cos d'Estornel – Gary
Slightly corked, green vegetal, tight, 91
93 CDP Henri Bonneau – Steve
Recommended by Ron, complex, layered, mint, meat, 97
2003 Soldera – Keith
Cherry, vanilla, stewed tomato 92
2004 Madonna Piana – Keith
Fruit, vanilla 90
2004 Poggio al Vento – Keith
Vanilla, 90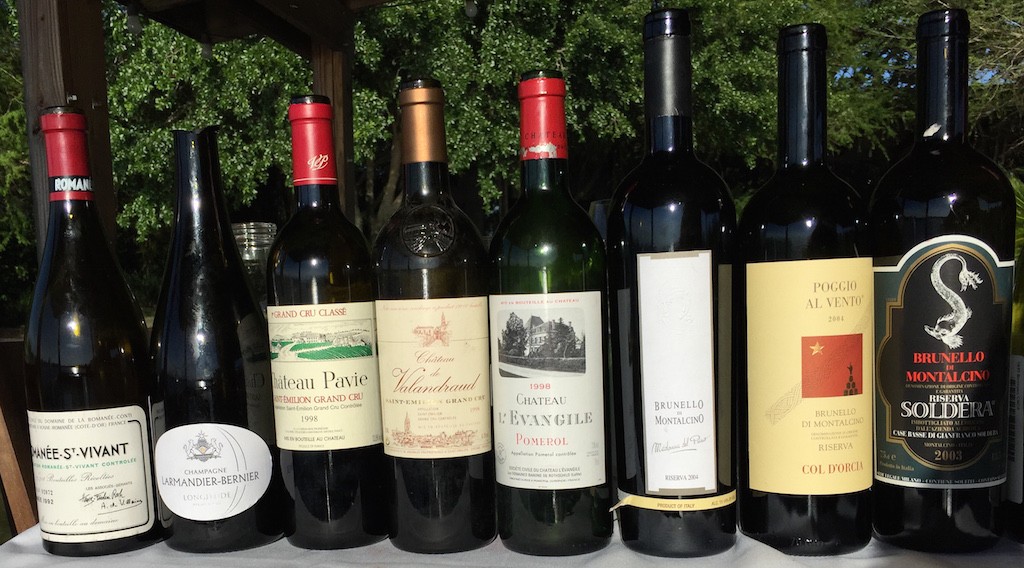 1998 Valandraud – Ron
Smoke, Cabernet 96
1998 Pavie – Ron
Tight, Bordeaux-like, Cherry, vanilla, I guessed 2003 Pavie, 92
1998 Ch. L'Evangile – Ron
Classic Bordeaux 94
Champagne Larnandier-Bernier -Andres
Toast, balanced, butter, yeast 93
1992 DRC Romanee Saint Vivant – Ron
Floral, feminine, strawberry 96