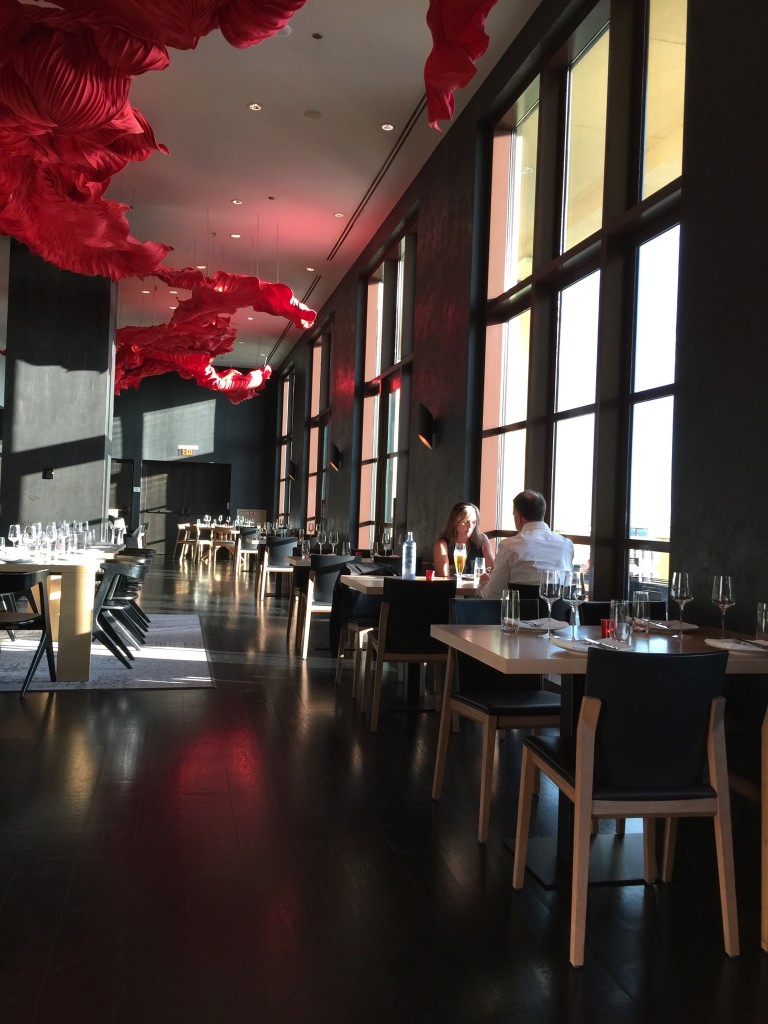 Our friends Ron and Bev are the only couple we know where no matter what old wine I pull from my cellar, they can match it. So when they invited us to try Capa at the new Four Seasons Hotel at Disney World, we jumped at the chance, and pulled some fantastic old wines to take along. Having met Capa's sommelier, Jill Davis, a few weeks ago at a private party on Hilstone's dock, we knew we were in for a treat, and we weren't disappointed.
Oddly, this is the most austere Four Seasons I've been to, all hard surfaces and glaring lights. It's the sort of place where the artwork is mostly square canvasses of one solid color.
Unfortunately, this austerity continues into the restaurants, including the flagship Capa on the 17th floor. What could be a real gem of a restaurant is defeated by an environment that sacrifices warmth for trendiness.
Certainly Capa has a lot to offer in the way of food. During a marathon evening of wine tasting we tried more than half the menu, and liked most of what we had.
The Hamachi Crudo, served with Clementines and a crunchy Horseradish topping was everyone's favorite, and we had two orders and wanted more.
The Charcuterie Board was the best I've had. It includes Jamon Serrano, Cantimpalo, Lomo and we added some Iberico. The Lomo was particularly good.
The olive asortment included Arbequina, Gordal and Empeltre on the night we were there. Some were pitted, some not, and being served slightly warmed really increased their flavor profile.
The Shrimp coated with Chili were very pungent, a bit overwhelming with ours wines.
Patatas Bravas Potatoes looked like tater tots, but were amazingly fluffy, with a delicious Paprika and Black Garlic coating—some of the best potatoes I've ever had, and small enough to not feel guilty.
I'm not a big Pork Belly fan, but this version had been seared extra crispy, and I ate all of the generous portion.
The Octopus was chewy and lacked the crisp char needed to make it interesting.
Veal Cheeks had a gamey aroma that was quite unappealing.
The roasted Cauliflower was delicious, and served with a sunny side up egg for dipping.
For entrees we tried the 8 ounce Filet and the 12 ounce New York Strip. Both were prime. The filet, having been marinated, had an exotic succulence. The strip boasted a great smokey flavor from the grill and dry aging. Both were pretty pricey, but worth it.
The Bernaise Sauce was unusually thin (and a scanty portion) but proved to be a delicious dipping sauce for the strip, and its thinness actually made it a better accompaniment. It had lots of traditional Bernaise flavor.
The best side dish was the diced Carrot and Celery Root served with Pesto. The Swiss Chard and the Wild Mushrooms were both unremarkable. Yukon Gold mashed potatoes with Brown Butter were good, but not as good as they sound.
We also had an assorted dessert platter with ice creams, cakes, and some really good churros.
Service was up to the Four Seasons standard, with everyone extremely helpful and friendly.
It's worth the hunt for an unlocked door so you can view the Disney fireworks from the terrace outside, which is a welcome escape from the boxy dining room and open kitchen.
I wouldn't hesitate to return to Capa for the great food and wine service, but it's not a place I'd pick for a cozy or romantic evening. With different seating, surfaces and lighting I'd be there every week.
Notes on the Wines
Capa is lucky to have Jill Davis as Sommelier. She is perhaps Central Florida's most knowledgable sommelier. The wine list is superb, and excellently priced. On this evening we brought our own wines, and Jill provided superb wine service and insightful comments on all of them.
Jacques Selosse Initial (Ron)
Very crisp, only slight oxidation, lemon pith, brioche, green , 96
2002 Meursault Les Meix Chavaux Domaine Roulot
Closed nose, ashes, caramel, chalk, lanolin, dull, jelly bellies, 88 pts
1961 Chambertin Pierre Damoy (Ron)
Good fruit although thin, light color, slightly cloudy, cork fell in, coffee, 89 pts
1961 J. Thorin Chambertin-Clos de Bèze Grand Cru (Steve)
Fuel oil, acidic, iron, 86 pts
1961 Château Ausone (Ron)
Pleasant perfume, spice box, 91 pts
1961 Château Angélus (Steve)
Mineral nose, nice body, good fruit, 90 pts
1959 Echezeaux Pierre Ponnelle (Ron)
Deep color, great fruit, drinking 20 years younger, caramel, rosewood, caramel, raisins, cherry, baking spices, 97 pts
1959 Hospices de Beaune Beaune 1er Cru Cuvée Dames Hospitalieres Maison Leroy (Steve)
Elegant, traditional, dried rose nose, soy, espresso creme brûlée, great acid, earth, iron, youthful, 97 pts
1966 Château Latour Grand Vin (Ron)
Classic Bordeaux, not a lot of fruit left, 93 pts
1971 Château Latour Grand Vin (Steve)
Deep dark color, peppers, tannic fruit, dust, amazing complexity, very fruity, 94 pts
1966 Ch La Mission Haut Brion (Ron)
Bordeaux character, smoke, straw, ripe fruit, tobacco, a good bottle of this, although I've had even better, 94 pts