Panama hats aren't made in Panama. Who knew? They're actually from Ecuador, which is convenient, because that's where we are today, and I needed a hat.
Yesterday we had a great day at sea. I spent some time in the art studio in the morning ripping off Henri Talouse Latrec with a charcoal drawing, and in the afternoon ripping off Degas with an acrylic. It was my first attempt at acrylic, and I was impressed with the materials, but unimpressed with my ability.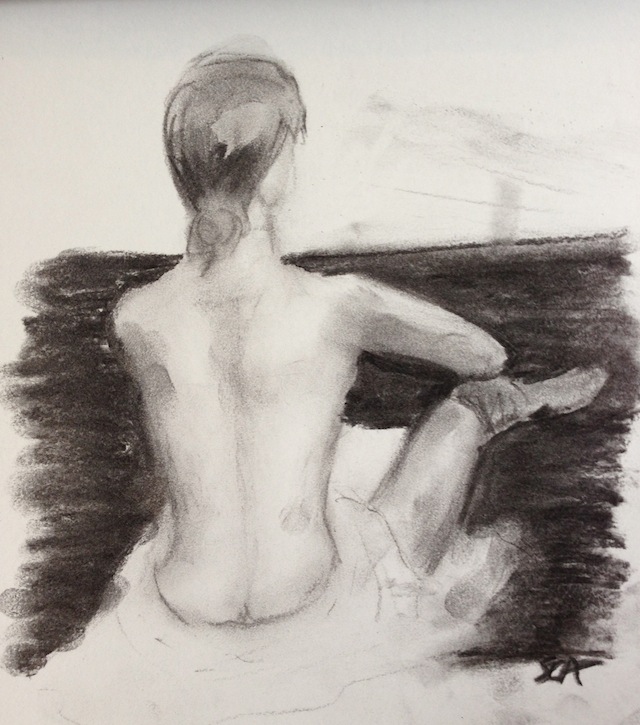 In the evening we went to one of the four specialty restaurants on board, Red Ginger. It was spectacular. Great decor and great food. Highlights were the summer rolls, which included pomello, an asian fruit similar to grapefruit, and the miso glazed sea bass, one of the best pieces of fish I've ever had. It put Le Bernardin in New York to shame.
Speaking of which, yesterday the list of the top 100 restaurants in the world came out, and we've been to quite a few. And of course we disagree with the list. For example, we've been to six of the top 20, and hated three of them (Le Bernardin, Alinea and L'Arpege)! Two of our favorites we have already booked for our upcoming New York stay (Eleven Madison Park and Jean Georges).
Anyway, today we toured Ecuador. The country seems much more prosperous than Peru, and the people were extremely friendly, waving to the buses as we passed. My very limited Spanish was good enough to read the environmental billboards around town; it's nice that they are taking pride in–and taking care of–their country.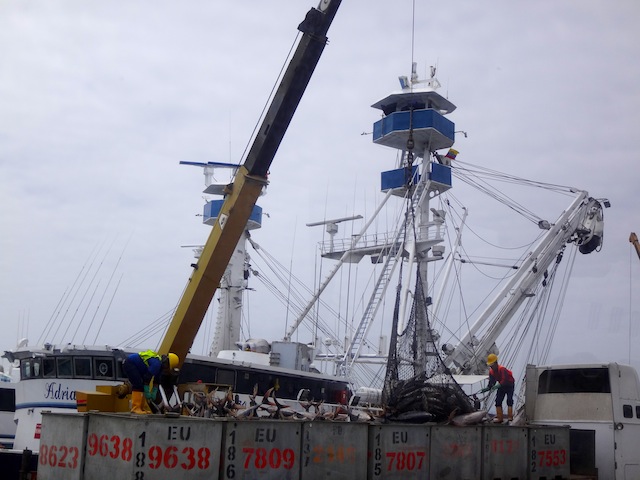 The ship is docked in Manta, a tuna fishing port, and there are massive amounts of tuna being unloaded right next to us. Amazingly, it doesn't smell, I suppose because it is so fresh.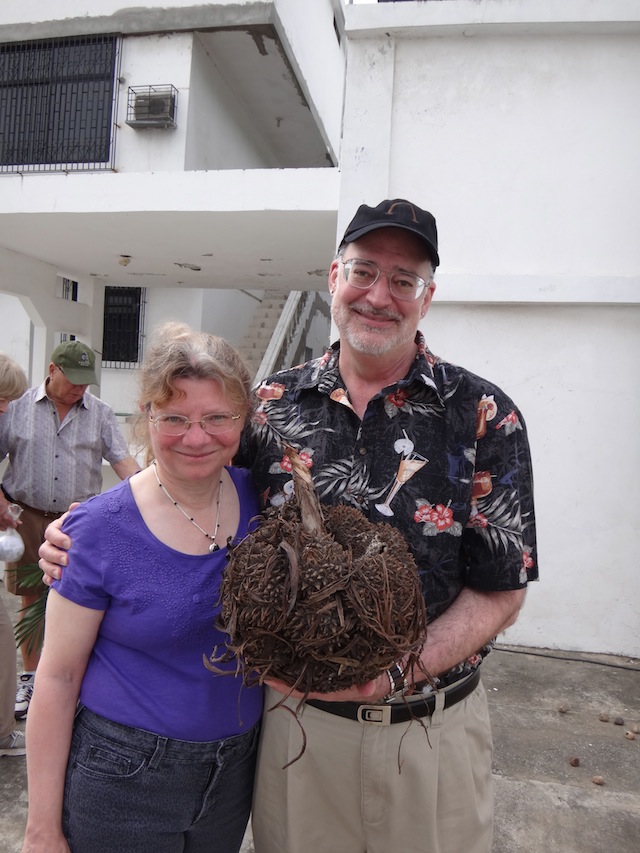 Our first stop was at a house where they make buttons and knick knacks out of the seeds of the tagua plant. These seeds, when dry, are about as hard as ivory, and can be dyed to any color. It was a bit scary watching them saw and grind the pieces with no finger protection.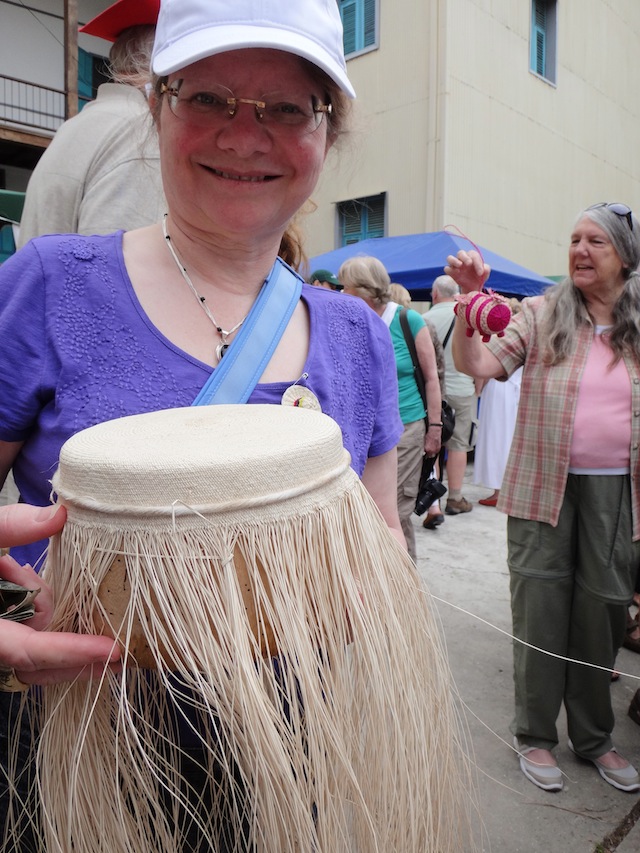 Then we drove up the local mountain, Montecristi, to see Panama (Ecuadorian) hats being made. It's quite labor intensive, with the better hats taking up to six months to make, and costing as much as $1000. I bought the much less expensive $80 version, which was demonstrably better than the $25 version. The vendor showed me how to roll it up(!) and put it in its balsa wood box. Linda got a better deal in the nearby shopping area, buying shawls at three for $10. And yes, the official currency of Ecuador is the US dollar.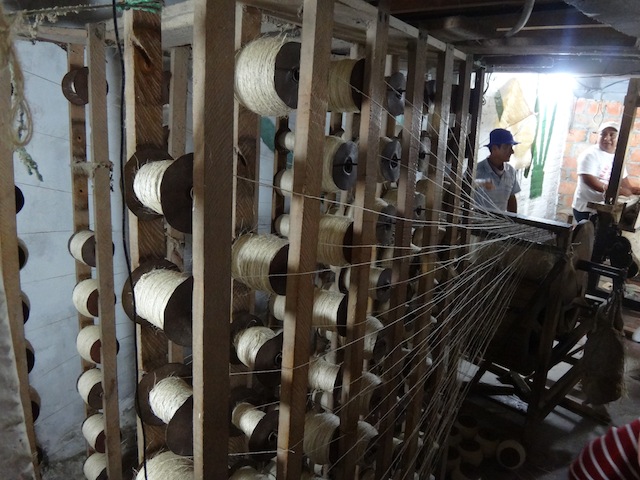 Our next stop was an agave factory, where they were turning the plant leaves into twine, and then weaving it into cloth to make burlap style bags. Personally I prefer my agave to be turned into tequila, but it was very interesting to watch the process: stripping the fiber from the leaves, drying, spinning, and weaving.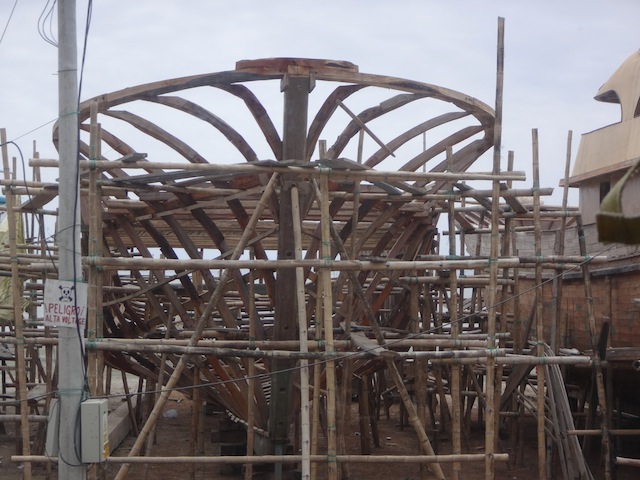 On the way back to the port we passed a shipyard where they build and repair boats the old fashioned way: with lots of wood. Our final stop was back in Manta at a small archaeological museum that displayed a few clay artifacts.
We really liked Ecuador, and there was a lot packed into this three hour tour.