Miami • Aruba • Panama Canal • Limón, Costa Rica • Grand Cayman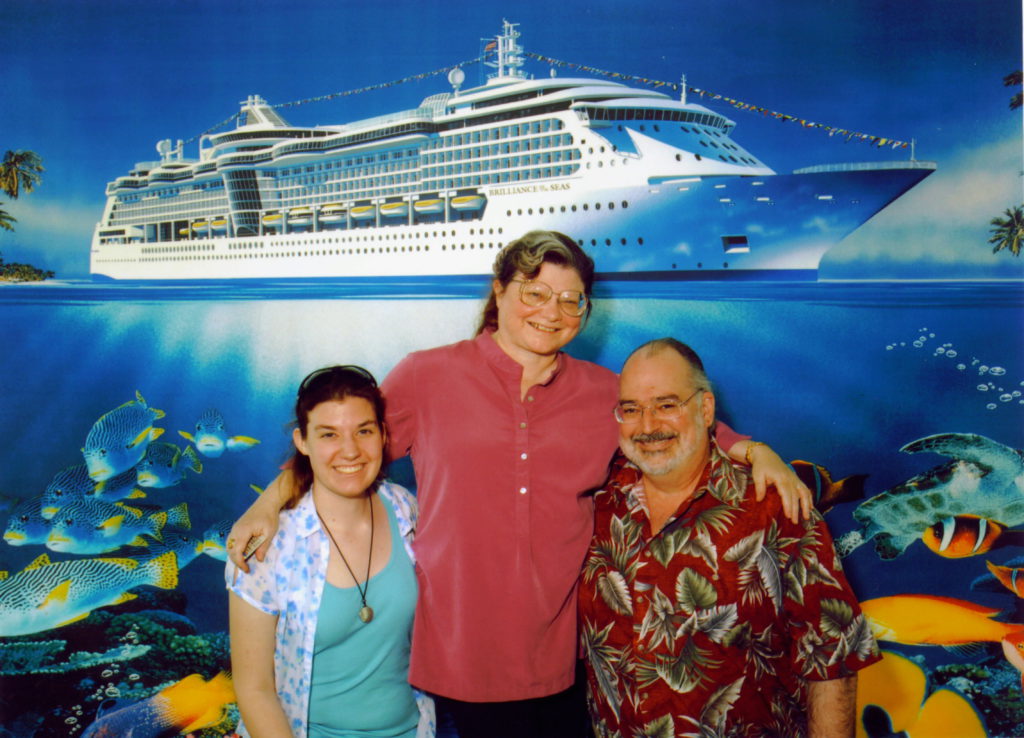 Miami
Friday, March 14, 2008
Since Dani was sick for most of our 2005 spring break trip, we decided to repeat much of that itinerary on a different ship. Besides, it was the only cruise that fit into our schedule and didn't go to all the usual places. And Aruba will be new for us.
We rose early and drove to Miami, arriving before noon. Dani wanted to get a copy of Margaret Atwood's The Robber Bride, so after ascertaining that no one in downtown Miami can read (therefore no bookstores) we drove to a Barnes Noble in Coral Gables which happened to be around the corner from a French place we like, Brasserie Halles. A few books and some cheese later we headed for the port where boarding Royal Caribbean's Brilliance of the Seas was quick and easy.
The ship is more or less the same size as the Coral Princess, it's width — PanaMax — being defined by the Panama Canal. It's much smaller than the other Royal Caribbean ships we've been on, so we'll have to make do without the ice skating rink.
We booked two cabins this time, a junior suite for me, and a hovel in the bowels of the ship for Dani. At least it's an outside hovel. Because Dani is too young to have her own cabin, Linda is theoretically staying there with her. I'm trying to imagine it. . . !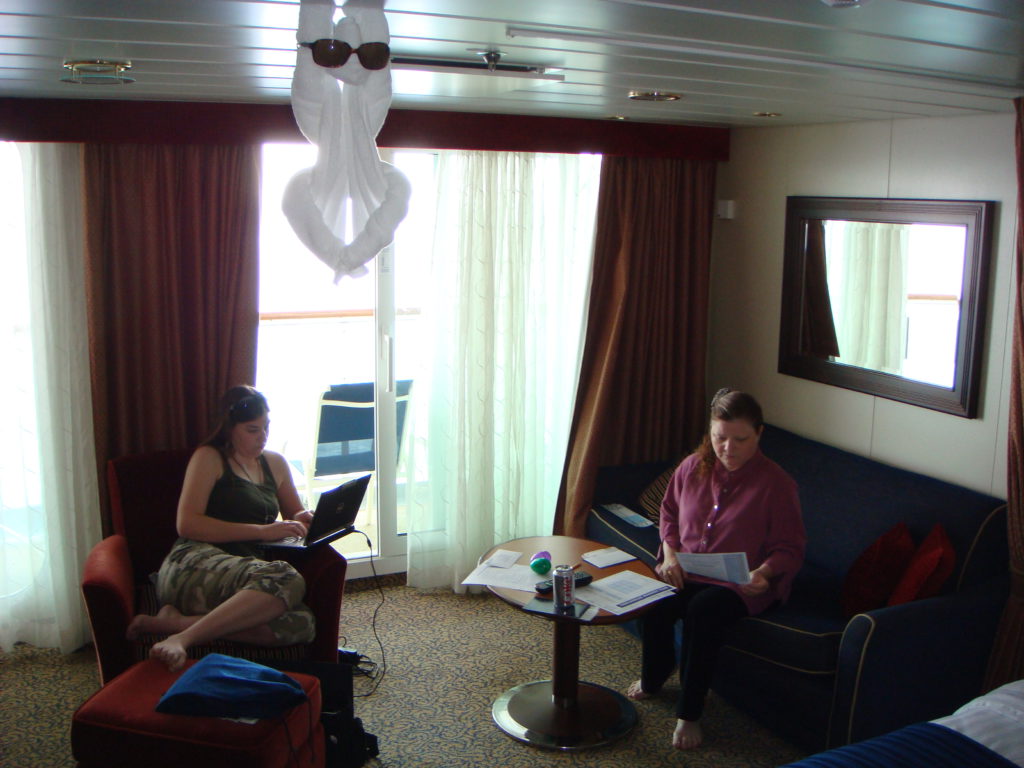 I like the more intimate size of this ship, and it has an interesting asymmetry to it, with glass elevators on one side and a single sided promenade in front of the specialty restaurants, much like on the Coral Princess. The passenger makeup is surprisingly old. I guess all the kids were on the larger Royal Caribbean ship that left port before us.
Susie and Rusty — those traditional Philippine names — were really friendly in the champagne bar, and the food seemed a bit better than on previous Royal Caribbean ships, whose cuisine I've rated at the bottom of all the lines we've traveled.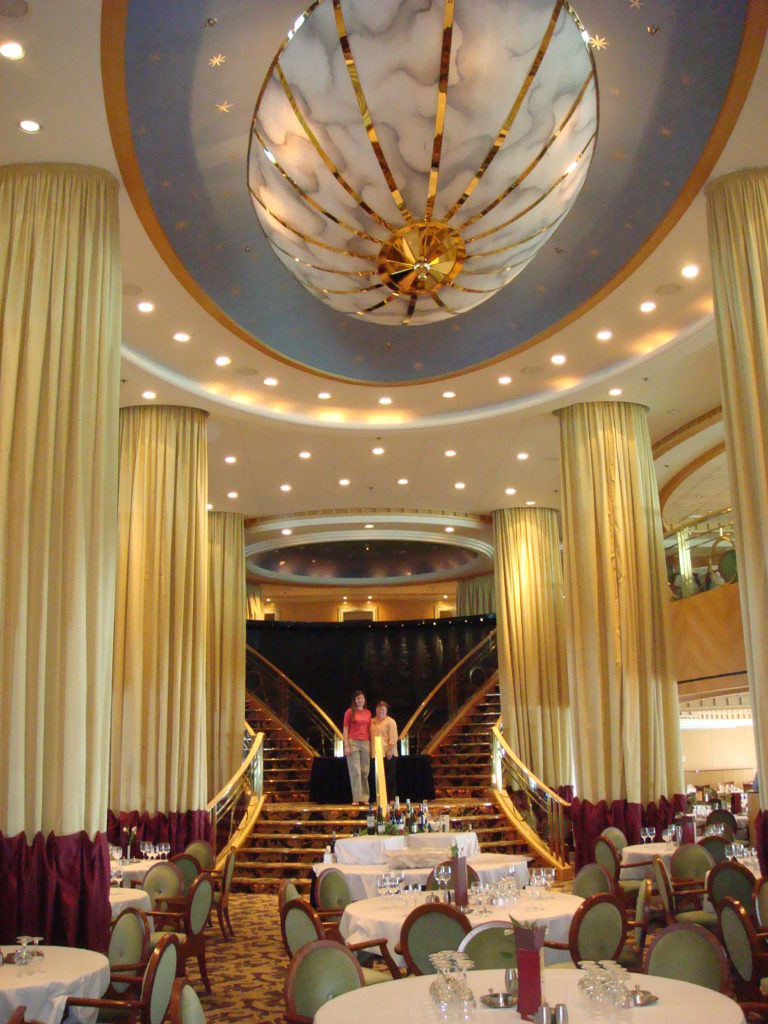 Royal Caribbean still uses assigned seating in the main dining room. Out table is shared with a family from Mexico, who seem quite nice. We have a lot of reservations in the specialty restaurants, so we might not see too much of them.
At Sea
Saturday, March 15, 2008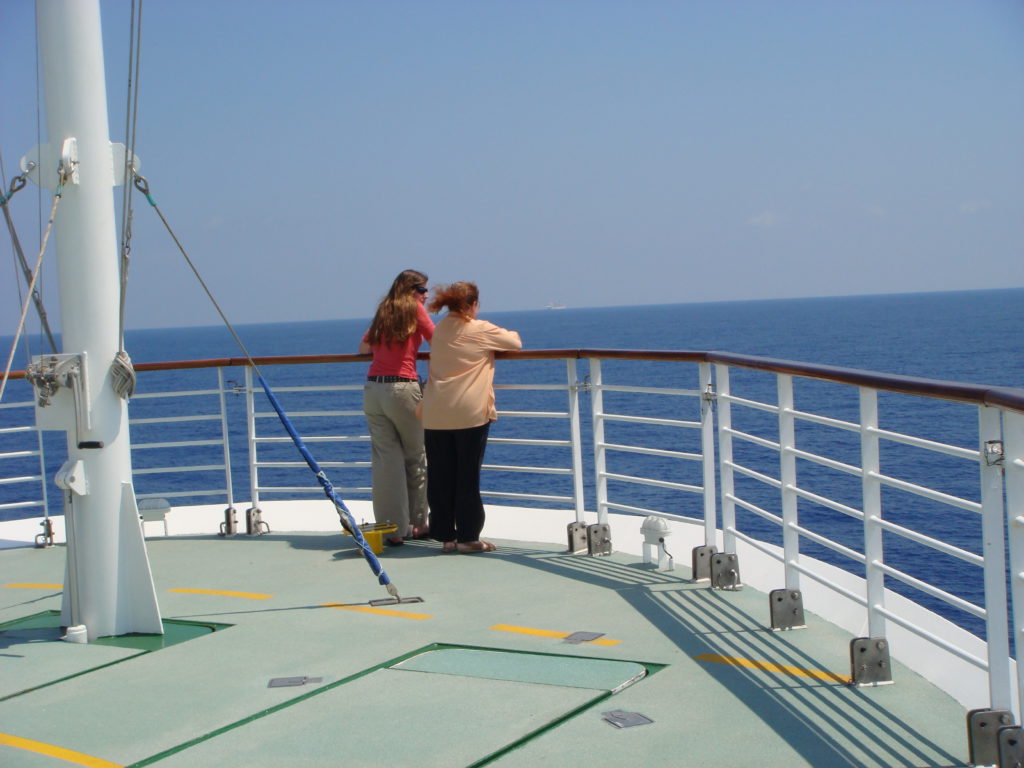 Brilliance of the Seas is the first cruise ship we've been on where passengers can get to the prow. It was very neat leaning over the railing and watching the azure sea vanish beneath the ship.
Dani spotted something skimming over the surface of the waves below us. At first we thought it was a bird, but then we realized it was a flying fish. I had never realized that they really do fly. As long as they're headed into the wind, it seems they can stay aloft for a half minute or more, and they could easily out pace the ship. Their silver green bodies looked somewhat alien, and their "wings" reminded me of hang gliders.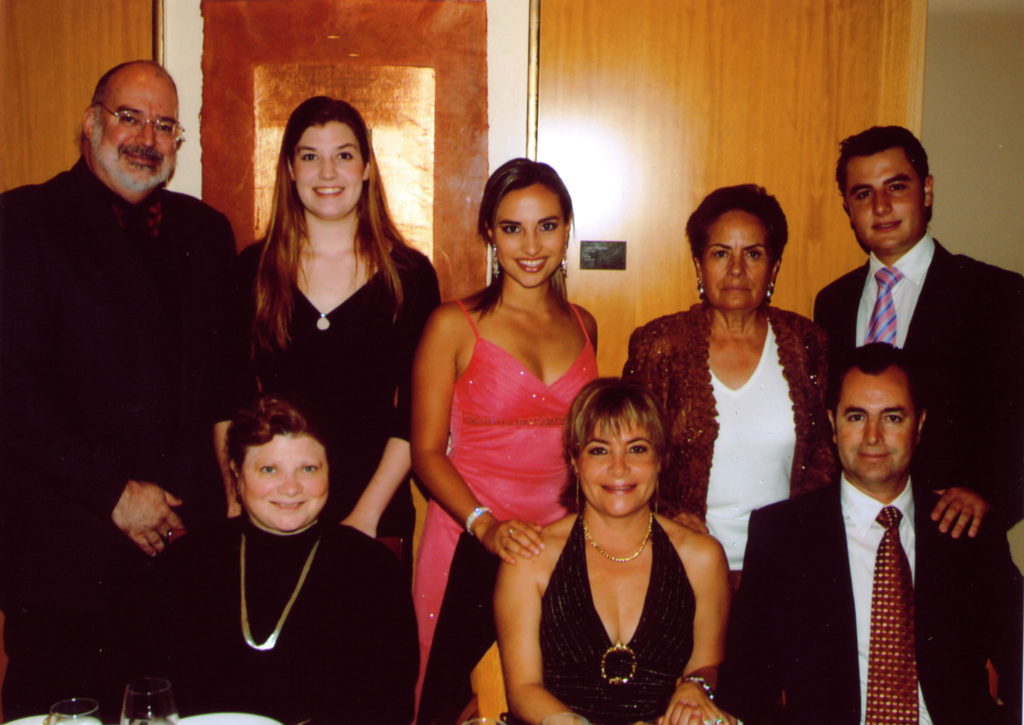 It was formal night, We had a lovely dinner with our friends from Mexico and then went to a 'contemporary' Broadway show. Funny, I'd never regarded Cole Porter as a contemporary. It was actually fascinating to watch the slightly talented cast struggle to stay with the slightly talented musicians as they performed a show designed by a wholly untalented director. As Dani said, "If they'd tried harder, the couldn't have sucked more emotion out of each number."
At Sea
Sunday, March 16, 2008
A lazy day at sea. Although the ship is the same size as the Coral Princess, it seems there's less to do on board, since they don't have the ceramics studio or the ScholarShip at Sea educational programs. But it was a good day for reading, writing and relaxing.
Oranjestad, Aruba
Monday, March 17, 2008
Aruba was very different than we were expecting, much more like a desert than a tropical island. An advantage is that it doesn't get hurricanes, but on the other hand it doesn't get much rain, either, as a result, there is a lot of sand and cactus, and — incongruously — some really large boulders.
I think this is the farthest south we've been in the Caribbean, as we're only 17 miles off the coast of Venezuela. The island of Aruba is a Dutch colony with an independent government the past few years. The people are descended from natives and Spanish, and speak Dutch, English, Spanish and their own Creole. Despite Dutch being the official language, there was little evidence of it except in street names. Of course, the major industry is tourism, and 75% of the tourists are from the US, so we were well insulated .
To get an overview of the place, we took The Best of Aruba tour, which seemed to be the choice of the old and infirm. Our first stop was at the Casibari rock formations, where a short set of stone steps — and a bit of a crawl through a hole between the rocks– brought us to the top of a really big boulder. The view from there encompassed three fourths of this nineteen by six mile island, but was mostly of sand and Oregon pipe cactus. It was cool crawling through the crack, though.
The next stop was at the natural bridge, which, in quite a natural way, fell down in 2005. There is a smaller one still standing nearby, with a big danger sign next to the giant crack. Most of the tourists seemed to ignore this, though, and stepped right over onto the crumbling outcrop. I mean, it's too big to fall down, right?
We stopped at Aruba Aloe, a surprisingly tiny factory where they make a wide range of products using — you guessed it — aloe. These products are mostly packages the same two ways, do to the fact that the factory has only two small bottling devices. We learned that aloe is good for cuts, sunburn, dry skin, hair conditioning, stomach ailments, losing weight, age reversal and reducing the national debt — of Aruba, anyway.
Our final stop was a the California lighthouse, so named because it was erected on the spot where a ship named the California wouldn't have run aground if there had already been a California lighthouse there.
Then about half the group was dropped off at a mall, and the rest of us were dropped off near the cruise ship. This area is called "downtown" although it's really just a street of tourist shops and government offices, with a lot of noisy traffic. We had a tasty lunch upstairs in an open air restaurant named Iguana Joe's, and then retreated to the ship.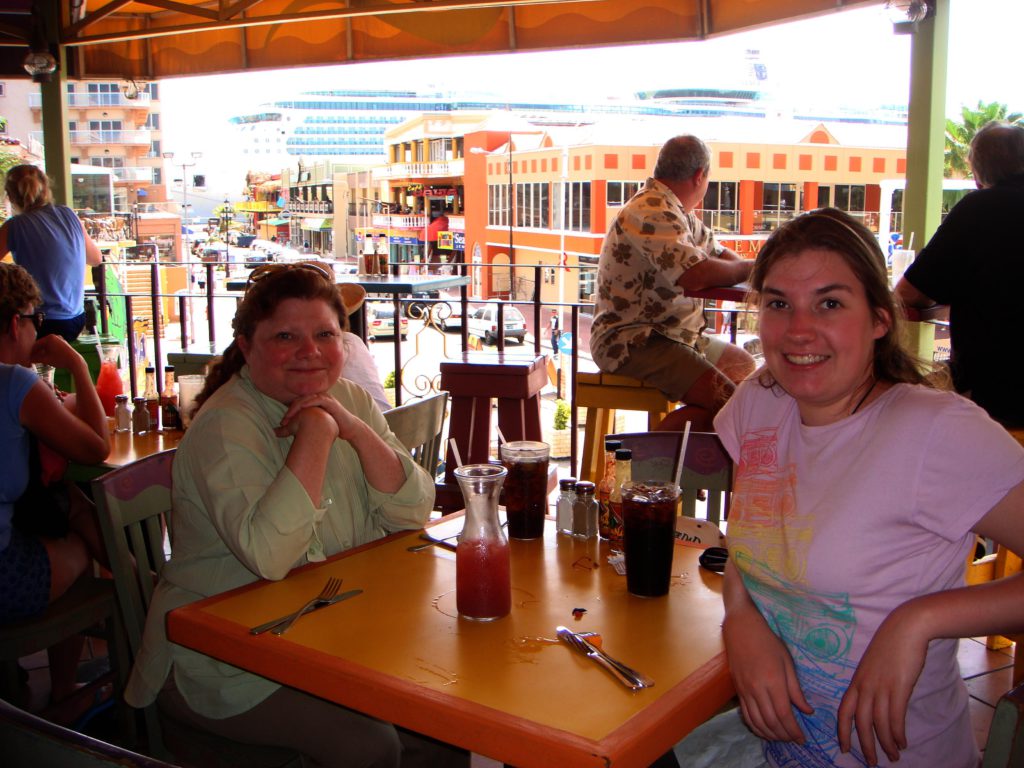 Overall I was disappointed in Aruba, because I was hoping it would be less the touristy Caribbean port and have more of its Dutch heritage in evidence. I suppose it's great for beach lovers, but otherwise a three hour visit seemed plenty.
At Sea
Tuesday, March 18, 2008
A quiet day at sea. The cruising was surprisingly smooth, considering the 7-10 foot seas, but they were coming from the stern, and just seemed to hurry us on.
In the evening we attended the Murder Mystery Dinner Theater, held in the Colony Club and Portofino Restaurant. Six members of the entertainment cast acted out parts in a comedy murder mystery. During dinner we had a chance to interview each character for clues, and then a prize was awarded to one of the guests who had the correct solution. The acting was quite good, and the characters were very entertaining. It was probably the highlight of the onboard experience.
Panama Canal
Wednesday, March 19, 2008
We began our approach to the canal about 6:30 AM. Although it turned out we could have taken either side since they were both running the same direction this morning, my selection of a Starboard cabin proved to be the correct choice, and we had a great view of the locks from our balcony. An added bonus was that a US Navy submarine made the transit in the adjacent locks, complete with armed escorts. Pretty cool.
The Internet was down most of the day, which was a bit aggravating since it's the first day of new ed2go classes, but it came back up in the late afternoon. We docked briefly to pick up passengers on shore excursions, but I skipped the two hour visit to the flea market that's operated by half naked natives. Linda and Dani bought traditional native goods: carved wood, painted feathers and a bent license plate.
We had a nice dinner at Chops Steakhouse, the nicest restaurant on board.
Limón, Costa Rica
Thursday, March 20, 2008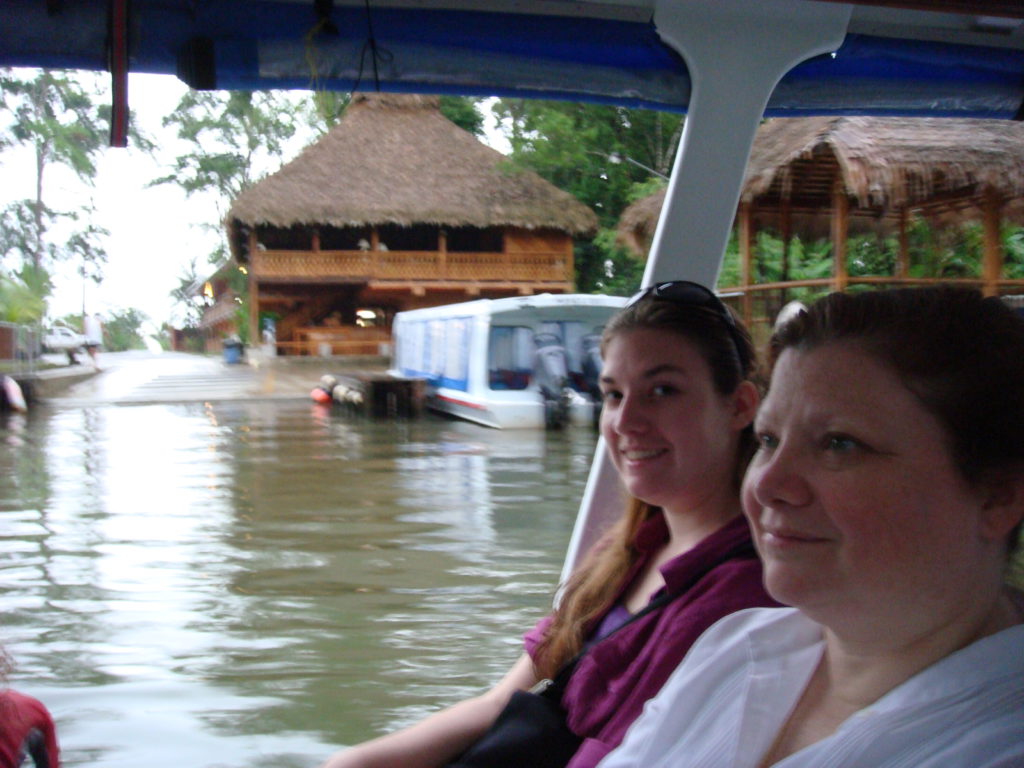 Today we more or less retraced our steps from a tour three years ago, visiting the aerial tram in the rainforest that's about two hours west of Limón. This time we stopped for a boat ride along the way. Our 17 passenger flat bottomed boat navigated a mile of twisty canal through jungle, where we saw a sloth, a small crocodile called a caiman, a sloth, monkeys, and a Jesus Christ lizard, so-named because it runs on two legs across water while waving it's front legs like a girl, just like Jesus.
The rainforest was, indeed, rainy when we arrived, but held off for our glide through the treetops. We had a traditional Costa Rican lunch — rice and beans, of course — before taking a nature walk.
Our guide for the walk was extremely interesting, and pointed out dozens of things we would have missed, accompanied by fascinating explanations. The most interestering were the leaf cutter ants, who carry chunks of leaves back to their nest where they use them to grow a fungus that they eat. On top of some of the leaves are smaller guard ants, whose job is to keep a fly from laying an egg on the leaf. The eggs turn into worms that eat their fungus.
After the walk we boarded the bus for the 90 minute drive back to the port. Even though Limón itself is pretty much a dump, I really like Costa Rica. The people take great pride in their stability, health care and educational systems, and lack of an army. And it's neat being in a place where anything that falls on the ground grows.
One interesting aspect of Costa Rica is the way addresses work. A typical address might read: "From the church go 400 meters north and turn right. After 200 meteres turn left at the store and it's the third house on the right with the yellow door. " Needless to say, mail delivery in Costa Rica takes a long time.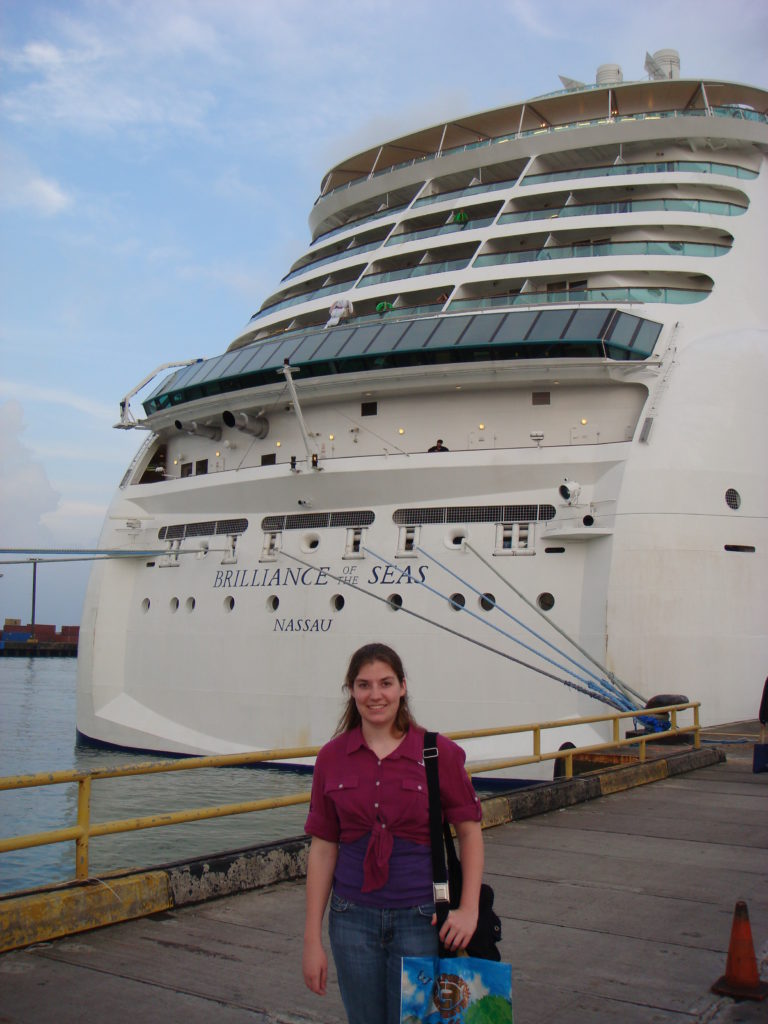 Linda and I had dinner at Portofino, where everyone wanted to know what happened to Dani, who decided to relax and have room service in her cabin.
At Sea
Friday, March 21, 2008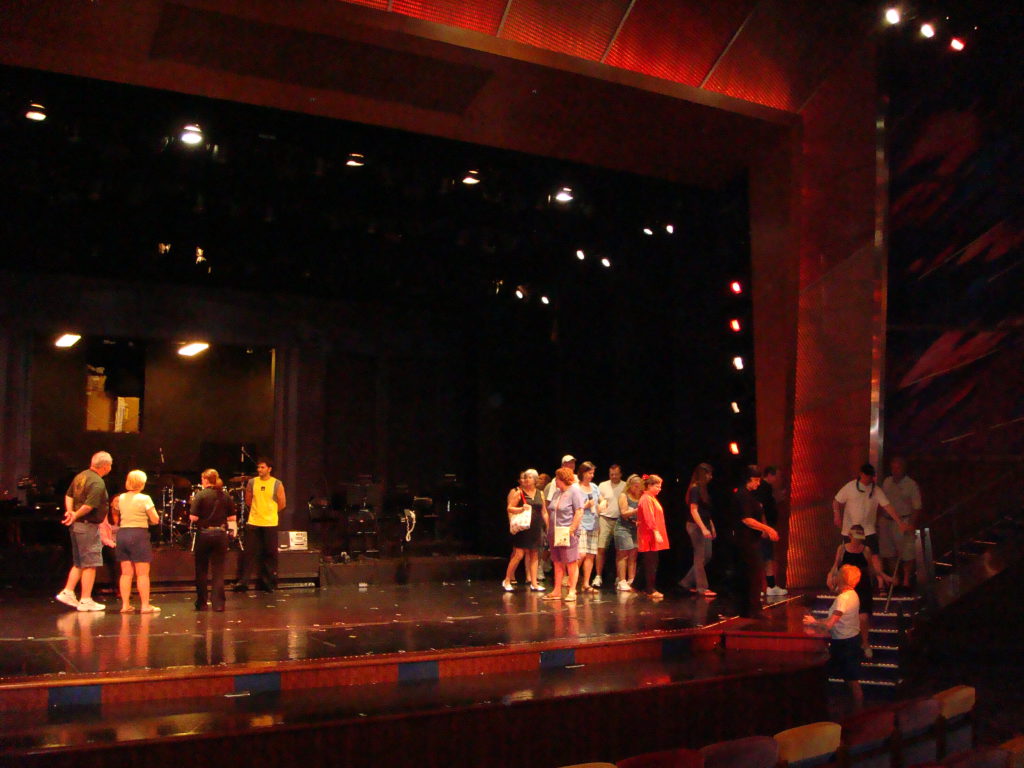 We went on a very interesting backstage tour of the ship's theatre today. It gave us a chance to visit the lighting booth, sound booth, stage, and dressing areas, and listen to presentations by technical personnel, stage hands, and performers. I was nice to see Alcorn McBride IO64s in the lighting booth, although the lighting technician didn't really seem to know what they did. There was also a Richmond Stageman system and two lighting boards. The 52-channel mixer is large, analog, and unautomated.
Dani and I discovered that the best lunch onboard is a the Seaview Cafe, a very small table service restaurant at the back of deck 12. It looks like it was designed to be counter service pizza, but now it has about half a dozen tables. Its obscure location and the fact that it doesn't open until afternoon keep it from being crowded.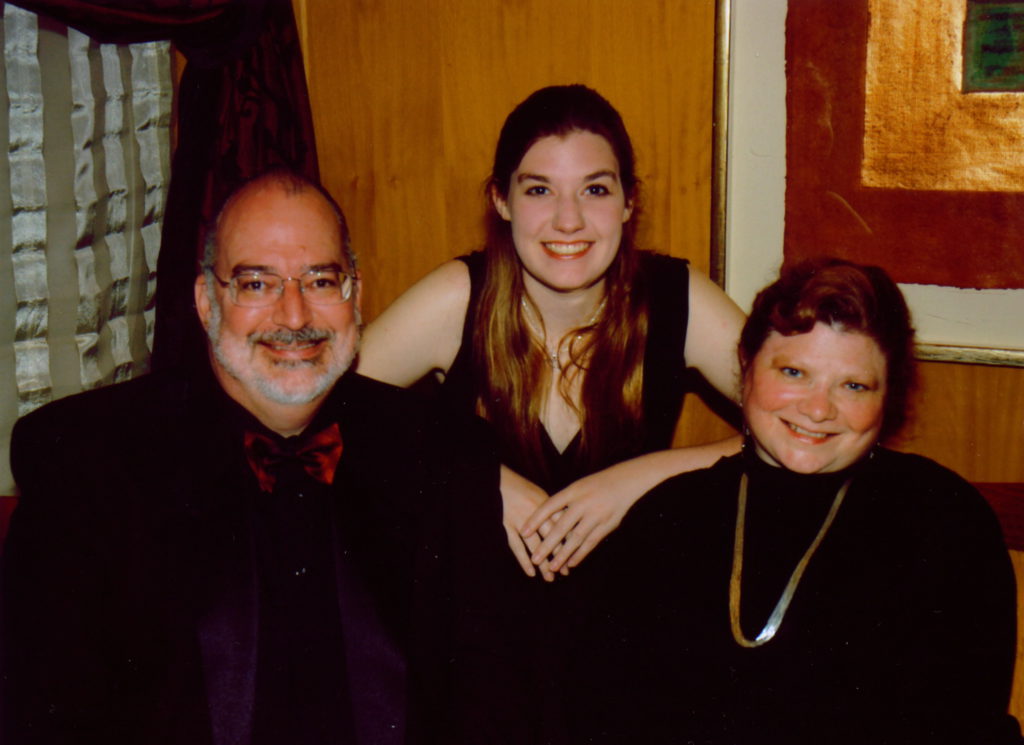 We rejoined our dinner companions in the main dining room for the traditional formal night lobster dinner.
Grand Cayman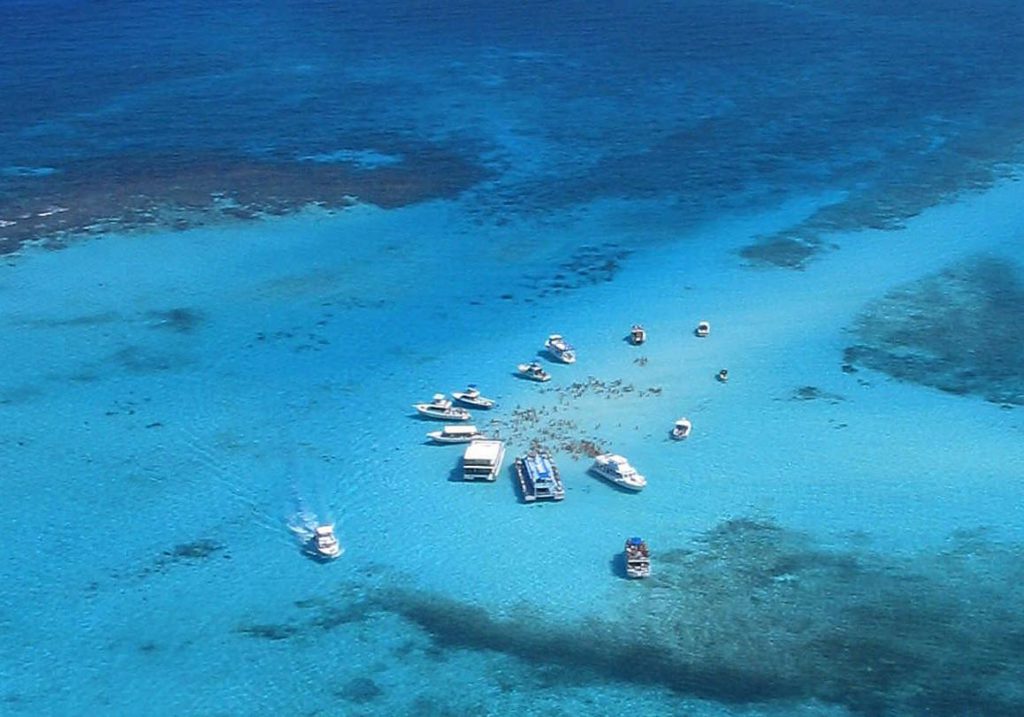 Saturday, March 22, 2008
Today we had the best Caribbean shore excursion ever. Dani and I took the tender to the island and then a van to the far sight, where about forty of use boarded a dive boat. After a 45 minute trip we arrived at Stingray City, a sandbar that is home to hundreds of stingrays. Wading around in the waist deep water, we fed, petted, held and kissed(!) the stingrays for close to an hour. The stingrays really seem to enjoy being held, at least once they've been fed.
We learned that the large dark ones are females, and the smaller gray ones are males. The males have a unique characteristic: two "willies," as our guide put it. I'm not sure why this is useful, but it conjures up some interesting possibilities.
Our second stop was nearby, at the barrier reef, where the coral and fish varieties rivaled those of Australia. The snorkeling was easy in the three to ten foot deep water. Our guide coaxed a moray eel from its hideout, which was pretty exciting. I'd never seen both ends of a moray eel at the same time!
This was the same trip I took three years ago when Dani was too sick to go, but what a difference the guides made! There was so much hand-on time with the stingrays on this outing. The trip was also very professionally photography and videotaped. The photographer made CDs right on the boat, and the videographer edited in music and delivered professional DVDs to the ship before we sailed. If I could only do one outing in the Caribbean, this would be it.
We had dinner in the main dining room. Our friends from Mexico didn't join us because the grandmother — who has Alzheimer's — wasn't feeling well. They didn't miss much, as almost everything on the menu tonight was fairly awful.
At Sea
Easter Sunday , March 23, 2008
After several rocky days at sea due to up to 40 knot cross winds, today was very smooth because we had a 5 knot tail wind. We're averaging over 20 knots to make the 600 miles back to Miami by early tomorrow morning.
This afternoon we attended an interesting presentation by the Captain and Chief Engineer about the operation of the ship. It's powered by dual turbines spinning at 7500 rpm, which generate many Megawatts of power to drive the two azipod outboard propellers, which can each rotate 360 degrees. The high speed of the turbines explains why there is absolutely no engine vibration on this ship.
The Captain indicated he didn't think any more cruise ships would be built this way, because although the small size of the turbines allowed them to add 50 cabins, they require fuel that is now more than twice the cost of regular diesel sludge. In fact, the ship is going into dry dock in two months to have a hole cut in the side and a diesel generator added for times when power requirements are low, such as when they are in port.
Miami
Monday, March 24, 2008
We arrived in Miami before dawn. Total distance sailed: 3,200 nautical miles.
We disembarked at 8:30 and made great time on the drive home, and were back before 2pm, including a stop for lunch. .
Things to remember for next time
Royal Caribbean food is a rung below NCL and Princess. It also seems like there aren't a lot of food venues. It's mostly concentrated in the Windjammer buffet. They seem to be reaching to appear to additional venues: The Solarium Cafe is six saran-covered plates of pre-made sandwiches and a thermos of coffee!
Internet access of this class of ship is poor. The cabin jacks don't work, and expensive wireless is available only in a few areas.
There's not a lot to do on the Brilliance of the Seas class if you're an adult who doesn't want to lie by the pool or gamble. I miss the Princess art and education programs. The larger Royal Caribbean ships also offer more variety, with their interior main street. .
The entertainment on this ship was mediocre at best, except for the Mystery Dinner Theatre, which was wonderful.
Aft on deck 10 turned out to be a less than optimal cabin location on the Brilliance of the Seas, not because it was aft, but because it was under the Windjammer, with its constantly moving chairs and carts of dishes and dropped silverware. Earplugs were a definite must at night.
Panama, Limon and Grand Cayman are all interesting ports. Aruba is not. It's a poor exchange for Belize's cave tubing, which was on our previous itinerary in its place.
Stingray City in Grand Cayman is the best shore excursion in the Caribbean.