Guest post by Dani.
Hong Kong 2017 – Day 6
We had to check out of the hotel at 1pm, but our flight to Sydney wasn't until almost 9pm, so we had a whole day to spend in the city. The only problem was we didn't want to get super sweaty before a 9-hour flight to Australia.
Dad decided to stay in the hotel lounge and catch up on his computer work. Mom and I contemplated going to some antique shops we'd passed earlier in the trip, but ultimately decided to check off one more touristy item from our list and take the funicular tram up to The Peak for a last view of the beautiful city.
The tram has been running since the late 1800s but has gone through a few refurbishments over the years. The last round returned it to a retro look.
Fortunately, we didn't have to wait too long in the queue even though the weather was clear. The journey up is so steep the floors are slanted to help people keep their feet. We sat, but it was still pretty extreme! I used the level function in my phone to estimate the incline and the steepest part was about a 30-degree angle. 
The top was a touristy mall that we basically ignored. Instead, we crossed the street to have lunch at a lovely restaurant called The Peak Lookout. It's been serving refreshments since 1947 and has an eclectic menu to please any palate.
We ate nachos and tandoori chicken and drank Australian chardonnay in an English tea garden on top of a mountain in Hong Kong. It doesn't get any more international than that! Lunch was delicious and very pleasant (except for a butterfly that got trapped in the solarium with us and terrified Mom).
After lunch we went for a lovely amble along a flat and shady path on the side of the mountain. We couldn't see how far down the trail went after it started to descend, but we suspect it might have gone all the way to the bottom.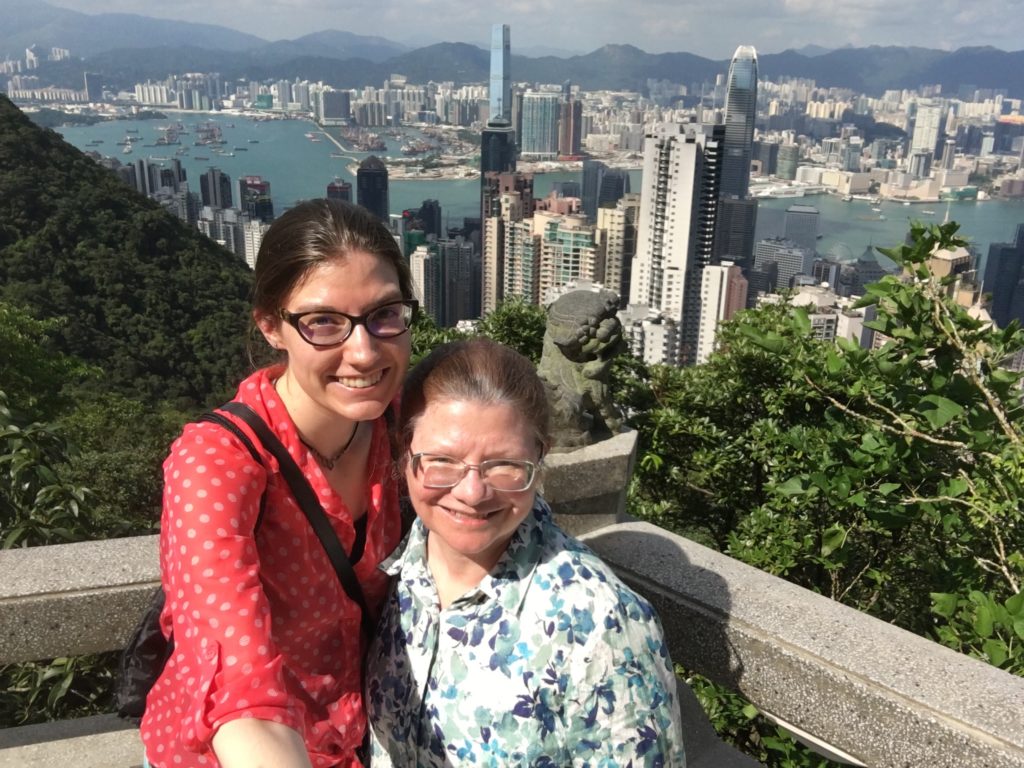 We went up onto the 360-degree viewing platform on top of the mall that was included in our ticket (it was hot and not very inspiring).
We descended via the funicular and again struggled to get a cab back to the hotel to meet up with Dad. Eventually we made it and collected our bags.
A nice driver loaded us and our luggage into a van and took us to the airport. The Hong Kong airport is enormous. There are literally hundreds of gates spread out over miles of hallways.
The super duper lounge my parents were entitled to was on the other side of the airport, so we all made do with the regular lounge our American Express cards get us access to. They served food and I had a decent bowl of noodles (just in case the flight didn't include dinner).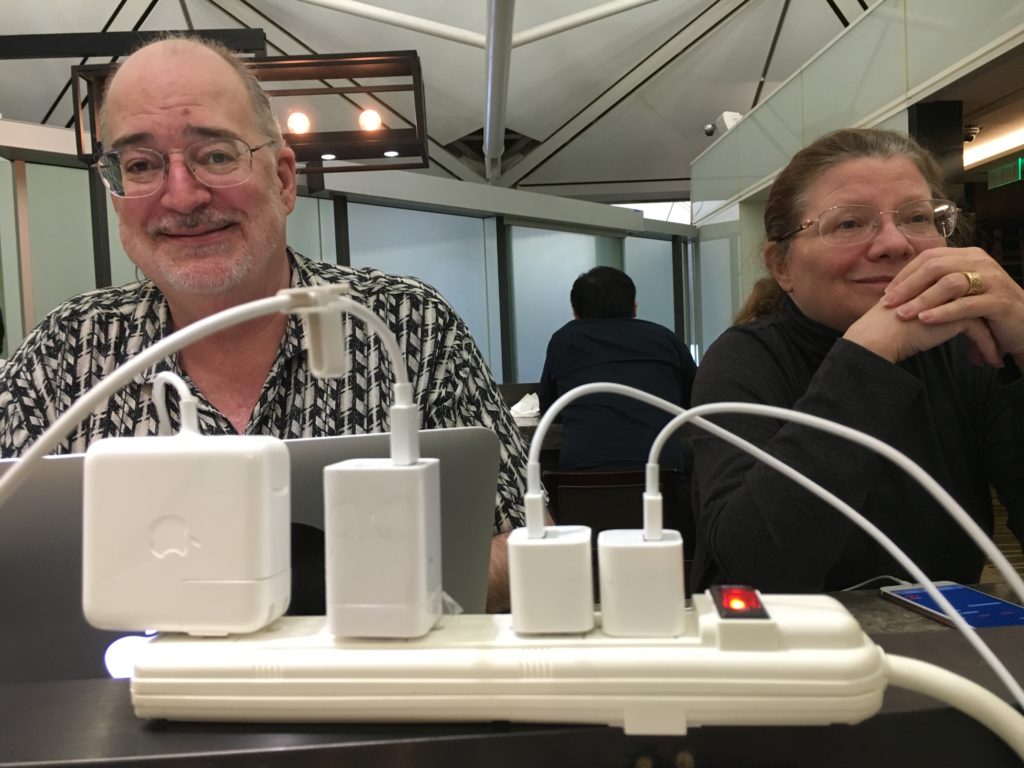 Though sad to leave Hong Kong, I felt like we'd seen a lot of stuff during our stay. I'd been keeping a little black notebook of interesting sights gleaned from my review of the guidebook on the flight over. We crossed many of them off!