Dani is our guest blogger.
Hong Kong 2017 – Day 0
Mom and Dad had access to a deluxe lounge in the airport before our flight to Hong Kong because of their business class tickets. They indulged in such wonders as buffet snacks, a full-service kitchen, and free-flowing champagne.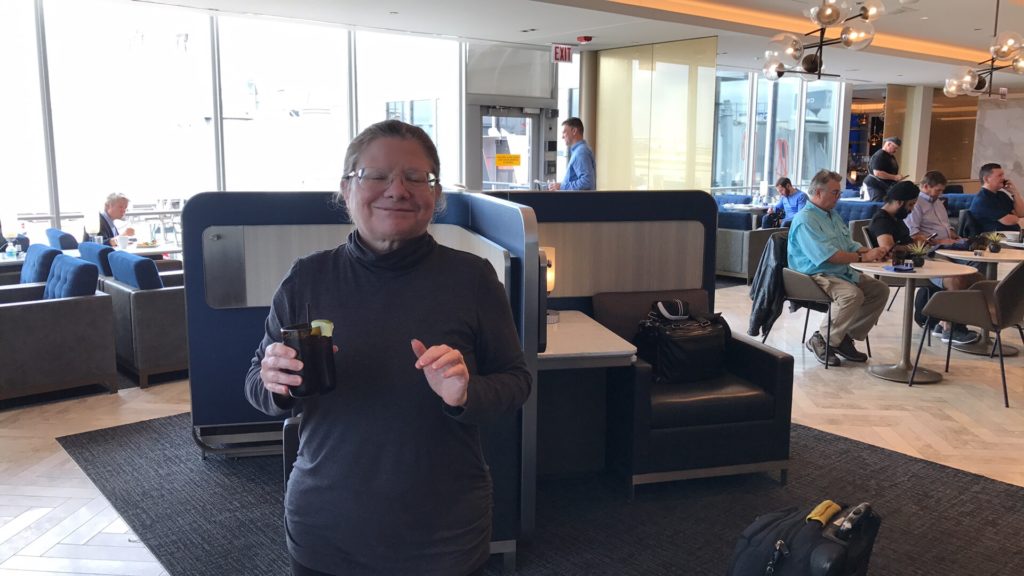 Flying coach, I ate a salad out of a plastic container at the gate.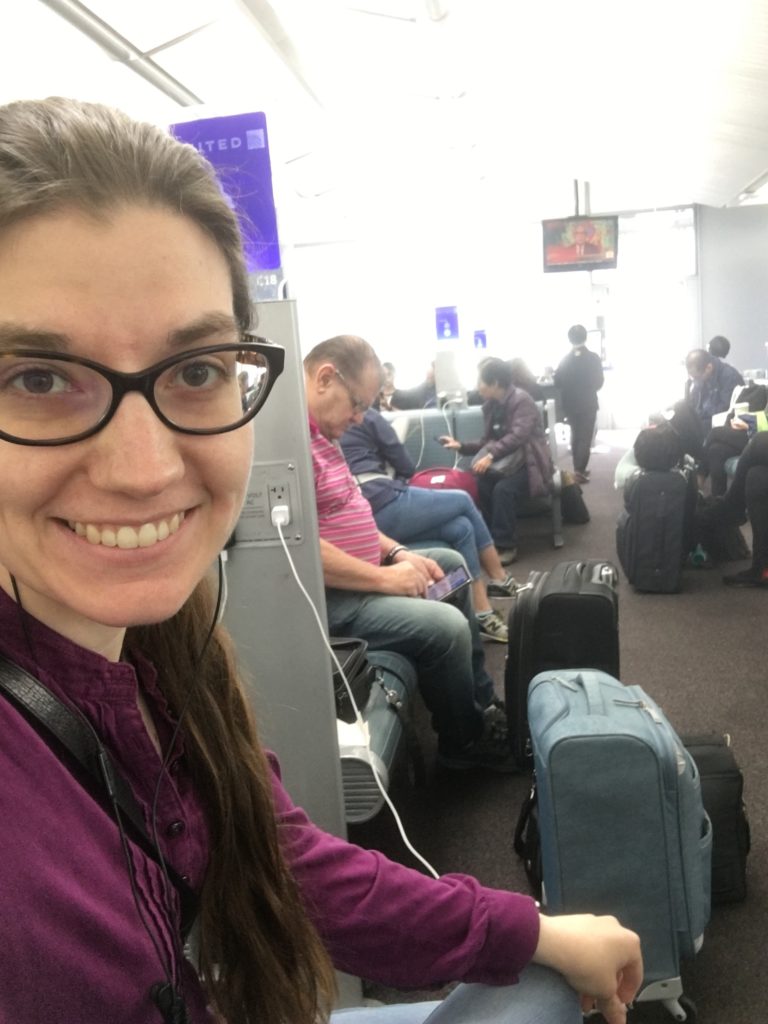 Once aboard, though my accommodations for the next 16 hours were not as swanky, I was pleased to discover the middle seat next to me was unoccupied. This meant extra leg room (albeit on a diagonal) and a place to put stuff other than my lap.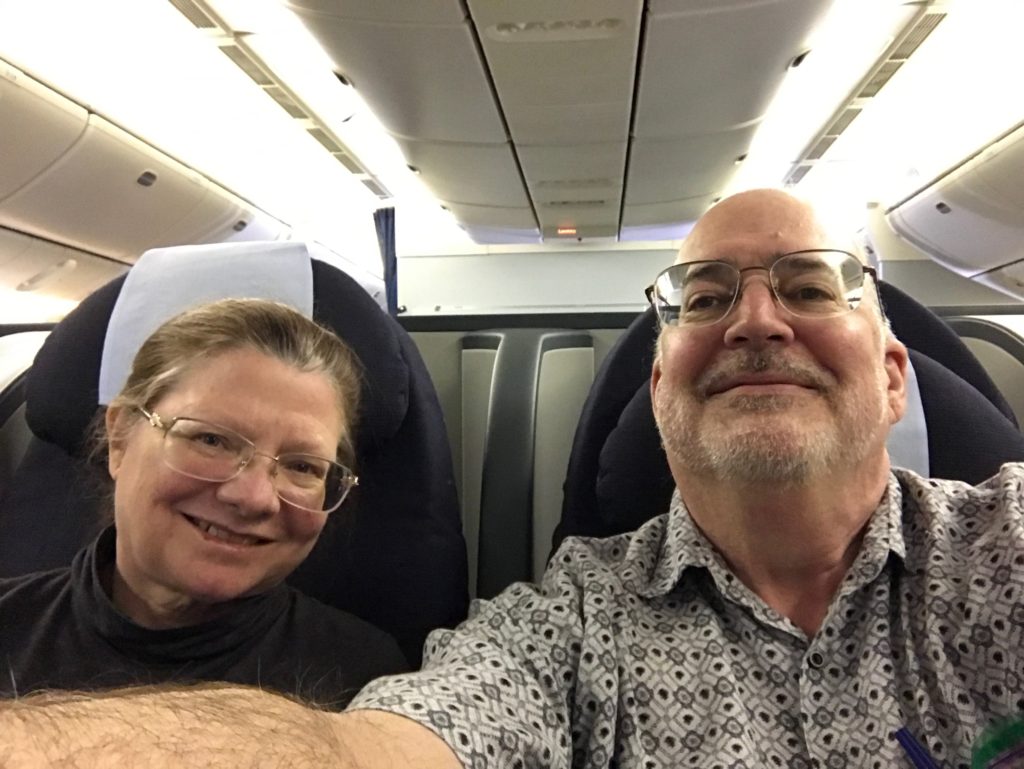 Though it looked a bit like a prison tray, the lunch of teriyaki noodles with vegetables and a side of couscous was actually pretty palatable. I stockpiled the bread and butter for a mid-flight snack. I took an afternoon (Chicago time) nap for a couple of hours. After I woke up, I finished going through the Lonely Planet Guide Book for Hong Kong and watched a movie.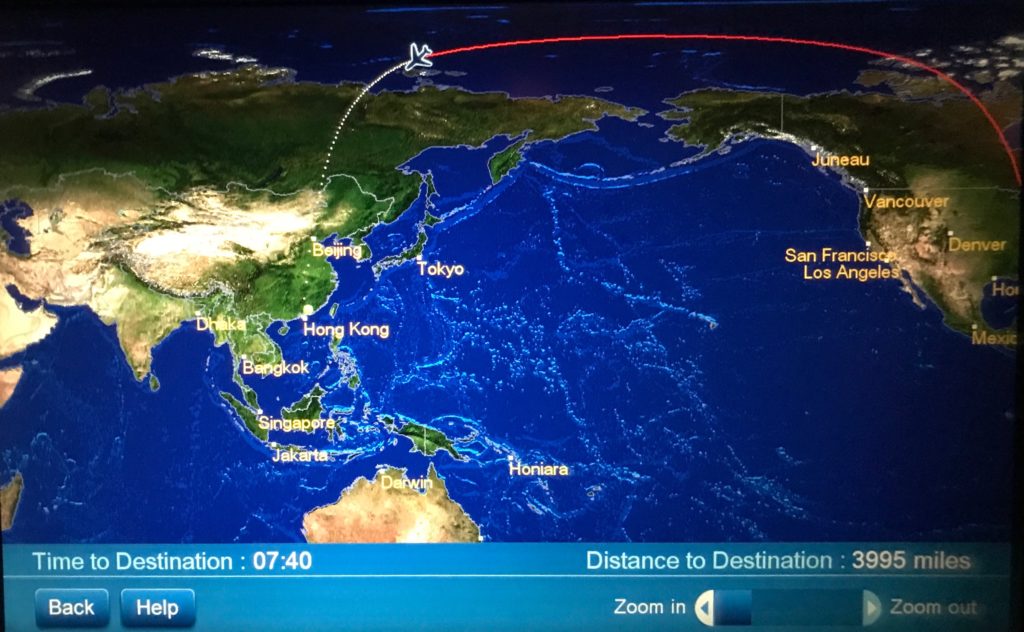 At this point it was time for another afternoon nap (this time on Hong Kong time). Mom offered to lend me a nifty contraption that converts between a square pillow and a neck pillow. It was actually pretty comfy and I managed to get a few hours of sleep. When I awoke the second time, I was pretty able to convince myself it was late afternoon… until they served breakfast. Oh well.
I had a window seat so I got to observe the mountainous islands that dotted our approach. One bridge was so long I couldn't see the end!
After landing, our trip through immigration and customs was painless. Plus, the "priority" stickers a nice young man put on our checked bags in Chicago (thanks business class!) did their job and our bags were the first off the plane.
A limo driver from the hotel met us and stowed our bags away. In all that guidebook reading it never occurred to me they would drive on the left side of the road here! But it makes sense, given the British colonization.
The drive from the airport (at the end of Lantau) to The Grand Hyatt in Central (on Hong Kong Island) was a bit mysterious due to the gathering darkness. By the time we approached Kowloon and Hong Kong we could see the elaborate lights on many of the high-rises.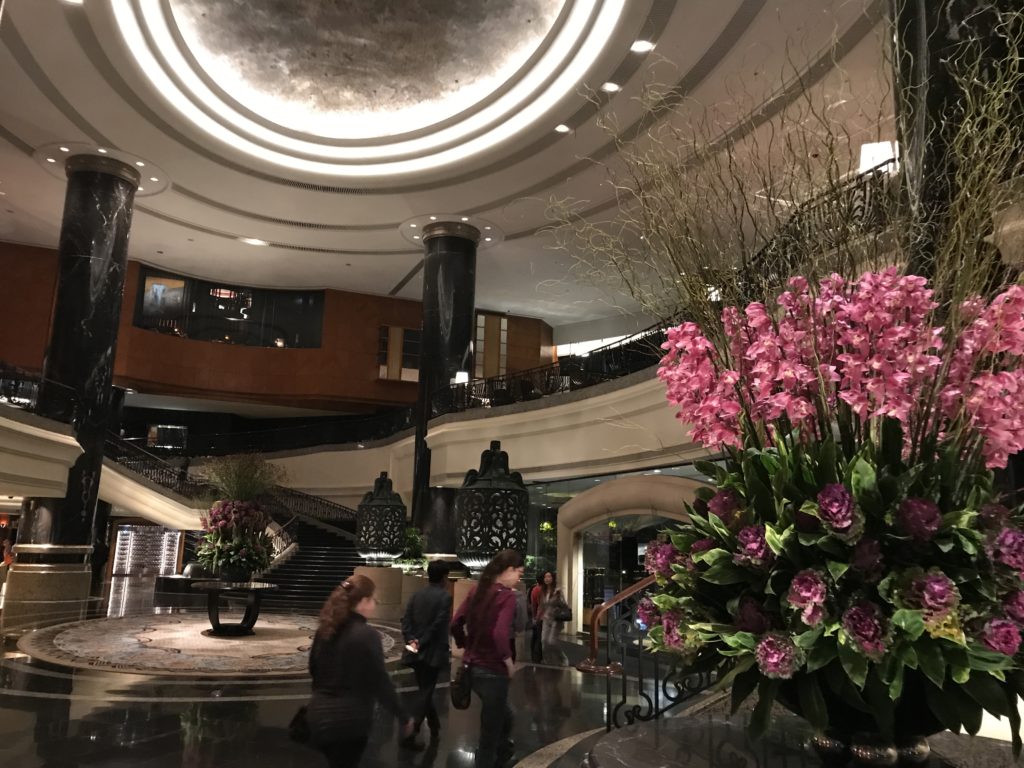 The lobby of the hotel was palatial, which is particularly impressive given that real-estate is so scarce in Hong Kong. Dad booked a beautiful suite with a killer view of Kowloon's skyline. There was an entryway, sitting area, dining table, bedroom, and large bathroom (with an opening into the bedroom… I guess so you can admire the view while you shower?!?). Mom also discovered a small bathroom and closet off the entryway that just looked like part of the wall at first. There were an incredible number of doors in the room (six, not including the shower door).
The package also included free minibar snacks, drinks, some extra goodies delivered in very nice cookie jars, and a bottle of 2015 M. Chapoutier Belleruche Cotes-du-Rhone (too bad it wasn't the 1982 Petrus Mom and I saw displayed downstairs).
We ate dinner (or possibly second dinner) in the hotel's cafe and then crashed.