Guest post by Dani.
Today we were tourists doing touristy things on Lantau Island. Many companies offer guided tours but we decided to roll our own adventure based on the sights/activities I read about in the Lonely Planet guidebook.
Po Lin monastery and the Buddha statue are located at the top of a mountain on Lantau Island. It turns out getting there is more than half the fun.
The most scenic way to go is to take a 20-minute cable car journey from Tung Chung (a city near the airport) up to Ngong Ping (a touristy village with souvenir shops).
The views were stunning.

We sprang for the "Crystal Cabin" which had a glass floor.   It was neat to be able to see through the floor but it actually didn't inspire much vertigo, perhaps because we were seated on regular benches.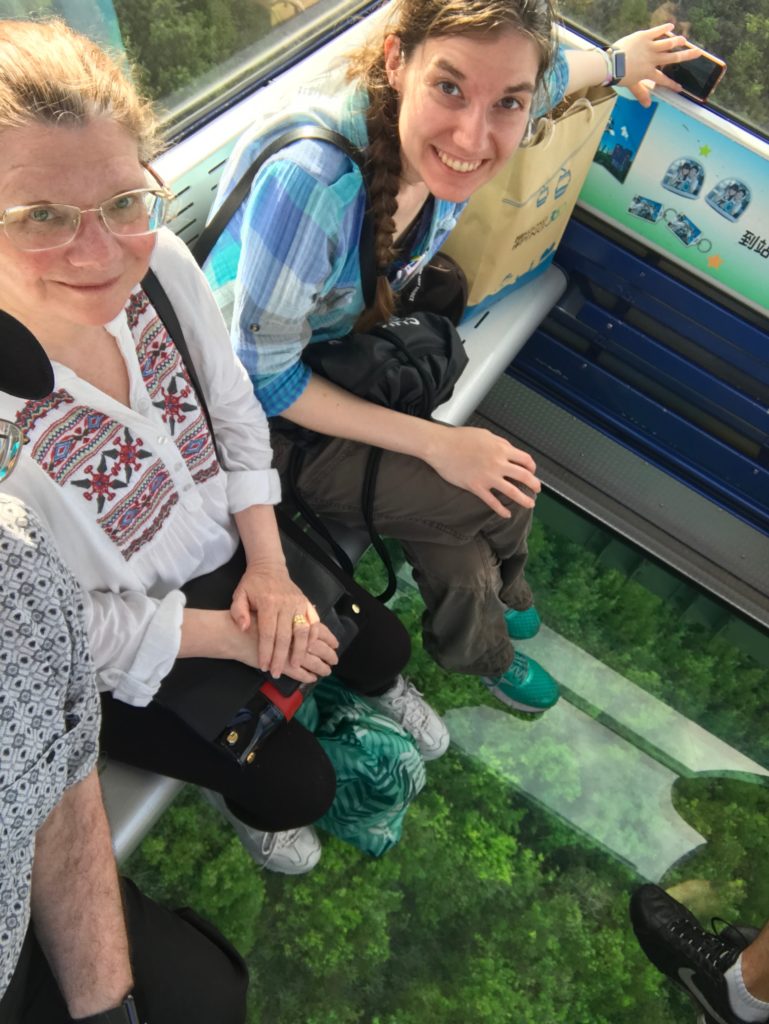 We also downloaded their guided narration to accompany the journey up. A dry English narrator imparted a few interesting facts about the construction of the cable car towers.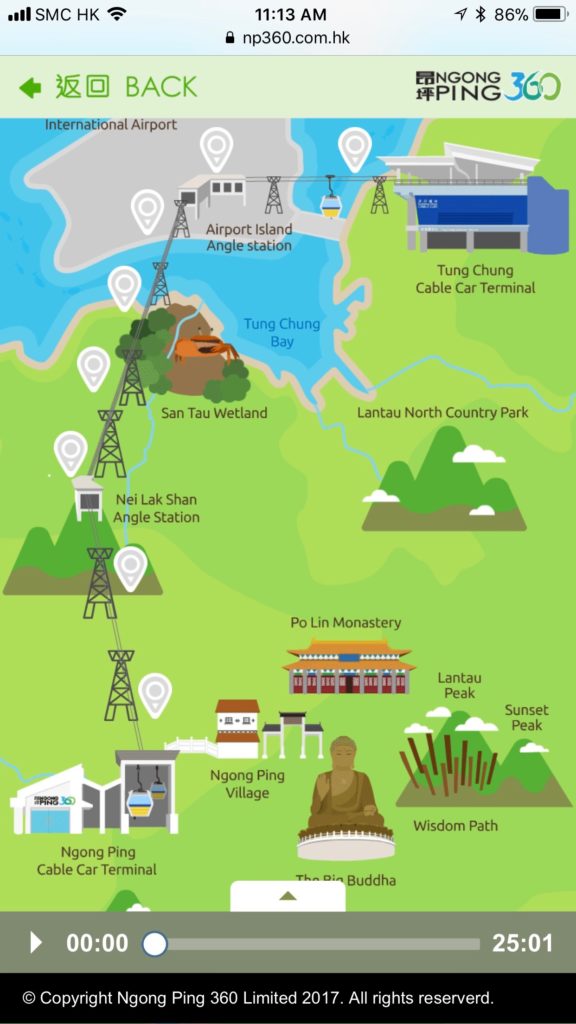 It was quite a feat of engineering. Donkeys were needed to cart supplies up the mountains, since many places are not accessible by vehicle. The number of towers was also reduced to lower the environmental impact. That's also why there's a funny turn on airport island instead of a tower built in the water.
The cars weren't air-conditioned, but they had air vents built into the sides and top which funneled a lovely breeze through the cabin and kept things nice and cool. Below our feet, we could see a long trail winding up and down, populated by a few brave hikers trekking up to Ngong Ping on foot. The most impressive sight was the Big Buddha in the distance as we approached the top.
Close to the terminal, Mom looked through the floor and said she could see a "ball," or maybe a "bowl," but I didn't figure out what she actually saw/said until a bit later (see below).
Ngong Ping was (as expected) a tourist trap. But it was a nice tourist trap. We had an incredibly oily lunch before heading to the monastery and the Buddha statue.
On our way out of Ngong Ping we saw a cow in a planter! All that time Mom had been saying she'd seen a "bull." And then we saw a whole herd of cows resting by the side of the path. They must belong to the monastery and appear in thousands of selfies a day.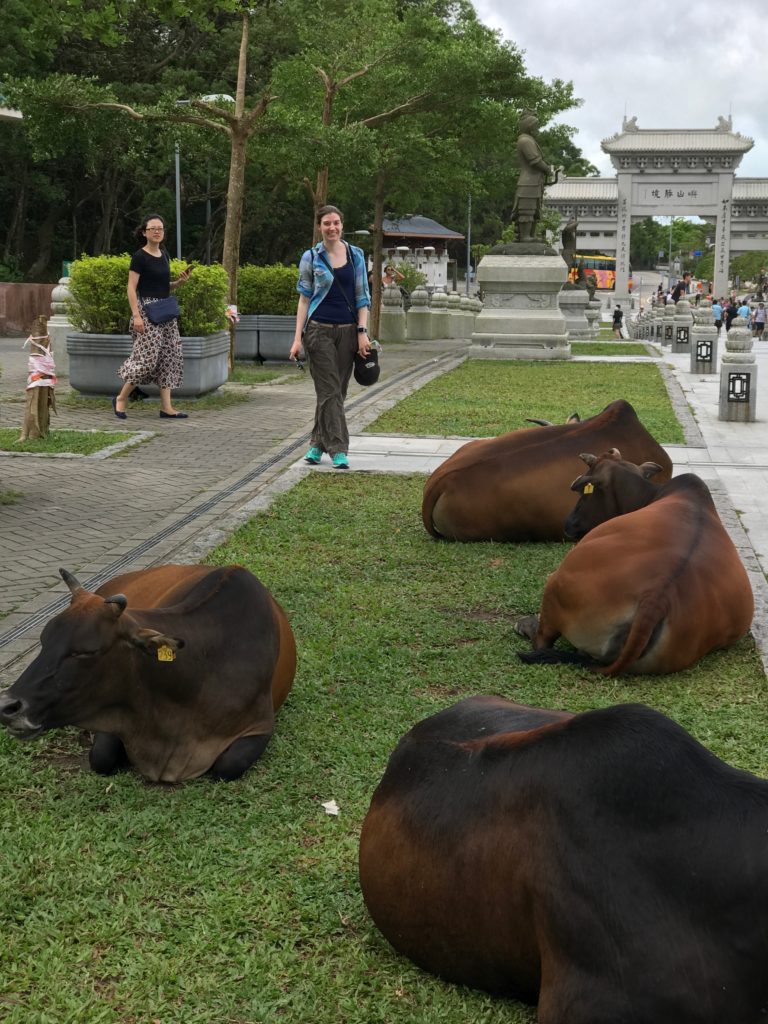 Mom and I decided to hoof it up the 260 steps to see the Big Buddha up close. We tackled the 16 flights a few at a time, pausing frequently to let Mom (definitely Mom, not me) rest.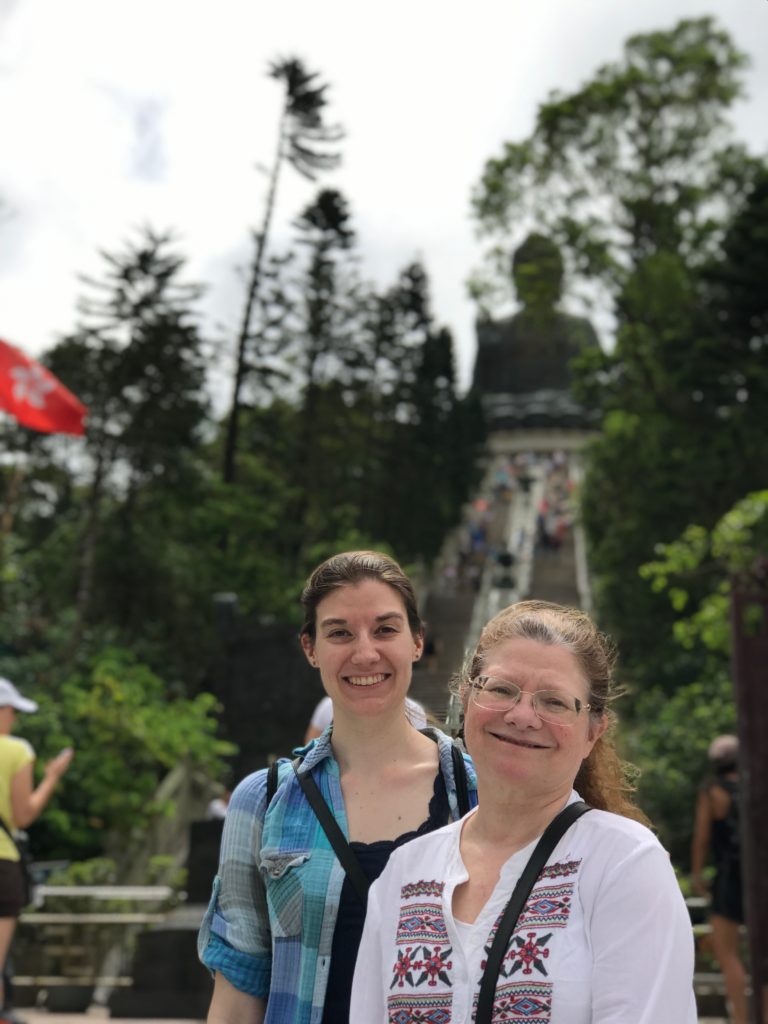 We made it to the top (eventually). We discovered stunning views of the South China Sea and a cool ocean breeze that felt heavenly. There were many tourists taking selfies, but there were also a large number of people praying.
The Big Buddha was quite impressive and an engineering marvel. It took almost 10 years to complete, and ended up made of thin bronze sheets cast to fit over a framework. Artisans overcame numerous obstacles to cast the Buddha's face as one sheet so no seams marred his serene visage. He did look very peaceful.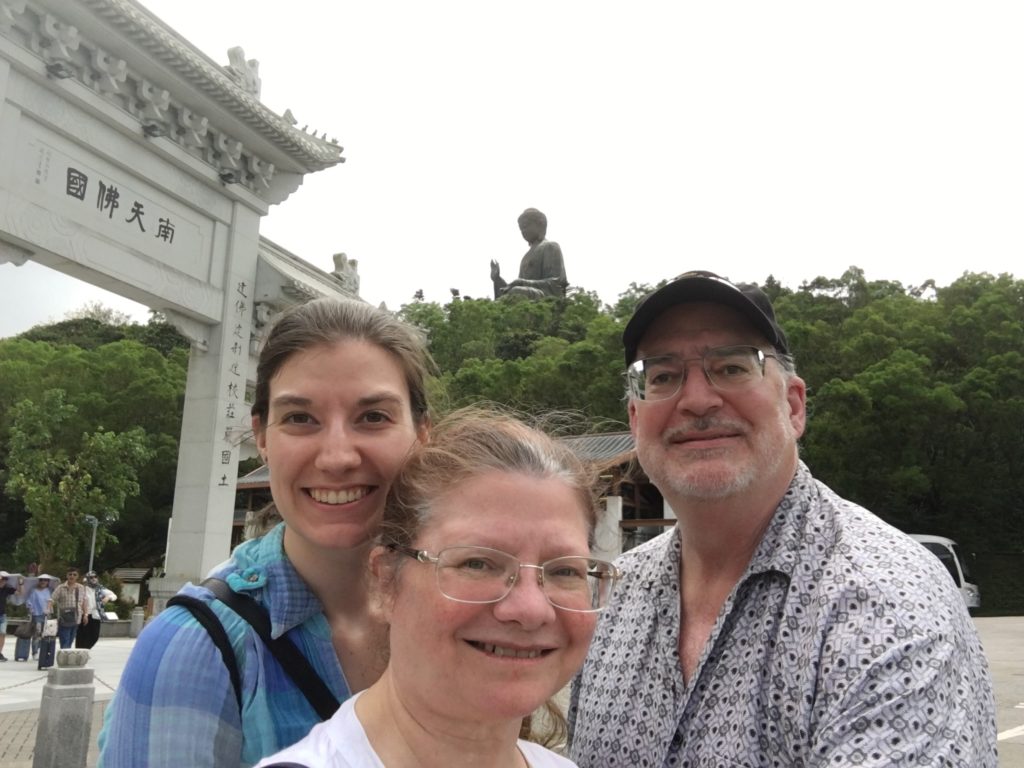 We headed back down and rejoined Dad to explore Po Lin monastery.
Mom observed it was fascinating to study the architecture because it's in a style we're used to seeing only shiny and new at a theme park or old and behind glass in a museum. This was a real, working monastery (evidenced by the chanting we heard drifting from a private building towards the back).
After wandering around for a bit, we headed back to the village and discovered one of the cows wanted to go shopping (aka stand in the shade). A local lured him out with an apple.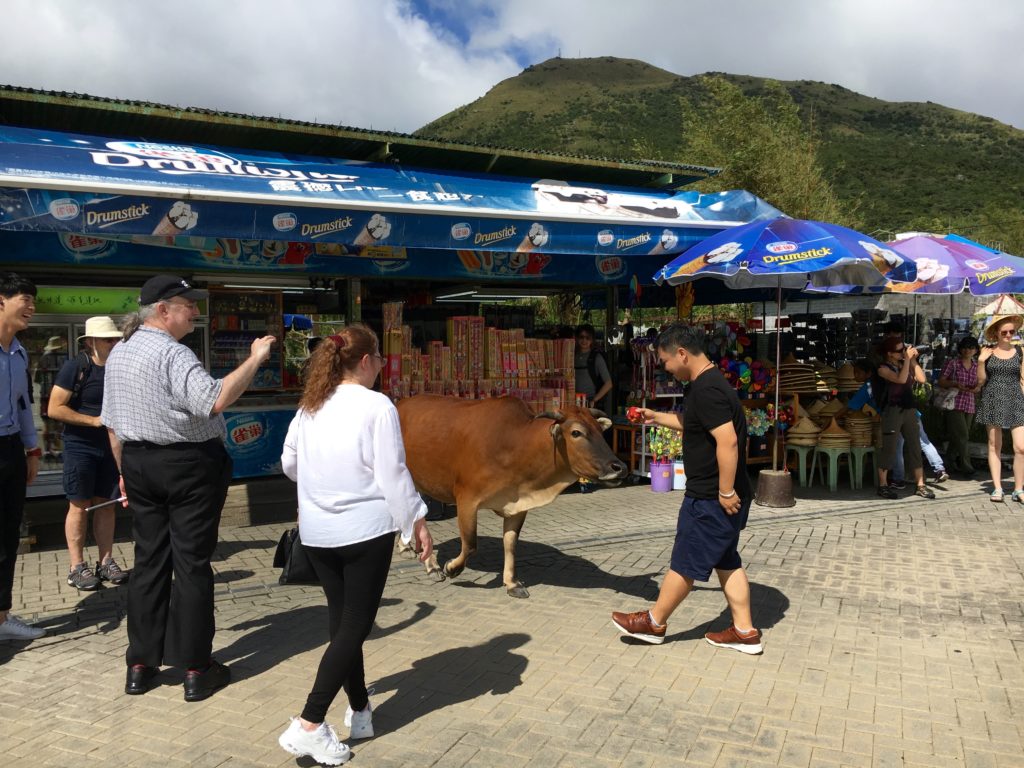 We got cold beverages with the most appetizing names.
The Pocari Sweat was basically just Gatorade. The Jelly Grass Drink wasn't terrible. It was a bit earthy and there really were cubes of gelatin in the bottom (which made for an interesting consistency). It reminded me of an aloe drink I had once.
Mom and I indulged in some retail therapy and purchased a few souvenirs and gifts. Before we left, we ordered egg waffles (made to order) to try out street food Dad was interested in. Mine was chocolate and I was a big fan.
We were all a bit touristed out so we decided to skip Tai O fishing village. Instead, we took the cable car back down the mountain.
We made great time on the MTR back to Hong Kong island, but then waited fifteen minutes for a bus that runs every seven minutes, only to have it skip our stop. Then we had incredible difficulty finding a cab. We stood at a cab stand for more than 30 minutes watching cabs with "out of service" signs whiz by.  We were cutting our 7pm dinner reservation at Pierre pretty close since we all needed to shower.
Fortunately, they didn't mind pushing it back for us.
Unfortunately, the meal was terrible.
Here's Dad's Yelp review of the experience (I'll let him eviscerate it in his own words):
Pierre offers a lovely room with a great ambiance and view. It's the kind you'd expect to find in a top rated restaurant. Unfortunately, the view is about the only thing that is top rated about it.
At a price equal to or above the nearby Amber and l'Atelier, it's hard to imagine anyone returning to Pierre for a second visit. The six-course tasting meal we had was, frankly, poor. There wasn't a single stand-out course, and no one in our party had more than a taste of the grouse entree, which had a very unpleasant bitter taste. Mine even still had a piece of lead birdshot in it.
They've tried to make up in quantity what they lack in quality, with a half dozen small plates bearing amuse bouche at the start, and another half dozen plates of dessert at the end. But not one of them was truly good. It's as if they're firing scattershot, to see if they can hit anything.
Service was also hit or miss, with the wine list not even offered until the food began showing up, and empty water glasses sitting for long stretches of time.
At about $10,000HKD for our party of three's food alone, this must be one of the worst buys in the city. And the wine prices are just as unreasonable.