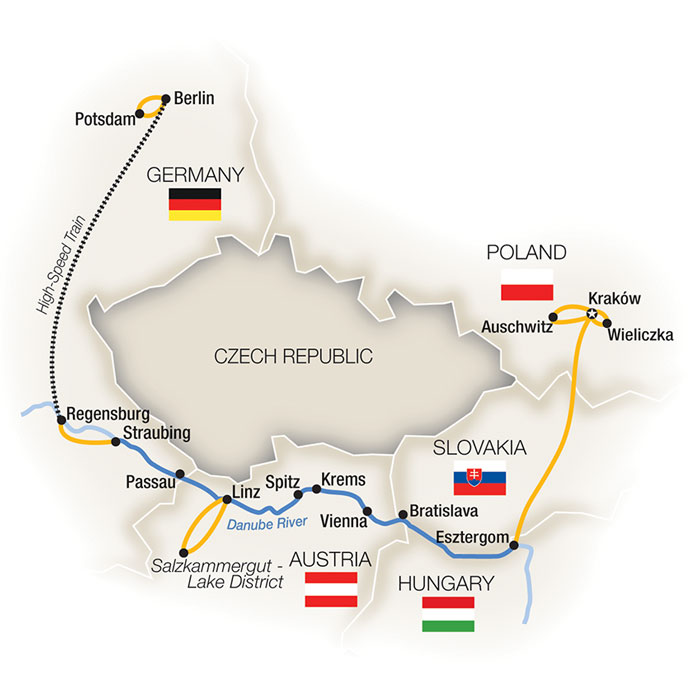 For our first post-pandemic trip out of the country, we decided to book a Tauck river cruise on the Danube. It would allow us to visit several cities and countries we hadn't been to before.
To allow us time to get on schedule I booked several days in London beforehand.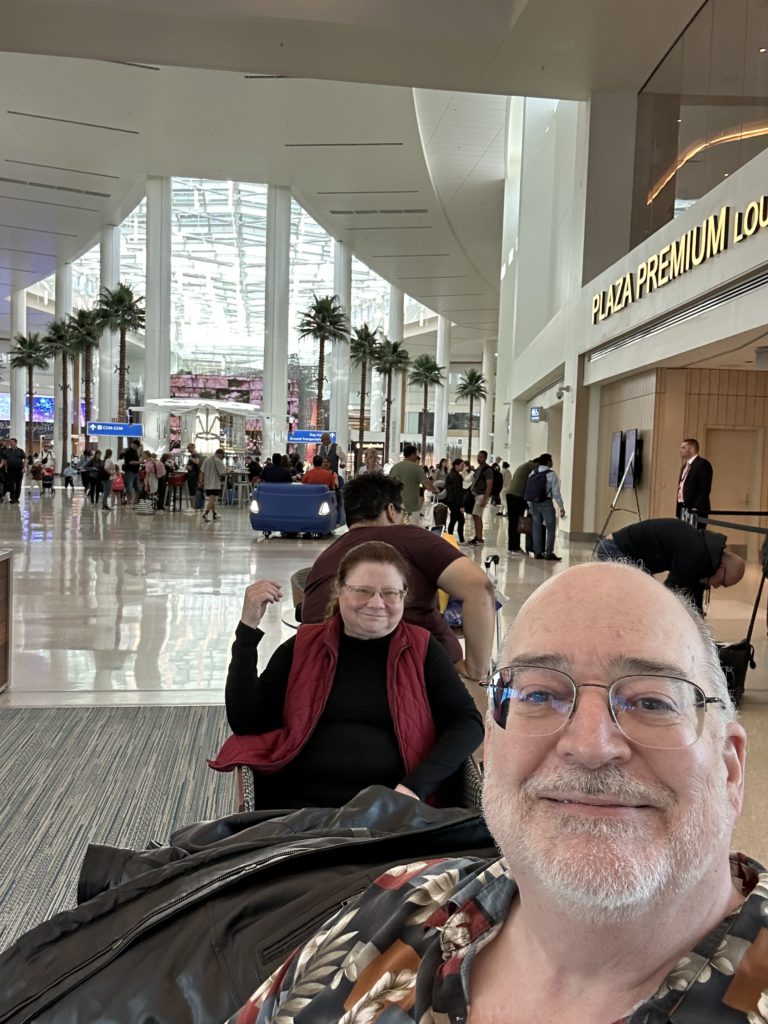 We began our travels Sunday evening, April 23, flying out of the new Terminal C at Orlando International Airport. It's a beautiful terminal. The first-class lounge is okay, nothing spectacular, but it has a great kids' area designed to wear them out before they get on the plane. Brilliant.
I had found some great deals on business-class flights using Chase membership miles, so we have a weird assortment of airlines. Our first was Iceland Air, connecting through Reykjavik. (In retrospect, none of them except the final Aer Lingus flight from Dublin to Orlando was what you would expect from business class, but that was the most important one.)
The trade-off for the great price was a tired 757 with no beds in first class, but the flight to Iceland was only seven hours, and the views of the Greenland ice cap and the Aurora made up for it.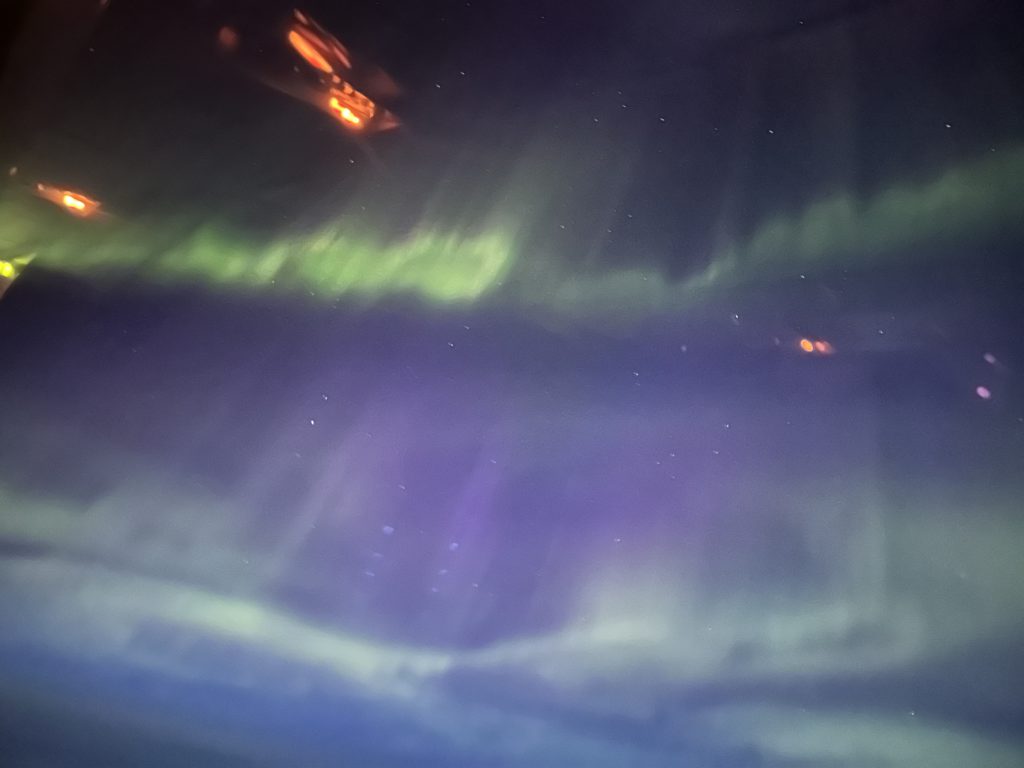 Keflavík Airport is the largest airport in Iceland and the country's main hub for international transportation. The airport is 50 km southwest of Reykjavík. It's an okay terminal, but the planes don't pull up to gates, and the connection by buses on the tarmac is a bit inconvenient. I have no idea what they do with wheelchair-bound passengers.
After a short layover, the flight to London (on a much newer 737 Max) was only two hours. Aside from the mile walk from the gate to immigration, Heathrow Airport was a breeze. Immigration is now all electronic, with passport and face scans, and in no time we had our baggage and met Eddie Manning, our long-time driver while in London. We've used Eddie for about ten years now, and I highly recommend him.
The trip into London was slow, as always, complicated by road closures left over from the previous day's London Marathon.
We tried a new hotel this trip, The St. Martin's Lane Hotel, and it turned out to be great. It's ideally located a few blocks from Trafalgar Square, Covent Garden, and Leicester Square tube station. Our room was one of two large ones in the hotel, in a very utilitarian U shape. It wasn't quite ready when we arrived, so we hung out in the downstairs cafe, which was a bit weird–my Caesar Salad was more like a bowl of Caesar dressing with a head of lettuce in it!–but tasty enough.
Once our room was ready we got several hours of much-needed sleep, then walked a few blocks to our favorite restaurant in London, Clos Maggiore.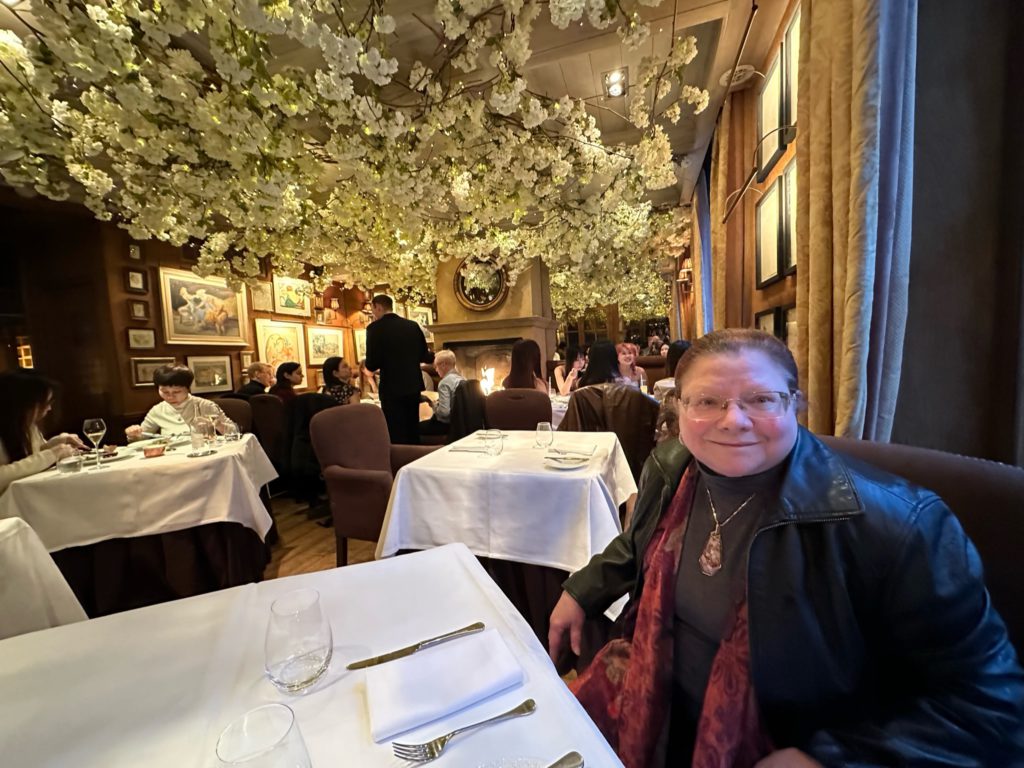 What a meal! Probably a top ten of all time. We sat in a room we hadn't been in before, an intimate upstairs space with a cozy fireplace. Not a tasting menu, but just two stellar courses that couldn't have been better. My scallops starter and white asparagus entry were simply stunning. But the real show-stopper was a sublime Grand Cru Burgundy: 2005 Clos de la Roche from Nicolas Potel. I don't think we will be able to top this meal on the trip!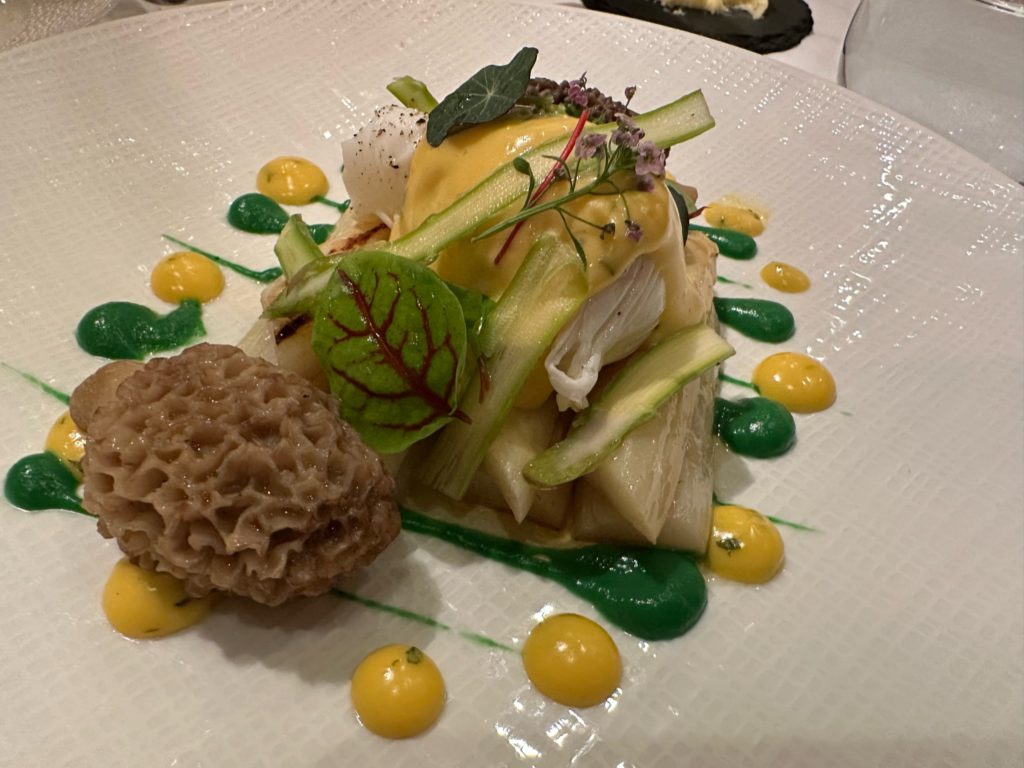 Tuesday we slept in, and had a lovely traditional French brasserie lunch next door to the hotel at Côte.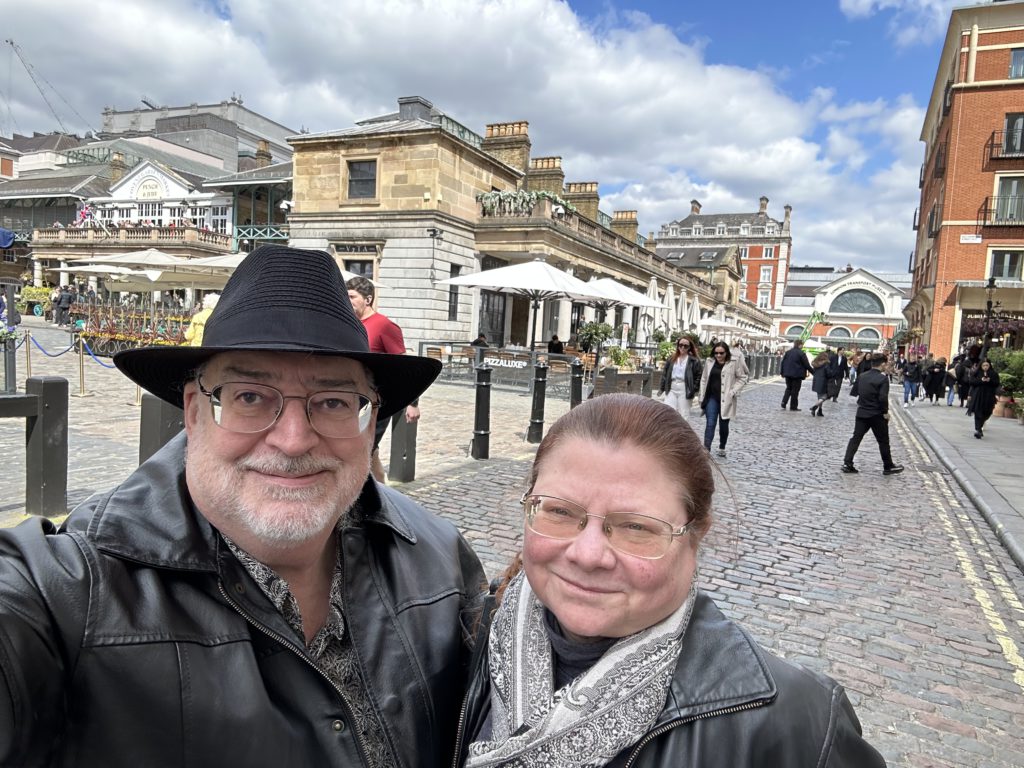 After lunch, we walked over to Covent Garden to check out the London Transport Museum. It does a great job of interpreting the history of transport from horses through the latest tube extensions. The signage is just right, interpretive without being overwhelming, and for kids (of whom there were many) there are lots of things to climb on and buttons to push.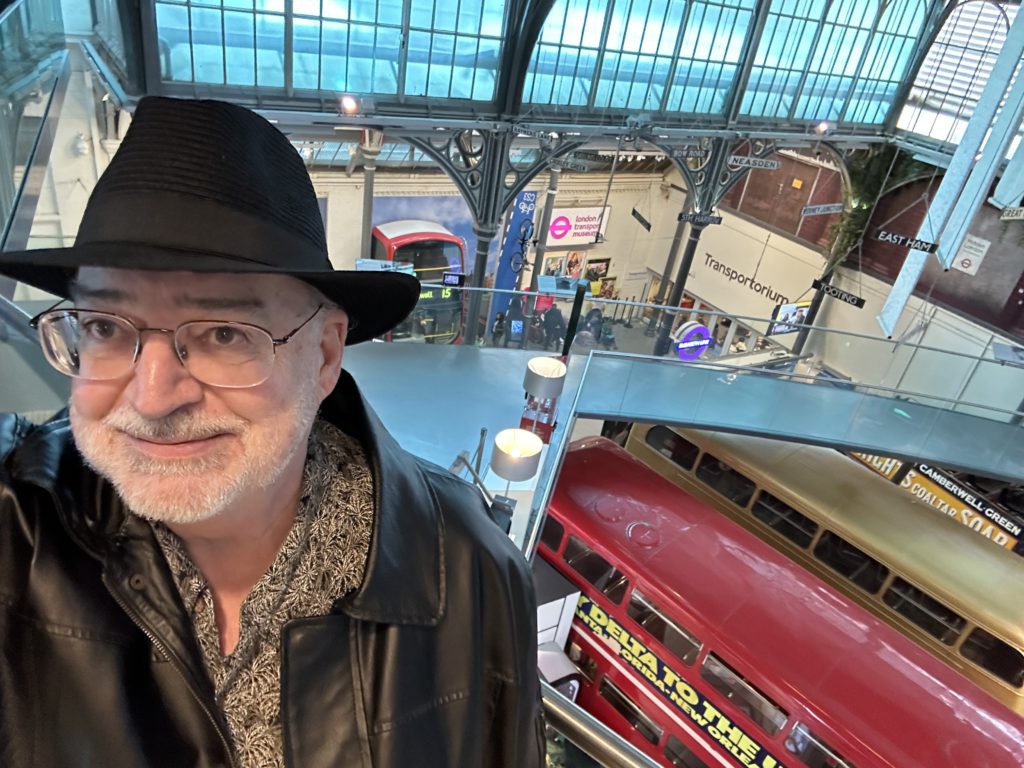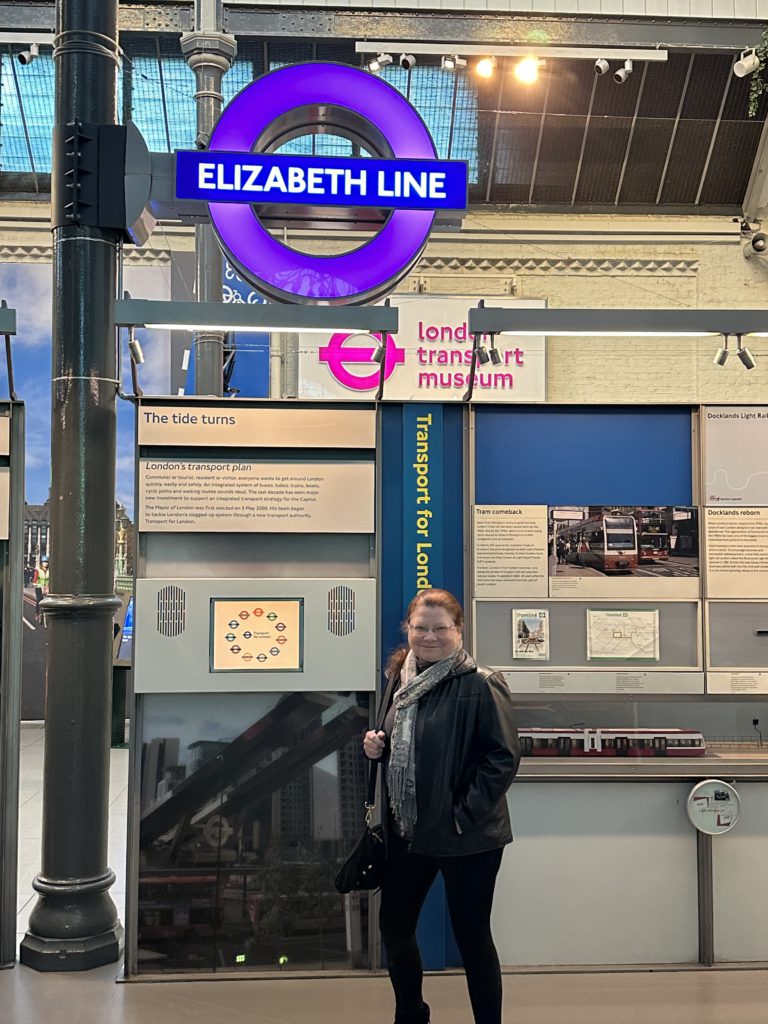 Then after another nap, we headed to dinner at our other favorite restaurant, the Michelin-starred Pied a Terre.
Perhaps it was just memories of the night before, but the ten-course tasting menu didn't really stand out. However, the thing we really love about this restaurant is that they will serve the wine pairings blind and let you guess. So between one standard pairing and one reserve pairing, we had 18 wines to identify!
We did fairly well with varietals (at least the Sommelier said he was impressed) but not so much on regions. It was hard, though–Mourvedre from Greece, and Riesling for Marlborough? Who knew?
Wednesday didn't quite go as planned.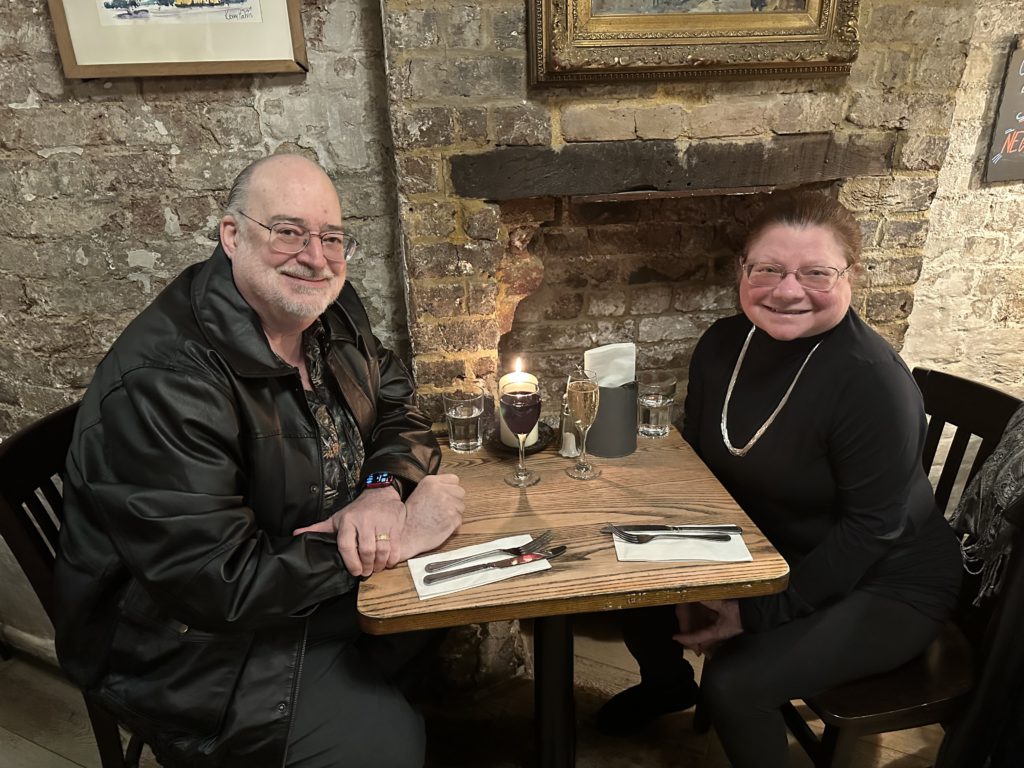 We slept in and then went to lunch at another charming bistro, Le Garrick, just off Trafalgar Square.
In the afternoon we had a short nap in preparation for seeing The Play That Goes Wrong, one of the funniest things we'd seen in the US from a touring company, and still playing in London at the original theatre. But just as we were about to leave for the show, I got an email from Air France saying our flight Thursday from London to our Paris connection had been delayed. Then I got another email saying they'd rebooked us on another flight at 6:20am so we could make our connection. This meant getting up at 3:00am! Yikes. So I gave our tickets to the concierge at our hotel in the hopes that someone else could use them. Fortunately, shows are much cheaper in London, and these tickets (I had somehow gotten fourth-row center in a fully booked theatre) were only 50 pounds each. Ah well. After a quick light bite at Côte, we went to bed.
To no avail, for me, anyway. Knowing we had a flight in just a few hours, I just couldn't get to sleep. Oh well.
Eddie Manning dutifully picked us up at 4am, and we headed to Heathrow.
It took only 37 minutes to fly to Paris, and another two hours to Krakow, but with the now almost five-hour layover, we arrived just in time for our 5pm welcome dinner in the salt mine.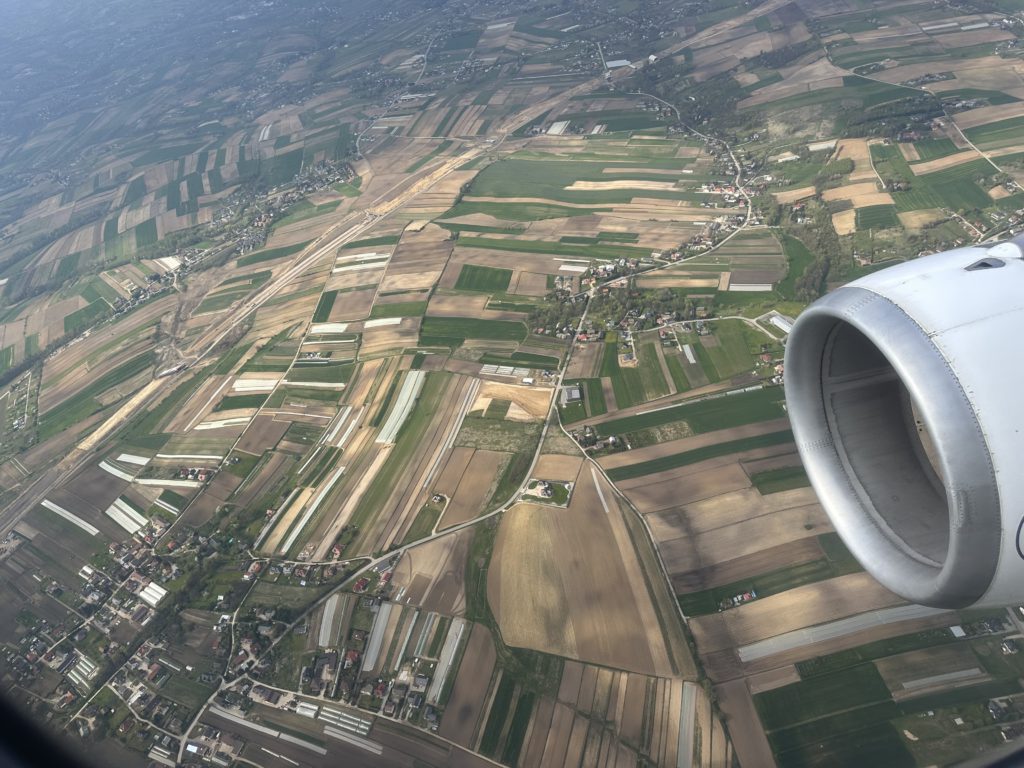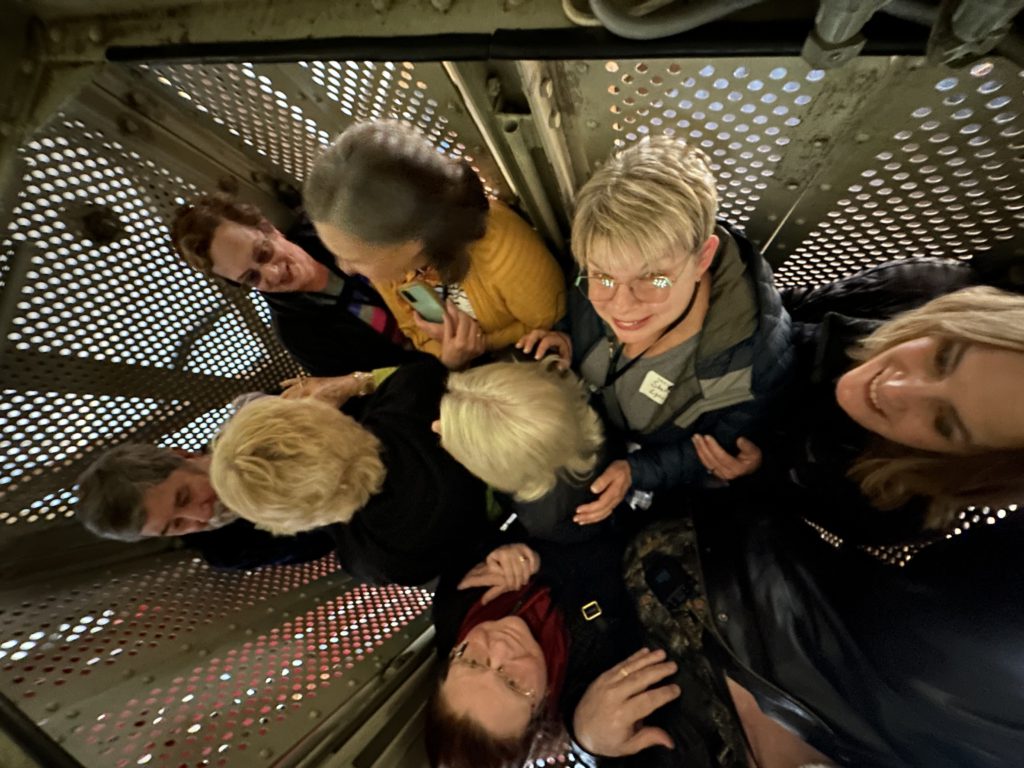 There are nine levels to the mine, but our dinner was only on the third level down, at about 400 feet. The elevator was quite fast, a good thing given how we were squeezed in!
This was not a working mine, it is historic, and was clearly hand carved.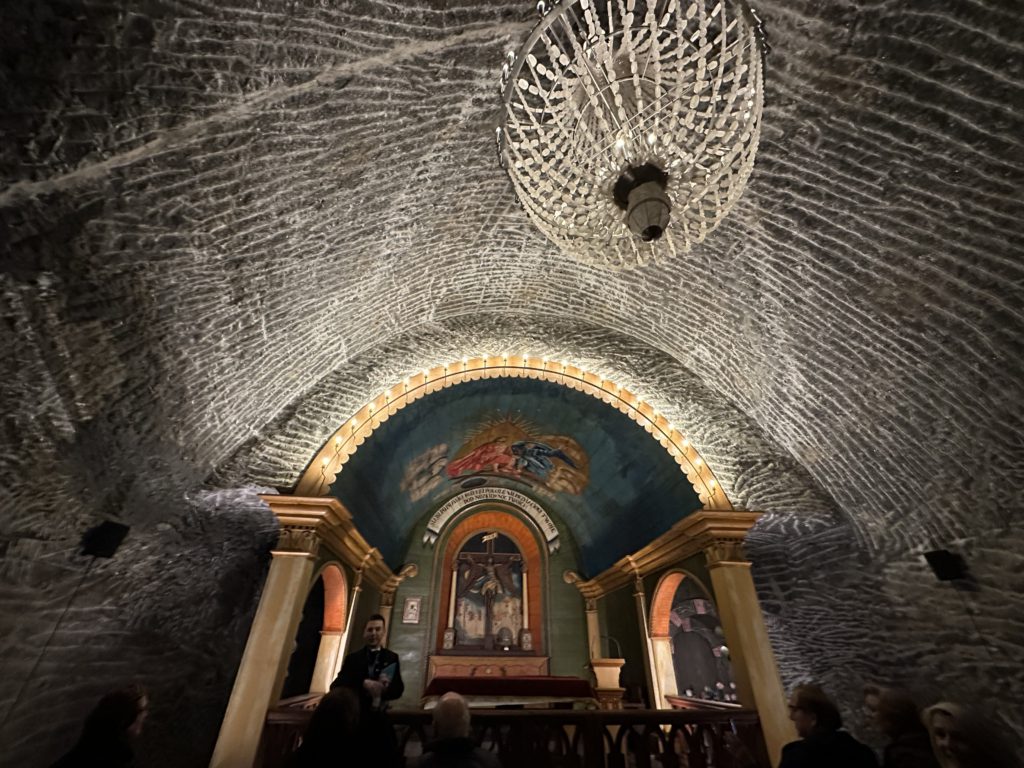 Quite a few spaces have been carved into rooms and chapels.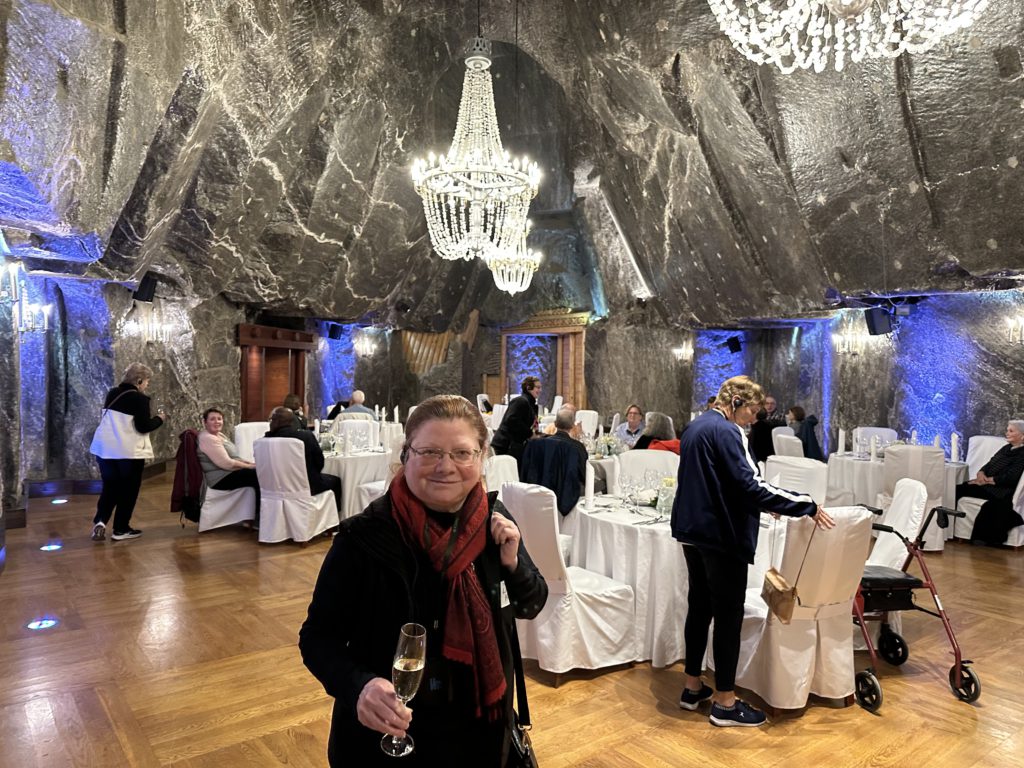 Dinner was really quite good, and it was nice to get to meet some of our fellow travelers. While the river ship can accommodate over 120, we learned there are only 42 on this tour. Perhaps starting in Krakow seemed too close to the war in Ukraine for some, although it's hundreds of miles away.
It was nice to finally get some sleep after 36 hours!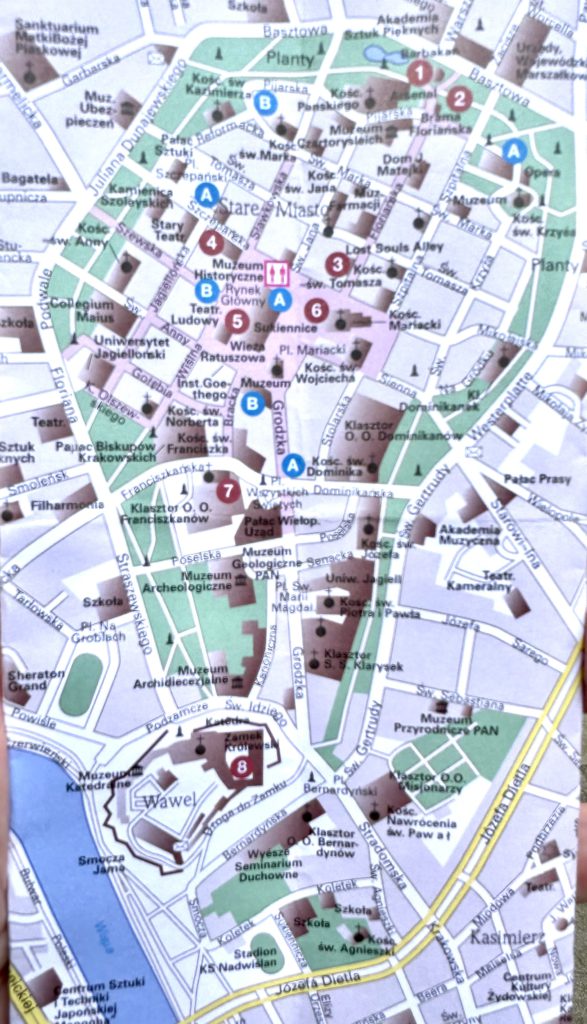 The next morning we met for a walking tour of the old city, making our way from the hotel to the market square.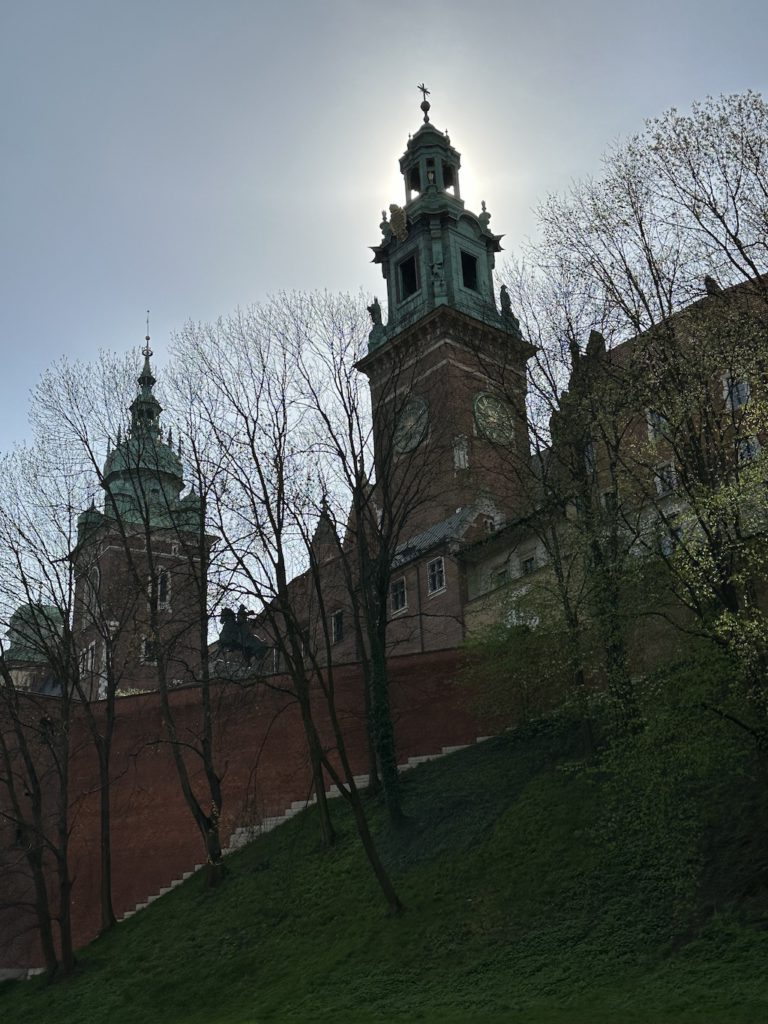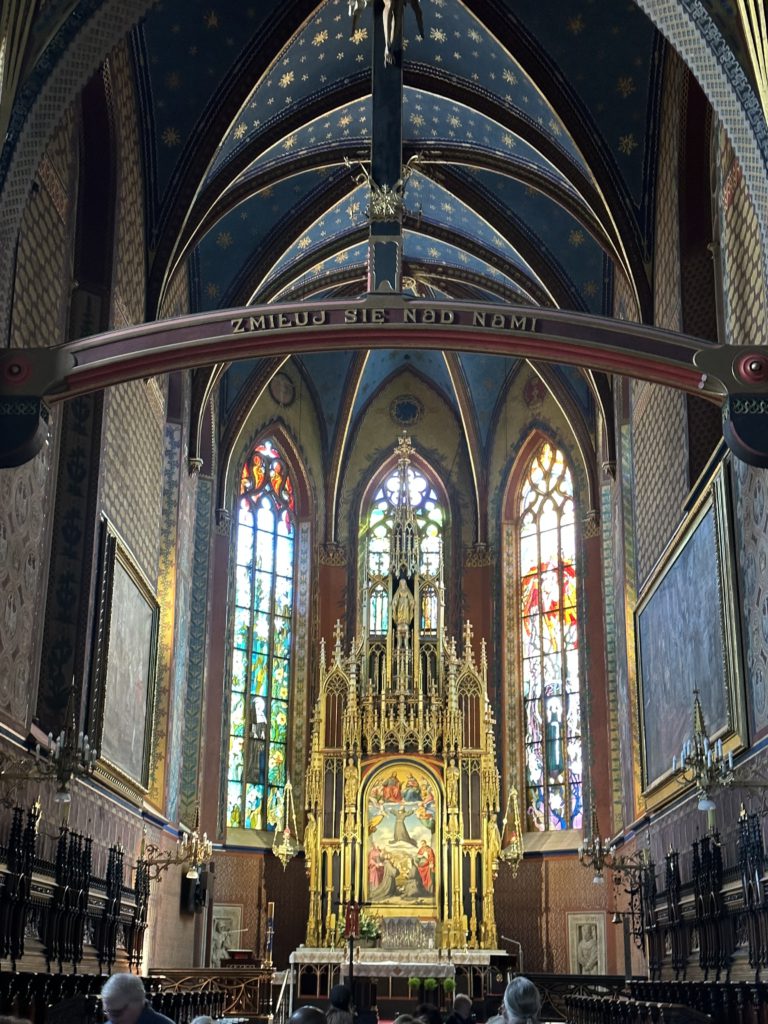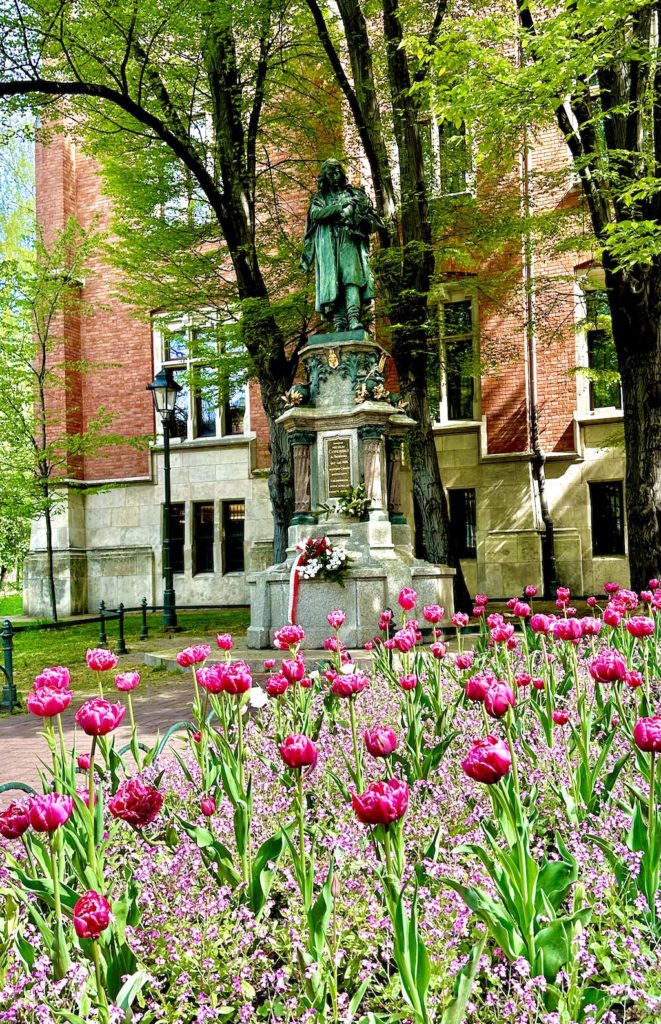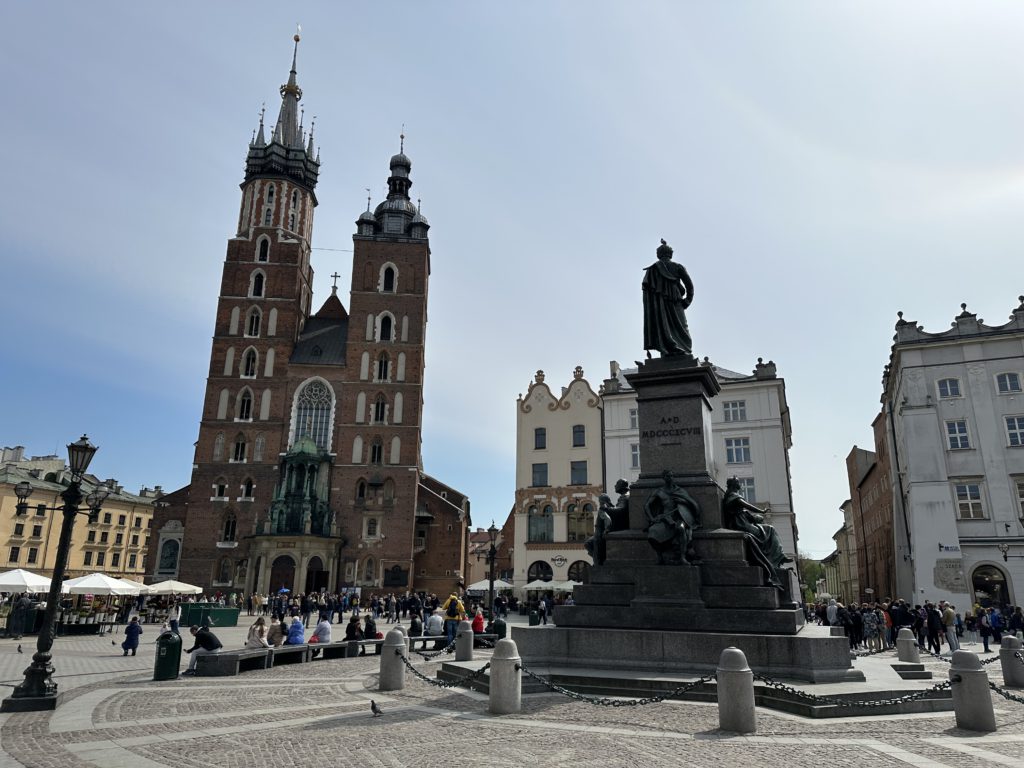 It is tradition to play a tune on a bugle in all four directions from one of the towers, every hour, even all night (so don't stay in a hotel on the square!) The fourth time, the tune ends abruptly to commemorate a bugler who was shot in the throat while warning of an attack.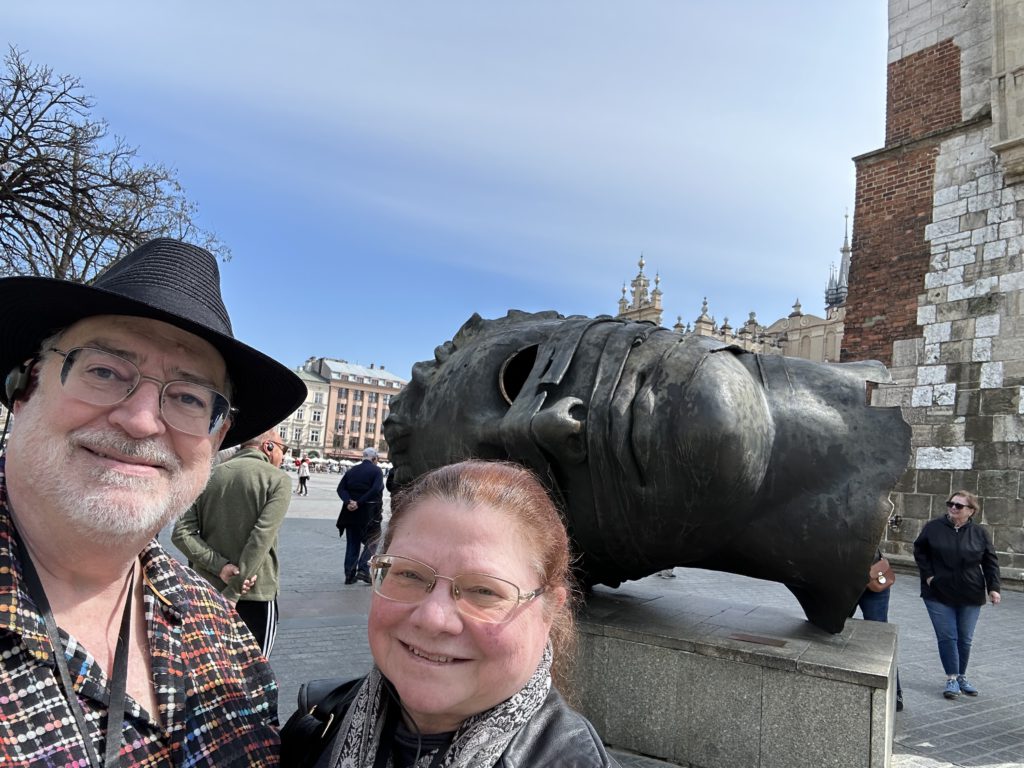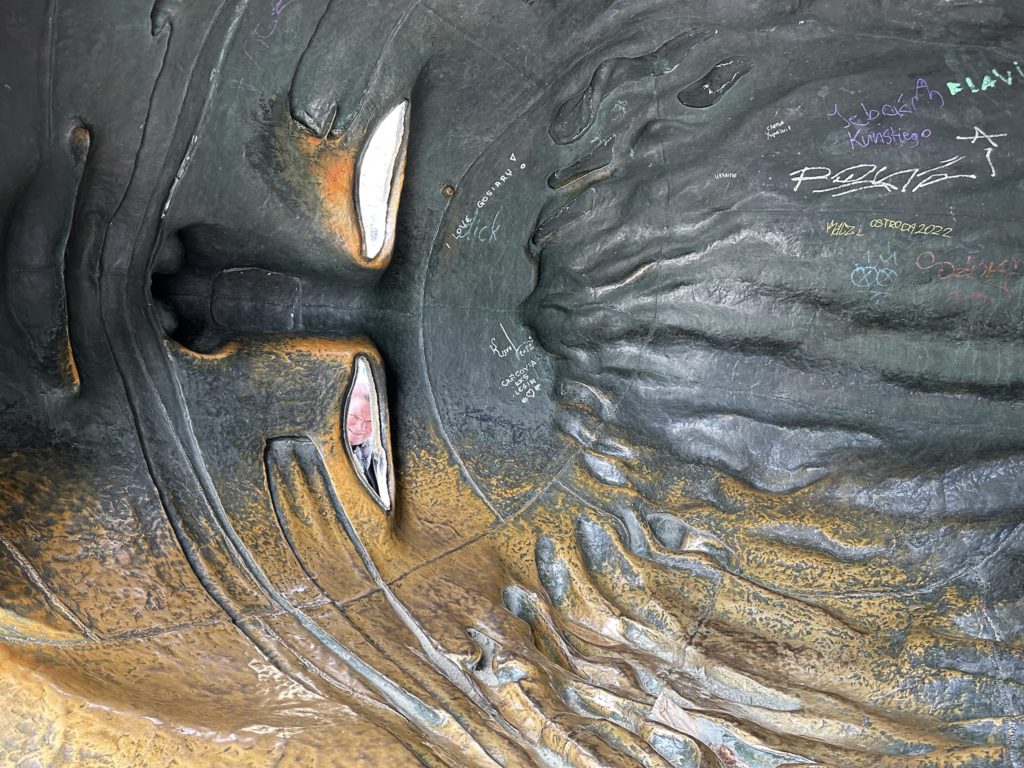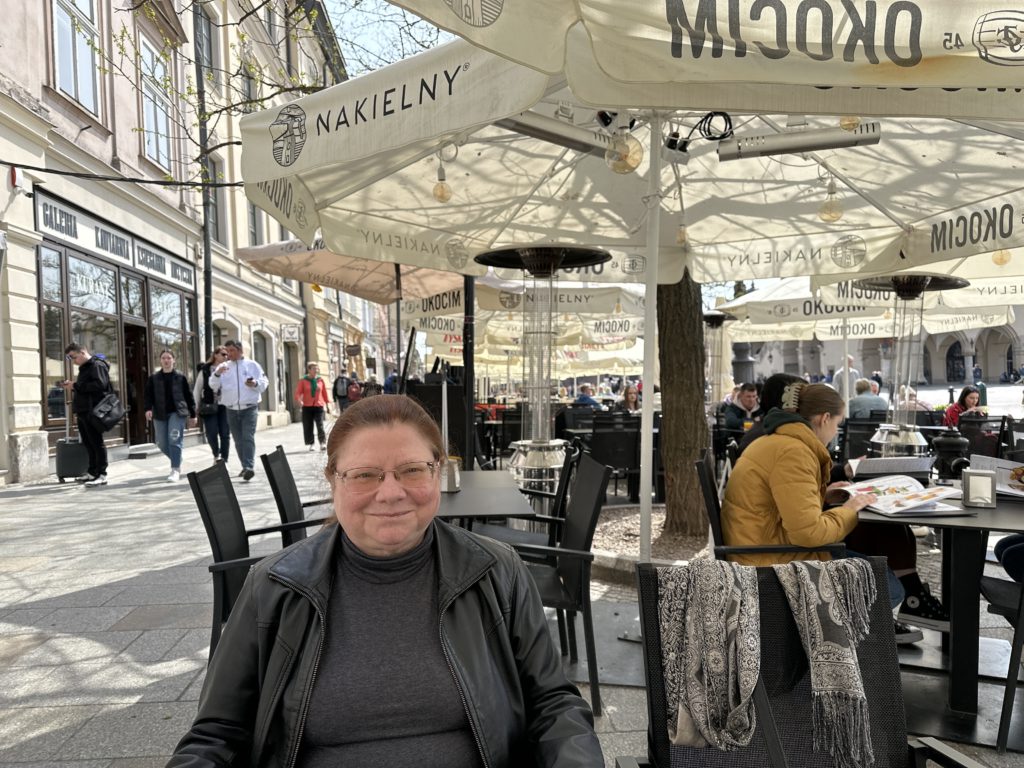 They serve only breakfast until noon at the restaurant in the square, so I had French breakfast and coffee, and then Linda got a tuna sub from Subway on the way back to the hotel.
In the afternoon we took a 90-minute bus ride to Auschwitz, the first of the Extermination Camps built by the Nazis. It was not what I was expecting, as it is not a wooden stalag, but rather brick buildings constructed as Polish army barracks prior to WWII.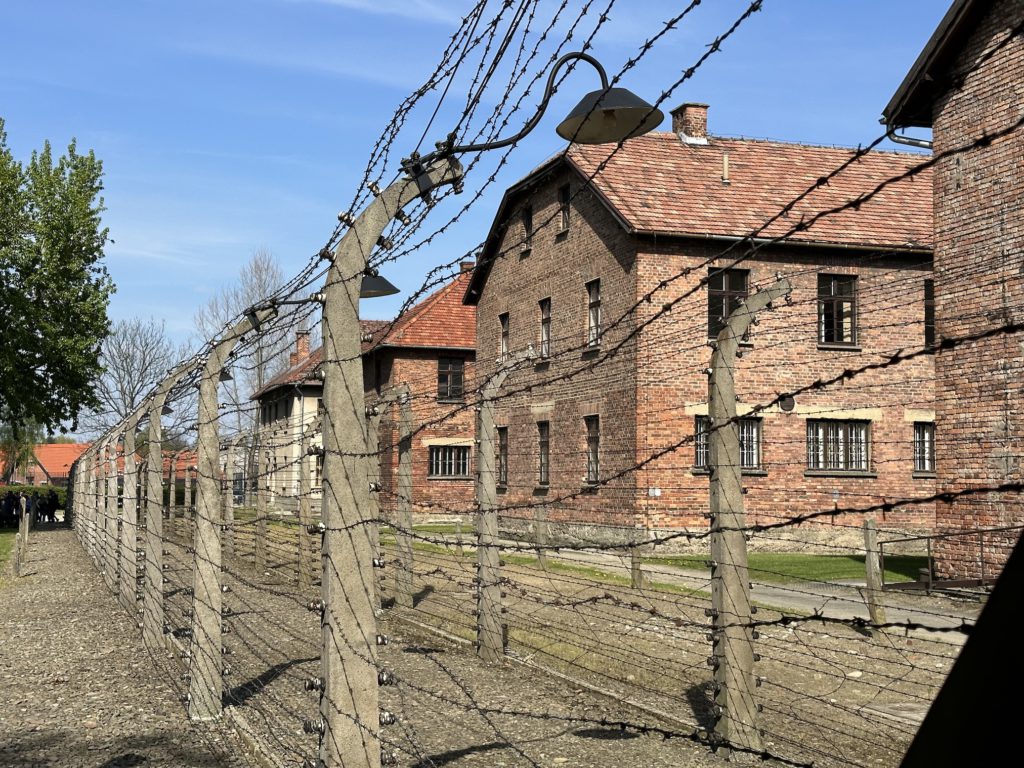 Until 1942 it was a concentration camp mostly for non-Jews, with the intent of killing Russian prisoners and anyone else who couldn't work in the nearby factories, (which was almost everyone). After that it was a place to gas and cremate as many Jews, Poles, and gypsies as efficiently as possible, 1.4 million in all.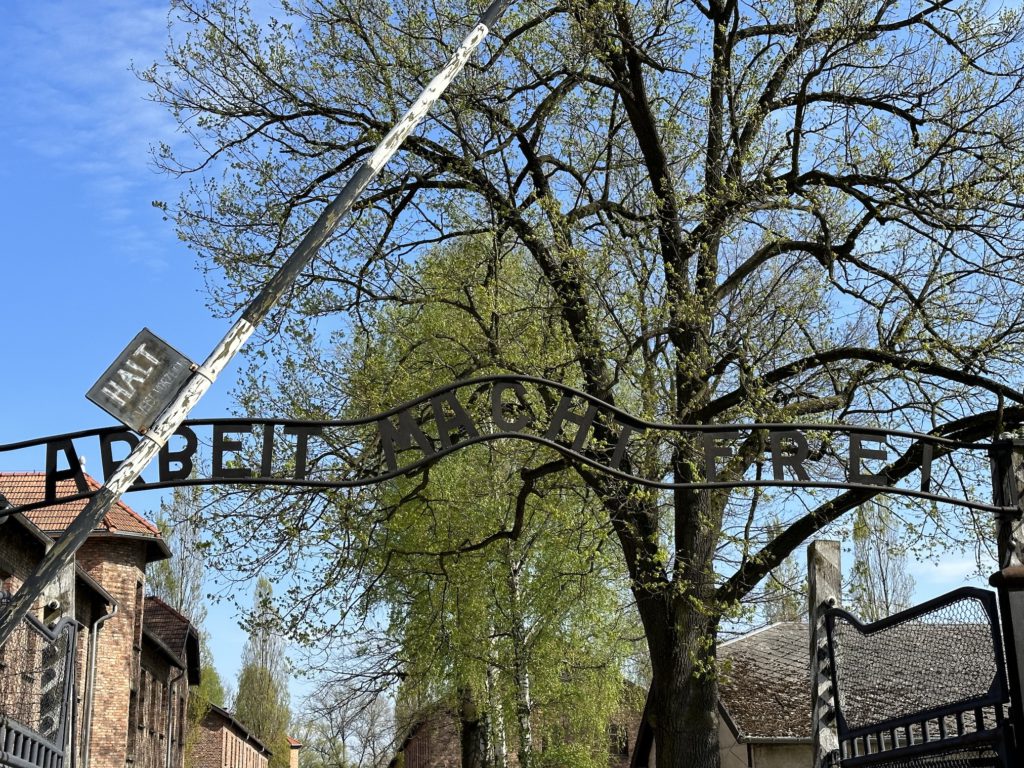 I chose not to take any photos inside the camp.
In the evening we had dinner at the hotel. We chose to sleep in on Saturday, skipping another walking tour, and spent the day at the hotel resting up.
Sunday was the all-day bus ride from Poland through Slovakia to Esztergom, Hungary to board our Danube River cruise boat, The M.S. Joy. The drive through the Carpathian mountains was really beautiful, with many villages, meadows, and mountains still encrusted with a bit of snow. Our lunch stop was at a ski resort near the top of the pass.
The ship is lovely, with large cabins and bathrooms, a Panorama lounge, Compass Rose dining room, and Arthur's informal all-day dining room. Since we are at 1/3 capacity, there are almost as many crew as guests! The staff is wonderfully welcoming.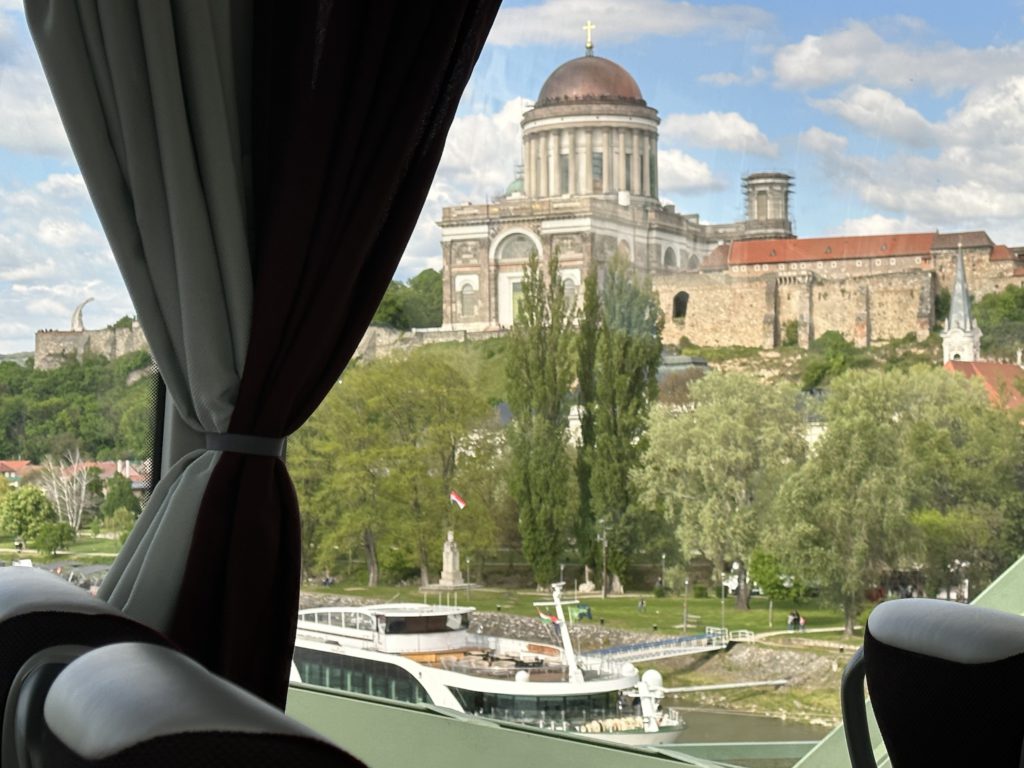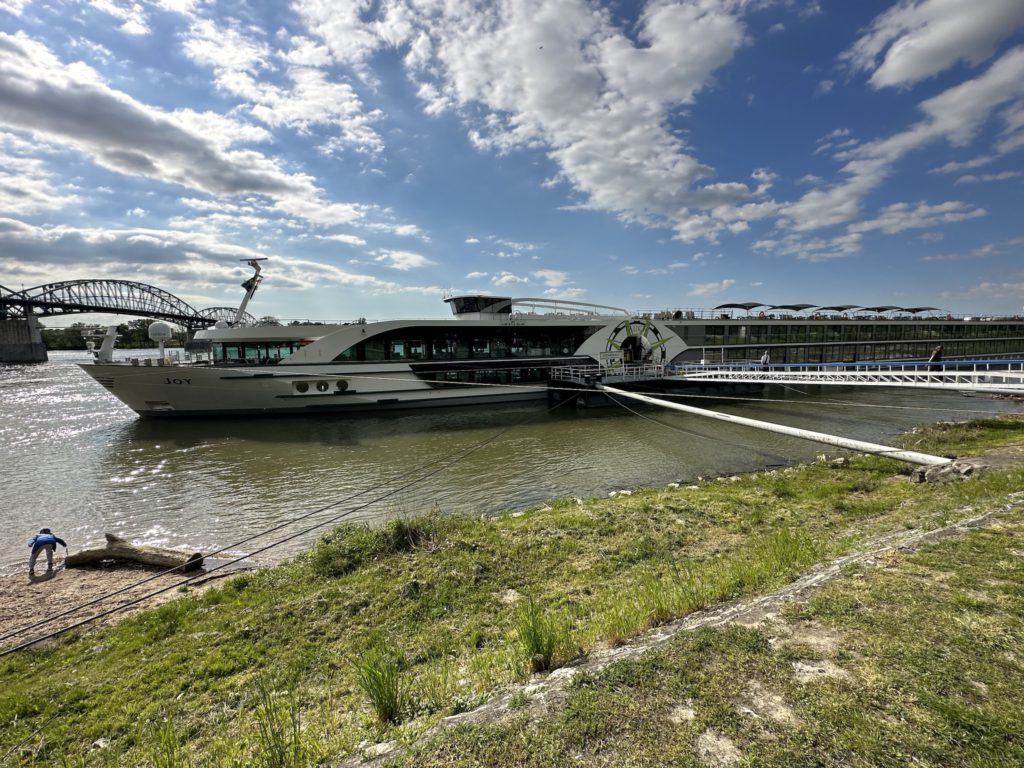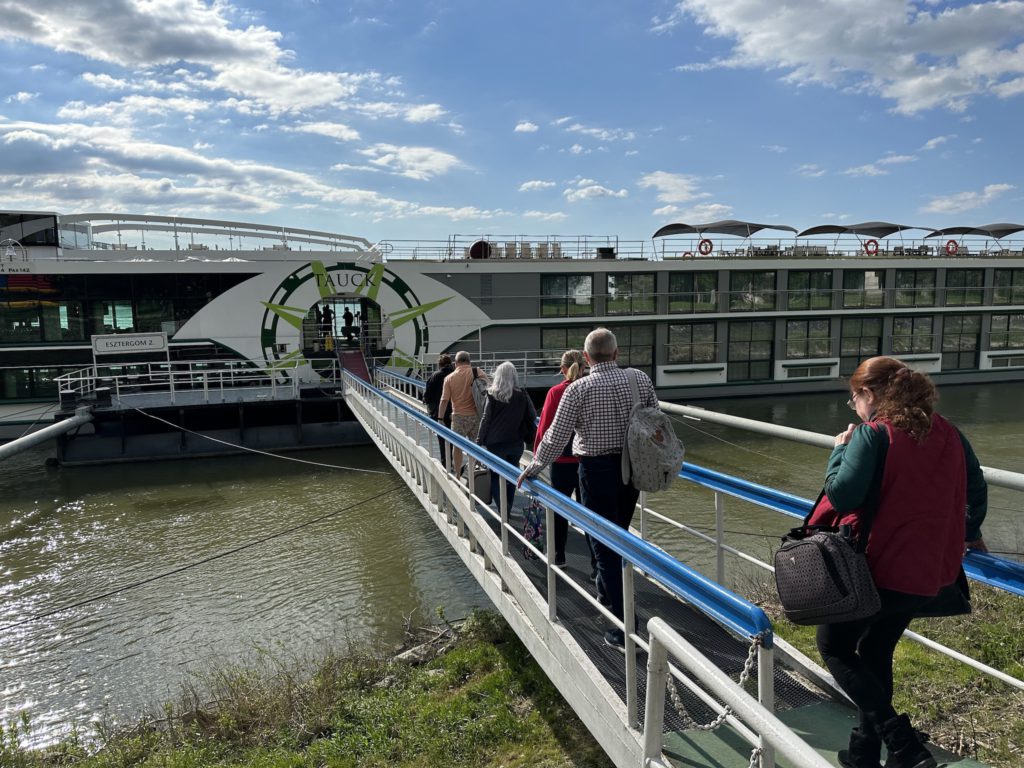 Our tour guide said in case the ship sinks, just go up on the sun deck. The river isn't that deep!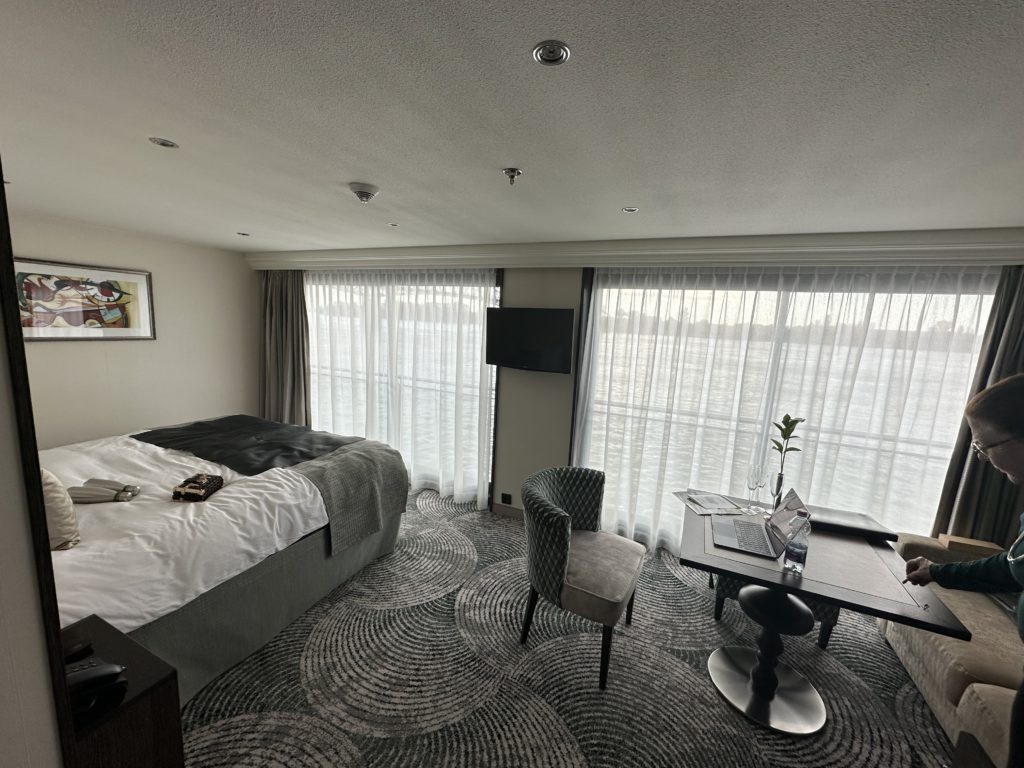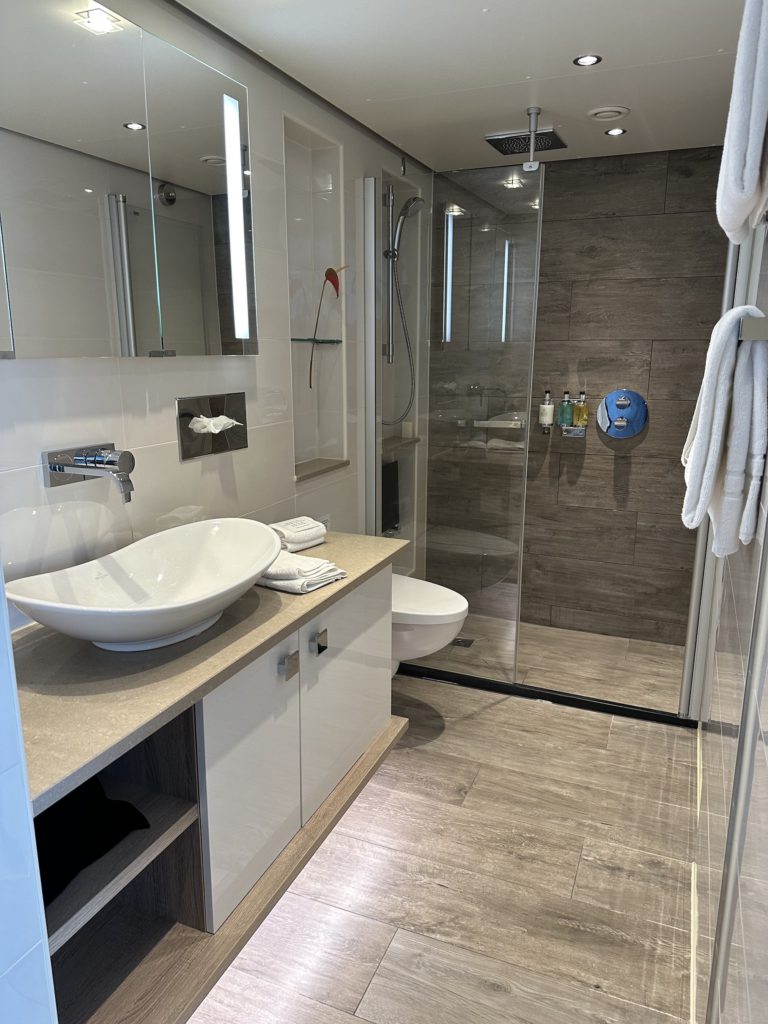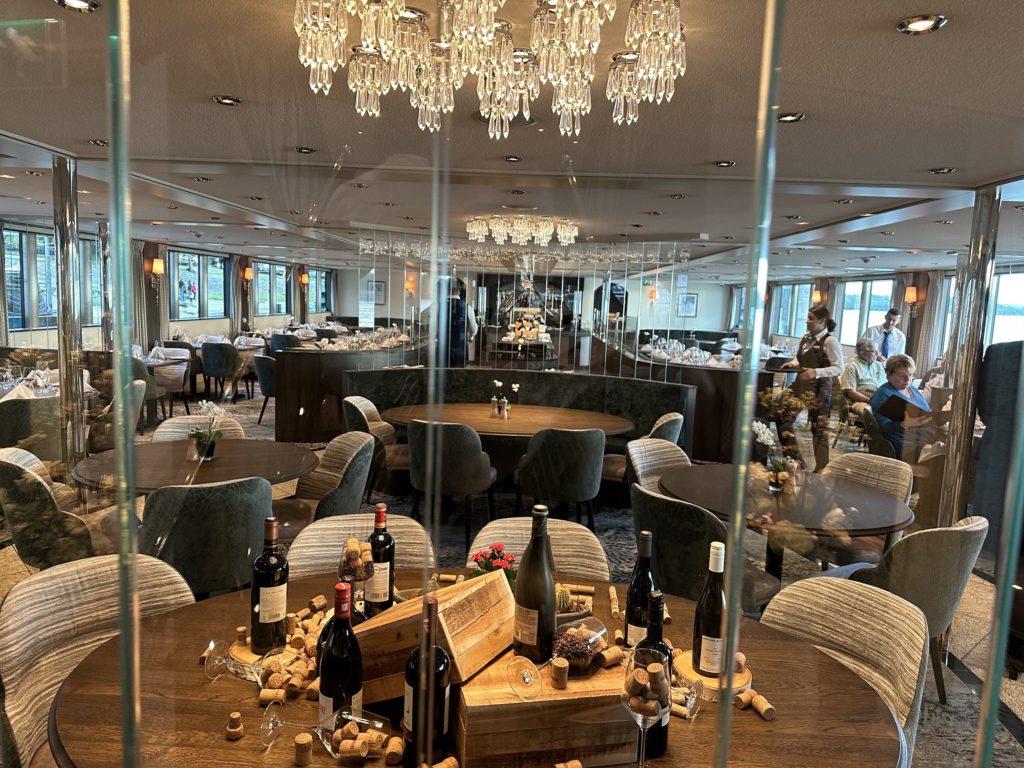 Dinner was a bit disappointing. Not bad, but certainly not Oceania-level dining. And despite the large number of dining staff, some experience and further training are needed.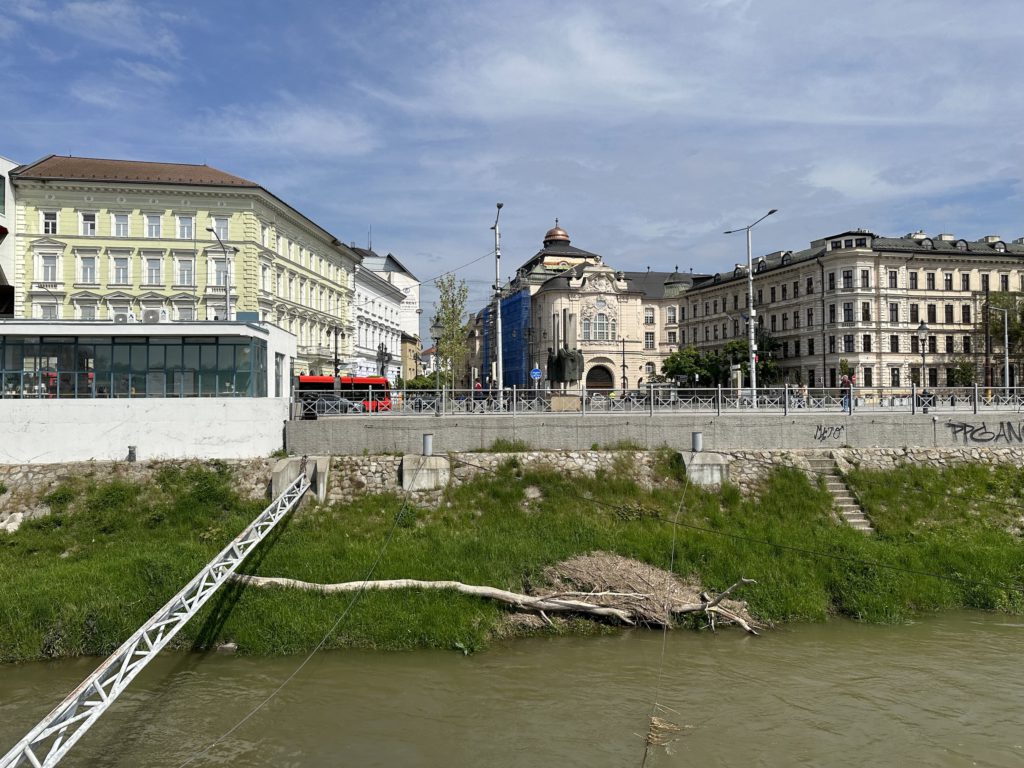 As usual, I got a cold shortly after the trip began, but have been muddling through. My first night on the ship was pretty restless, and we were both tired after all the travel. Also, May 1st is a holiday, with most shops closed, so we decided to skip the walking tour of Bratislava and have a quiet day.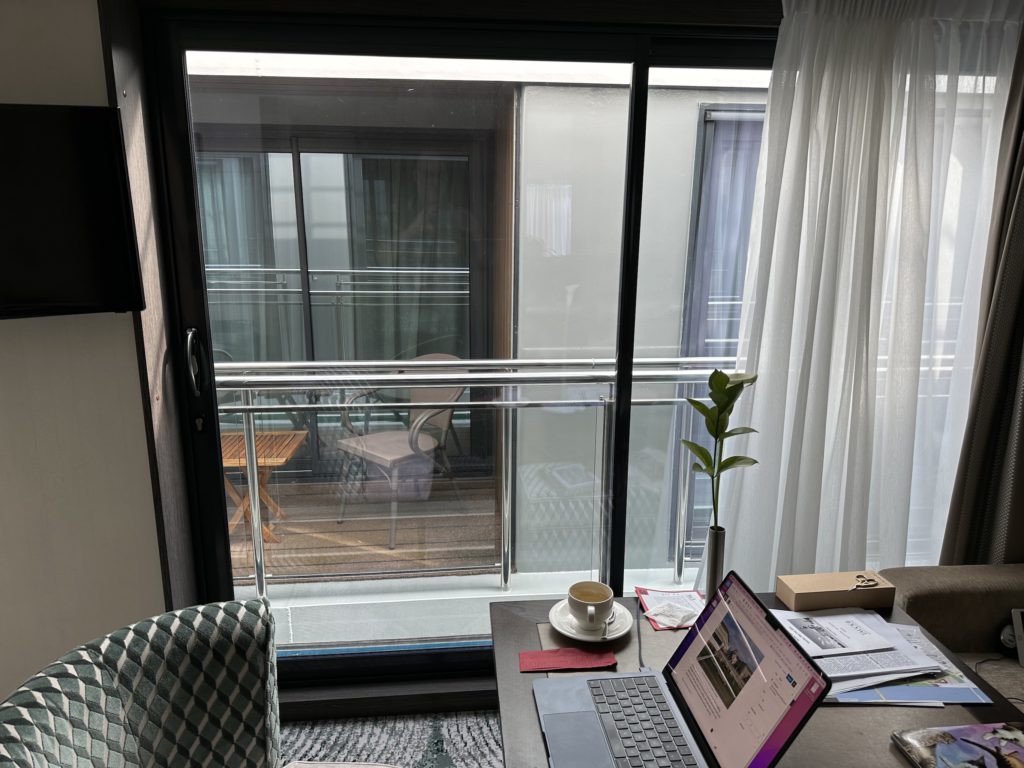 One thing different about river cruises from ocean cruises is the view when docked. The ships dock side by side, so your view is likely to be of the ship next to yours. In fact, the passengers must often pass through other ships in order to get to and from the port! (This was actually the only time that happened on our cruise.)
In the morning Linda went on a tour of a palace in Vienna, and took a selfie. It might be her first!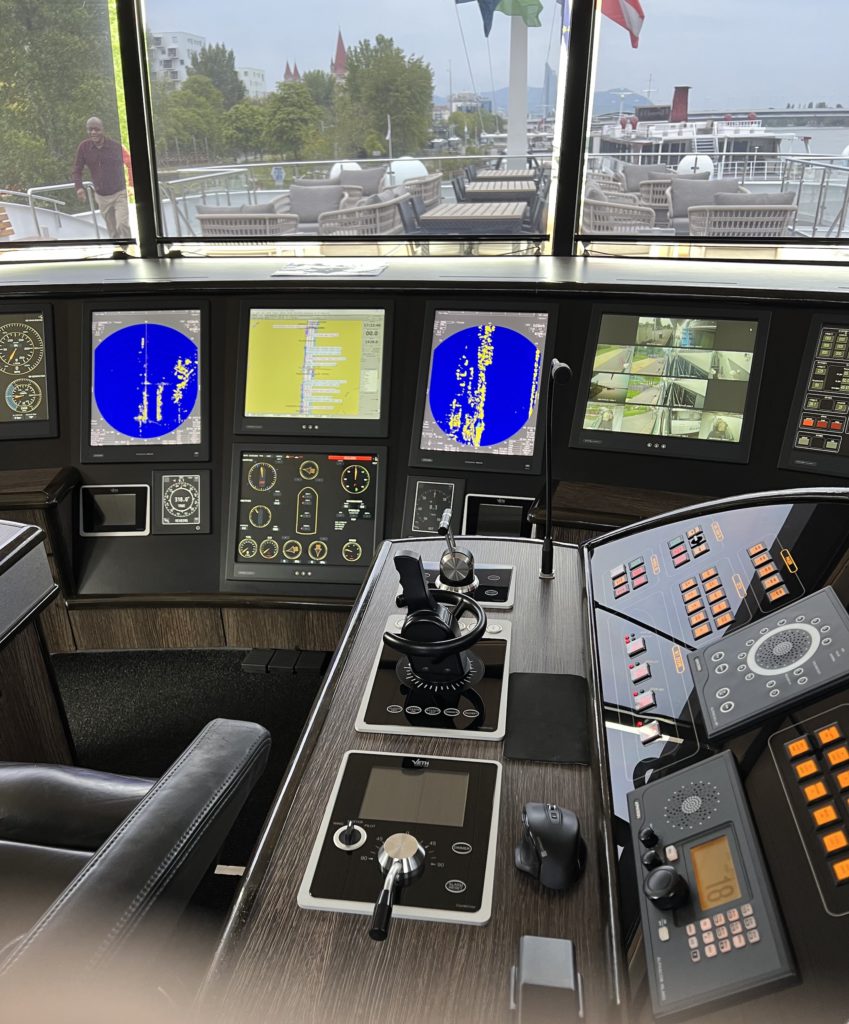 In the afternoon she toured the ship's helm.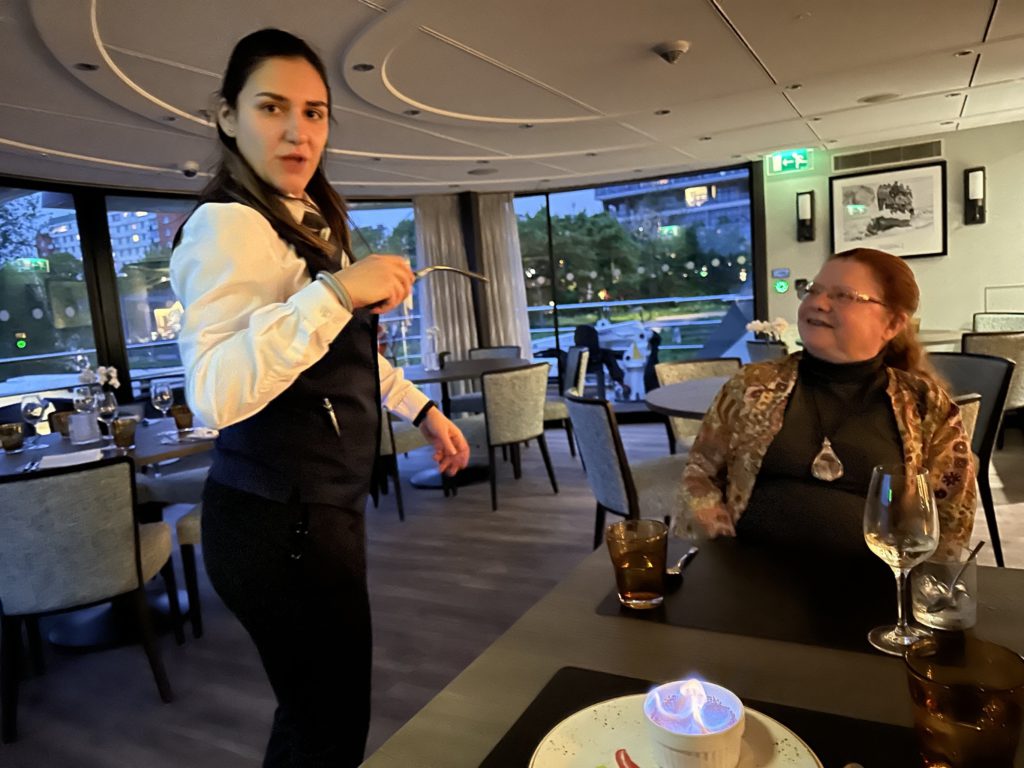 We've been eating dinner in Arthur's at the rear of the ship. The server there, Alex, is fantastic. The food is actually better and fresher than in the main dining room, and there's almost no one there, so it's like a private restaurant.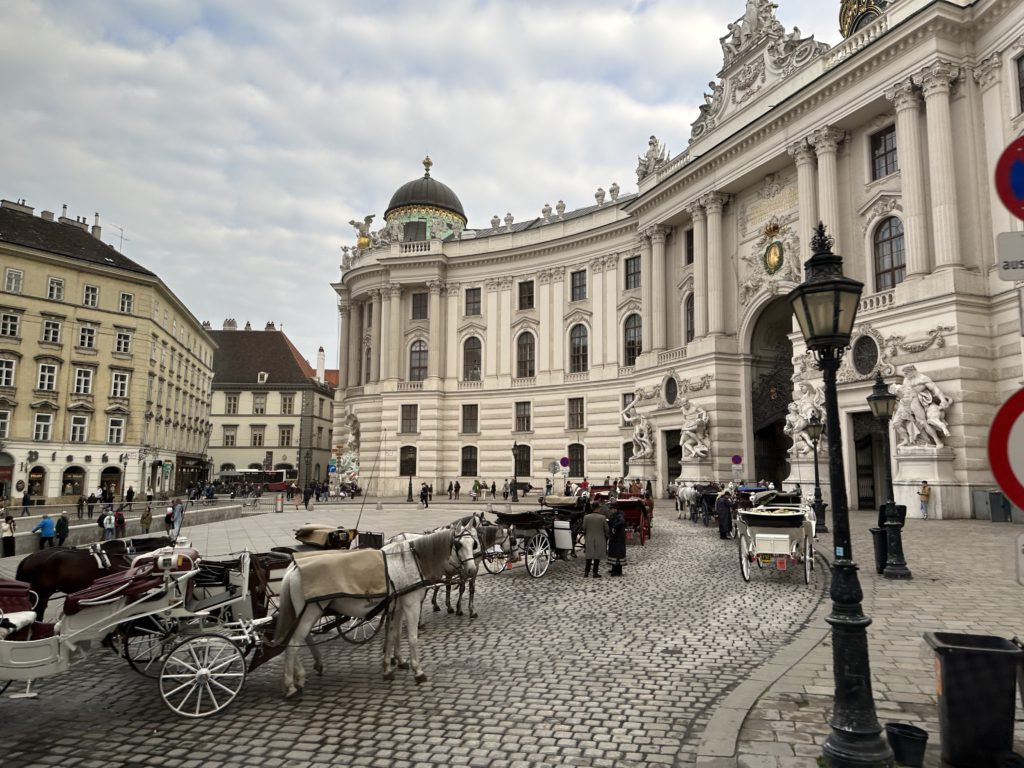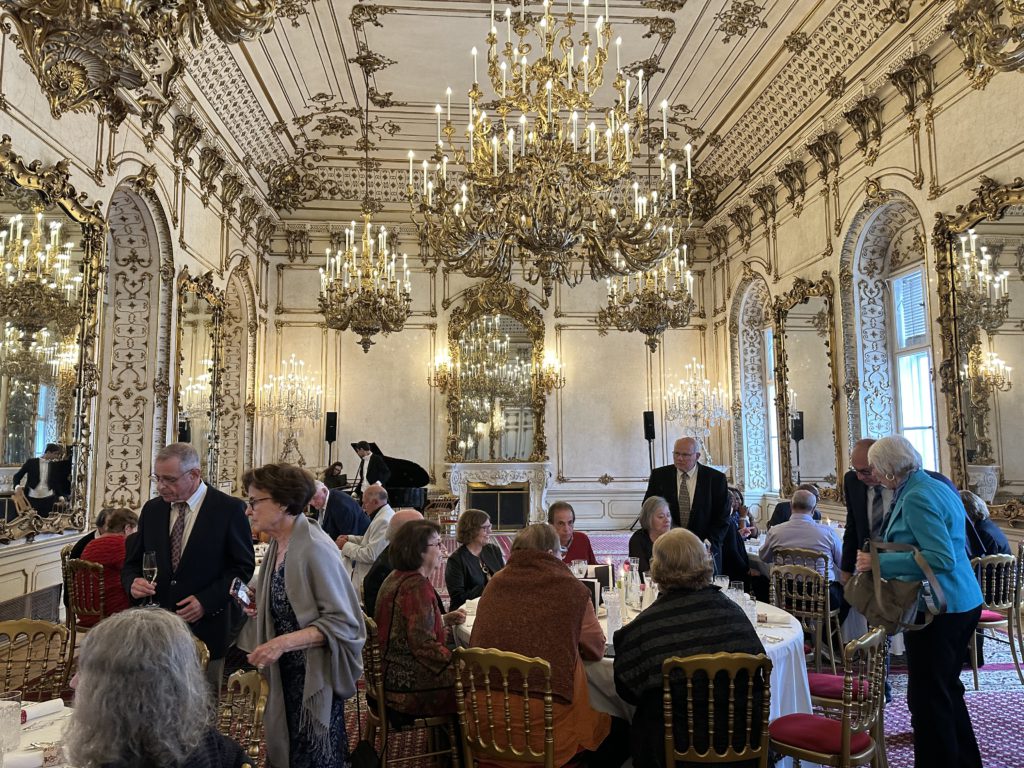 Well, Linda got the sniffles just as I was recovering, so I headed off to the Tauck dinner in Vienna on my own. It was in a beautiful palace. The seven-piece chamber orchestra, four opera singers, and two dancers were all extremely talented. The music consisted largely of waltzes, most by people named 'Strauss' which means 'bunch', so a bunch of bunches. There was a lot of opera. So much opera.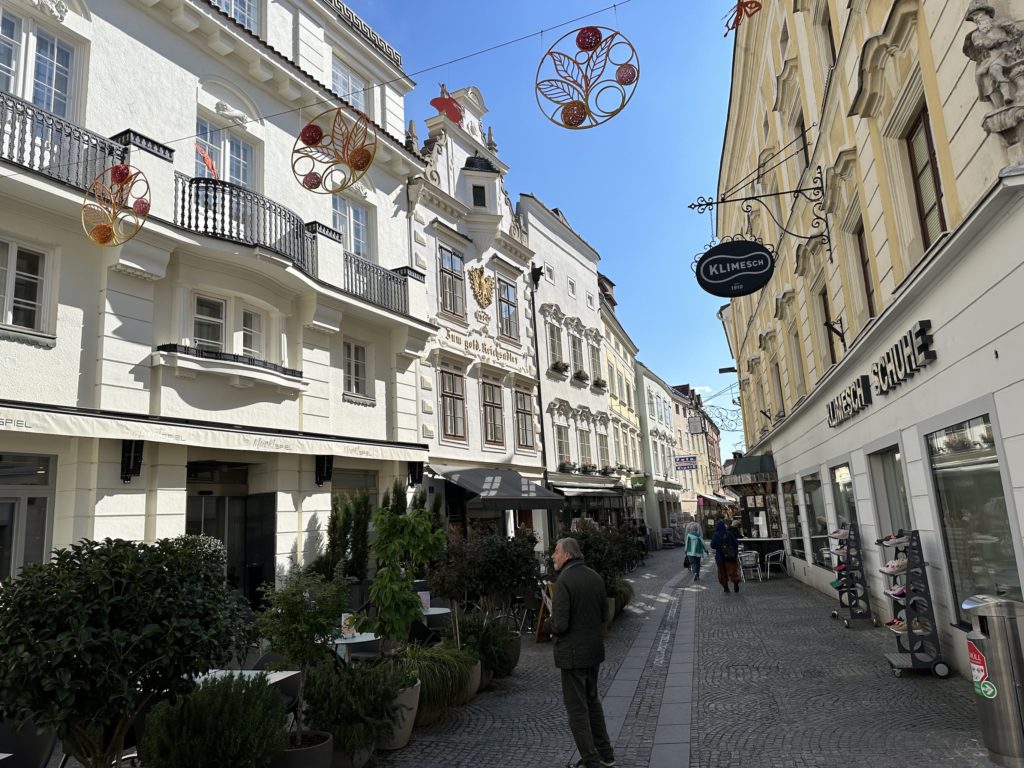 The next day I went on a short morning excursion to Krems, an old town with a population of 25,000. There is a single main street in the old part of town, which is mostly tourist shops now.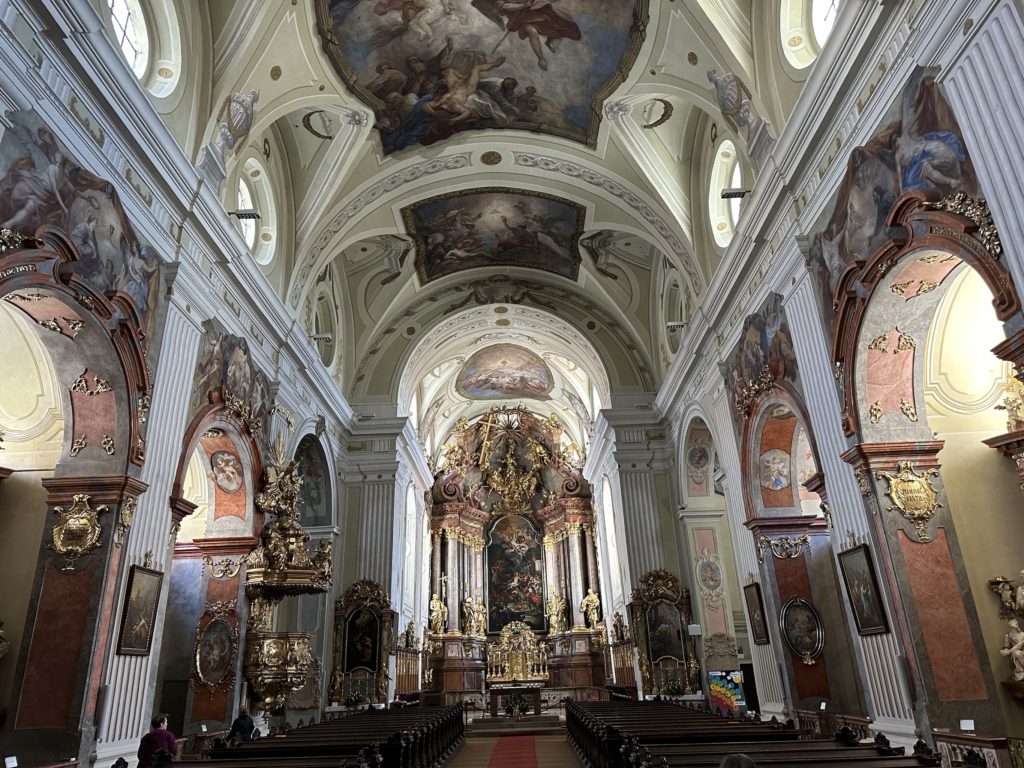 We visited an ornate church, and an eclectic museum in an abandoned abbey.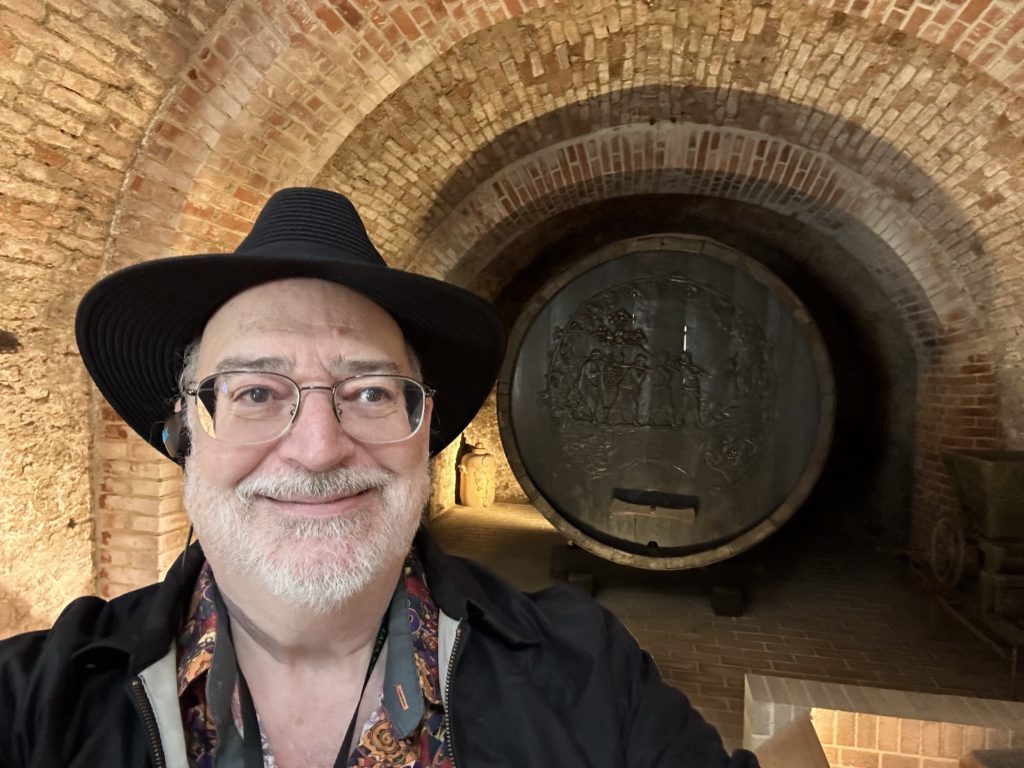 In the cellar they had some beautifully carved old wine barrels, one of which had a carved cat on it.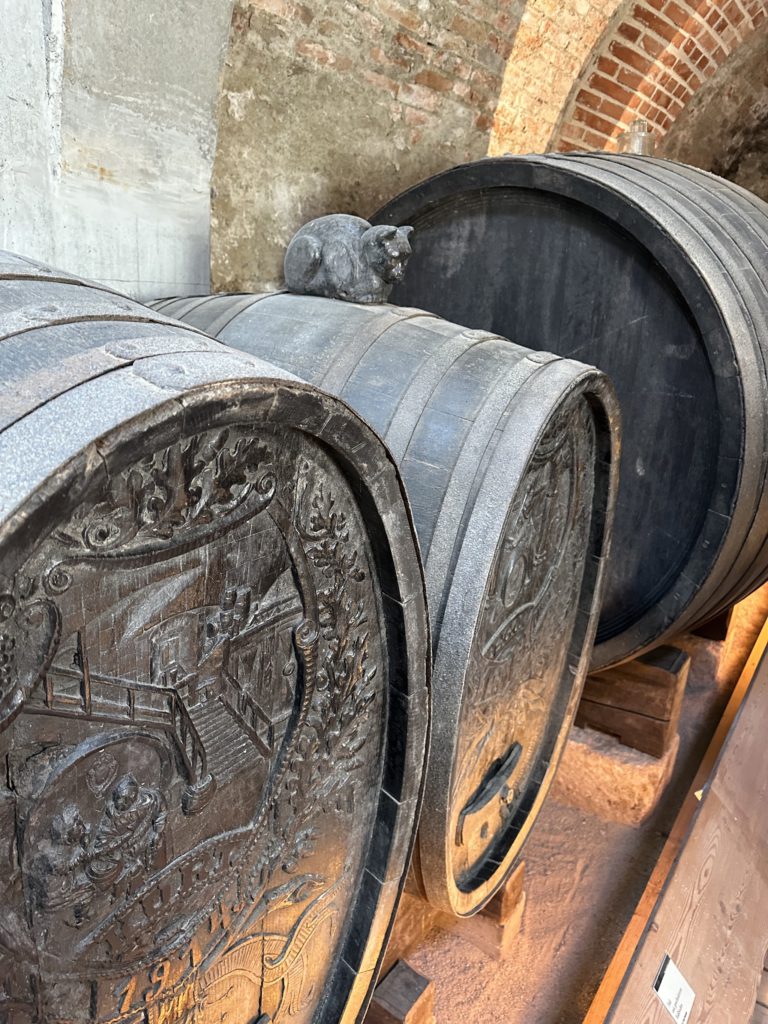 The story was that the cellar cat would sit on the warmest barrel, which due to its high sugar content was the most prized wine, so that's the one people wanted to buy. Of course, before the buyers arrived the winemaker no doubt put the cat on the barrel he wanted to sell!
Back at the ship, we went to lunch in the main dining room. Wow, the food is uninspired there. Not sure why it's so poor, but that's why we've been living on pub food at Arthur's at the rear of the ship.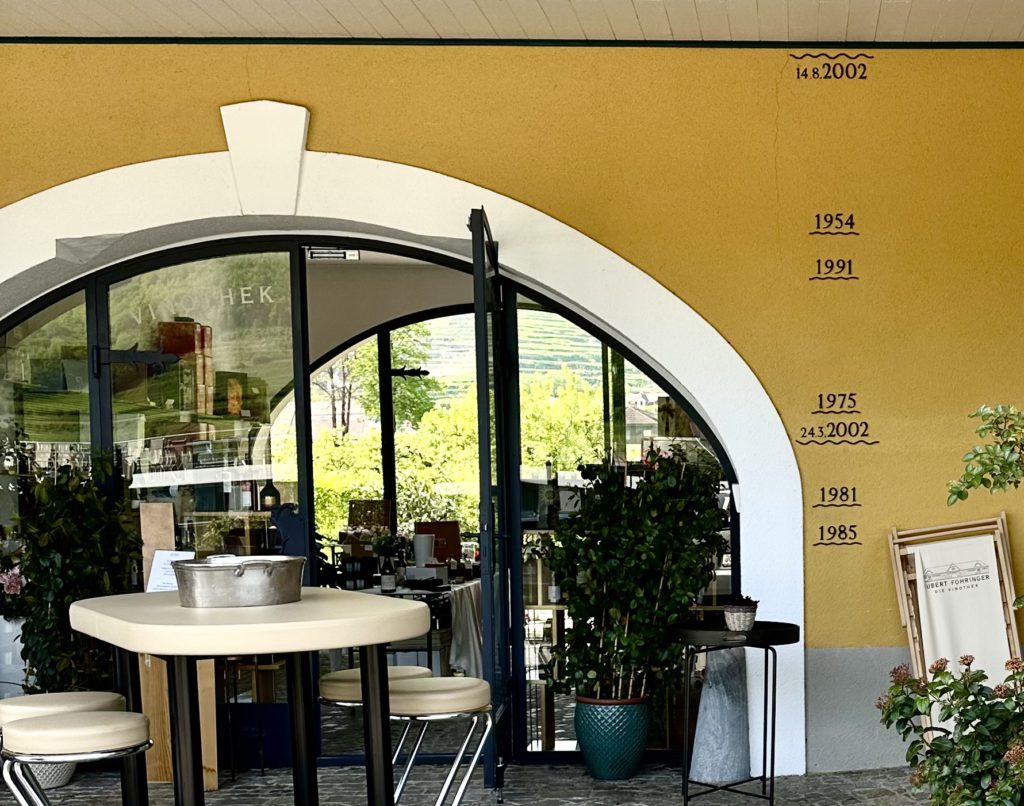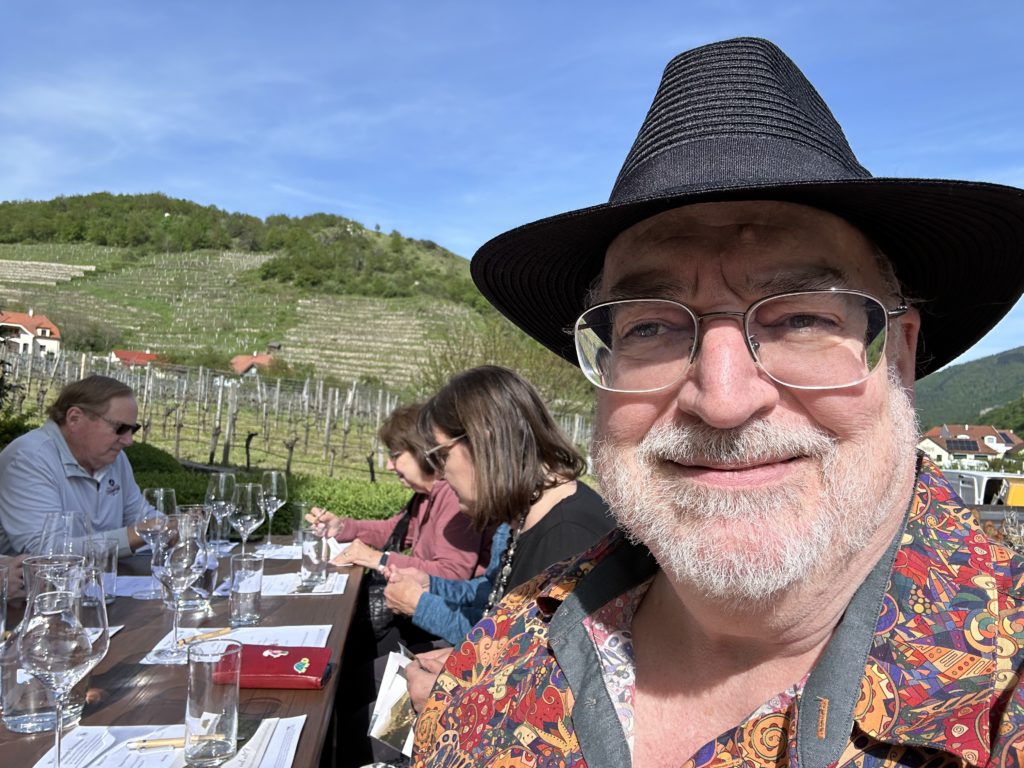 We cruised up the river to Spitz where I took a short drive to Weingut Christoph Donabaum, a small 2000-case winery, for a wine tasting hosted by the owner and his girlfriend. We had two 2022 Grüner Veltliners and the tartest Riesling I've ever had.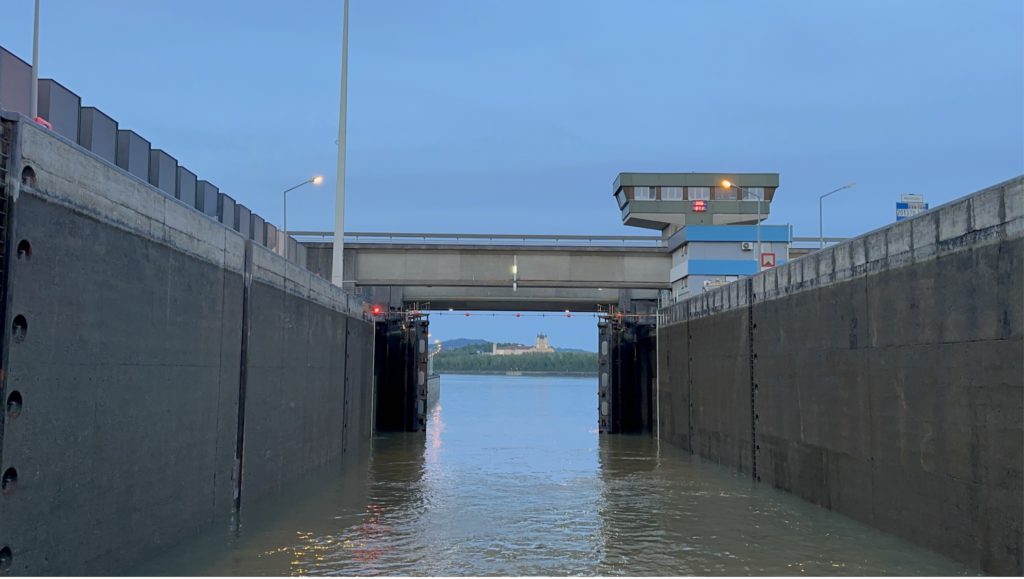 We had dinner at Arthur's, which we again had to ourselves, with our delightful server Alex, who has been the highlight of our trip. Arthur's looks out the rear of the ship, so we got to watch as we passed through a lock.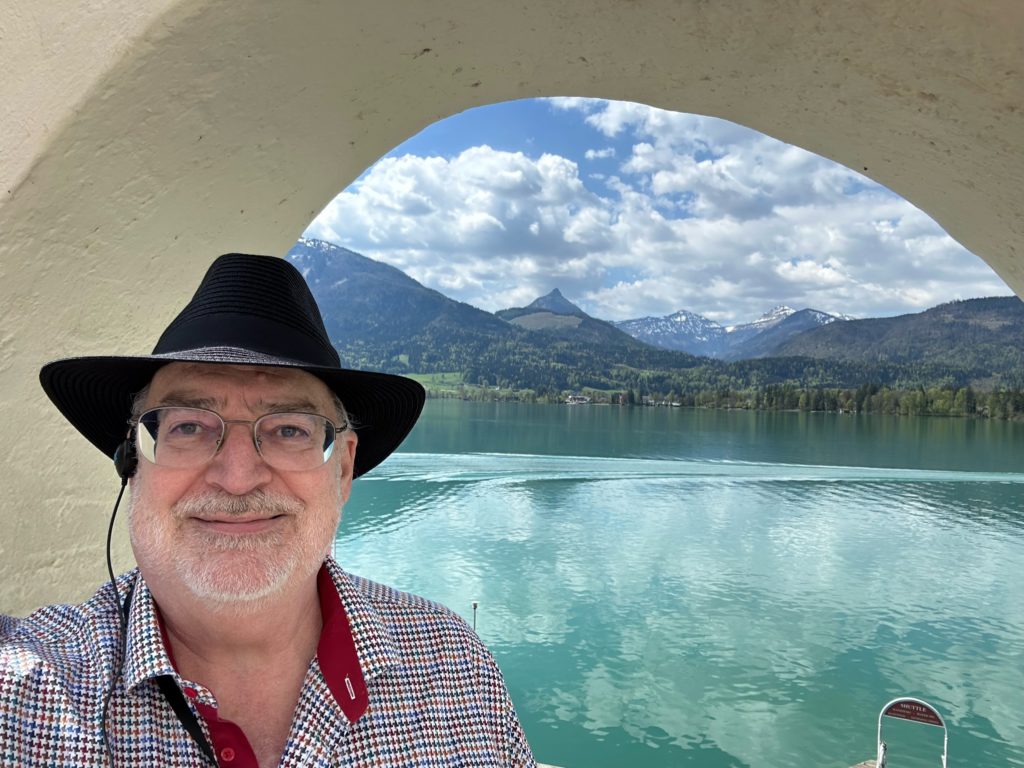 Friday Linda was still sick, so I did the trip to the lakes region of the Austrian Alps solo. This is the area Americans associate with The Sound of Music, although Austrians aren't into that movie. We took a boat ride across one long lake, then reboarded our bus and drove to another lake and the town of Saint Wolfgang. He's a saint because he decided to build a church there 1000 years ago, and also struck the ground with his staff and water bubbled up that magically cures your eyes, yada, yada, yada.
The town is very good at monetizing things. You can buy holy water, salt, salami, fake leather purses, and cuckoo clocks, all within feet of one another.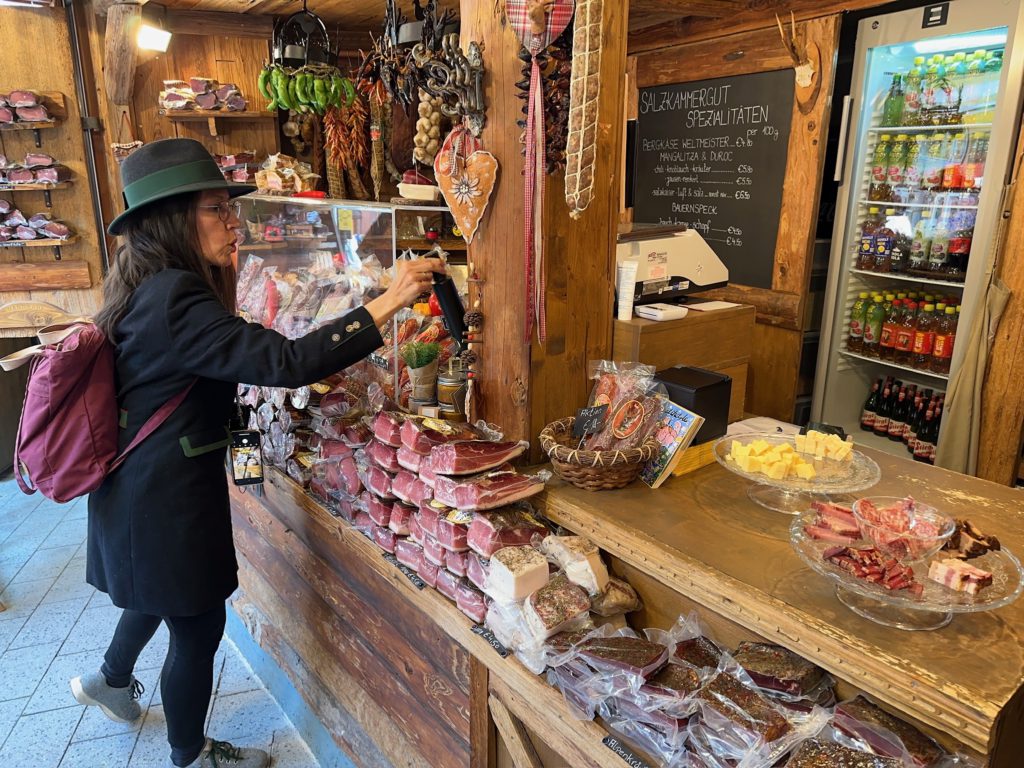 We've been seeing these things in every town: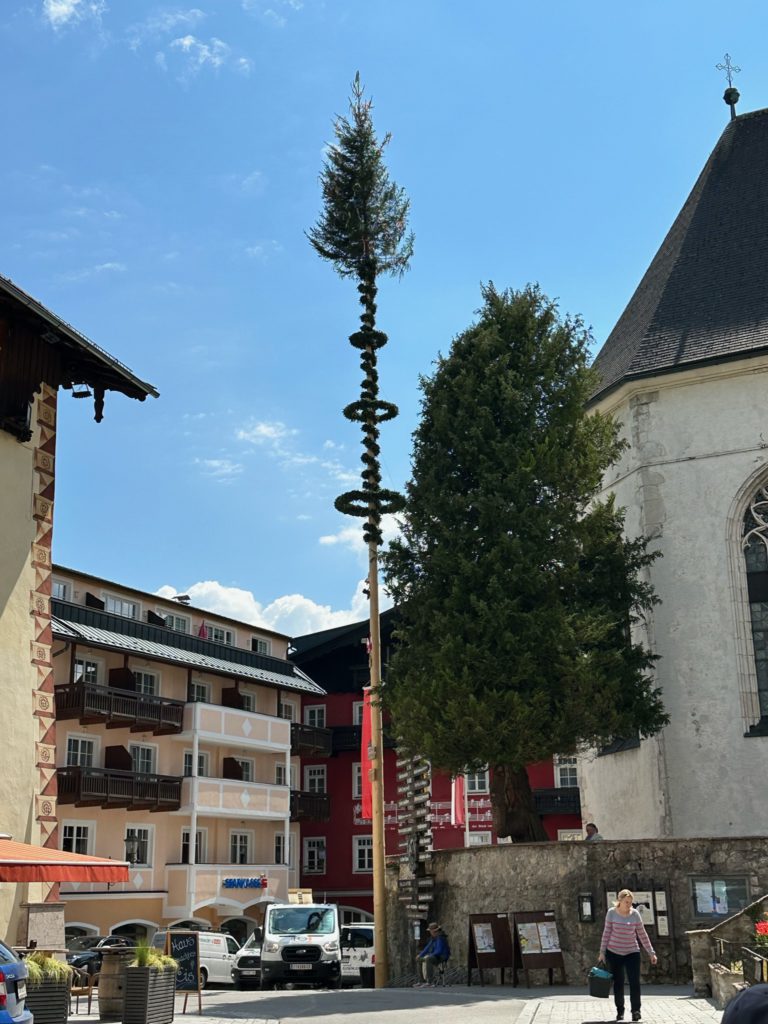 They're not cell towers. They're Maypoles. They're put up the last day of April (by hand) and then guarded for a few days. If the neighboring town manages to vandalize it, you have to buy them drinks. Or something like that.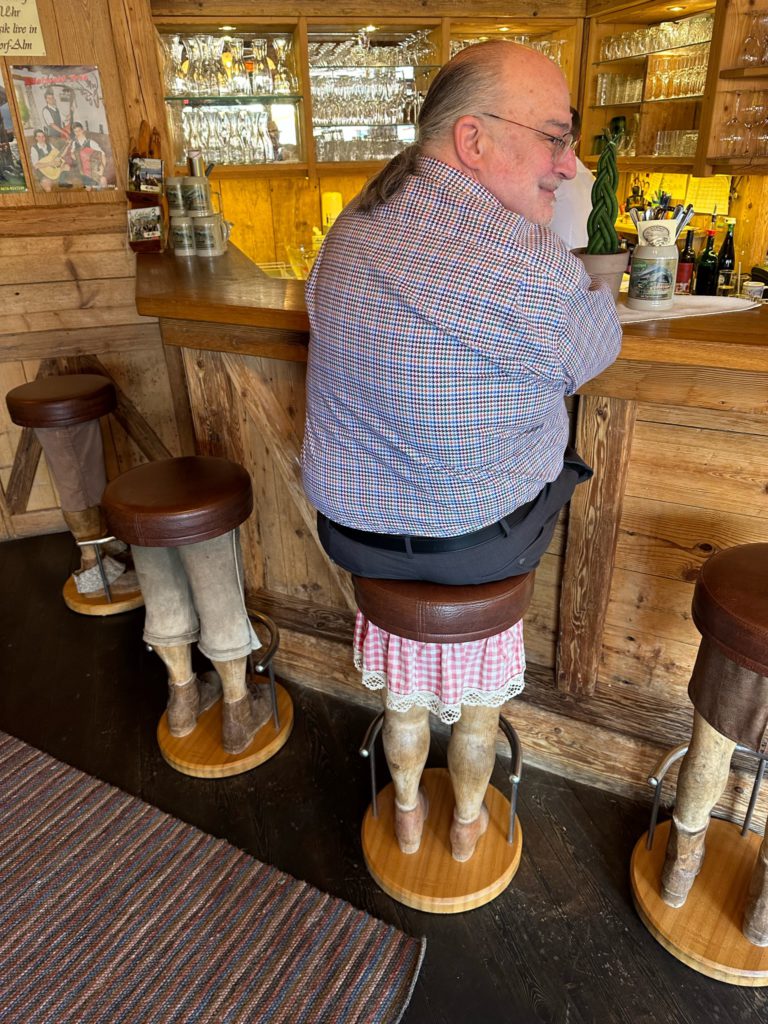 We had lunch at Dorf-Alm zu St. Wolfgang, a decent meal of sauteed perch and boiled potatoes. I liked their barstools.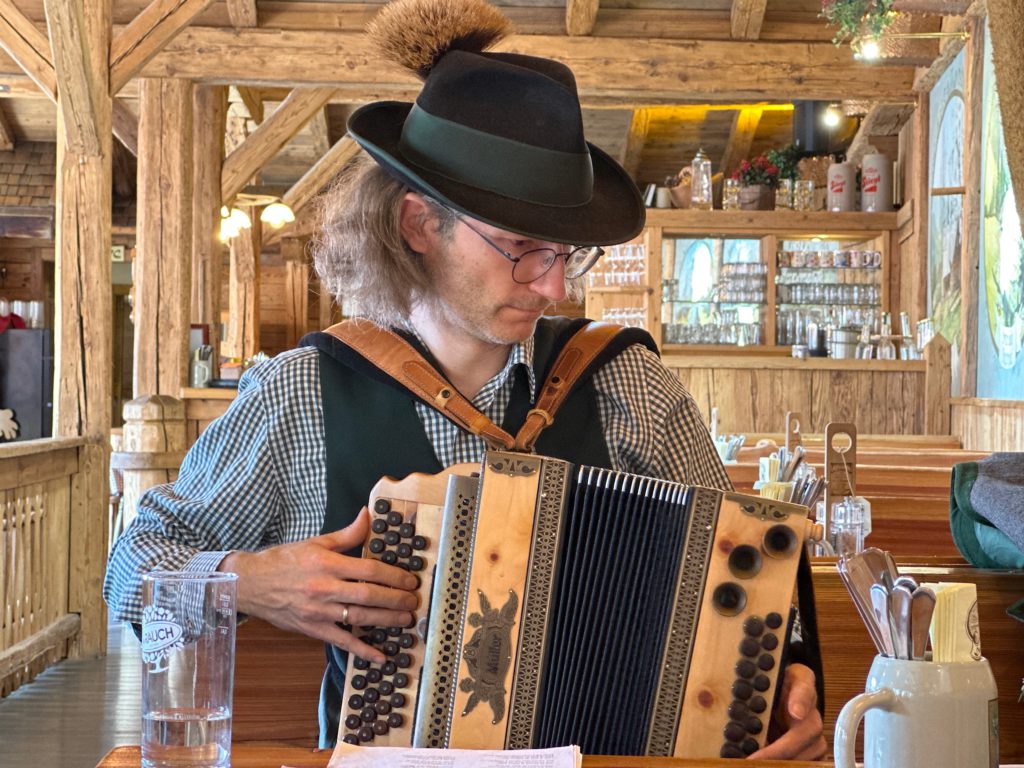 Lunch entertainment was provided by our guide's husband, as this is the town they are from (or close to it). She had traveled by train to meet us in Linz this morning, and will need to go back tonight. It's about 1-1/2 hours by train, but the cost is essentially free, since you pay 1000 Euro a year for all transportation. The bus ride back to the ship was mostly on high-speed highway, and we were back before 5pm.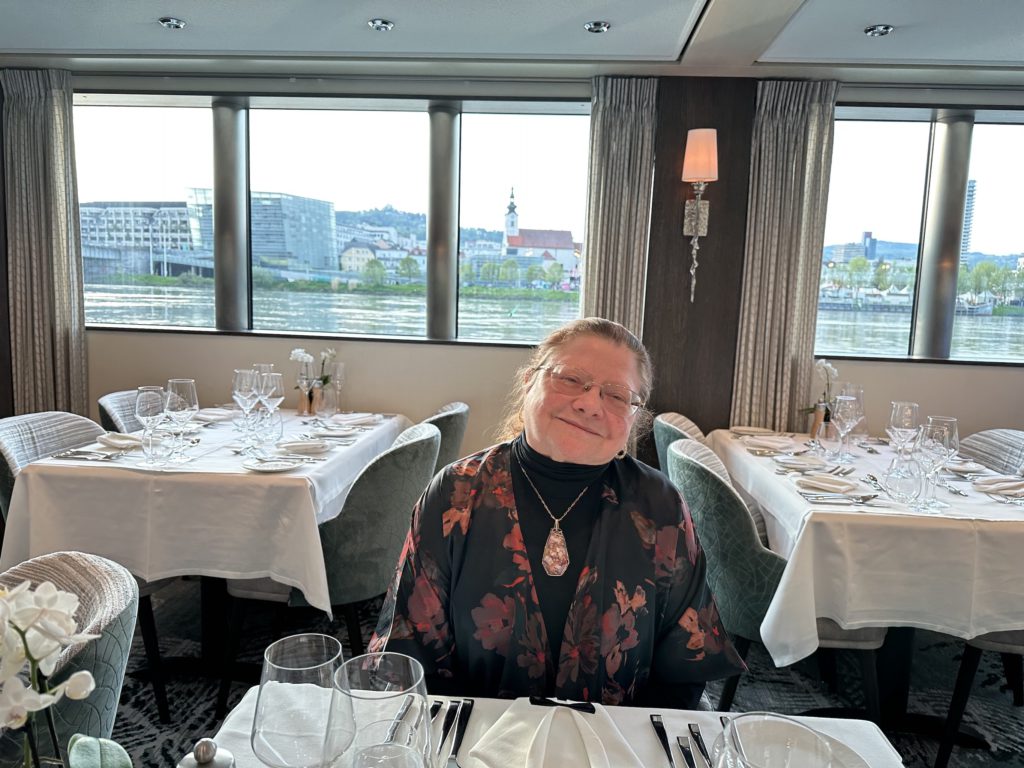 The chef's "signature dinner" was at 7pm in the dining room for everyone, and was actually pretty good.

Saturday Linda was still under the weather, so we skipped the walking tour, and after lunch at Arthur's, I went for a short walk around Passau, Germany.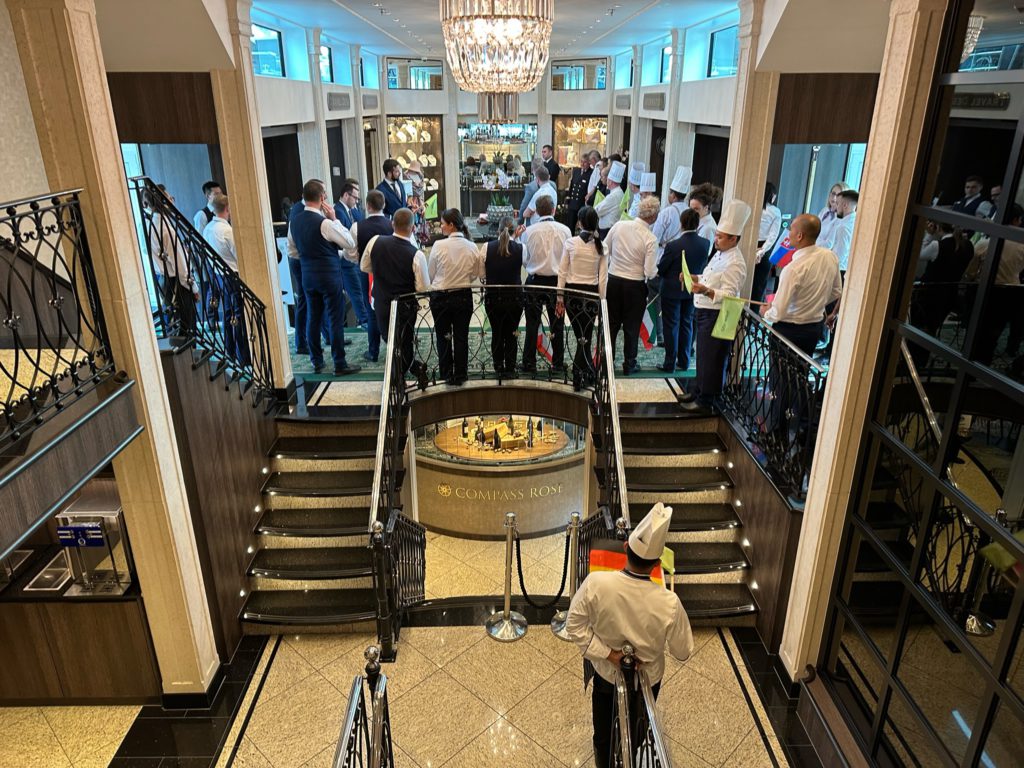 Sunday we said goodbye to our ship and took the bus to Regensberg, perhaps the most interesting of the cities we've visited on this trip.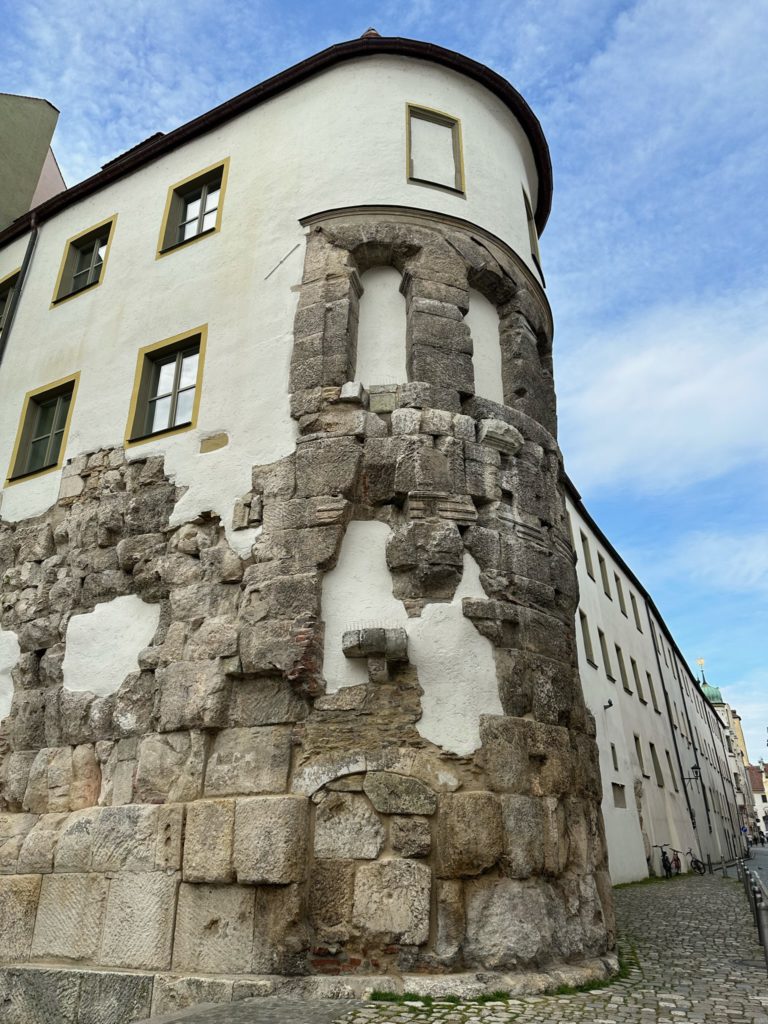 The city has a long history, and you can easily spot the Roman fortifications on which the central part is constructed.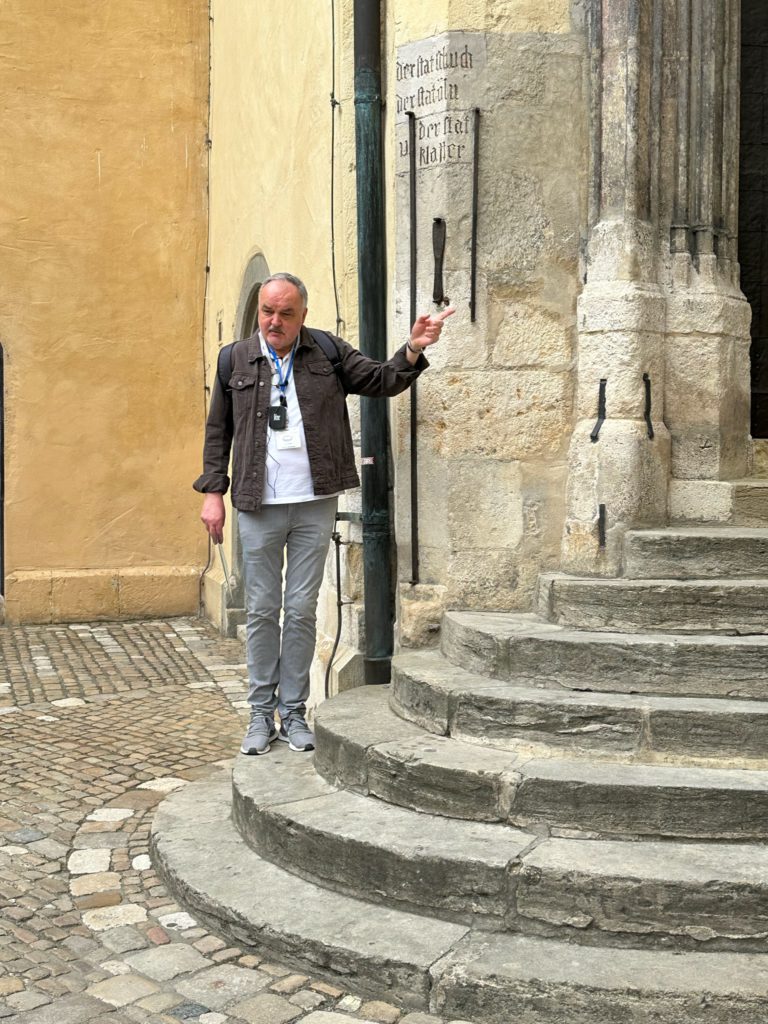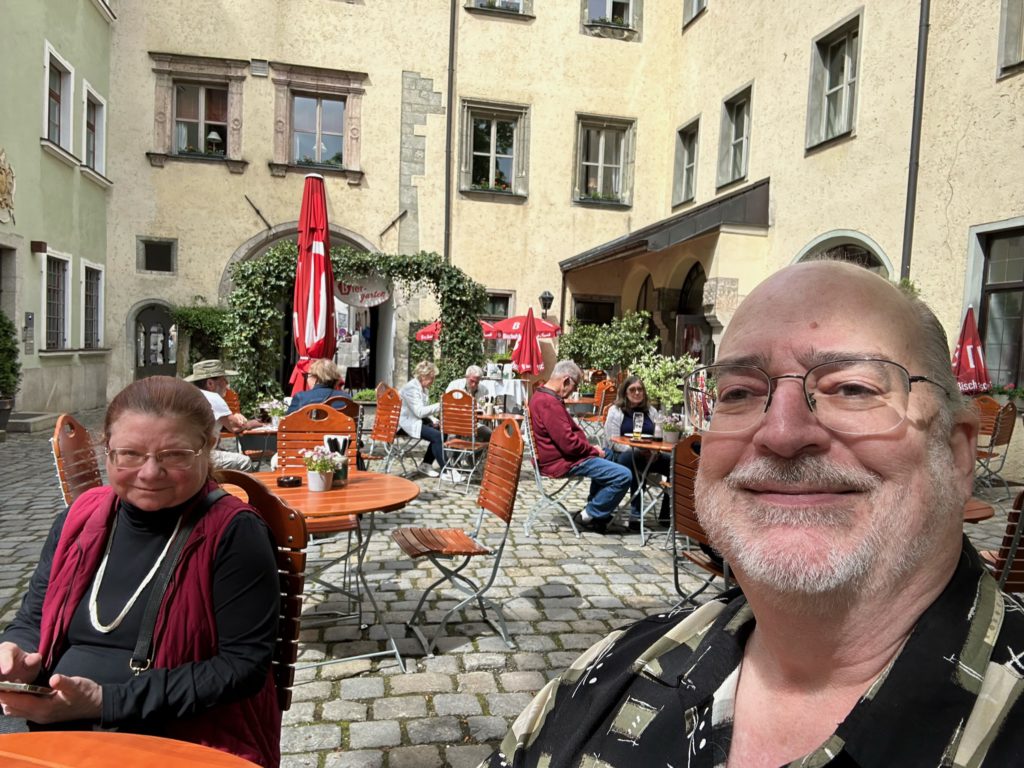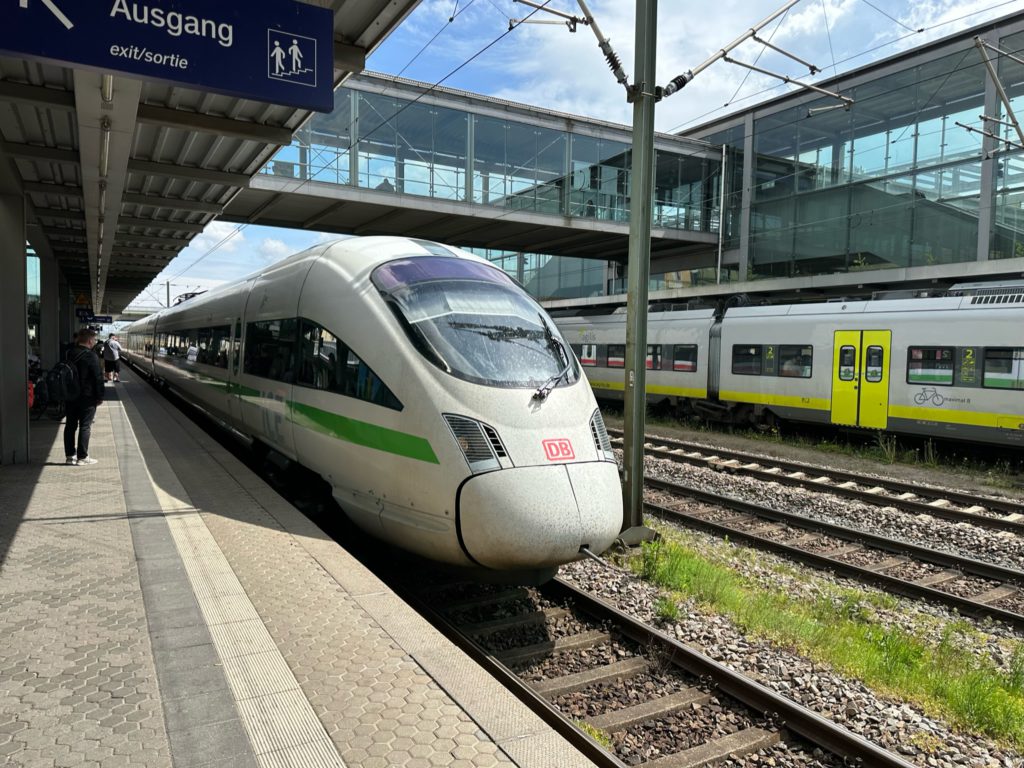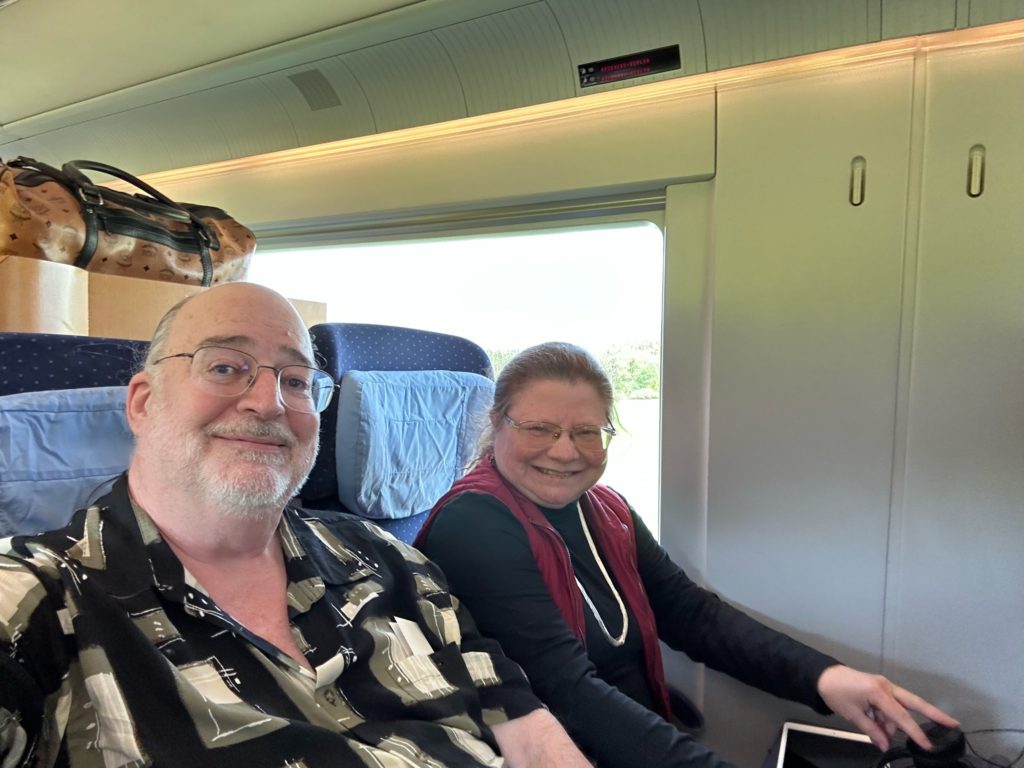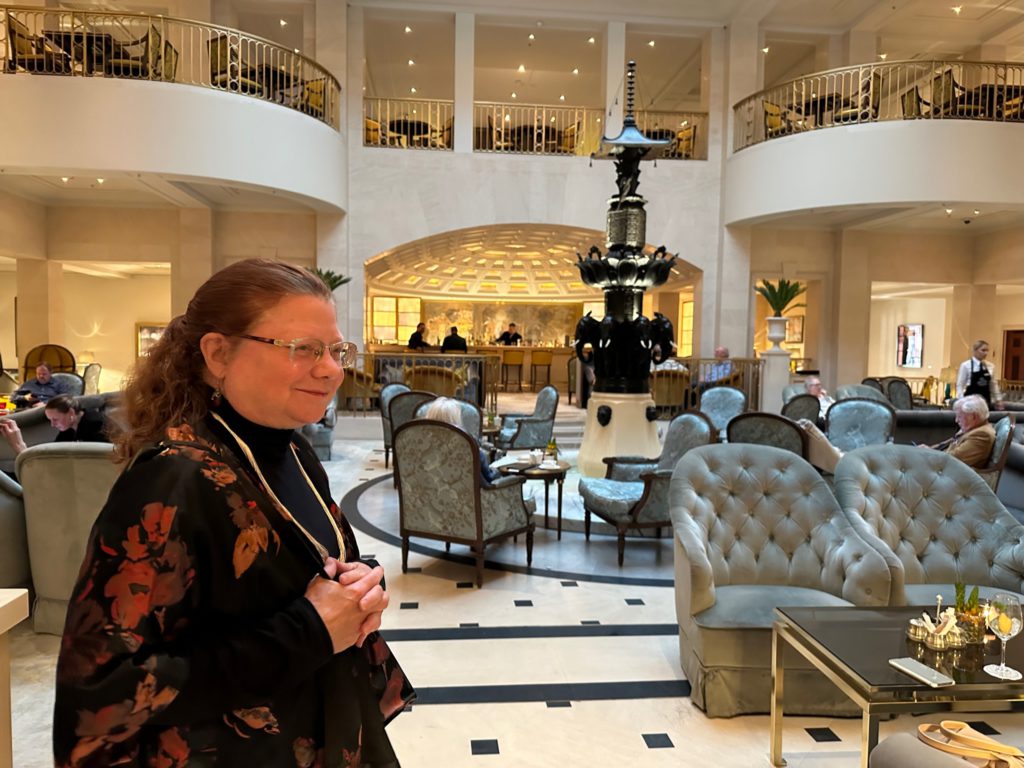 Monday morning we should have gone to breakfast earlier–it's fantastic, with several rooms of buffet including Champagne and caviar! We did a short walking and driving tour around Central Berlin. Our hotel is really near the Brandenburg Gate (it's outside our window) and it's really interesting to see all the vibrant new buildings that stretch through the center of the city on the former no-man's-zone or killing ground where the Berlin Wall was. There's little trace of it any more, save for some different colored paving stones.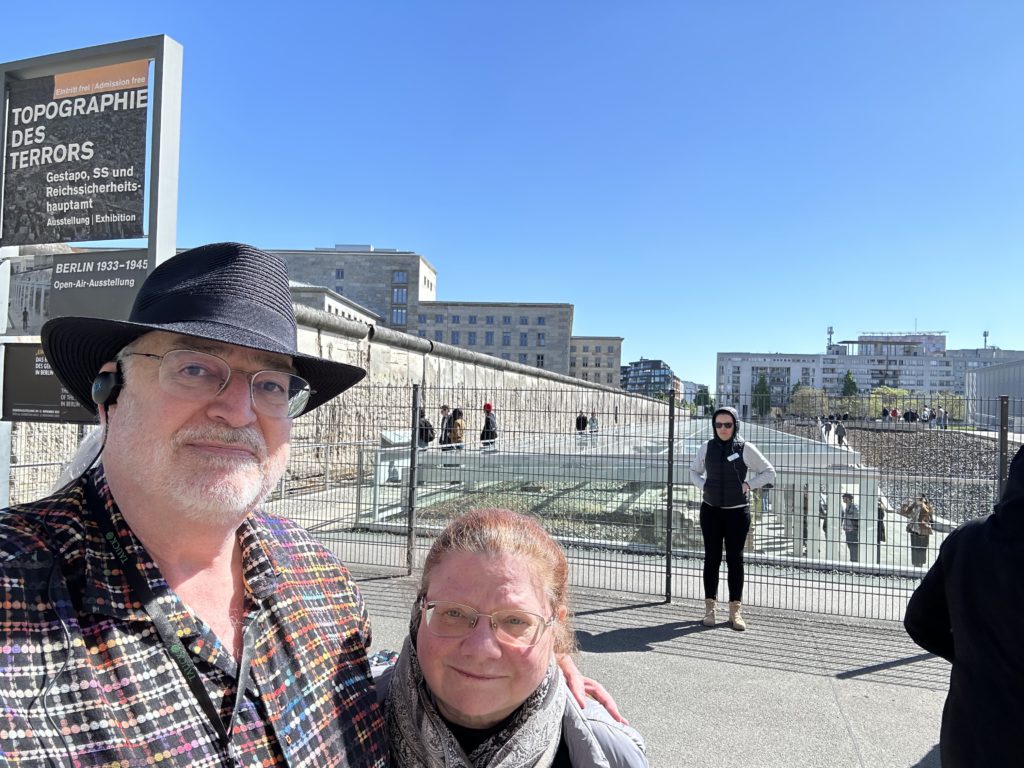 We visited a few of the locations of Nazi bunkers and such, but there is nothing left, as they have been intentionally erased. We also visited an excellent museum about WWII, Topographie Des Terrors, and I ordered a book that contains everything in the museum to look through at our leisure. We also passed tourist spots such as a reconstruction of Checkpoint Charlie, and the place where Kennedy delivered his address.
It's no longer obvious where East or West Berlin was, as there has been so much modern development. The city is obviously thriving, and is really quite attractive.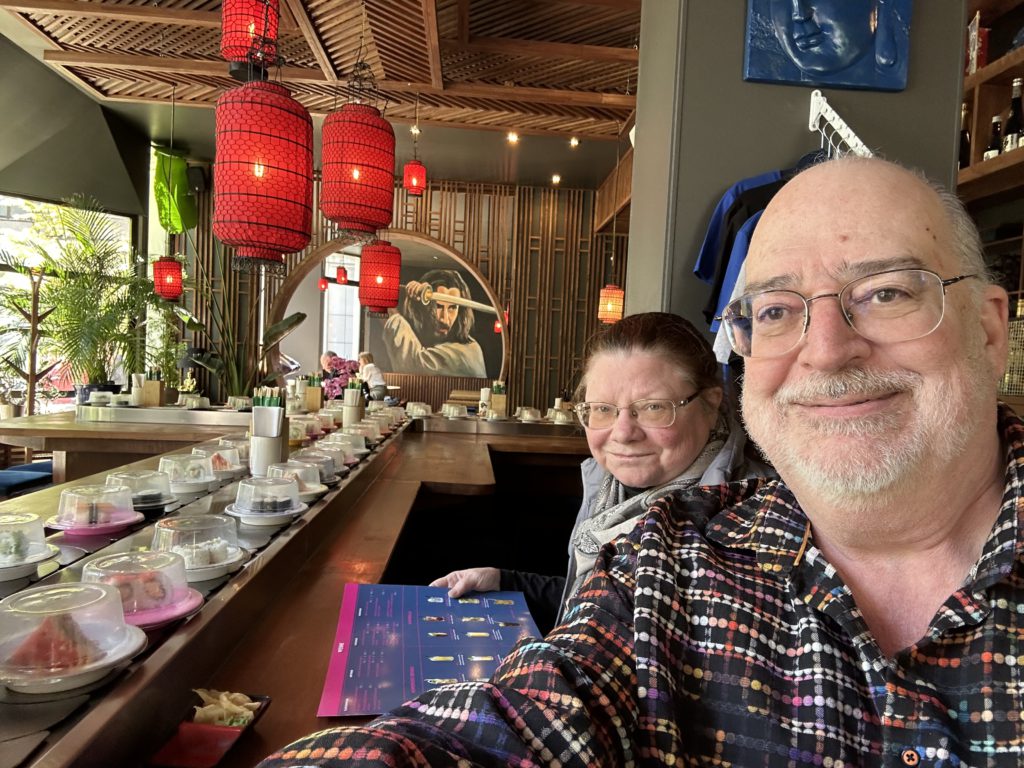 After a restful afternoon we walked a few blocks to the two-Michelin-starred Facil for a lovely dinner.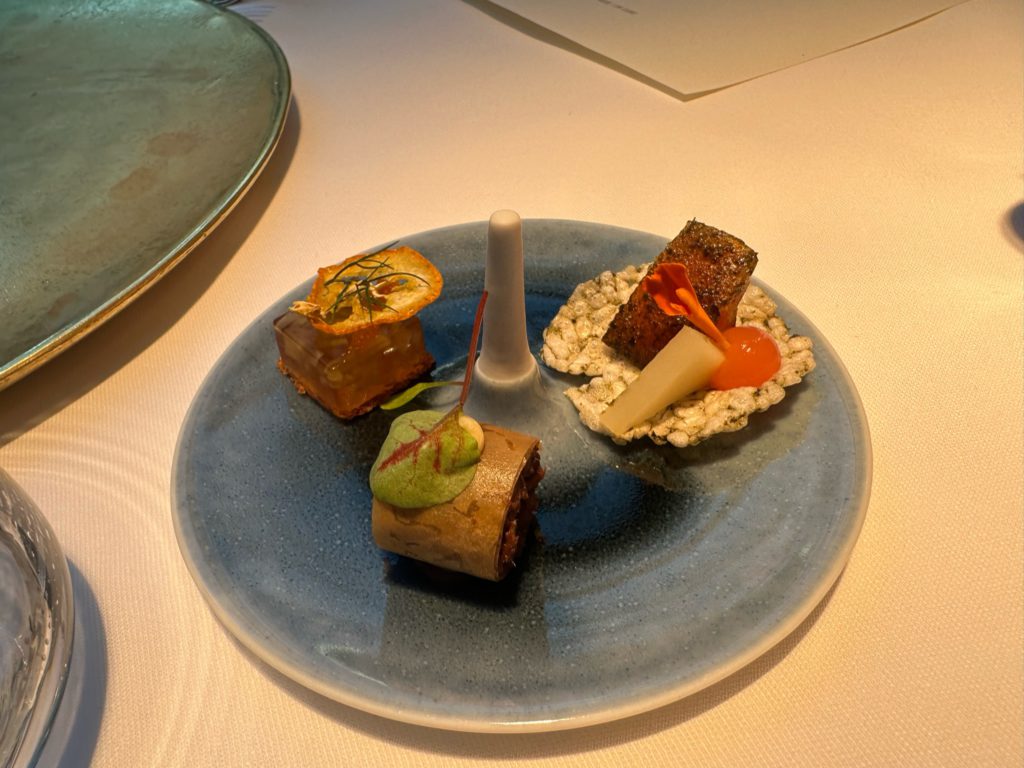 After another amazing breakfast buffet at the Hotel Adlon we took a short bus tour around the city again and spent a couple hours at the Pergamon Museum.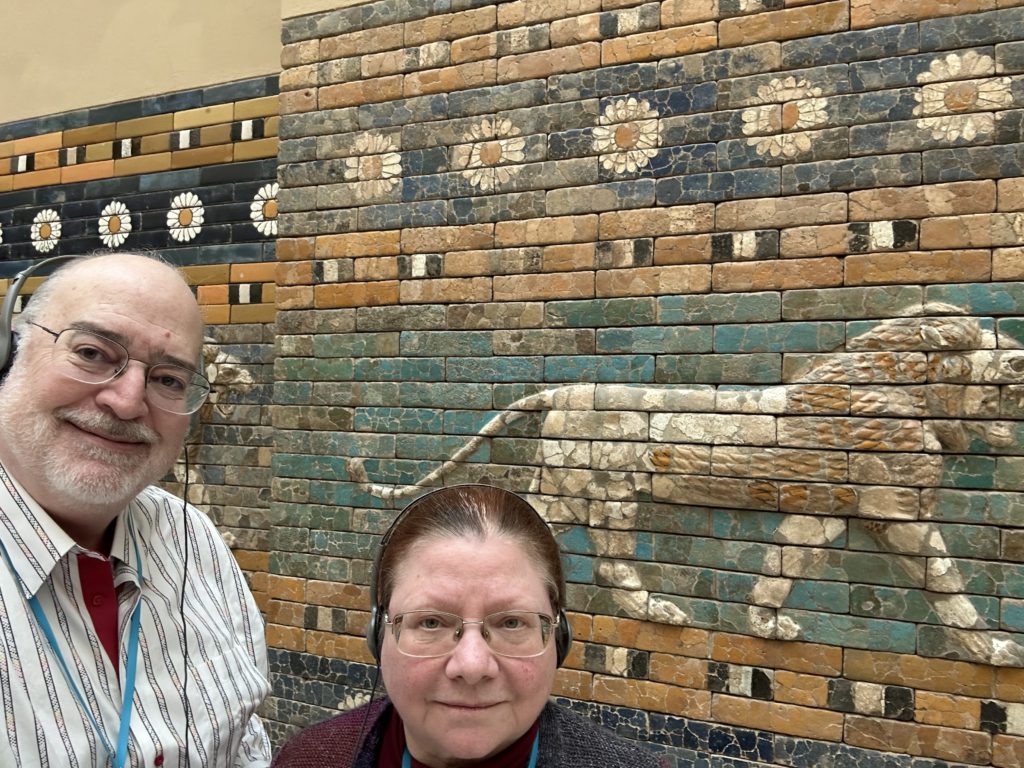 It's like a tiny version of the British Museum, filled with things stolen from elsewhere.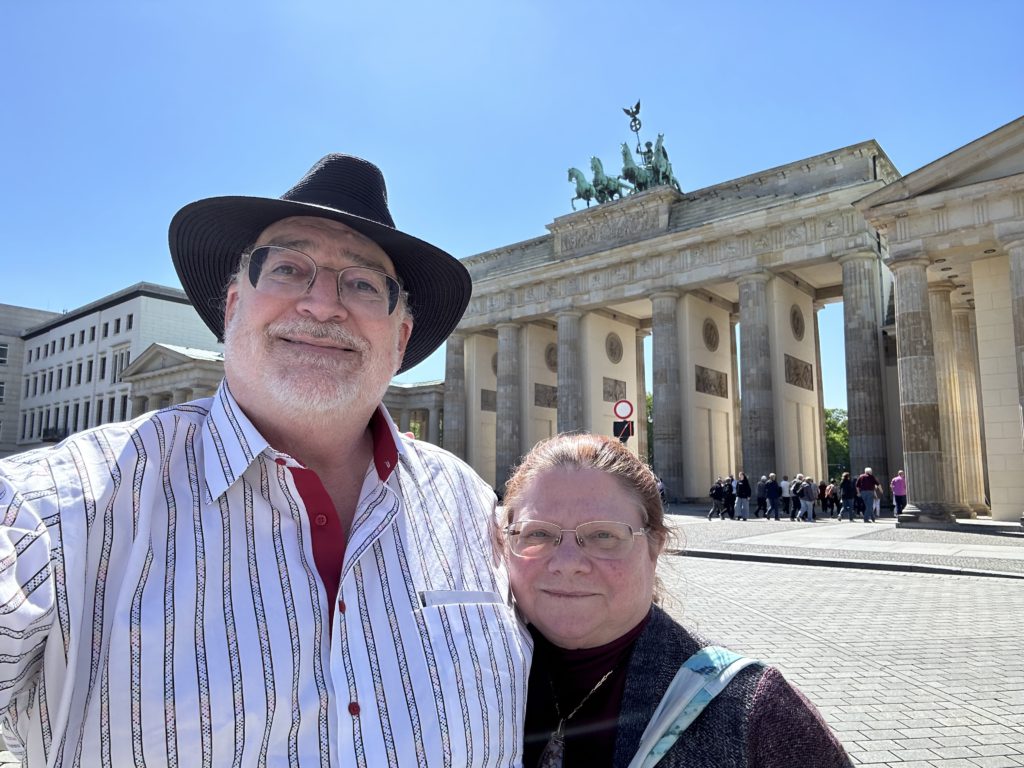 We split off from the group's German lunch and wandered back through the Brandenburg Gate and had lunch at Mama Trattoria, across the street from our hotel.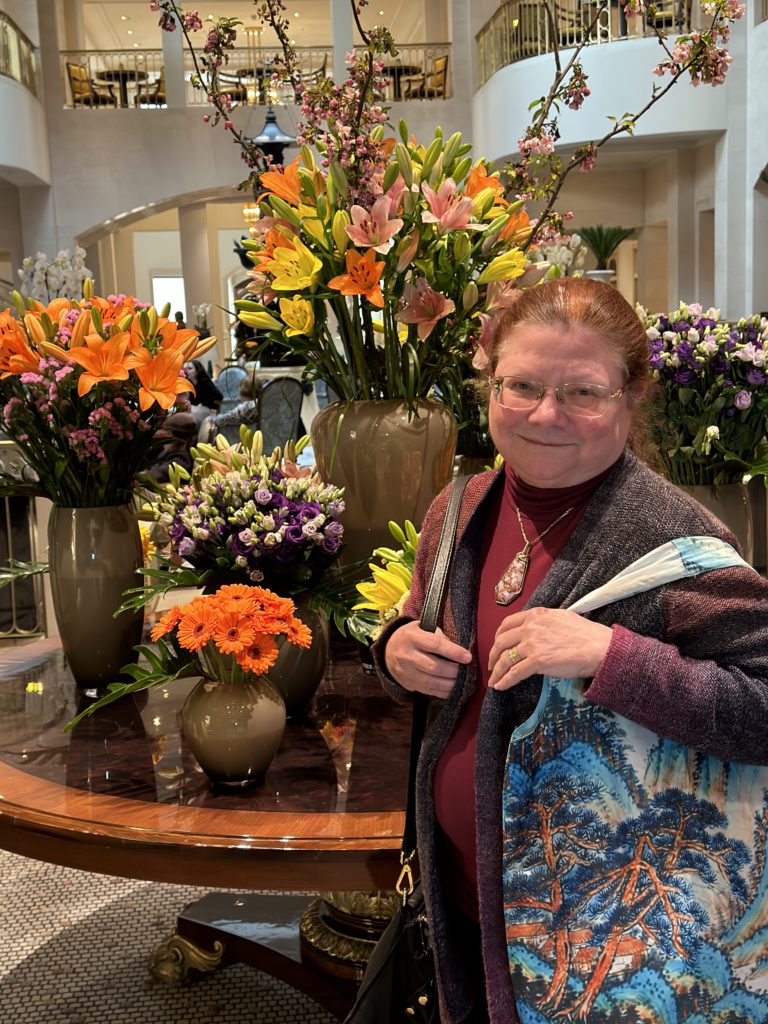 Today is May 9th, traditionally Victory Day, which commemorates Russia's defeat of the Nazis in WWII. However this year, because of the Russian invasion of Ukraine, Berlin actually tried to ban the display of Russian flags. That didn't go through, so both Russian and Ukranian flags are on display, but celebrations are muted and there is a large police presence everywhere.
The most likely thing to disrupt traffic in Europe this year, which we encountered in Vienna and Berlin, is protestors gluing their hands to the pavement in intersections to protest climate change. I'm not sure how tying up idling cars for hours improves the climate, but whatever. Because it's very good glue, the authorities have to cut the chunk of pavement out with their hand still attached, and then send them a bill for repaving. Meanwhile, in Paris, they are still protesting raising the retirement age from 62 to 64! Also while on this trip Charles II was crowned in London. Glad we missed that by a week!

We finished our tour with a lovely visit to the Reichstag, with a view overlooking all of Berlin, and a lovely farewell dinner. A talk by a former escapee from East Germany was the climax.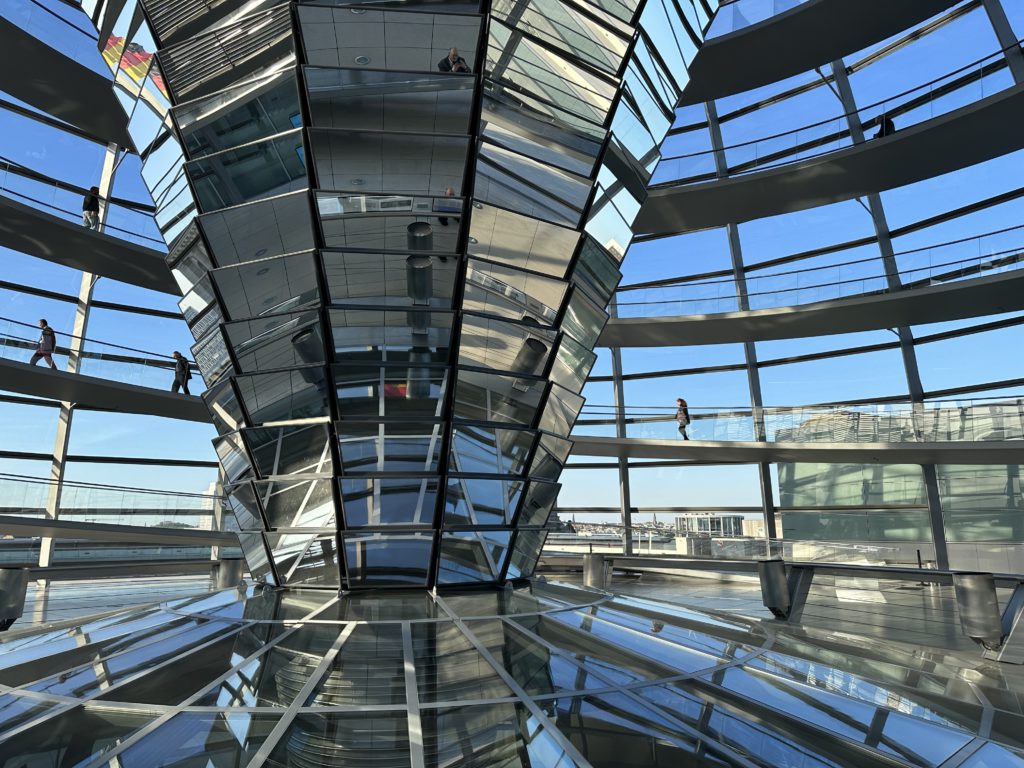 Then it was back to the hotel for some sleep before our early wake up call to fly home on Aer Lingus via Dublin to Orlando.
In all, an interesting trip with some good highlights, a great group of people, and the usual Tauck professionalism.