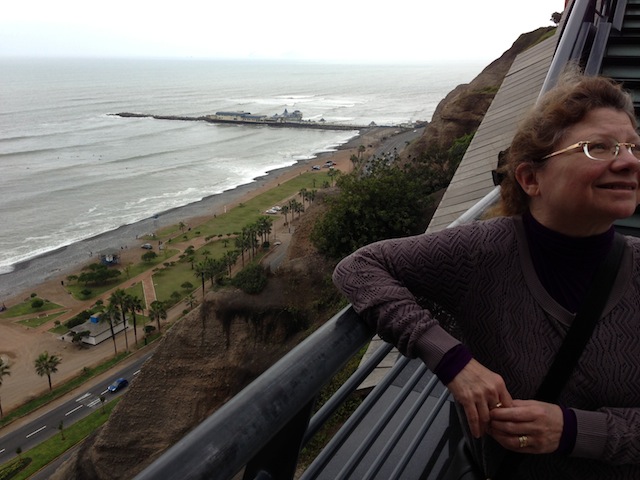 For this year's trip Linda and I set our goal to visit the last continent on our list, South America. (We're not expecting to get to number seven, Antarctica, any time soon.) It seems ironic that the only inhabited continent we haven't been to is the closest to our home.
Our friend, Pamela, from Australia, flew to Orlando to join us for a week before the trip, and then we all headed south. Well, actually we headed north, to Atlanta, and then south. Lima Peru is due south, oddly enough. It doesn't seem like the east coast of the US should line up with the west coast of South America, but it does, hence no time change (except they don't need to observe daylight savings time in a country so close to the equator).
The flight was surprisingly quick, just six hours to go about 3000 miles. That was a good thing, because the "flat" beds on this A330 were anything but. In all fairness, I think mine was broken, because it kept recoiling from the flat position, but the design doesn't even attempt to level the bed, so you keep sliding off the bottom. Delta has won an award for some of the top beds in the industry, but I bet it wasn't on this plane, which was inferior to the two other Delta designs I've seen, which we had on flights to Sydney and Istanbul.
We arrived in Lima and cleared immigration and customs before midnight. Since Pamela hadn't booked her room through the cruise line, I'd called to arrange her transfer, and he dutifully appeared. I'd also called the cruise line to confirm ours, and they assured me the hotel was handling it. Nope. So we hired a taxi for the trip to the JW Marriott in Miraflores Lima.
Lima is criss-crossed by four lane roads, but they don't seem to form a useful grid, so the half hour ride involved much jogging through back alleys to get from one road to another. Finally we followed the beach for a few miles, then climbed the steep palisade to Miraflores.
The Marriott is a very nice hotel. It's a high rise located at the top of the bluffs, overlooking the bay upon which Lima is situated. During our Sunday in Lima the weather was a bit socked in with low clouds, but we could still see from one end of the bay to the other.
Pamela and I met for breakfast and then she retired to her room to rest up for a day while Linda and I went out to explore the multi-level mall that clings to the cliff face in front of the hotel. We had lunch there at an outdoor cafe appropriately named Cafe Cafe. Linda had a mixed ceviche dish she proclaimed the best ever. It must have been good, because she even scarfed down the octopus.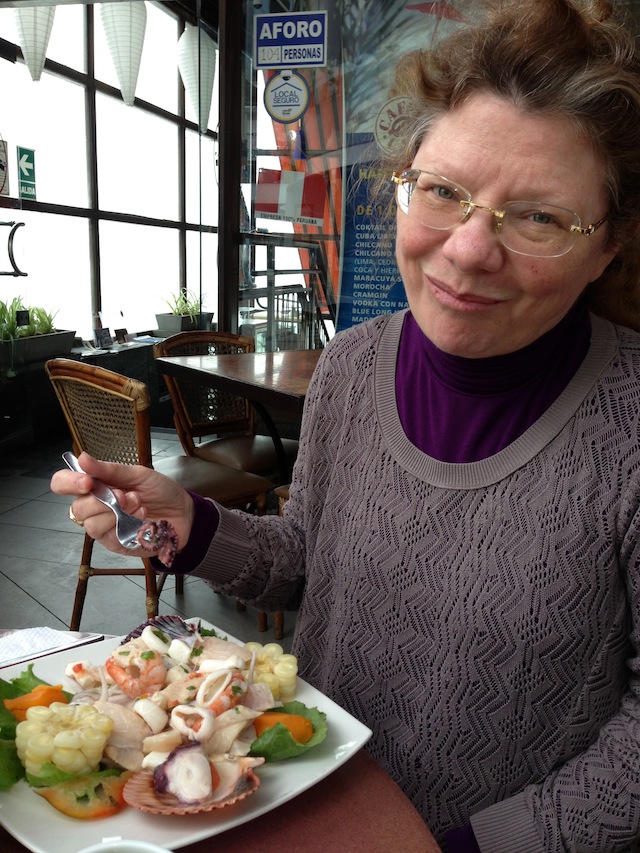 In the afternoon I took a three-hour nap (ahh, vacations) and then for dinner we went to a restaurant recommended by Diego, an Alcorn McBride intern whose mother is from Peru.
Taxis in lima are interesting. There are no meters, and the fare is subject to negotiation. The trip to the restaurant cost 10 Nuevo Sole ($4) and the trip back cost twice that. The restaurant is actually about two blocks from the hotel, but it is several hundred feet below, on the other side of a busy highway.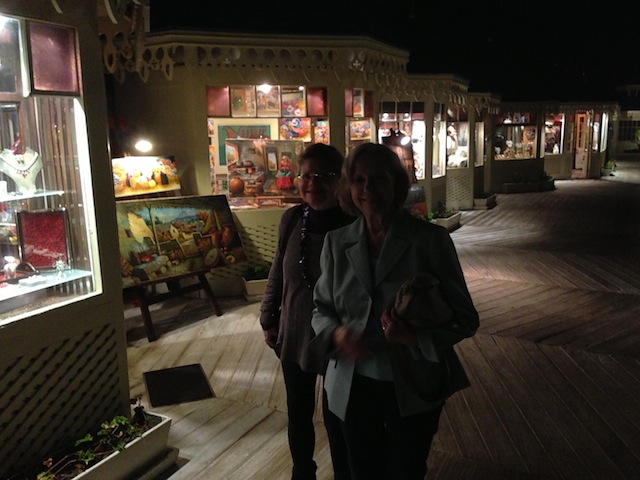 La Rosa Nautica is located on a jetty, so waves constantly break below as you walk out to the place past some cute tourist shops. Inside the spaces are quaintly decorated with flowers, mirrors and lacy white woodwork reminiscent of the Carnation Pavilion at Disneyland. We were seated in a round room with a 270 degree view. There are many dining areas in the restaurant, but ours seemed to be reserved for American tourists, which was very practical, as all the servers spoke English.
We had their tasting menu, which was three courses of three items each. Everything was beautifully presented, and quite tasty, and the price of $65 per person seemed very reasonable. To accompany dinner we had an Argentine Chardonnay that was quite dry, and a Chilean Cabernet Sauvignon with an interesting charred wood nose.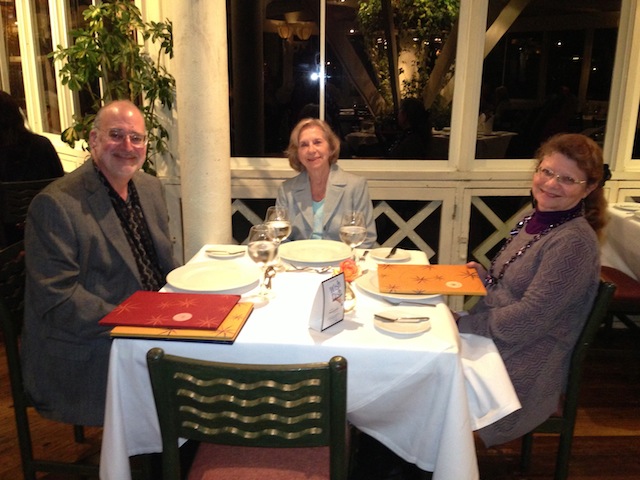 After a good night's sleep, we transferred to our ship midday on Monday. The process at the hotel was inscrutably disorganized, with no one knowing when or where the transfer would be, no luggage tags to direct bags to the cabin, and no boarding documents. But somehow we ended up on a shuttle with our luggage, and got to the ship, where boarding and check in were quick and efficient. And despite all expectations to the contrary, our luggage showed up at our cabin, even with no cabin ID tags.
We are on the Oceania Marina, a ship about twice as large (1200 passengers) as our previous Oceania ship, the Insignia. This suite isn't quite as nice as the one on the Insignia, or as spacious as the one on Celebrity last year, but the ship has much more to offer in terms of restaurants and public spaces. We certainly got a good deal on our suite, which was priced at under $650 a day for two including insurance, far below the usual half off rate, and even includes a $400 cabin credit. That plus the new unlimited Internet offering discounted to $20 a day make this a very economical luxury cruise.

We went to the main dining room, where the host invited us upstairs to the Polo Grill, one of the specialty restaurants (which tend not to be busy on embarkation day) for a nice dinner.
The ship overnighted in the Port of Lima (which is very noisy–thank goodness for earplugs) and then on Tuesday Linda headed out for a visit to two museums. Since they were right back where we came from in Miraflores, I decided to opt out of this tour and have a restful day on the ship. Linda enjoyed the trip, and reported much pottery, including this one that reminded her of our cat Tucker sleeping on her (although I think this guy is being eaten by the cat).