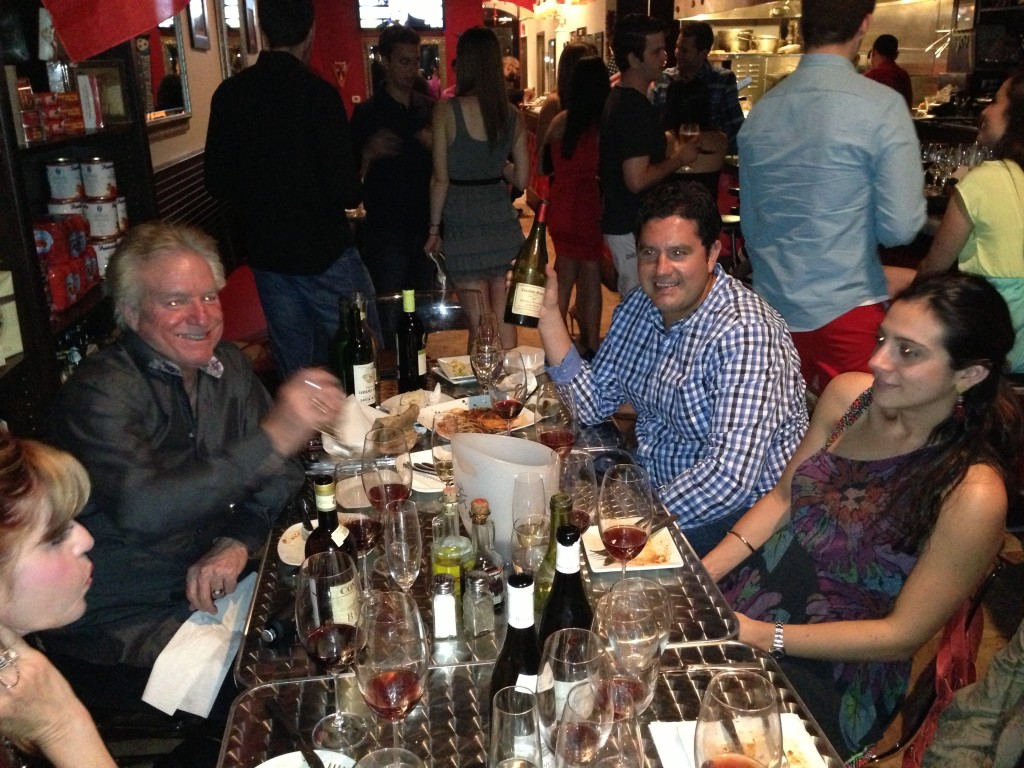 A dinner at Dellagio's Peperoncino with Ron, Bev, Andres, Paula and Linda, noted here because of the inclusion of a 100 point 1934 Burgundy from Ron.
Peperoncino serves authentic regional Italian cuisine in a fairly boisterous atmosphere. Because the place is long and narrow, it tends to get noisy. This was especially true, last night, when a large party showed up without a reservation and spent an hour pressed up against our table waiting for seats.
The food is good, although I prefer Ciao Italia over by SeaWorld. Service was certainly attentive, and the glassware is pretty good although limited.
Ca' del Bosco Franciacorta Cuvée Prestige (Ron)
Vanilla, crisp, clean finish, 90 pts
2005 Puligny-Montrachet Clos de la Mouches Henri Boillot (Ron)
Waxy, soft, long buttery mouthfeel, lemon taffy finish, 95 pts
2007 Pulignt-Montrachet Les Enseignieres Henri Prudhon (Andres)
A bit closed, slightly buttery, 88 pts
1970 Ch. Mouton Rothschild (Steve)
Garnet, cedar, forest floor, smoke, cigar box, mint, sweet, Ron guessed it, 92 pts
1970 Louis Martini CS (Steve)
Petrol, glycerin, plastic, prunes, mint, amarone, Ron guessed it, 83 pts
1970 Corton Remoissenet Diamond Jubilee (Steve)
Bright cherry, soy, leather, earth, sweet, long, great structure, cashew oil, vanilla, mint, coffee, caramel, 95 pts
2004 Conterno Barolo (Ron)
Tannic, chewy, young, tar, mint, vanilla, forest floor, 95 pts
1934 Chambolle Musigny Dr Barolet (Ron)
Very light, orange rind, rust, spiced meat, sweet, coffee, candy, tobacco, cigarette smoke, red licorice ropes, cherry, pine needles, great fruit, pine needles, mint, refreshing acidity, 100 pts
1978 Lynch Bages (Ron)
Corked. Amazing, though, how this vintage, once thought to be too tannic to ever drink, is now softening into pleasant fruitiness.
1997 Valdicava Brunello di Montalcino Reserve Madonna Piano
Chocolate, burnt coffee, smooth on the palate, smoked meat, vanilla, 93 pts
2004 Malleolus de Sanchomartin Emilio More (Andrew)
Vanilla, meat, chocolate coated cherries, sawdust, 94 pts
Vino Chinato Louis Dressner (Ron)
Amaro like with Nebbiolo base. Cinammon, bitters, 90 pts