Not since the days of Napoleon has it been so clear who ruled Europe.
Keith Edwards organized an extraordinarily informative tasting designed to compare ten Italian merlots with ten Bordeaux wines consisting of at least 75% merlot. In attendance were Keith, Parlo, Ron, Bev, Andres, Paula, Russell, Linda and I.
What a great location K Restaurant was! The appetizers before the event were also the best we've had, and included deviled eggs, crab hors d'ouvres, and some great cheeses.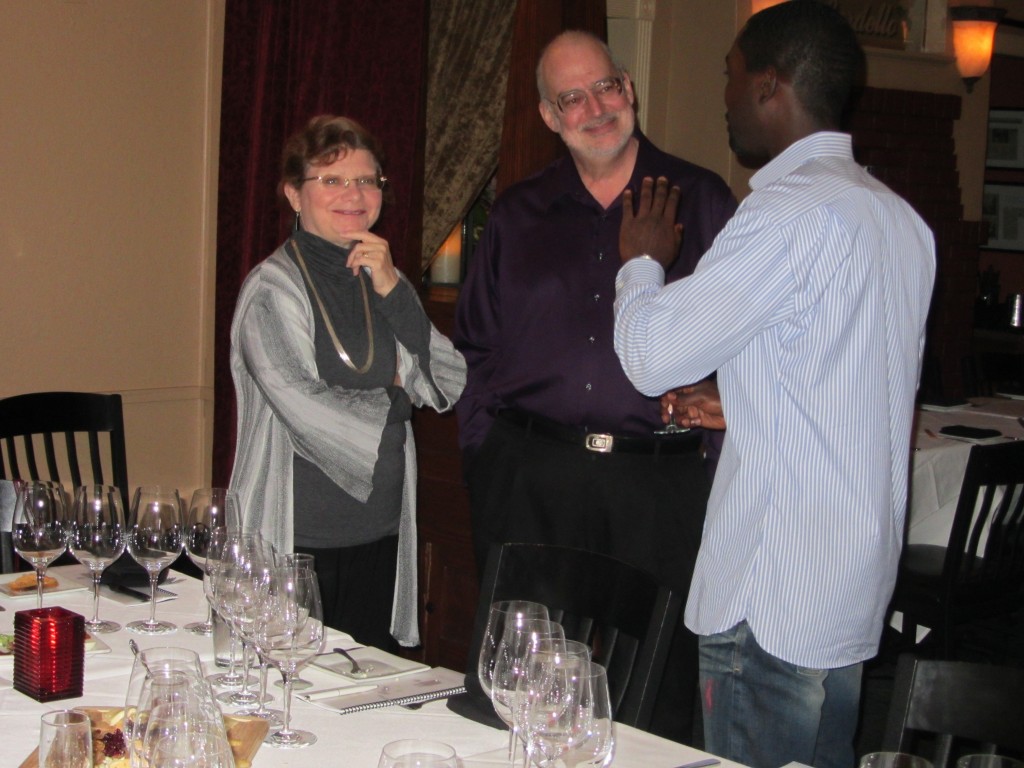 Blind Tasting
Wines were served double blind through a complex mechanism that guaranteed each flight would have one Italian and one French wine. Keith provided a wonderful tasting booklet for our notes.
The flights turned out to be:
Flight 1
1998 L'Evangile 250 (Andres) 92 pts
1998 Le Macchiole's Messorio (Bolgheri, Tuscany) $238 (Keith) 91 pts
Flight 2
2006 Bellevue Mondotte $70 (Russell) 88 pts
2004 Petrolo Galatrona (Arezzo, Tuscany) $264 (Keith) 93 pts
Flight 3
1996 Tua Rita Redigaffi (Suvereto, Tuscany) $259 (Keith) 84 pts
1998 Valandraud $160 (Ron) 92 pts
Flight 4
2000 Clos L'Eglise $140 (Ron) 92 pts
1995 Castello di Ama L'Apparita (Chianti Classico, Tuscany) $254 (Keith) 88 pts
Flight 5
1994 Chateau Angelus $170 (Ron) 92 pts
2004 San Giusto a Rentennano La Ricolma (Chianti Classico, Tuscany) $115 (Keith) 83 pts
Flight 6
1997 Lamaione (keith) 92 pts
1957 Petrus $462 (Steve) 96 pts
Flight 7
1993 Tenuta dell'Ornellaia Masseto (Bolgheri, Tuscany) $234 (Keith) 94 pts
1996 La Mondotte $185 (Russell) 93 pts
Flight 8
2006 Petra's Quercegobbe Merlot (Suvereto, Tuscany) $54 (Keith) 91 pts
1998 Chateau Pavie $200 (Ron) 92 pts
Flight 9/10 (combined because otherwise the last flight would be obvious)
1997 Gravner Rujno $179 (Keith) 86 pts
1995 Clinet (Keith) (Badly Corked)
1996 Clos Fourtet (Andres) 84 pts
2001 Miani Colli Orientali $250 (Ron) 83 pts
Observations on the Blind Tasting
With only one exception, the French wine was better than the Italian wine.
In almost every case it was obvious which country the wine came from.
The Italian wines were, with the exception of the Masseto, quite disappointing.
The last four wines were close to undrinkable.
The Petrus obviously didn't belong in a blind tasting with these, but it was excellent. I was very worried because it was an off vintage, and had been open two hours before we got to it, but in fact it held up for five hours. I guess there's a reason Petrus is so expensive.
The other wine that stood out was the 2000 Clos L'Eglise, which has an extraordinary candy shop nose. It turned out this wine was 30% Cabernet Franc, so it was disqualified as a merlot, but it was definitely the best contemporary wine.
Except for the Petrus, and perhaps the Clos L'Eglise, the good wines were all too young to drink.
It's easy to generalize and say French wines are better than Italian (which may well be the case) but it's important to remember this was a merlot tasting, and Pomerol merlots are among the best French wines, while one wonders if they should be growing merlot in Italy at all.
Dinner
After the formal tasting, we segued into dinner, which was excellent. Shrimp on spicy grits, heirloom tomatoes, duck confit with goat cheese and a crispy crusted fish over corn were the standouts.
The wines poured during dinner were, in general, much better than the tasting wines. My notes:
95 Klaus Riesling Schloss Schonborn (Keith)
An incredible match with shrimp on spicy grits, not too sweet, 94 pts
2001 Ch Chevalier Blanc (Keith) 
Nutty, lucious, waxy, 94 pts
1982 Savigny Les Beaune Lavieres Robert Ampeau (Steve) 
Refined, thin, dried flowers, rust, 90 pts
2009 Gavi di Gavi il Monterotondo Il Gabbiano white (Andres)
Balanced, good food wine, 88 pts
1968 Vina Valoria Rioja (Steve)
Dill, balanced, youthful, cherry, Burgundian, Andres loved this, chocolate coated dill pickles, just kept getting better in the glass, 95 pts
62 Chambolle Musigny J Henri Remy (Ron)
Rust, Cherries, meat, charred cedar plank, animal fat, herbs, 98 pts
1990 Hermitage La Chapelle Jaboulet (Keith)
Vanilla, sweet, balanced, chocolate covered cherries, animal fat, 100 point Parker wine, 96 pts
1966 Ch La Mission Haut Brion (Ron)
Tobacco, gravel, the sea, gun metal, sweet, always Paula's favorite wine, 99 pts
That was all the fun Linda could take, so we said our goodbyes and left the group to ponder dessert and, no doubt, more wine!