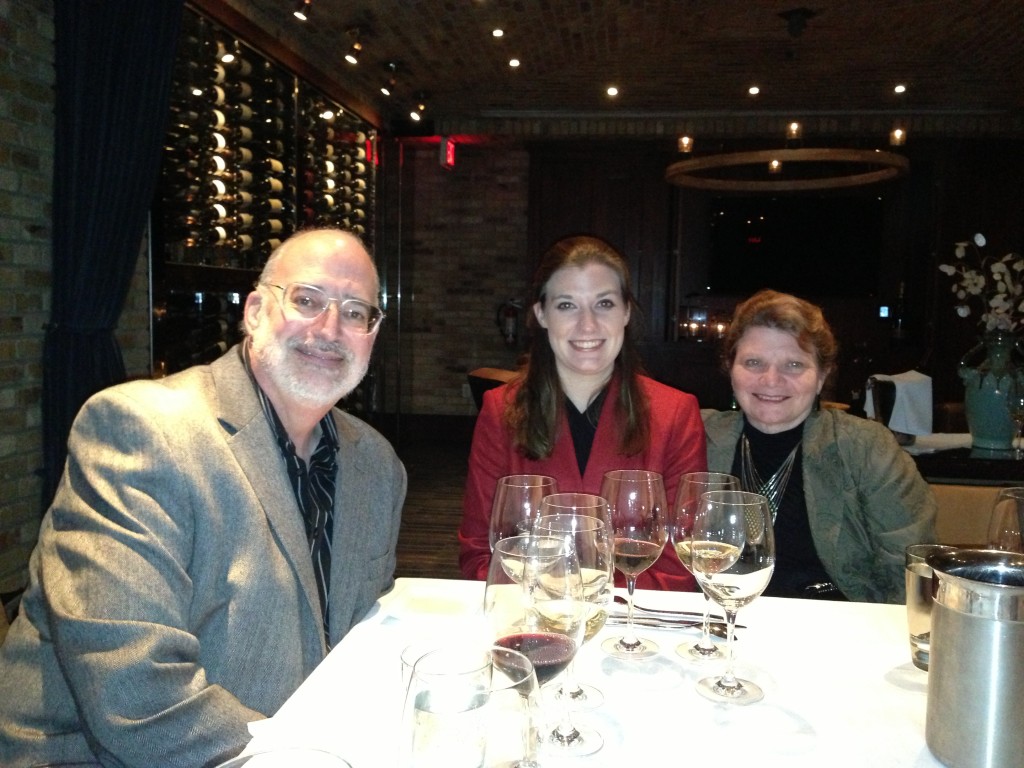 Ron organized this interesting tasting in the downstairs room at Luma. Attendees were Ron, Bev, Keith, Parlo, Andres, Paula, Linda, Dani, Jacques, and Alison.
As usual at Luma, the downstairs room was fabulous, and the food was variable. Standouts were the cauliflower torte, sashimi, and the main course of steak and fish.
Wine glasses are the limitation at Luma, and we weren't anxious to dump some of the more stellar wines, so couples began consolidating. Soon the table was covered in glassware and we were hard pressed for glasses to reuse.

Thanks everyone, for bringing some fantastic wines. The popularity contest at the end of the evening mentioned a few favorites: 95 Rayas, 75 Haut Brion, 91 Tondonia, 04 Grange, 97 Yquem.

Jacques Selosse Initiale (Ron)
Only slight Ocidation, fairly Complex (very cold)
92
2003 Georg Breuer Berg Schlossberg (Andres)
Dry Riesling
Minerals, Petroleum, Viscous, Dry
94
2006 Silex par Didier Dagueneau Blanc Fume de Pouilly (Keith)
Sauvignon Blanc
Tropical, custard
96
2004 Cheval Blanc (Keith)
Good structure, fully resolved tannins
94
2003 Ann Gross Richbourg (Ron)
Elegant, perfume, mature, vanilla, cinnamon
95
95 Rayas Chateauneauf du Pape (Ron)
Fresh cherries, potting soil, black pepper
97
75 Haut Brion (Steve)
Dust, peat, ash, mint, smoke
98
75 Heitz Martha's (Steve)
Chewy, redwood, mint, dill, eucalyptus
92
93 Clos de Vougeot Thomas Moillard (Andres)
Big cherry nose, sour cherry mouth
88
96 Clos de Vougeot Thomas Moillard (Andres)
Horse, med sweet cherries, vanilla, mint
91
2007 Salanques Priorat (Jacques)
Fruit, cherry cough drop, caraway
90
2001 Vina Ardanza Rioja (Jacques)
Pork chop, dill
93
NV Billecart Salmon Rose (Jacques)
Iberico ham, dried roses
93
91 Dominus (Steve)
Dust, Black pepper, big structure
95
91 Tondonia Rioja (Steve)
Chicken broth, blood sausage, dill
94
2004 Grange (Keith)
Mint, fruit, herbal, gummy candies
92
2004 La Landonne Cote-Rotie Guigal (Keith)
Burnt buttered toast, meats
95
1997 Bienvenues Batard Montrachet Le Flave (Ron)
Candied apricot, slightly, unctuous, slightly oxidized
90
1988 Bonnes Mares, Olivier Le Flave Negotiant (Andres)
Light, classic burgundy, dried sour cherries, sour
86
90 Ch Montrose (Ron)
Vanilla, butter, tannic, 100 pt Parker
95
90 Ch Beausejour (Ron)
Roast meat, 100 pt Parker
96
2001 L'Ermita Priorat (Keith)
Cherry cough drops, garnache
95
2006 la ca nova Barbaresco bric mentina (Jacques)
Cherry,
91
1986 Hermitage cuvée Marquise de la Tourette (Andres)
Caramel, oxidized
88 pts
1985 Hermitage cuvée Marquise de la Tourette (Andres)
Warm red jello, caramel, vanilla bean, meat
90
57 Ruchottes-Chambertin J Thorin (Ron)
Old thin delicate oxidized Burgundy
85
2011 Pichler-Krutzler Gruner Veltliner (Jacques)
Saline, minerals, floral, celeriac, iodine, medicinal, nutty, hops
92
89 Angelus (Ron)
Dusty, fruit
93
70 Vega Sicilia Unico (Ron)
Light, fruity, Bordeaux like
92
2002 Clos Vougeot Castagnier (Jacques)
A bit funky, dried fruit roll
87
1998 Clos de la Roche Castagnier (Jacques)
Barnyard, plastic
86
2005 Christoffel Jr. Ursiger Wurzgarten Riesling Auslese (Andres)
Petroleum, peaches
90
97 Yquem (Ron)
Baked apple pie, very balanced, long cinnamon pastry finish
99