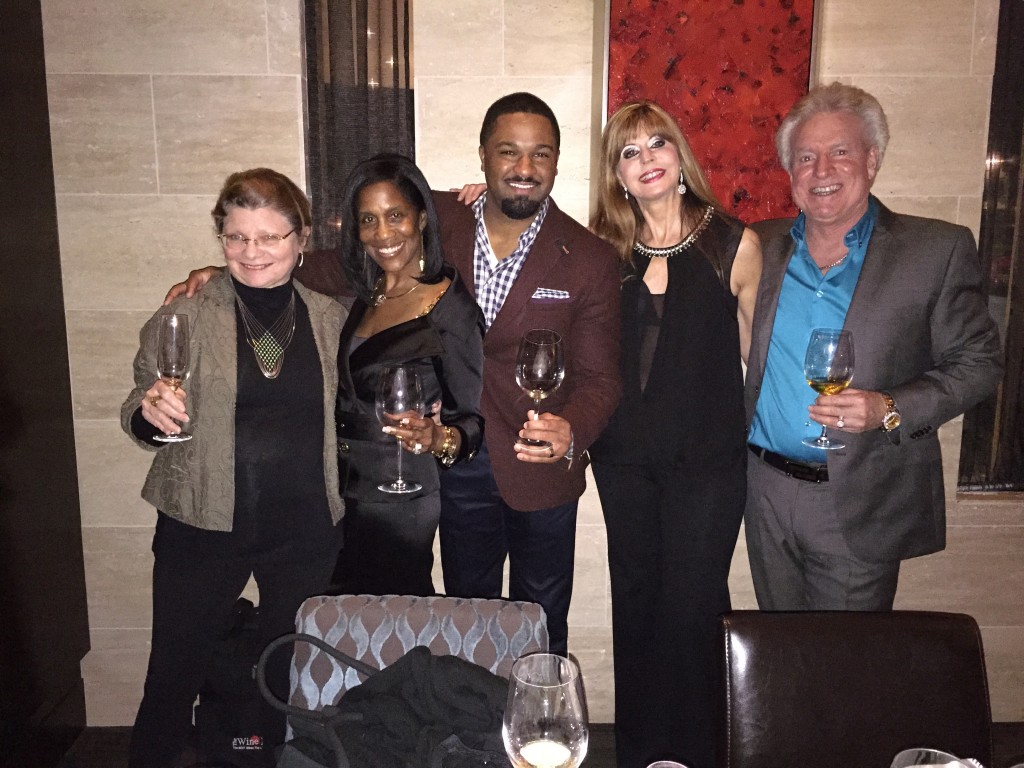 We gathered for a most interesting tasting at Eddie V's. The event was organized by Ron. Because of the cost of the wines and the desire to limit the event to ten tasters, the group was comprised of somewhat different people than usual. Attending were Ron, Bev, Keith, Parlo, Andres, Paula (not tasting due to pregnancy), Linda, me, and several other wine professionals and enthusiasts new to our group.
Our special guest was DLynn Proctor, Wine Ambassador for Penfolds, the makers of Grange. From PR Newswire:
Proctor was named "Best New Sommelier in America" by Wine & Spirits Magazine in 2008.

Proctor is also one of the four featured subjects in the wine documentary 'SOMM', covering the three year journey through six countries of filming to becoming a coveted Master Sommelier.

Penfolds is one of the oldest, continuously operating wineries in Australia, founded in 1844, and Max Schubert's creation of Penfolds Grange Shiraz in 1951 forever changed the face of the Australian wine industry.
DLynn was an encyclopedia of knowledge about ever aspect of Penfolds, Grange, and the wines, knowing off the top of his head weather, alcohol, acid, winemaker and anything else we could think to ask about every vintage.
I've had a few vintages of Grange in the past, but it was very interesting to taste 14, spanning 5 decades, side by side.
Prior to the event my perceptions that Grange takes many decades to mature, as I'd only once or twice had one I felt was ready to drink. But the tasting changed my view somewhat. I now feel that Grange, like the wineries in California and France (and I suppose most of the rest of the world) made some stylist changes in the 1980s that have affected how the wines taste and how they age. This is the reason my cellar is comprised mostly of wines from before 1980, and I will now go so far as to extend the same policy to Grange.
For me (and Linda) the Wine Of The Night was the 1968, which exhibited the characteristics we love in the (coincidentally) same vintage of BV Georges de la Tour Private Reserve. The groups Wine Of The Night was the 1976, which was more refined and Bordeaux like, and certainly another good choice.
While all of the wines (except one flawed bottle) were impressive, there was nothing about the more recent vintages that would incline me to pony up the $600+ cost of a bottle.
One other note of interest is that throughout the pre-tasting wines, the formal tasting and the dinner, there was not a single wine I scored below 90 points, which I don't think has ever happened before.
Thanks very much to Ron for putting this together, as it was one of the most educational events we've done!
My Notes:
Grange Tasting at Eddie V's 11/7/14
99 Pommery magnum (Keith) great toast and balance 96 pts
90 Krug (Ron) green apple, citrus zest 96 pts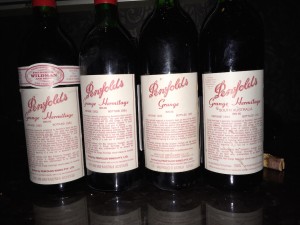 Flight 1: 1980, 1982, 1986, 1989
1980 green vegetables, vanilla, mint, balanced, cream, 12.9%, cold vintage 93 pts
1982 mint, stemmy, plum, warm vintage, 6% Cabernet, very balanced and smooth finish, 96 pts
1986 overripe, plummy, American oak dill, old world mouth feel, bay leaf, 97 pts
1989 ripe, plum, high alcohol, Australian Shiraz, 9% Cabernet, savory beef broth, blueberry pie finish, 94 pts
Flight 2: 2001, 2004, 2006
2001 hot vintage, big fruit, big production, 14% alcohol, big black fruit finish, 97 pts
2004 simple, accessible, balanced, 93 pts
2010 Mollydooker Velvet Glove (Steve, served blind as a ringer), vanilla, velvety fruit, long vanilla finish, lots of black fruits, 98 pts
2006 simple, mint, American oak dill, creme brûlée, sweet fruit, 98 pts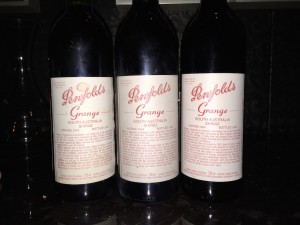 Flight 3: 1990, 1994, 1998
1990 iron, blood, 93 pts
1994 dusty, vanilla, cab franc, chocolate dust 95 pts
1998 smokey, mint, big black fruits, 98 pts
Flight 4: 1968, 1971, 1976, 1978
1968 earthy, mushroom, coffee, green herbs, iron, red berries, leather, mint, soy, balsamic, 100 pts
1971 very ripe, fruity, sweet, grandmother's attic, flawed bottle
1976 tropical, very sweet palate, 95 pts
1978 coffee, figs newtons, chocolate covered caramels, sawdust, 96 pts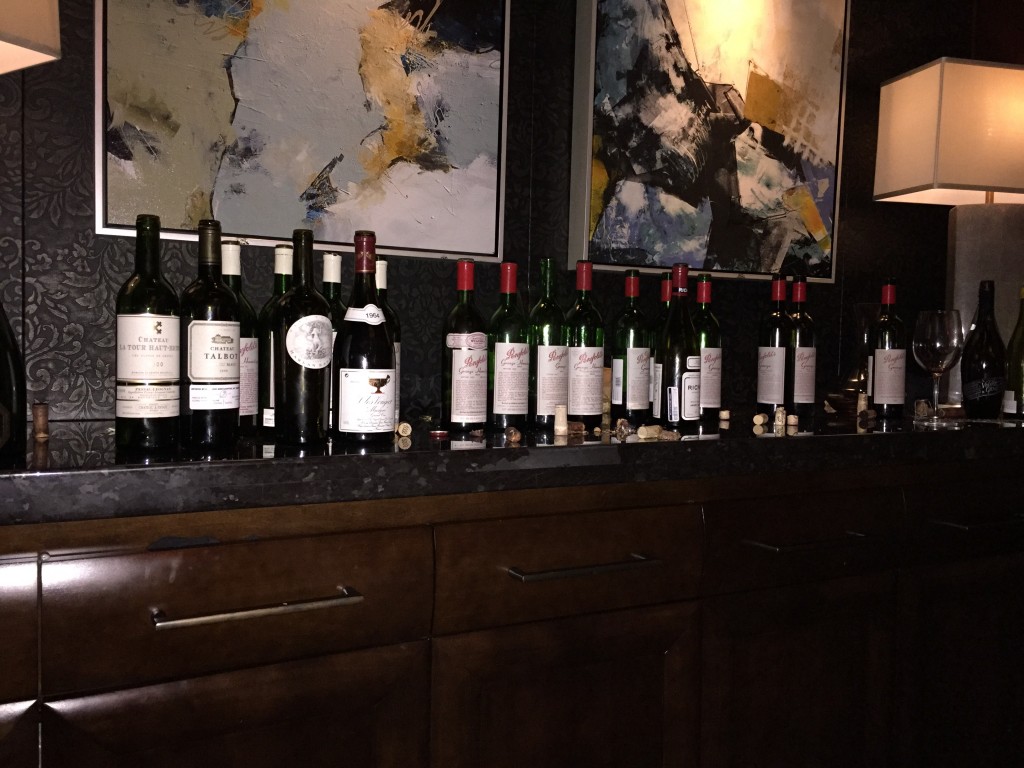 Wines Served with Dinner
2008 Ch. Talbot Calliou Blanc (Steve), vitamin C, spices, wax, 96 pts
1990 Raveneau Chablis Premiere Cru Montee de Tonnerre (Ron) wax, honey, violets, 96 pts
1964 Clos Vougeot Musigni Gros Frere & Fils (Steve) baking spices, pie crust, morels, chocolate covered currants, butter an cinnamon filled pastry dough, 96 pts
1988 DRC Richebourg (Ron) bacon fat, forest floor, mint, 94 pts
2005 Harland Estate Cabernet Sauvignon (Keith) vanilla, Rutherford Cabernet nose, huge, chewy, tannin for the ages, 98 pts
2011 Abbatucci (Andres) refined, dried flowers, butter, spices, 90 pts
2008 La Mission Haut Brion (Andres) very tight, closed, tannic, 90 pts
2000 Ch. La Tour Haut Brion (Alex) classic Bordeaux, pencil lead, 92 pts
2007 Masseto (Keith) big black fruits, tannic, mint, long, very young, 97 pts
1966 La Mission Haut Brion (Ron) really complex, cigar, road tar, black fruit 98 pts
2010 Hermitage La Pierelle Kermit Lynch (Andres) smoked meat, black fruit, really seems like the Grange, 97 pts