After Linda's push to get "Tree" (AKA "A Bug's Life") open at Animal Kingdom, we were able to slip away for a transatlantic cruise. On Friday we picked up a rental car at Disney and on Saturday we packed it and headed for Orlando International airport. (This trick saves us cab fare, and is much less rushed.) We had lunch at our frequent travel stop, McCoy's and then boarded a Delta jet for Detroit.
Since we live in Orlando we're used to a really nice airport, but this one might even be better than Orlando's. It's spacious and airy, easy to get around, and the Westin hotel is even more convenient than the Hyatt in Orlando.
At the moment there is a shortage of nice places to eat in the terminal, but new ones are coming. For now, the solution is to dine at Dema in the lobby of the Westin, which is just on the other side of a private TSA entrance to the hotel's lobby.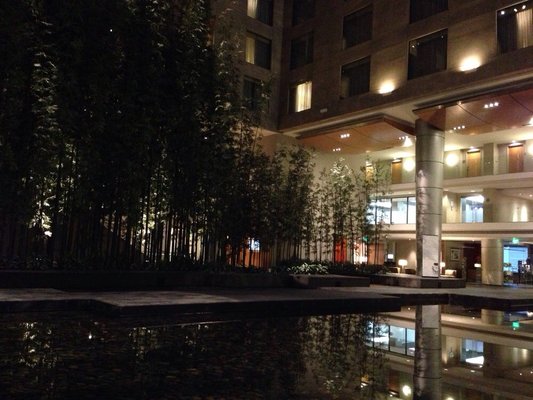 The Zen-like setting of this lobby restaurant makes it a welcome retreat from the hustle of the airport, and it's literally feet away from the gates.
Service is friendly and there is an extensive selection of wines by the glass. The pepperoni and bacon pizza and the hummus and tapenade appetizer were both good.
Note that the TSA portal closes in the evening and you have to go back around through the terminal, but it's still not that far.
Our flight departed at about11pm, the last one out of the airport. I skipped dinner and took advantage of the "pod" in Delta's business elite class (thank you frequent flyer miles) to get an almost full night's sleep before our 11 am arrival in London.
On the approach to Heathrow we passed over Windsor Castle, the weekend home of the Queen, and our destination for the following day.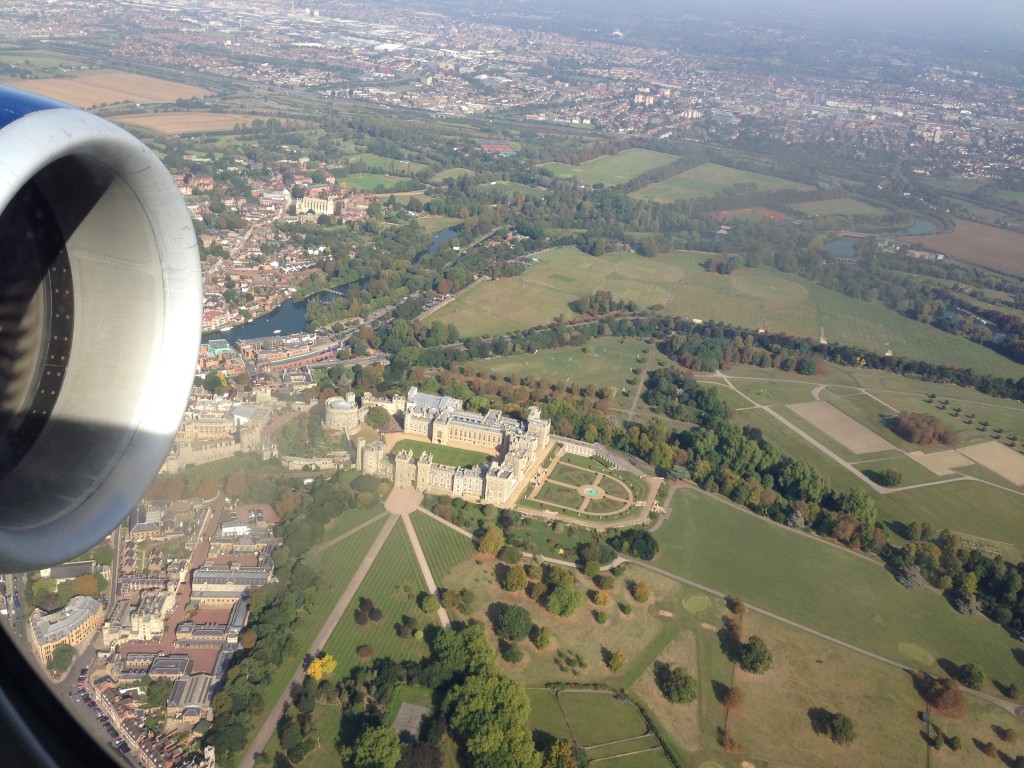 This time our luggage arrived with us (unlike two years ago, on our trip with Martin, Audrey and Emilio) and we were met by our favorite driver, Eddie Manning. It wasn't much after noon when we arrived at The Ritz Hotel and were able to settle into our lovely room.
I found this room on Hotels.com for about half price, and what a deal it was.

If the the founder of the Ritz could see his hotel a hundred years later I think he would be very pleased. Its maintenance and refurbishment are tip top, and its staff still cleaves to old-time standards of service. While the strict enforcement of the no jeans or sneakers rule may irk some, and the requirement of a jacket and tie in the restaurants may seem old fashioned, they work to enforce the tone attempted here, which some may find a bit snooty. So be it; if that's not your thing, there are plenty of alternatives. But if you'd like to step back to the glamour of a past age, this is the place to do it.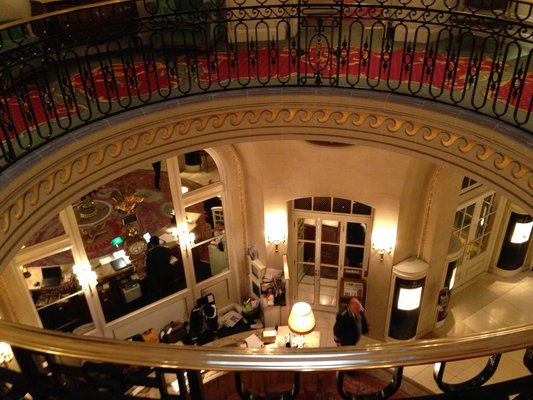 After a nap we headed out for a snack, and after wandering around a bit ended up at our old standby, Bentley's. Dani and I first found this play quite a few years ago, up an alley called Swallow Street (lots of bars there?) off of Piccadilly. The place seems to have been the only thing around that survived the bombing in WWII, and has been operating since 1916.
Bentley's specializes in fresh seafood and shellfish.  It has a cozy, pub-like interior, but on this day it was great to dine in the covered area out front, basically the middle of the street.
The wine selection is particularly well-suited to fish and especially the shellfish selections. You can't go wrong with the Albarino, and it went great with my prepared crab appetizer.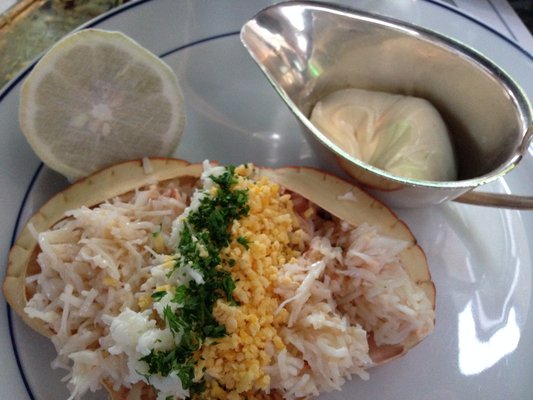 Back to the hotel and a bit of journalling, and then it was time for dinner at the very dressy Ritz Restaurant, right in our hotel.
Regarded by many as the world's most beautiful dining room, the Restaurant at the Ritz offers a rarefied experience, at rarefied prices. But actually the tasting menu, which included eight courses for 95 pounds, was a good deal. While the food is not likely to garner Michelin stars, several courses were quite good. The matching wine pairings were generous, but few actually matched the food. Service was, of course, impeccable.
Monday morning the alarm got us out of bed, but we were pretty much on time zone for our trip to Windsor Castle. This involved navigating the tube to Paddington Station and catching two trains. This sounds harder than it turned out to be, and we arrived in about 60 minutes (although it must be said that the tickets we bought failed to work in almost every single turnstile and we had to be let through manually, a difficulty that seemed to be a matter of course).
Windsor has a nice mall attached to the train station (and in retrospect this is where we should have eaten), but the castle itself is surrounded by tacky tourist shops. We had a lunch reservation at what turned out to be a chain Thai restaurant, and we were early, so Linda had time for a bit of shopping.
The Thai restaurant, Thai Square, was conveniently located adjacent to Windsor Castle. It features attractive decor in its various interconnected dining rooms.
It was mediocre at best. The curry was the best thing we tried. The "Golden Sack" and rib appetizers were unremarkable, as was the duck entree. Service was pleasant but not particularly attentive.
Then it was on to Windsor Castle. Unfortunately no pictures allowed, but here are some.
A drizzly Monday proved to be the perfect time to visit, as crowds were very light. We had repurchased tickets which were mailed to us by Royal Post, and that allowed us to skip the short line that was there, but on a busy day this would be essential.
The castle offers a self-guided audio tour that is excellent. I was surprised at the amount of access afforded, as we toured nearly every public room, including where state visitors are entertained. At 3:15 we rendezvoused with our pre-booked Kitchen tour, and with a group of only a half dozen were taken on a very informative private tour of the kitchen used to cater dinners for more than 170 dignitaries. I highly recommend this, as there were many insights beyond the kitchen itself, and the tour was provided by a member of the Queen's staff.
One of the more interesting aspect of both tours was to hear about the restoration following a catastrophic fire in 1992. This afforded the opportunity to restore some things just as they were, improve a few others, and to uncover a considerable amount of previously unknown history. All in all, quite an interesting day, and perhaps the top activity I've done in London.
For dinner we originally had reservations at a particularly difficult to ge tot restaurant, Trinity, but decided to change, and I was able to book us a late dinner at a nearby Indian restaurant I'd heard a lot about. This proved to be a great move. And it turned out to be right beyond Bentley's in Swallow Street.
It's hardly surprising that all of the best Indian meals I've had have been in London, even include some Michelin starred meals. But Veeraswamy may well be the best of the best.
I was actually not expecting it to be quite that good, because the opentable listing emphasizes their corporate connections, plus a recommendation by National Geographic(?!)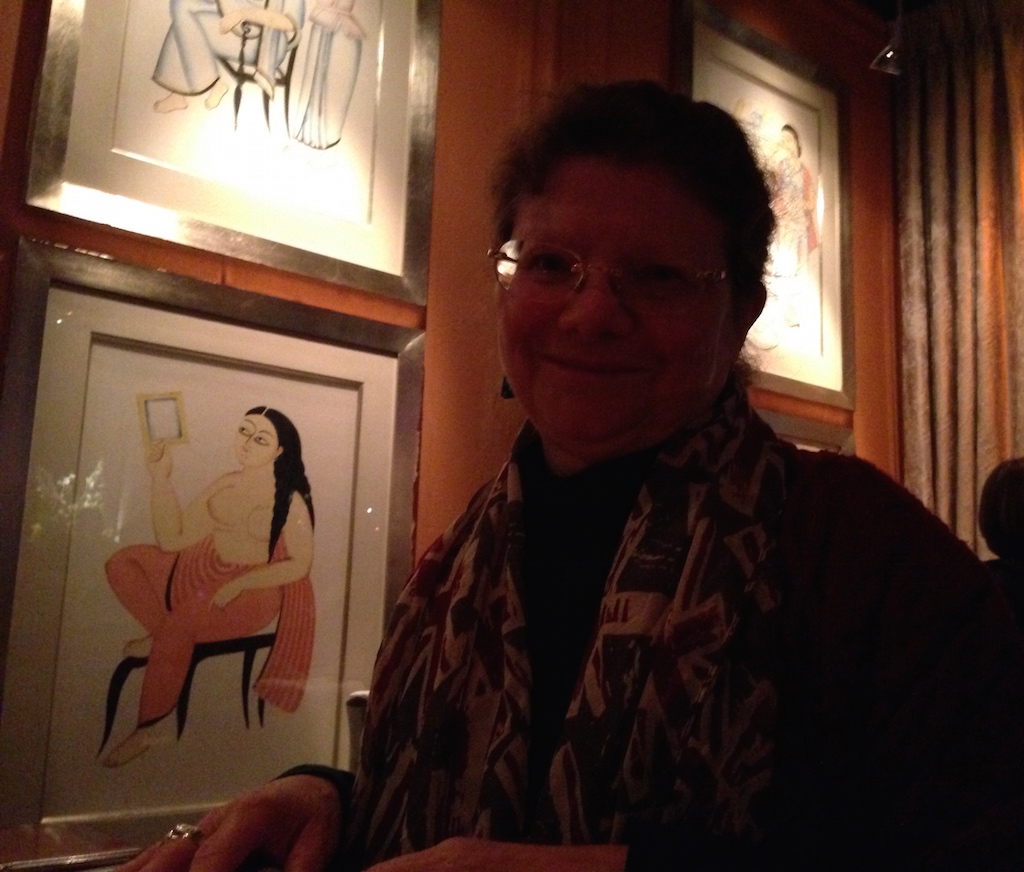 Yet everything we tried was one of the best Indian dishes I've tasted, and we tried quite a few items, sampling four appetizers and a vegetarian main that included four separate dishes. Particular highlights were the Raj Kachori, a fancy version of Indian street food consisting of a crisp wheat puri filled with goodies, and Scallop Moilee, which came in a stunning coconut and ginger sauce. My wife is a Chicken Tikka aficionado, and proclaimed this one the best Indian dish she ever tasted.
There is also an excellent wine list, highlighted by some very well-described white and red Burgundies.
This will definitely be the Indian restaurant we return to on our next visit to London.
I was not ready to get up when the alarm went off Tuesday! It's not that I wasn't on schedule, just that dinner was very LATE.
A quick taxi ride brought us to The Royal Albert Hall, for our tour. We were again fortunate to have a small group of ten, and an excellent guide. It was so much a behind the scenes tour (since there really isn't a "backstage" in a round auditorium) as a tour that gave us a look at the installation process for a new show (although we did also get to tour the Queen's private rooms).
We watched the seating installation, sound check and lighting tests for the night's Spandau Ballet movie and live performance, and learned many interesting things about the 150 year old facility built to fulfill a vision of Prince Albert, who didn't live to see it completed.
In 1851 Albert organized the first World's Fair, housed inside the enormous Crystal Palace in Hyde Park (it was later moved to South London, and burned in 1936). With the profits of the fair he bought a huge parcel of Kensington with the intent of creating a collection of science and art museums, which has indeed come to pass. He began with plans to construct a great performing hall, but died before construction began. A devastated Queen Victoria spent the money instead on the incredibly elaborate Albert Memorial. I suspect Albert would not have been pleased. Anyway, the Royal Albert Hall was eventually constructed through the financing device of selling one third of the seats on a 999 year lease.
After our tour we caught the tube across London to see the installation of red poppies at The Tower of London.

The poppies were installed this summer to commemorate the 100th anniversary of WWI. There is one poppy for each casualty, which really makes the pointlessness of that (and every) conflict quite apparent.
After our brief stop at the Tower, we caught a boat back to Westminster. Cruising the Thames is something we hadn't done before, and it was interesting to see Tower Bridge, St. Paul's Cathedral, Shakespeare's Globe, The London Eye, Big Ben and Parliament from that vantage point.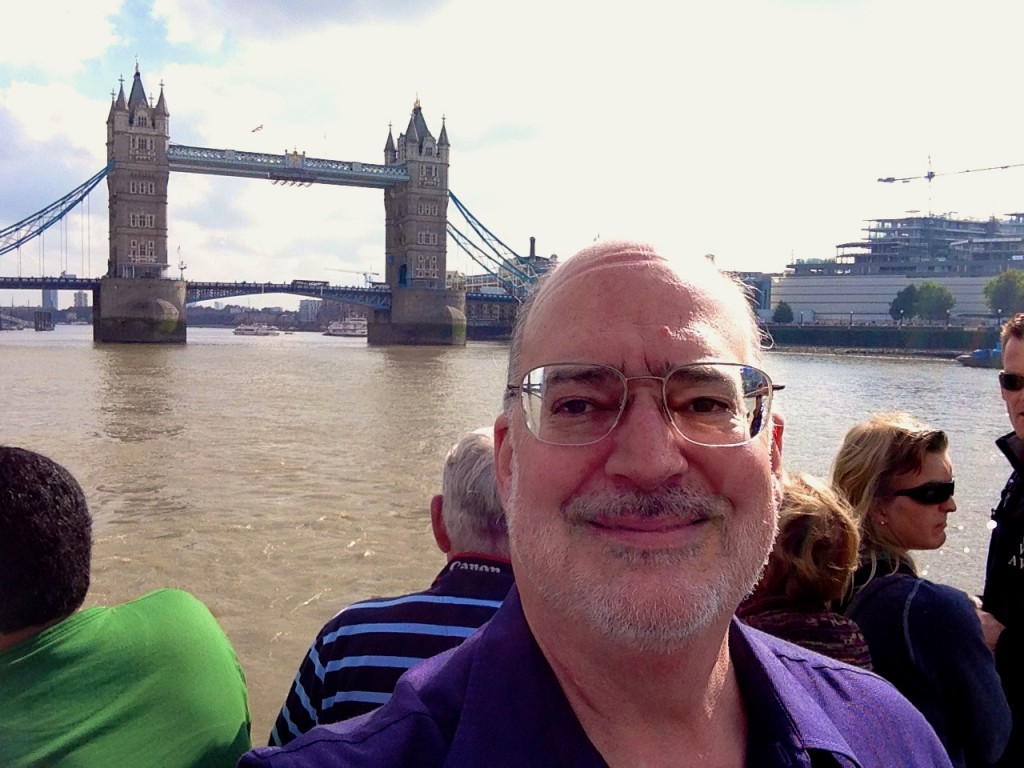 In Westminster we decided to see if we could get into Roux at Parliament Square on the spur of the moment, since it was nearly 2pm and lunch hour was winding down. Luck! We did.
Roux is the sister restaurant to and old favorite, LeGavroche. There is a superb prix fixe lunch menu at a very affordable price (so affordable, we couldn't resist spending several times as much on a wonderful Corton Charlemagne, the perfect accompaniment).
I selected a cassoulet of squid and smoked mussels as my starter. It was richly flavored without being excessively buttery, although there was certainly plenty of that on the wonderful toast served with it.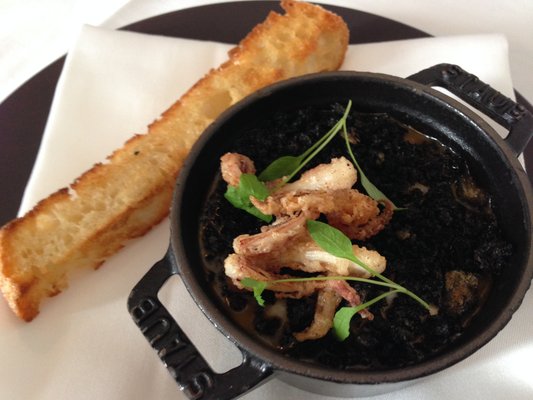 For my main I had the mackerel. This is a dish for true fish lovers, as it's of course quite fishy, but was not at all oily, just moist, and with a perfectly crisped skin. The accompanying beets were luscious.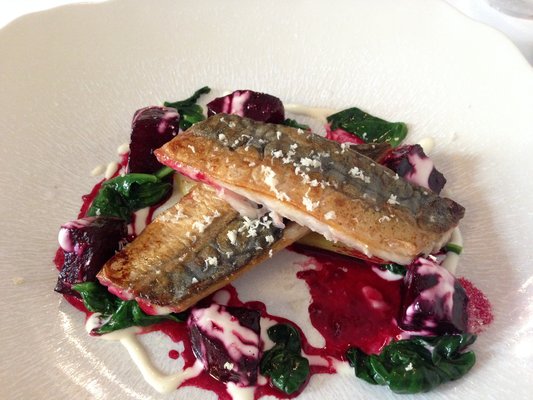 A wonderful cheese trolley capped off a delightful meal. Professional yet friendly service increased our enjoyment, making us feel particularly lucky to have been squeezed in without a booking.
Highly recommended as a dressy, sophisticated retreat from the tourist-choked streets outside!
We walked back to our hotel through St. James' Park, past Buckingham Palace and through Green Park.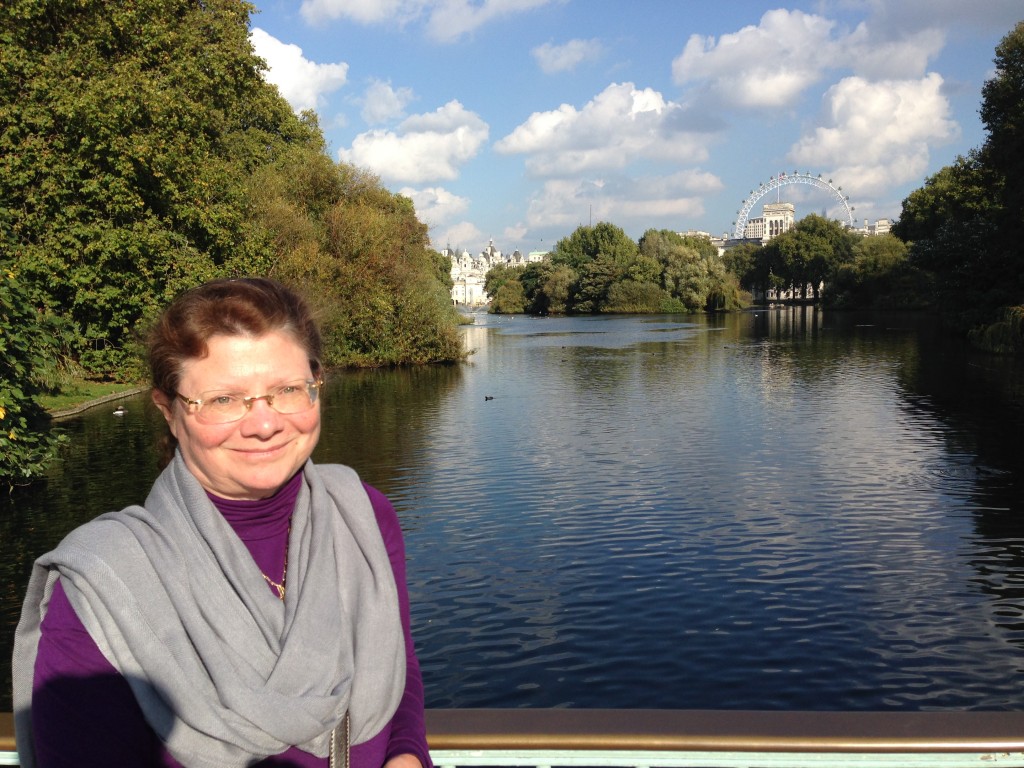 After an evening of journalling, we took the tube north and then walked to Pied a Terre, which has become one of our favorite London restaurants. The atmosphere is intimate, and perfectly suited to romance or business discussions.
The food–especially the tasting menus–is as good as any from London's other top rated restaurants. But the real difference at Pied a Terre is the wine service.
Rather than simply selecting and pouring wines with each course, it is the restaurant's practice to offer a blind tasting, where the wine is poured first so you can taste it alone, then the course is served so you can see how it matches, and then you are asked to comment on the wine and (if you wish) guess what it is.
We find this to be tremendous fun. It forges a camaraderie with the sommelier that sets the experience apart from all other fine dining experiences.
On our last visit we were fooled by most of the wines, but I have to say on this evening our performance was impressive.
Linda had by far the more challenging wine pairing, the "Discovery" series, which included very obscure wines and regions such as Croatia. Yet she managed to blind identify an  Assyrtiko from Santorini(!), a very unusual pinot noir blanc from Burgundy, and a Grenache from Australia—in each case not just the grape but the region. Wow!
I had a much easier time of it with the "Classic" pairing, and identified four out of eight wines by type and region, mostly by nose alone, including a French Sauvignon Blanc (although I thought it was from Sancerre, not Pouilly Fume), a German Riesling (always the easiest varietal), a red Bordeaux (I even identified that it was a 2009 Pomerol), a vintage port (easy). I was reasonably close but not exact on the others (Pinot Gris, an odd white Burgundy, late harvest botrytised Vouvray, and Vinsanto from Santorini [which we have in our cellar!]).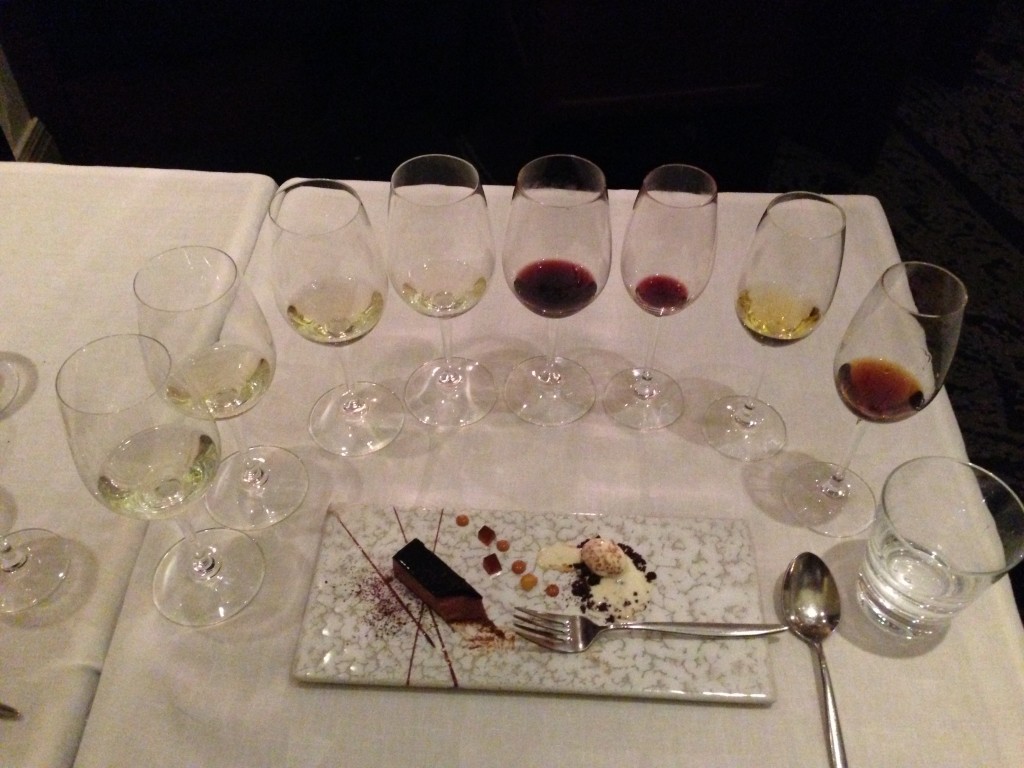 A very fun evening.
We got to bed late and slept in. At last, a vacation day!
Then is was off to the West End by to to see a show. Before hand we had lunch at The Salisbury, a very historical pub next to the theatre. It's almost 300 years old.
It's a good place for lunch before a matinee show at any of the nearby theatres. The food and beverage selections are what you'd expect, and there is a charming period decor. Service is friendly, and accommodating of foreign visitors, so the you can usually order at your table rather than the bar, as is more traditional.
The show we saw was a new Disney-produced stage version of the Tom Stoppard written Shakespeare In Love. This adaptation closely followed the movie, was well staged, brilliantly acted, and made extensive use of on-stage musical performers who created the score as they performed.
I really enjoyed this production, and it brought home to me how parallel the outer story is to the inner story of Romeo and Juliet (but without all that dying). I don't know how well it will do in the States, but it has certainly been popular here.
After the show we walked a few short blocks to our other favorite London restaurant, L'Atelier de Joël Robuchon.
We've dined here both upstairs and down, and at the sister restaurants in Las Vegas and (now closed) New York. Of all of them, this is our favorite, because of the intimate size of the downstairs area. It offers arguably the best tasting menu in London, with wine pairings that superbly match each course.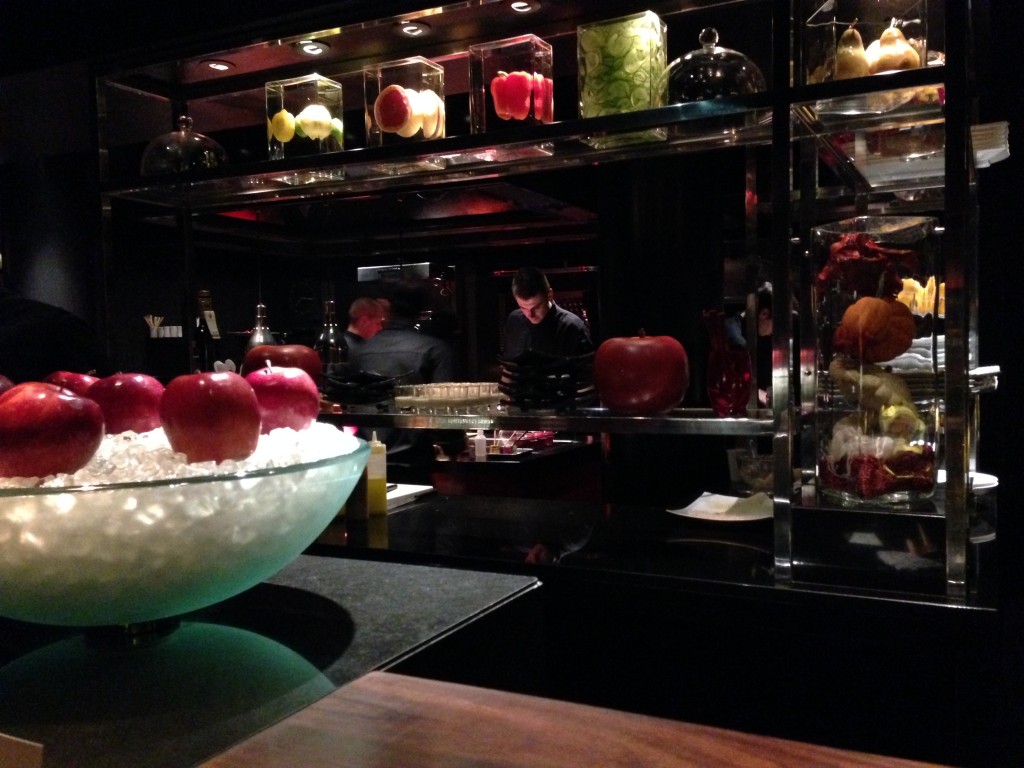 The artistry of the food arrangement is really unsurpassed, and it's great fun to watch it being assembled before you, so be sure to ask for a seat at the counter. This makes it easy to chat with the servers and sommelier, making it a friendly, energizing experience. For parties of more than two a few tables are available downstairs, which I recommend over the less intimate upstairs dining room.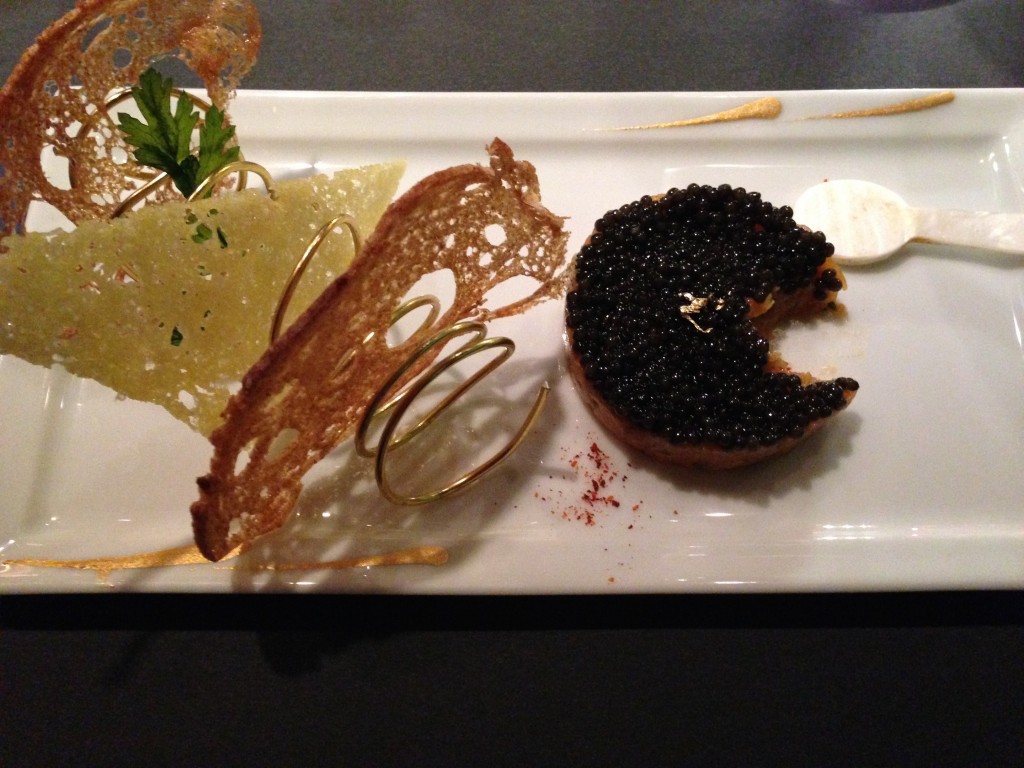 After a wonderful dinner we headed back to the hotel to sleep, pack, and catch meet our driver for tomorrow's cruise departure.
It was a great four days in London.