I flew up to Chicago on Friday to spend some time with Steve and Dani. The weather is very strange this time of year – we had lunch outside yesterday and it went from very sunny to threatening to rain with the temp varying by 20 degrees all in the course of one meal!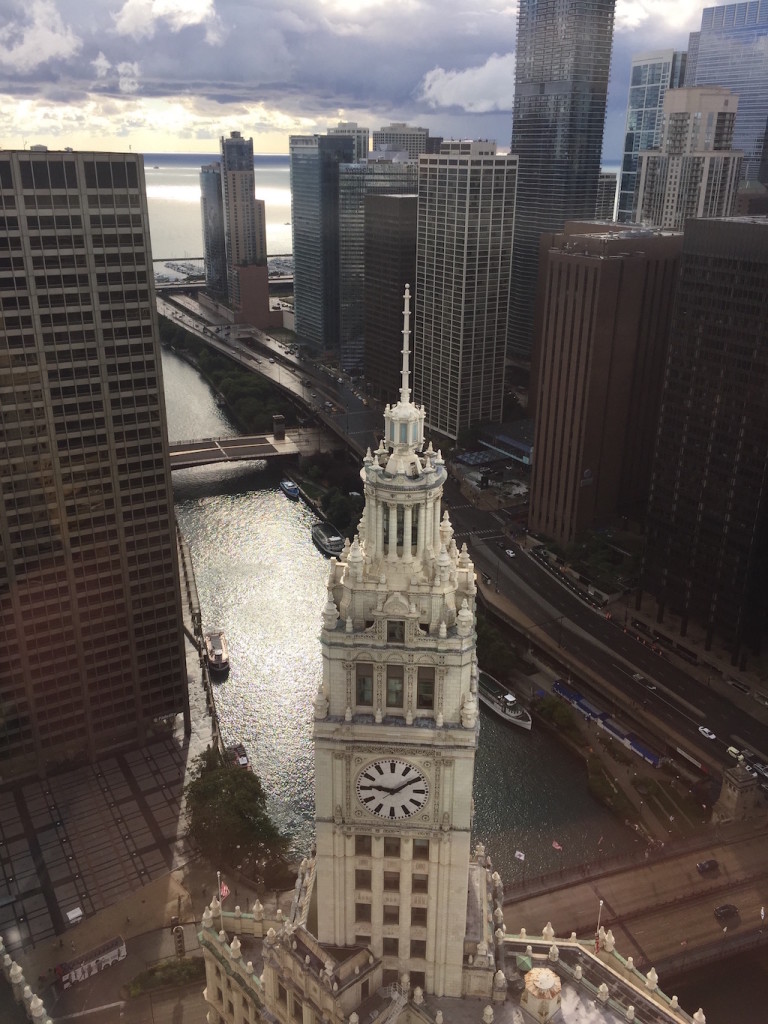 Our view of the Wrigley Building.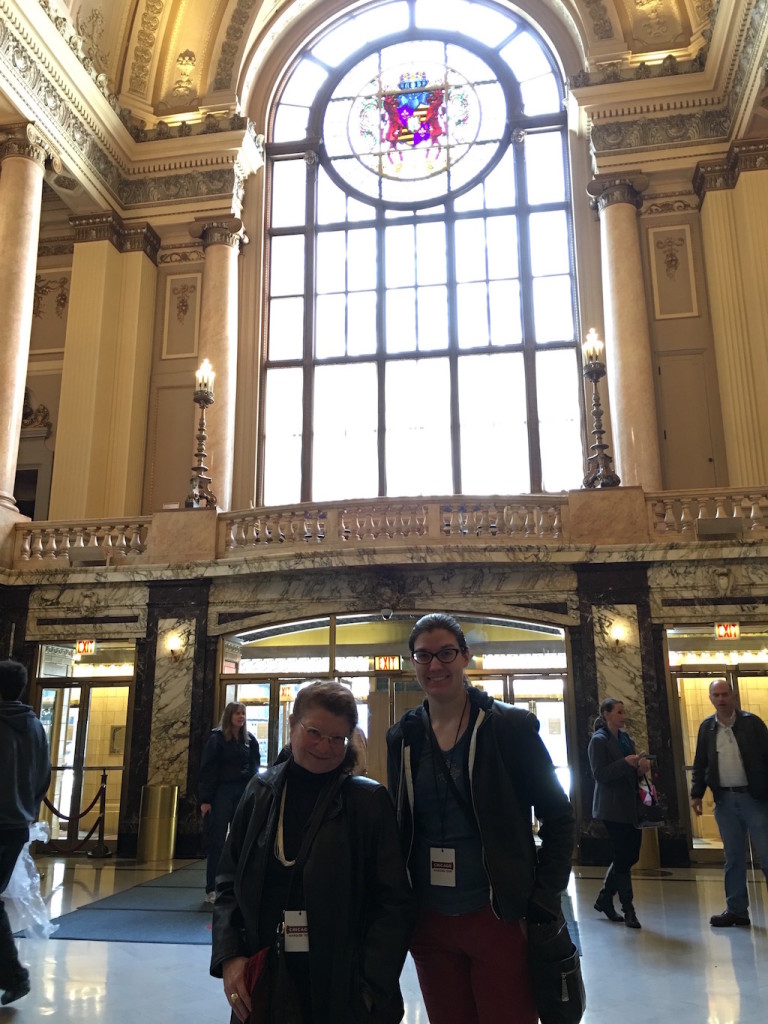 Yesterday we went on a tour of the Chicago Theater which is about to celebrate its 95th birthday. It was originally built as a movie palace – outside of stunning architecture its claim to fame was air conditioning when it opened. Since films were silent then it has a massive pipe organ – the largest pipe was built of wood and was just over 33 feet long! The organ console has "special effects" buttons built in for car horns, sirens, etc. to accompany the silent films. The theater sat over 3500 folks and was actually a medium sized theater for the chain that it was a part of. When it opened there were well over 100 ushers employed all of whom had "to be well brought up young men of good character with a minimum of a high school education". They also had to be 5'7″ tall and 135 lbs. to fit into the standard uniforms. Similar to our Disney operator signaling systems today, there were elaborate button and light panels all through this massive building so the ushers could communicate where empty seats were. Very impressive for its day!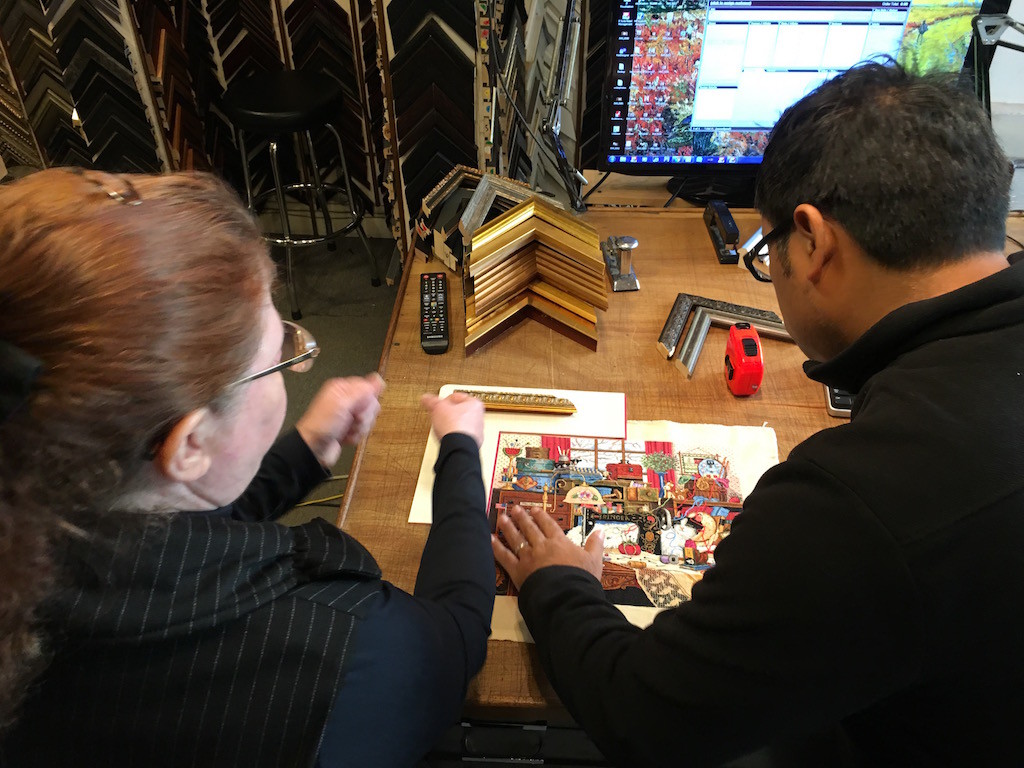 I finished a cross stitch that I have been working on for 4 years this afternoon so we are going to take it to a framer tomorrow morning before we leave Chicago.
---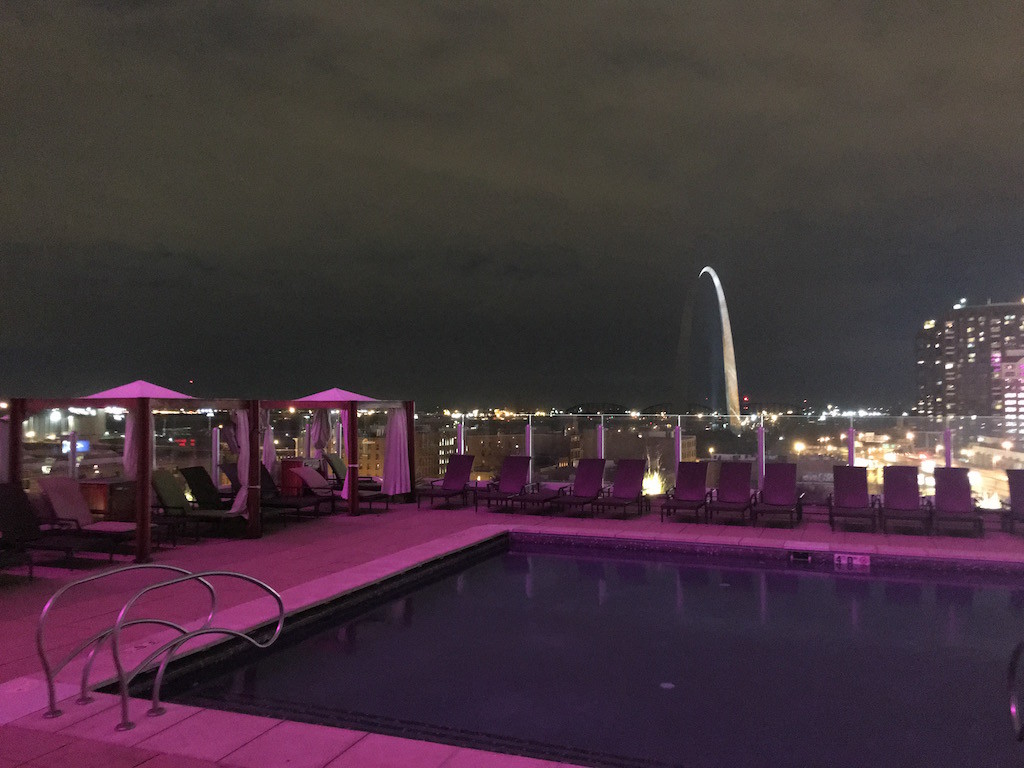 Our first road trip stop is in St. Louis. We are staying in a Four Seasons with a lovely view of the arch which unfortunately is closed due to urban renewal around its base. Also unfortunate is that the view of everything around the arch is a collection of decaying riverfront factories with black walls and smokestacks – no wonder they built the arch so high – perhaps the goal was to be able to see into another state!
Strangely adjacent to this nice hotel is a new casino which is quite lovely but filled with the dregs of humanity – dedicated gambler that I am even I was scared off and retreated back to the room.
---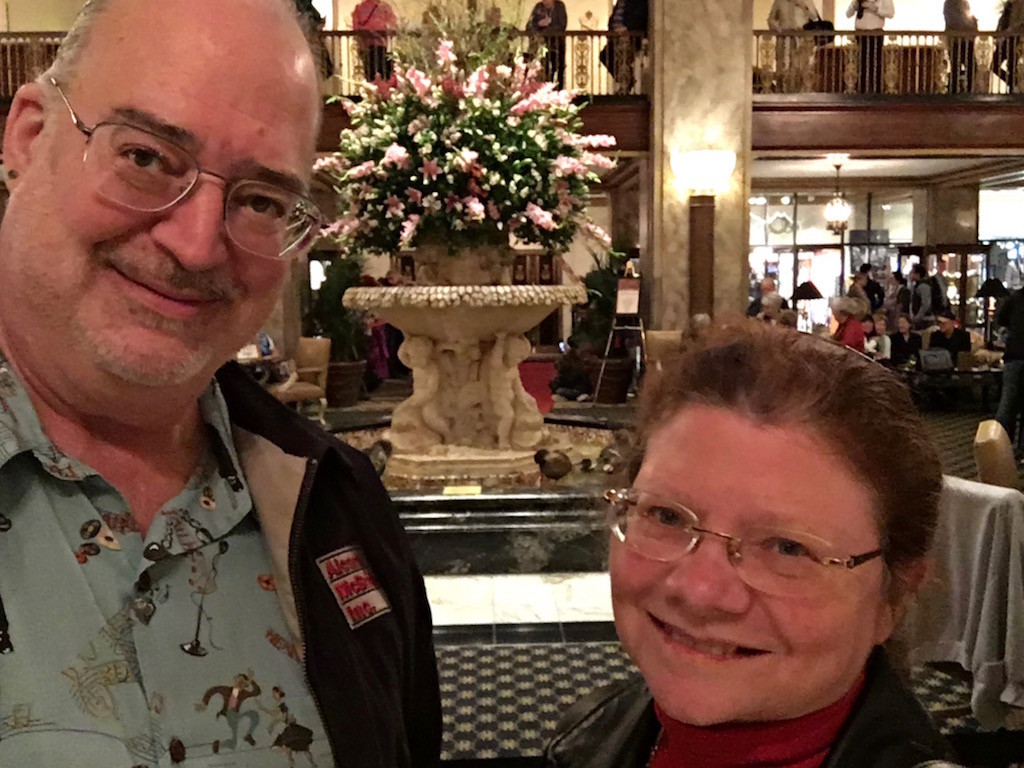 Memphis was much nicer than St. Louis. We stayed at the original Peabody – what a wonderful blast from the past! And best of all the ducks are still there. It was so fun – the Duck Master comes out (sort of like a Ring Master) all dressed up in a fancy red coat and after a spiel to the crowd (of several hundred) he ceremoniously lowers red carpeted duck sized stairs and escorts the ducks to the elevator for the ride to their duck palace on the roof. In Orlando, once released from their fountain the ducks broke the land speed record to escape the lobby full of children; the Memphis ducks seem to have much more decorum and walked down the aisle with a majesty that would have befitted the Queen of England.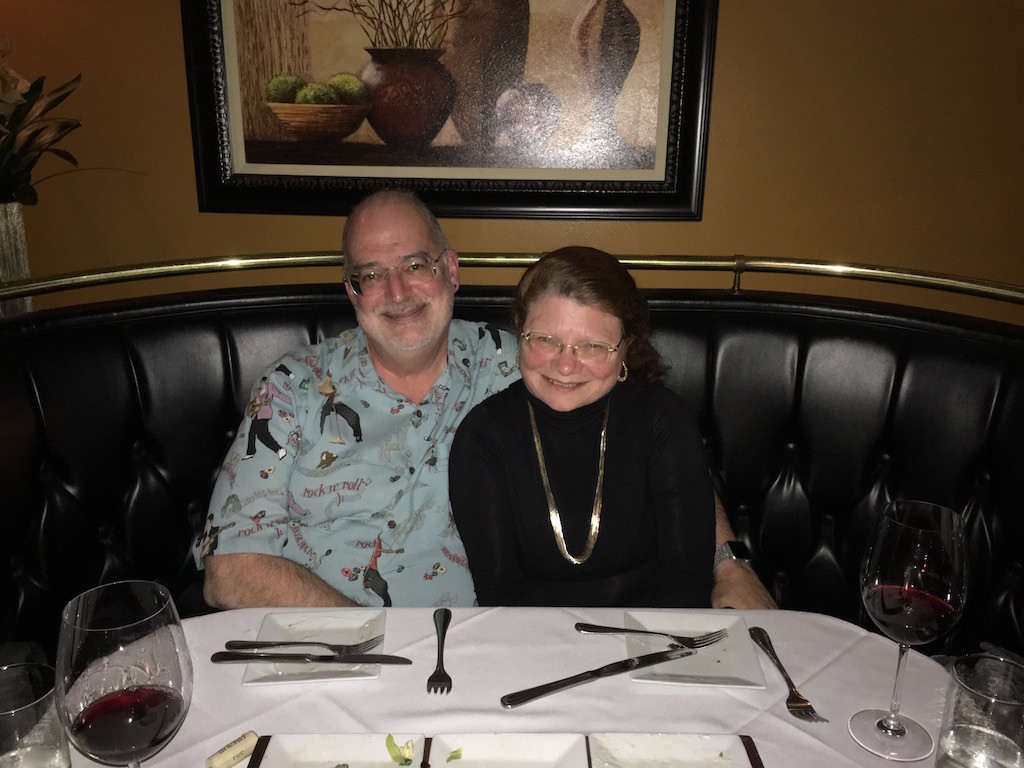 We ate at a restaurant called Flights. They had wine flights of course but also had food flights as well – so for example they had a salad flight consisting of (3) salads – thank goodness we just ordered one – portions were huge – I forget this is the South and all. Along those lines it is kind of telling how many billboards there are for cardiac care!
In the morning we took a quick drive down Beale Street just to check that off the list (they were still cleaning up from last night's partying). It's not quite as romantic at 8:30 AM!
I took my turn at driving today as we continued down I-55 through Mississippi – what a great drive! I have spent so much time driving in Florida with idiots that I had forgotten what it was like to share the road with folks who know what they are doing. And best of all there are virtually no towns en route, so there aren't any cops either. Everyone has agreed to go 80 MPH and it's an overall dandy arrangement. I was driving Steve's stretch Lexus which is SO comfortable – the only bad thing is there is absolutely no feedback as to how fast you are going – I caught myself doing 90 at one point!
---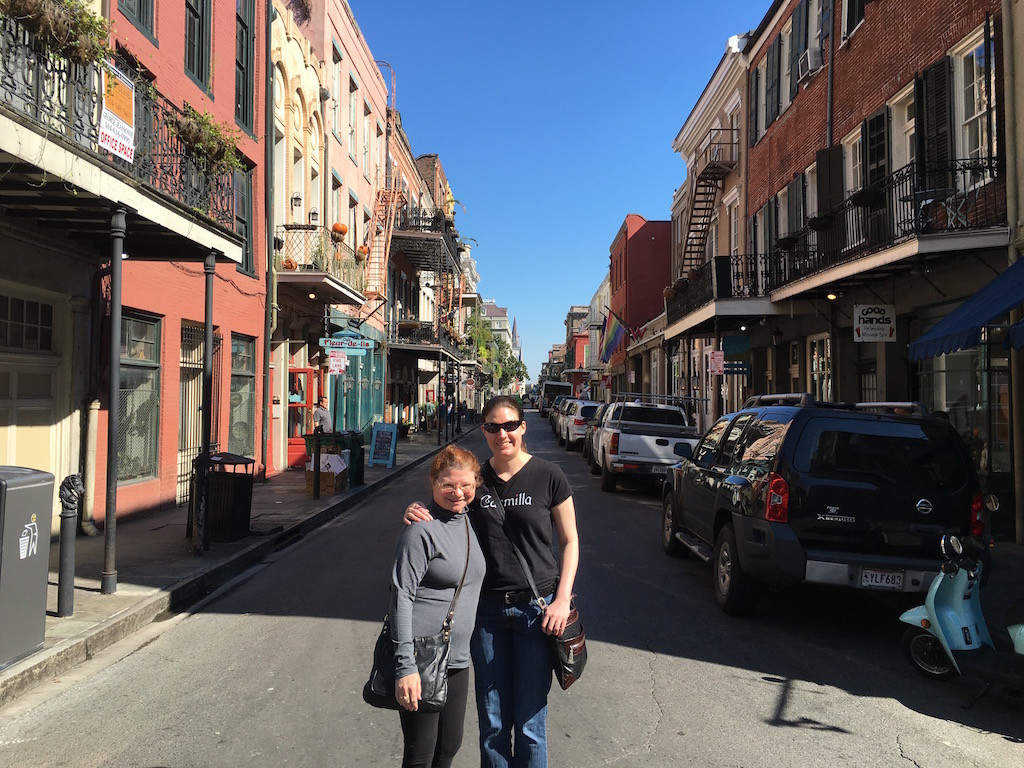 New Orlean's French Quarter defies description – you have seen the pictures of course but the ambiance is kind of like the seedier part of Las Vegas mixed with the funkiness of San Fransisco's water front with a dollop of New York street life thrown in for good measure. Walking the streets is kind of like driving in Florida – you have to assume you are going to be cut off at every pass – folks start to drink around 11 AM and it is legal to carry drinks with you on the street – so it's a happy but directionally and balance wise challenged crowd. Bourbon Street is sort of like an exercise in natural selection – the street itself is closed to traffic but the cross streets are not – you get the picture.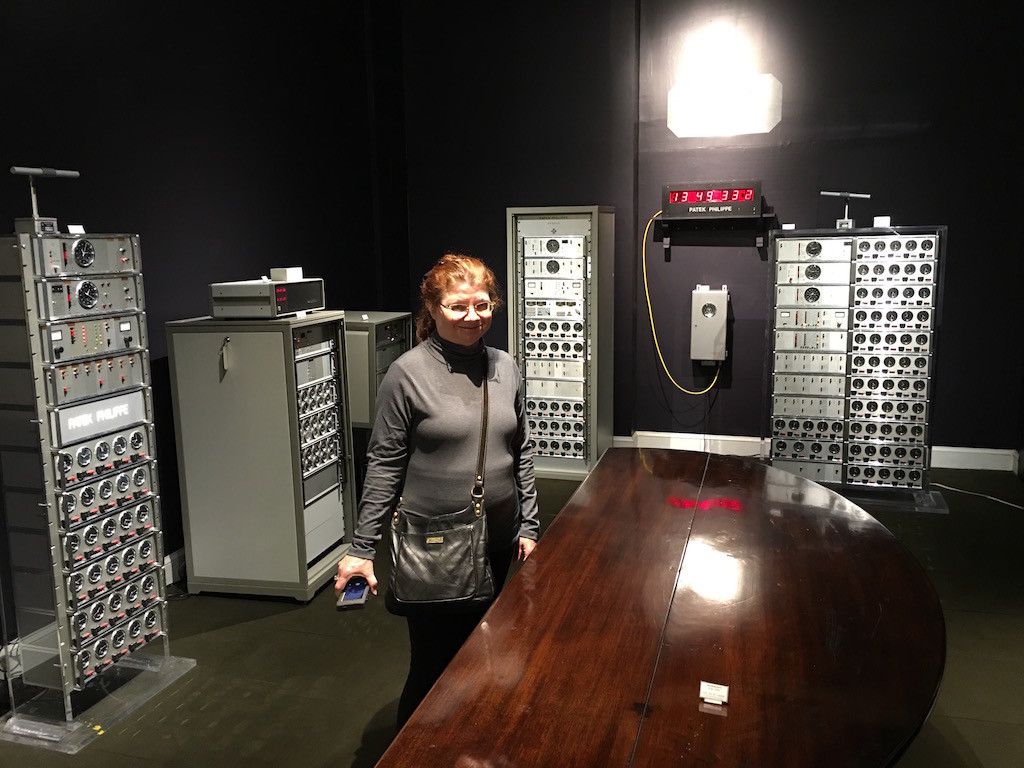 Just one block over from Bourbon is Royal Street – a very different vibe. There are still many tourist shops here but there are some fine antique stores as well. We spent an hour in one that was more like a museum with price tags. It was not uncommon to find prices around $75K and there was a painting that had been sourced from the Vatican that was close to $1M. And heaven knows what they had hidden in the back! The place was huge and among other treasure they had a collection of precision world clocks from the 60's, 70's and 80's.
Commander's Palace turned out to be a dud – incredibly high wine prices, a fairly limited menu and fractured service – oh well.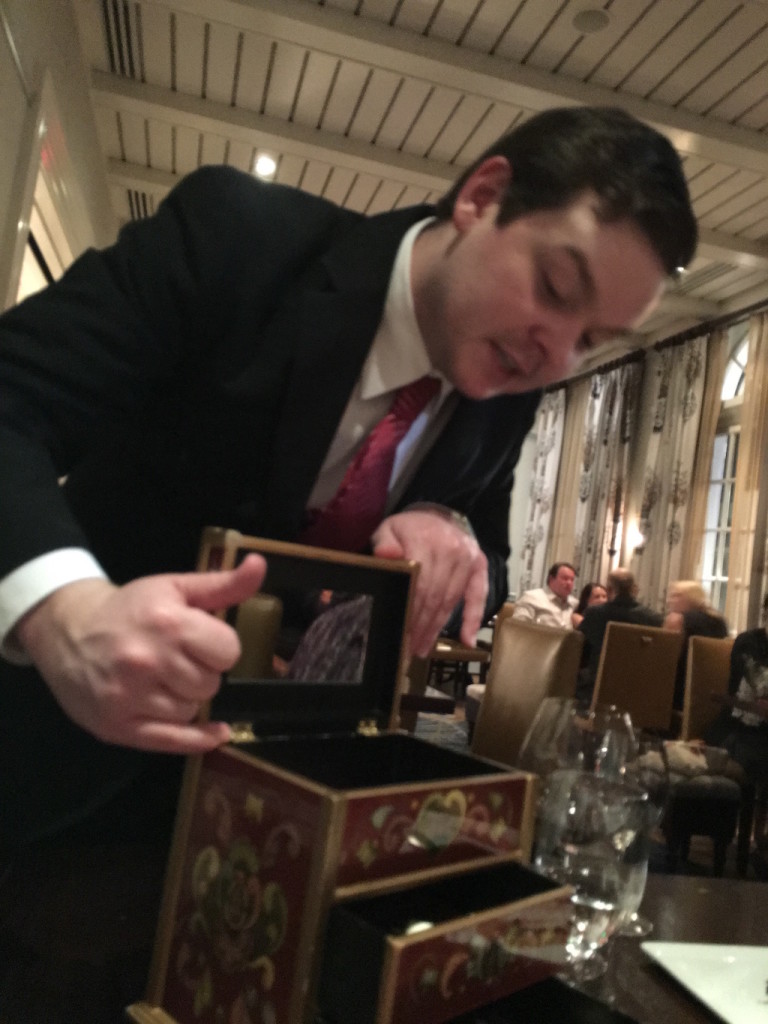 Last night however we went to and absolutely fabulous new restaurant (R'evolution). Great wine list and the food was outstanding. Steve and Dani had a 1907 Madiera to finish off the meal – perfect in every way!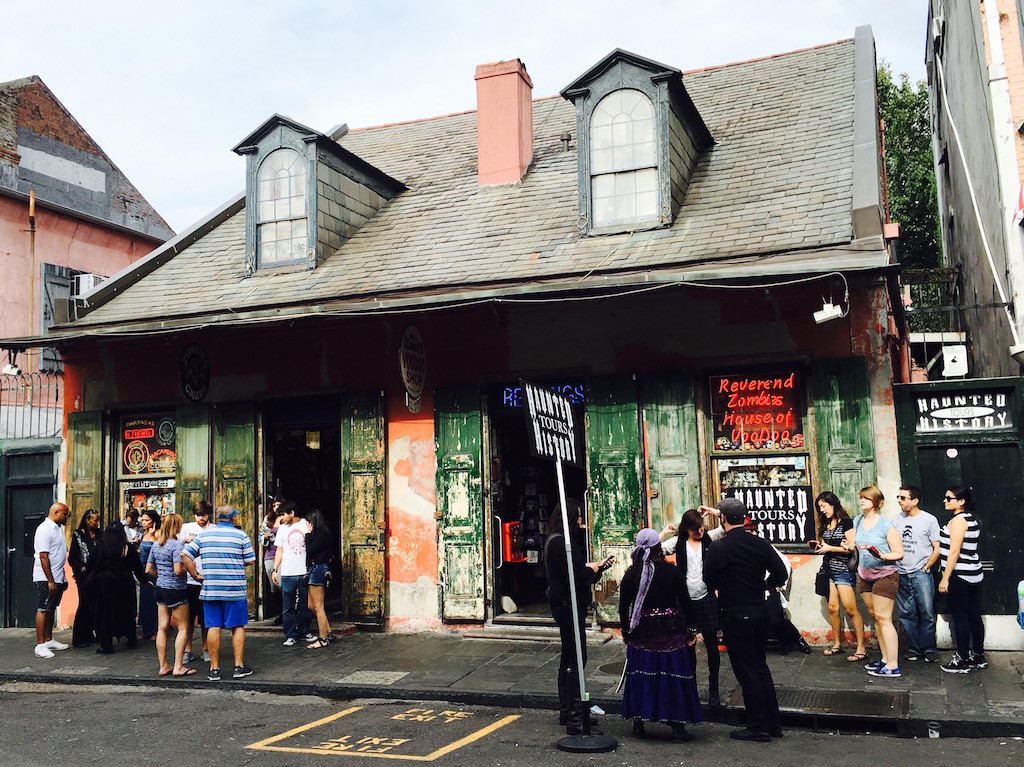 Halloween in New Orleans is… well let's just say it ain't Disney style.
On Bourbon Street one passes cigar puffing men in red tutu's and matching bustier's with a lot of muscles and an overall bad attitude. The young ladies in similar attire go down the street without comment. The young ladies (?) hooking for the strip clubs hang out with mostly bare tops covered perhaps by black paint at the most. They are about 15′ away from young boys tap dancing on the street in violation of every child labor law I have ever heard of. We saw a very dapper pair of elderly men (clearly well monied) with impeccable suit jackets, killer shoes and no pants save for very colorful boxer shorts. Then there was the black robed young woman with a large live snake draped around her neck. And the crazy guy naked but for black Speedo who was bragging about being both drunk and high on cocaine… And everyone else is just pretty much 3 sheets to the wind. Several schmucks had fallen by the road and were sleeping it off on the sidewalk. And this was about 5 PM last night. So what I could not get my head around was about this same time a NOLA police car was driving down the road – could not fathom what infraction they were going to go for first? These folks have taken live and let live to a whole new level!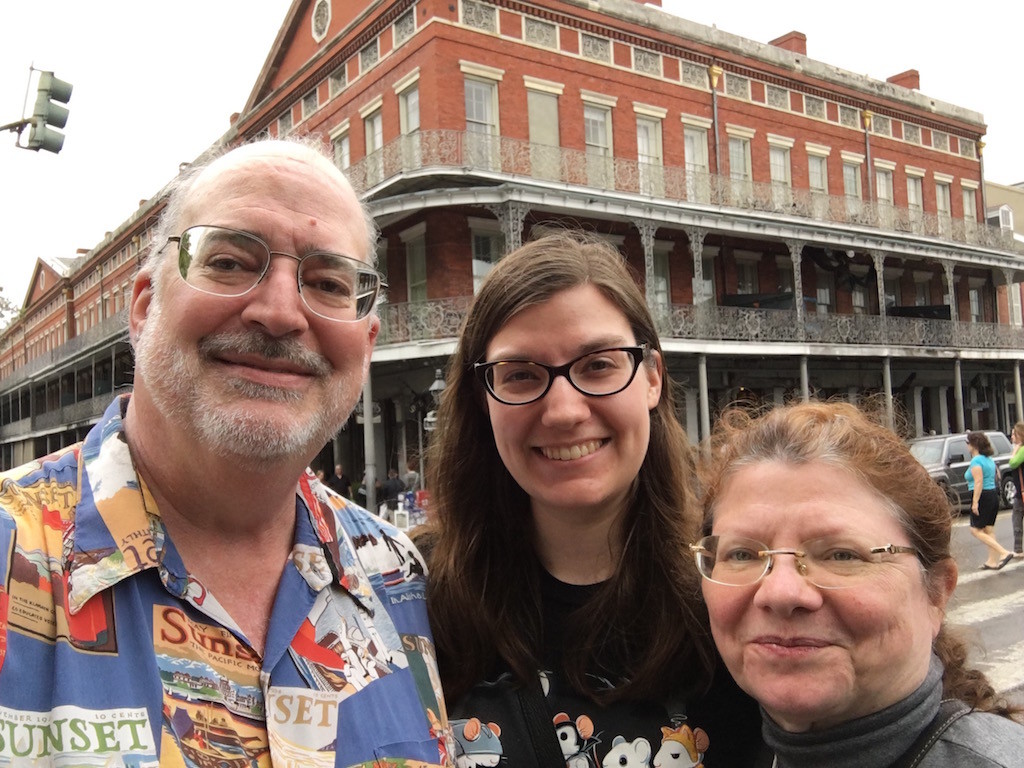 So what I neglected to mention is the music. Music oozes from every pore of the French Quarter – they seem to be be born knowing how to play an instrument. There is nothing repetitive about it – every performance is improvised – as opposed to soul music this is music from the soul – amazing! There was a street band led by an older black lady clarinet player – the best I have ever heard! Her name is Doreen Ketchens; here is one link on YouTube but you can find others as well:
There was also a band that played in a lounge in our hotel. The room was about the same size as lounges on cruise ships and I always felt a slight rocking sensation (but it might have been the champagne…).
---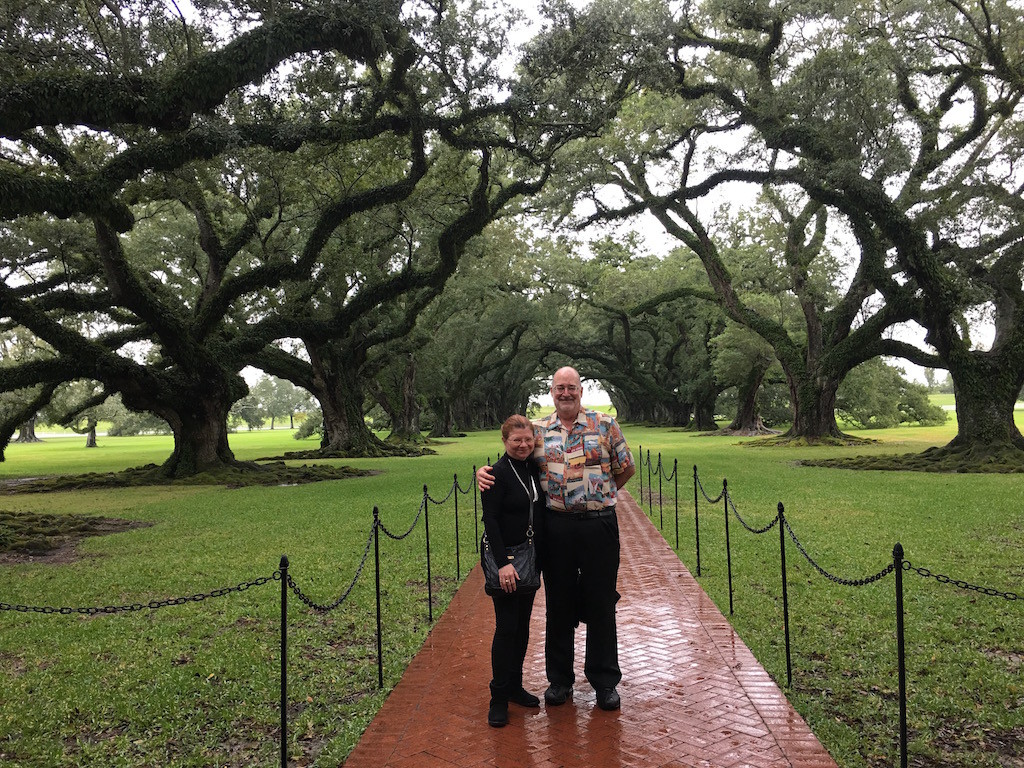 Yesterday we had had enough of the city and drove about an hour out of town to a riverfront plantation, Oak Alley. It was a rainy day so it was very uncrowded and it was a little easier to get a sense of what it must have really been like. It is named Oak Alley because an unknown Frenchman planted an avenue of oak trees 80 feet apart in the early 1700's. He never lived to see them in their full majesty but now they have grown together and form a magnificent arch leading to the river. They funnel any breeze and in the early 1800's a wealthy French officer built a magnificent home at the end of the Alley for his bride (who sounds like she was actually a pill but whatever.)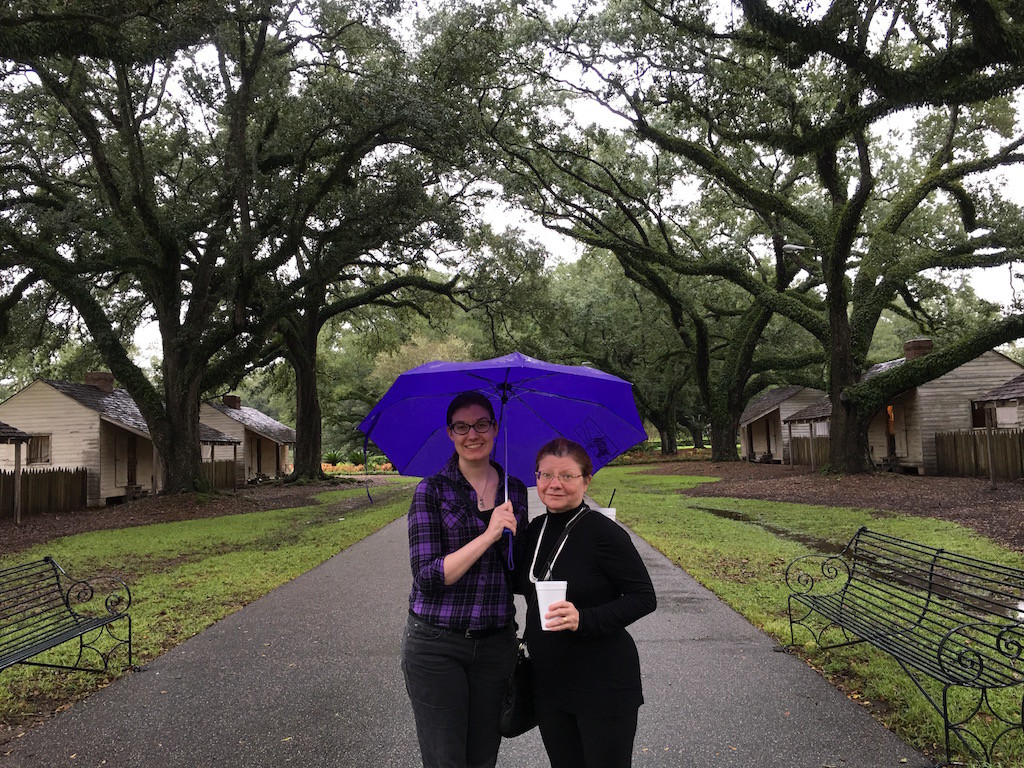 The plantation grew sugar cane and employed about 100 slaves. There was an inventory of them from the mid 1800's and their values ranged from $25 for a very sickly older person to $1500 for a skilled self taught botanist. Morality aside, just from an economic standpoint most of them were not given sufficient food/clothing to survive adequately – they had to supplement their incomes/food by raising crops and animals in their "spare" time; seems a pennywise approach to treating your work force.
---
So then it was off to Biloxi and the Beau Rivage. It is kind of sad – sort of a southern Las Vegas built on the cheap for senior citizens who have never gotten the chance to travel anywhere else. The only fun fact is for inexplicable reasons it is mandated that the casinos themselves have to be built on barges. So the hotels are built on the water's edge and the barges are seamlessly attached to them – you can't detect the seam from the inside. And no, I cannot figure out how they deal with the tides and it's bugging me…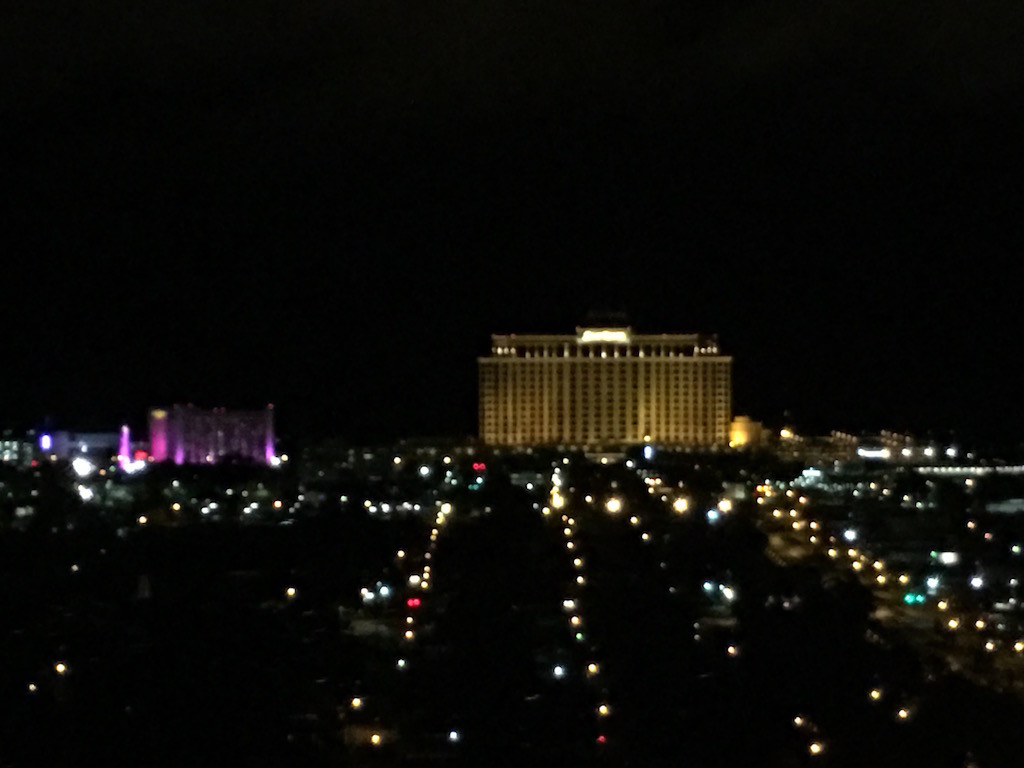 Last night we had a lovely dinner in a steak house on the top of another hotel – they had a very nice wine list and also were having a 50% off special on the wine – no limits! Had some really good Burgundy at below retail – yeah! And I even won $15 at the casino last night.
Eating habits in the South – no wonder insurance rates are so high! It is just kind of sad. We went to a sushi restaurant in Biloxi and out of 40 rolls only 3 or 4 of them did not feature tempura battered something or overall deep fried or both. Yuk! Amazingly their sashimi preparations were spot on.
---
En route to the Panhandle I was amazed by the sophistication of Mobile, Alabama – beautiful waterfront convention center and great local restaurants.
---


Our final stop before Orlando was in Destin, Florida, at a kind of funky pseudo bed and breakfast with a killer Gulf view.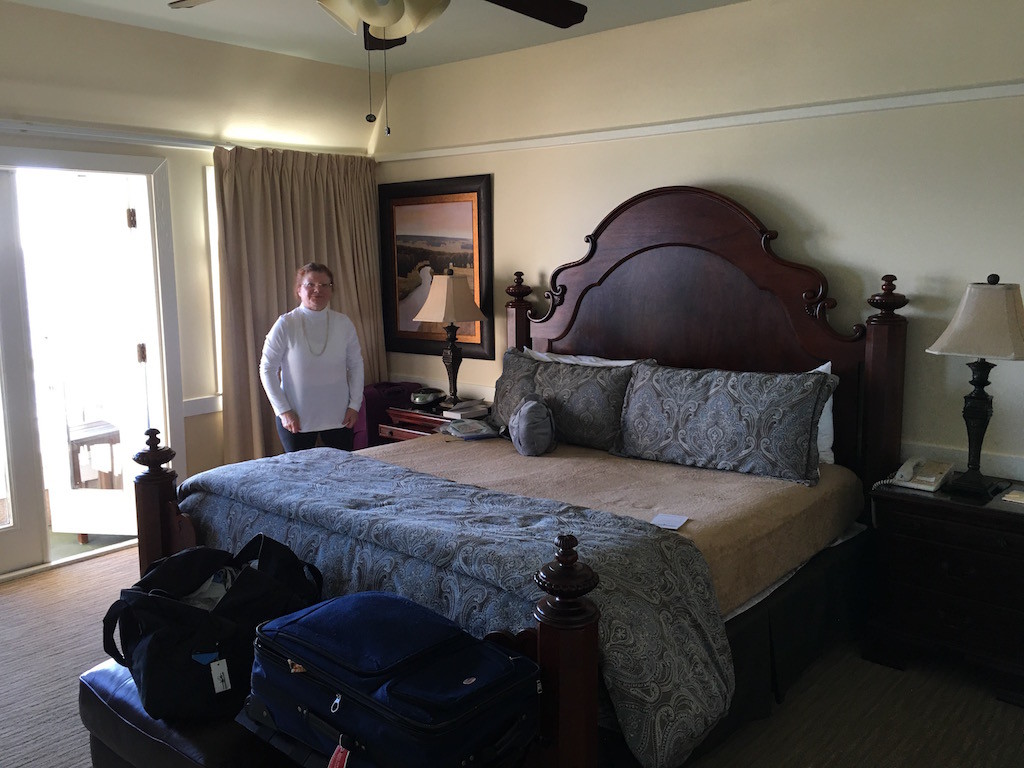 I am going to sleep with the doors open and the waves lapping outside.