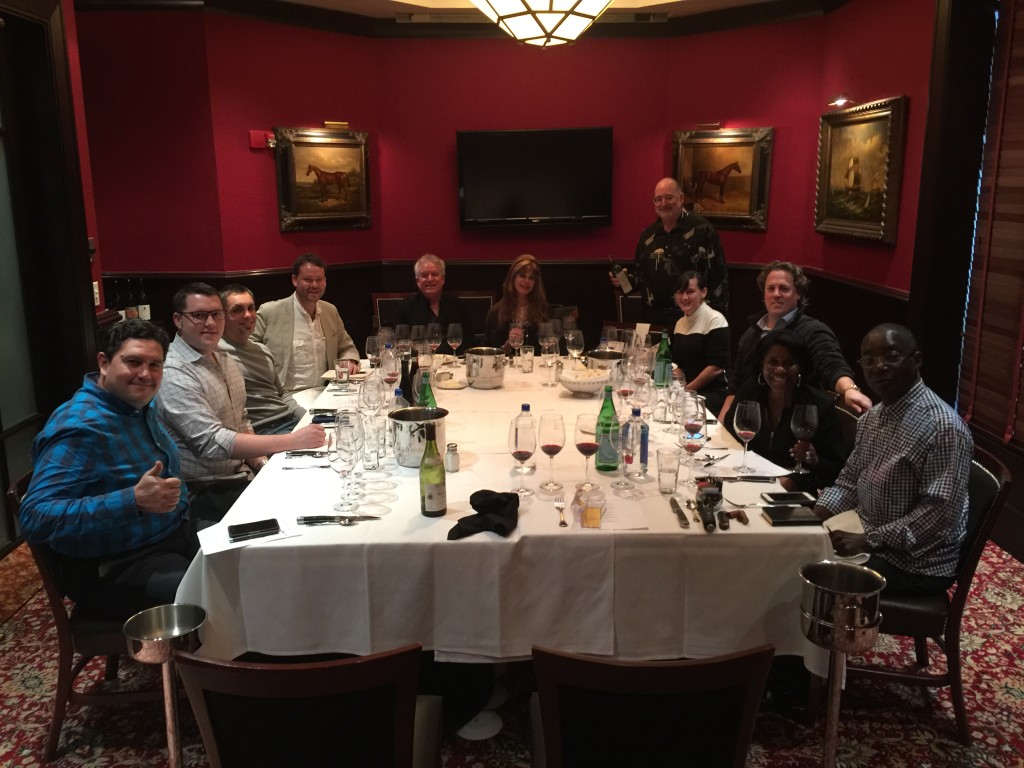 Ron has received many recommendations of "off the radar" wines from Sommeliers, mostly in the New York restaurant scene, and decided to organize an event to try them out. He had the wines shipped in and organized a wonderful tasting at the Capital Grille, to which he invited Orlando area somms and wine people.
The wines were presented mostly in flights of three, and by an odd chance the group's favorites in almost every flight was the third wine!
Ron also added five of his favorite wines, all of which were, in fact better than any of the recommended wines.
My favorites were the 2011 Antoine Arena 'Grotte Di Sole' Blanc (a Vermentinu from Corsica!) and the 2012 Marie et Pierre Benetiere "Cordeloux" Côte-Rôtie.
Afterward we started bringing out older gems during a late, late lunch. I left around 4pm, and they were just getting started!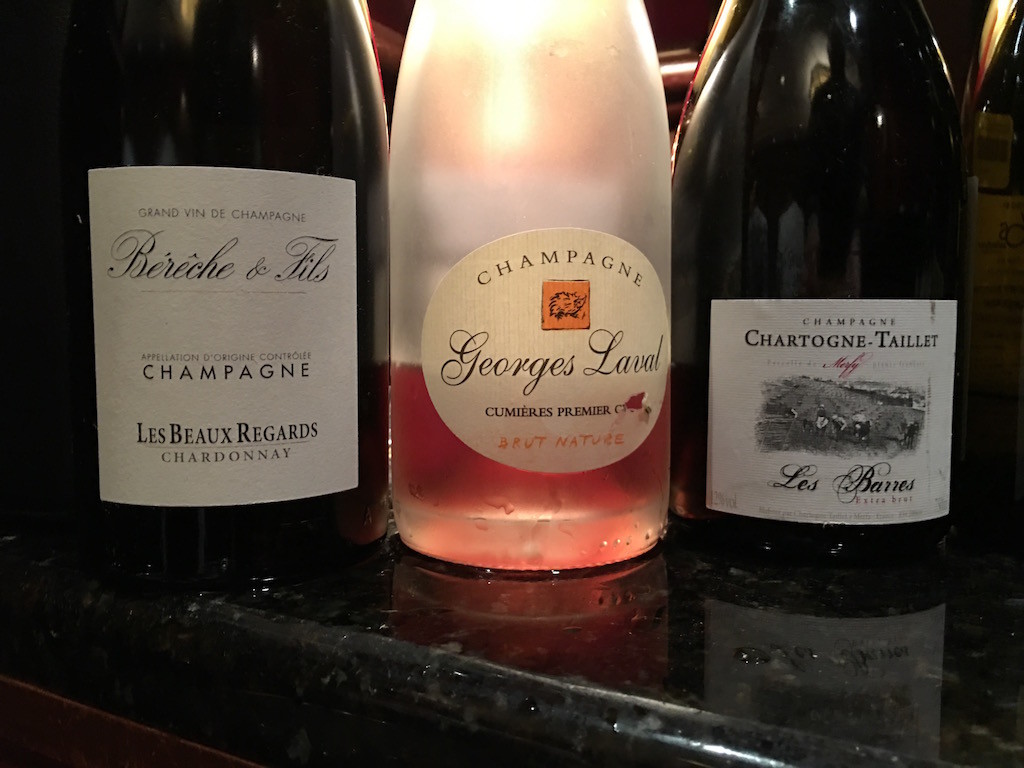 Bereche & Fils Champagne
Chardonnay
Clean, high acid, chalk lime
90 pts
Georges Laval Champagne
Pinot noir, Pinot meunier, crushed by foot
Ash, beef broth
88 pts
Chartogne-Taillet Champagne 2008
Pinot meunier
Yeasty, mouth filling, long, toasty
93 pts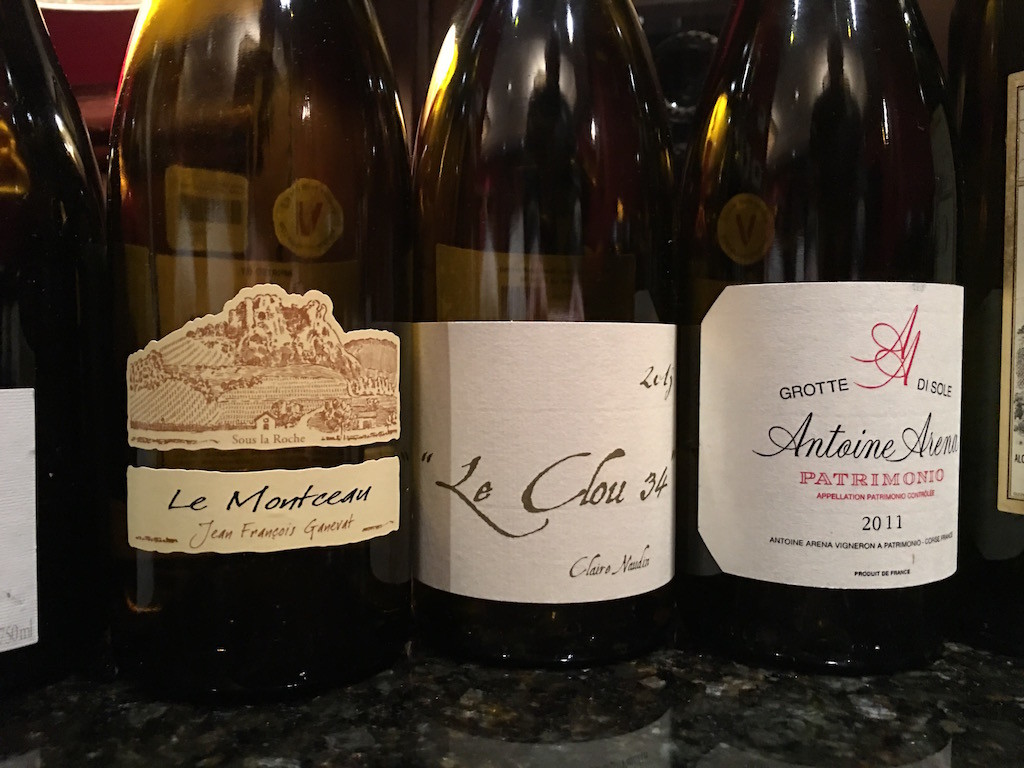 Jeanne Francois Ganevat Chardonnay Le Montceau 2013
Green, short, very light
87 pts
Claire Naudin Aligote 'Le Clou 34' 2013
Aligote
Very floral nose like a southeastern wine, heavy
90 pts
Antoine Arena 'Grotte Di Sole' Blanc 2011
Vermentinu from Corsica
Vanilla, oak, marvelous complexity, rich, buttery, spicy finish
94 pts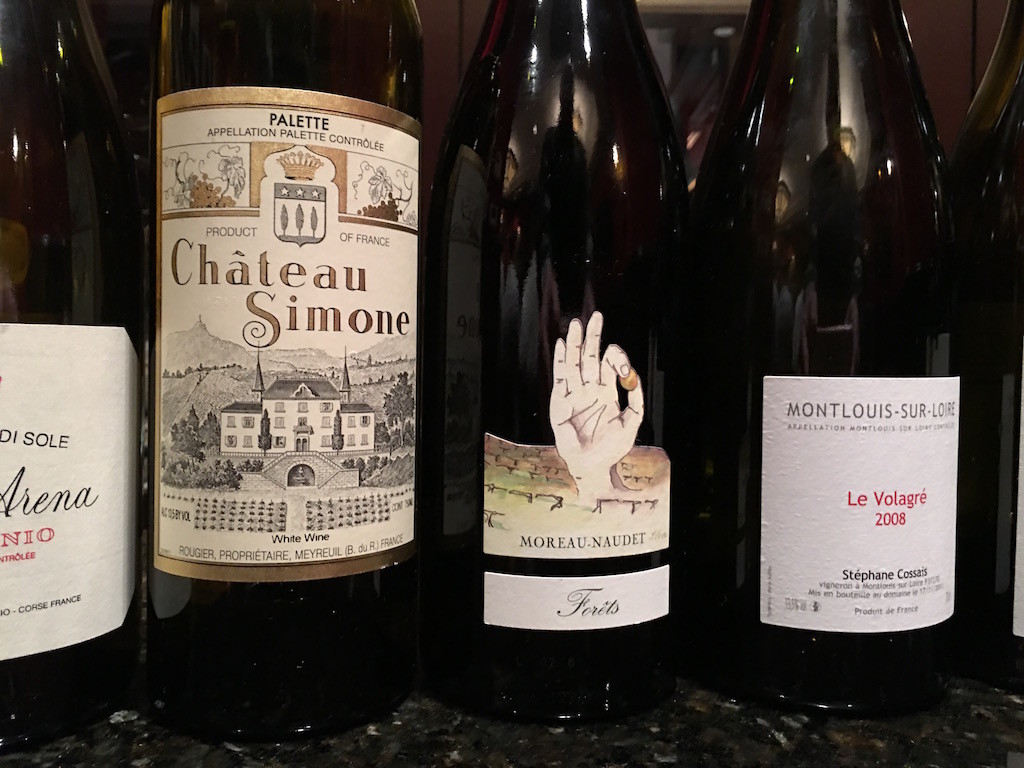 Ch Simone Palette Blanc 2010
Petroleum, waxy, slightly oxidative in the mouth, short
90 pts
Moreau-Naudet Chablis 'Forets' 1er Cru 2012
Flinty, crisp, spicy, acidic
88 pts
Stephane Cossais Montlouis Sur Loire 'Le Volagre' 2008
Chenin Blanc
Lush, balanced, toasty
92 pts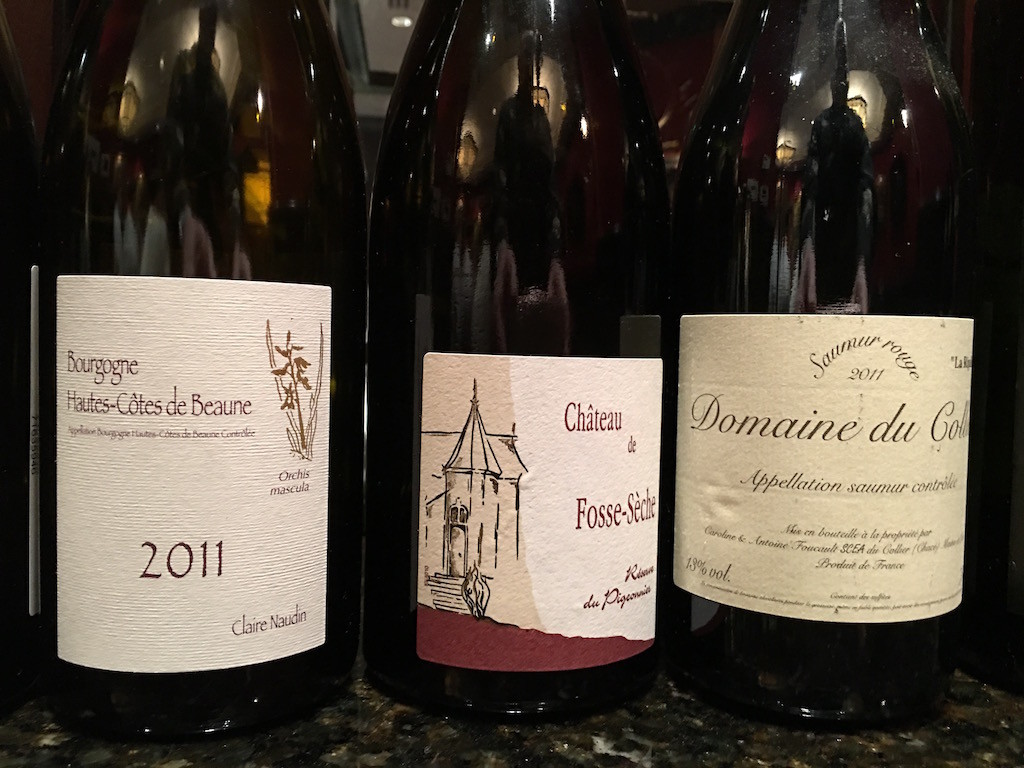 Claire Naudin Bourgogne Hautes Cotes de Beaune 'Orchis Mascula' 2011
Beautiful red fruit Burgundian nose, light bodied, cherries, very drinkable, do not age
90 pts
Chateau de Fosse-Seche 'Reserve du Pigeonnier' 2004
Cab Franc
Slightly cheese nose, pimiento, metallic, balanced, dust, tight
86 pts
Domaine du Collier Saumur 'La Ripaille' Rouge 2011
Cab Franc
Vanilla, a bit tannic, short
87 pts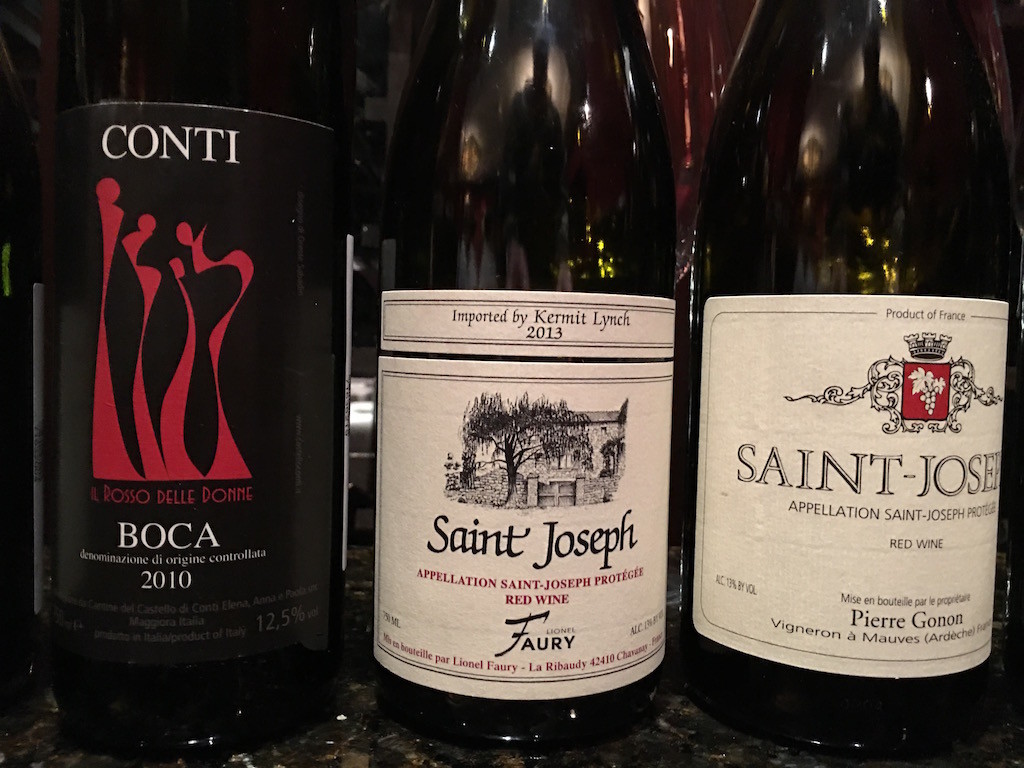 Castello Conti Boca 'Il Rosso Delle Donne' 2010
Nebbiolo
Vanilla, sour cherries
92 pts
Domaine Faury Saint Joseph 2013
Syrah Rhone
Vanilla, silky, balanced, slightly thin finish
92 pts
Ganon Saint Joseph 2012
Syrah Rhone
Rotisserie Meat, fruit, black olive, vanilla, earthy, mint
95 pts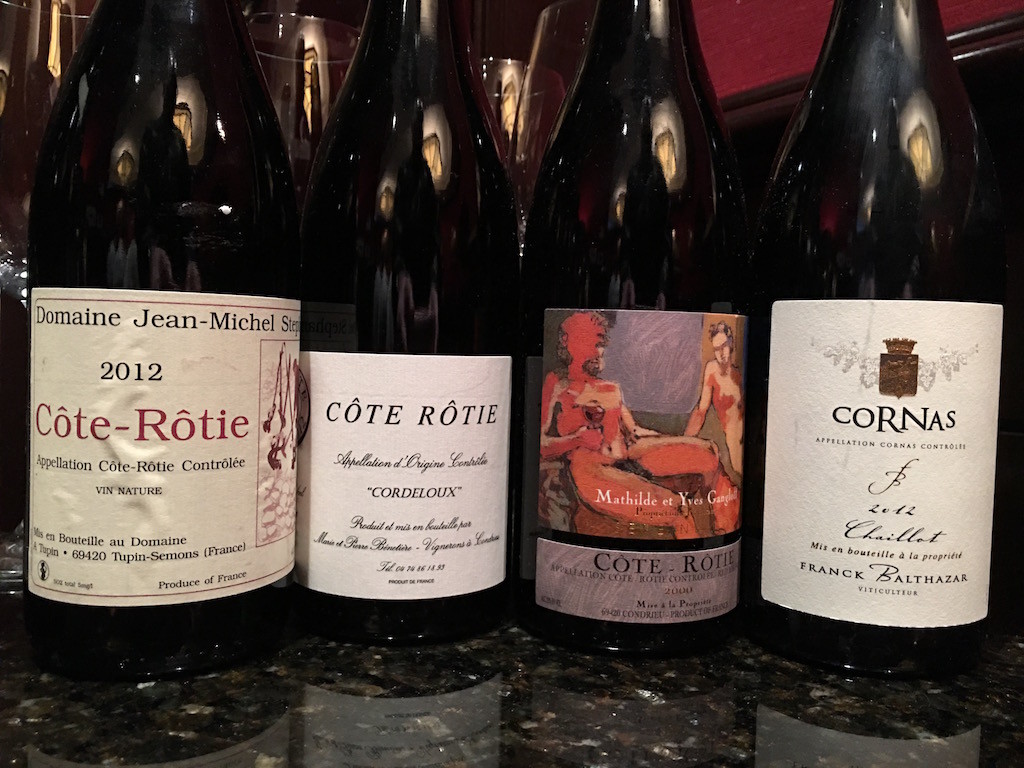 Jean Michel Stephan Côte Rotie 2012
Smoked meat, silky, tannic
95 pts
Marie et Pierre Benetiere "Cordeloux" Côte-Rôtie 2012
Dusty nose, bell pepper, silky
96 pts
Gangloff Côte Rotie La Serene 2000
Bologna, somewhat off balance, like the nose  much better than the taste
91 pts
Balthazar Chaillot Cornas 2012
Smoked meat, awkward
89 pts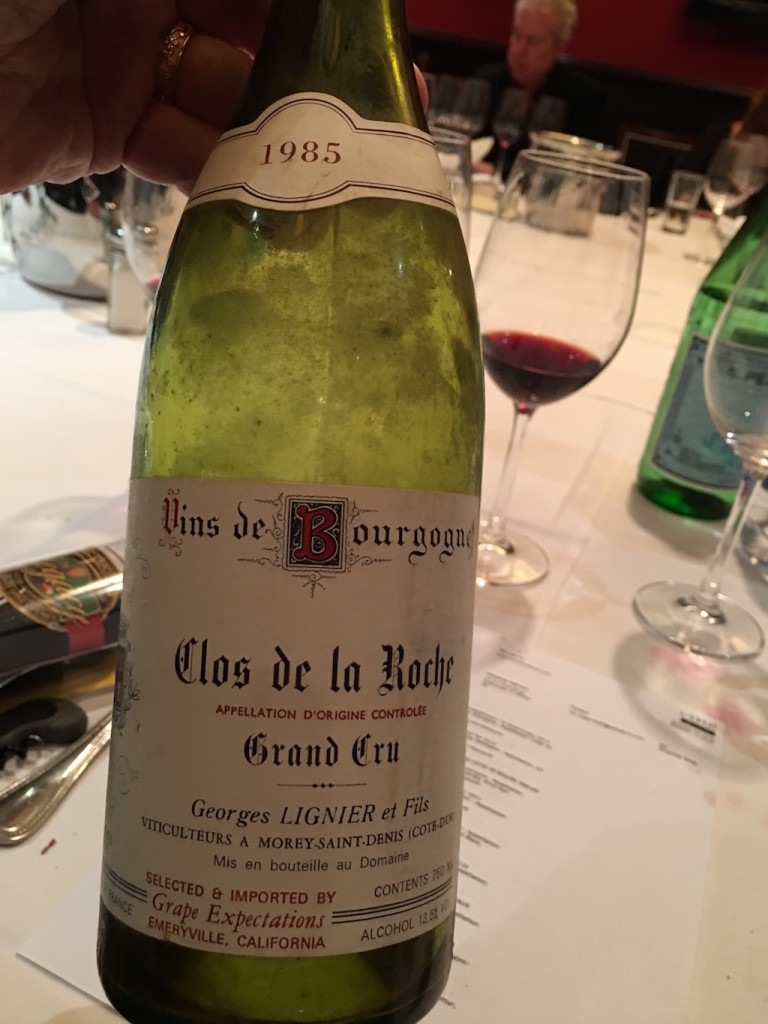 Clos de la Roche Grand Cru George Linier 1985 (Steve)
Youthful, complex, leather, cherries, very balanced
95 pts
Echezeaux Mongeard-Mugneret 1985
A bit thin, iodine
89 pts
Baron Pichon Longville 1975 (Steve)
Extremely youthful, big fruit, tobacco, umami, gravel
94 pts
Borgogno Barolo 1982
Minty, vanilla, youthful, elegant wine
93 pts
La Mission Haut Brion 1966
Roses, gun metal, cedar, gingerbread, iron, cardboard, still extremely fruity, a particularly fresh bottle
95 pts