Ron puts together a fantastic collection of wines to celebrate his birthday, and this year was no exception.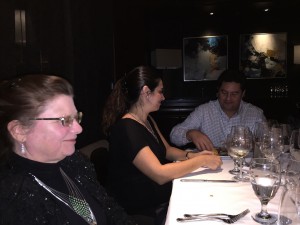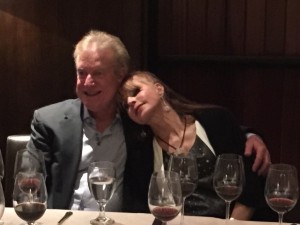 We met in the private room at Eddie V's. In attendance were:
Ron and Bev
Linda and Steve
Keith and Parlo
Andres and Paula
Dlynn Proctor, Grange
Andy McNamara, Master Somm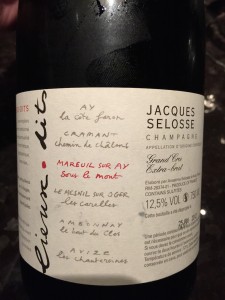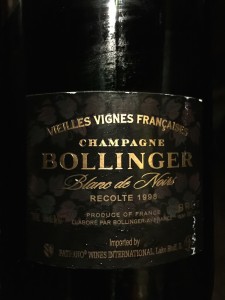 We began with two stellar Champagnes that could not have been more different, with the crisp acidity and oxidative notes of the Selosse contrasting the ripe peach skin and burnt orange sherbet of the Bollinger. This Bollinger VV Francaises is very rare. It comes from one of the last remaining parcels of pre-phylloxera wines, which is apparently also endangered.
The contrast between the three whites was just as apparent. Some attendees weren't wild about the Haut Brion blanc, which seemed to lack varietal (or fruit) character, but six hours in the glass produced a continually evolving array of other complex notes.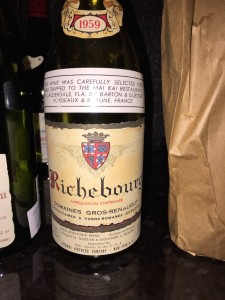 Unfortunately, the 1959 Richebourg was a flawed bottle.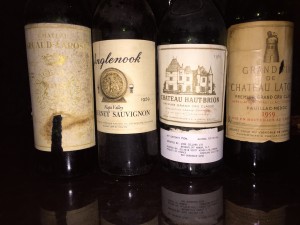 The Bordeaux flight was fun. My three wines were served blind, and 1959 Gruaud Larose was so complex that it was immediately assumed to be the 1961 Haut Brion. The Haut Brion should have been better, but it did improve over several hours. The Latour was surpassingly unyielding, and although it was some taster's favorite, the Inglenook was slightly cork tainted as a result of the moldy cork falling into the bottle when opened. I did not think the Inglenook was a outclassed as Ron did.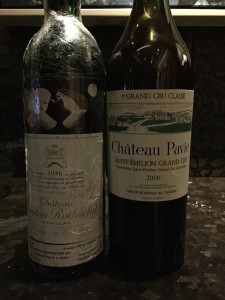 1986 Mouton was again disappointing, and I'm going to sell the rest of mine, but the 2000 Pavie demonstrated why it is the greatest wine ever made at Pavie, despite the hype of the 2003 and 2005.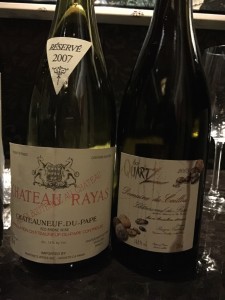 I did not care for either of the CDPs, which both seemed to have obvious production flaws. I can't imagine that was the case with the 2007 Rayas, which should have been stellar, but I returned to it over several hours and never found anything about it to like.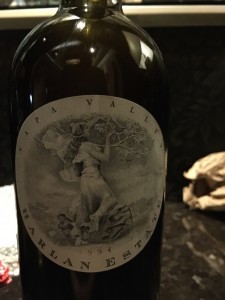 I've only had Harlan once or twice, but poured blind it was clearly a California cult. I didn't see the similarity to Pomerol guessed by some of the tasters. A stellar wine, worth the hype.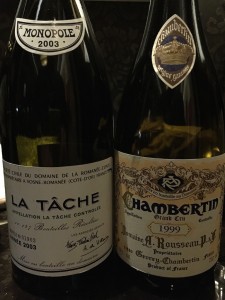 The Burgundies provided and elegant intermezzo. I'm unaccustomed to drinking Burgundies this young, and it's still hard for me to see how they could ever turn into the magical old ones I've had, but they were very pleasant (and very expensive).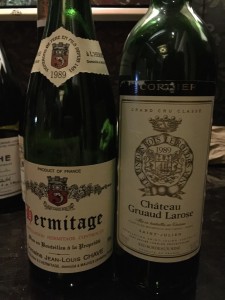 Hermitage was easy to identify blind, and if the 1989 is this good I'm looking forward to trying my 1990 some day.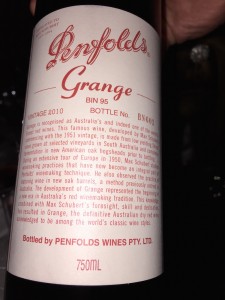 The final three wines were all block busters, and although palate fatigue was starting to set in, they each had their own appeal. The Grange was surprisingly accessible for a brand new release (but I can't imagine paying $900 for it).
By the time Linda and I slipped out it was after midnight, and there were still at least five bottles not yet opened. The group has stamina!
My tasting notes follow. Wines provided by Ron except where noted:
Jacques Selosse (Keith)
Very crisp, oxidative, 95 pts
Bollinger 1998
Pre phylloxera
Peach skin, orange pulp, burnt orange dreamcicle, oak ,95 pts
Chevalier Montrachet 2000
Classic vanilla lemon oak
Butter coconut balanced, 96 pts
1990 Haut Brion Blanc
Amber
Smoke, gun oil, no varietal aromas
Really balanced, fading fruit, white taffy candy, shoe polish, peat, clean caramel finish, nutty, 98 pts
1990 Chablis Raveneau Montee de Tonnerre premier Cru
Amber
Flowers, heavy, briny, seashell, salt water taffy, green apple, high acid, 95 pts
1959 Richebourg
Nail polish, oxidized, caramel (flawed bottle)
1959 Gruaud Larose (Steve)
Fresh fruit, curry, almost sweet, herbal, green 97pts
1959 Inglenook cask F-6 (Steve)
Very slightly corked, great color, slightly restrained fruit mint 93 pts
1961 Haut Brion (Steve)
Dusty gravel, very smokey, after a hour unbelievably strong charred wood 95pts
1959 Latour
Walnut, spices, fruit dies in the finish, 94pts
1986 Mouton (Keith)
Tight, short, Bret, 90pts
2000 Pavie (Keith)
Big sweet fruit, shell, peppery, very young, mints, 97pts
2007 Rayas CDP (Andres)
Geranium sorbate (flawed bottle?)
2005 Quartz CDP (Andres)
Sewage (flawed bottle?)
1994 Harlan
Vanilla, baking spices, cinnamon, anise, mint, 100 pts
2003 La Tache
Green, earthy, bright fruit, mint, floral, vanilla, balanced, structured, leather, light bodied, very fresh, elegant, totally ready 97 pts
1999 Rousseau Chambertin
Elegant nose, restrained, intense cherry, slightly tannic, seashells, elegant, 96 pts
1989 Hermitage Chave (Keith)
Meat, cooked vegetables, 95 pts
1989 Ch Gruaud Larose (Andrew)
Slightly corked, quite chewy, young, mint 91 pts
1975 La Mission Haut Brion
Parker 100, Chewy, balanced, very tannic, good structure and length, sawdust, mint, 96 pts
1970 Unico
Very young, high acid, long, dill, vanilla 96 pts
2010 Grange
$950
Huge fruit, immense sawdust, syrup, huge tannins and length 98 pts