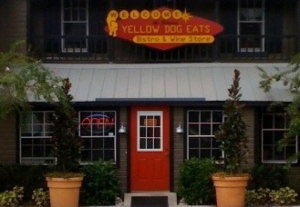 Linda is making her special short ribs recipe, and it smells wonderful. The secret ingredient is BBQ sauce from Yellow Dog Eats.
Ingredients
1 large sliced onion
3 – 4 lb. pot roast
Beef rub
olive oil
1/3 cup Beef stock or water
3/4 cup V8
1/ cup Yellow Dog Eats BBQ Sauce
2 tsp minced garlic
1 large packet Lipton's Onion Soup Mix
3 tbsp Worchestshire Sauce
Preparation
Brown onion in olive oil, set aside
Dust pot roast lightly with flour (optional)
Add more oil to pan if needed
Sear roast on both sides with beef rub sprinkled on until light brown
Create sauce from remaining ingredients.
Place beef in oven safe pan or crock pot, cover with onions and sauce, cover.
Bake 8 hours at 210 or crock pot on low.