I took advantage of still having the rental car and ran lots of errands. Sam's Club for ziploc bags and gum, the market for Diet Coke, the gourmet shop for some caramels Dani likes and some artisan bread.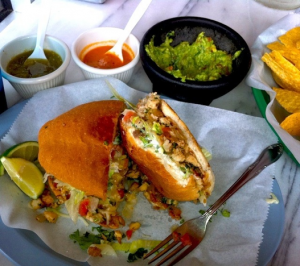 I went south on Clarke about 5 miles to the Mexican district and tried La Cazuela Mariscos. It had great reviews on the Internet, so I was expecting a bit fancier place than the simple storefront and counter, but it was delicious, and almost free. My torta de pescadero (fish sandwich) was $4.99, and hand made delicious guacamole was $2.50. I felt bad that I was the only customer. My bill with a Diet Coke came to less than $9, but I left a $20.
Dinner was homemade fish sticks using a recipe I got from Scott Joseph's blog: tilapia, coated with beaten egg, Japanese panko breadcrumbs, dill, seasoning and spray grape seed oil. Very tasty.