For lunch I was going to try the local JK Sweets, which is the bizarre combination of an ice cream parlor and Korean restaurant, but it looks like they're on vacation. So I walked over to Sherman and on a whim went into Bombay Indian Grill, a narrow storefront that used to be a Dunkin' Donuts.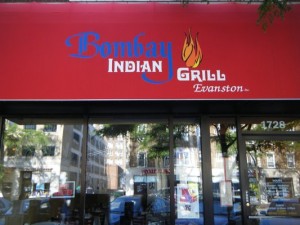 Bombay Indian Grill is a small restaurant that offers quite tasty and authentic Indian food, and at least at lunch the prices are quite fair. I had the Chicken Korma. There seems to be some disagreement about what goes into Korma sauce, with some places adding spices that turn it pink or red, while others make the traditional white. This was the pink variety, and it was savory and delicious, and mild as advertised. I love garlic naan bread, so I ordered that, rather than the plain naan that comes with the lunch, and took rice instead with my chicken. Both the rice and the garlic naan were excellent, and the two chutney accompaniments — tamarind and cilantro — were perfect. A tiny salad was as also on the plate, really just some shredded lettuce that might have been lightly dressed, but it actually served well to clear the palate. The two fried bits of smashed and breaded cauliflower aren't really my thing, but they were good with the chutneys. A lot of food for ten bucks. Service was attentive and friendly. There's free wifi, too, due to the fact that Starbucks is next door! No complaints, and I'll be back.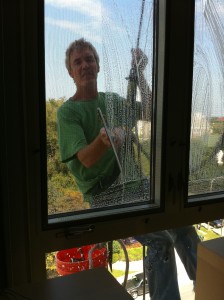 Today they're washing the windows of the condo building (they actually weren't very dirty), so a guy dangling from ropes is passing by. It's amazing how fast he goes from floor to floor, dropping down the side. Then I guess he takes the elevator back up!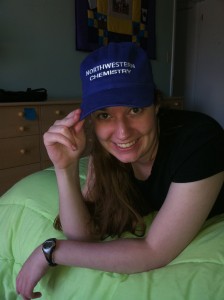 Today Dani gave her chemistry lab project presentation about a UV light exposure sensor to prevent sunburn and got voted best presentation by her 14 classmates, so she won a Northwestern Chemistry hat.
For dinner we ordered ribs from Merle's #1 Barbecue. Dani thought there wasn't goof barbecue in Evanston, but the "spare ribs, falling off the bone, mild sauce" were terrific, as were the accompaniments: corn bread, baked potatoes and very bacony baked beans.