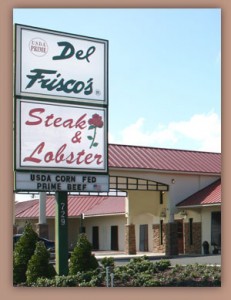 It's been more than a couple of years since we've been to Del Frisco's, and it was near the Shakespeare Center, so we decided to have an early dinner there on Friday. Since our last visit they've completed the seamless connection of two different buildings, and created a new, large entry hall between them.
I still think Del Frisco's is the best  steakhouse in Orlando, even with the explosion of competitors in recent years. The difference is that red-hot metal plate that lets you finish cooking your sliced prime strip steak any way you like (and the butter all over it doesn't hurt, either). The spinach, sauteed onions, and house salad are really better than the other steakhouses' also. It's not a low-cal place, and it's even more expensive than Morton's, but when you want the best steak, it's the place to go.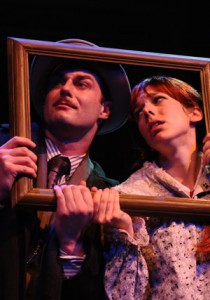 The 39 Steps is a comedic version of the classic Alfred Hitchcock film. It combines the original (fairly inane) plot with zany action made even zanier by the fact that four people have to play all the roles. It becomes increasingly manic, and by the end some of the characters are having conversations with themselves. Monty Python meets Alfred Hitchcock is a fairly good description. One fun aspect of the play was trying to find all the references to Hitchcock's other films (in the scene at right, he's about to climb through the "Rear Window"). It was quite amusing, although perhaps not quite as gut-bustingly hysterical as claimed.