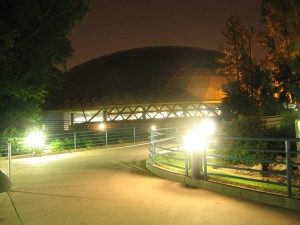 This is the first year for a new event at the Epcot Food and Wine Festival. It's called First Bites, and it gives you the opportunity to sample some of the food and wine that will be on the promenade, but in the air conditioned comfort of the seldom-used Wonders of Life pavilion.
I can't say I really recommend this event. At $200 a head (thank God we didn't pay that) it's very overpriced. There were a dozen foods, a few of which were very good, a few of which were impossible to eat, even with table seating. Particularly indestructible were the grilled bread served with several dishes, and the Korean beef. There were also a dozen wines, but the only truly good one was the Chateau Ste. Michelle Cabernet Sauvignon that was only poured as part of a seminar.
Probably the single best food item was the tiny white chocolate pumpkin truffle, which was served during the cooking seminar. So the two best items won't even be available to Food and Wine Festival guests.
The "ambiance" of Wonders of Life is also questionable. It's basically an abandoned attraction that has been repurposed with tables and chairs, but the bright spotlights pointed this way and that don't really create a pleasant environment.
I felt sorry for the four piece jazz combo that played to an empty seating area for an hour. The event came to a sudden end at 8:45, when we were driven from the building by the deafening and talentless Taylor Dayne.
Noteworthy Dishes:
Korea – Lettuce Wraps with Roast Pork and Kimchi Slaw
Tasty but not at all spicy. The Korean beef dish had a wonderful spicy sauce, but the beef was inedible.
Singapore – Shrimp Cake with Singapore Noodle Salad

Like several of the hot dishes, it was a bit startling that the underlying noodles were chilled, but I really liked them. Some said the fish sauce they were made with was too salty.
Puerto Rico -Asopao de Pollo

That's chicken soup to the rest of us. The green olives in it were delicious, not overpowering.
Ireland – Lobster & Scallop Fisherman's Pie
Basically mashed potatoes on top of mixed seafood. This is a large, filling dish, and is probably the smartest buy out on the promenade.
South Africa – Seared Beef Tenderloin with Sweet Potato Puree & Mango Barbecue Sauce

This had way too much sauce, but the elements were very tasty. The Australian lamb served at the same table was okay, but another of those hot dishes served on top of jarringly cold starches.