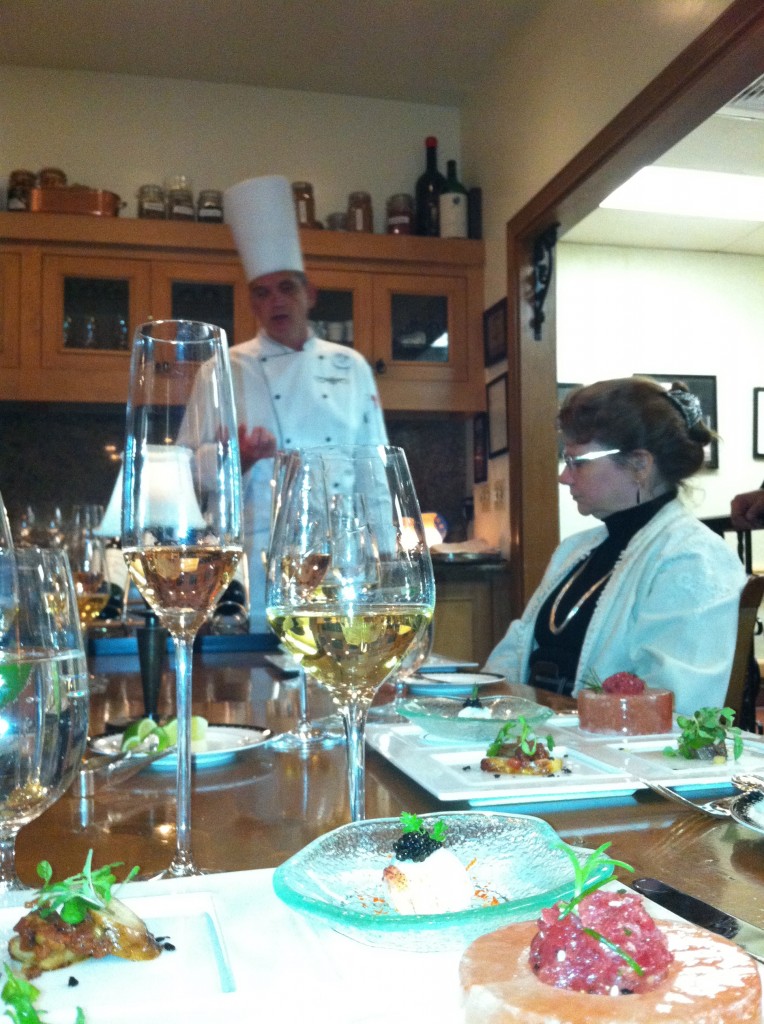 On our 33rd anniversary we invited our friends Ron & Bev Siegel to join us at Victoria and Albert's chef's table. Ron and Bev just celebrated their 36th anniversary, so it was a dual celebration. Maitre d' Israel Perez managed to rearrange his schedule to host us, and Chef Scott Hunnel outdid himself, preparing some of our favorites and introducing us to some new creations.
The Food:
Sour Cream Ice Cream with Caviar
Chef Scott tested a new sturgeon caviar from Florida on this dish, one of my favorites from last New Year's. He also placed the ice cream on tiny flakes of potato. Amazing dish!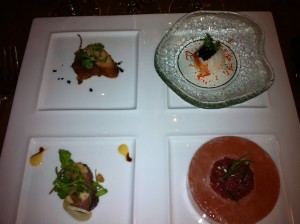 Buffalo served under a glass filled with smoke
Tuna Tartar on a salt block
Scallop and Octopus nicoise
Lobster panna cotta
Simply an amazing course. The buffalo in particular is extraordinary, because of the fresh smoke. The charred (and tender) octopus is also great. The tuna tartar is new.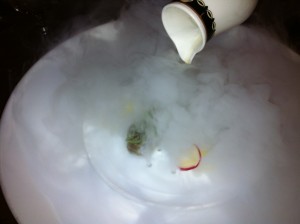 Curry Lamb
The lamb is warm in the center, but the dry ice under the plate chills the outside, when the juice is poured on. A favorite of ours.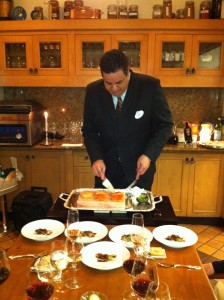 Alaskan King Salmon cooked tableside on a very hot salt block
Another favorite, introduced when they opened the Victoria Room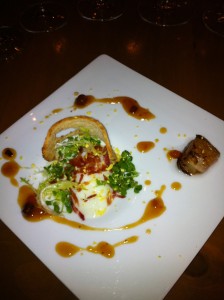 Pullet Egg with Pork Belly
This was a pretty edgy course, with Chef Scott playing around with "sous vide" low temperature cooking in a bag. The egg was semi-raw. Fun, but I probably wouldn't have it again!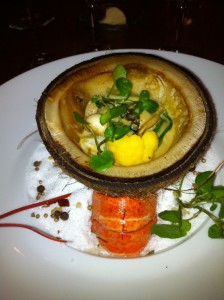 Maine Lobster in Coconut Curry
This was a completely new dish, and a really neat presentation. Delicious.
Quail with Apples
Boy, does that name under-describe this dish. One of the best game bird dishes ever. A mixture of quail and duck, served on an amazing puree. This experiment is a keeper.
Herb Crusted Niman Ranch Lamb
Just a wonderful piece of lamb.
Australian Kobe Beef with Garlic-Potato Puree
Monterey Abalone with Toasted Capers
A great entree. The abalone was pounded thin and delicate. The Kobe had that grass-fed slightly gamey flavor. But I'll be glad when we can get Wagu from Japan again.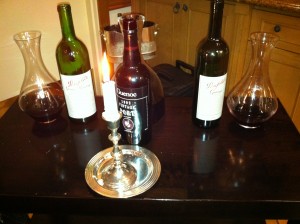 Cheeses
Israel opened both dessert wines for this, and it was fun to see how the white matched the aged Gouda while the port matched the Stilton
Vanilla-Poached Pear
This was new and delicious. A nice light addition to the dessert offerings
Chocolate Mousse Timbale
Perfect with the port
Assorted Friandises
There's a new banana-filled chocolate that's really good
It was fun to try so many new things. We were lucky to go on a night when Chef Scott had time to experiment.
The Wines:
For the evening's theme I chose vintages with special meanings for us, and Ron matched them.
NV Billecart-Salmon Rose (purchased from V&A's list)
Hard to believe this is supposed to be a rose, no pinot noir character at all.
Very pale, citrus, caramel, 91
93 Haut Brion Blanc (Ron)
Initially corked, but if left to sit and not swirled, the nose blows off
Citrus, creme, stone, wax, caramel, vanilla, 93
2008 Aubert Ritchie Vineyard Chardonnay (Steve)
White pepper, citrus, toast, butter, lemon finish, chalk, vanilla, brown sugar, 93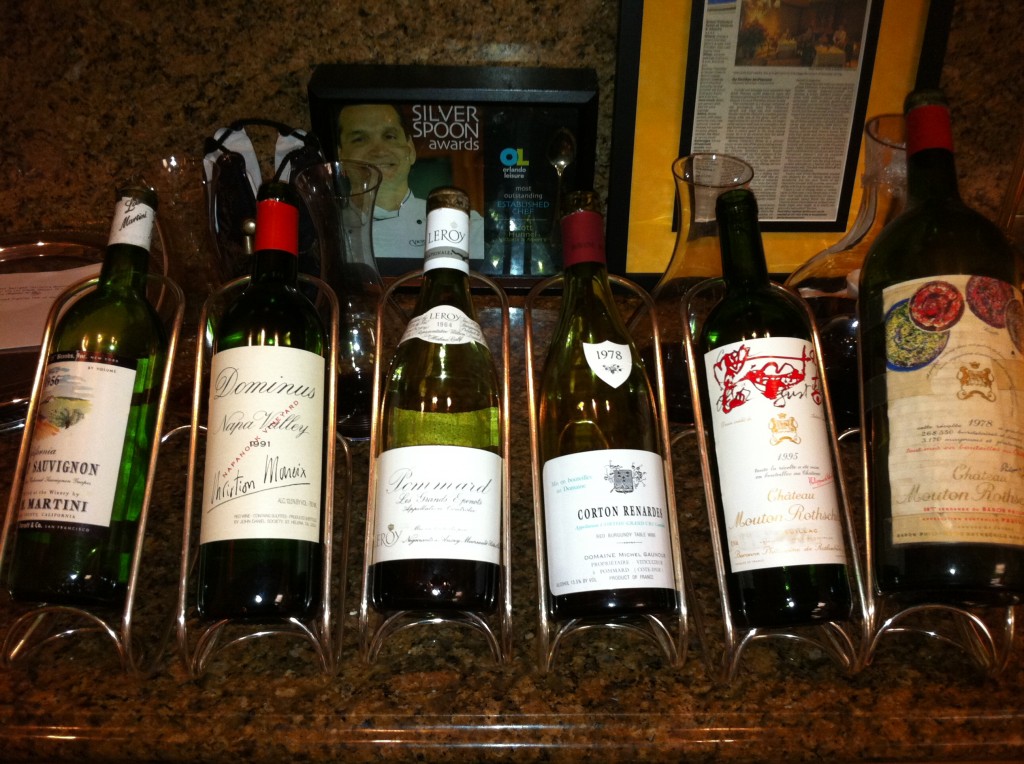 56 Louis Martini Cabernet Sauvignon (Steve)
Linda's and my birth year. Unfortunately, a terrible year for wine, worldwide!
Good color, smokey, metallic, some fruit, slightly bitter finish, wood nose emerged after 1 hour, 92
91 Dominus (Ron)
This is the wine I've been acquiring for Dani, as it's regarded as one of the best California wines ever. It was nice of Ron to bring this for her.
Very Bordeaux-like nose, olives, tannic, burnt coffee grounds, 96
1964 Leroy Pommard (Steve)
Classic old burgundy, good fruit balance, spicy nose, mint, spicy, iron, coffee, sweet, 98
My "wine of the night"
78 Corton Renandes Gaunoux (Ron)
Good structure, asparagus, mint, leather, vanilla wafer, fennel, coffee, 98
78 Ch Mouton Rothschild (magnum) (Steve)
I have very few magnums in my cellar, so it was a treat to see how much fruit this had.
Smells just like the Dominus! Coffee, lots of fruit, lead pencil, wax,wood, 96
95 Ch Mouton Rothschild (Ron)
Really, really, really, really, really, really, really, really, really tight! It was simply impossible to drink or evaluate this wine, and this will likely continue to be the case during my lifetime. Check back in 2040 or 2050. 94?
88 Grange (Ron)
Mint, phenolic, vanilla, spicy, still, huge, tight, tannic, 93
2004 Grange (Steve)
Woody, very big but drinkable, menthol, chocolate, vanilla, more open than the 1988.Grange must have made a stylistic change, because this wine is more drinkable than most old Granges, 97
91 Rivendell Tear of the Clouds late harvest Vidal (Steve)
The only wine to ever be a unanimous best of show winner at the Florida State Fair.
Youthful, medium sweet, great acid, not cloying, apricot, 95
92 Guenoc Port (Steve)
Wow, this is holding up well! We should try this against a vintage Fonseca. Youthful, not too sweet, good acid, citrus, great match to chocolate, vanilla, mint, 97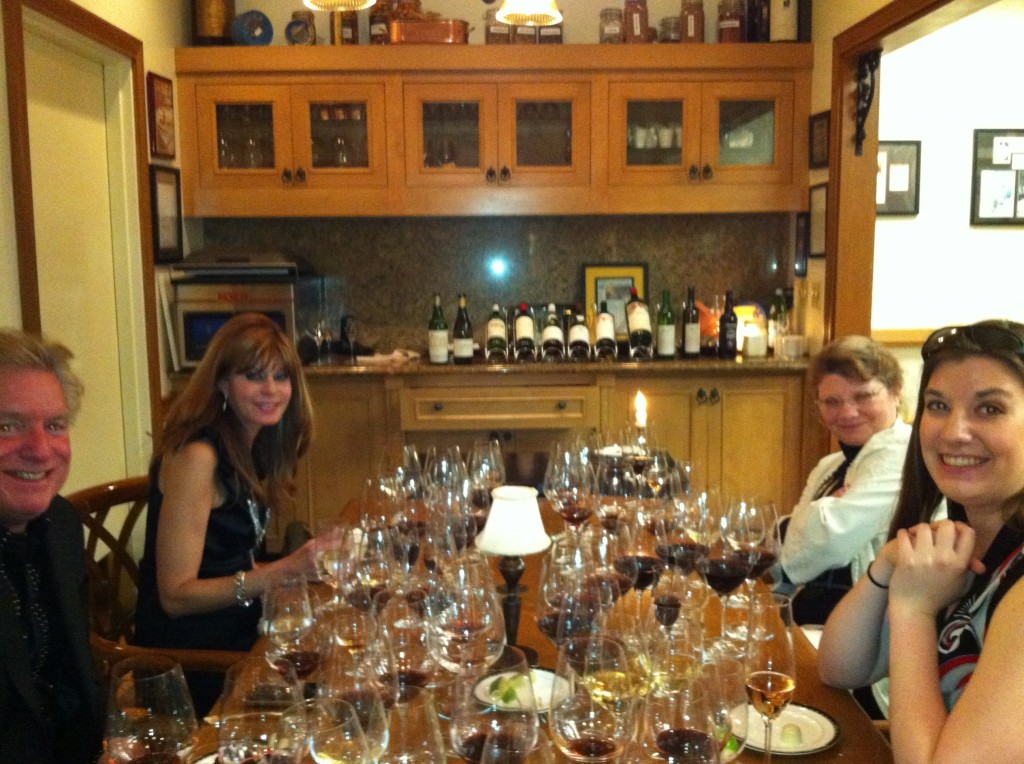 Whenever we go to Victoria & Albert's chef's table I always say it's the best event ever, and this one was no exception. A truly word-class restaurant.