Victoria & Albert's
11-30-2001
In November, 2001 about half of the The Wine Syndicate put together a dinner and tasting at Victoria & Albert's in Disney's Grand Floridian. The event, held in the kitchen at the Chef's Table, was dubbed "The Dinner of the Century" because it featured wines from ten consecutive decades, beginning in 1918 and progressing through 2000.
We spent six and a half hours(!) at table, but the time seemed to fly. The food was remarkable, easily the best eleven courses I've ever had. Even more remarkable was that the menu was created on the spot, to match the wines we brought. And match it did. There were many remarkable pairings, but for me the most memorable was the Seared Hudson Foie Gras over Brioch French Toast matched with the 1990 Chateau d'Yquem. Heaven.
With such old wines, I was expecting a few clunkers. especially from the old Burgundies, which were very light, and the 1918 Sherry, which I threw in more to add the tenth decade than from any expectation it would be drinkable. Yet amazingly, all of the wines were drinking spectacularly. The 1929 and 1947 Burgundies stole the show, achieving that rare "Holy Grail" status that we Burgundy lovers wade through hundreds of wines to find. To have two on the same table was unprecedented. And that 1918 sherry? It was dark, and rich, and complex enough that it actually stole the show from both Yquems! Read on for the menu and my tasting notes.
Click on the small images for a larger view, then use your browser's "Back" button to return here.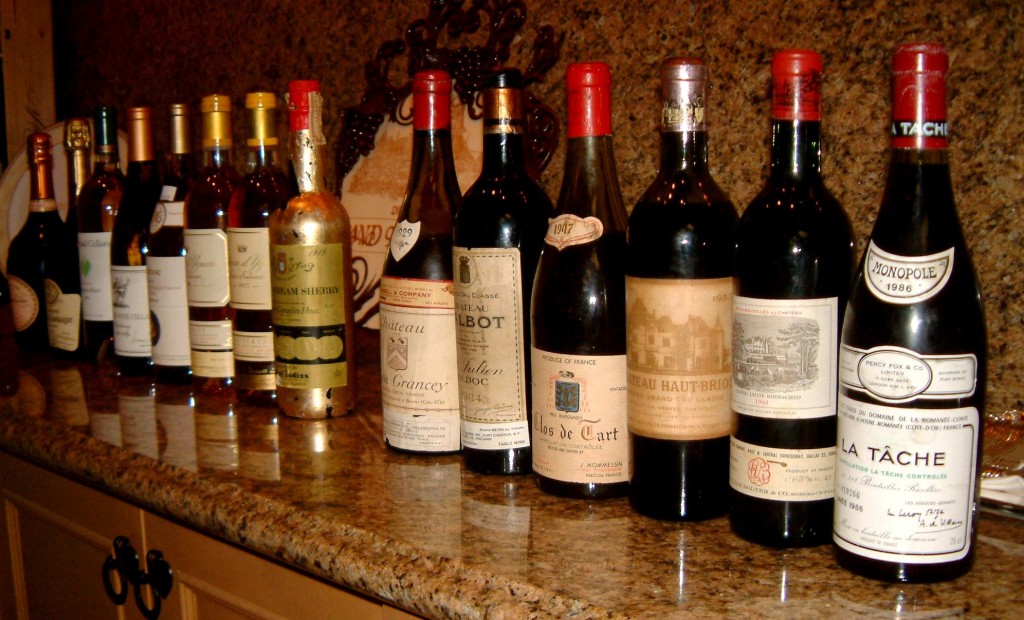 The complete lineup.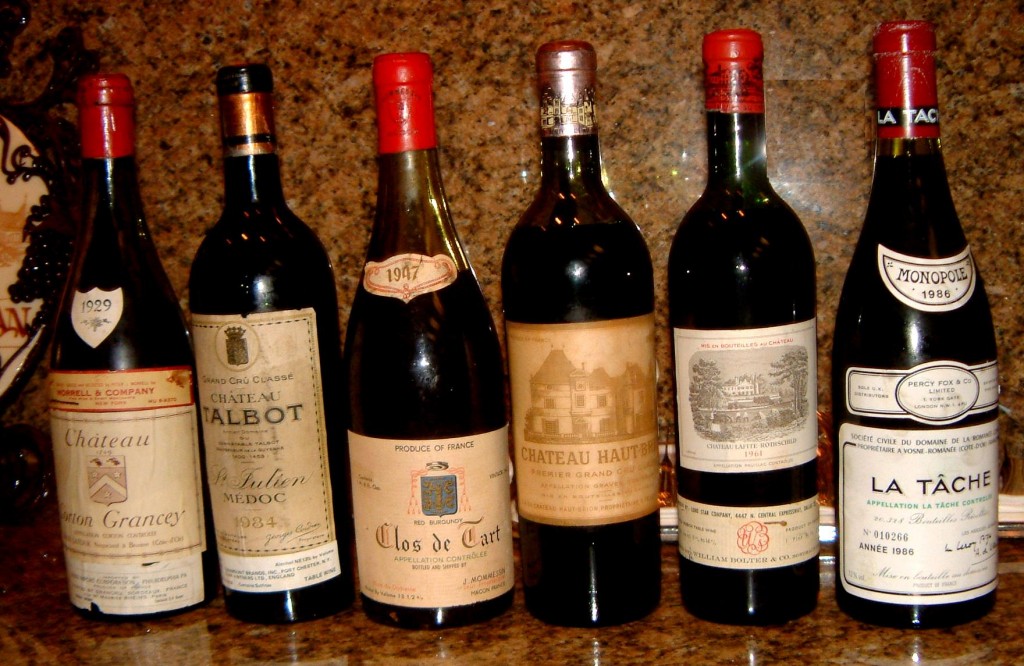 The Reds.Louis Latour, Château Corton Grancey 1929
Château Talbot 1934
Clos de Tart 1947
Château Haut-Brion 1953
Château Lafite-Rothschild 1961
Domaine Romanée-Conti, La Tâche 1986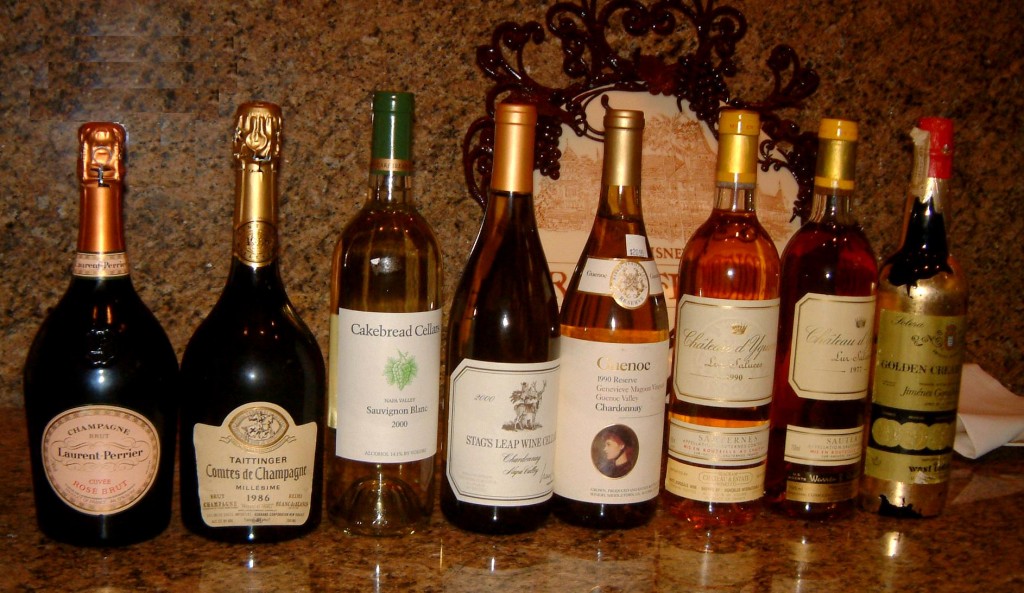 The Whites.Nicolas Feuillatte Brut Premier Cru, Epernay (not shown)
Laurent Perrier, Rose MV
Taittinger, Comtes de Champagne 1986
Cakebread Sauvignon Blanc (not used)
Stag's Leap Wine Cellars, Chardonnay 2000
Guenoc Genevieve Magoon Reserve Chardonnay 1990 (not used)
Château d'Yquem 1977 (used twice)
Château d'Yquem 1990 (used twice)
Jiménez Gonzalez, Cream Sherry 1918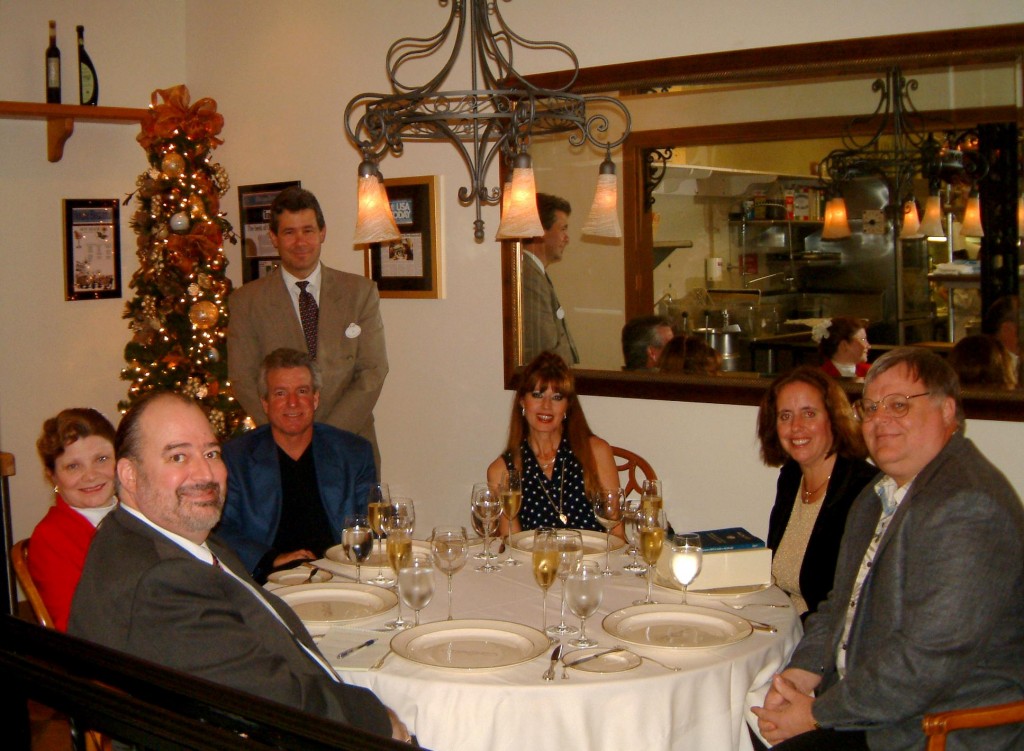 With James, the Maître d'HôtelSteve, Linda, Ron, Maître d'Hôtel James Griffin, Bev, Patty, Jim.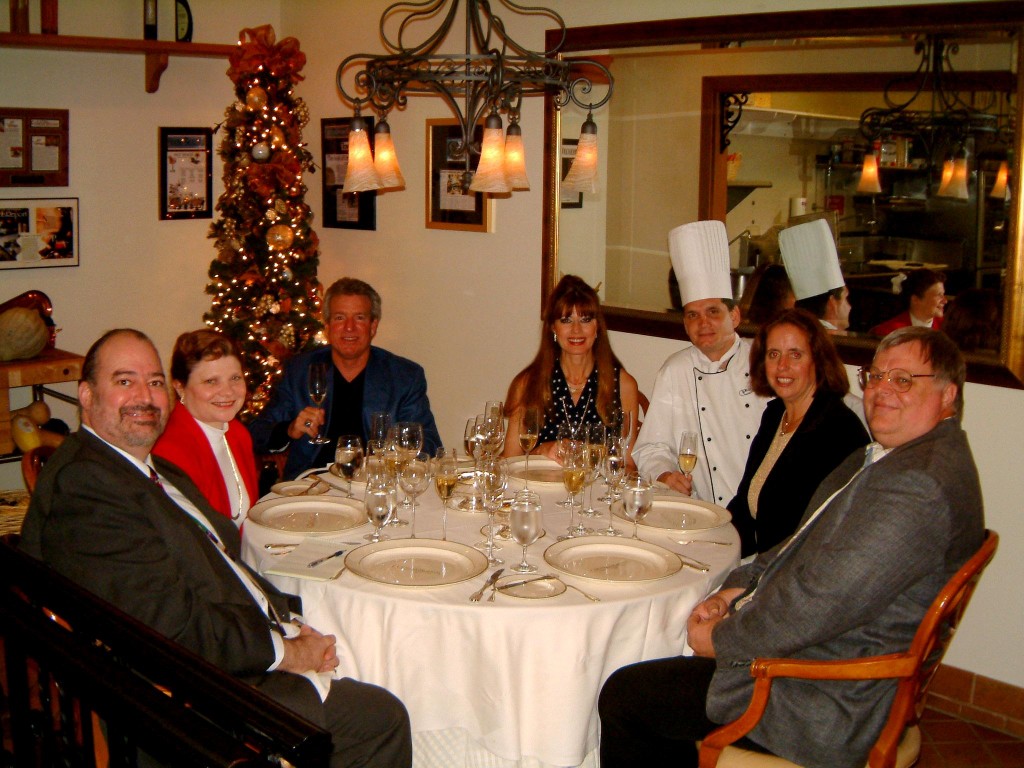 With Scott, the Chef de CuisineSteve, Linda, Ron, Bev, Chef de Cuisine Scott Hunnel, Patty, Jim.
Menu
Welcome to Victoria and Albert's Chef's Table
November 30, 2001  
The wine and food pairings were a dynamic event, and James changed a few things around from the printed version of this menu that they presented us with at the conclusion of the meal. I've edited that version to reflect they way James actually served them, which was an exercise in food and wine matching brilliance.
Iranian Karabarun Golden Osetra Caviar, Traditional Garnish
Nicolas Feuillatte Brut Premier Cru, Epernay
Ahi Tuna with Bok Choy Salad and Wasabi Vinaigrette
Laurent Perrier, Rose NV
Holland Dover Sole and Nantucket Scallops with Couscous Ragout
Stag's Leap Wine Cellars, Chardonnay 2000
Roasted Quail over Braised Belgium Endive and Spinach & White Truffle
White Truffle: The most prized luxury ingredient in the food market today. This rare ingredient is harvested from the Piedmont Region of Italy. The ripened fungus has an earthy/garlicky flavor and aroma, meant to be shaved at the last moment.
Clos de Tart 1947
Seared Hudson Foie Gras over Brioch French Toast
Château d'Yquem 1977
and
Château d'Yquem 1990
Free Range Consommé
and
Smoked Salmon Cream
Taittinger, Comtes de Champagne 1986
Mushroom Roulade with Chanterelles, Cognac Cream and Black Truffle Essence & White Truffle
Louis Latour, Château Corton Grancey 1929
and
Château Haut-Brion 1953
Trio of Sorbets
Grilled Prime Beef Filet over Caramelized Onion Risotto
Château Talbot 1934
and
Domaine Romanée-Conti, La Tâche 1986
Texas Boar and Colorado Lamb with Mustard Spatzle and Rosemary Jus
Château Lafite-Rothschild 1961
Vacherin Fribourgeois, Petit Basque and Royal Stilton with Burgundy Poached Pear
Jiménez Gonzalez, Cream Sherry 1918
Tropical Fruit Mousse in an Orange Scented Chocolate "Purse"
Pyramid of Chocolate Mousse with Glazed Strawberries
Caramelized Banana Gateau
Vanilla Bean Crème Bruée
Kona Chocolate Soufflé
Grand Marnier Soufflé
Scott Hunnel
Chef de Cuisine
Erich Herbitschek
Pastry Chef
James Griffin
Maître d'Hôtel
Tasting Notes
| | | | | |
| --- | --- | --- | --- | --- |
| NV | Nicolas Feuillatte Brut Premier Cru, Epernay | Jim | 19pts | My favorite Champagne of the evening. Creamy, with good acid balance, and a creamy nose and finish, too. Scored 91 by Parker. |
| NV | Laurent Perrier, Rose Brut | Jim | 17-1/2 | Tart, dried flowers, touch of cedar in the nose, with a dry creamy finish. |
| 2000 | Stag's Leap Wine Cellars, Chardonnay | Jim | 20 | Wow. Buy more of this. Intense lemon reminiscent of Genevieve Magoon unfiltered. Very mouth-filling, fruity and balanced. |
| 1947 | Clos de Tart | Steve | 20 | Fabulous uncooked bacon fat nose. Medium Brown and thin appearance completely belies its character. Shockingly good fruit, balanced, complex, with a long woody finish. I wish I'd saved some of this until the end of the tasting, as I did with the 1929. |
| 1977 | Château d'Yquem | Steve | 19 | Classic Yquem complexity, but not a food wine. The 1990 was the match for the Fois Gras. Slightly raisiny nose, and a bit of a dry finish, with lots going on in the mouth. Probably at its peak. |
| 1990 | Château d'Yquem | Jim | 19 | Initial paint thinner nose rapidly blows of leaving a lovely fruit character. Intensely sweet but with excellent acid balance. Initially it seemed a bit corky in the mouth, but this too dissipated. The combination of this wine, the Fois Gras and the brioche French toast was the best tasting (food) item that I've ever put in my mouth. |
| 1986 | Taittinger, Comtes de Champagne | Jim | 17 | James cleverly used this ultra dry Champagne to clear all that sugar out of our mouths before the reds. Perhaps it suffered as a result, but it was my least favorite Champagne of the evening. Bone dry and toasty, with an unpleasant bread dough character. |
| 1929 | Louis Latour, Château Corton Grancey | Ron | 20+ | What can I say? This may be the best wine I've ever had. A pale color, more gray than red, and the sediment visibly fell out of it during the four hours it was in my glass. Yet with each passing minute the nose evolved and changed, passing through many fruit bouquets and nearly every earthy scent you've ever heard associated with Burgundy. Clearly detectable at various times were: burnt paper, cinnamon toast with butter and brown sugar, apple pie and wet, hot sawdust. The wine was simply too complex for food, and didn't match the mushroom course. But the Haut Brion did, and with this good a wine, who needs food anyway? |
| 1953 | Château Haut-Brion | Ron | 19-1/2 | The mineral and earthy nose of this wine was a perfect match for the mushrooms. Shockingly dark color, intense fruit, a touch of tar and cedar in the finish. Amazingly youthful. |
| 1934 | Château Talbot | Ron | 19 | Another old wine with excellent color and fruit. Very minty, a character I seldom get in older wines. Almost reminiscent of Heitz Martha's Vineyard from the 1980s!  Still quite tannic, with some great dusty chocolate hints. A fabulous match to the filet and especially the risotto. |
| 1986 | Domaine Romanée-Conti, La Tâche | Ron | 18 | A huge, famous and expensive wine that may or may not ever turn into something like the 1929 or 1947. Mint, fruit, and meat flavors, with a tart, tannic and acidic finish. Way too tight to evaluate now. I'll buy old ones instead — who knows if I'll live long enough for this one to get interesting! |
| 1961 | Château Lafite-Rothschild | Steve | 19-1/2 | The famous vintage from the famous first growth. Although I'd only had the 1962 before, I could have recognized this wine on nose alone. Classic Lafite in perfect condition. Very youthful. Mint, dust, figs, soft intense fruit, lead pencil, fresh sawn cedar. |
| 1918 | Jiménez Gonzalez, Cream Sherry | Steve | 19 | I figured we'd dump this down the drain. I was wrong. Still deep in color (perhaps due to the unusual gold foil coating on the bottle) this wine blew the doors of the Yquems! When the tasting was done, there was still Yquem left, but this was gone! Great acid, like coffee liqueur in the mouth, long legs, and a wonderful citrus finish. A great match with the pears. |
Wow! I don't know if I'll ever have another dinner like that. But I'm sure going to try 😉