It was rainy today, and the fire alarm went off, so Linda and I fled up to Central Avenue and shopped at the Spice House and gourmet store. Then we went to Kansaku for a sushi lunch. The spicy tuna, fiesta and salmon ceviche rolls were all delicious.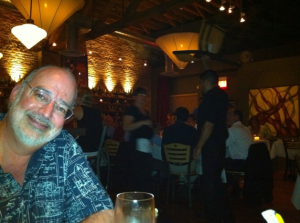 For dinner we walked to her favorite, The Stained Glass. We had a superb meal, as always. In particular, the foie gras BLT was a stunner. It was served on the kind of brioche they used to have at V&A, and accompanied by a drizzle of lemon truffle mayo and a dot of balsamic. Wow. We also had our favorite server, Scot Morton, who is a wine lecturer who works at the restaurant Wednesday, Thursday and Saturday night. Scot has an amazing pallet and personality (he's also a voice over artist).
Our favorites:
House Charcuterie
Surf Flight (ceviche, tartare, smoked mousse)
Foie gras BLT
Tuna, tuna, tuna (tartare, carpaccio, seared)
Pork Belly
Filet Mignon with shortrib "pot-au-feu"
Also, their house-made gelato sampler and creme brulee sampler are great, and you can finish with a snifter of Nonino Amaro.