Not too much to report today. I tried to duplicate Yellow Dog Eats tuna for lunch, with cranberries, almonds and allspice, but it really needs five spice, which I bought later at Whole Foods.
While Dani was being tutored I went to Peet's Coffee and read The Girl With the Dragon Tattoo, which, after a slow start, has gotten good. Much like Harry Potter, it has the feel of a new author learning the ropes in the first third of the book.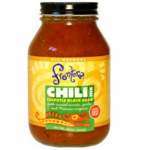 For dinner I made chili, starting with a jar of Frontera Grill chili mix and adding:
Browned hamburger
Onion
Ketchup
More ketchup
Cinnamon
Nutmeg
Moroccan spice
Beef seasoning salt
Sugar
I left it in the crock pot all afternoon and it was damn good. Served with Boudin bread.