I walked around Evanston a bit today, having breakfast at Einstein's and running errands to CVS and Whole Foods.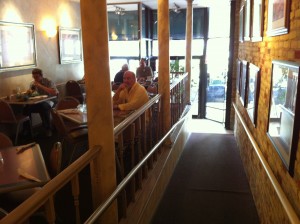 Lunch was at Olive Mountain, a new Middle Eastern place on Davis, a couple blocks from the condo. They offer at least a dozen lunch combos with an entree and choice of hummus or salad plus a drink for $5.95, with sit down service. Needless to say, the place was packed. The falafel sandwich was excellent, and the hummus was the best I've had, seasoned with olive oil, lemon juice and various bits of herbs. Much better than Pomegranate.
For dinner I fixed tarragon chicken, using some fresh herbs I bought last week, and accompanying it with brown sugar carrots, broccoli, Caesar salad and cranberry walnut bread.