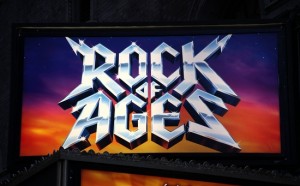 For a decade we held season tickets to the Tampa Bay Performing Arts Center, which hosted some of the best productions in the Southeast, but then they terminated their affiliation with Broadway Across America, and stopped getting the interesting touring companies. So, for the past two years, we've subscribed to the Bob Carr Performing Arts Center in Orlando, a theater with worse acoustics than the average 7-Eleven restroom.
Once again last night, the Bob Carr soundly defeated the audio system (pun intended). But the touring show Rock of Ages has far worse problems than audio. With the exception of the female lead, this was the most untalented cast I've ever heard in a national touring company. And her ability to sing and act simply made everyone else look even worse. Honestly, I've seen many high school casts better than this one. As the Orlando Sentinel critic noted, we couldn't tell if they were paying homage to the songs, or parodying them.
The song choices themselves were good, and the on-stage musicians played them fine. But the songs have so little relationship to the show that, even if they had been well sung, they could have provided no emotional tug.
Like In The Heights, the show attracts non-theatregoers. The misanthropes next to me appeared to have never been to a cultural event, talking through the show and occasionally shouting at the players.
While some in the audience did laugh at the bits of dialogue they could understand, it had the feeling of nervous laughter, since the book writer seems to have simply thrown in every idea that came to him (again quoting from the Sentinel) with an emphasis on middle school references to sexual anatomy.
The best thing about the show was the second act, because we were at home, asleep.