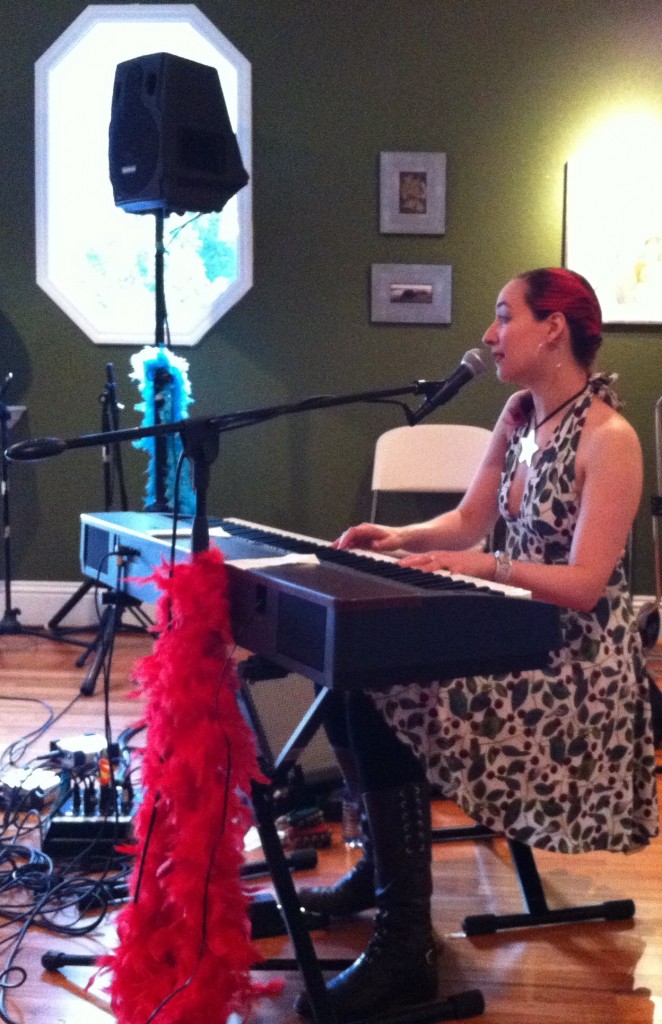 Martin and I went to see Rachael Sage, one of my favorite performers. It was no small feat finding this concert, which was inexplicably part of the monthly Orlando Folk Music meeting. It was originally advertised as being at a diner in Osteen (wherever that is) and then at Lieu Gardens, but it turned out to be at a private home on Lake Ivanhoe. The home featured an upstairs art gallery which proved to be a good performance space. About thirty people showed up, which was basically a full house. As far as I could tell, three of us knew who Rachael Sage was (including Martin, who didn't know two days ago). The rest seemed to be the regular folk music society members, who, surprisingly, seemed to mostly be retirees.
The afternoon began with a guitar duo who played mediocre folk/bluegrass/blues for a half hour. I presume this is the usual fare for this club. Then Rachael Sage came on, solo, and played piano and sang for two 45 minute sets. I was concerned that her music–which is certainly not folk, but rather complex contemporary alternative–would not be well-received, but the crowd was very enthusiastic. She has a great personality, and shared lots of stories about herself and the songs, and didn't take things too seriously, interspersing her lyrics with comments to the audience, and also the owners' dog, who kept strolling through!
Her set list was a dream. Essentially she played my entire five-star Rachel Sage playlist, drawing upon, as near as I could tell, all nine of her albums. At intermission I asked for my favorite, Jane's Demitri, and she noodled around with it, but couldn't quite remember the details, but she told my that next time, if I posted the request to Facebook, she'd practice it in advance. Wow.
This was a wonderful concert, and I felt guilty that it only cost $12, and that I already own all nine of her CDs, so couldn't buy anything.