Portions of this entry were originally written by Dani for her blog.
Rockpool Bar & Grill is a short walk from the Four Seasons Hotel. It's a beautiful room, which looks like it may have been a bank in another life. There are wine glasses everywhere!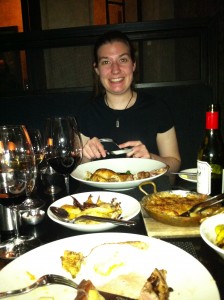 The menu is extensive, with an emphasis on wood stove and rotisserie. Dani had rotisserie chicken and I had rotisserie lamb shoulder. Both were excellent, but the lamb was better. However the side items stole the show: melt-in-your-mouth brussels sprouts and roasted parsnips. We don't know why parsnips aren't more popular in the US, they're like sweet potatoes, only with better mouth feel.
Rockpool is pretty expensive. It was a challenge finding a wine for less than $100, and most were over $200. That said, there are at least a thousand selections on the impressive winelist, including many selections of Petrus going back to 1900 (Ka-ching!).
The "petit fours"weren't what you'd expect. One was a chocolate devils food cake cupcake and the other was slabs of dark chocolate bark with sesame seeds and cashews.
"Bar & Grill" is a strange moniker for this restaurant, because it's not really the casual experience that summons up. I suppose it's called that to differentiate it from the higher-end Rockpool near our hotel. That one had a menu that involved too many thing that really do come from tide pools, so I'm glad we chose this one. It was definitely a better meal than the one we had at Becasse.