A more extensive version of this entry was written by Dani for her blog.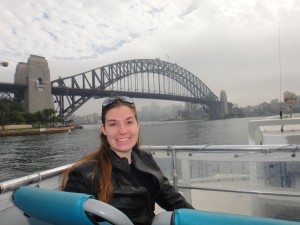 After breakfast we went to Circular Quay, and the same wharf where we met Pamela to catch a ferry to her neighborhood. The water taxi service is incredibly reasonable. An adult one-way ferry ticket is only $5.60. The ferries run on a timetable, much like a train system.
The ferry we took had an open deck on top. We sat up there on our ride to Breakfast Point, where Pamela and her youngest son live. This morning dawned foggy, but by the time we got on the ferry enough had burned off for us to enjoy the view.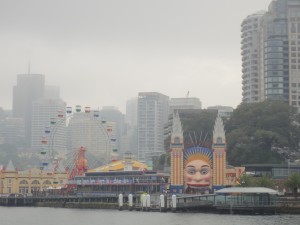 We departed Circular Quay (pronounced 'key') at 9:40 and arrived at Cabarita by 10:20. The journey took us through Darling Harbor, and a half dozen stops, none of which took more than a minute. Along the way we passed lots of interesting houses, a campground, and the Luna Park amusement park.
Pamela met us at the dock and drove us to her condo, a beautiful new buildings. The building had all the latest security, including electronic key fobs required to open any of the outside doors and which only take the elevator to your own floor.
Pamela's apartment is beautifully decorated. All the furniture is white and bright, which makes the apartment seem light and airy. She has two bedrooms, a very practical kitchen, and a little study.
She also has art everywhere, more than half of it was done by her friends. Many of the pieces were by mountain artists, and all had a story to go with them.
We chatted for a bit, admiring Pamela's view (which unfortunately is becoming restricted by a new building going up in front of the river). A call from Andrew's prompted us to walk to his nearby building. His 8th floor corner unit has an even more spectacular view of Sydney in the distance. At Andrew's we got to meet all of Pamela's family: her two sons, Brett and Andrew; Brett's wife, Sandy; their children, Emma and Simon; Andrew's wife, Wendy; and their daughter Karina.
Andrew and Wendy provided a delightful lunch. They had set up an enormous table, with so many different delicious foods. Andrew barbecued delicious Wagyu sausages, eggs, and bacon. Wendy had beautiful quiches, pastries and preserves.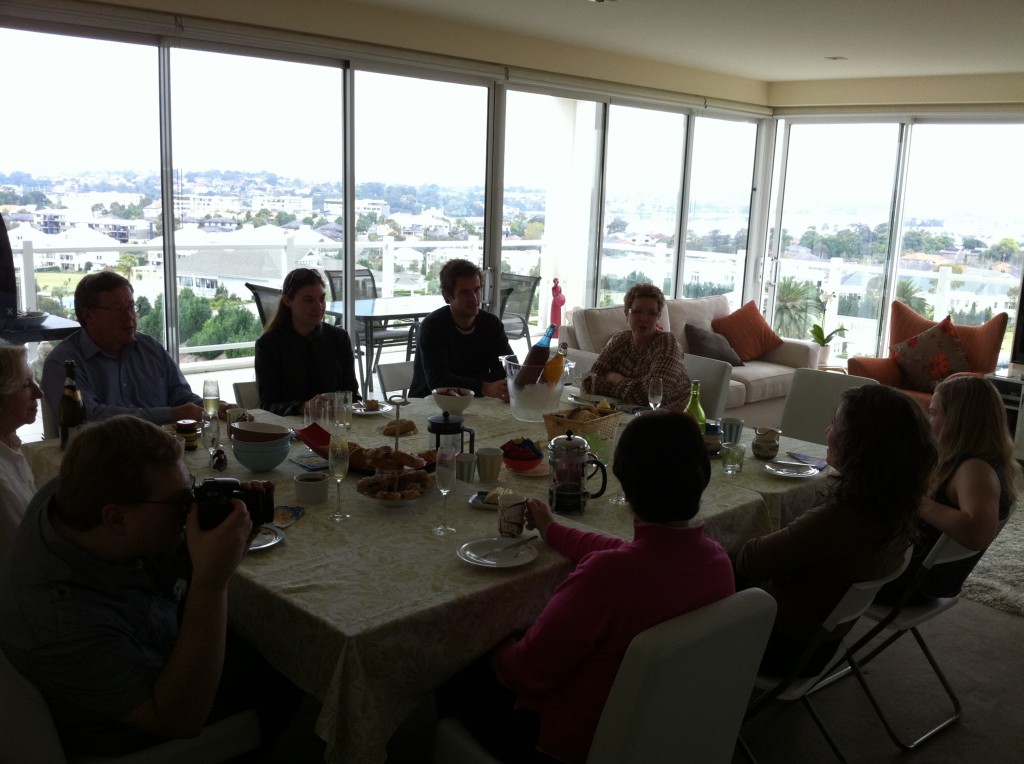 And the conversation was wonderful; we immediately felt like part of the family. We talked about the differences in food, politics and culture between the states and Australia, theme park projects, and the differences in the university system.
After a lovely, several hours long lunch and conversation, Pamela, Andrew and Karina gave us a tour of the  club house and then escorted us along the paths back to the ferry, where we caught the 4:15 to Circular Quay. Dark clouds in the East provided a dramatic backdrop for the setting sun behind us, turning Sydney into a city of gold. We stood on the prow of the ferry on the way in, and the sights were even more beautiful than during the morning.