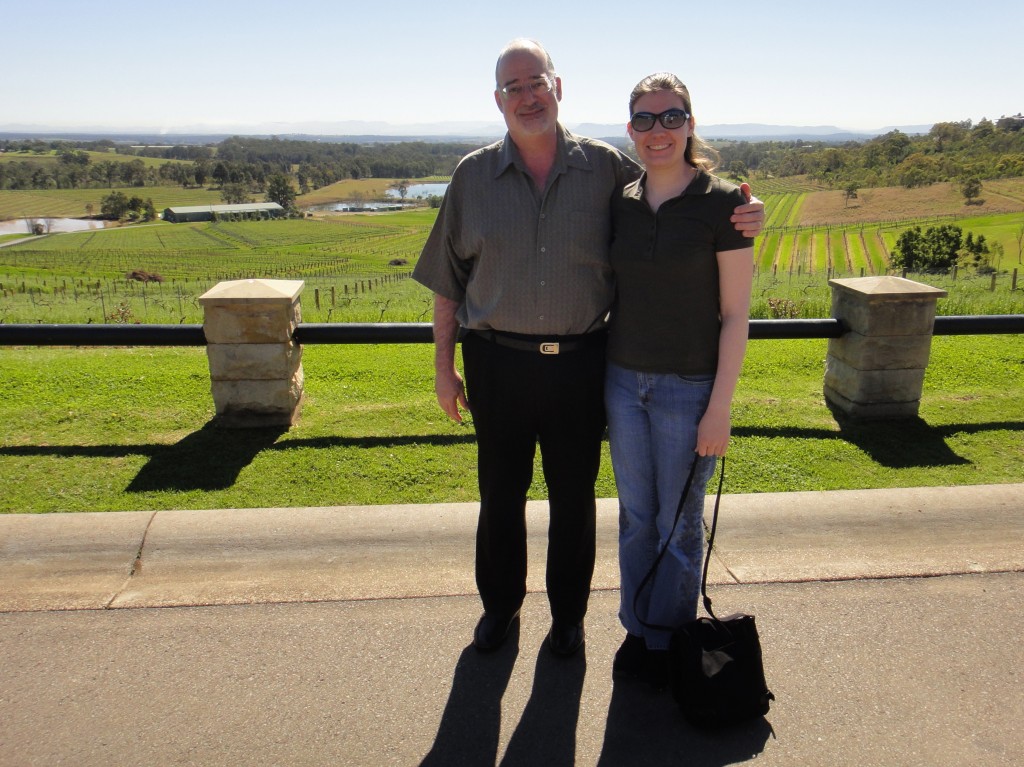 This post was shamelessly cribbed from Dani's blog.
Today we went to the Hunter Vally wine country. This was exciting for Dani because it was her first time on a wine tour someplace where she's over the legal drinking age.
At 8:30 we met both Pamela and our guide/driver for the day, Trevor. Trevor loaded us into a fairly comfortable four wheel drive SUV and set off for wine country. There was some confusion over names at first (Trevor started calling Pamela "Barbara," and she started calling him "Henry") but after the first few kilometers everyone was properly sorted.
The drive up was very scenic, even though we kept on the main highway to save time. Large swaths had been cut through sandstone mountains to make room for the road in spots. When we asked Trevor why one side of the bluff had so much water running down it and the other side was bone dry, he proved very knowledgeable and explained how water collected on internal deposits of clay and lime stone, only to trickle out. The other side was dry because it got the brunt of the sun everyday and dried out quickly after rainfall.
Trevor was very knowledgeable about everything from wine, to geography, to history. We're looking forward to our trip up to the Blue Mountains with him on Tuesday.
We arrived in wine country by 11:00 and Trevor knew his way around brilliantly. Our first stop was Audrey Wilkinson. They had several very nice whites, including a semillon and a very nice lightly-oaked chardonnay with a nose that smelled smoky, almost like a smoked sausage. The reds were a little disappointing, more a sour cherry style than the big Aussie fruit bombs we expected.
The view from the winery was spectacular. The "cellar door" (in the US it would be called a tasting room) was on top of a hill overlooking the valleys on both sides. Trevor told us that during the summer when there are lots of leaves on the vines to provide shade, kangaroos come out and lie in the vineyards on the slope.
After that we went to Brokenwood winery. This was a very nice winery and the girl at the counter was very knowledgeable about exactly where the grapes for the various wines were grown, what kind of soil they grew in, and what that did for the flavor/smell of the wine. She poured us lots of different wines to compare. Brokenwood was also nice because they have a US distributor, which means that we could actually order some wine shipped home.
After Brokenwood we took a break from wine and went to "The Smelly Cheese Shop."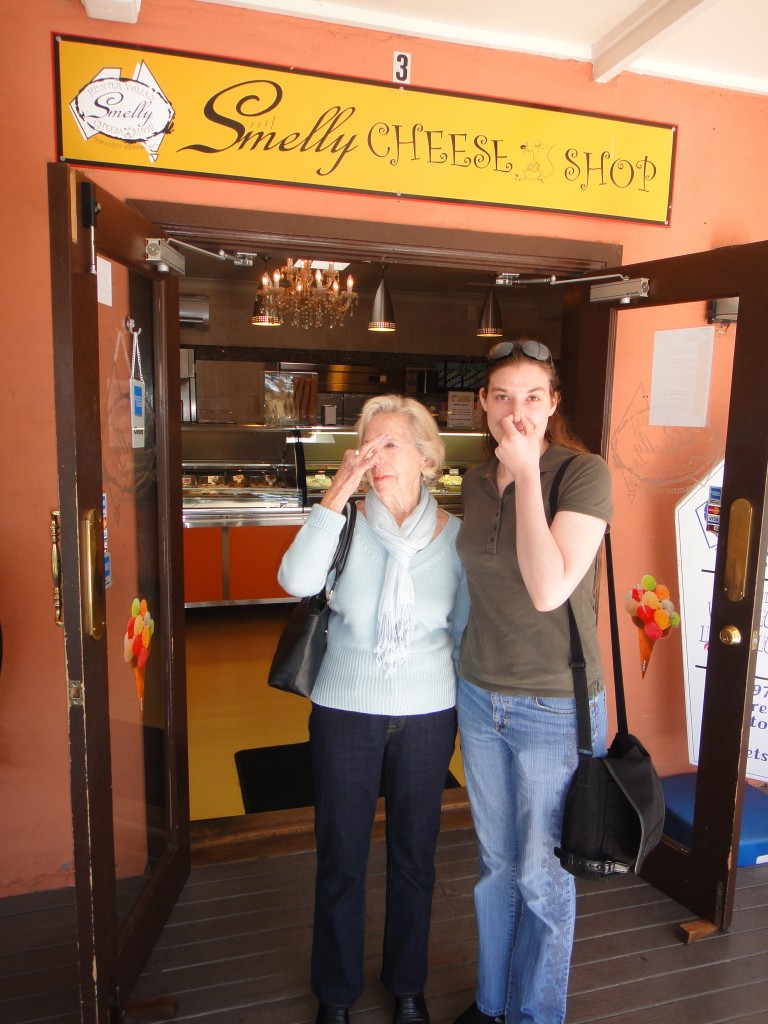 As it turned out, it wasn't actually that smelly (all the cheese had been wrapped up). We selected some triple cream brie to take to Pamela's cousin's for lunch. Her cousin, Janis, and her husband Adriaan had graciously invited us over for lunch.
They live on a unique property. It is a residential winery. Everyone who lives there owns a share of the grapes produced. Their house was just lovely. The view was beautiful, Adriaan's garden was in full bloom, even in winter, and their kitchen reminded us of ours at home. Janis set a table outdoors on the patio in the shade. The weather was just perfect for an outdoor lunch, 70s and a light breeze.
Janis downplayed her cooking, saying lunch was "only a light salad" but what she made was so tasty! The salad had prawns, pineapple, lychee fruit, cucumber, diced red onions, avocado, mayonnaise, mustard, cream, and a dash of olive oil. It was just delicious. This was accompanied by fresh seeded bread from the market in Cessnoch and a selection of cheeses. Adriaan opened a couple of bottles of wine from their winery, Kelman, which were just delightful and refreshing (a semillon and a semillon/sauvignon blanc).
We only had an hour to spend with Janis and Adriaan, but they were simply lovely people. Janis is originally from Australia but Adriaan is actually Dutch, though he grew up in Brussels. They met while Janis was traveling, married, and lived in Banyuls France. About five years ago they moved back to Australia and built their house on the winery. Now they're thinking of moving in closer to Sydney, though they still love their winery.
Trevor collected us again and took us to two more wineries, Pepper Tree and Tower Winery. Pepper Tree was in a lovely spot, but their wines were the weakest offerings of the day (although they had a well structured merlot).
Tower had some shiraz that was a bit bigger, but we finally decided that the Hunter Valley style is simply lighter. In fact, our discovery of the day was that Hunter Valley's styles for all their varietals is very consistent from one winery to the next. A semillon from Audrey Wilkinson tastes very similar to a semillon from Tower, and so on.
The traffic getting back into Sydney in the afternoons can be beastly, so Trevor warned us that we needed to leave the valley by about 2:30. We dropped Pamela off at her new apartment on Breakfast point, just north of Sydney, and then returned to the hotel.
Trevor will be taking us to the Blue Mountains next Tuesday. We were struck by how he didn't require us to pay for today's excursion, but just shrugged and said we could pay for both next week. It's a great country.
For dinner we walked a few blocks over towards The Rocks, a trendy shopping and dining district, and sat outside under the heaters, sharing an Italian salad and Marguerita Pizza.