Our concierge suggested we add Testsuya's to our list of dining adventures in Sydney, and Pamela's relatives all said we'd like it best. They were right. This is the restaurant that should have three Michelin stars.
It's located in a Japanese-styled house near Chinatown. The dining rooms look out onto a Zen garden, providing a restful backdrop—although soon all the tables are filled, so it's not exactly quiet!
Service here is friendly but much more professional than at the other restaurants where we dined this week. Most interesting to me was that no menu was presented at the start of the meal. Our server simply asked if there was anything we didn't like, or any allergies, and then we put ourselves in his hands for the nine courses that followed. Nearly all of them were stellar. My favors were:
Amuse bouche of potato soup with coddled quail egg. We started with a bang, as this simple espresso cup of soup had all manner of complex flavors, and was much more than the sum of its parts.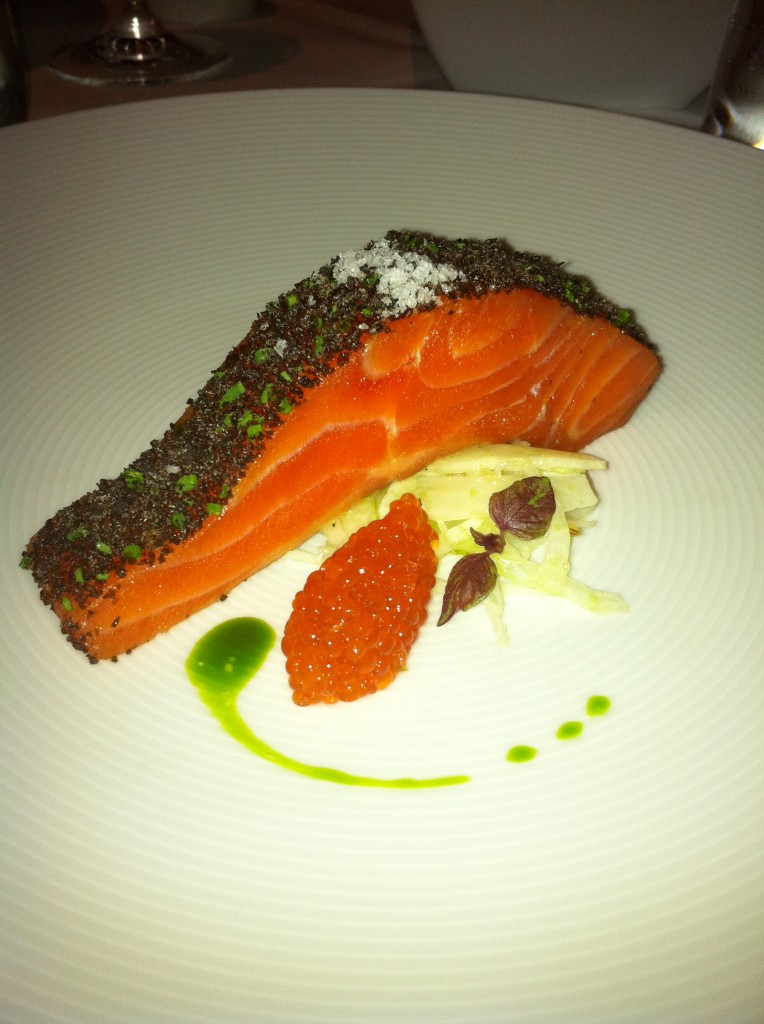 Tetsuya's signature dish of ocean trout. Perfectly cooked, with a savory coating of herbs, and delicious unpasteurized roe.
Bread and butter pudding. I was shocked that this was my favorite of the four sweet items served as two dessert courses, because I'm not a bread pudding fan, but this was very complex, and the embedded golden raisin were scrumptious. It also perfectly matched an impressive Tokay from Australia.
Speaking of matches, I had nine perfectly matched wines with my courses, but Pamela and Dani opted for individual glasses of wine. It was Dani's first opportunity to order her own wine, and Pamela also put herself in Dani's hands, and they had four very interesting and thoughtfully choses wines. For the record, Dani's first selection, to accompany the seafood dishes, was a Spanish Albarino.
I felt guilty that Pamela insisted on paying for this meal, but it was wonderful to spend our last night in Sydney together, and the meal was that much better for the wonderful company.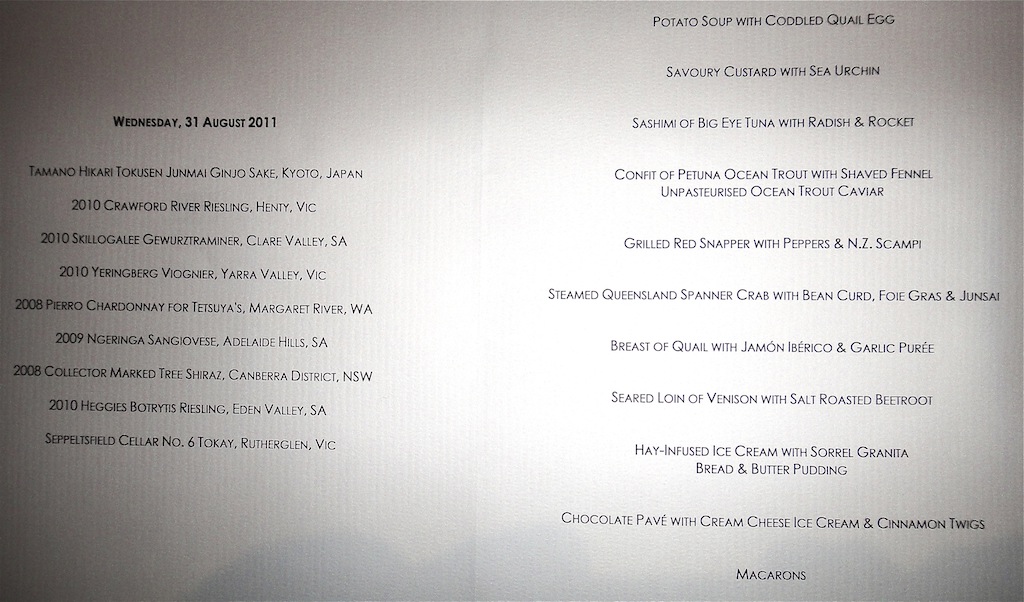 Earlier in the day Dani and I walked down to the Rocks and dropped our laundry off at a place that changes a flat fee to wash, fold and deliver back to our hotel. Convenient!
Then we walked several miles through the city and Chinatown, over to the University of Sydney, where we had lunch, wandered around the campus, and Dani spoke with a nice gentleman from the International Studies office. She collected a lot of useful information about study abroad, graduate and medical school options. I can see where it would be very tempting to spend a few years—or a lifetime—in beautiful Sydney! We're sad to be leaving.