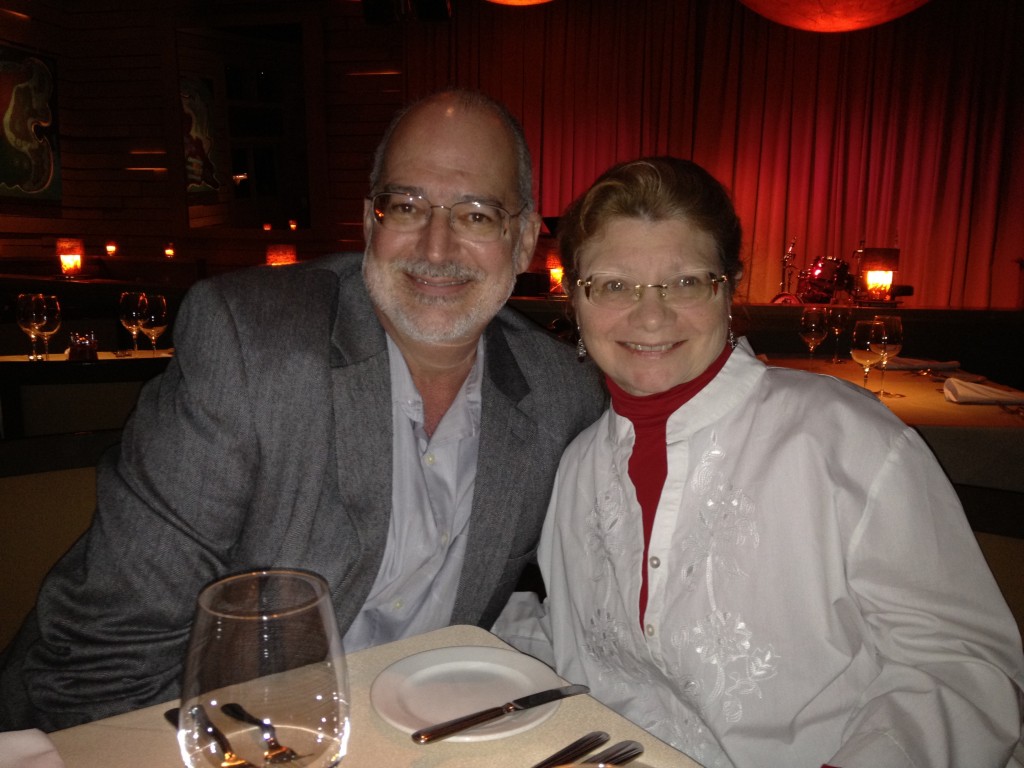 For Thanksgiving Linda and I flew to Los Angeles from Orlando, and Dani flew in from Chicago. Linda and I were lucky, and my medalion status (from credit card miles, I guess) got us upgraded to first class.
Once again we stayed at L'Ermitage in Beverly Hills, one of the homiest hotels I know. Their "linger longer" deal that gets you a free day makes it quite attractive.
We took advantage of our time in LA to visit quite a few restaurants, some new, some old.
Of course we had to start at El Cholo, where we had lunch with Linda's mom. It's just a few blocks from her house. El Cholo doesn't really serve food that's like any other Mexican or Tex Mex cuisine, but they've been doing the same thing since 1927, and we've been going for almost 50 years.
For dinner we tried the two Michelin star restaurant Providence. We liked the quiet atmosphere, and the service was terrific, but there didn't seem to be enough home runs to justify the stars. We were tired (still on East coast time) so we stuck with the shorter 5-course tasting menu. The matching wines were just okay.
As with last year, we had the Thanksgiving buffet at L'Ermitage. It's nice to just go downstairs and graze for lunch, in preparation for the real Thanksgiving meal in the evening.  Perhaps we were earlier this year, but it didn't seem as well-attended, and some items we liked had been eliminated, but it was tasty.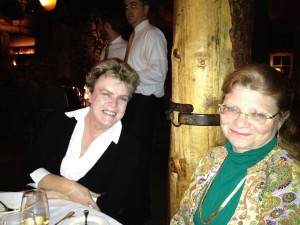 Thanksgiving dinner was a Saddle Peak Lodge, a restaurant Linda and I discovered over 25 years ago, when it first opened. The rustic building, tucked into the canyons above Malibu, used to be a hunting lodge, speakeasy, and a bordello (not all at once). There were eight of us for dinner, including Linda's mom, cousins Adele and Vikki, Vikki's son Matt, and his wife Lauren. This was a great choice for Thanksgiving. The relatively small table made it easy to converse, and the food was delicious; half the table had the elk, which was probably the best entree I've had there. Service was good, especially considering how busy the place was. The wine pairing was stingy and very overpriced, though.
No visit to LA is complete without Smoke House garlic bread, the best in the world. Who cares what the rest of the food is like! There were almost no other customers at lunch; probably they were all at the mall on Black Friday.
For Friday dinner we tried a place recommended by my sales manager, Tommy. Vibrato is a jazz club high up Beverly Glen canyon, designed by herb Alpert. The acoustics were amazing, as were the live jazz piano and bass. The tables are arranged in a small amphitheater, and the room is really magical. The biggest surprise was that the food was great, too. We all loved the place!
Saturday Linda and Dani and I drove to Santa Monica and had sushi overlooking Ocean Avenue and the Pacific. We'd been to Sushi Roku in Las Vegas and really liked it, but this one wasn't as good, and very expensive.
Saturday dinner was at Patina, another Michelin starred restaurant, this one in the new Disney Concert Hall downtown. We had the tasting menu with matching wine pairings, and all of us thought the food was excellent–in fact better than I was expecting. The service, however, was extremely incompetent. I had to remind them to pour almost every wine flight, and request every refill of water. The wine pairing was the highest quality I've had though, and a great bargain considering the number of wines, top producers and generous pours.
In retrospect, we agreed that of the four dinner places, two with Michelin stars, the ones we will return to are the ones without the stars!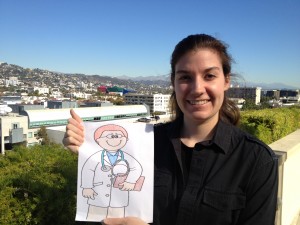 One of Dani's projects is to have her picture taken with Flat Doctor (think Flat Stanley, but for premed students) in as many spots as possible before the new year. Here she is on a particularly clear day in LA, as viewed from the rooftop of our hotel.
Sunday we got to the airport early and avoided the anticipated travel hassles, and were back in Orlando by 6:30pm. No first class upgrade this time, though. It was a quick trip to LA, but we squeezed in a lot.