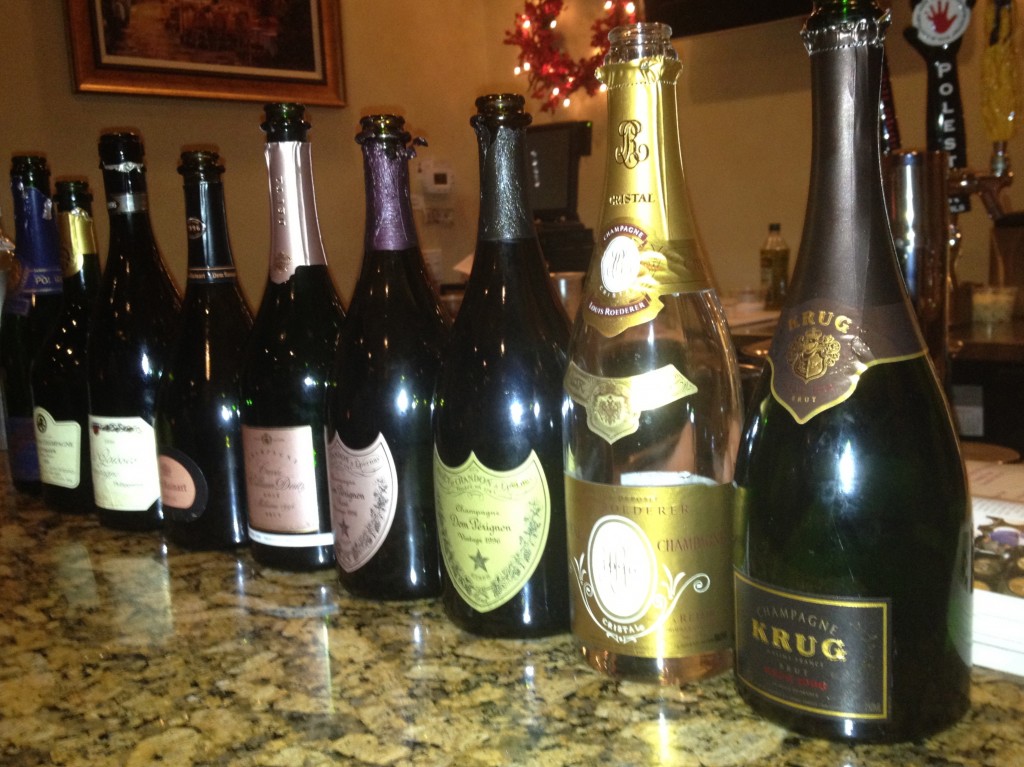 Ron arranged this tasting and dinner at Vintage Vino in Kissimmee, and provided nine Champagnes from the classic 1996 vintage. Our group of eight included Ron, Bev, Keith, Parlo, Andres, Paula, Linda and me.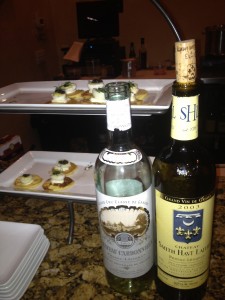 We began with sushi, a cheese plate (delicious lemon Stilton), and caviar on blinis. The warm up wines were 2003 Ch Carbonnieux (Ron) and 2003 Smith Haut Lafite blanc (Steve). The Smith Haut Lafite was drinking much younger.
Then it was on to the Champagnes.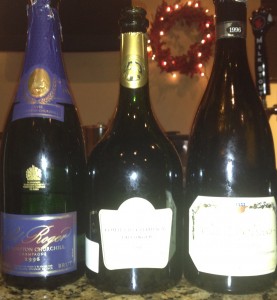 Flight one:
1996 Pol Roger Cuvee Sir William Churchill Brut (WA 95, IWC 95 )
Toast, cream, lemon, gardenia, candy, green apple, fruitiest of the three, 97
1996 Taittinger Comtes de Champagne ( WA 96 JG 97+)
Super toasty, crisp, butter pecan, caramel green apple, roasted buttered corn, earthy, 96
1996 Philipponnat Clos des Goisses (WA 96, IWC 95, BH 97)
Green, plastic, very tart, oxidized, ripe apple cider, 93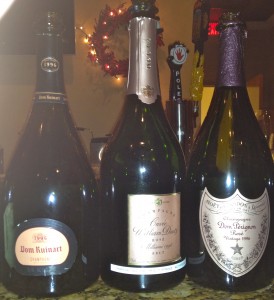 Flight two:
1996 Dom Ruinart Brut Rose Grand Cru (WA 93, IWC 94+)
Soft, restrained, watermelon, bubble gum, quite dry, simple, 89
1996 Deutz Cuvee William Rose ( WS 94 )
Vanilla, bread, yeast, rhubarb, oxidative, roses, 93
1996 Moet & Chandon Dom Perignon Rose ( WA 97, IWC 95)
Very Dry, dusty finish, armpit, grainy, 91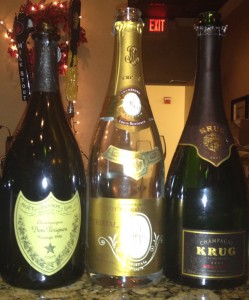 Flight three:
1996 Moet & Chandon Dom Perignon ( WA 98, IWC 94, BH 97)
Vanilla, Creme brûlée, green, roasted smoky nuts, 97
1996 Louis Roederer Cristal (WA 96, IWC 94+)
Green, creamy, tart, slight oxidation, 92
1996 Krug Brut (WA 98, IWC 99+ )
bread dough, toast, tart, high acid, steel, walnut, Asian dices, bone marrow, really improved as it warmed up, 99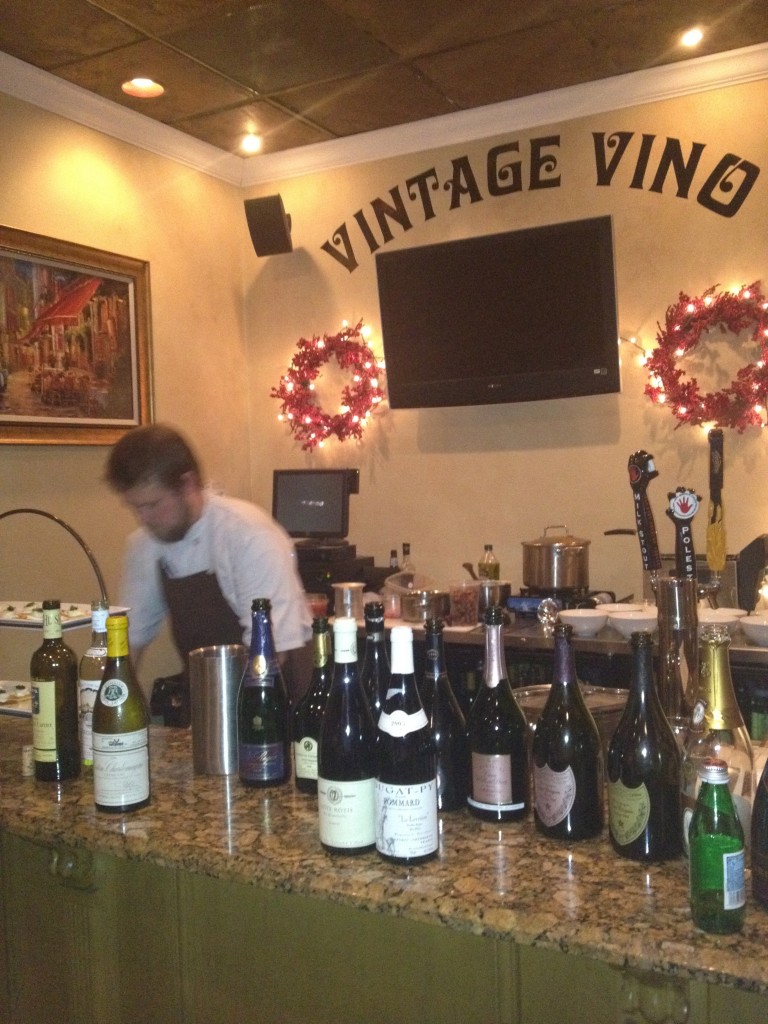 Dinner was prepared by Chef Josh from The Ravenous Pig.
Roasted Tomato Soup with basil oil and buttery parmesan croutons
Warm Red Leaf Lettuce and Bacon Salad with hot bacon vinaigrette, tomatoes, and gorgonzola
Low Country Pickled Shrimp with lemon and pickling spices (this was a terrific course, served in a jar)
Mac and Cheese with shaved prosciutto
Butter Poached Lobster served with truffle parmesan grits and grilled tomatoes.
Tiramisu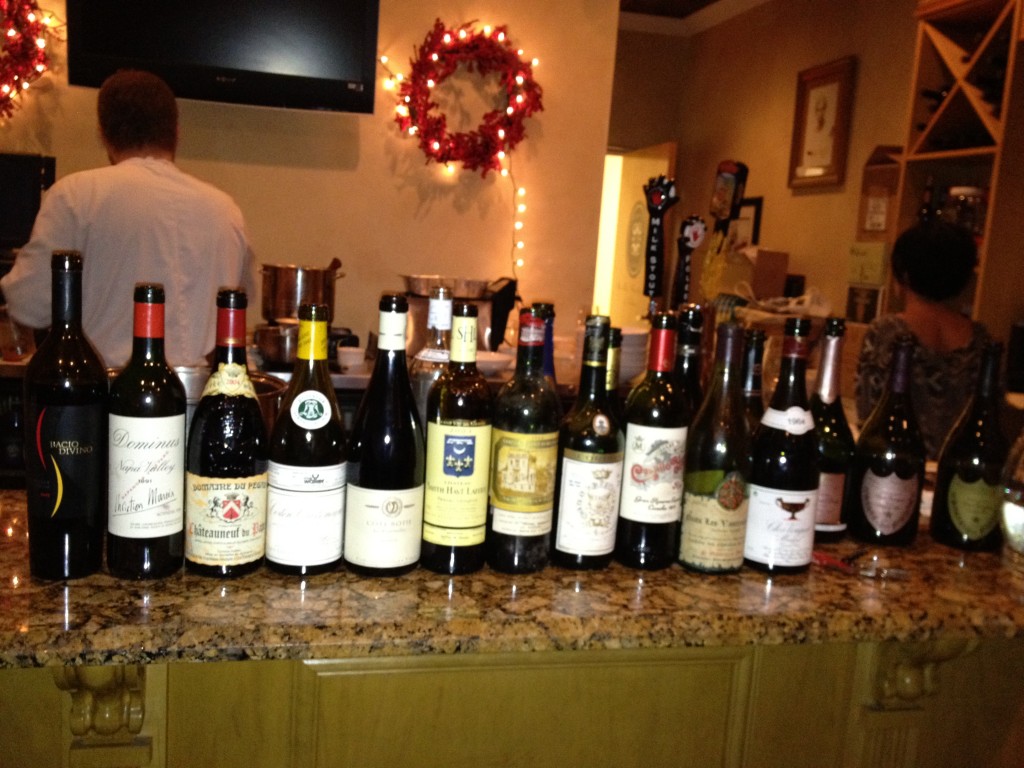 Quite a few wines accompanied dinner:
1996 Corton-Charlemagne (Keith)
Cinammon, brown butter, vanilla, Balanced, 94
1959 Nuits les Vaucrains Misserey & Freres (Ron)
Tight, tarry, mushroom 94
1964 Clos Vougeot Musigni (Steve)
Bacon, smoke, spicy finish, oatmeal cookie, 96
1961 Gruard Larose (Keith)
Cigar box, tar, minerals, brush, 97
1964 Ducru Beaucaillou (Steve)
Woodsy (corked), metallic, fruity, 89
1978 Castillo Ygay Rioja (Keith)
Cherry, pipe tabacco, youthful, 92
2000 Ch Rayas Chateauneuf du Pape (Ron)
Meat, herbs, cherry, vanilla, brambles, cigar box, mint, 99
1991 Dominus (Keith)
Tarry, coffee, gravel, Bordeaux like, chocolate, black fruit, jalapeños, 98
2000 Cote Rotie (Andres)
Meat, metal, earthy, cigar box, 92
2007 Bacio Divino (pair at the next table, purchased from the shop)
Big fruit and alcohol, mint
92
2004 Domaine Pegau Chateaneuf du Pape (Terrence, at the next table)
Soft, fruity, 90
It was interesting to taste so many great Champagnes side by side. I was surprised by how uninteresting the Blanc de Noir flight was compared to the others, because usually I have the opposite impression. Some of the Champagnes would probably have been much better with food, and it was a shame that more glassware wasn't available, so that we could have saved some of them. To me, the standout wines were at the very beginning and end, the Pol Roger and the Krug.
Keith's 61 Gruard Larose was a particularly impressive example of that wine, and his 91 Dominus amazed, as always.
I'm also particularly glad that I have more of that 64 Burgundy.
My Wine of the Night was, surprisingly, Ron's 2000 Ch Rayas. Thanks to Ron for setting it up, and providing some amazing Champagnes.