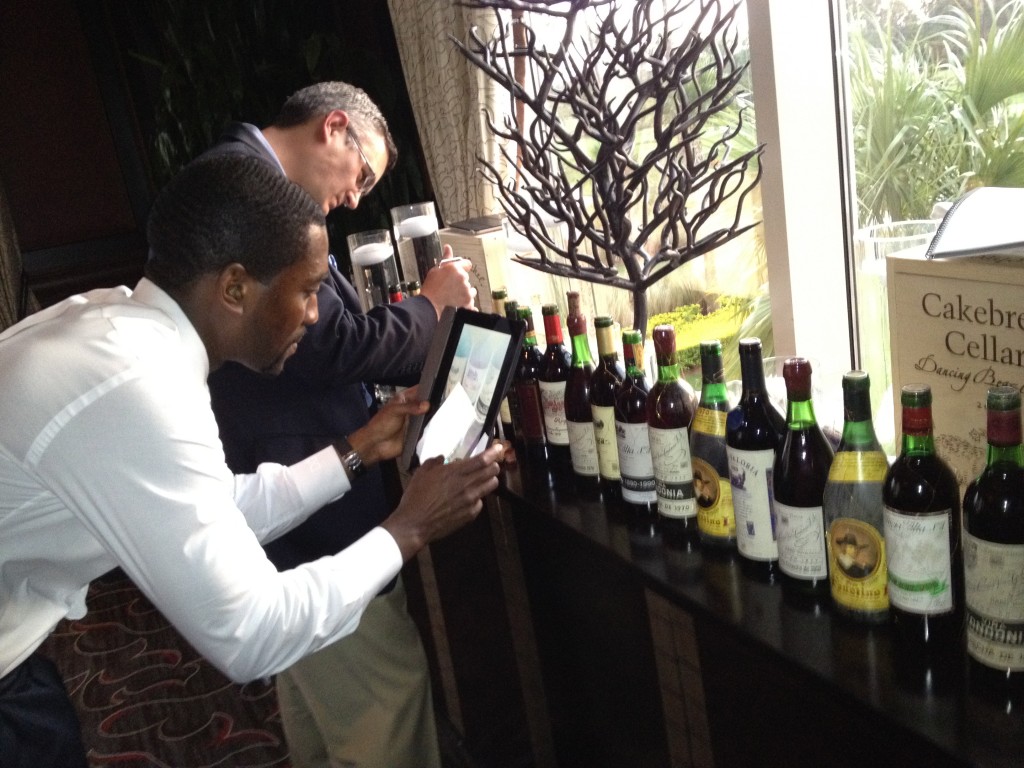 Keith Edwards organized a stellar tasting of old Spanish Riojas. The event was held at the Bull & Bear restaurant at the Waldof Astoria. Attendees included Keith and his wife Parlo, Russell Edghill, Ron and Bev Siegel, Linda and I, plus industry guests Dhane Chesson from Vibrant Rioja, and Master Sommelier Andrew MacNamara.
Keith is quite the scholar, and he prepared an amazing booklet to accompany the event, with notes on Rioja and pictures of the wine labels. The wines came from Keith, Ron's cellar, and I contributed the oldest wine, a 1925 Marques de Riscal.
Andrew moderated his event, and poured the wines in reverse chronological order, an approach that I have also been gravitating to of late.
This was an eye-opening tasting, because Rioja wasn't really on my radar, and I was shocked to find that after 20 years or so it has much in common with our old favorite, BV Georges de la Tour Private Reserve Cabernet Sauvignon, a wine that was only interesting prior to the 1980 vintage. This is curious, since Rioja is mostly Tempranillo, but it is probably due to the American oak barrels and a certain amount of oxidation.
What a great discovery, because it now means we have a whole new category of interesting, old, and fairly affordable wines to look for!
Tasting
The Rioja was poured in three flights. Linda observed that, unlike in other areas, there seemed to be no relation between price and quality.
The first two flights were interesting, but the third flight was stellar! I believe my rankings were almost identical to Ron's ad there was surprising consensus amongst the group.
My notes:
Flight 1:
2001 Vina Ardanza $50?
Stewed vegetables, dill (the result of the oak), spices, 88 points
1999 CVNE Imperial $50.97
Stewed, dill, 89 pts
1997 La Rioja Alta Gran Reserva 904 $49.98
Extreme dill pickle, pepper, 90 pts
1991 Lopez de Heredia Tondonia Gran Reserva 79.50
Balanced, wood, higher acid than the 1981, but similar BV style, 94 pts
1985 Bodegas Montecillo Vina Monty Gran Reserva $50
Corked
1982 Muga Gran Reserva Rioja $159
Oak, figs, gravel, 89 pts
1981 Bodegas Montecillo Vina Monty Gran Reserva $50
Very reminiscent of BV, slightly light on fruit, 92 pts
Flight 2:
1978 Marques de Caceres Rioja Gran Reserva (Ron) $50
Sweet, balanced, woody finish, almost too clean, 100% French oak, 89 pts
1978 Castillo Ygay $214.20
Caramel, raisins, volatile acidity, 87 pts
1976 Lopez de Heredia Vino Bosconia (Ron) $120
Big mint, graphite, 91 pts
1973 la Rioja Alta Gran Reserva Cuvee Centenario (Ron) $125
sweet, balanced, coffee, 92 pts
1976 Muga Gran Reserva $199.99
Dust, raisins, coffee, 89 pts
1970 Lopez de Heredia Vino Tondonia $191.22
Good acid but rough wood, 87 pts
1970 Faustino I Gran Reserva $104.54
Dates, 90 pts
Flight 3:
1968 Vina Valoria Rioja (Ron) $100
Chocolate, cherry, candy, caramel, mint, very balanced, 95pts
1968 Lopez de Heredia Vino Bosconia $416.49
Smoked meat, oak, gun oil, mint, floral, oak, 97pts
1964 Faustino I Rioja Gran Reserva $168
Smoke, sweet, creamy, chocolate, 94pts
1964 La Rioja Alta Gran Reserva 904 $257
Sweet, smoke, balanced, dust, cooking spices, 95pts
1961 Lopez de Heredia Vino Tondonia (Ron) $150
Tart cherry, vanilla, perfume, outclassed, 89pts
1925 Marques de Riscal (Steve) $252
Perfect color, youthful, great fruit, waxy, balanced, chocolate covered brandy marinated cherries, charcuterie meats, smoke, dust, balsamic, candy finish, held up in the glass for 3 hours, a remarkable wine, 99pts
For a detailed analysis of the wines, visit Keith Edward's blog.
Dinner
Following the formal tasting, a terrific dinner was served by Arnaud, including:
 Steak Tartare
Best version I've ever had, served with an herbal sauce, and minced perfectly, with a wonderful crunchy/salty component as well. A new invention of the restaurant, and a great dish.
Corn Soup
With caviar and truffle. Creamy and wonderfully complex.
Escargot and Mushroom Gnocchi
Served in a rich and delicious buttery flan. I don't even like gnocchi, and this was great.
Steak and Filet of Sole
This was actually the weakest course! The steak had that gamey, stringy texture from dry aging that I don't like, and the fish was extremely salty, probably the result of a mistake.
Dessert
A nice assortment of cheesecake, creme brulee, and a couple others.
Other Wines
Of course 20 Riojas was just the formal tasting. Then there were the wines passed at dinner!
Jacques Sellose Champagne (Ron)
Superb as always, toasty, perfect, 96pts
Louis Roederer Cristal Champagne 2002 (Keith)
Creamy, citrus, crisp, 94pts
2009 Adobe Road Sauvignon Blanc (Steve)
Served blind, and caused quite a discussion. Unidentifiable as SB, but great. 95pts
1999 Domaine Francois Raveneau Butteaux, Chablis Premier Cru (Ron)
Sublime Chablis, creamy and smooth, complex, toasty, 98pts
1995 La Rioja Alta Gran Reserva 904 (Dhane)
From magnum. Tart, off balance, high acid, salty, musty, 86pts
1978 Château Ducru-Beaucaillou, Médoc (Russell)
Superb Bordeaux at its peak, like driving down a dusty road in a bell pepper field, 95pts
1959 Nuits St. Georges, Naudin (Ron)
A superb old Burgundy that I wish had been served before dinner, as it got a bit lost in the shuffle. Burnt orange rinds. 95pts
Pommard Les Rugiens, Montille (Keith)
Potentially a great bottle, and the nose was good, but sadly undrinkable.
1999 Barolo, Rinaldi (Keith)
Caramel, spice, sweet chocolate, floral, cigar, nuts, 92pts
2000 Domaine du Pegau Chateauneuf-du-Pape Cuvee da Capo (Ron)
100 point Parker wine. Smoke, meat, cherries, 95pts
 2004 Grange (Keith)
Another wine that sadly got lost in the shuffle. I wish this had been served with the meat, but it came after dinner and was immediately faced with sweet wines. Tarry, figs, tannic, drinking very young but more accessible than most young Grange, 94pts
1971 Bodegas Toro Albala Don PX Pedro Ximenez Gran Reserva (Andrew)
A remarkable dessert wine, with huge acid to offset its sweetness, and wonderful complexity. Drinking very young. Grape jam, figs, raisins, very balanced, 97pts
1999 Domaine des Baumard Quarts de Chaume, France, Loire (Andres)
A Sauternes-like wine from the Loire. Great botrytis and apricot nose, but off balance, 89pts
1927 Alvear Solera (Steve)
Rather simple and cloying after the 1971 PX, 89pts
1989 Angelus (Ron)
A massive wine, not within 20 years of being drinkable. Inky, chewy, tar and tannins. Impossible to score at this point.
Wow, what a great evening! Thanks to Keith for setting it up, and to everyone for their thoughtful comments throughout the tasting.