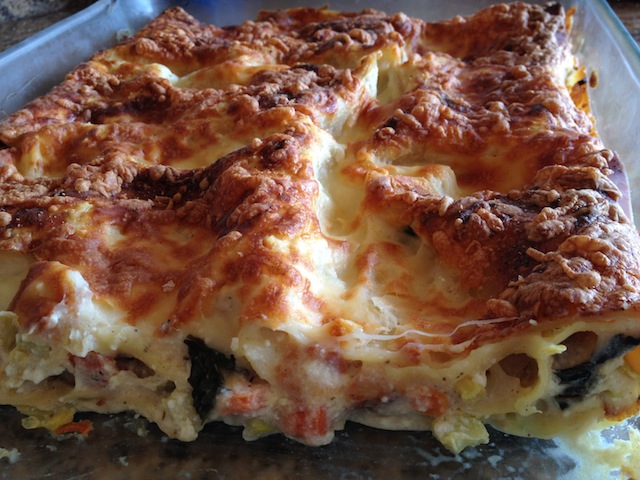 Last night I made a vegetarian lasagna. I was skeptical because of the large amount of skim milk in the recipe, but it worked great. I left out the corn the recipe called for, and used ricotta cheese rather than the cottage cheese(!) called for. It was delicious, fairly low in calories, and we have lots of leftovers.
I would definitely make this recipe again, but in a smaller pan. Mine was about twice the size they called for, so the veggies and sauce were thinner than I would have chosen.
Ingredients
1 1/2 teaspoons olive oil
3 1/2 cups (1 pound) chopped zucchini
1 cup chopped onion
2/3 cup chopped carrot
1 cup chopped fresh basil
1/2 teaspoon kosher salt, divided
1/4 teaspoon freshly ground black pepper, divided
1/4 cup all-purpose flour
3 cups 1% low-fat milk
1 cup low ricotta cheese
1/2 cup (2 ounces) grated Parmesan cheese
1/8 teaspoon ground nutmeg
Cooking spray
9 (about 5 ounces) no-boil lasagna noodles
1 cup (4 ounces) preshredded part-skim mozzarella cheese
Preparation
1. Preheat oven to 425°.
2. Heat oil in a large nonstick skillet over medium-high heat. Add zucchini, onion, and carrot; sauté 8 minutes or until lightly browned. Remove from heat; stir in corn, basil, 1/4 teaspoon salt, and 1/8 teaspoon pepper.
3. Lightly spoon flour into a dry measuring cup; level with a knife. Place flour in a large saucepan; gradually add milk, stirring with a whisk. Cook and stir over medium heat until mixture comes to a boil; reduce heat and simmer 2 minutes, stirring constantly. Remove from heat; stir in cottage cheese, Parmesan, nutmeg, 1/4 teaspoon salt, and 1/8 teaspoon pepper.
4. Spread 1/2 cup white sauce in bottom of an 11- x 7-inch baking dish coated with cooking spray. Arrange 3 noodles over sauce; top with half the vegetable mixture (about 2 cups) and one-third of the remaining white sauce (about 1 cup). Top with 3 noodles, remaining vegetable mixture, half the remaining sauce, and 3 more noodles. Spread the remaining white sauce over noodles. Cover with foil and bake at 400° for 25 minutes. Uncover, sprinkle with mozzarella, and bake an additional 25 minutes or until golden brown. Let stand 15 minutes.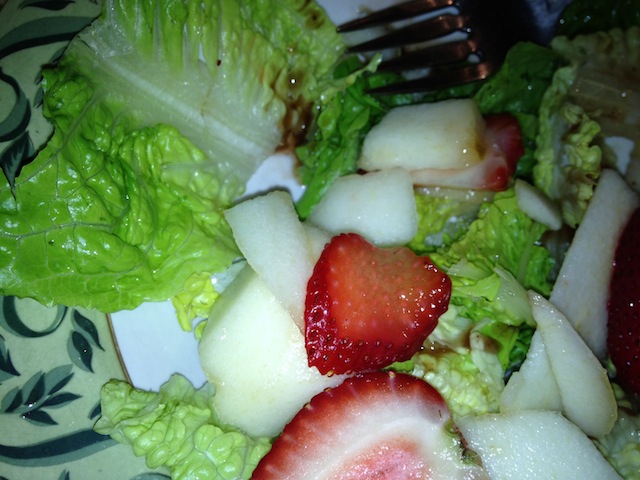 I made a salad with pear and strawberry to accompany it using Bella's Blackberry & Fig Balsamic dressing from Whole Foods, which has almost no calories, and is very tasty.