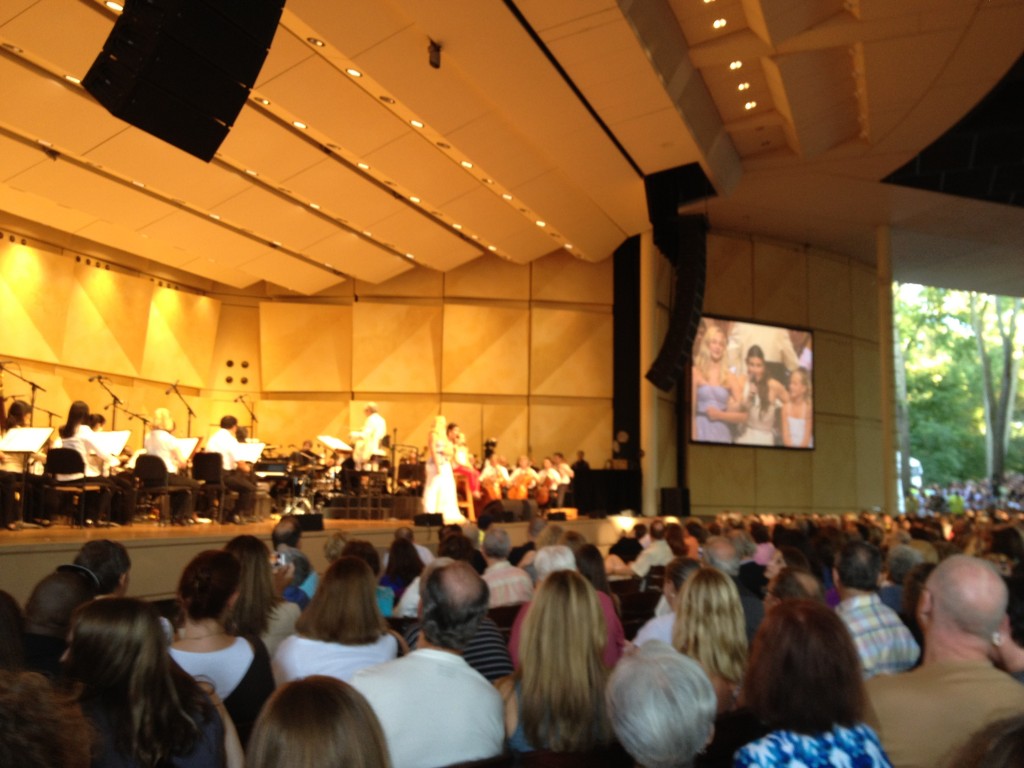 Tonight we went to a concert I was expecting to just be so so, and it was fantastic. It was in the open air stage a Ravinia. The hundred degree weather of the past week had abated, and it was a lovely evening in the mid 70s. The concert grounds were packed, with people picnicking on all the lawns. It looks a bit like Coney Island. We had great seats in the pavilion, thanks to being a donor this year.
I've heard several concerts there, but I never realized what fantastic acoustics it had until tonight. The Chicago Symphony sounded incredible in the space (and was the best sounding orchestra I've ever heard).
Marvin Hamlisch opened the show, and even in his late 60s is as good as ever. He conducted medleys from A Chorus Line and My Fair Lady, and played the piano for several parts, plus a solo of The Way We Were. His commentary–much of it adlibbed and related to a bad mic–was hysterical. Then he conducted the orchestra to back Idina Menzel.
Idina was extremely sick, which had the effect of getting the audience rooting for her, and the show was quite magical. I think she was really touched by how great the reception was.  She spent a long time telling stories (stalling, as she put it) which were very funny (and sometimes quite salty). And then she drafted members of the audience to help her sing some of the songs. I'm not sure how she did it, but all five people she selected had terrific voices. The crowd went nuts when the volunteer for Defying Gravity managed to hit all of the high notes perfectly. It was one of the best concerts I've ever seen, and an unexpected surprise to everyone, I think even including Idina.
For her encore Idina performed a new song that I loved. Here's a youtube video of a previous performance, not nearly as good as what we saw tonight, but it gives you the idea. And here are the lyrics:
"You Learn to Live Without"
You learn to take your coffee black
You learn to drink your whiskey neat
You learn to take your shower cold
And sleep on tired feet
You learn to order dinner in
You learn to send the laundry out
You learn to amuse yourself
You learn to live without
You tell yourself you're rich at last in money and in time
You draw a bath and then unplug the phone
You pour yourself a pinot from 2003
You sit a spell, a queen upon her throne
You go to bed alone
You learn to fall asleep alone
You learn to silence ticking clocks
You learn to turn the shades at night
And double check the locks
You learn to speak so calmly when
Your heart would like to scream and shout
You learn to smile and breathe and smile
You learn to live without
You find the coat and tie you thought you'd given to Goodwill
You stumble along a long lost set of chess
You see him there in corners and in closets and on shelves
And truth be told you'd like to see him less
You stumble through the morning but you waken for the day
You tell yourself that all is going well
But now and then a sense of loss just slams you in the chest
You know that no one else can really tell
You make it all seem swell
You learn to count the quiet winds
An hour with no unprompted tears
And not to count the deadly days
As they fade into years
You learn to stand alone at last
So brave and bold and strong and stout
You learn somehow to like the dark
You even love the doubt
You learn to hold your life inside you
And never let it out
You learn to live and live and die and live
You learn to live without
You learn to live without
You learn to live without