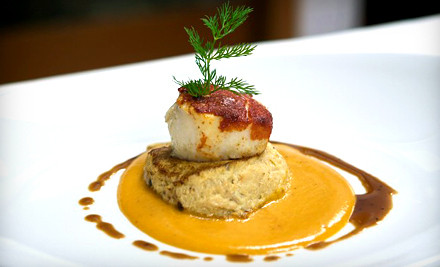 Last night we went to Restaurant Michael in Winnetka, about four miles north of Evanston. The original plan was to take the Metra train, but it was a cool, rainy and blustery night, so we opted for a cab. The restaurant is the latest project of award-winning chef Michael Lachowicz. Despite its proximity, I'd never heard of it until it popped up on Groupon back in the spring. I didn't see anyone else having the meal we had, so I guess everyone else used it back in the Spring.
The food was terrific, and the place was almost full. What we received was a delicious five-course French meal for two people with matching wine pairings for a total of $72. Crazy, huh? Considering that was half price, even the normal price of the meal is extremely reasonable. Each course was super, and the matching wines paired perfectly with the food. We had:
goat cheese puff amuse bouche (we were actually served this twice, which was great!)
corn soup (paired with an Italian white)
zucchini with goat cheese in pastry
seared salmon (paired with a white Burgundy)
roast pork in pastry (paired with an Argentinian Cabernet Sauvignon)
chocolate souffle with chocolate sauce and strawberries
chocolate truffles
As at Terra, the other night, service seemed well-intentioned, but not really at the caliber of the food. The servers all seem like they've never really been to another nice restaurant, and are just following instructions. This was one of the dressier restaurants I've been to around here, with many of the men in coats and ties. That was ironic, because the owner is extremely friendly and casual, working the front desk in jeans and a short sleeve shirt!
According to Groupon, they sold more than 680 of these dinners for two, so it was certainly popular. I wonder, though, how many of those people tipped properly (when you are presented with a bill at the end of the meal only if you ordered incidentals) and how many of them will go back if the same meal costs them twice as much. Since the restaurant only gets about half of the Groupon cost, they certainly couldn't have broken even on those 1360 meals. But it worked in our case, because we'll certainly go back.