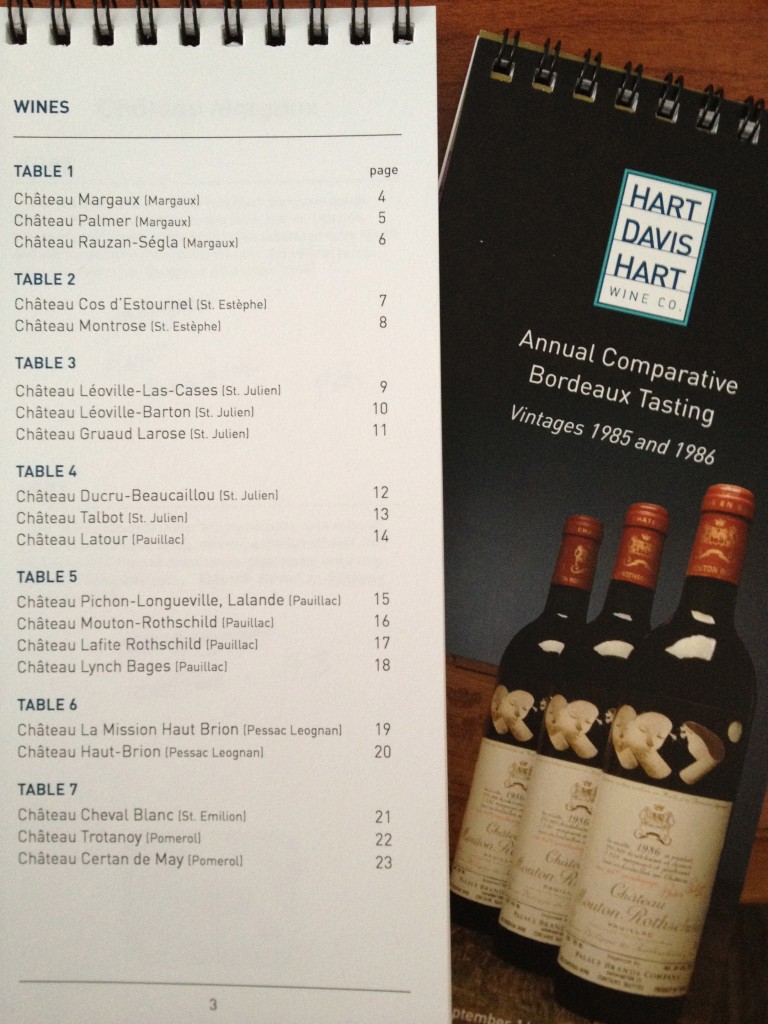 Every year Hart Davis Hart hosts a comprehensive Bordeaux retrospective, and this year's event focused on 1985 and 1986 Bordeaux. HDH pulled out all the stops, with two bottles of almost every notable wine, including the first growths. There was also a lovely buffet of nice charcuterie as accompaniment.
With only 90 minutes to sample more than 40 wines, there wasn't time for elaborate notes, but I did jot down scores in the nicely done notebook provided. My general observation was that the 1985 vintage was better than 1986 for nearly all the wineries, with the 85s still having great structure, coffee and other complex earthy aromas, tannins that will allow them to continue to age, and yet still plenty of fruit. The 86s, on the other hand, mostly seemed soft and thin, with some fruit but little structure. Too bad I have more of them than 85s in my cellar!
This event was infinitely more professional and enjoyable than the 1986 Bordeaux event we attended in New York. At that event I felt like the bargain wine was the 1986 Ch. Talbot, and I still felt that way as far as the 86s at this event. It's not the best, but for the price it's excellent.
However the 85s were far better, and the clear standouts to me were the first growths, with Mouton, Latour and Lafite at the top, and Haut Brion and Margaux lagging. A surprisingly weak pair from La Mission Haut Brion. The best buy is Lynch Bages, which I rated near the top first growths.
My scores:
Margaux
1985 Ch. Margaux 92
1986 Ch. Margaux 93
1985 Ch. Palmer 93
1986 Ch. Palmer 89
1985 Ch. Rauzan-Segla 94
1986 Ch. Rauzan-Segla 87
St. Estephe
1985 Ch. Cos d'Estournel 88
1986 Ch. Cos d'Estournel 90
1985 Ch. Montrose 87
1986 Ch. Montrose 85
St. Julien
1985 Ch. Leoville-Las-Cases 93
1986 Ch. Leoville-Las-Cases 93
1985 Ch. Loeville-Barton  89
1986 Ch. Leoville-Barton 86
1985 Ch. Gruaud Larose 92
1986 Ch. Gruaud Larose 89
1985 Ch. Ducru-Beaucaillou 86
1986 Ch. Ducru-Beaucaillou 84
1985 Ch. Talbot 90
1986 Ch. Talbot 93
Pauillac
1985 Ch. Latour 98
1986 Ch. Latour 92
1985 Ch. Pichon-Longueville, Lalande 94
1986 Ch. Pichon-Longueville, Lalande 88
1985 Ch. Mouton-Rothschild 99
1986 Ch. Mouton-Rothschild 94
1985 Ch. Lafite Rothschild 98
1986 Ch. Lafite Rothschild 94
1985 Ch. Lynch Bages 97
1986 Ch. Lynch Bages 95
Pessac Leognan
1985 Ch. La Mission Haut Brion 91
1986 Ch. La Mission Haut Brion 91
1985 Ch. Haut Brion 92
1986 Ch. Haut Brion 94
St. Emilion
1985 Ch. Cheval Blanc 95
1986 Ch. Cheval Blanc 92
Pomerol
1985 Ch. Trotanoy (corked)
1986 Ch. Trotanoy 89
1985 Ch. Certan de May 89
1986 Ch. Certan de May 90