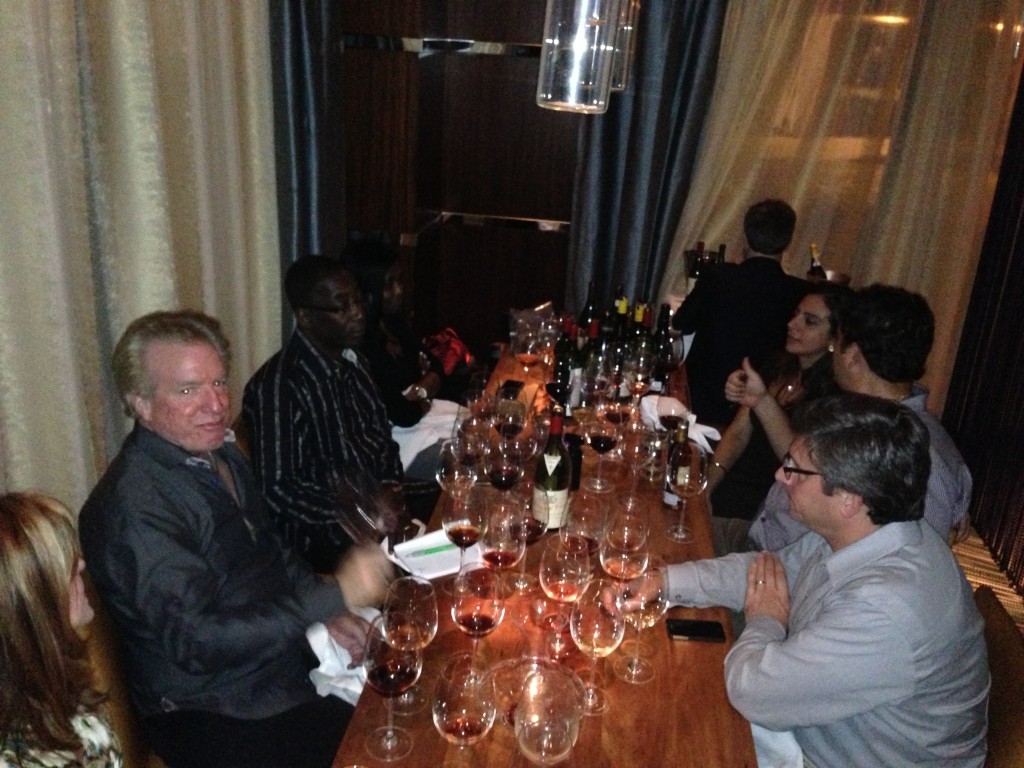 Ron and Bev hosted a dinner at Luma for Allan Frischman, in town from Hart Davis Hart. Also in attendance were Keith and Parlo, and Andres and Paula. Linda had early construction site meetings all week and couldn't attend.
Because the downstairs was booked, we met in a narrow private room in the corner near the kitchen. It's separated from the restaurant by a beaded curtain, and was perfect for our party of eight.
Chef Derek really hit it out of the park, with the best food I've had at Luma. They should put some of this stuff on the menu. Highlights were the ceviche, pork belly, flounder and filet.
My raw notes:
NV Jacques Selosse Champagne (Ron)
Caramel, Creme brûlée 98
1982 Dom Perignon (Andres)
Nutty, burnt sugar, 97
2006 Ch Grillet (Keith)
Grilled pineapple, butter, spicy oak, smoke, nice acidity, 95
Chick pea soup
2001 Leflaive Batard Montrachet (Ron)
Huge floral nose, passion fruit, resin, pear, chalk, butter, 94
Snapper ceviche
1947 Lafleur Petrus (Ron)
Port-like, pickled vegetables, cherry peppers, a bit sweet on the finish, 95
1959 Château Grand-Puy Ducasse (Steve)
Camphor, slightly corky, lean, gravel, curry, spices, 92
1982 Ch Montrose (Keith)
Mint, tight, 94
1982 Ch Leoville Las Cases (Keith)
Chalk, tannin, corked, no score
1986 Lafleur (Ron)
Big, tannic, tight, a bit short, 94
Deep fried pork belly, soft boiled egg, pickled artichoke – amazing dish
1961 Louis M. Martini Cabernet Sauvignon Special Selection
Balsamic, redwood, soy, 92
1985 Heitz Martha's (Keith)
Big, tannic, meaty, dust, sweet, eucalyptus, 95
Arugula goat cheese and fig salad.
1947 Château Drapier & Fils Richebourg Chevalier d'Or (Steve)
Mint Forrest, sweet fruit, forest floor, damp earth, mushroom, spicy, sweet, cherry, beef bourgignon, cigar, 99
1964 Leroy GE (Ron)
Very youthful, iron, bright cherry fruit, hay, good acid, 97
2007 Bonnes Mares Comtes Vogue (Allan)
Bright cherry, warty, balanced, nice, vanilla, 90
Sweet potato ravioli (agnolotti), cauliflower
Crispy flounder on forbidden rice
1995 Rayas ( Ron)
High alcohol, huge fruit, really young, cigar, cedar, acidic, vanilla,  cinammon, iodine, sea shells 96
1995 Ch Beaucastel CDP (Keith)
Barnyard, earthy, manure, extremely tannic, high alcohol, 88
Thin sliced filet mignon on truffle mashed potato
2001 CDP Tardieu-Laurent (Andres)
Big, sweet, cigars, smooth, tannic, smoke, long, 95
1968 d'Oliveiras Boal Madeira
Perfect balance, citrus, brown sugar, caramel, 95
Peterbrook chocolate mousse
2001 Ca' del Bosco Franciacorta Sparkling Rose (Andres)
Yeast, raspberries, peppery, very effervescent, great acid, 92
1990 Ch Suidiraut (Ron)
Phenolic, soft, medium dark color, a bit off balance, recorked in 2005 (why?) 86