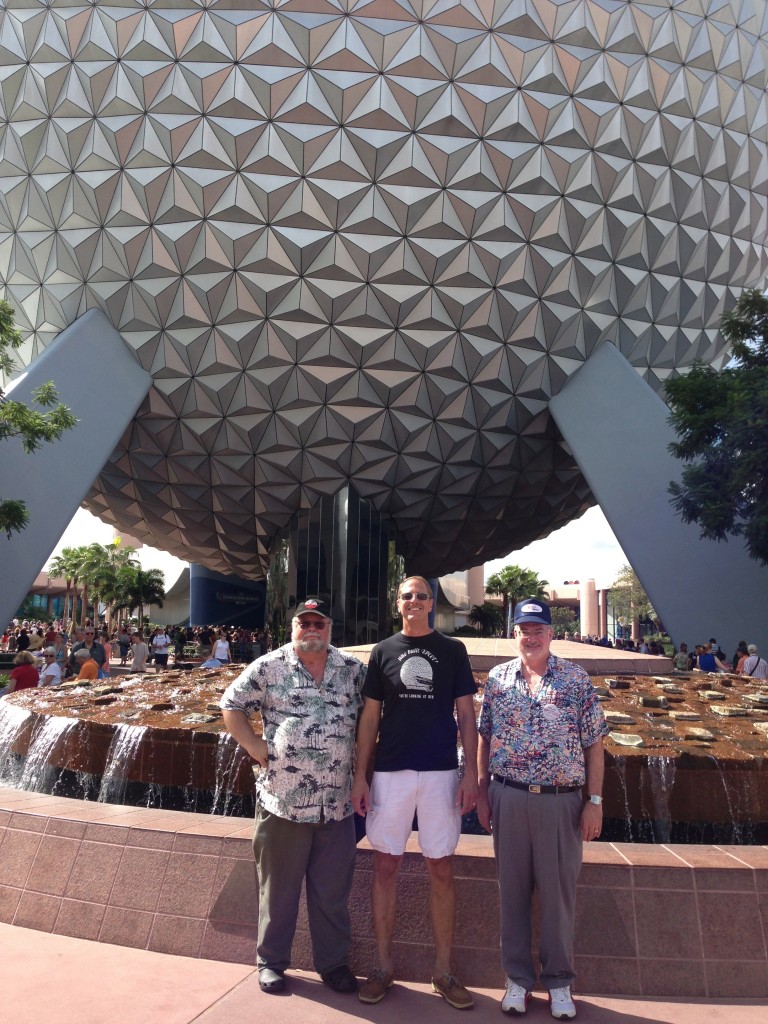 Jim, Martin, Jeremy and I visited Epcot to celebrate the 30th anniversary on October 1, 2012. The park was crowded, but not insanely so. There were lots of people there wearing vintage Epcot shirts, so it was rewarding to see the fans turning out to support their park.
We went on quite a few attractions, resulting in mixed feelings.
We started in Seas, which wasn't there 30 years ago. Certainly the Nemo ride and Turtle Talk are big improvements over the original Seas Pavilion.
Next up was Land. The boat ride is probably the most unchanged of all Epcot attractions, and reminds us that originally the idea of Futureworld was to educate. We skipped Soarin', which was already pretty much sold out for the day, and which I despise. Its popularity baffles me, and I miss Kitchen Kabaret.
Then we went on Imagination, where Jim and I spent so much time. The original ride is completely gone, and its replacement was so bad it lasted less than two years. The current version merely sucks. Depressing.
The food and wine festival just started, so we drowned our sorrow in some wine, beer and cheese soup (not mixed).
The film in Canada is good, an nice improvement on the original. It's now hosted by Martin Short, and seems a bit more heartfelt. They were smart in retaining the original song, which has been nicely re-recorded.
We tried to attend a 30th anniversary rededication at American Gardens, but after the seventh mariachi song we were driven out. What was that all about?
Before going on Norway, we decided to go on Mexico, because it makes Norway look good. And before going on Mexico we decided to have tequila, because it makes Mexico look good. Should have had more, not good enough.
Then it was back to American Adventure. I was delighted to see the show has been perfectly maintained. In fact, it's only the second time I can ever remember seeing all the effects work. It was terrific, and the crowd was very enthusiastic. It's bittersweet to see Steve Jobs in the film montage.
Then we met Linda at Tokyo Dining for a leisurely dinner. Linda had been to a private lunch at American Adventure, which she said was quite nice.
After dinner we met up with the WDW Celebrations group, which was having a private dessert party. It was rewarding to discover how many of the 150 or so members had read my book, and I wished David Green, my co-author could have been there to share the round of applause when I was introduced. After chatting with a couple of fans we headed to the Isla in Italy for a special Illuminations show that included a segment in honor of the 30th anniversary.
It was nice to see Disney making a big deal out of Epcot for this anniversary, as they had ignored it in previous years. The park still looks great, even if some old favorites are gone. Hopefully they've learned a lesson from DCA, and we'll see a return to quality in future attractions.